Oberwerth Heidelberg Camera Bag Review:
Finding the perfect camera bag isn't an easy task.  A lot of thought goes into it because at least for me, a camera bag I usually purchase is something I plan on keeping for a very long time.  The appearance is important but it definitely goes deeper than just the superficial.  Since it is something I'm going to carry quite a lot, comfort and functionality are extremely important as well.  Being well-made is also essential because I'm usually pretty rough on my bags, and I expect a lot from them.  My bags have to last.   You can find these types of bags in many different price ranges but if you're looking for something high end, you most likely have come across manufacturers like Billingham and Fogg.  Both have been in the industry for a very long time making superb bags but now we have a newcomer to the high end bag market.  Oberwerth, which was established in 2014, have been producing bags that are handmade in Germany.  Their catch phrase is literally, "Because 'good' just isn't good enough".  Their aim is to basically create bags of the "highest standards and uncompromising quality".  Well, these are pretty strong words, and I was able to find out for myself if they ring true because Oberwerth was kind enough to send me the Heidelberg for review purposes.  While the Heidelberg is a great size bag for my Leica SL, I had adequate time to try this bag with several different systems, and this is what I concluded.
Oberwerth Heidelberg Camera Bag Build Quality:
When I was waiting for the Heidelberg to arrive on my doorstep, I didn't know what to really expect.  I've tried many different high end camera bags before, and quite honestly, they're a "mixed bag" in terms of quality.  I feel some are definitely worth the price.  But then there are some where I just felt the quality didn't justify the cost or the quality was there but it lacked functionality.  Keep in mind that I also expect quite a lot from my bags.  I'm not easy on them at all, and the more expensive they are, the more I expect from them.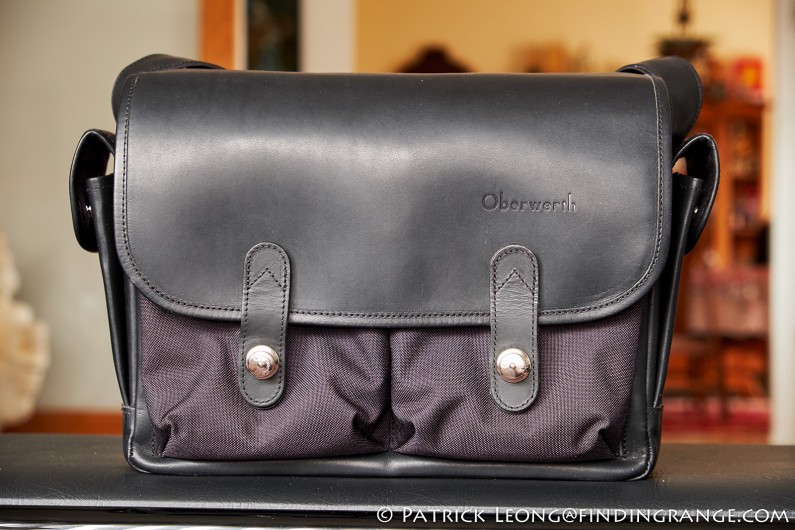 ↑ The Oberwerth Heidelberg in all black.
Now that I've given you a little bit of a back story, let's start talking about the Oberwerth Heidelberg, specifically its overall appearance.  This is literally the most beautiful leather camera bag that I've ever had the pleasure of using.  The level of detail is exemplary; I can not emphasize this enough.  You can tell that this bag was made by people who only want to do their best, and who are actually passionate at what they do.  The Heidelberg has a classic, timeless look that I absolutely love but the design never goes overboard, which at least in my opinion, often does with some other leather bags.  In other words, the Heidelberg doesn't look tacky.  It' doesn't look like it's trying to hard.  It doesn't go overboard with the bling.  It's all about the little details with this bag.  It even comes in four color combinations: Black/Dark Brown, Brown/Dark Brown, Olive/Dark Brown, and Black/Black.  I requested the all Black/Black because I basically think it looks gorgeous in this color combination.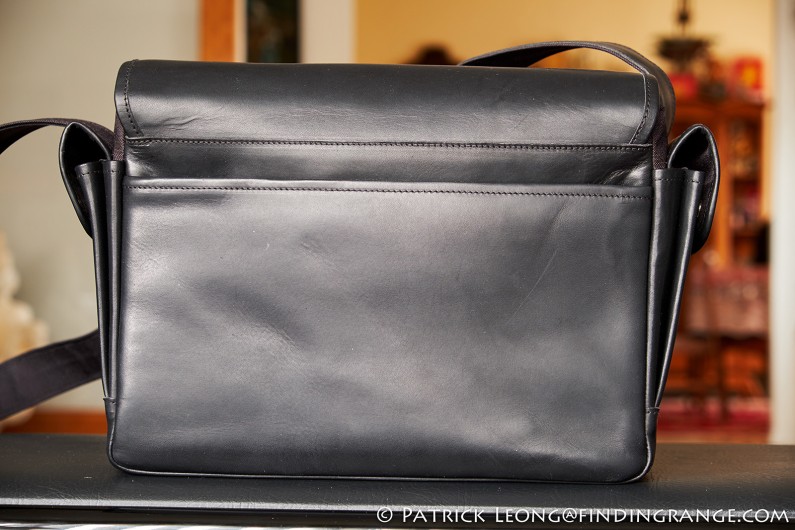 ↑ Back of the Heidelberg.
To top it off, the Heidelberg is one of the most well-made bags that I have ever come across, and I do not say this lightly.  The materials used for the Heidelberg are absolutely the best that money can buy.  For instance, the leather is vegetable tanned cow hide that is bought as rolled skins direct from Italy.  They use Rhubarb root extracts in the tanning process which ensures the leather retains it's suppleness and natural texture.  Every step concerning the leather is painstakingly worked on by hand in Germany from the first cutting all the way down to the very last stitch.  Speaking of the stitch work, it is absolutely perfect in every way.  There's no loose threading or any unevenness.  The attention to detail here is borderline obsessive.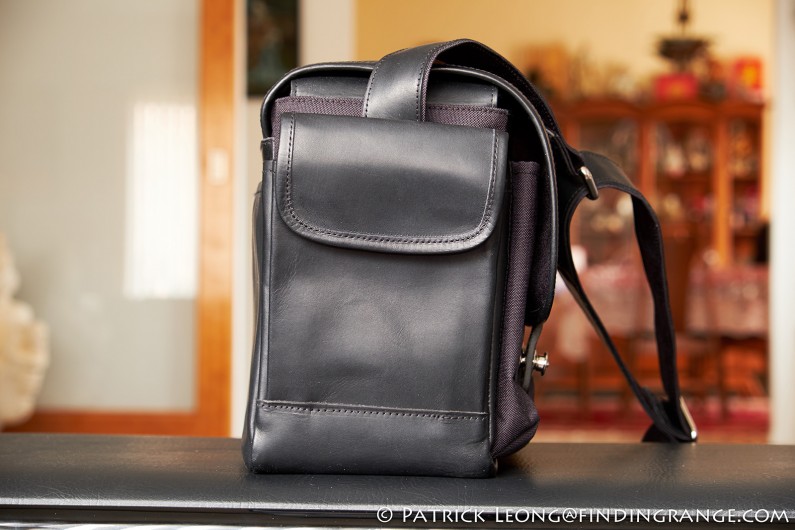 ↑ Side of the Heidelberg.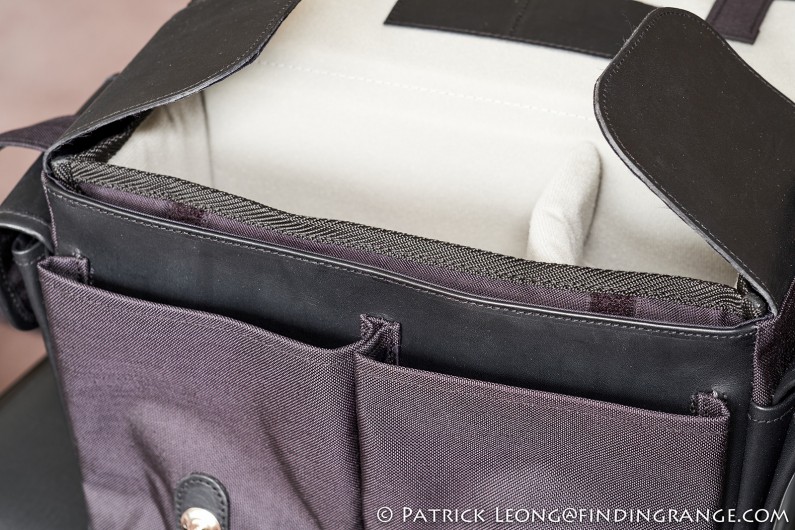 ↑ The stitch work is absolutely perfect in every way.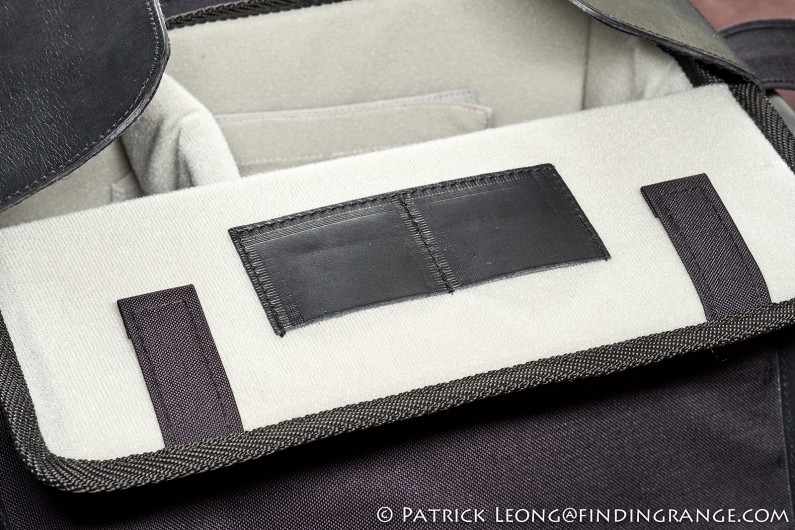 ↑ Here's another photo showing the stitch work.
But it's not just the quality of the materials used that make the Heidelberg such a great bag.  Nowadays, there are a lot of bags out there made with high end materials but let's be real; not all of them are really that functional, and to be honest, that's a little bit of a pet peeve of mine.  I'm okay with purchasing an expensive bag because I use all of mine till they essentially disintegrate but they have to last, have to be quality made, and they have to have excellent functionality.  What really separates the Heidelberg from some of these bags is that it doesn't just rely on the expensive materials to sell itself.  Looking through this bag, and checking out the features, one can tell that they definitely did some serious research before actually producing it.  Instead of just copying everyone else or just adding luxury materials to increase the cost, real thought actually went into designing the Heidelberg.
For instance, even though the Oberwerth Heidelberg is a leather camera bag, it isn't heavy.  On the contrary, it's actually light for its size.  This isn't a bag that will tire you out after a long day of shooting.  The leather itself isn't heavy, and for the parts of the Heidelberg that aren't leather, Oberwerth chose other lightweight materials to use.  One of these materials is called CORDURA, and for parts that would typically be canvas on other bags, this is used instead because it's lightweight, and at the same time, it's still very sturdy, tear resistant, stain-resistant, oil and dirt resistant, waterproof, and durable.  How strong is it it really?  Well, they use it in the military sector for things like rucksacks, and even in motorcycle clothing.  It also conforms to the Eco-Tex Standard 100 for textiles, and it's tested for the non-containment harmful substances.
Let's now talk about the insert, which by the way, is also lined with Cordura.  Of course, it's fleeced-lined as well.  The fleece-lining is some of the softest I've had the pleasure of using in any camera bag, which not only results in a nice, safe space for your gear but also adds to the ultra luxury feel of this bag.  Furthermore, instead of say, foam, there are actually air cushions between the fleece, and CORDURA layers.  These air cushions are definitely a unique idea, and they do an excellent job protecting your gear from impact.  In fact, this is absolutely one of the best inserts I have used so far.  It's nice and thick but also very light.
Now, let's talk about the fasteners, which are some of the coolest I've seen on any camera bag.  So, as photographers, we all want fasteners that are secure from accidental opening or from thieves but at the same time, easy to unlock when we need to grab our gear quickly.  Well, Oberwerth has got you covered, and they have not only fulfilled these two demands, the fasteners are actually great looking as well, and can take some serious punishment.  They're solid metal.  The Heidelberg uses LOXX fasteners.  These fasteners are made in Germany, and there's a spring action to this design.  The upper part of the fastener system fits around the ball head of the lower part, and locks automatically.  The fasteners will stay locked unless the cap of the upper part is lifted releasing the ball head.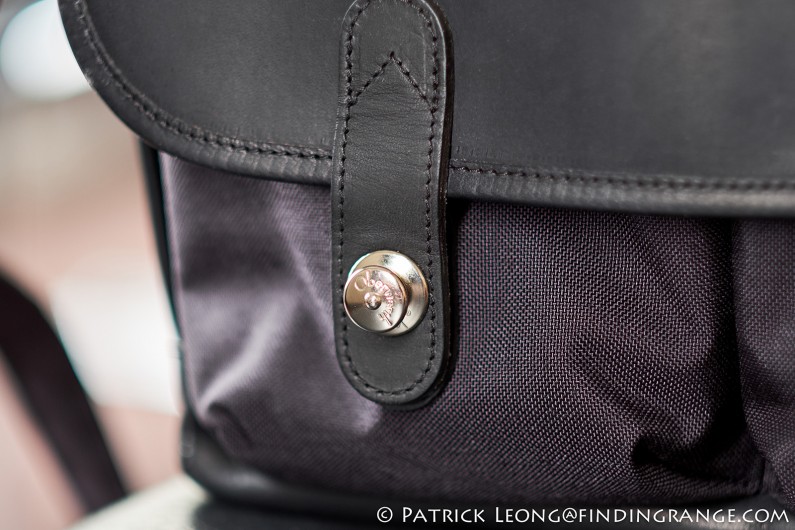 ↑ The LOXX fasteners are fantastic.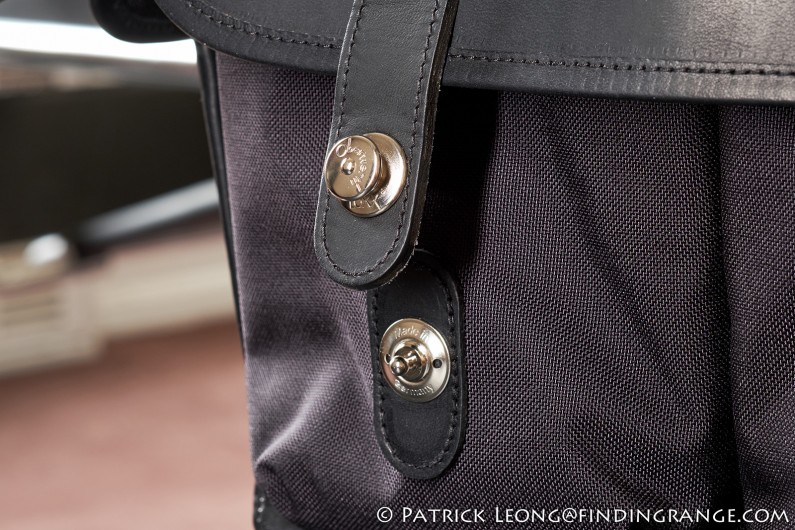 ↑ The top part goes right into the ball head of the lower part.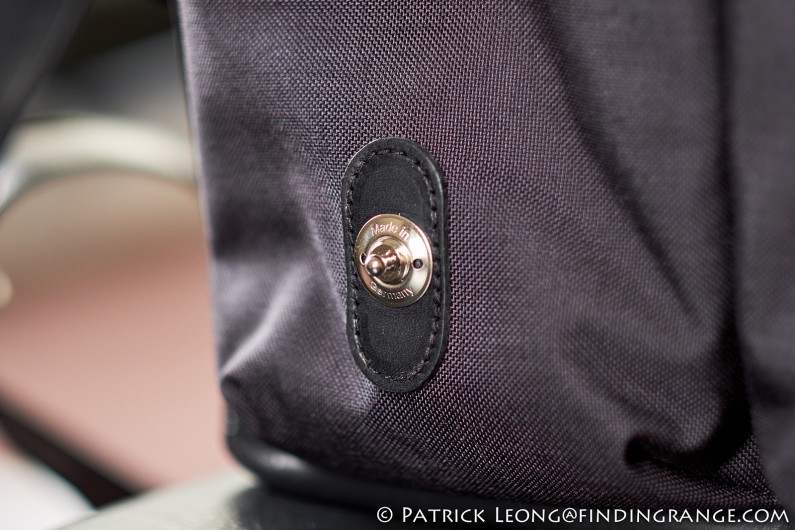 ↑ Here's a closer look at the lower part.
This is a great design because it fulfills the requirements that most photographers would want.  First off, it's very secure.  It will not unlock accidentally.  At the same time, these fasteners are not overly complicated either.  They are very quick, and easy to unlock to retrieve gear.  Of course, they are only easy to open if you know how.  I'm sure most thieves would have difficulty opening these fasteners, if they've never seem them before.  To top it off, the LOXX fasteners still have the luxury feel that one would expect from a bag of this price.  They have a very smooth action, you can definitely feel the quality, and they look beautiful.
Lastly, the shoulder strap is leather but it's still very flexible and soft.  It's quite comfortable, and it also comes with a nice shoulder pad.  The shoulder pad isn't removable but it's also not so large that it becomes bothersome.  The strap is also cut resistant for added security.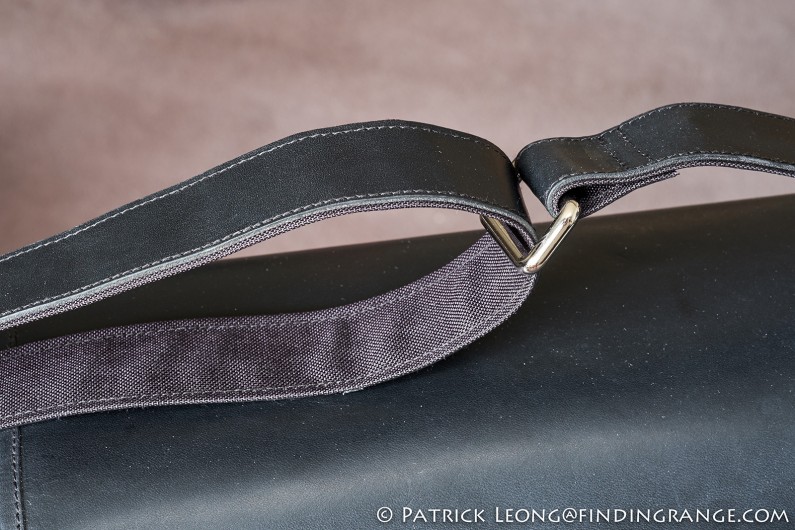 ↑ The strap is made of leather as well, and cut resistant.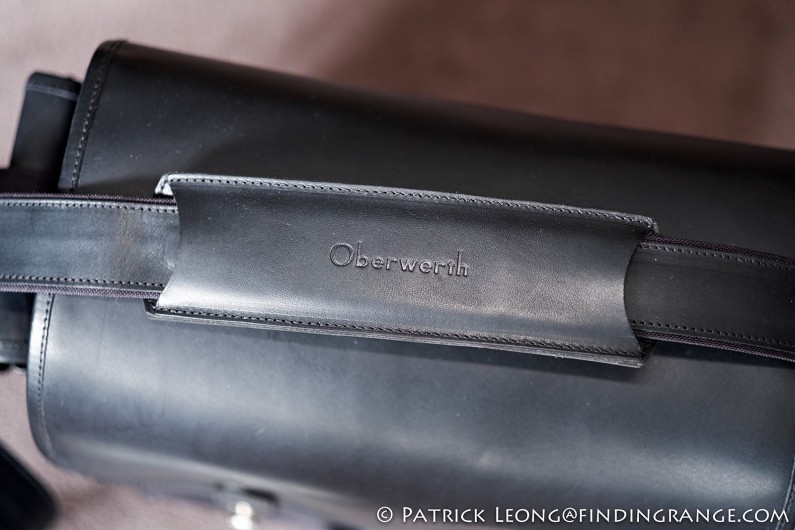 ↑ The Oberwerth Heidelberg comes with a shoulder pad.
Oberwerth Heidelberg Camera Bag Carrying Capacity:
Now that we've discussed the manufacturing quality, let's talk about what the Oberwerth Heidelberg can actually fit.  The Heidelberg is about the size of my Billingham Hadley, and Fstop 1.4 bags but I'm actually quite amazed at what I'm able to stuff into it.  That's because the layout was really well-thought out to get the most out of this bag's space.
For instance, there are plenty of pockets.  On the outside of the Heidelberg, there are leather pockets on each side.  The flaps are held shut with magnetic buttons.  These pockets will fit things like a thinner portable hard drive or a phone.  When not in use, they fold into the bag pretty tightly, so you don't feel like you have any additional bulk on the side of the bag.  On the back of the Heidelberg, there's a zippered pocket that will fit papers or an iPad.  Normally, the pocket in the back usually has no padding on other bags but it does on the Heidelberg.  So, it really is a good place for something like an iPad.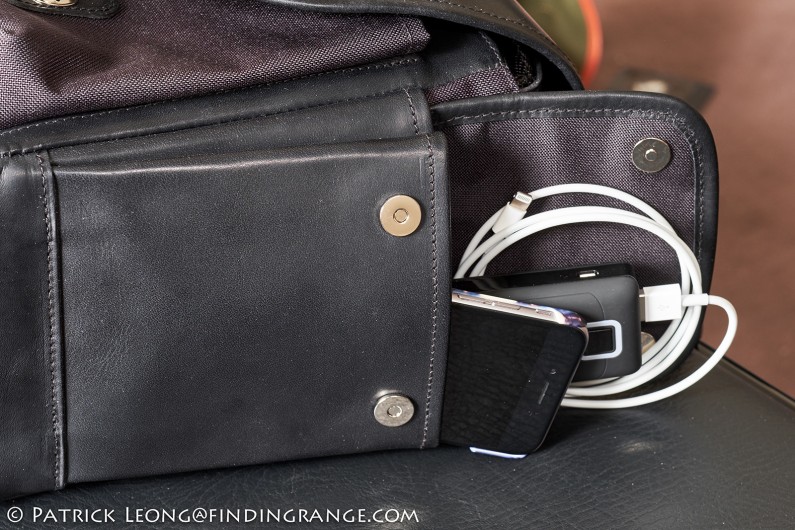 ↑ The side pockets can hold things like a phone and portable charger.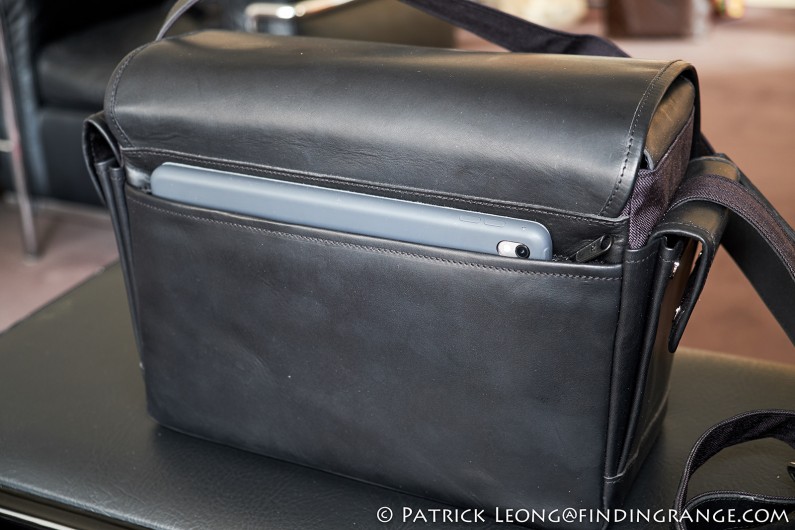 ↑ You can stick an iPad in the back pocket.  The back pocket is also padded.
If you open the main flap, there are also two pockets in the front of the bag.  These pockets can hold items like a notepad, film, lens cleaning cloth to various filters and miscellaneous accessories.  These front pockets are great but personally, I would've like to see flaps for these pockets for added security.
Now, believe it or not, there are actually more pockets inside the bag.  Inside the back of the Heidelberg, there is a zippered pocket, and a smaller pocket next to it.  The insert's flap also has two leather memory card holders sewn into it.
↑ There are two pockets inside the back of the bag.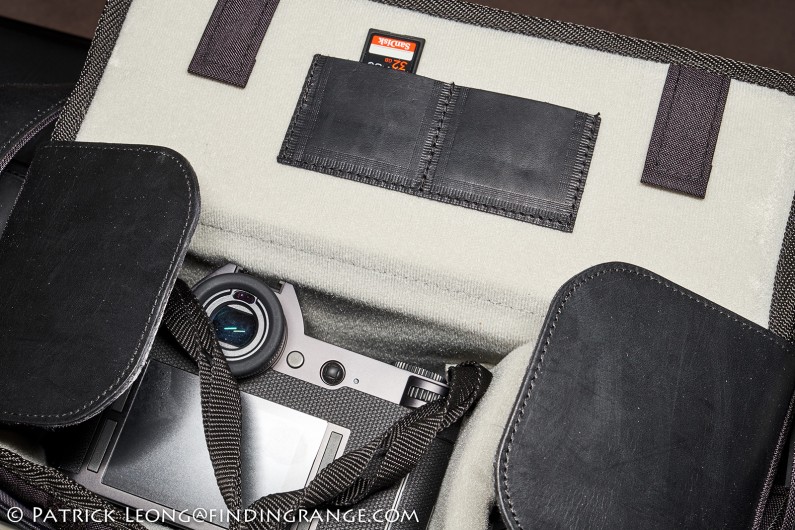 ↑ There are leather memory card holders sewn in the insert's flap.
So, let's go into greater detail about the insert.  As I mentioned before, this is a first class insert, and it is definitely up there with the best.  It's ultra soft, and the air cushions offer superb protection against impacts.  The insert itself is also removable, so you can just use the bag for something completely unrelated to photography if you want.  The cool thing is that if you're still keeping your gear in the insert after you removed it, you can keep the flap shut.  The insert's flap actually has two velcro straps to help you do so.  This is what I call attention to detail!  Grant it, it's not the biggest deal in the world but it shows you that Oberwerth really put some thought into designing this bag.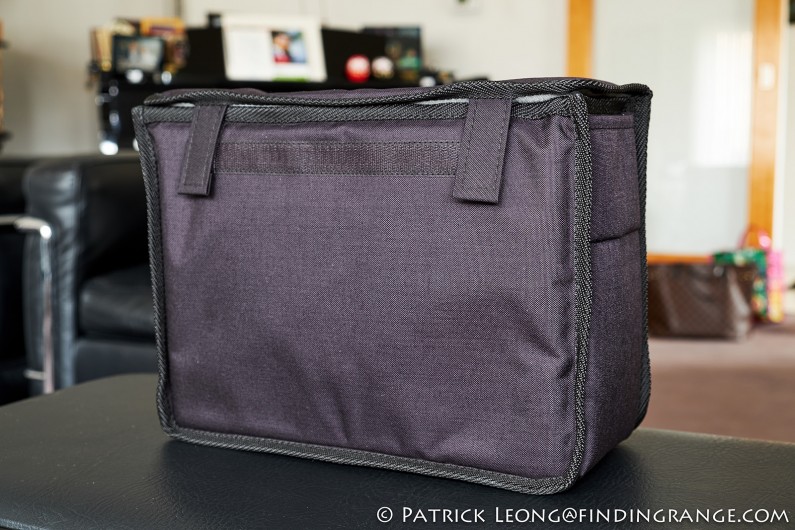 ↑ The insert is fully removable, and the flap actually has velcro tabs, so you can keep it closed.
It's also worth mentioning that the insert's flap can be tucked away while in the bag as well.  The flap in general is great for added protection but let's be honest; sometimes the flap for these inserts can get in the way.  Besides, there are two leather flaps on each side of the Heidelberg that also helps protect the contents as well.  So, if you don't want to deal with the insert's flap, you can actually flip it all the way back, and tuck it between the back of the bag and the insert.
As for dividers, the Oberwerth Heidelberg comes with three, which by the way, have air cushions between their fleece lining as well.  They stick on by velcro, so you can move them around the entire bag.  The velcro is actually pretty strong too.  What I particularly like is that there's this long divider that goes on the bottom of the insert.  You can basically use it to raise the flooring.  You can therefore, stick a flash under the divider, and then put your lenses and camera on top of this long divider.  In my opinion, this is a great idea because it really makes the most use out of the space available.  If you don't have a flash, you simply leave it there as extra padding or remove it.
↑ There's a long flap that you can use for the bottom of the bag, so you can basically raise the floor, and put something like a flash under it.  I love this idea.
A bag with this much flexibility means that you can put tons of different gear in it.  Keep in mind that the Heidelberg is about the same size as my Billingham Hadley, and Fstop 1.4 but in addition to your camera bodies and lenses, it can also fit a 13″ laptop, and a tablet.  I tested the Heidelberg with my Leica SL, couple of M bodies, and the lenses.  I also tested the Heidelberg with my Fuji X Series kit.  Check out the photos below to see the different ways that I packed the Heidelberg.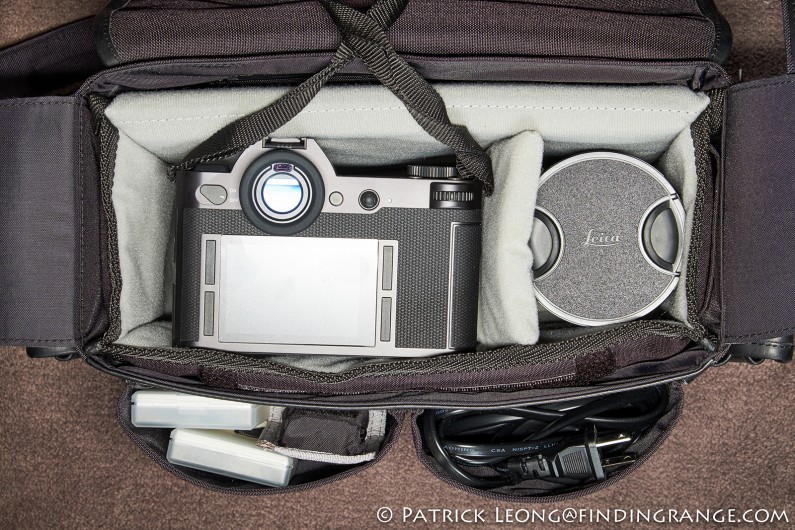 ↑ Here's the bag packed with my Leica SL, 50mm Summilux-SL ASPH, 24-90mm Vario-Elmarit ASPH, some filter boxes, spare battery, charger, iPad, and Macbook.  The pockets inside the back of the bag held my cleaning cloth, and business cards.  Keep in mind that I can also store more stuff in the side pockets if I wanted.  As you can see, the flap is flipped all the way backwards, and tucked into the back of the bag.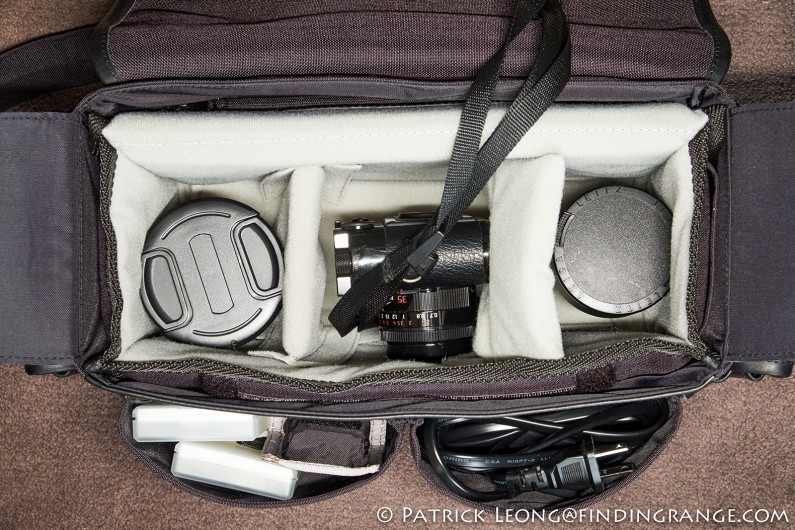 ↑ In this photo, I have my Leica M6 TTL Millennium, 35mm Summicron ASPH Black Paint, 18mm Super Elmar, 75mm Summilux, and multiple filters.  My SL battery, and charger are in here as well for demonstration purposes.  I also have my cleaning cloth, business cards, Macbook, and iPad Pro 9.7.  Side pockets can still fit more stuff.  I could've also added the flash to the bottom if I wanted to.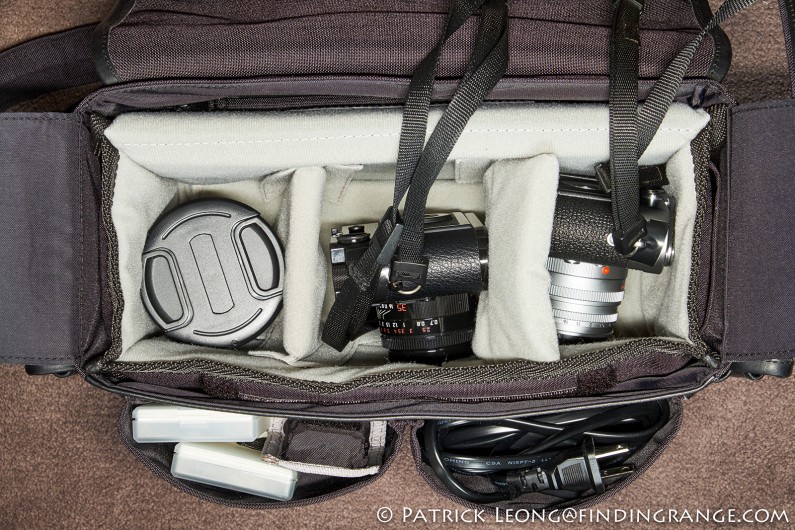 ↑ In this photo, I have my Leica M6 TTL Millennium, M3, 35mm Summicron ASPH Black Paint, 50mm Summicron, and 18mm Super Elmar.  All the other accessories I have in this photo are what I had in the previous two photos.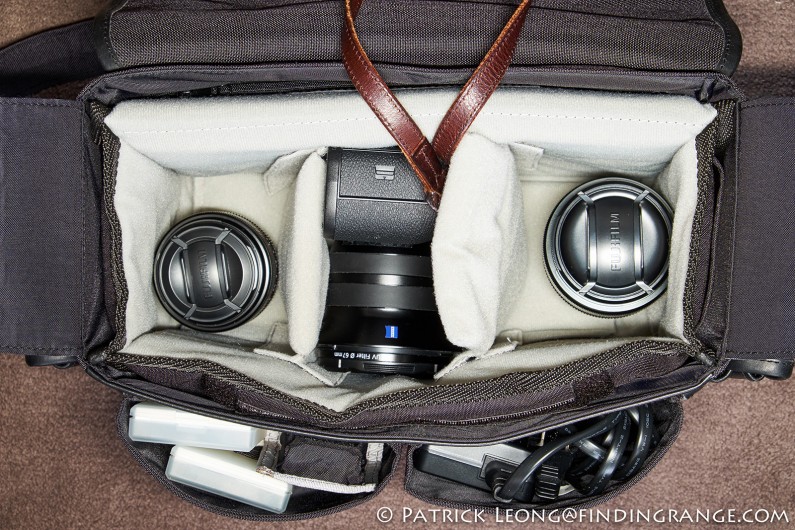 ↑ Here's a Fuji X Series kit in the Heidelberg.  There's a Fuji X-T2, 12mm Touit, XF 35mm f1.4, and 56mm f1.2 APD.  The rest of the accessories are the same as in the previous photos.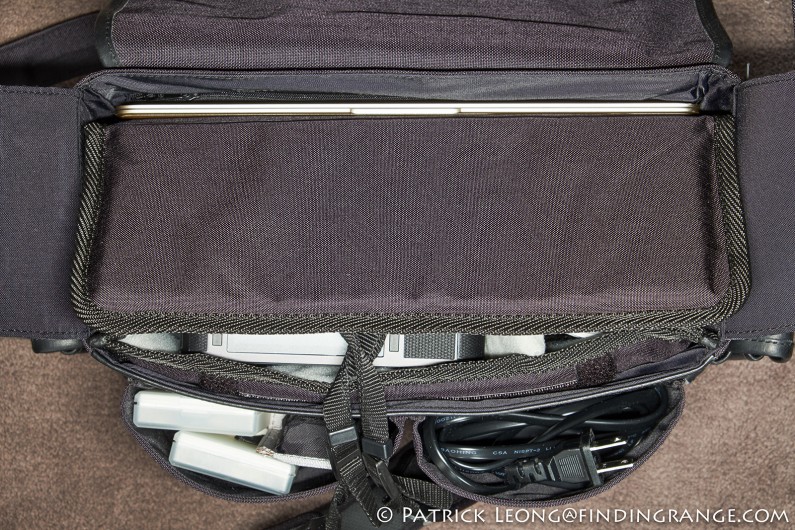 ↑ A 13″ Laptop can fit in between the insert and the back of the bag as pictured here.  My Macbook is in here but you can put a thicker 13″ computer as well.
Oberwerth Heidelberg Camera Bag in Use:
As for how the Oberwerth Heidelberg operates in the field, I'm happy to report that this is one of the most comfortable camera bags I've used so far.  For instance, considering the size of the Heidelberg, and what it is designed to carry, it's actually a light bag unless you pack it completely full (Camera gear, computer, iPad, etc.).  You never get the feeling that you are dragging this bag along at the end of the day.  It may not be as light as say a canvas bag but it's definitely light for a leather one.  The Billingham F-Stop f1.4 and the Heidelberg are about the same size, and specs wise, the Billingham is lighter.  The Billingham isn't even made out of canvas; instead it uses FibreNyte, which is even lighter but I didn't really feel that much of a difference between these two bags in practice.  Keep in mind that I've owned the F-Stop 1.4 for over a year now, so I have a lot of experience with it.
As for shooting with the Heidelberg while on my daily walks, it had absolutely no problems keeping up.  As most of you know, New York City is definitely a crowded place but this bag kept up with me while I was navigating around people, on buses, trains, and traffic.  It also offers decent support, so when I'm out for essentially the whole day, I'm not tired at the end of it.  The strap helps because it is very comfortable.  It isn't so wide that it becomes cumbersome yet along with the shoulder pad, it offers plenty of support, especially when the bag is packed full.
For those who were wondering if the Oberwerth Heidelberg hugs the body or not, it won't completely wrap around your body like say a well-used Billingham Hadley but it still felt very connected to me.  It retains its shape more like the Billingham F-Stop 1.4.  I actually prefer this, especially since the Heidelberg is designed to hold more stuff or/and larger gear.  A lot of times, I just don't have the luxury of finding a table to put my bag down in order to retrieve my gear.  In fact, most of the times, I'm actually retrieving my gear while I'm walking.  With a bag that is packed full or/and has larger gear, it can be quite difficult to pull anything out of it when it wraps around my body.  I would sometimes have to actually stop moving or spend more time digging things out where as with something like the Heidelberg, which retains its shape better, I don't even have to look in my bag to pull things out of it.  It's also great that after unlocking the flap, it flips open with so much ease allowing me even better access to my gear.
As for appearance, and whether it will attract any unwanted attention, I haven't had any issues.  I walk everywhere in New York City, and no one ever gave me a second glance.  The Heidelberg is a leather bag, and as I said before, a pretty stunning one but it never goes overboard in the design; it's not tacky looking.  It has a classic, understated elegance to it, and while it is a camera bag, it doesn't look like a typical one, especially once it starts to patina, so not many will know what it is truly designed for.  To most, it just looks like a nice work bag.  It does say Oberwerth on the flap but it's not like they printed it in bright neon red or anything.  It's discreetly printed, and the truth is, this is a niche product.  Not everyone will know about Oberwerth, and if they do, they won't need the label to tell what kind of bag you're carrying.
Oberwerth Heidelberg Camera Bag Specifications:
External dimensions: 35 x 23 x 21.5 cm (WxHxD)
Internal dimensions: 31 x 21 x 14.5 cm (WxHxD)
Weight: 1410g
Oberwerth Heidelberg Camera Bag Verdict:
Overall, I am extremely impressed by what the Oberwerth Heidelberg offers.  At $898.95, the price isn't just a bit scary, it's also currently the most expensive camera bag that I've reviewed so far.  However, if you're after a cost no object leather camera bag designed to be the absolute best that money can buy, I would say this is it.  It's expensive but it's seriously worth every penny.  The quality is second none.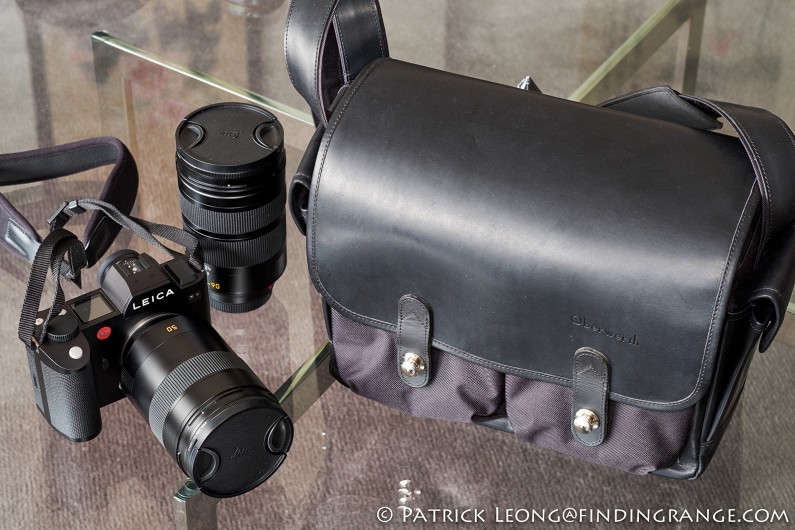 ↑ The Heidelberg is perfect for a Leica SL kit.
To some, this may just seem like a typical boutique bag but it's not.  Yes, the craftsmanship is amazing, and the materials used are ultra luxurious.  This is literally the Bugatti of bags.  But no where does it say that a good looking, luxurious bag can't be functional as well. It doesn't have to be one or the other, and the Heidelberg proves it.  The Heidelberg doesn't just depend on its good looks alone to sell itself.  It also isn't just another imitation of whatever is currently on the market.  Many of the ideas in this bag are original.  You can tell that the designers did their homework, and designed this as a true photographer's bag.  The Heidelberg is highly functional, and it has no problems keeping up with the best in this department.
The goal here was clearly not just to sell another expensive bag for the sake of it but to sell a bag that is essentially the best that Oberwerth can possibly offer in this size.  The attention to detail here is beyond obsessive.  Nothing was left out or in other words, no short cuts were taken.  For example, instead of using whatever is currently on the market for fasteners, they went with ones made by LOXX, which are extremely tough, secure, yet quick to release.  The Heidelberg isn't really a large bag but because of it's various pockets and overall design, it has the ability to fit a computer, and a laptop in addition to my camera gear.  For the parts that aren't leather, Oberwerth chose CORDURA because of its durability.  It also has the added benefit of being lightweight.  As for the insert, it along with the dividers use air cushions instead of foam.  It's also great that you can tuck the insert's flap between the inside of the back of the bag, and the back of the insert.  To make the most out of the available room, there's the longest divider, which is designed to go on the bottom of the insert allowing you to bring something like a flash as well.  There are side pockets but when they are not in use, they don't make the Heidelberg much wider.  I can go on and on but then I would just be repeating my review :).  The point is, the Heidelberg is an ultra luxurious but also a darn good one in terms of functionality.  It's a well-thought out bag where the photographer isn't just taken into account but is the primary concern.
I normally don't use leather bags myself but I'm a fan now.  The Heidelberg is just made so well, and designed so well.  The only thing that I would change is maybe add flaps for the two front pockets but that is very minor, and more of a personal preference.  The price is high, and if you think about it, it does cost more than some people's entire systems, so it's probably not for everyone.  But I don't really find it a fault in this case because I sincerely feel like you're getting your money's worth here.  Plus, you can think about it this way: unlike say cameras where they are often replaced pretty quickly these days, a bag like this can last you a lifetime.  Bottom line is, the price of admission is high but I feel the Heidelberg has essentially raised the standard in what is possible in a high end leather bag of this size.  It's also good enough to be your last bag.  Highly recommended.
Thanks for taking the time to read my review!  Please stop by Oberwerth's website for more info!:
If you're considering purchasing the Heidelberg, and my review helped you decide, please help support this site by purchasing from any of the links in this review.  It will not cost you anything extra.  Thank you for your support!
Black/Dark Brown, Brown/Dark Brown, Olive/Dark Brown, and Black/Black