Leica Sofort Instant Film Camera Review:
Instant film cameras are becoming more and more popular because quite frankly, they are a lot of fun to use.  In addition to the fun, shooting with one of these lo-fi film cameras is a nice break from the technical perfection of digital.  There are actually quite a few manufacturers that are currently producing instant film cameras like Fuji, for instance.  Now, Leica have also entered this market with their new Sofort.  The Sofort not only shoots with the popular Instax film, it is also currently the cheapest Leica that you can buy by a far margin.  So, let's take a closer look at the Sofort, and see what this camera is really about.  
Leica Sofort Instant Film Camera Build Quality:
Build quality wise, the Sofort does have a plasticky feel but at $299, I'm sure no one expects it to be built like an M or even an SL.  With that said, it's still a solid camera.  It's surprisingly sturdier than I expected, and theres' no flexing of any kind.  It also comes with a tripod mount.
↑ The Leica Sofort in orange.
Appearance wise, it does have some similarities to the Fuji Instax Mini 90, and it should, since the Sofort looks like it's based on that camera.  Of course, it does have its own little tweaks, and in general, I actually prefer the Sofort's body style over the Fuji's.  As you can see, it's square shaped but the more angular design does look really nice, especially in person.  It comes in three colors as well: White, Orange, and Mint.  All are colors that will make sure you are seen :).  I requested an Orange version for this review because I thought it would pop out more in the photos but personally, if I were in the market for one, I'd probably go for the mint.
As for handling, holding it in general can feel a bit awkward.  The way that the Sofort is designed, there's not much space to hold it in my right hand, which is important because that's the hand that will press the shutter button.  But for a camera like this, I don't think ergonomics are that essential.
The controls on the Sofort are very simple and basic.  On the back, there are five buttons.  There's the power button that will extend the lens.  There's a flash button that let's you set the flash to on, off, auto or even red eye reduction.  There is a self timer button, and even a exposure compensation button.  Lastly, there is a mode button that will help you customize the Sofort to suit your situation.  These modes are:
Macro
Bulb
Automatic
Self timer
Party and People
Sport and Action
Double Exposure
↑ The controls are very straightforward.
As for the lens, the Leica Sofort uses the Automatik-Hektor 60mm f/12.7, which is basically a 34mm equivalent, and there's really not much to adjust.  There is a focus ring but there are only two settings: close-up, and landscape.  If you have it set to close-up, you should be in focus between 0.6 to 3m, and if the Sofort is set on the landscape setting, it's in focus anywhere between 3m and infinity.  There is a little focus scale on the back display of the camera that will tell you how you have it set.
↑ The Sofort comes with a retractable Automatik-Hektor 60mm f/12.7.
In terms of loading the film, it couldn't be easier.  The film comes in a rectangular cartridge, and what you do is simply open the back of the camera, and place the film inside.  Once you close the lid, it will eject a plastic sheet from the film pack, and then you are ready to shoot!  When you do take a photo, it slowly ejects out of the side, and at first, the picture will be all white.  But within a few minutes, the image will slowly develop.
↑ Loading film is simple: pop the back open, and just stick the film pack in it.
↑ Pictures come out of the side of the Sofort.
Now, you obviously have no LCD display to view what you are about to shoot or what you have photographed.  Instead, you have a small mirror in the front for selfies, and a good old-fashioned 0.37x optical viewfinder.  The viewfinder is tiny but hey, we're not after perfection here.  While the viewfinder is fairly accurate, perfect composition still isn't as important in this case.
Leica Sofort Instant Film Camera Image Quality:
As many of you know, using the Leica Sofort isn't about getting professional results.  In fact, one could argue that imperfection is what you're after here.  Images are decently sharp for what type of camera this is but I found results can also be unpredictable at times.  For instance, I did get some pics that were sharp while others were out of focus.  This happened mostly at close-ups.  Sometimes in bright daylight, the camera can overexpose but luckily, there is exposure compensation.  Still, it doesn't always solve the problem.  Also, if you're shooting close, and using the flash, you can get super overexposed results.  There are other times when it seems to come out just fine.
But the truth is, the unpredictable nature is part of the charm of instant film, and with the Sofort, you're more after just recording the moment.  It's about the fun of just snapping pics to your heart's content, and impatiently waiting with friends to see the photos slowly develop.  It's about adding a little bit of lo-fi analogue to a digital world that seems to only be obsessed with perfection at times, and embracing the imperfections that can come with instant film.  It's worth noting that waiting for pics is actually pretty exciting as well because you don't always know what you're going to get, and it is a little bit nostalgic.  It should be, of course.  It reminds me of the days when I was young, and playing with a Polaroid camera.  The pics can be stuck on refrigerator doors or given to people right in the moment, and yes, while you can just print jpegs from your digital camera or email them to someone, quite honestly, it just doesn't quite have the same cool factor :).
Film wise, Leica have their own branded color and black and white packs.  However, you can also use Fuji Instax Mini film as well.  I actually prefer the Fuji film packs because you can get many different kinds of borders.  For instance, if you see some of my examples, you'll notice that they have black borders.  They even have holiday themed borders or cartoon character borders.  Keep in mind that the film packs do add up over time in terms of cost, so just be aware of how much you are going through.  I'll admit it wasn't always easy for me to control myself because using the Sofort was tons of fun.  I let my friends give it a go, and they blew through two packs within minutes!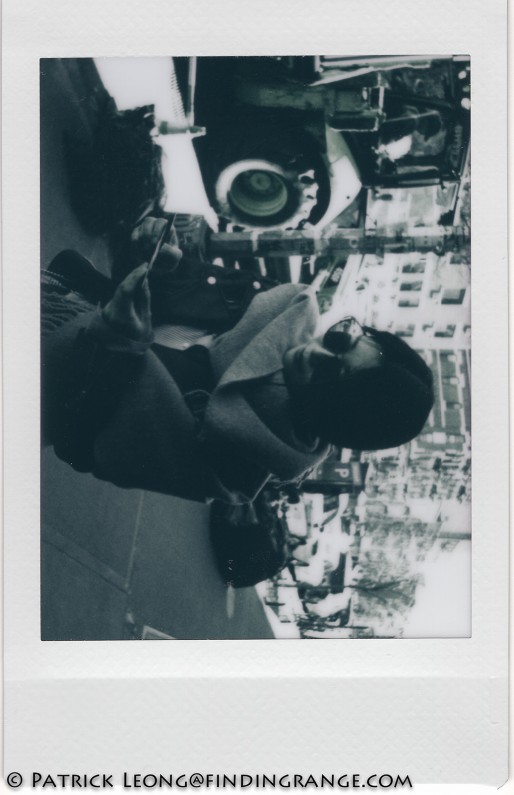 Leica Sofort Instant Film Camera Pros And Cons:
Leica Sofort Instant Film Camera Pros:
Well-built.
Nice appearance.
Simple, and easy to use.
Tons of fun.
Leica Sofort Instant Film Cons:
Expensive compared to its competitors.
The film packs can add up after a while.
Leica Sofort Instant Film Camera Verdict:
The Leica Sofort is more fun to use than I ever expected, and that is the whole point of this camera.  With the Sofort, it's less about top image quality.  Everything does not need to be perfect or looked upon with such a critical eye.  In other words, we don't have to take photography so seriously because with the Sofort, it's more about capturing the moment, experimenting, embracing imperfection, and just enjoying photography.  It's definitely a nice change from the typical digital routine, and at least for me, it was much needed.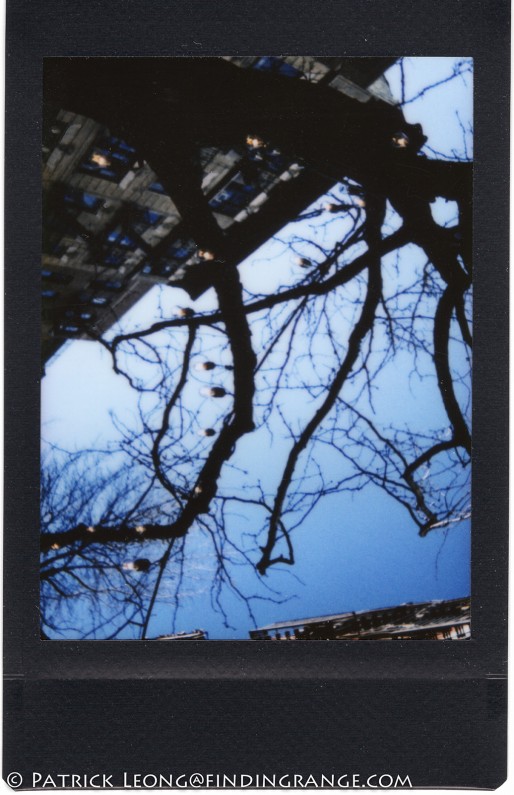 Price wise, I feel the Sofort is more expensive than it needs to be considering the alternatives from its competitors.  For instance, the Fuji Instax Mini 90 currently retails for about $125 at B&H Photo, and it'll give you the same sort of fun.  But personally, I really do prefer the look of the Leica version a lot more, especially the mint one.  I have a friend who uses the Mini 90 for her brand, and she absolutely fell in love with the Sofort.  I'd probably go for the Leica if I was in the market for one of these cameras.  Yes, it does cost more than the Fuji but first off, this is a film camera, so I'd probably keep it longer than if it were digital.  Second, with something like this, I don't necessarily care whether these two cameras perform the same or if one is better than the other on a technical basis.  I don't think that's as important here, which means for me, the decision wouldn't be based purely on logic with a camera like this. There is some emotion involved here. Therefore, I'm going to base my decision more on which one I personally think looks cooler :).
Overall, if you want a camera that is a great conversation starter, will record your memories, shoots film, and most of all, is simply fun to use, the Sofort is a great choice to consider.  It definitely has its charms, and I'll tell you something: it probably attracted more praise, and attention from friends and strangers than any other camera I've reviewed so far :).
↑ The Sofort is a lot of fun to use!
Thanks for taking the time to read my review!  If you're considering purchasing the Sofort, and my review helped you decide, please help support this site by purchasing from any of the links in this review.  It will not cost you anything extra.  Thank you for your support!
Leica Sofort at B&H Photo: