Leica Summaron-M 28mm f5.6 Lens Review: A Classic Reborn:
Over the years, Leica has released a lot of unique and interesting lenses.  There are, of course, lenses that push boundaries like the Noctilux series, the Summicron-M 50mm APO, and the SL lenses.  There are also cool retro looking lenses with current optical formulas, which I'm often times a big fan of depending on the model.  I've been a particular fan of two of these lenses: one being the 35mm Summicron ASPH that came with one of the special edition Anthracite MPs.  The other is not a limited edition lens but special to me: the 50mm Elmar-M f2.8 in chrome.  You would think something like a Noctilux would be the number one lens on my list of wants but it's actually this lens, and while it isn't that expensive in Leica terms, every time I see one, I can't bring myself to buy it :).  I absolutely love this lens and I almost bought it when it was in production.  I held it in my hands but the logical side of me chose to buy the Summicron instead because optically, it's a better lens.  Anyway, what I'm getting at is Leica has produced a lot of unique lenses over the years, and they haven't stopped.  For instance, recently, they have released the Summaron-M 28mm f5.6, which is a lens that has actually been modeled after a screw mount version that was in production from 1955 – 1963.  This is also the lens that I will talking about today.
Leica Summaron-M 28mm f5.6 Lens Build Quality:
So, let's start off talking about this lens' appearance.  The Summaron-M 28mm f5.6 looks like it just came straight out of the 1950s.  It is an absolutely beautiful piece where every little detail is accounted for, and considering it is a Leica M lens, we shouldn't expect any less.  There's even the little metal focus knob on the bottom of the lens, that will lock in place at infinity. You can unlock it simply by pressing on a button on the focus knob.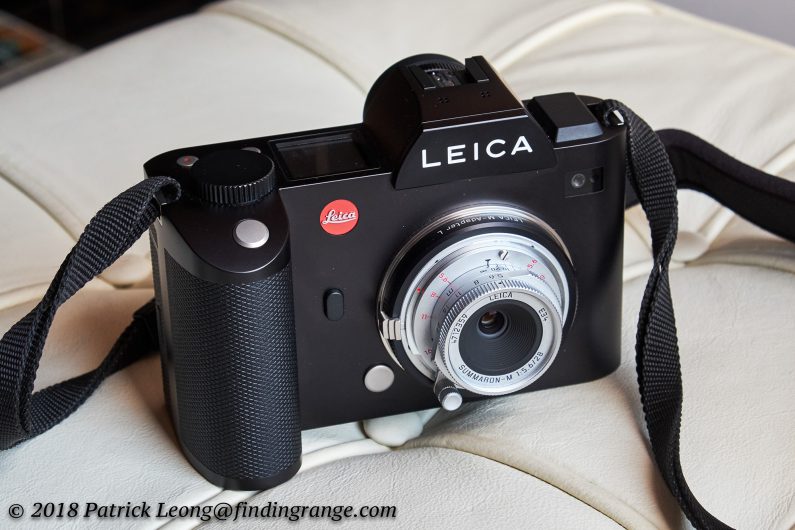 ↑ The Leica Summaron-M 28mm f5.6 attached to my SL with the M Mount Adapter.  The SL was used to take all the photos in this review.
Of course, the lens has more to it than just its retro looks.  The materials used and overall build quality are what we have come to expect from Leica.  For instance, the 28mm Summaron weighs just 165 g, and while that isn't heavy, you have to remember that this is an extremely tiny lens.  In other words, for a lens of this size, there's a nice heft to it.  It's also a good indication of the high end materials used to create the Summaron-M 28mm.  It's pretty clear that everything here is made from solid metal and glass.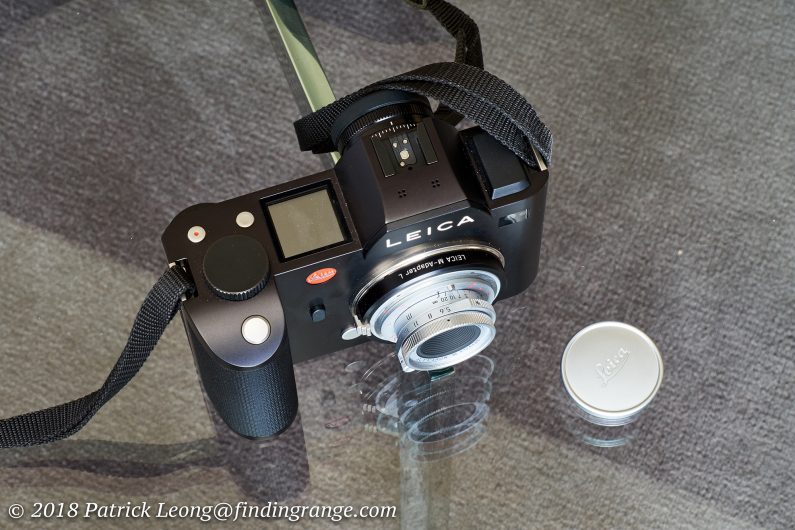 ↑ The 28mm Summaron is ultra compact and also comes with a metal lens cap.
The overall build quality is not only quite impressive, it makes the Summaron-M 28mm f5.6 feel like it'll last till the end of time.  It's extremely solid feeling with absolutely no signs of inferior workmanship like creaks or loose assembly. The focusing ring is one of the smoothest I've felt from Leica so far with just enough tension to give it a nice feel as you rotate it.  The aperture ring clicks in full stops.  While it stays solidly in its chosen setting, as you rotate it, it also has a smooth, high end feel.  There's not much to a manual lens; obviously, there are no electronics, for example, but overall, everything feels over-engineered and well-thought out.  It simply is a pleasure to operate this lens.  It's a 28mm with its largest aperture being f5.6, so there's not much focusing that really needs to be done given the large depth of field yet I almost wish I could spend more time focusing it precisely only because of how wonderful the focus ring feels.
The 28mm Summaron also comes with a lens hood, and it is equally as impressive as the lens itself. It's machined from solid brass, and matches beautifully with the 28mm Summaron.  However, I must admit that I much prefer to use the lens without the hood only because I just love the compact nature of it.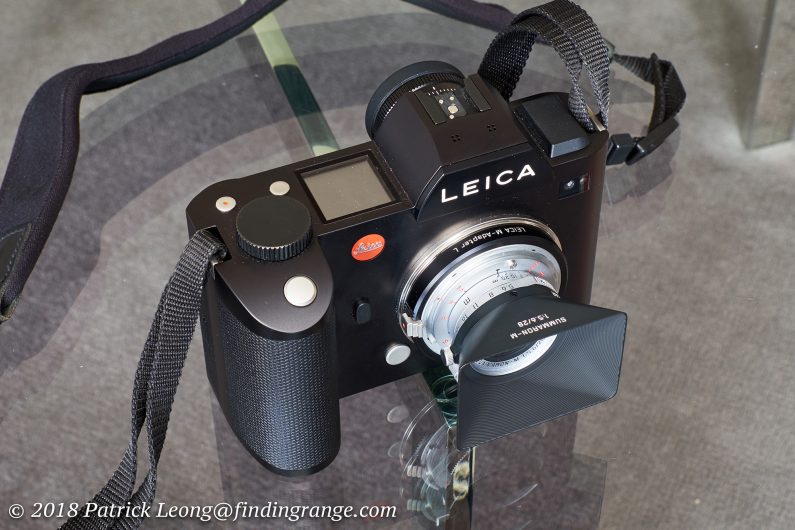 ↑ The lens hood is also retro styled.
Everything about the Summaron-M 28mm f5.6 from the way that it feels, the way that it's made, the way that it operates, and even the satin line box that it comes in makes it feel truly special.  It's seriously a work of art.  It feels like one of those special edition Leica products but it's not; it's a normal production lens that you can buy right off the shelf if you can find it.  At $2,595, it costs more than the Elmarit-M 28mm f2.8 ASPH, which one could argue is a more capable lens on a technical basis but the Summaron isn't necessarily measured in that way completely.  This leads me to the next topic I want to cover about this lens: image quality.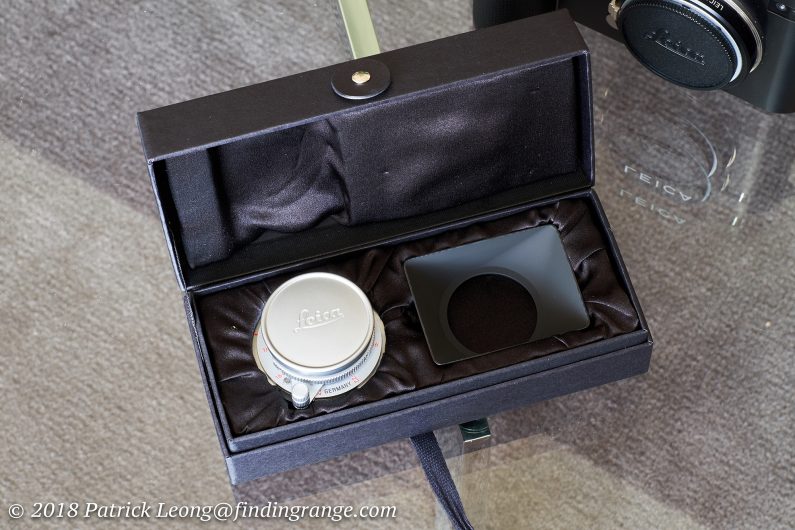 ↑ The 28mm Summaron comes in a satin lined box.
Leica Summaron-M 28mm f5.6 Lens Image Quality:
If you're looking for perfect image quality, then you're probably better off with the cheaper Elmarit (which I owned before and loved), the Summicron or even the new Summilux version. The 28mm Summaron isn't about getting the absolute best possible image; as I said earlier, the 28mm Summaron is modeled after a screw mount lens that was made from the 1950s to mid-1960s, so it uses the identical optical properties of that lens.  What that means is you're getting the character of that older lens.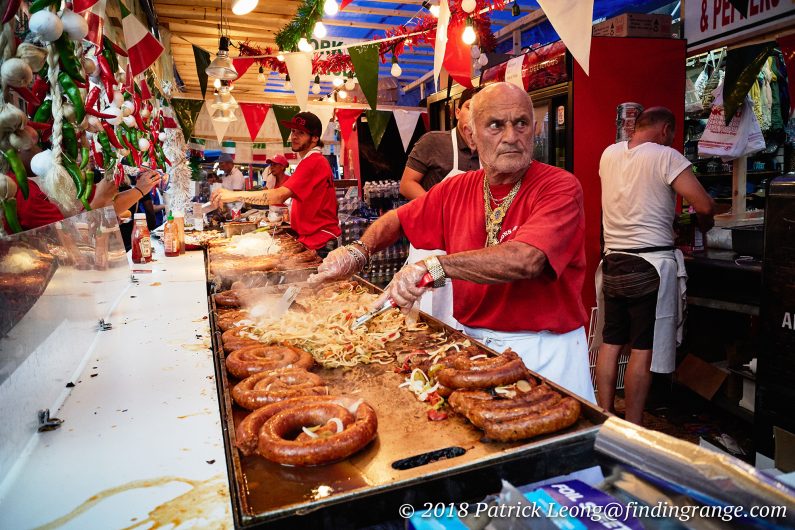 ↑ This was taken at the San Gennaro Feast.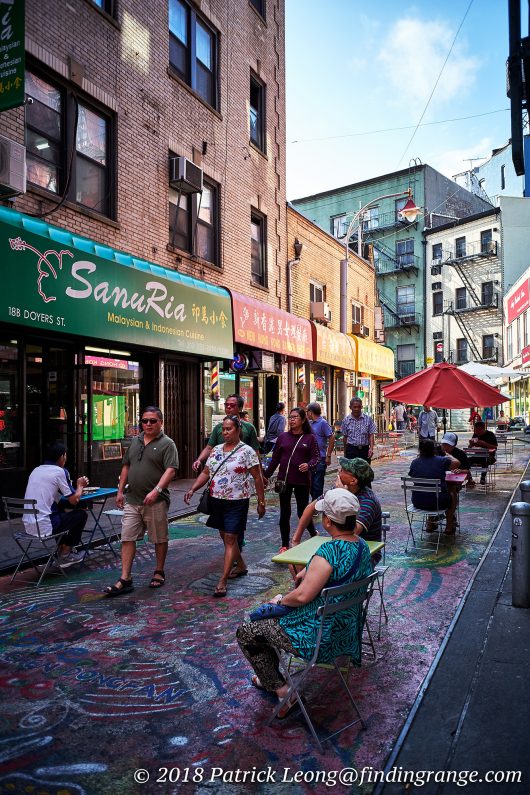 ↑Walking around Chinatown.
You're getting a certain signature look that purposely includes imperfections.  For instance, the Summaron-M 28mm f5.6 unapologetically vignettes heavily at its wide open aperture of f5.6, for example. Vignetting does decrease as you stop the lens down but from what I see, it never really goes away.  Edges are also somewhat soft, especially compared to other Leica 28mm lenses.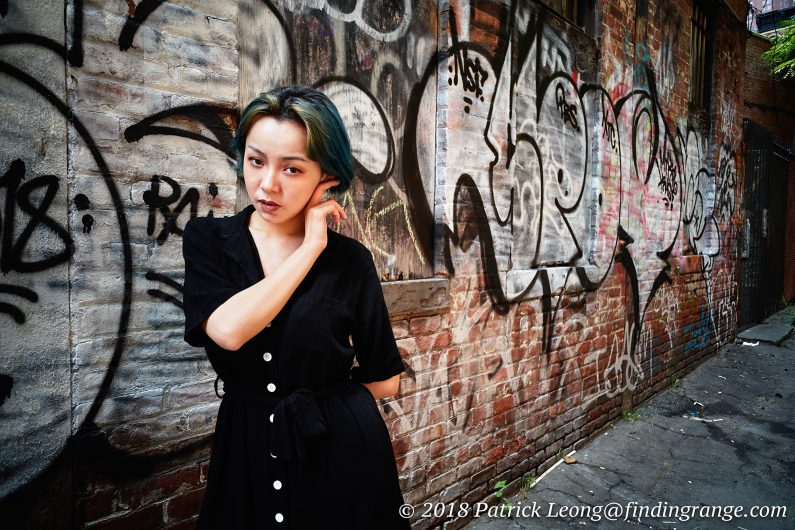 ↑ I really enjoy the classic rendering of this lens.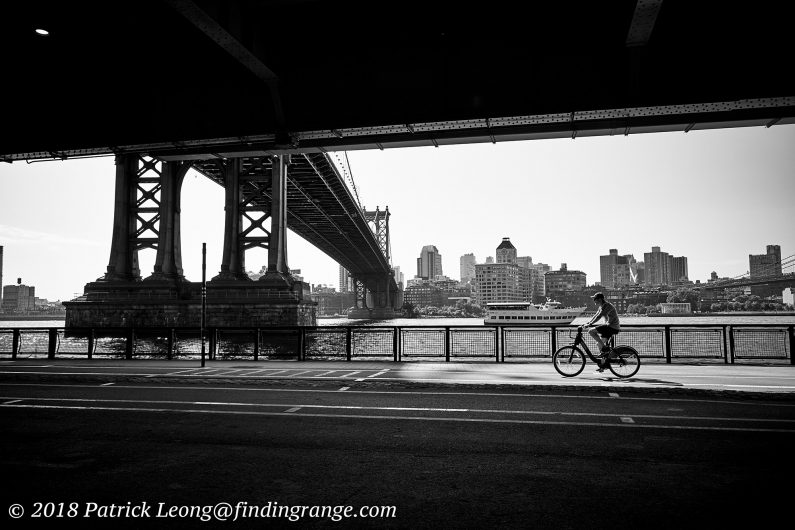 ↑ The 28mm Summaron would be great to use on a Monochrom.  This photo, like all the photos in this review, was taken with my SL.
But again, these imperfections are not only purposely left in this lens, they are in a way celebrated.  It's kind of the point of buying this lens.  In this way, 28mm Summaron is a current production lens that offers a unique approach to capturing images, and it's refreshing to see something like this when so many current lenses strive for optical perfection.  Don't get me wrong, I'm definitely a fan of getting the best possible image quality as well; it's one of the reasons I'm such a huge fan of the SL lenses.  All I'm saying is there are days when you don't want or need perfection and instead, want something that'll give you a unique, special, and dare I say, a classic rendering.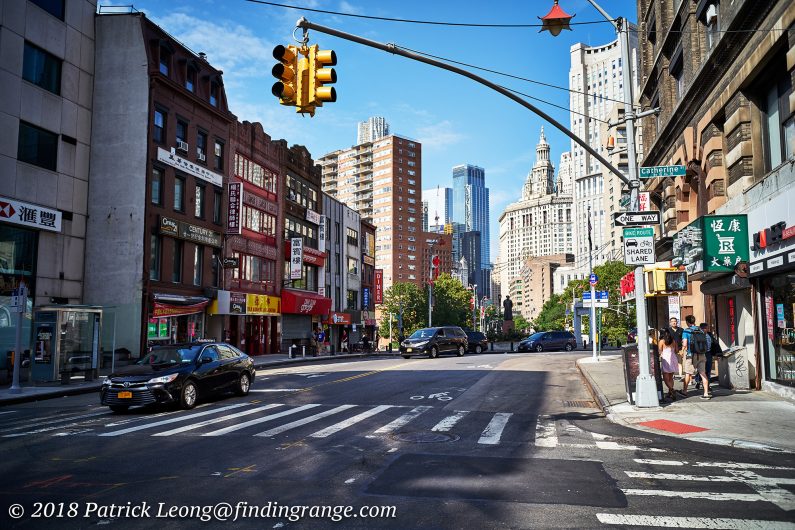 ↑ The 28mm Summaron makes a great companion if you know you're going to be doing a lot of walking on a particular day.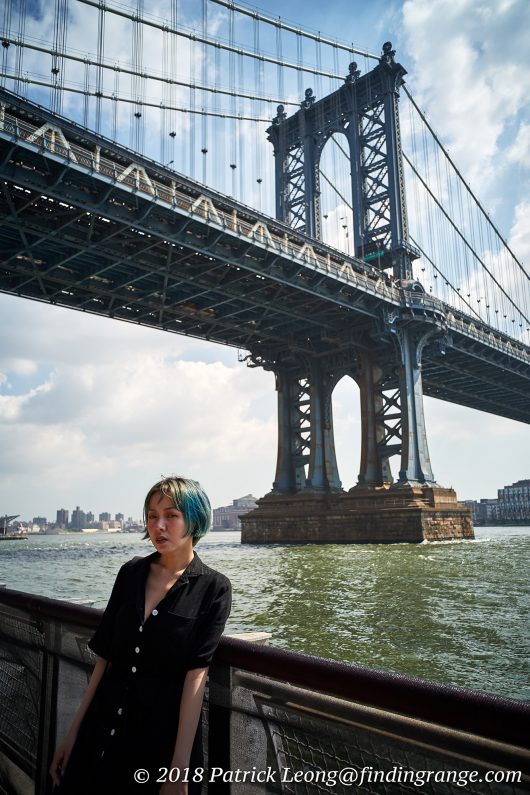 ↑ This was taken on one of the very last days of hot weather.  I'm glad it's finally cooling down :).
With all that said, the optics on a technical basis are still great overall, and during my time with it, I didn't once feel like I needed something more clinical or sharper.  I know there are some that may think the Summaron-M 28mm f5.6 is just a collectible piece but that's not true.  This is a perfectly usable lens that will still produce great results with, of course, a classic look.  It's still an M lens, so you can expect a certain degree of optical quality.  For instance, it's much sharper in the center than I expected.  I didn't have a big issue with flare either.  Color rendering and contrast are up to par, although don't expect it to be quite as contrasty as some other current Leica M lenses.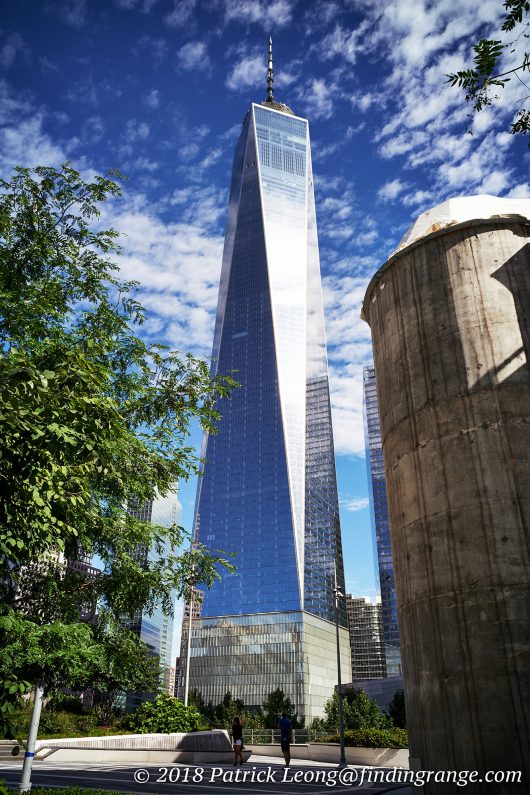 ↑ If I remember correctly, this was shot at f11.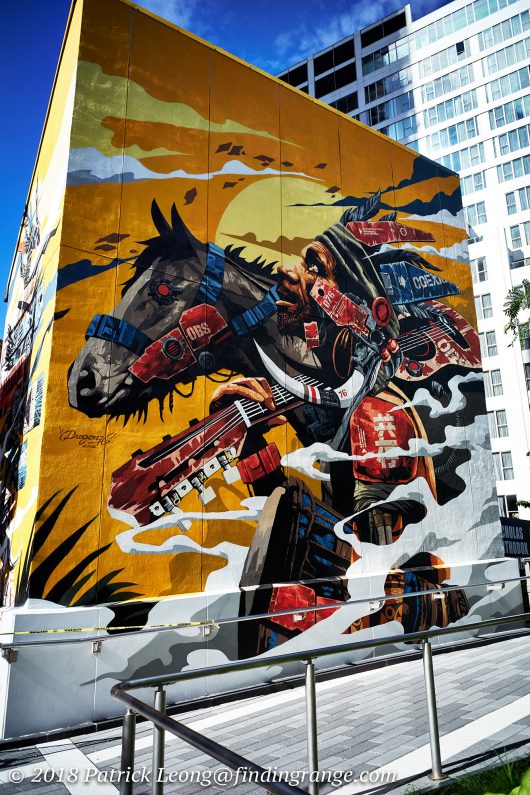 ↑ Here's another photo where I stopped the lens down a bit.
Leica Summaron-M 28mm f5.6 Lens Handling and usability:
In fact, if I had to choose just one 28mm lens in the Leica catalogue, this is the one I would most certainly buy.  The classic rendering is quite addictive, and it's something you're just not going to get from other current Leica glass.  When I first was thinking about reviewing the 28mm Summaron, I wasn't that excited to tell you the truth.  I love trying new lenses, especially Leica ones but I've never been a fan of the 28mm focal length.  I try to avoid them ;).  As I said earlier, I owned the 28mm Elmarit-M ASPH but ended up trading it in for something else.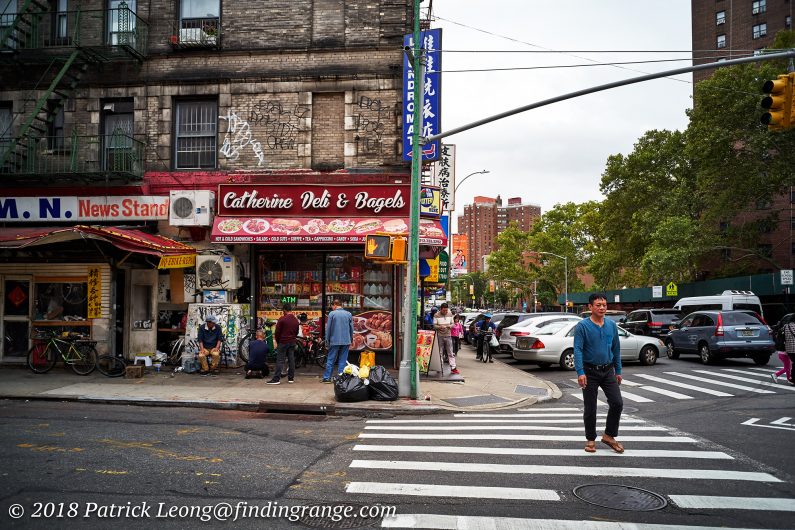 ↑ This was taken around the Lower East Side of Manhattan, which is one of my favorite areas in NYC.
But I have to say, I am absolutely in love with this lens now that I've had a chance to use it.  In fact, while this is a loaner, I almost bought one the other day.  It really has such a special character to it.  I even find myself purposely shooting at f5.6 when it might be better to shoot at say f8, just to get more of the "imperfections" like the vignetting.  Like I kind of mentioned before, I feel the optics are good enough that I don't miss what I might get, in terms of technical quality, from other more clinical lenses but at the same time, I'm producing images with a truly distinctive look to them without going crazy in Photoshop.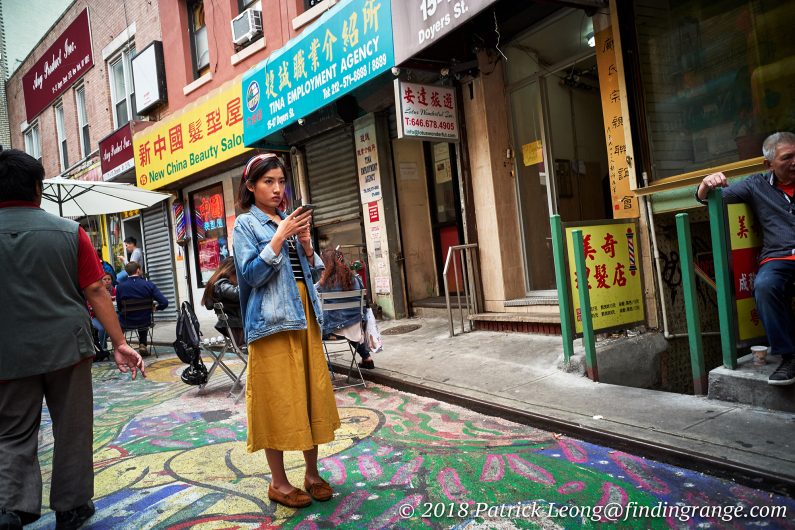 ↑ This was a hip shot.  I probably could've gotten closer but she moved by the time I walked over.
Another reason why I would choose this lens over other 28mm Leica lenses is its handling.  Others may have a different opinion but I feel the Summaron-M 28mm f5.6 makes the perfect street lens.  First off, it is so tiny.  I had this lens mounted on my Leica SL, and I could run right up to someone, and snap their picture multiple times without them even knowing it.  I owned the Elmarit, and even though it is also compact and black, I didn't feel as stealthy with it.  The Elmarit was also mounted on my M9.  I don't know what it is; maybe it's so small that people don't even know it's a real lens.  Whatever it is, all I know is that I get the shot I want.
↑ I really love the classic nature of this lens.  I hope Leica comes out with more of these types of lenses soon.
Now, the Summaron-M 28mm f5.6 isn't an ultra fast lens, and I'm sure many see this as a huge disadvantage.  But here's the thing: it's a 28mm lens, which I'm primarily using for street work.  Like a lot of other photographers, I stop my lens down when I'm doing street photography whether it's an autofocus or manual lens.  I set a small aperture, so most things are in focus, and I just point and click.  If this was a 50mm lens, f5.6 would maybe be too slow for me but being that this is a 28mm lens, I have absolutely no issues with its largest aperture.  In fact, I'll often times stop down to even f8 or f11.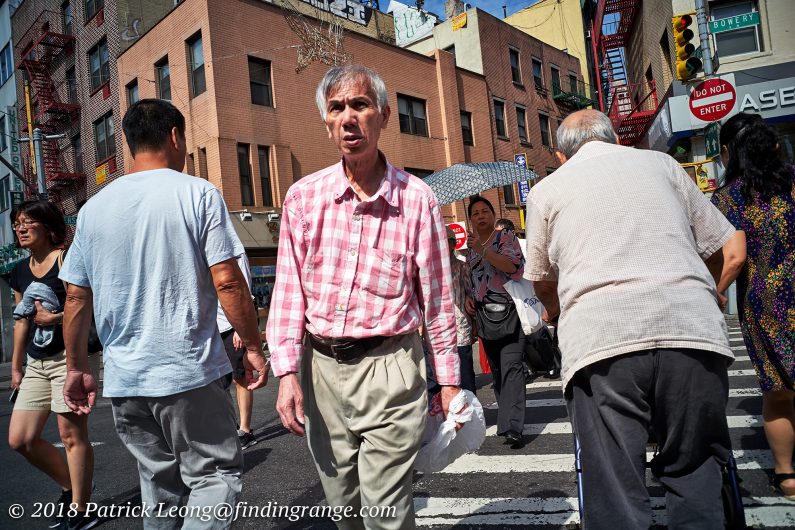 ↑ Here's another hip shot.  The guy's shirt caught my eye while I was walking across the street.
The benefit of such a slow lens is also size: the ultra compact nature of the 28mm Summaron makes it even better to use for street work.  As I mentioned in a previous paragraph, one can be more stealthy. Also, street shooting sometimes requires one to do a lot of walking, and having a compact lens is much easier to carry around for those long days.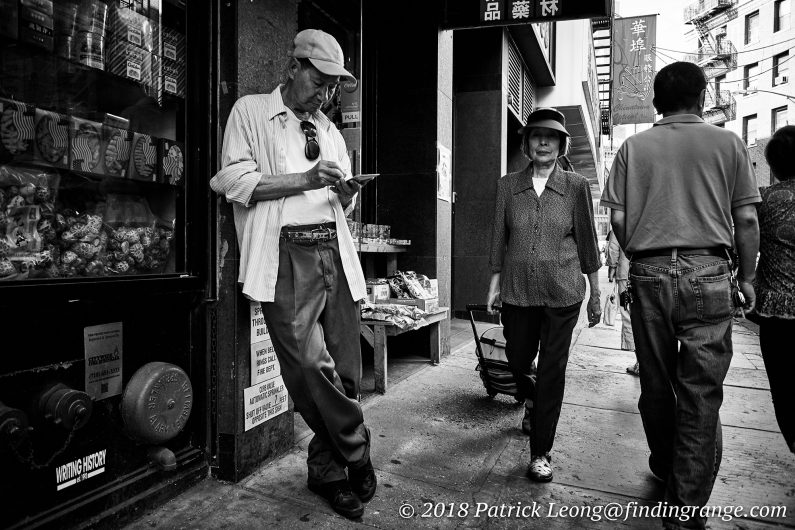 ↑ Here's one more hip shot.  I converted to black and white using Capture One.
The only small issue I had with handling is with the depth of field scale, which was a little hard to read.  I guess this is just how it was back in the day, and of course, after several decades, things improved.  But since this is a 28mm lens, there's a large depth of field, which means you rarely have to make any further adjustments once you set the focus. It was just point and click for me.
Leica Summaron-M 28mm f5.6 Lens Verdict:
Overall, the 28mm Summaron has been an absolute joy to use, and I'm really sad to see it go.  I not only love the unique images that it produces, it's also plain out fun to shoot.  It also doesn't hurt that I believe this is one of the most beautiful M lenses ever made.
At $2,595, the Summaron-M 28mm f5.6 isn't that expensive for a Leica lens.  In fact, I almost feel like it's a steal considering what Leica has sometimes charged for certain products like this one.  However, it does cost $300 more than the already excellent 28mm Elmarit.  If you ask me, I would most definitely choose the Summaron but it really comes down to personal preference.  The Elmarit is more clinical, has a much larger aperture, and will give you that perfect image where as the Summaron will give you a more classic rendering.
Another point worth mentioning is that one could just buy a used screw mount version of the Summaron.  However, if you want mint, they can cost over $2,000, which puts you close to a new Summaron anyway.  With the Summaron-M, you also get 6 bit coding along with an M mount.  Plus it's brand new glass where as with used stuff, you don't always know it's history.
As you can probably tell, I wholeheartedly recommend the Summaron-M 28mm f5.6 to anyone looking for a 28mm lens.  It's truly something special, and unique.  There are other Leica lenses that are optical better on a technical basis but this lens' distinctive rendering puts it in a class by itself.  In my opinion, it's a must-buy if you're a serious M fan.  If I did not emphasize it enough before I'll say it again: I really miss this lens now that I've returned it.  I think I will have to pick one up myself very soon :).
Thanks for taking the time to read my review!  If you're considering purchasing the 28mm Summaron-M, and my review helped you decide, please help support this site by purchasing from any of the links in this review.  It will not cost you anything extra.  Thank you for your support!