7artisans Photoelectric 7.5mm f2.8 Fish Eye Lens Review For Fuji X:
I don't actually own a fish eye but I quite enjoy using one.  So, when I had the opportunity to review the 7artisans Photoelectric 7.5mm f2.8 Fish Eye, I went for it.  As many of you know, 7artisans is a lens manufacturer that produces a lot of budget-minded lenses for various camera systems.  I reviewed a few of them in the past, and for the most part, I thought they offered real value for the money.  The lens in this review is a Fuji X Mount sample, and factoring in the crop factor, it's approximately an 11.25mm equivalent.  This is actually the widest lens I've reviewed so far, and I found it quite interesting to work with.  Let's take a closer look.
7artisans Photoelectric 7.5mm f2.8 Fish Eye Lens Build Quality:
The last two lower priced fish eye lenses that I reviewed were the Rokinon 8mm f2.8 versions I and II (Reviews for Version 1 and Version 2).  The focal lengths are similar to the 7artisans in this review, and those optics were some of my favorite X Series system compatible lenses.  The version II is the most current, and it goes for about $300.  The 7artisans Photoelectric 7.5mm f2.8 Fish Eye costs just $139, which is a whole lot cheaper than the Rokinon, so I did wonder what the build quality was like.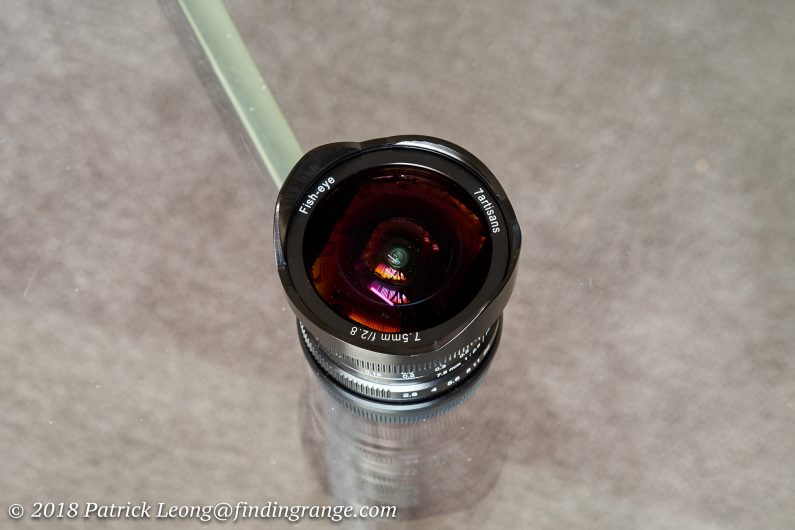 ↑ The 7artisans Photoelectric 7.5mm f2.8 Fish Eye lens with the Fuji X Mount.
I'm happy to say that the construction of this lens is very decent when you factor in the price.  While those two Rokinon lenses were made well, they did have a bit of a plastic-like feel, where as the 7artisans is constructed with metal parts.  It feels quite solid with no creaks or rattles.  It's about 278 g, which is nice and weighty for its size.  It's neither too light, which I generally don't like; I feel a little bit of weight helps me steady the camera a bit.  It's also not too heavy, and balances nicely with the X-T2 and the X-E1, which are both cameras I used for this review (most of these pics in this review were from the X-E1 because I had traded my X-T2 for the Fuji X-T3 during my time with the 7.5mm f2.8 Fish Eye).
In terms of operation, the focus ring is very smooth, and it offers just the right amount of resistance to give you a nice feel as you use it.  There is an aperture ring on the lens but it's a de-clicked type meaning it rotates smoothly as you turn it with no hard stops as you pass through the aperture settings.  I'm not a fan of a de-clicked aperture ring but it's not a deal breaker to me.  The 7.5mm f2.8 fish eye also comes in several mounts, which means an adapter might not even be necessary for you.  The one in this review is the Fuji X Mount version, of course, but you can get this lens in Canon EF-M, Micro Four Thirds, and Sony E Mount.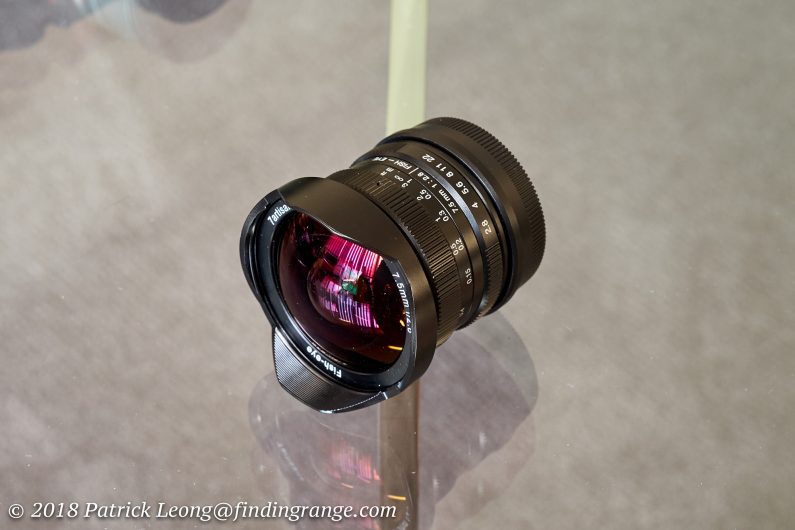 ↑ The 7.5mm f2.8 Fish eye is fully manual lens.
The 7artisans Photoelectric 7.5mm f2.8 Fish Eye also comes with a petal-shaped lens hood.  In addition to helping reduce flare, the lens hood also helps protect the front element giving that it protrudes right out of the lens.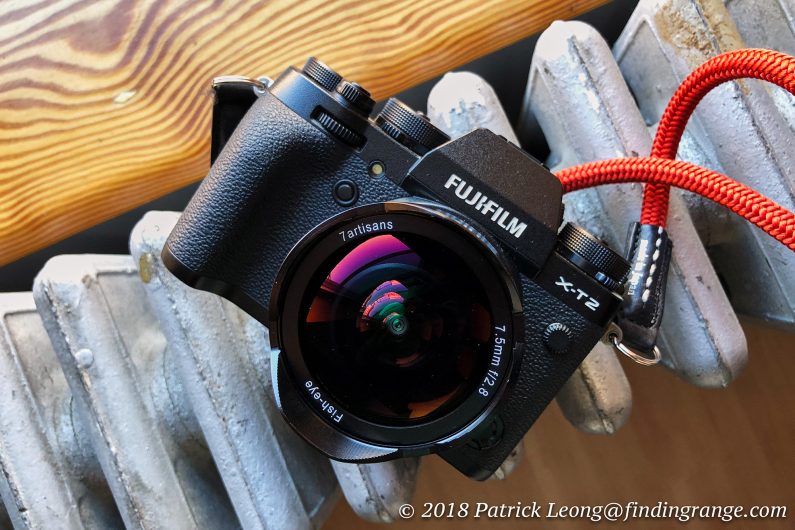 ↑ The 7.5mm f2.8 Fish Eye attached to the Fuji X-T2.
Overall, I feel this lens is well-made given it's price.  It might not be made like a Leica lens but then again, it is considerably cheaper.  Out of all the 7artisans lenses I've reviewed so far, this feels like the best built one to me.  I've had it for a while now, and I haven't run into any issues.  Let's talk about the image quality of this lens now.
7artisans Photoelectric 7.5mm f2.8 Fish Eye Lens Image Quality:
The 7artisans Photoelectric 7.5mm f2.8 Fish Eye is extremely wide, and at least for me, it took some time to get used to it because I haven't used something this wide in quite a while.  I love the dramatic distortion and perspectives that you can get from something like this but in the beginning, it just felt like I couldn't get close enough to my subject :).  Still, once you get used to the 7.5mm f2.8 Fish Eye, it's quite a lot of fun to use it.  Shooting with this lens is like looking at the world completely differently.  It's ultra wide focal length just makes things even more dramatic and different.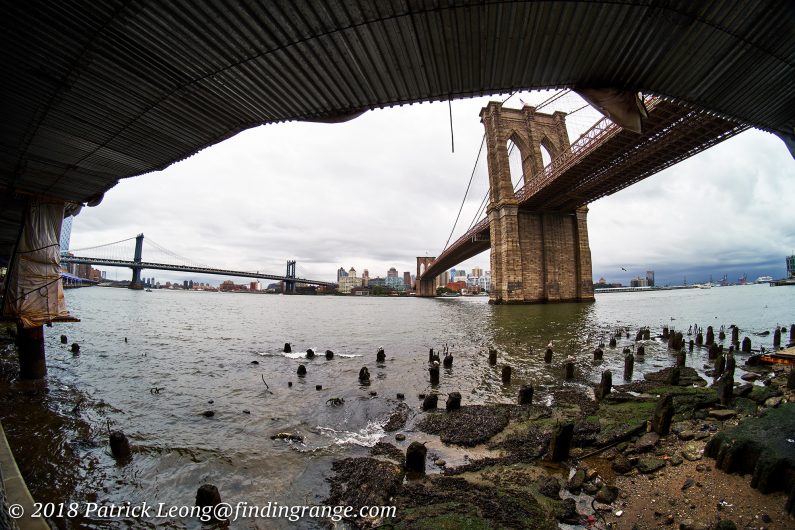 ↑ The 7.5mm f2.8 Fish Eye definitely took me a little time but overall just a lot of fun to use.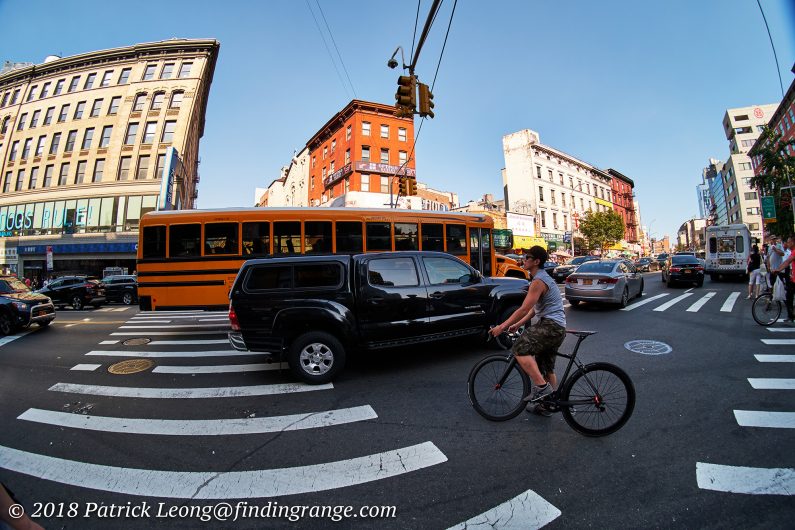 ↑ Canal Street in NYC.
I was actually very happy with the image quality overall.  I'm not saying it's the best fish eye I've ever used.  It's definitely not up to the same level as say the brilliant Olympus 8mm f1.8 Fish Eye that I reviewed a while back.  But then again, the 7.5mm is priced much lower, and for the price, I feel like you're getting a decent deal here.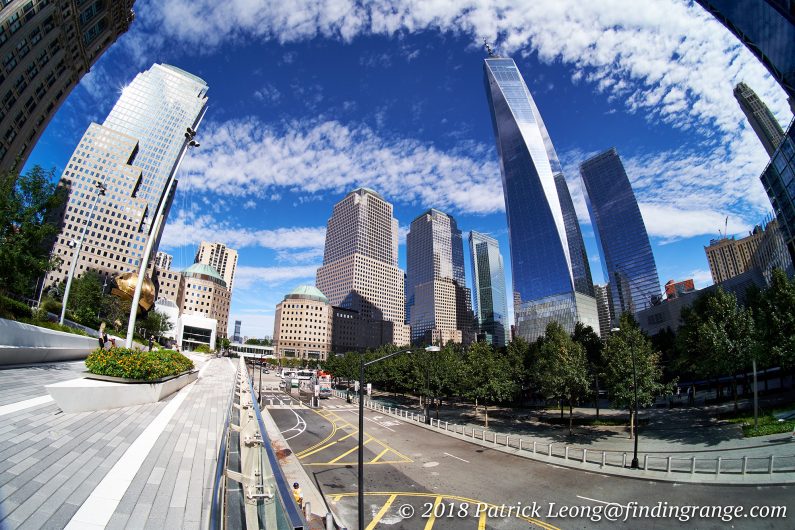 ↑ I felt the 7.5mm produced decent color and contrast.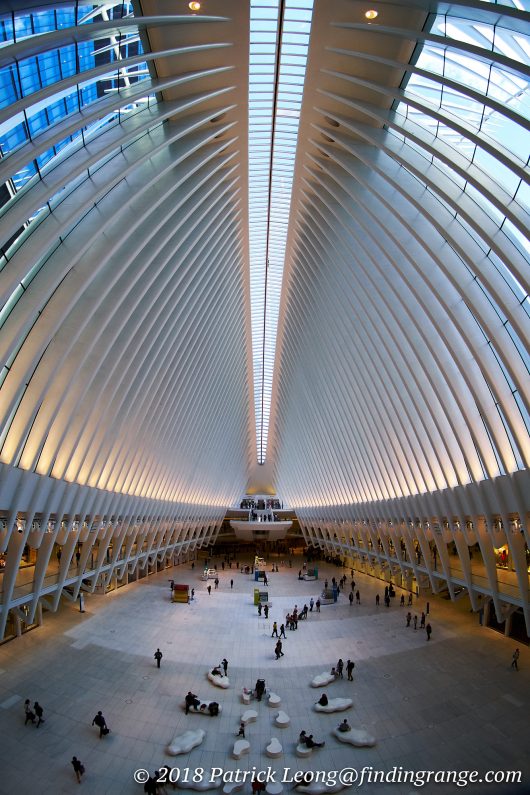 ↑ This photo has been taken like a million times 🙂 but I thought it would be cool to try it with a Fish Eye.
In terms of sharpness, edges are soft but they aren't bad for a fish eye.  Stopping down does help considerably.  f11 seems to be the best for me in terms of the edges but you lose a little detail in the center.  Speaking of center sharpness, it's quite good, at least with the copy I was reviewing.  Sharpness is okay at f2.8 but as you stop down, it steadily improves.  I would say settings between f8 and f11 are ideal for this lens, if you want best performance.
Other characteristics of the 7artisans Photoelectric 7.5mm f2.8 Fish Eye are pretty decent color rendering and contrast.  the 7.5mm f2.8 Fish Eye will flare sometimes but it didn't happen as often for me.  As for bokeh, an 11 aperture diaphragm contributes to a smoother bokeh quality but in reality, this isn't a lens you'll be using for those shallow depth of field moments.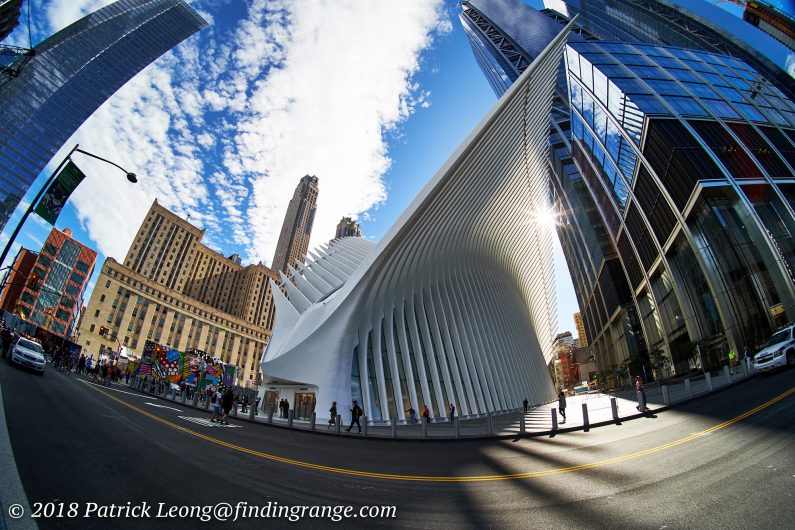 ↑ The morning sun peaking out behind the Oculus.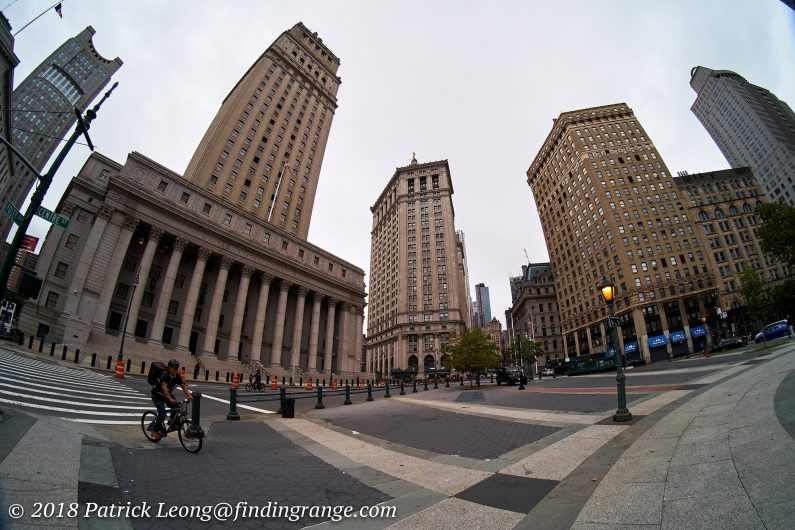 ↑ The Civic Center in downtown Manhattan.
Overall, I love fish eye lenses but don't often use them, which is why the 7.5mm f2.8 Fish Eye particularly appeals to me.  It's a decent lens that's quite a lot of fun to use, and the asking price of $139, won't break the bank.  In other words, I don't have to invest too much, so it's easier for me to justify buying a lens I may not use as often as say a 50mm.  There are some photographers that produce absolutely beautiful work with a fish eye but for me, a lens like this is for those days when I just want to have some fun, let loose, and experiment.  That's why with the price, overall build quality, and overall image quality factoring in all together, I can see myself buying one of these.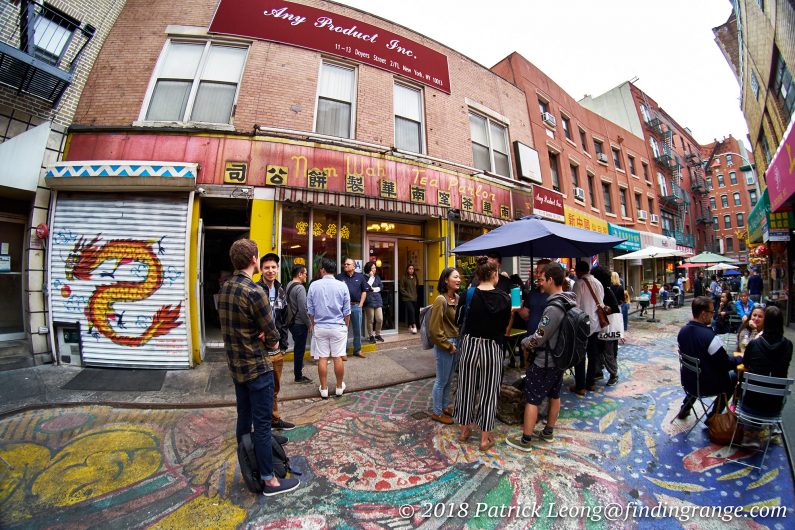 ↑ Walking around Chinatown.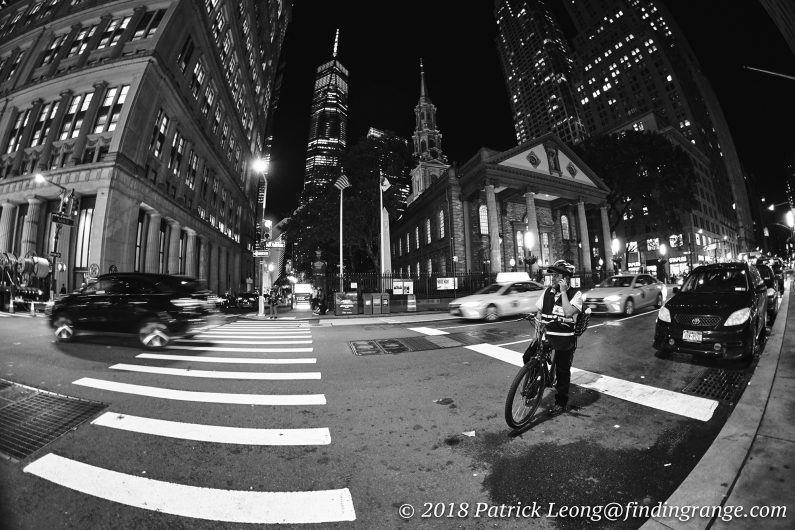 ↑ Downtown Manhattan at night.
7artisans Photoelectric 7.5mm f2.8 Fish Eye Lens Pros And Cons:
7artisans Photoelectric 7.5mm f2.8 Fish Eye Lens Pros:
The copy that I tested was decently made considering the price.
Smooth focusing ring.
Great image quality for the price.
A lot of fun to use.
PRICE.
7artisans Photoelectric 7.5mm f2.8 Fish Eye Lens Cons:
Not a fan of the de-click aperture ring.
7artisans Photoelectric 7.5mm f2.8 Fish Eye Lens Verdict:
The 7.5mm f2.8 Fish eye is decently made, it feels very balanced on the Fuji bodies, image quality is very good considering the price, and best of all, it is extremely fun to use.  Do I have any major complaints?  If this was a much more expensive lens, then yes but as it is now…no.  Are there better fish eye lenses out there?  Of course there are but many of them are also priced significantly higher.  If you're looking for every single bit of detail possible, then you might be better off with one of those higher priced lenses.  However, if you're looking for a lens with very decent image quality that's a joy to use, and that won't make you feel like you have to sell a kidney to buy, this is a great option.  If you ask me, the 7artisans Photoelectric 7.5mm f2.8 Fish Eye is totally worth its asking price.  As I mentioned before, even if you don't use a fish eye much, it might be worth it for some to buy the 7.5mm f2.8 just for those occasional moments where you want a different, and more creative approach to getting a shot.  I highly recommend the 7.5mm f2.8 fish eye, and I may pick one up myself very soon!
Thanks for taking the time to read my review!  If you're considering purchasing the 7.5mm f2.8 Fish Eye, and my review helped you decide, please help support this site by purchasing from any of the links in this review.  It will not cost you anything extra.  Thank you for your support!
7artisans Photoelectric 7.5mm f2.8 Fish Eye at B&H Photo in: