Billingham Delta Pocket Review:
Any of the larger bags from Billingham like say the 7 Series bags can carry a ton of gear.  For instance, the bag I use the most these days is my Billingham 307.  I do anywhere from one to three shoots per week, and this is what I use to carry my Leica SL, SL lenses, M lenses, chargers, wireless transmitters, batteries, and other miscellaneous stuff.  I use it mainly to carry my stuff from home to my studio, and then maybe switch to a smaller bag (which I leave in my studio), if I am doing some street fashion on a particular shoot.  Even with the amount of gear this bag carries, there are still times when I've needed just a little more space.  Luckily, Billingham does offer a solution other than me carrying a larger bag or multiple ones at once: the Delta Pocket. The Delta Pocket is basically an end pocket that you can attach to the side of your compatible bag to basically add more storage space.  Thanks to Billingham, I was able to get one in to review, and here's what I think of it.
Billingham Delta Pocket Build Quality:
I think one of the most important features of any bag is the overall quality, and craftsmanship of it because at least for me, it's the one thing that I don't want to worry about when I'm out shooting.  A good quality bag should be able to last a long time, and take the normal abuse that comes with shooting.  That includes being bumped around, scraped, squeezed to even bad weather.  I've been a Billingham user for decades because simply put, I know I can depend on their bags, and I'm happy to say that the Delta Pocket, not only uses the same high quality materials as the bags themselves, it's made to the same standard.  So yes, while the Billingham Delta Pocket runs around $70-105 depending on color, and where you purchase it, this isn't just any old side pocket that was made as an afterthought.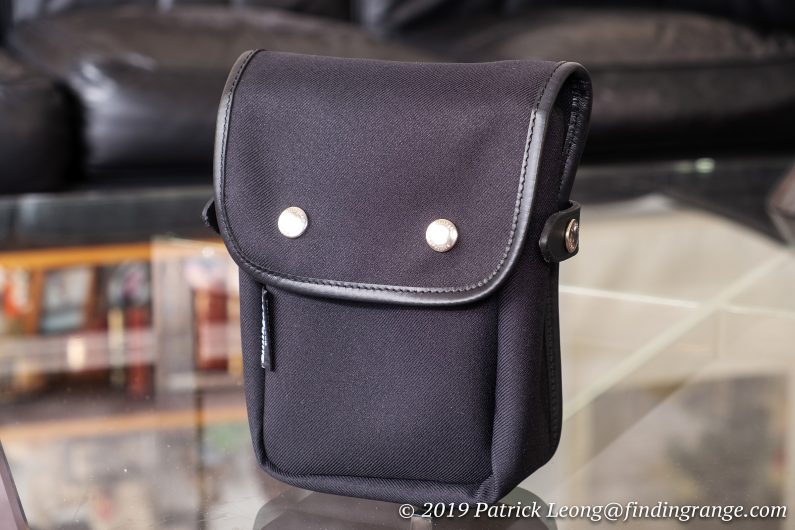 ↑ The Billingham Delta Pocket in black FibreNyte, and black leather trim.
This is downright high quality stuff here, folks.  The bags are some of the best in the industry, and the Delta Pocket matches this kind of quality in every way.  It's impeccably made.  The Stitch work is perfect.  There's no loose threading, uneven cuts of the leather or anything that would signal poor quality control or inferior craftsmanship.  Billingham has been making these bags for years, and you can tell all that knowledge, and experience is put into the Delta Pocket.  To top it off, nothing but the finest materials are used to make this end pocket, such as, the top grain leather, and solid press studs.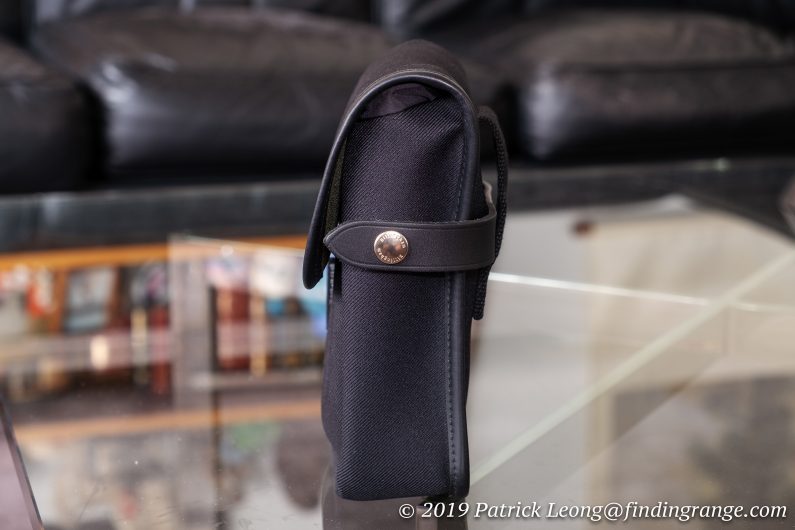 ↑Here's a side view of the Delta Pocket.
You can even choose between two main materials, which are either the traditional canvas or Billingham's synthetic material, FibreNyte.  Traditional canvas is slightly softer but FibreNyte not only feels very similar to the canvas, it's more durable, more fade resistant, and even slightly lighter.  While I love both materials, my preference these days is the FibreNyte.  However, it really comes down to personal preference.  Even though I prefer the FibreNyte, both materials are great.  I've used both over the years, and let's just say I haven't had to retire a bag yet.  Both materials are excellent in terms of quality, and will last a very long time.  There are also tons of colors to choose from now.  I either go for Black and Black Leather combo or the Sage and Chocolate leather.
↑ The Delta Pocket attached to my Billingham 307.
Both materials can also take whatever Mother Nature dishes out on you because of a couple of reasons.  First, there's three layers of waterproofing with one made of butyl rubber that is impermeable to water.  I'm never without a camera these days, and I'm always walking around NYC.  Of course, I also take mass transit here since car traffic is crazy, so I get caught in all types of weather all the time.  Rain, sleet or snow; you name it, and my bags have all gone through it.  Nothing ever gets through these bags.  I've had puddles form on the top part of my  20+ year old Billingham bag but it wasn't even the least bit damp inside.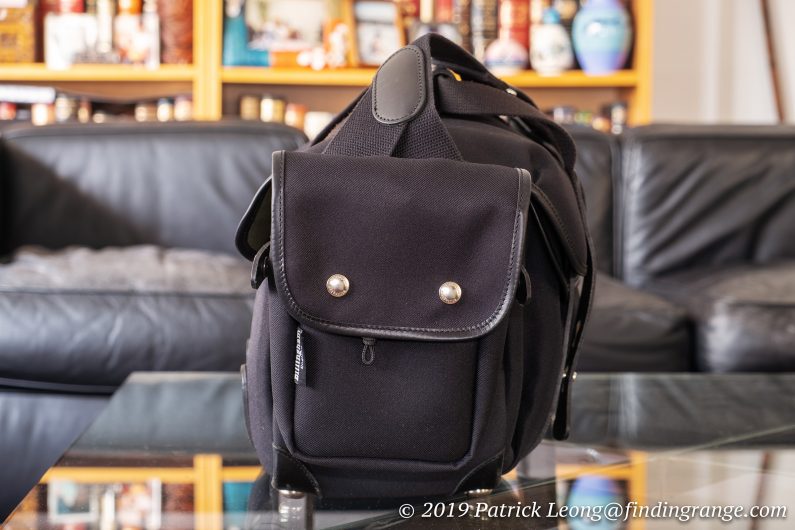 ↑ Here's another view of the Delta Pocket attached to the 307.
Another great way that the Billingham Delta Pocket protects your gear from the elements is the way that its enclosure system is designed.  First, there's a flap that covers the main compartment.  It's held by two solid press studs. I should also mention that one feature I really like is that the male end of the press studs are actually attached on a piece of canvas where you can slip your fingers underneath (or FibreNyte depending on your version) to help you snap the press studs closed in a more convenient manner.  Once you open the flap, there's also a draw string enclosure for even more protection.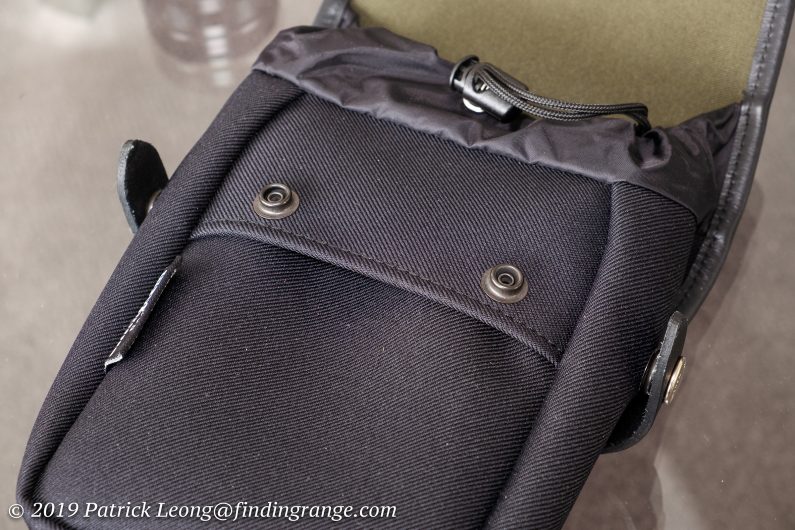 ↑ You can slip your fingers under that extra piece of canvas to get a better grip when snapping the press studs closed.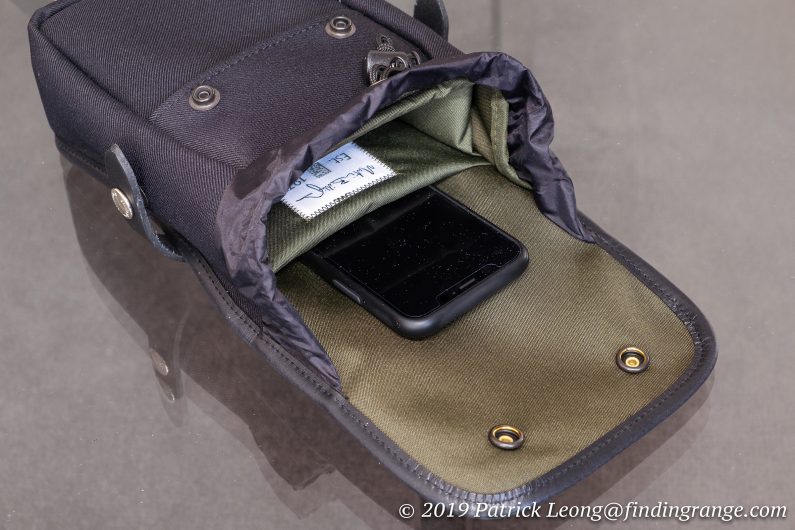 ↑ There is a separate pocket in the main compartment where you can put things into it like a phone, for instance.
In addition to protecting your gear from bad weather, the Billingham Delta Pocket also has excellent padding, so your gear is protected from bumps and impacts.  As I said earlier, the Delta Pocket uses the same materials, and is made just as well as a full size Billingham bag.  So, the padding is just as good as anything you would find in one of their bags.  This is important because the Delta Pocket's interior will hold a lot for something considered as just an end pocket, which I will show you below.  I'd imagine people sticking lenses in it, maybe a flash, an extra camera body or even a camera body with a lens attached.  For items like that, you definitely want something that can take some abuse.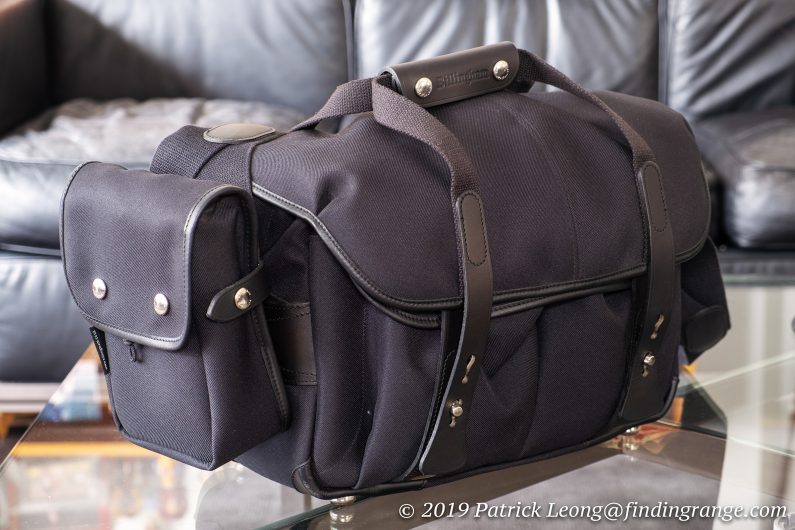 ↑ Here's another view of the Billingham 307 with the Delta Pocket attached.
Billingham Delta Pocket Capacity:
Speaking of gear that will fit, let's talk about the interior space.  Below are a few pictures that show what I was able to fit in the Delta Pocket.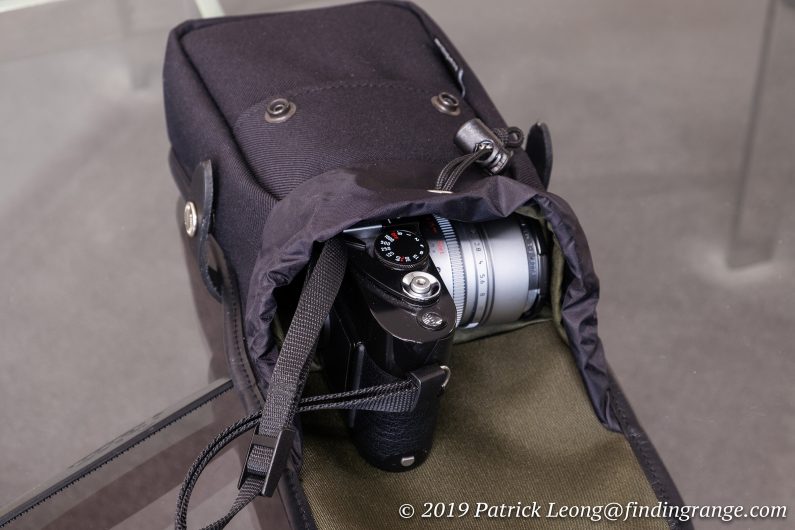 ↑ A Leica M6 TTL Millennium with Summilux-M 50mm f1.4 ASPH attached fits in the Delta Pocket.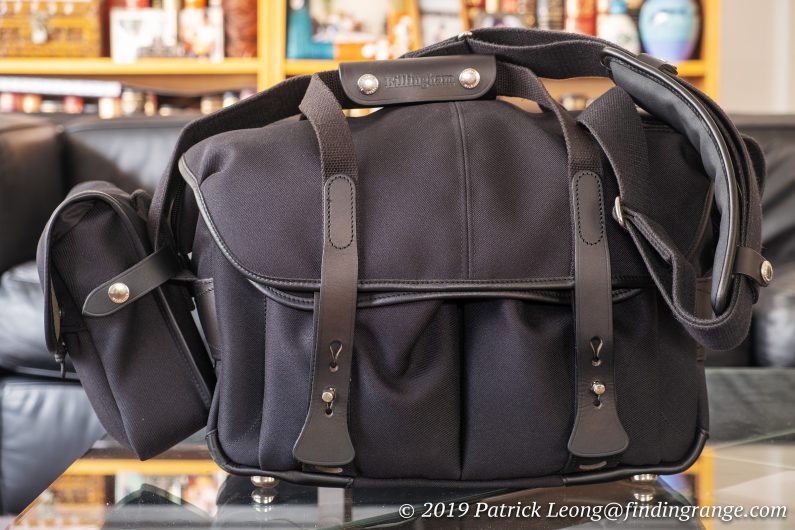 ↑ Above is how the Delta Pocket looks like when it has an M camera and 50mm lens attached.
As you can see above, I'm able to fit a Leica M camera with a Summilux-M 50mm ASPH lens into the Delta Pocket.  This to me is great because as I mentioned earlier in this review, I normally use my Billingham 307 for my SL kit.  Sometimes though, I'd like to bring my M6 just to shoot some film as well.  It often times gets left behind though because sometimes, I don't have anymore space in my 307, and I don't want to carry two bags.  This way, I can bring my main system, which is my SL kit, and also a film camera, if I wanted.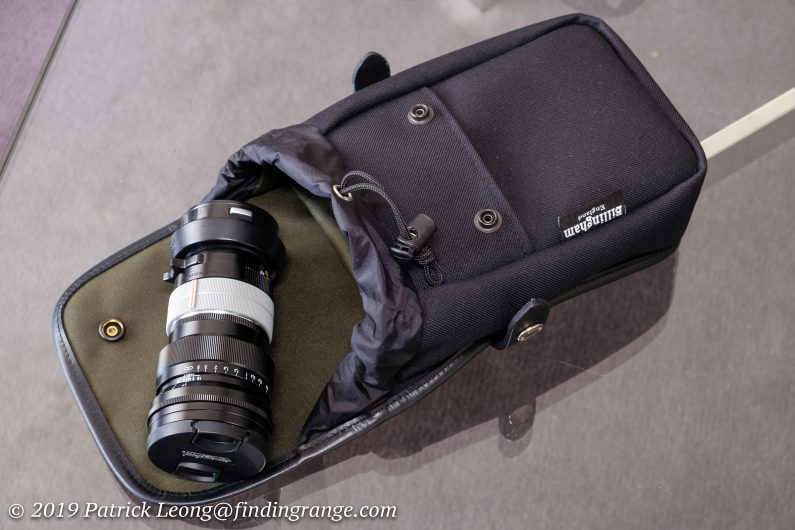 ↑ You can put lenses, especially mirrorless or rangefinder lenses in the Delta Pocket.
Depending on the size of your lenses, you can also carry a lens or two in the Delta Pocket as shown above.  I can easily fit a mirrorless or M lens in the Delta pocket.  In fact, if you have a Leica Coupling Ring or anything like it, you can safely fit two M lenses.  In the photo above, I have an older 50mm Summicron and the new Voigtlander Nokton 75mm f1.5 Aspherical that I'm currently reviewing.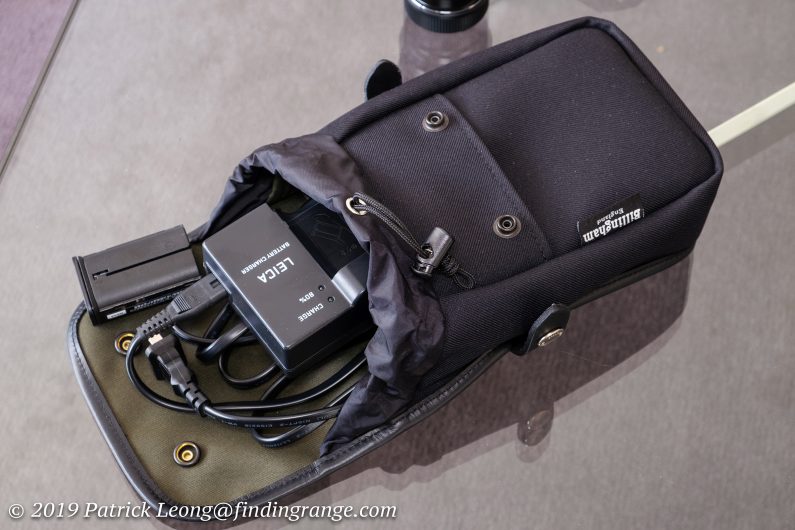 ↑ You can place chargers in the Delta Pocket.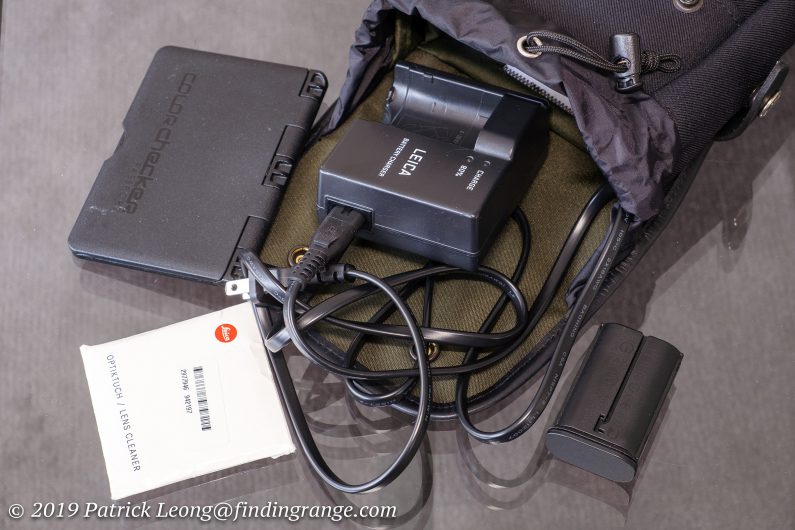 ↑ You can fit all the above and even more in the Delta Pocket.
Of course, the Billingham Delta Pocket is also great when all you need is extra space to carry more miscellaneous items like the two pictures above are demonstrating.  For instance, you can put chargers and extra batteries in it.  You can put a lens cleaning cloth and even a white balance card in it.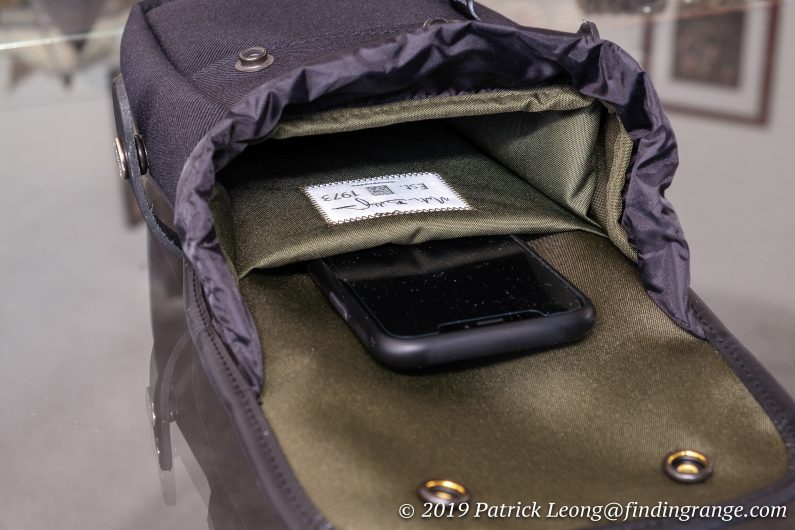 ↑ Here's another view of the compartment.
Another thing I want to mention is that while the Delta Pocket is able to fit quite a lot, it's not necessarily bulky.  So, it doesn't make something like the Billingham 307, which is already a pretty large bag, that much more bulky or cumbersome.  This is especially important to me because I walk around New York City all the time, and it's a crowded city.  I'm often squeezed into trains, and buses or I'm navigating through really busy streets, so the last thing I want is more bulk when I don't need it.
Billingham Delta Pocket Compatibility:
Now, let's discuss if the Billingham Delta Pocket is the right one for your particular bag.  According to Billingham, the Delta Pocket will work with the 225, 335, 445, 555, 107, 207, 307, and the 307L.  If you have the 550, you'll need the 550 end pockets, and if you have any of the other Billingham bags, you would need to look at the AVEA end pockets.  If you're interested in the AVEA pockets, I've reviewed all of those as well.  The review for the AVEA 3 and AVEA 5 can be found here, and the AVEA 7 and AVEA 8 review can be found here.
Getting back to the Delta Pocket, there's a thick leather strap on the back that attaches to the inverted 'Y' shaped Delta Sling webbing of say the Billingham 307's (which is the bag below) shoulder strap fixing points.  It's simple, and quick to attach.  The leather strap is held in with the help of some heavy duty press studs, so the end pocket will stay securely in place.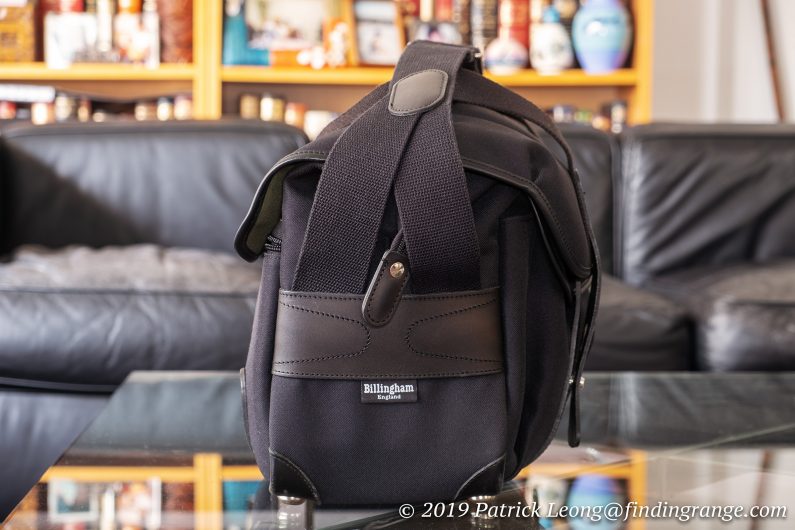 ↑ The Delta Pocket attaches to the 'Y' shaped Delta Sling webbing with it's leather strap.
It's worth noting that you can even technically use the Delta Pocket as a stand alone bag or camera pouch as well.  There's actually a sewn-in belt loop on the back of the end pocket so, if you wanted to, you can simply attach it to your belt.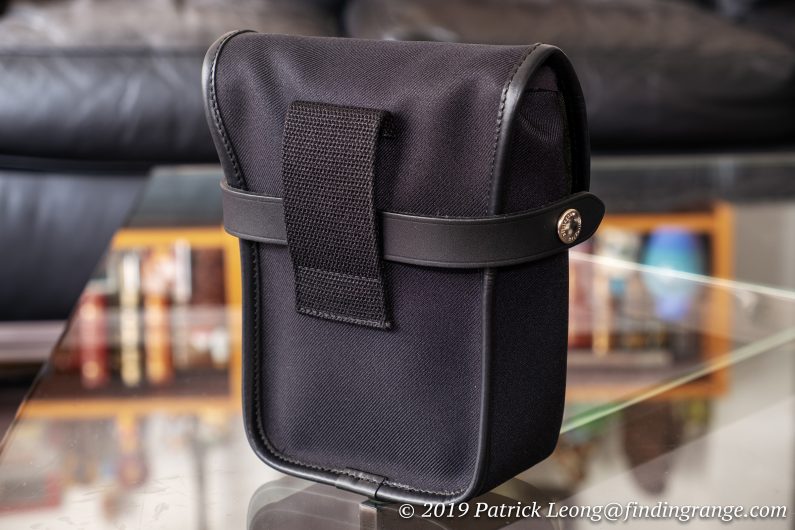 ↑ The leather strap in the back attaches the the 'Y' shaped Delta Sling webbing.  There's also a belt loop in the back.
Billingham Delta Pocket Specs:
External Dimensions: W135mm (5½") x D60mm (2½") x H205mm (8″)
Internal Dimensions: W120mm (4¾") x D40mm (1½") x H170mm (6¾")
Capacity: 1.00 litres (0.03 feet³)
Weight: 0.2Kg (0.44lbs)
Rear Internal Pocket:  W130mm (5⅛") x D Nominal x H170mm (6¾")
Billingham Delta Pocket Verdict:
If you own one of the larger compatible bags by Billingham, and you need a little more space without having to carry multiple bags or purchase a larger one, the Delta Pocket might just be the perfect option for you.  What's great about this end pocket is not only would you save money by not having to purchase another bag, the end pocket is removable, so when you don't need the extra space, simple take it off.  In addition, if you needed even more space, you could actually add another Delta Pocket to the other side of the bag.  In this way, it also increases the flexibility of your current bag.
Furthermore, the Delta Pocket is made in the same way as other Billingham products with the same materials, so not only is it a top quality product that will last a very long time, it will protect your gear just as well as any other Billingham bag.  As photographers, we sometimes spend a lot on gear, and having that peace of mind of knowing that once I put my gear in this pocket, and it's safe, is priceless to me.  That's the kind of confidence the Delta Pocket gives me.
So, my verdict is definitely consider buying a Delta Pocket, if you need the extra space.  I not only highly recommend it, I think it's completely worth every penny they're asking for it!
If you'd like more info, you can always leave a comment or check out Billingham's website!