Fuji X-Pro1 News:
This news about the Fuji X-Pro1 comes straight from Fuji themselves, and is not rumor or hype.  Check it out if you're interested:
Fuji X-Pro1 Sensor:
The Fuji X-Pro1 will use a 16 megapixal "X-Trans CMOS" sensor.  Moiré is tackled at its root cause by the revolutionary X-Trans CMOS sensor's color filter array. By enhancing aperiodicity (randomness) in the array arrangement, the color filter minimizes generation of both moiré and false colors, eliminating the necessity for an optical low-pass filter in the lens and enabling X-Trans CMOS sensor to capture full "unfiltered" lens performance.
The EXR Processor Pro is supported by an integrated co-processor for higher speed and higher precision image processing performance.
Fuji X-Pro1 Interchangeable Lenses:
Designed especially for the Fuji X-Pro1, the FUJINON XF Lens series promises enhanced resolution and light volume in image edge areas as well as reduced chromatic aberration for exceptional image quality. Featuring an all-glass aspherical lens and other elements, the lens is polished to perfection and treated with Super EBC coating. Holding the high-quality metal barrel and operating the precision-machined 1/3-step aperture ring is a sensation that fires the desire to capture every scene. For photographers who seek the peak of photographic excellence, FUJIFILM raises the curtain on a new era of interchangeable lenses and unveils a premium lineup of 3 single-focal length lenses complete with lens hoods.
The three lenses for the Fuji X-Pro1 are:
↑ XF 18mm F2 R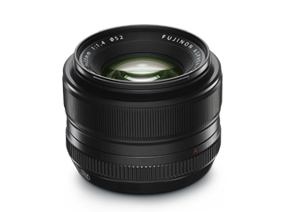 ↑ XF 35mm F1.4 R
↑ XF 60mm F2.4 R Macro
↑ Lens hood
Fuji X-Pro1 Hybrid Multi Viewfinder:
Featuring the freedom to switch between an optical and electronic viewfinder, the Hybrid Viewfinder has evolved to meet the challenge of interchangeable lenses. When an XF series lens is mounted, lens data are communicated to Fuji X-Pro1, and viewfinder magnification (2 types) and frame size (multiple steps) are automatically switched. Peering through the viewfinder with all your attention focused on the subject. This simple style of shooting is the both the first step back to the essential pleasure of photography. Every lens change reveals a new world of beauty to capture.
OVF vs. EVF:

Magnifying System:

 My Thoughts on the Fuji X-Pro1:
If you want more OFFICIAL info, you should check out the official page on Fujifim's website.  This post was just for anyone who might be interested in getting more info about the Fuji X-Pro1.  It sounds like it will be an awesome camera system.  The Fuji X-Pro1 will definitely fill a niche that's been waiting to be filled for a very long time (something Leica should have done a long time ago).  Hopefully it will be as good or better than what it's been hyped up to be because don't forget people, there aren't even any review out there yet.