What Led Me to The Gitzo G1177M:
(Click here if you want to see my review of the Gitzo G1178M, which is the quick release version of the G1177M).
Sorry for the lack of posts lately.  I could tell you that I've been busy, and taking a bunch of photo assignments but I've just been a little lazy this month :).  January does that to me for some reason…I think it has to do with the post Christmas and New Years time…who knows.  But I will definitely be kicking off the New Year with a whole bunch of stuff, such as a new reviews, and of course, more photos…Speaking of photos, I've been really getting into landscape (well, cityscape) photography lately.  I even started reading up on HDR photography, which was something I wasn't too interested in before.  I also plan on shooting more city photos for stock, which leads me to why I'm blogging about the Gitzo G1177M ballhead today.
Since I wanted to start shooting more landscape photos, I decided to dust off my old Gitzo Week End Performance tripod.  It's an old tripod that has served me well over the years.  I love it because it's extremely small and light, and while it's not carbon fiber, at this point, I see no reason to upgrade just yet (although those new carbon fiber Gitzos look pretty cool 🙂 ).  I needed my Gitzo for sunset/sunrise/night pictures…anything concerning long exposures.  Plus, I've had this urge for a really long time to see what the full potential of my M9 was when the camera is completely motionless.  I also wanted to try out my M9 in with studio strobes, and take a few portraits with my M9 on a tripod (more on that in the future).  Anyway, I've had this tripod for years but recently, the ballhead broke.  So I went online to look for something good, strong, that would adequately support my M9, and that was most importantly, cheap :).  That's how I found the Gitzo G1177M magnesium ballhead.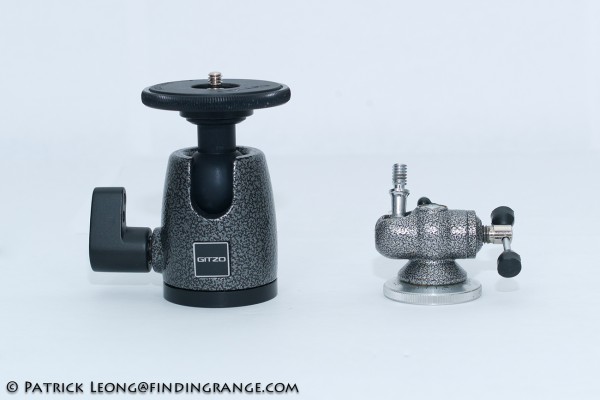 ↑ Comparison between my old Gitzo ballhead and my new G1177M.
The Gitzo G1177M: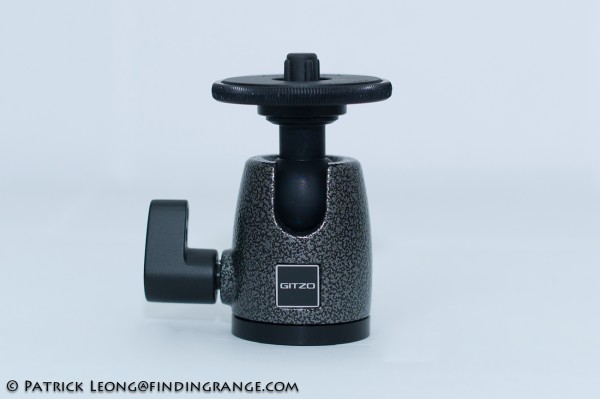 ↑ Front photo of the G1177M.
The Gitzo G1177M has everything that I'm looking for in a ballhead.  First off, it's simple.  What you get is exactly what you paid for: a ballhead that rotates very smoothly, and screws easily into your camera's base securely in only a few seconds.  I seriously can care less for any more features because I don't need them.  I want my ballhead to be simple yet effective.  Most importantly, I didn't want a ballhead with quick release capabilities.  I chose the G1177M over it's twin, the Gitzo G1178M because I don't like quick releases.  It's just my preference.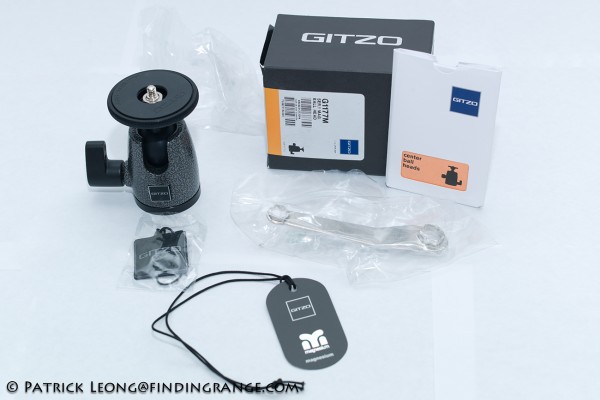 ↑ What's uncluded with the G1177M.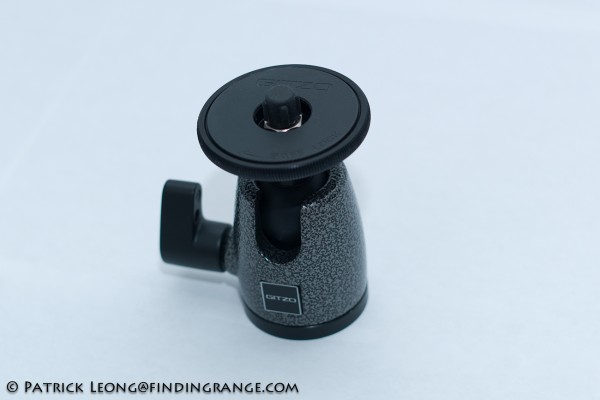 ↑ Top view of the G1177M.
In terms of build quality, G1177M is just like any other Gitzo product.  There are no loose parts, no loose fittings…this is definitely a sturdy ballhead that's well made.  Even though it's made out of magnesium, this thing feels pretty hefty making the G1177M feel like a very high quality product.  If anyone ever tries to mug you while you have this ballhead with you, they will probably think twice because this little guy feels and looks so solid (although you should always give them what they want; equipment is not worth your life, and there's always camera insurance, which I highly recommend 🙂 ).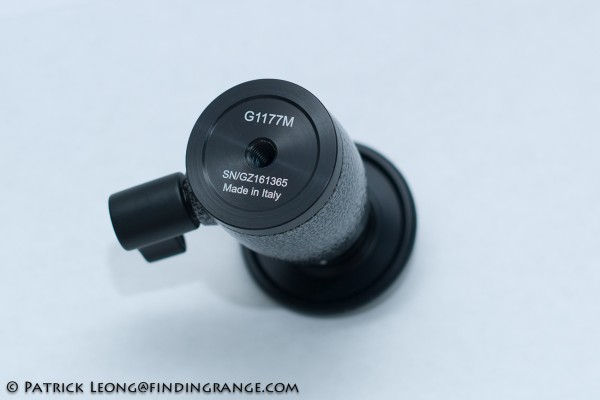 ↑ Bottom view of the G1177M.
What else?  The Gitzo G1177M is a 1 series so that means that it can support 8.8 lbs.  This is perfect for me because it's more than I'll ever need for my Leica M9 outfit.  In fact, i was going to buy the Gitzo G1077M (0 series), which supports only 4.4 lbs but the price for the G1177M was too good to ignore…they're both the same price!  List price they're not but on Amazon and Adorama they both are the same with free shipping.  Check it out: The Gitzo G1077M on Amazon or Adorama, and the Gitzo G1177M on Amazon and Adorama.  Anyway, again for me, this weight class is perfect but if you own a big DSLR with some big telephotos, you might want to try something else, although from what I read, many people have had great success with their medium sized DSLR outfits.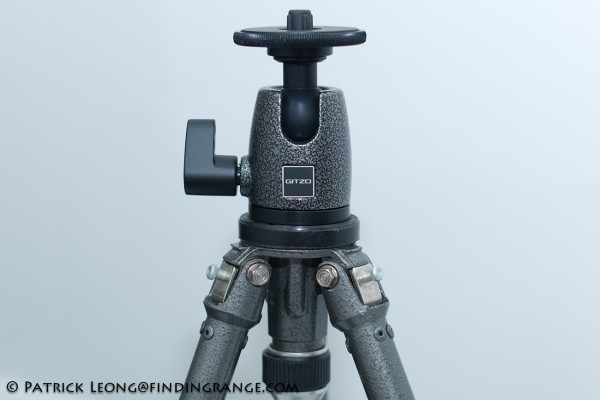 ↑ The G1177M on my Week End Performance Gitzo.
↑ My Leica M6 Classic on the G1177M.
Let's see…any negatives?  Well, for some a separate panning knob might be nice for shooting images that you may want to stitch together at a later point/panaroma shots.  But If you are interested in the G1177M, you probably want a simple, cheap yet effective and well built ballhead.  Having a separate panning knob might not be a big issue for you.  Also, I found that if I just loosen the center column on my tripod, I can rotate the ballhead without actually loosening it off my tripod so that's good enough for me.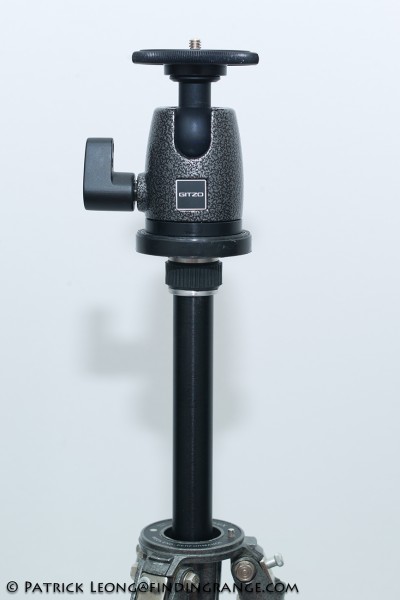 ↑ I loosen the knob right above the G1177M so I can rotate my ballhead.
Last Words About The Gitzo G1177M:
There are probably cheaper ballheads with more features out there but I bought the Gitzo G1177M because Gitzo is renowned for making high quality products.  Many of you probably know this already.  Even Leica themselves use Gitzos so that's gotta say something 🙂 (I was at Leica NJ to get my M9 adjusted).  The price in my book was excellent (Some places sell it for a little more but on Amazon and Adorama it's $100), and very easy to live with.   It might not have all the bells and whistles but this ballhead is not about that.  For this price, you get a very simple yet effective, and well built ballhead with no troubles.  Plus you get Gitzo quality, and if you've ever played with a Gitzo tripod, you know what I mean.  That's all I want from any ballhead, and I'm sure many of you feel the same.  I'll probably end up used this same ball head for the next 20+ years :).  If any of you are interested, you can also check out my review of the Gitzo G1178M, which is the quick release version of the G1177M.