Fuji X-Pro1 Lens Chatter Fix?:
I really think that Fuji did a great job when they created the X-Pro1.  Rangefinder like handling, prices that are within reach, and a system that can produce outstanding images.  But there are some issues that I do have with the Fuji X-Pro1.  One of these issues is the constant lens chatter that occurs in the lenses.  It sounds like I'm nitpicking but it's really rather annoying and loud.  A lot of people who I've shown my camera to ask me about it all the time.  Check out my Fuji X-Pro1 review if you want to know more about the lens chatter.
Well, I originally found this bit of news about a possibility of a chatter fix on Photorumors.com, and I went to the Fuji Guys' Twitter to see for myself.  I think Fuji has heard enough complaints about the X-Pro1 lens chatter issue because on the Fuji Guys' Twiiter, they say: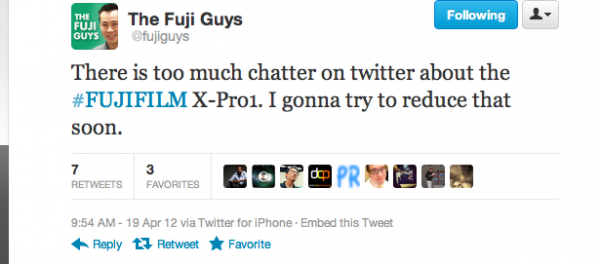 Does this mean there will be a X-Pro1 lens chatter firmware fix in the near future?  I sure hope so.  the Fuji X-Pro1 is an awesome camera, and this will make the X-Pro1 even more desirable in my opinion.  If any of you have read my Fuji X-Pro1 review, I didn't have much to complain about, and fixing the lens chatter problem will only make it so I have even less to complain about.  Plus, it's awesome that Fuji is really listening to its customers, especially so fast.
More Reviews And Comparison Reviews With The Fuji X-Pro1 Coming Soon:
I am still working on my review of the XF 18mm F2.0 R lens, plus a three camera shootout with the X-Pro1, so please stay tuned.  I've been a bit under the weather lately, so I haven't had the chance to photograph much.  Anyway, thanks for stopping by on this Sunday afternoon :).  For those of you in New York City, stay dry!