The Herringbone Beatle Bag Review:
Hey everyone!  Here is another bag review but this time, it's going to be something a little bit different.  There are so many different bag manufacturers out there today yet somehow we always see the same old thing.  For instance, the world is full of bags from companies, such as, Lowepro, Crumpler, and Domke.  I even see quite a few people using Billingham bags nowadays.  Don't misunderstand me, there is nothing wrong with any of these bags at all.  All of these companies mentioned make great camera bags, and it only makes sense that people buy them by the thousands.  In fact, I'm a big fan of Billingham bags myself, and I haven't bought anything else in almost 20 years.  But let's just say that you want something different this time.  Where do you look?  Well, if you want something completely different from everything else out these days, it's hard but not impossible to find.  Maybe you should check in…Korea.  I say Korea because this is where the Herringbone Beatle bag is made.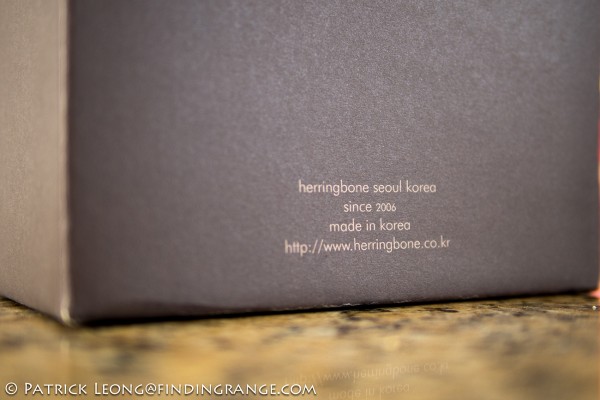 ↑ The Herringbone Beatle is made in Seoul, Korea.
I have to say that I personally have never even heard of Herringbone bags before.  My brother in-law was looking for a new camera bag, and ran into this company by chance.  In fact, the Herringbone Beatle bag in this review is my brother in-law's copy.  He wanted something different yet something that was built well to protect his precious Olympus OM-D.  He also wanted something compact yet big enough to hold the essentials of his kit comfortably.   Lastly, he wanted a bag that had the similar classic look of a Billingham bag but without the high price that comes with it.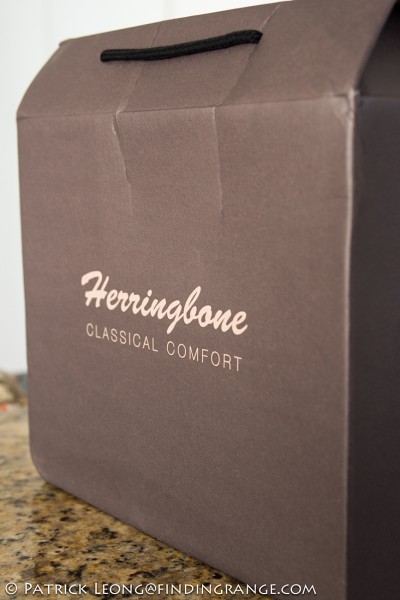 ↑ Shipped all the way from Korea to your doorstep!
The Herringbone Beatle bag was his choice because on paper, it seemed to fit what he needed.  It has a classic style similar to something like a Billingham yet the price of $130 was not going to break the bank.  More importantly, I think he just wanted something a bit different.  Who can blame him?  Who doesn't want something different and unique especially these days?  But how is the quality of the bag, really?  Is it built well?  Does the Herringbone Beatle bag measure up to big name canvas/leather bags, such as, Fogg or Billingham?  Read on if you want to find out more :).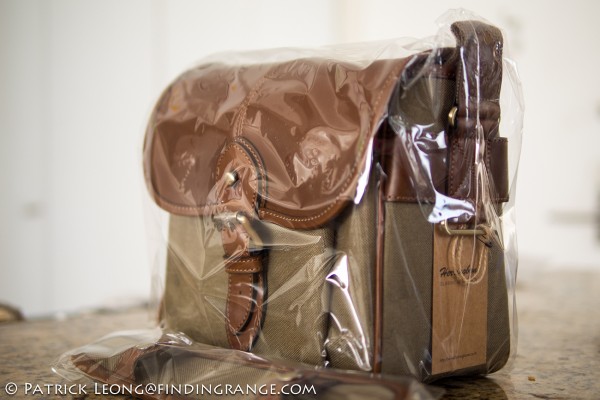 ↑ It took a couple of weeks to get the Herringbone Beatle but the shipping was free!
Herringbone Beatle Bag Build Quality:
Well, for those who are already intrigued by this bag, you'll be glad to know that the Herringbone Beatle bag's build quality is excellent.  It honestly feels really nice, and the quality definitely has a rich feel to it.  Quite frankly, it feels and looks more like a $200+ bag rather than a $130 bag.  The soft, durable cordura fabric is lightweight, and the genuine leather is high quality although I will admit that the Billingham bags have leather that is a bit softer (although this is minor).  The people at Herringbone also sweat the finer details, which most people want in a bag like this.  For instance, I love the suede fabric on the inner flap.  It's definitely a nice and unique touch that gives a warmth feeling to this bag.  There are also brass footings on the bottom of the bag similar to the ones on the Billingham Alice.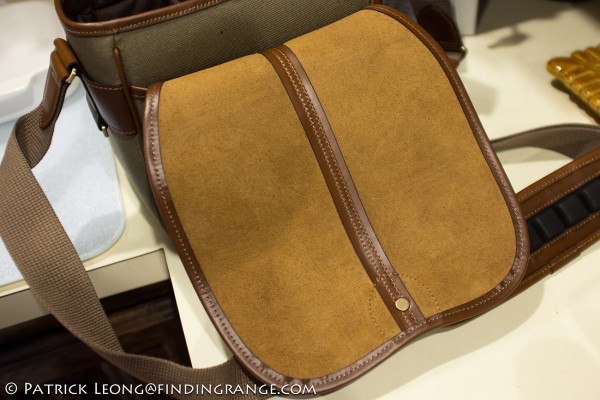 ↑ The Suede fabric on the inner flap is a classy touch!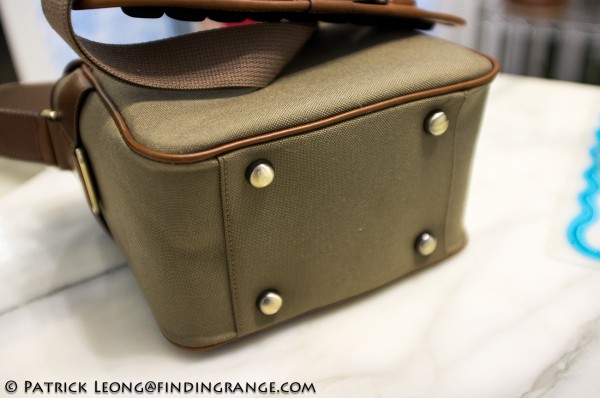 ↑ Brass studs/footings on the bottom of the Herringbone Beatle.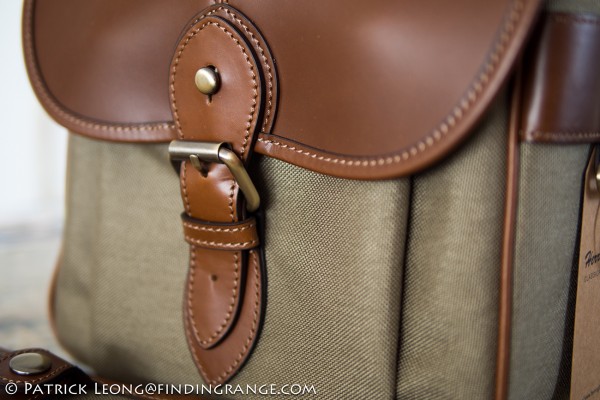 ↑ Brass fittings/buckle mechanism is similar to ones on my Billingham bags.
The inside of the Beatle is just as good.  This is a very well padded bag, and any camera system should be safe in it.  If you want, you can slip folded paper documents in between the padding and the walls of the bag.  There is also a back pocket that will fit papers more appropriately.  One minor complaint about the back pocket is that while it is a nice touch, and a great way of using space, I wish there was some sort of enclosure or zipper to it.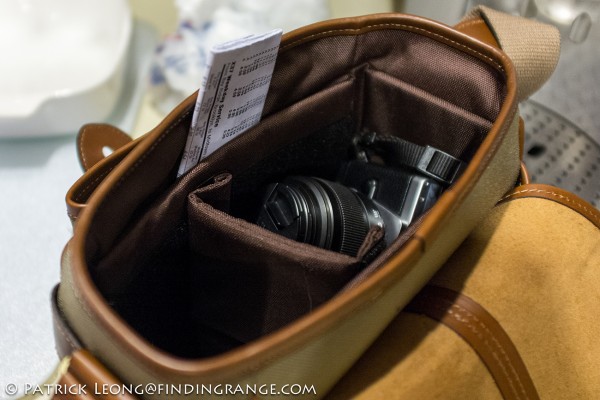 ↑ You can fit small paper in between the padding and the bag.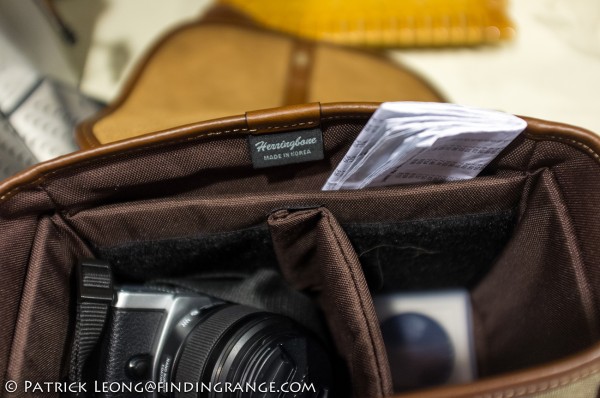 ↑ You can also fit some in the back.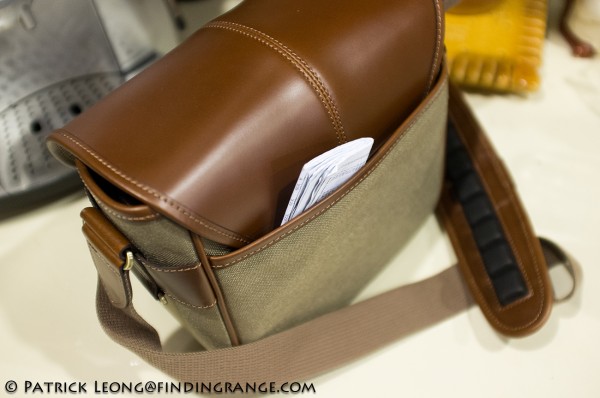 ↑ There's a back pocket on the Herringbone Beatle.
What else?  Like many Billingham bags, the Herringbone Beatle comes with a detachable shoulder pad that's quite comfortable although if you have something light like a Fuji X-E1, you might not even need it.  I don't usually use any of the shoulder pads that come with my Bilingham bags because Leica M cameras, and my Fuji X-Pro1 don't weigh a ton.  It's the great benefit of using these wonderful cameras.  If you take a closer took, you'll see "bumps" on the shoulder pad.  These "bumps" on the Beatle's shoulder pad were the first thing that I noticed, which the company refers to as aircell cushions.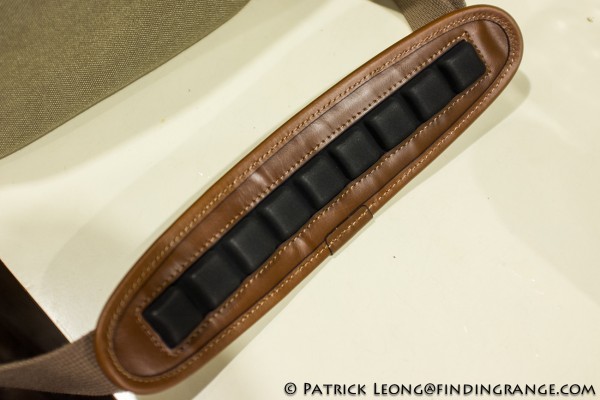 ↑ The aircell cushions on the shoulder pad.
What I can Fit into a Herringbone Beatle Bag:
So the build quality is great but what can the Herringbone Beatle really fit?  Well, I can fit my whole Fuji X-Pro1 lens kit, which includes three lenses (one attached to the camera).  The only thing is, I would have to stack one lens on top of the other.  I can also fit a small flash, and whatever little accessories that I need in the smaller compartment in front of the bag, although I wish there was some sort of separate enclosure for the front compartment other than the big flap that goes over the whole bag.
Complaints?  Well, it would be great if the Herringbone Beatle came with more dividers.  Right now it comes with only one but it should come with an additional divider that can be placed between two objects so that for instance, you can stack lenses in one compartment without fear of damaging them.  The bag is definitely tall enough to stack two lenses especially if you're using a mirrorless or rangefinder system.  As I said before, I stack two of my lenses but I use a divider that I have from one of my Billinghams to do it.  Come on Herringbone, let's maximize the potential of this awesome small bag! 🙂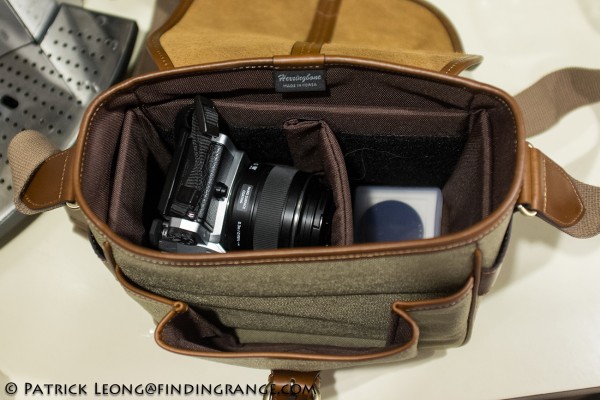 ↑ An Olympus OM-D on one side, and a B+W ND filter on the other.
Also, while the flap does do a decent job of covering your bag, I want it to cover the gaps on the sides a bit better.  I know that if I brought my Billinghams to the beach or if they were in a big rainstorm, my equipment inside will be completely safe.  The flaps on the Billinghams completely cover any gap on the bag.  But again, these are all minor complaints.  In reality, the Herringbone Beatle bag is a real gem, and I think most people would be completely satisfied with this awesome bag!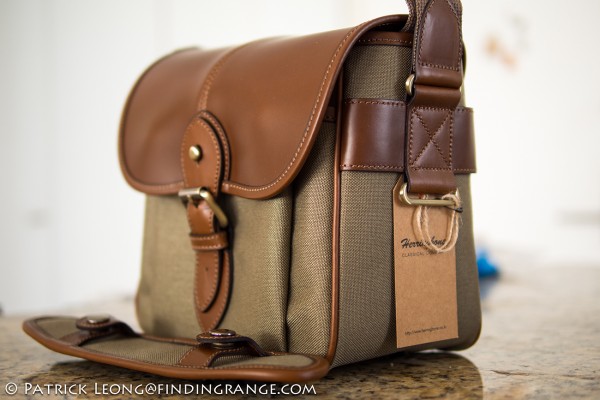 ↑ The Herringbone Beatle is one beautiful looking camera bag.  It's hard to believe that it's only $130.
Video of the Herringbone Beatle Bag:
Check out this video if you want more information on the Herringbone Beatle bag.
 Is the Herringbone Beatle Bag a Nice Alternative the a Billingham?:
I must say, I am quite impressed with the Herringbone Beatle bag.  It's priced at $130, which is a steal for a bag of this quality.  The Beatle is built phenomenally well, and the padding is second to none.  It's lightweight, and feels completely comfortable to carry around all day.  It's the perfect size for a three lens mirrorless or rangefinder kit, and it has a great classic look to it that's not overdone.
How does it measure up with something like a Fogg?  Well, Fogg bags are beautifully made but I personally don't like their style too much.  It's a bit too "man purse" for me lol.    Plus, while the padding in Fogg bags are insanely good, they are also insanely expensive.  If you're looking at one of the Fogg bags, you probably won't even be considering a bag made by Herringbone.
How does the Beatle compare to a Billingham?  Well, I still prefer my Billingham bags over the Herringbone Beatle.  I think the build quality on a Billingham is a bit better, and I think that a Billingham is a bit more refined.  But check out the price differences.  For instance, let's look at the Billingham Hadley Small (check out my review).  To me, the Hadley Small is probably the most similar to the Beatle in terms of size, and what it can carry (although the Hadley Small does carry a bit more).  The Hadley Small is one of my favorite bags, and it's built extremely well.  It can handle anything, and I know so because I had an Original Hadley that's still going strong even after almost two decades of use.  But at prices ranging from $230 – $250, the Billingham Hadley Small is almost twice the price of the Herringbone Beatle.
How about another similarly sized bag, such as, the Billingham M Combination bag (check out my review)?  The M Combo is an awesome bag, which I religiously use daily.  I love this bag, and it's been through so much with me.  But the M Combination bag is more than double the price of the Beatle.  The Herringbone Beatle offers some of the Billingham style, and feel for only $130.  It's hard to deny a bargain like this.  The Beatle is also built extremely well, and I am very confident that any gear place in this bag will be well protected.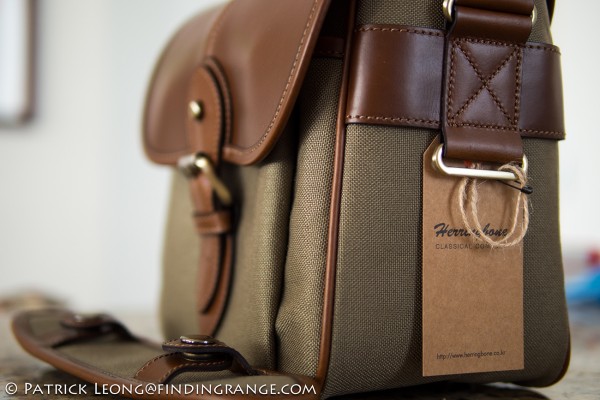 ↑ If you're interested in this bag, you should go to the Herringbone bag site for more details.
Who Should Buy The Herringbone Beatle Bag?:
So who should buy this bag?  Well, the Herringbone Beatle is priced between something like a Crumpler, and something a little bit fancier like a Billingham.  I think a good candidate for this bag is someone who wants the classic look of something like a Billingham but without the Billingham price.  Now, instead of settling for something more modern looking like a Crumpler or a Lowepro, for a little bit more, you can now get that classic look.  Not only will you get that classic look, you'll also get a very well made bag that will last a very long time, and provide excellent protection for your expensive equipment.  I think the Herringbone Beatle is a fantastic bag, and priced to move.  If this bag gains more popularity in the future, I wouldn't be surprised if the price went up because as of now, it's a downright steal.
If you want more info on this bag or other products made by Herringbone, you should check out their site.  As of now, I think the only way to buy these bags in the United States is to go through Ebay.  That's it for my review.  I hope you all enjoyed it.  Please feel free to comment.  Take care, and thanks for taking the time out to read my review!