Ilford Lab USA Now Open For Business:
Hey everyone!  I hope everyone is enjoying their Sunday.  I saw something a few days ago that really piqued my interest.  It turns out that HARMAN technology, the company behind Ilford black and white films, has opened a photographic lab in the US.  They established a lab in the UK a few years ago but I guess they finally decided to move operations here as well, which is great.
I shoot primarily digital now but film is definitely not dead.  There are many people out there who still love shooting film, and apparently, there is enough interest that Ilford decided to open a lab here in California.  Yes, there are many great labs out there, and many people scan/develop their own stuff.  But now film lovers have another great option to add to their list.
I've been saying I would shoot some film but I just kept putting it off.  But maybe this is just the bit of news that I need to dust off my Leica M6, and shoot some film again :).  Digital has made me lazy lol.  I'd love to see what kind of results the Ilford lab can produce, especially their printing results.  I bought a few rolls of Ilford HP5 Plus 40o, which I actually never used before, and I'm kind of psyched about this.  Digital is great but there are times when I still miss shooting with film…I grew up with that stuff.  Maybe it's the simplicity…or even the imperfection of film but whatever it is, I am definitely looking forward to this.  Plus, I have a film section on this blog that I never posted in before, so I guess this is a great reason to finally get something posted there.  Anyway, I'll be sure to post some images here in the coming weeks.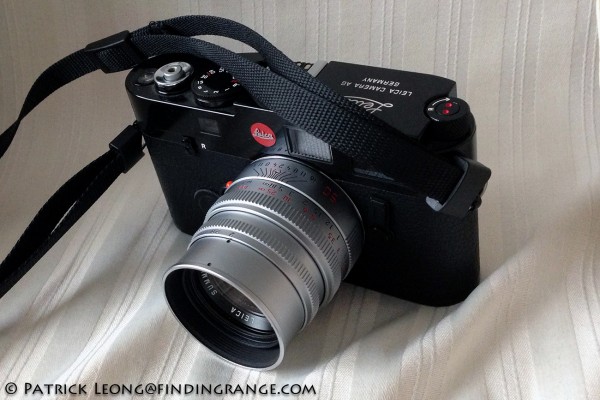 ↑ My Leica M6 TTL Millenium Edition with my 50 Summicron.
For those interested in this bit of news, you can check out the press release below for more info.  They will process other manufacturers' films as well.
Ilford Lab Press Release:
ILFORD LAB DIRECT establishes process and print outlet in California USA for traditional silver gelatin black and white images
HARMAN technology Limited, the company behind the ILFORD brand of black and white photographic products is pleased to announce the availability of processing and printing services in California, USA. Serving North America, Ilfordlab-us.com is now ready to accept film orders by mail.
Established in the UK, the service based at the HARMAN factory in England has ran successfully for over 15 years. This Mail Order service was originally introduced to satisfy amateur and hobbyist photographers who found it difficult to have their films processed and printed on real black and white silver gelatin photo paper at a local facility. With the advent of digital imaging fewer mini labs had the capability to print real black and white, preferring to print on colour paper. The ILFORD LAB service can process any make of black and white film, and prints will be made on ILFORD black and white paper. Each film is processed with a unique development time to obtain optimum contrast and density. Develop and Print turnaround is normally 2-3 working days in the lab. Regular 4 x 6 inch prints are returned by mail, or special delivery, in a sturdy ILFORD presentation box. A range of upgrades and enlargements are also offered, including three levels of quality for scanning black and white negatives.
ILFORD Process Paid mailers are available from popular photographic dealers, alternatively customers can now use the secure website to pay for film processing online. Dealers interested in stocking the Mailers should contact info@ilfordlab-us.com or HARMAN technology at 888 372 2338 extension 106.
HARMAN Director of Marketing and North American Sales, Steven Brierley, explained, "It has become more and more difficult for black and white film users to have their films processed and printed to a high quality on real black and white paper. Our Lab based at the HARMAN factory in England has provided a continuous quality service to UK photographers for many years, and we are seeing an increased number of enquiries from overseas, including North America. We are excited to announce that built on that success we can now offer the same service from a base in California."
For more details of the complete range of services and charges visit:
www.ilfordlab-us.com