Leica Viewfinder Magnifier M 1.4x Review:
A lot of people love to shoot with fast lenses on their Leica cameras these days, and sometimes those lenses can be hard to focus, especially when you're using longer focal lengths.  If you own the Leica M 240, you can buy the EVF2 or use the live view to assist in accurate focusing.  However, if you don't own an M 240 or you don't like using an EVF, then what would you use?  Well, there is another option: You can purchase the Leica Viewfinder Magnifier M 1.4x.
Build Quality of the Leica Viewfinder Magnifier M 1.4x:
There are two versions of the Leica viewfinder magnifier: a 1.25x and the version that I'm reviewing here, which is the 1.4x.  The Leica viewfinder magnifier really does feel like a high precision, high quality product.  Build quality is top notch as with pretty much all Leica M products, and it should be considering this magnifier costs around $300.  The magnifier is made out of anodized aluminum, and the image quality of this loupe is excellent in terms of clarity and brightness.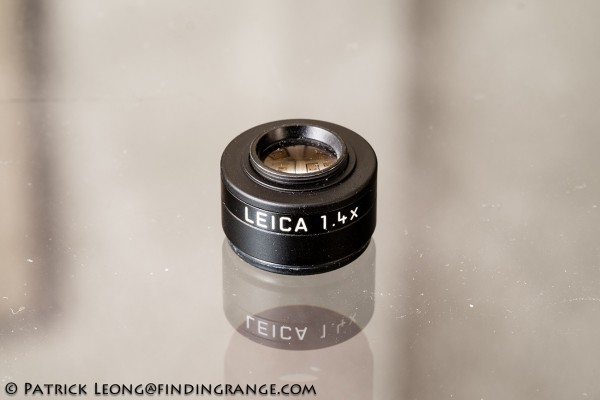 ↑ This part of the Leica Viewfinder Magnifier M 1.4x screws into the camera.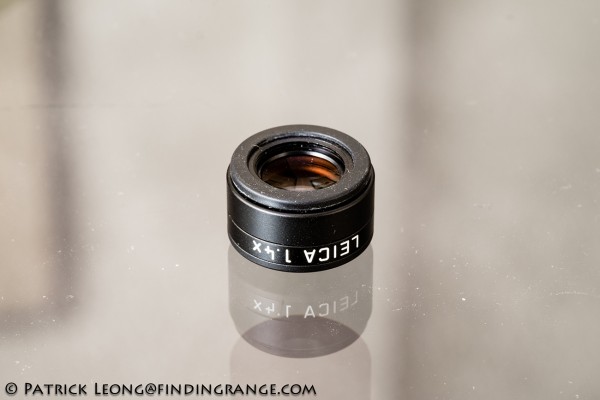 ↑ This is the part of the Leica Viewfinder Magnifier M 1.4x that you look through.  It also has a thread for a diopter.
To attach the magnifier, you simply screw it into the eyepiece of the camera.  If you need a diopter, there is also a thread on the magnifier, so you can screw one in as well.  For added security, the Leica viewfinder magnifier can be secured with a chain, and connected to the neck strap eyelet with spring catches.  Personally, I find the string a little cumbersome, so I don't use it.  Also, there is a leather pouch that comes with the magnifier, which can be attached to the camera strap.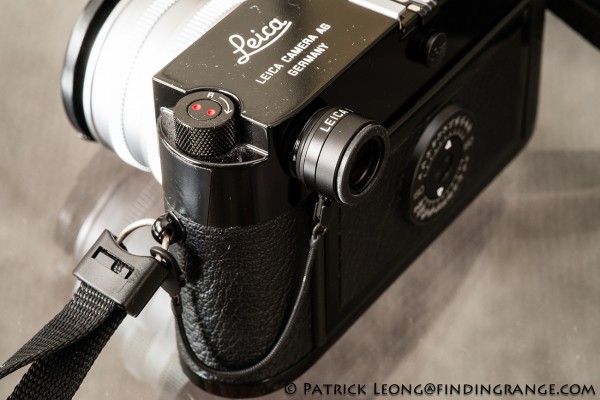 ↑ You can secure the magnifier with a chain, and connect it to the neck strap eyelet with spring catches.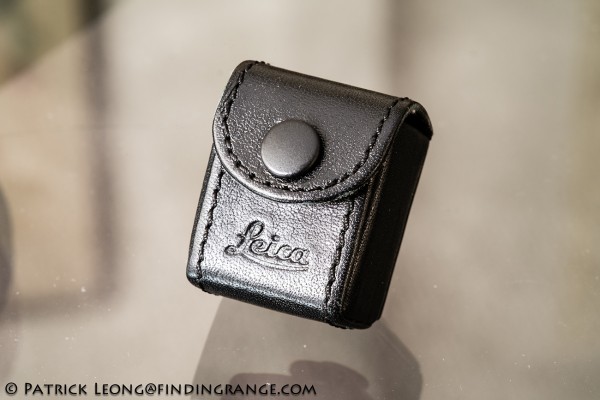 ↑ The Leica Viewfinder Magnifier M 1.4x comes with a leather case.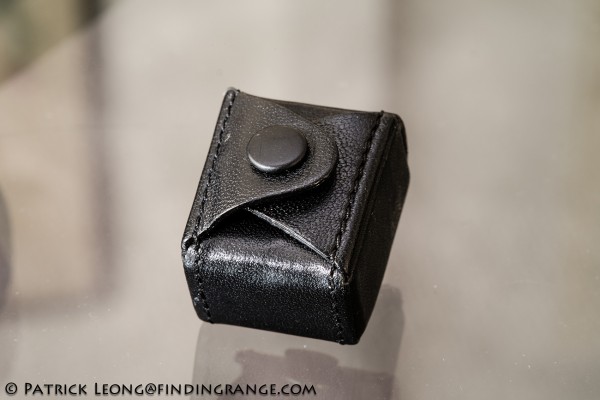 ↑ You can secure the leather case to your neck strap.
Why I Like The Leica Viewfinder Magnifier M 1.4x:
I was always curious about the Leica Viewfinder Magnifer M 1.4x but for the most part, I don't really have any problems focusing an M camera if everything is properly calibrated.  I didn't want to pay $300 for something that I didn't feel like I needed.  I sometimes find it difficult to focus my 75 Summilux wide open in certain situations but my EVF2 helps out a lot, and I can also use it with my 18mm Super Elmar as well.  Plus, as a personal preference, I don't like my cameras adorned with a lot of accessories.
But I got my 1.4x magnifier free from a very kind uncle who didn't need it anymore, and I have to admit, I really like it a lot.  It makes focusing with the optical viewfinder so much easier.  Leica says that the 1.4x is really designed for focal lengths of 75mm or longer but I personally find it perfect for the 50mm focal length.  For my M6, it essentially converts my 0.72x viewfinder into a 1x, which is fantastic.
Sure, there are things that I don't like about the Leica Viewfinder Magnifer M 1.4x.  For instance, when the magnifier is attached to the camera, it pokes out of the back.  It's also another accessory to think about, and keep track of when you're shooting.  Plus, if you like to see what's coming into the frame to anticipate the shot, which is one of the major characteristics of rangefinder photography, it's extremely difficult to do so at the 50mm focal length because the focal length frame line essentially fills the viewfinder.  However, since you'll be getting a 1x or near 1x view from your optical viewfinder, you can shoot with both eyes open because both eyes would essentially see identical images.  So in this respect, you'll still be able to anticipate the action.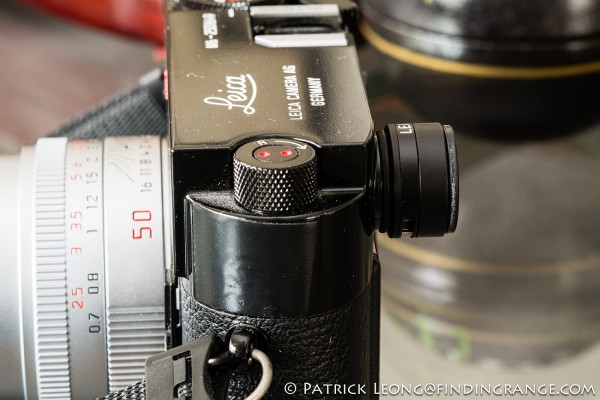 ↑ The Leica Viewfinder Magnifier M 1.4x pokes out from the back.
Leica Viewfinder Magnifier M 1.4x vs. The Leica EVF2:
If you own the M 240, you have the option of purchasing the EVF2 (you can check out my review).  I was a little wary about the EVF2 at first because for me, one of the hallmarks of the Leica M system is its analog feel, and I was afraid that the EVF would take some of that magic away.  But since the new M is already vastly technically different from the M9, I thought I'd welcome, and embrace some of the new technologies of the M 240 like the EVF2, and I'm extremely glad I did so.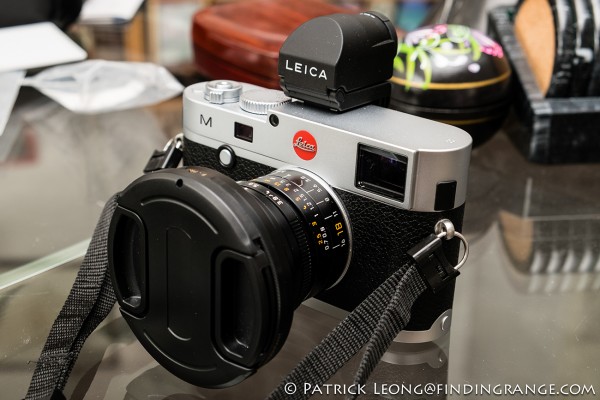 ↑ The Leica M Typ 240 with the EVF2.
With the EVF2, I can zoom in, and use focus peaking to help me focus more accurately.  Focusing lenses like the Noctilux is a lot easier and much more efficient.  I also like the fact that I won't need to buy multiple viewfinders if I later decide to buy different wide angle lenses.  This will save me money, and I won't have to carry additional viewfinders.  I also really like the tilt function, which allows me to shoot more easily at different angles.
So, why buy the Leica Viewfinder Magnifier M 1.4x if the EVF2 already does a lot of the same things?  Well, for one, if you don't own the M 240, you can't use the EVF2.  Also, I use the EVF2 a lot with my 75 Summilux but there are times when I want to use the hot shoe for either my flash or one of my Pocket Wizards, and I can't because of the EVF.  Lastly, the EVF2 can make the M 240 feel a little bulky, so the magnifier can be a great substitute for that.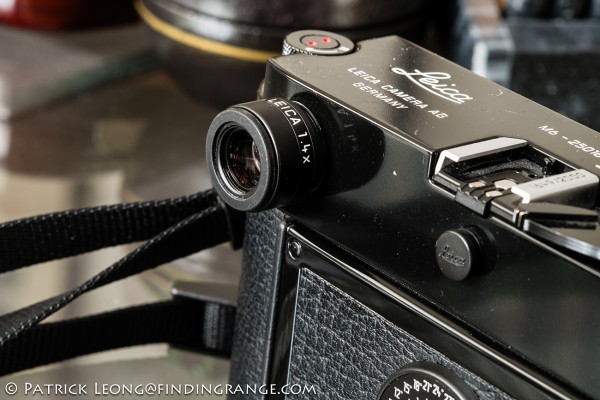 ↑ Here's another view of the Leica Viewfinder Magnifier M 1.4x attached to my M6.
Also, some people just prefer to use the optical viewfinder.  The M's OVF is one of the best out there, and that's what many people pay for including me.  In many ways, I still find focusing with the rangefinder easier to achieve than focusing through an electronic viewfinder, and this goes for all EVFs.  For me, nothing is a replacement for a good OVF.  With the EVF2, I still have to zoom in and use focus peaking for precise focusing, whereas with the optical viewfinder, all I have to do is align the image in the focusing patch.  Doing so, especially with the magnifier, is extremely easy.
So Who is The Leica Viewfinder Magnifier M 1.4x For?:
So, here is a basic checklist for who the Leica Viewfinder Magnifier M 1.4x is perfect for:
If your eyesight isn't as good as it used to be.

Photographers who prefer to use longer focal lengths.
If you prefer shooting with larger apertures with longer focal lengths.
If you have difficulty seeing the smaller framelines.
No ability to use the EVF2 but still want to focus more precisely.
Prefer to use the OVF instead of an EVF.
Leica Viewfinder Magnifier M 1.4x Verdict:
If you have issues focusing or if your eyes just aren't as good as they used to be (me included), I wholeheartedly recommend the Leica Viewfinder Magnifer M 1.4x.  At $300, it's priced pretty high, and there are other third party manufacturers that also make magnifiers more cheaply like Match Technical or Phottix but I have not used any of those before.  All I know is the Leica version is built up to the same standards has other M accessories, and it works extremely well.  It's also small, and very robust.  But that's not to say other manufacturers' versions aren't built well either.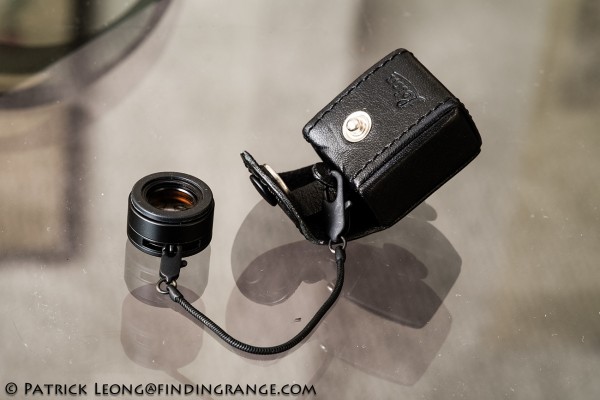 ↑ The Leica Viewfinder Magnifier M 1.4x with its leather pouch.
Again, Leica also makes a 1.25x version, but you have to decide on which version best fits you.  I personally found the 1.4x perfect for my needs, especially when paired with my 50 Lux ASPH.  I want to emphasize again that it's A LOT easier to focus and see the frame.  Whichever one you decide to buy, one thing is for sure: you'll definitely increase your keeper ratio dramatically.  To me, there is a world of difference when using the Leica Viewfinder Magnifier.