Leica 75mm Summarit-M Review:
Leica makes some of the best lenses in the world but they come with a hefty price.  Even used examples can be expensive with most older glass ending up costing more than when they were new.  I've been shooting with Leica for over two decades, so over the years, I was able to slowly collect a system that I was happy with.  But I can definitely sympathize with someone who has decided to enter the Leica world as a newbie.  With the lowest priced digital M body costing $5500, it can definitely get scary when a lens is added to that.  There are excellent alternatives from Zeiss and Voigtlander but Leica is famous for their lenses and the truth is, some may want to use a Leica lens on their Leica camera.  Leica's answer to this is the Summarit line, a lower cost line of lenses with classical spherical designs.  This line consists of four popular focal lengths: a 35mm, 50mm, 90mm, and the 75mm Summarit-M, which is what I'm reviewing here.
Leica 75mm Summarit-M Build Quality:
The first thing that you might notice on the 75mm Summarit-M are a couple of minor differences from higher priced M lenses. For one, the 75mm Summarit uses what is believed to be the "Leitz-Norm" font for number and letter engraving on the lens, which was originally used by Leitz Wetzlar in the 1960's.  The other difference is the use of a rubberized focusing grip, which some may or may not find appealing.  But other than these minor differences, the 75mm Summarit is built like every other M lens in that it's extremely well made.  It may not be built quite up to the same level as its higher priced siblings but it does comes close; I doubt anybody will be disappointed.  In my opinion, you're getting a lens that is still built better than pretty much anything else out there, and you'll feel this the moment you pick it up.  Tolerances are extremely tight, the focus ring is ultra smooth, and the aperture ring clicks in half stops solidly and stays securely in place.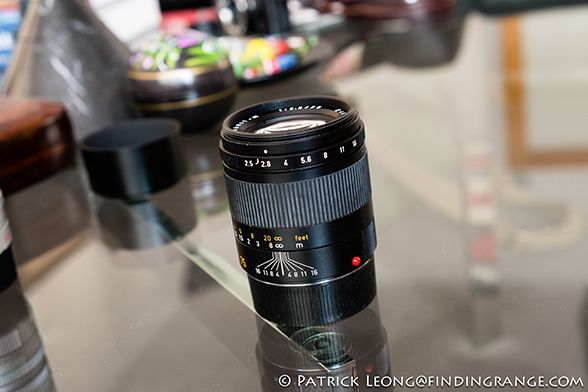 ↑ Compact and small, the 75mm Summarit-M is a great lens to carry around all day.
The only real complaint that I have with this lens (and I suspect it has to do with pricing) is that I'd much prefer a telescopic lens hood like the one on the 50mm Summilux ASPH than the screw-on type that has to be purchased separately.  The lens hood is still metal, and it comes with a metal lens cap but it takes time to screw on the lens hood, and if you leave it on all the time, the lens is bulkier. Plus, I think the lens hood should've been included with the lens instead of being an optional accessory.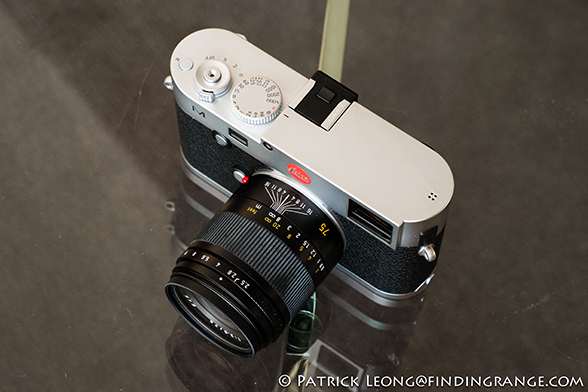 ↑ I thought I'd show you a pic of the lens mounted on my M 240, so it would be easier to see how compact this lens really is.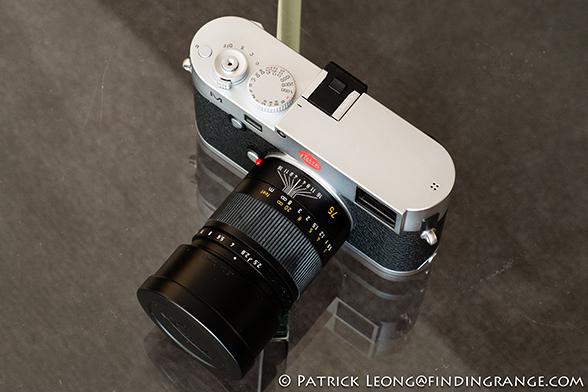 ↑ Here's a pic of the Summarit mounted on my M 240 with the hood and lens cap.
Leica 75 Summarit-M Image Quality:
Because of the price, some might be concerned the 75mm Summarit-M won't compare favorably to other M lenses in terms of image quality.  From my experience with the Summarit, there is nothing to worry about because the image quality produced from this lens is absolutely superb.  Photos are contrasty, lifelike, crisp, and naturally rendered.  There's really a sense of clarity and realism to the photos, which is partially attributed to the sense of depth that this lens can produce in photos.  Web photos that have been resized and compressed really don't do this lens any justice.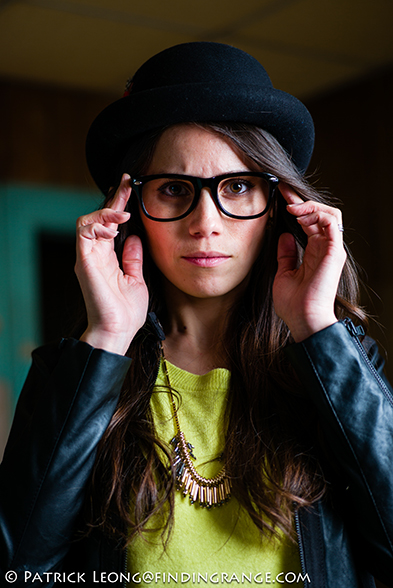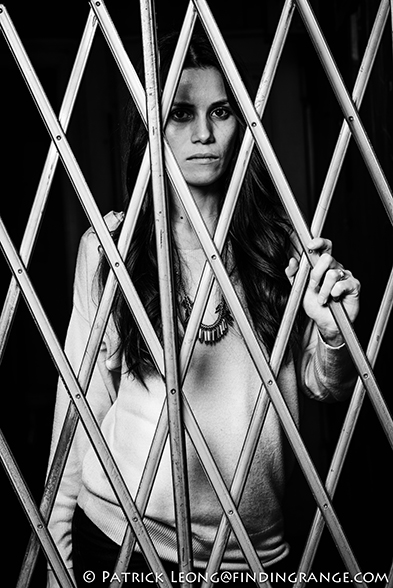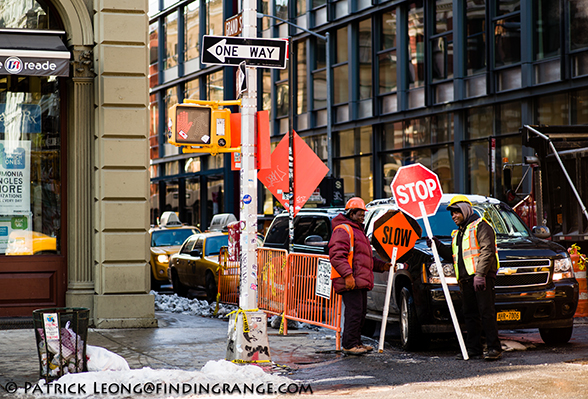 Sharpness isn't always the main factor for good photography but let's be honest; this is a lens that costs almost $2,000, and if it was me, I would want a sharp lens for this price.  The 75mm Summarit does not disappoint in this department because this lens captures an astonishing amount of detail.  You definitely have to be careful sometimes when you're taking portraits because it's hard not to capture every single wrinkle or skin imperfection ;).  In fact, the Summarit is easily one of the sharpest lenses that I've ever used.  This is a lens that would be great for a newcomer to the M system because of its lower price (especially when compared to the 75mm APO-Summicron) but at the same time, since it is such a high caliber lens, the 75mm Summarit is a lens that someone can keep for life.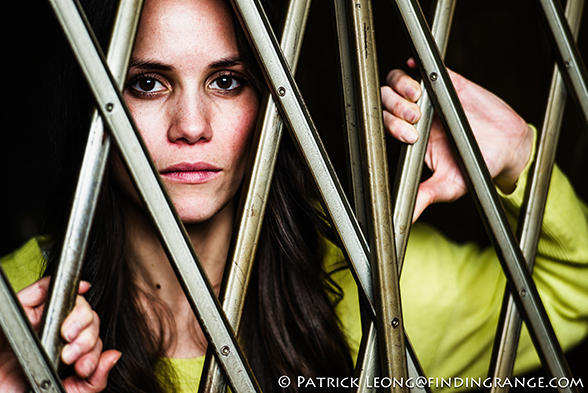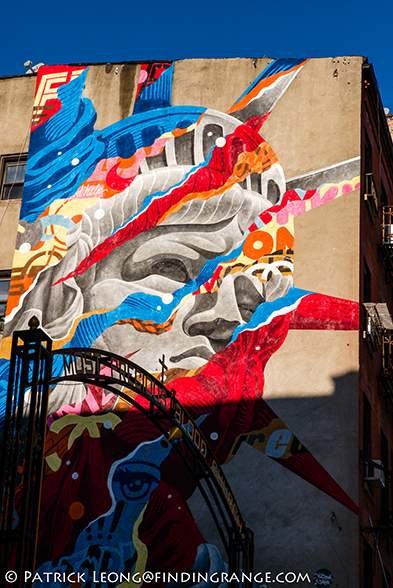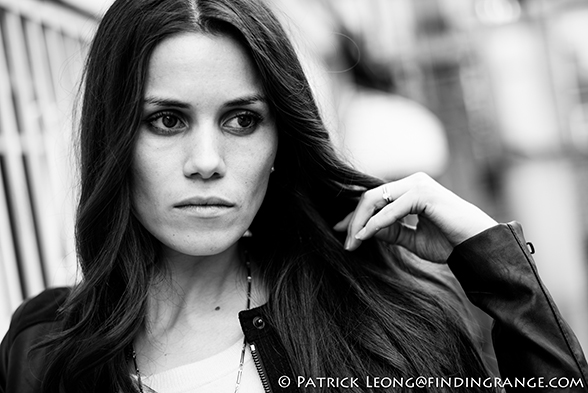 Leica 75 Summarit-M Bokeh:
In terms of bokeh, while everyone has different tastes, I found the bokeh quite nice with no harshness.  What might be mistaken as a little harshness is really just the fact that this lens' largest aperture is F2.5, so you obviously won't get the ultra creamy goodness of something like the 75mm Summilux.  But you won't pay the weight penalty of the Lux yet the 75mm Summarit will still produce nice, smooth bokeh for an F2.5 lens.  To me, the depth of field is still plenty shallow at F2.5, and will work great, especially if you're trying to isolate your subject or if you're taking portraits.  Below are some examples of photos that I took at F2.5.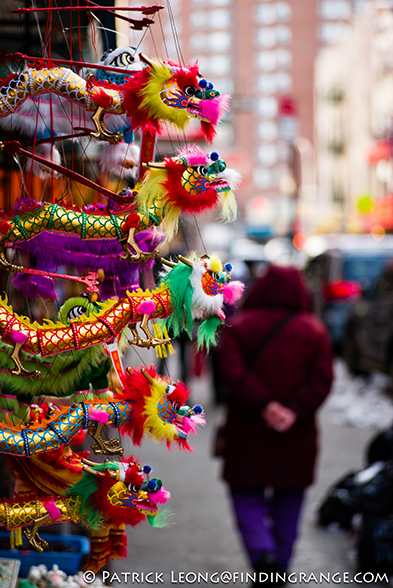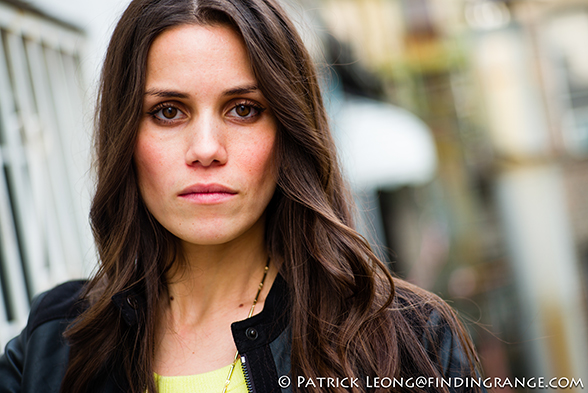 Leica 75mm Summarit-M Ergonomics:
I think the best thing about the 75mm Summarit-M is that its capabilities can actually be easily exploited to their fullest extent allowing you to get consistently excellent results.  I have a 75 Summilux, and while I love the results that I get from it, the lens is not always the easiest optic to use.  First off, it's a heavy lens (60mm filter thread) weighing in at 560 grams making the camera quite front heavy.  It's also large and bulky, so it's not always a lens that you want to carry around all day.  Lastly, in my experience, the 75mm Lux is a hard lens to focus accurately, and part of this is due to the long focus throw.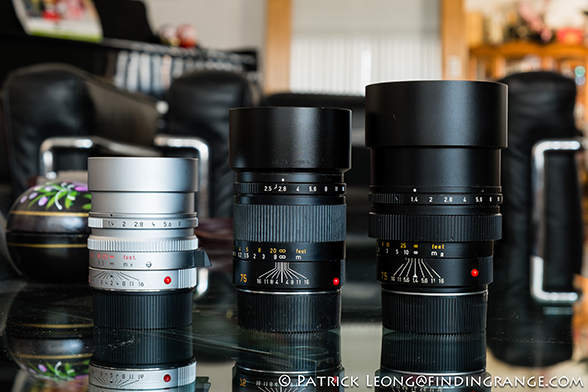 ↑ I thought I'd show you all a pic of how the 75mm Summarit compares to the 50mm Lux ASPH, and the 75mm Lux.
The 75mm Summarit is completely different.  It's compact, especially for its focal length making this lens extremely handy.  I'm happy with my Lux but it was so great to have a lens of this focal length that was so small, so well-balanced on my M 240, unobtrusive, and easy to carry around all day.  That's what I like about the Summarit line in general; the lenses are priced lower than other M lenses, and they're also compact reminding me of how older M lenses used to be built.  I love the new glass that Leica comes out with but I definitely miss the smaller lenses that they used to produce, such as, my trusty 35mm Summicron version IV or the 90mm Tele-Elmarit.  The 75mm Summarit isn't much bigger than my 50mm Lux ASPH, and at 345 grams, the 75mm Summarit actually weighs about the same as the black version Lux.  So, in this respect, I feel the handling is very similar to handling a 50mm lens.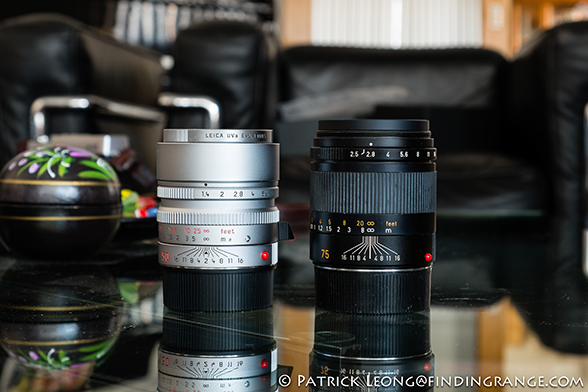 ↑ Without the hood, the 75mm Summarit is about the same size as my 50 Lux ASPH.
In addition to this lens being so compact, the focus throw is short making focusing quick and easy.  I also had absolutely no problems getting sharp images when shot wide open.   The 75mm Summarit always gave me dependable and consistent results without much effort.  I was a little surprised by this because I know that sometimes it can be harder to focus longer focal lengths on an M.  I have a Leica 1.4x Magnifier and the EVF2 for my M 240 but I had absolutely no need for them.
Leica 75mm Summarit-M Pros and Cons:
Leica 75mm Summarit-M Pros:
Extremely well built.
Exceptional optics.
Bitingly sharp – captures every little detail.
Nice, smooth bokeh.
Compact, light, and unobtrusive – this is a great lens to carry around all day.
Very balanced on an M.
Short focus throw making focusing easy and fast.
While priced less than other Leica lenses, the Summarit is still an extremely handy, and compact lens that delivers Leica level image quality.
Leica 75mm Summarit-M Cons:
Well built but not quite up to the same level as its higher prices siblings.

Personally not a fan of the rubberized focusing grip and the screw-on lens hood.
 Leica 75mm Summarit-M Verdict:
If you're in the market for a 75mm lens, don't let the lower price of the 75mm Summarit-M fool you; some of the best Leica lenses of the past weren't always their most expensive optics.  Take for example, the 50mm Summicron (which is still made today) or the 90mm Elmarit (which I still regret selling).  Both of those lenses are world class optics.  I believe the 75mm Summarit follows in this tradition in that it's a lens that concentrates more on the essentials rather than a "no expense spared" Leica lens like the 75mm APO-Summicron.  It's a workhorse of a lens.  You might lose some of the exotic mystique of higher priced M lenses but the 75mm Summarit is still extremely dependable, and will consistently give you excellent results.  The Summarit is still a lens that can hold its own when compared to its "cost no object" siblings.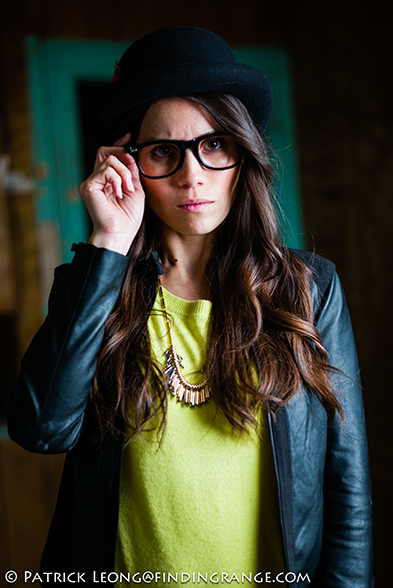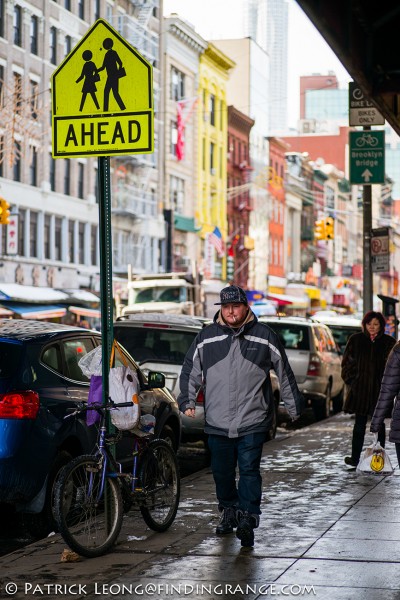 Overall, I'm extremely impressed with the 75mm Summarit-M.  If you're new to the Leica world, this lens is definitely a fantastic optic to consider; I wholeheartedly recommend it.  However, if you're a Leica veteran, and just want a sharp, handy lens that will produce superb images, this is also a great option.  The truth is, if you don't need anything faster than F2.5, and you're okay with not achieving absolute perfection with something like the 75mm APO, then you will probably never have to upgrade because this lens will never leave you wanting for more.
That's it for my review, and thanks for taking the time out to read it!  I want to thank Bob at Bergen County Camera for lending this lens to me.  I don't get anything for saying this but BCC is the type of store that believes in establishing long term relationships with their customers rather than just trying to make a quick buck.  This is important because if I'm spending my hard earned money on expensive Leica equipment, I'd much rather spend it at a store that will sell me something I need, and will also help me if I have a problem instead of trying to push garbage on me and leaving me to the wolves when it doesn't work.  That's why my family's been shopping there for over 30 years.  It's a store that runs on "old-school" business mottos, which unfortunately, seems to be severely lacking these days.  That's why it's important to support honest businesses like this.
If you would like, you can check out their main site, bergencountycamera.com , their Leica Boutique site, leicaexperts.com or call Bob at (201)-664-4113.
Please feel free to follow me and this blog on Facebook, Twitter or Google+!