Intocircuit 2nd Gen Power Castle Series 15000mAh Review:
For those of you who are in the market for a new portable power bank to charge your devices like a smart phone or a tablet, it can be quite difficult to make a decision on which one to buy because there are so many choices out there these days.  For instance, once you figured out the battery capacity that you want, you still have to decide which manufacturer that you would like to buy from since there are so many of them.  Keep in mind that not all are equal.  You still want a product that is both reliable and decently priced.  About a month ago, I received an email from Hisgadget Inc. asking me if I would be interested in reviewing one of their portable battery chargers.  Like a lot of people I've become reliant on a lot of my electronics.  Sometimes it's unfortunate but that's the reality these days.  Up until now, I've been using a smaller portable battery charger but recently, I've been needing something with more capacity, especially since some of my newer devices have larger batteries, so seeing as Hisgadget was going to send me something with 15,000 mAh, I jumped at the chance to review it.  The one that I was sent is the Intocircuit 2nd Gen Power Castle 15000mAh.
Intocircuit 2nd Gen Power Castle Series 15000mAh Build Quality:
I've noticed that often times when I'm buying a device like this, it can be a gamble.  As I mentioned earlier, there are so many to choose from, and unfortunately, a lot of them are poorly made, so sometimes I end up with a decent product and sometimes I get a product that falls apart easily or breaks down.  I've had the Intocircuit 2nd Gen Power Castle 15000mAh in my hands for quite a while now, and in terms of build, I am quite impressed with it.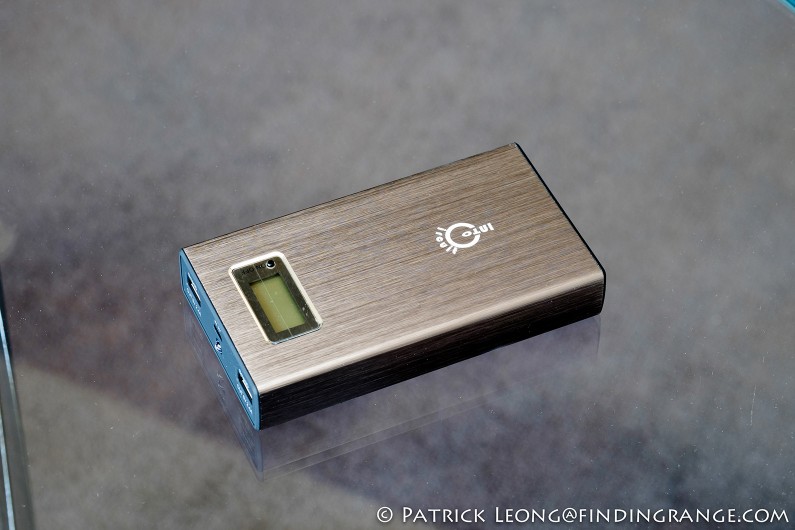 ↑ Intocircuit 2nd Gen Power Castle Series 15000mAh.
For it's battery size, I think the asking price of around $40 is completely reasonable, especially given that it's a well manufactured product.  There are really no complaints.  The outer shell is made out of aluminum alloy and has an anodized hairline finish, which makes it quite attractive yet also beautifully understated.  In addition to great aesthetics, the aluminum alloy also adds a high level of protection and structural integrity.  For instance, there are absolutely no creaks or rattles of any kind.  Inside the metal casing are Samsung Grade A Lithium-ion cells that will supply 1000+ recharge cycles over a lifetime.  There is also an LED flashlight built into it, and while that has nothing to do with charging, it's a welcomed addition and in a way, it's kind of like a bonus.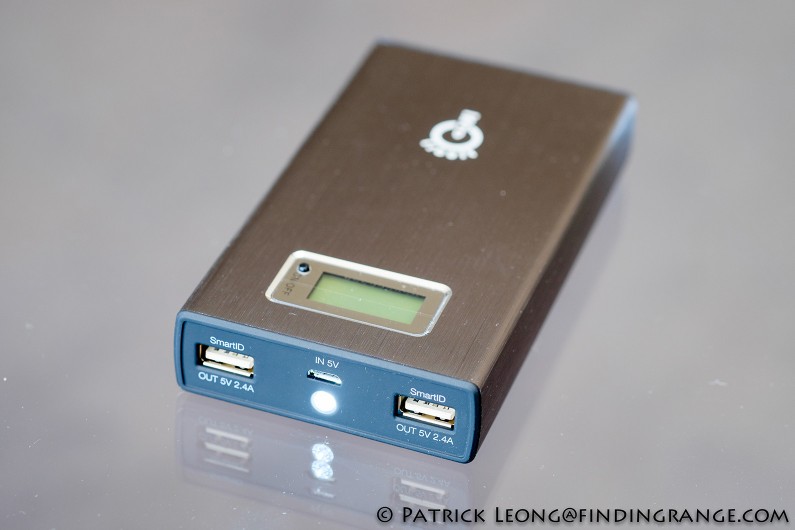 ↑ This power bank also has a nifty little LED flashlight.
Additional features include a small LCD screen that displays the power level and its status (charging and discharging).  This may not seem like a big deal but I actually found it to be quite useful.  Knowing how much you have left in the battery makes a device like this even more dependable.  I have a Anker Astro Mini 3000 mAh, and sometimes I don't use it for a long time, which means, I don't remember if I still have charge left in it or not.  With the Intocircuit 2nd Gen Power Castle 15000mAh, I don't have to guess or waste the time to charge it if it already holds sufficient power; I know exactly how much I have left thanks to the LCD display, which by the way, lights up a nice blue so you can also see it in the dark.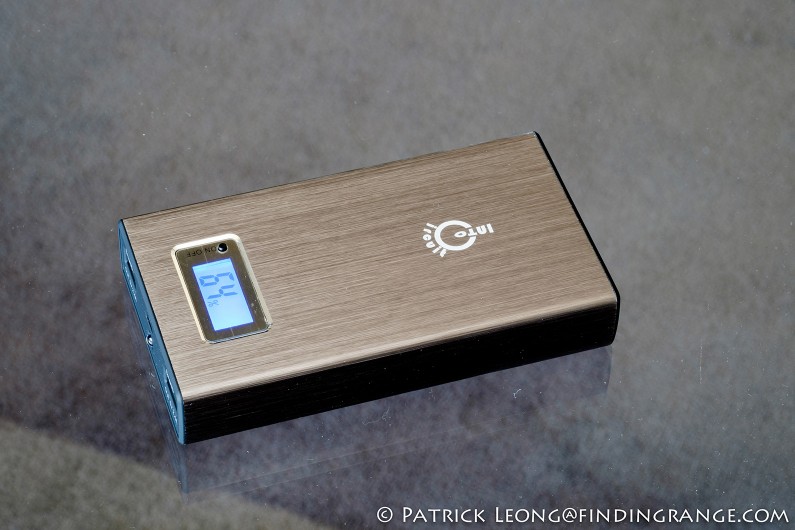 ↑ The LCD display is lit up in blue.
Another great feature is that this power bank has 4.8A dual USB output (Max 2.4A per port ), which allow full speed charging of two devices simultaneously.  The power bank also has SmartID Technology: It identifies a particular device by itself and therefore ensures maximum charging efficiency.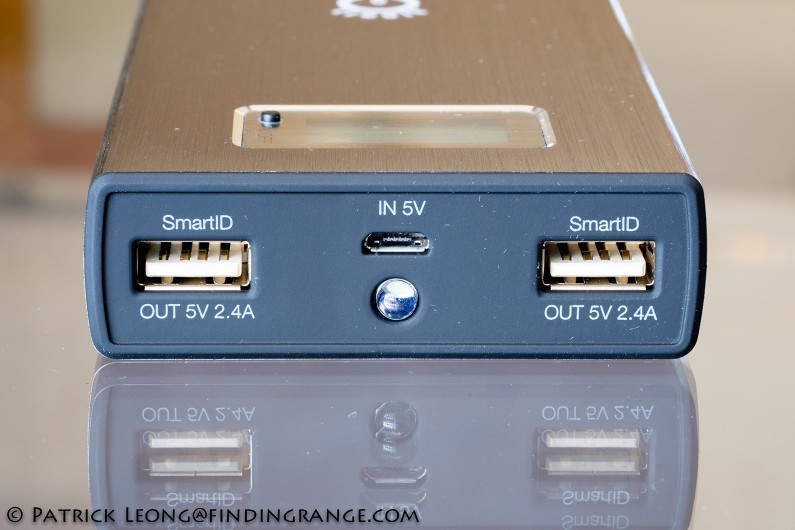 ↑ This power bank can charge two devices at the same time.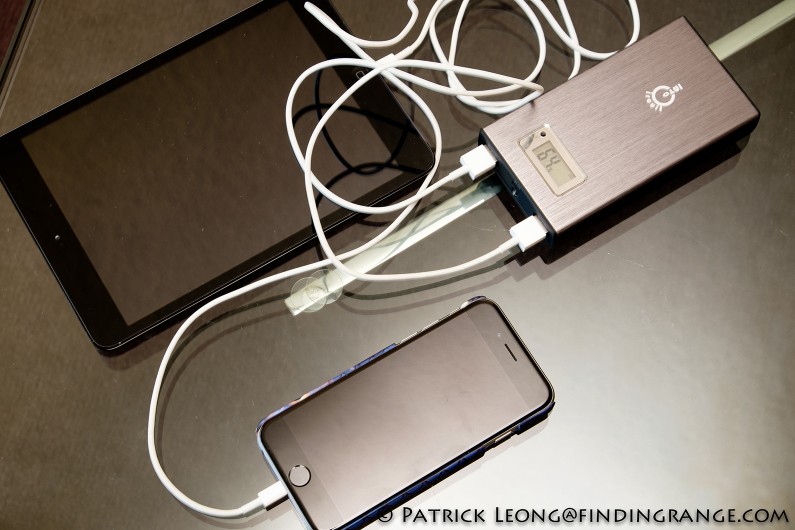 ↑ A photo of the Intocircuit 2nd Gen Power Castle Series 15000mAh charging an iPhone 6 and an iPad Mini.
I know it's mainly a big battery but overall, I just wanted to mention that this power bank has a nice, dense feeling to it, and it feels like it can take some abuse, which is good.  I don't plan on throwing it around purposely but accidents, especially with items like this, often occur and it's nice to know that the overall structure is very solid.
In terms of accessories, this power bank comes with an excellent user manual, warranty card describing your one year warranty, a micro USB cable, and a soft velvet pouch.  The micro USB cable is used for charging and I simply plug it into the Apple Power Adapter that came with my iPhone.  The soft velvet is great because it helps protect both the power bank and my various camera accessories from scratches and nicks as they bump into each other while they are in the same compartment in my camera bag.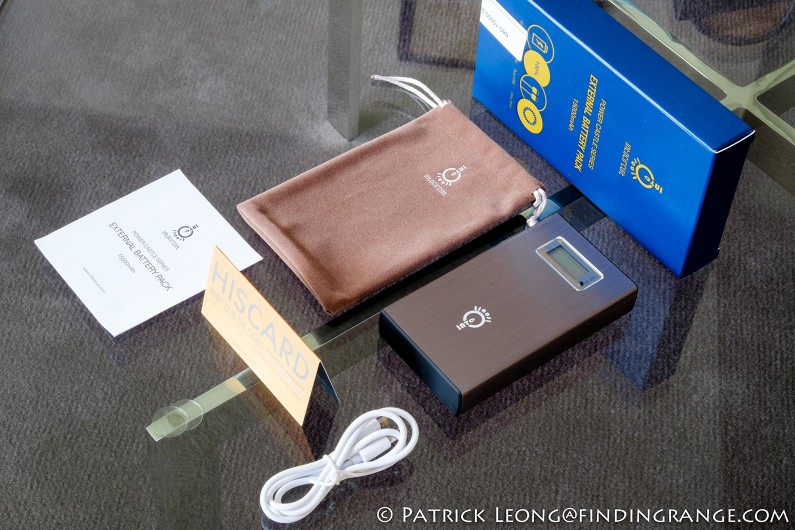 ↑ All that is included with the portable battery charger.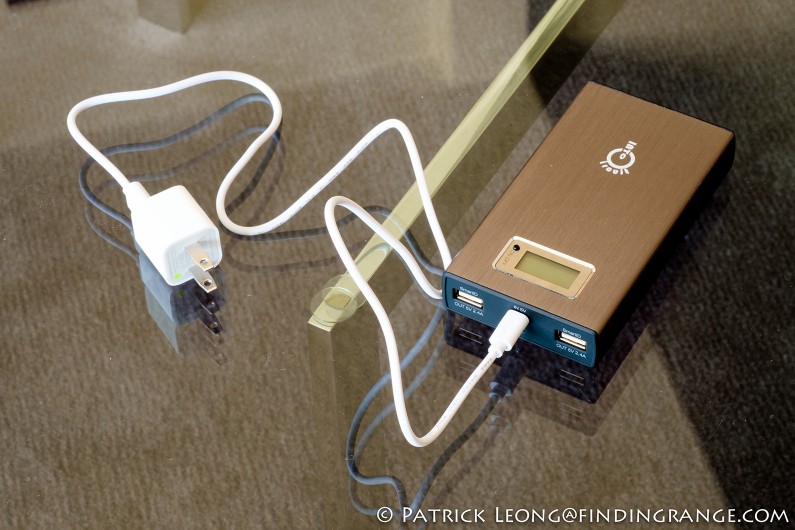 ↑ To charge the Intocircuit 2nd Gen Power Castle Series 15000mAh, I simply use the provided micro USB cable with the Apple power adapter included with my iPhone.
Intocircuit 2nd Gen Power Castle Series 15000mAh Charging Capabilities:
Now that we've talked a bit about the build quality, let's discuss the Intocircuit 2nd Gen Power Castle 15000mAh's charging capabilities.  According to the manufacturer, this portable battery charger can charge an iPhone 5S almost seven times, a Galaxy S5 more than four times or an iPad Air more than once.  In my experience I have no doubt that all of this is possible.  When I first started charging my devices, I thought there was something wrong with the LCD screen on the Intocircuit power bank because the percentage of power dropped so slowly.  But nothing was defective; it turns out that this little device just holds plenty of juice.
 So, with that said, here's an example of what I was able to charge with the Intocircuit at 100% charge: 
11:33am – Iphone 5S with 21% power and an iPad mini with 14% power
2pm – iPhone 5S fully charged with 65% power left on the Intocircuit.
4pm – iPad Mini fully charged with 58% power left on the Intocircuit.
On another day I used the Intocircuit's 58% power to charge:
11:35am – iPhone 6 Plus with 37% power left
1:40pm – the iPhone 6 Plus was fully charged with 40% power left on the Intocircuit.
The next day, I used the Intocircuit's 40% power to charge:
6:39pm – iPad Mini with 52% power left
8:16pm – My friend took his Mini back, so it was charged up to 96%.  The Intocircuit had 24% power left.
With the 24% power left, I charged:
8:17pm – 3% power left on my iPhone 6 Plus
8:35pm – 20% power on my iPhone 6 Plus, and the charger finally ran out of power.
Obviously, nothing here is scientifically measured but then again, we're all going to be using this in the real world, not in a laboratory.  I used it the way I would normally use any of these chargers, and I have to say, it's quite dependable and most importantly, consistent.  In the examples I gave, the Intocircuit charged 4 to 5 different devices that had various power levels, which is plenty for a power bank of this size.  I gave you the approximate times just to give you an idea of how long it takes to charge my devices.  I made it a point to pick different products with different battery sizes because I figured a lot of people who decide to purchase one of these will most likely use it with many different devices.  If you're going camping for instance or in my case, if I go fishing out in the country, this device could keep my phone powered for a few days.
Overall, the message I really want to bring across is that this charger just gives me a little more peace of mind.  What I mean by that is this power bank has such a large capacity that I'm never really concerned about charging it or not having enough power to charge my devices with it.  For instance, with my smaller power bank, I know that after a couple of times of usage, I better go look for a place to charge it whereas with the Intocircuit, I can go on for a lot longer and not really worry about it.
The only downside to having this kind of capacity is it will take a long time to fully charge it.  There's really no way of getting around that, it's a big battery.  For instance, it took me from 5:05pm to 3:40am to charge the Intocircuit 2nd Gen Power Castle 15000mAh from 0% to 100%.  That's 10 to 11 hours.  But this is not the fault of the product itself; something with this kind of capacity from any manufacturer is going to take some time to fully charge it.  Plus, I don't think many will actually drain the battery down completely all the time like I did.  Even with me, I would probably just charge it every day or two, so it wouldn't have a chance to go down to 0%.  I did it just for testing purposes.
Intocircuit 2nd Gen Power Castle Series 15000mAh Everyday Use:
In addition to having a high capacity, the Intocircuit power bank is just easy to live with everyday.  For its battery size, it's really not that heavy or big.  As you can see in the photos, it's about the size of two iPhone 6's (not Plus') stacked up.  I run around the city all the time with my camera bag and I honestly don't even notice the difference in weight.  The shape of it is also great because it doesn't take up unnecessary room in my camera bag.  There are also no sharp edges that may damage more delicate camera gear.  Trust me, I'm a minimalist when it comes to carrying camera gear, so I would notice if something substantially heavy or cumbersome was in my bag.  I never once felt like the Intocircuit was a pain to carry.  In fact, I've also carried this power bank comfortably in my pocket as well.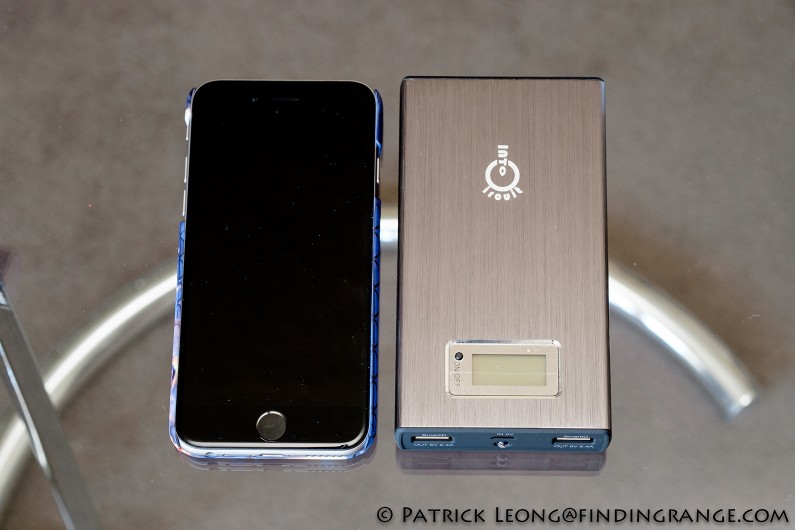 ↑ Lengthwise, the Intocircuit 2nd Gen Power Castle Series 15000mAh is about the size of the regular iPhone 6.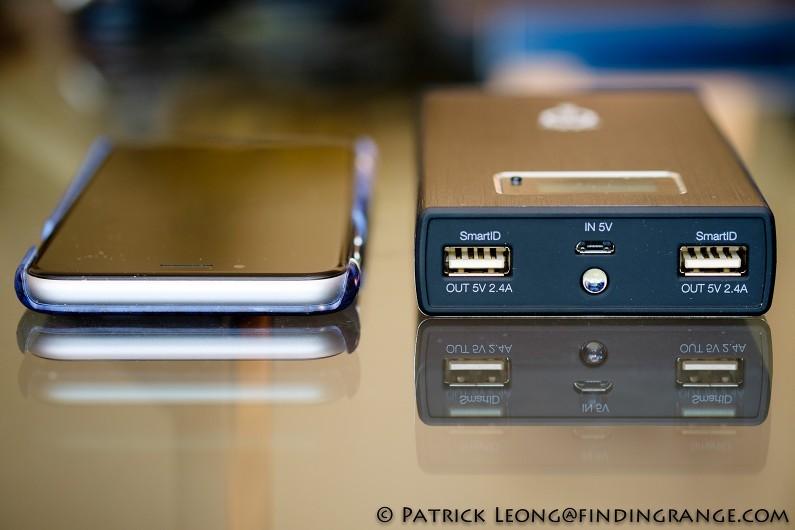 ↑ The portable battery charger is about the thickness of two iPhone 6's.
Intocircuit 2nd Gen Power Castle Series 15000mAh Verdict:
The Intocircuit 2nd Gen Power Castle 15000mAh's combination of excellent build and large capacity makes it consistent, dependable, and most importantly, reliable.  For what you're getting, I find the asking price to be very decent as well.  Of course, like anything else, I'm sure you can find something with similar specs for less but often times with devices like this, you can get pretty mediocre stuff that just doesn't last too long.  With the Intocircuit, you're getting a high quality product that has no problems handling the abuse that comes with everyday normal use.  Personally, $40 isn't much for a device of this capacity, and even if there may be something slightly cheaper, I'd rather pay a little more for dependibility.  I've had this device for a few weeks already but I used it quite a lot.  It's been bouncing around my camera bags, I've shared it with friends and family, and I even took it on a few extended fishing trips with me.  The power has always been consistent, and the product itself hasn't shown any signs of fatique in terms of build.  It also doesn't hurt that their customer service is simply excellent, so if you have any problems, I'm sure they will help you out in any way that they can.  Overall, it's really hard to find anything bad to say about this power bank because quite frankly, it's been extremely useful and it does the job that it was intended to do with no problems whatsoever.  If you're in the market for a power bank of this capacity, I strongly encourage you to put this on your short list of power banks to buy.
That's it for this review, I hoped that you all enjoyed it.  If you're considering buying the Intocircuit Power Castle 15000mAh, and my review helped you decide, please help support me and this site by purchasing from one of the links below.  Thanks!