iClever 6-Port 50W 10A Fast USB Desktop Charger Review:
Recently, I went to Japan, and while I double checked and tripled check to make sure I brought everything that I would need to photograph such an amazing place, there was one thing that I didn't even think about: I didn't take into account how many outlets my hotel room would have for me to charge my electronic devices.  The reality is that these days, we live in an age where we are dependent on electricity to power a lot of our equipment.  For instance, while my Leica M 240 has a lot of manual features, the bottom line is it won't work without a charged battery.  Neither will my phone.  Nowadays, smart phones have so many complex features that they need even larger batteries than ever before.  When I went to Japan, I went with a couple of people, so we actually had to take turns charging our electronics because we simply ran out of outlets.  This is why I should've brought something like this iClever 6-Port 50W 10A Fast USB Desktop Charger with me on my trip.  This device was kindly sent to me by Hisgadget Inc for review purposes, and after a few weeks of testing, here is what I think of it.
iClever 6-Port 50W 10A Fast USB Desktop Charger Build Quality:
One of the biggest surprises about the iClever 6-Port 50W 10A Fast USB Desktop Charger is its size.  I was expecting a rather large unit considering it has the capability to charge up to six different devices at the same time but I was greeted with something that is surprisingly compact. This unit could easily fit into my pocket and it's also light, which are both great qualities to have for traveling.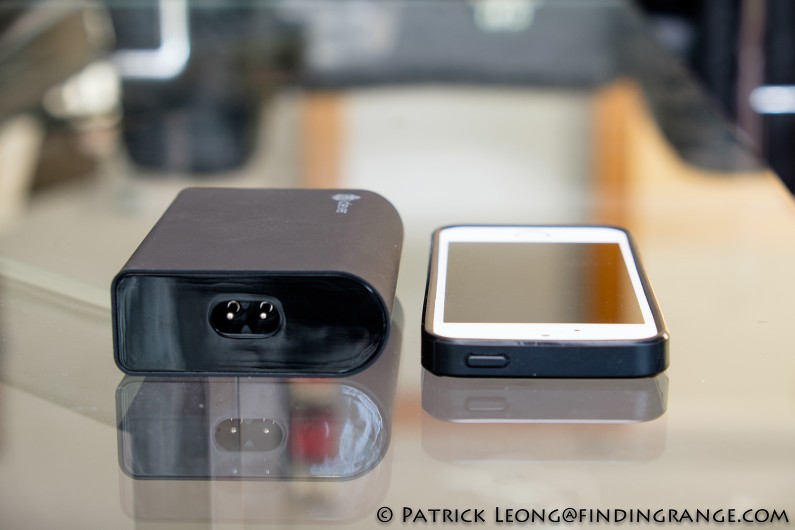 ↑ Here's a photo of the iClever charger next to an iPhone 5S to give you an idea of the size.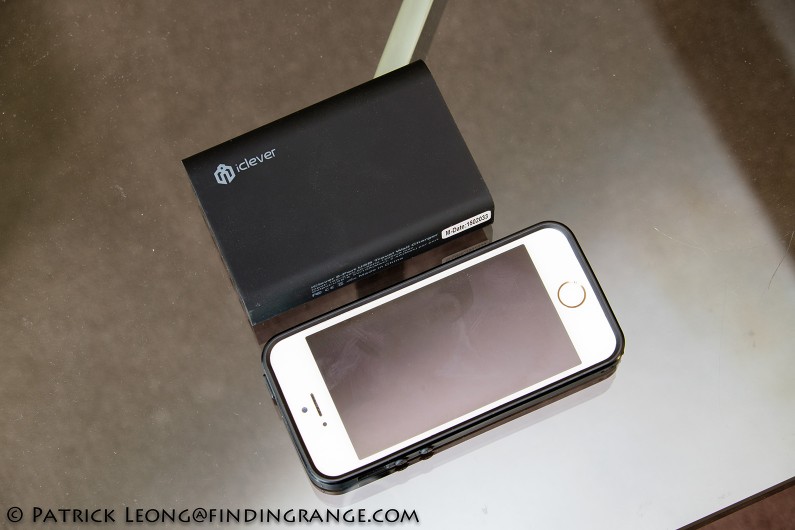 ↑ Top view of an iPhone 5S and the iClever charger.
It's also built very well; I definitely like my gadgets and I've used similar devices like this one in the past but I have to say that I'm extremely please with the overall quality of this product.  While the iClever 6-Port charger is made out of plastic (which helps in the weight department), construction is very sturdy, and there are absolutely no creaks or rattles of any kind.  There's also a nice rubber finish that is very durable and easy to clean.  The plugs are tight, and even after a few weeks of use, they have shown no signs of fatique or detrimental wear.  On the contrary, they are very durable.  I would argue that this device is built just as good or even better than some similar products coming from larger and more famous name brands.  It's also accompanied by fantastic customer service if you need it.  Moreover, it does not have that cheap hollow feel that often plagues many of these types of devices.  Instead, it has quite a solid, almost dense-like feel to it, which I totally wasn't expecting for a device like this, especially for its asking price of around $25.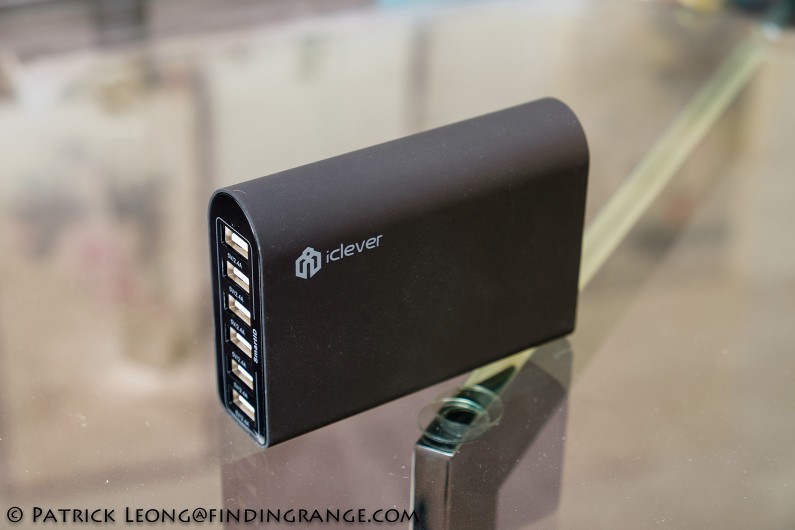 ↑ The iClever 6-Port 50W 10A Fast USB Desktop Charger.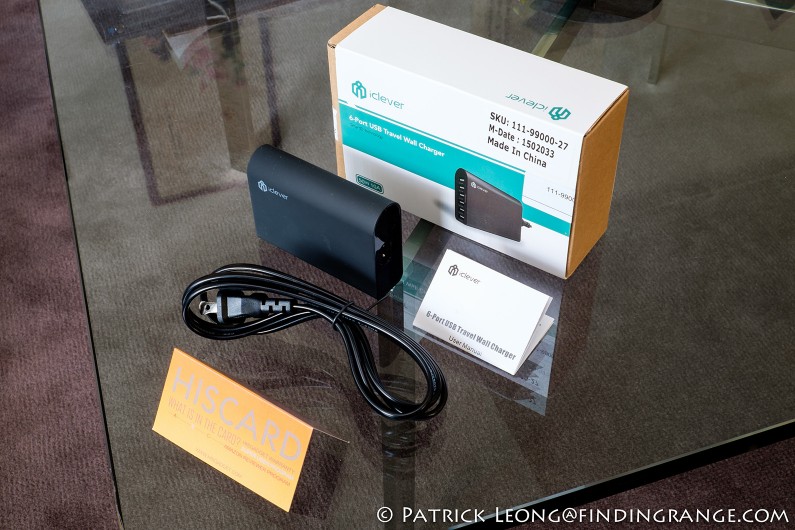 ↑ Here is what's included with the iClever charger.
Overall, the iClever Desktop Charger has an output of 50 watts through six ports (2.4A max per port), which lets you charge any combination of phones, tablets or other devices simultaneously.  It also features SmartID Technology, which is very important because it helps the desktop charger identify a particular device by itself and determine the suitable charging rate, maximizing in device-charging efficiency.  In other words, it does not matter which USB port you plug your devices into because each USB port identifies the device that's plugged into it and charges it accordingly.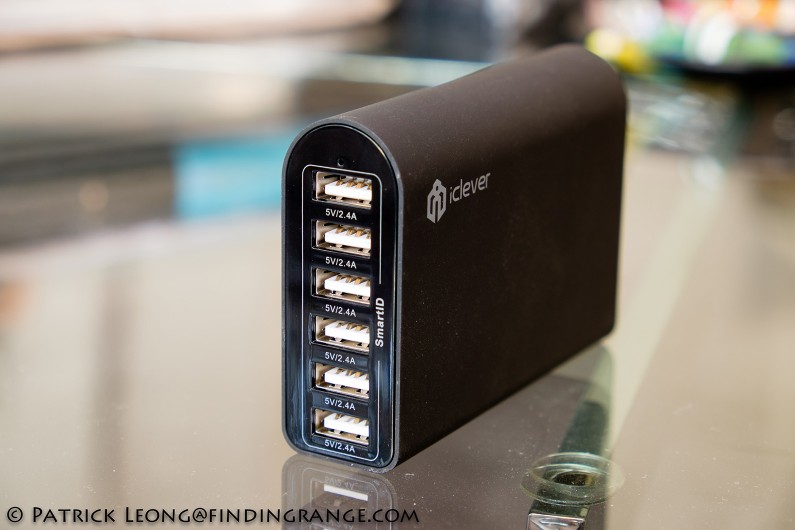 ↑ The iClever charger has 6 USB ports with SmartID Technology.
To sum it up, I've had no problems charging all my devices in a timely manner.  To give you an example, at one time I plugged in an iPhone 6 Plus, an iPad Mini, a Kindle, an iPod Classic, an iPhone 5S, and a Intocircuit 15000mAh power bank charger into the iClever charger all at once.  I used a variety of devices with different levels of charge left on purpose.  Here are my results:
iPod Classic at 0% – full charge by around 10 to 11pm
Kindle at low power (no percentage shown) – full charge by 7:30pm
iPhone 5S at 71% – full charge by 6:55pm
iPad Mini at 35% – full charge by 8:25pm
Intocircuit 15000mAh portable battery charger at 33% – full charge by 11pm to 12am
iPhone 6 Plus at 16% – full charge by 8:00pm
So, as you can see, nothing out of the ordinary, in terms of charging, is going on here.  I didn't notice any difference in terms of time if I were to plug all those devices directly into my outlets. Obviously, charging time will vary based on your location, environment, and electronics.  Plus, keep in mind that none of my testing was done scientically; instead, I tested it with real world usage or in other words, I tested the iClever 6-Port charger the way I or anyone interested in a device such as this would, which is through normal usage not on a test bench.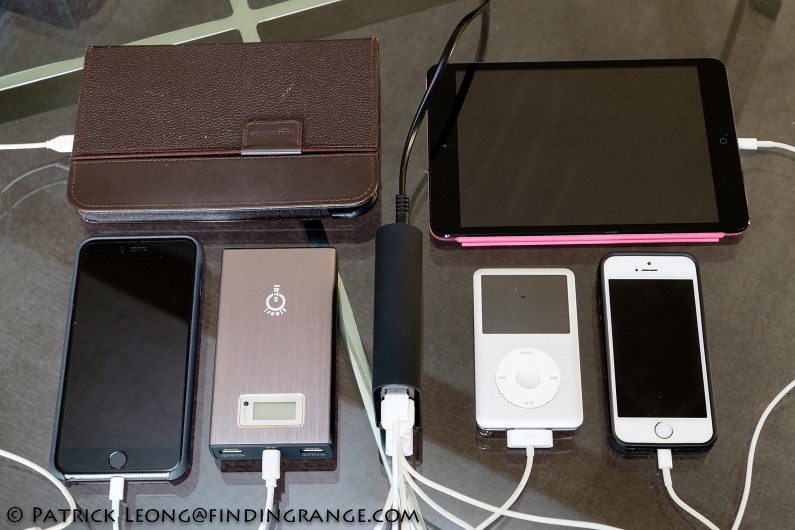 ↑ The iClever has no problems charging six different devices at the same time.
iClever 6-Port 50W 10A Fast USB Desktop Charger Verdict:
Overall, the iClever 6-Port 50W 10A Fast USB Desktop Charger is an excellent charger that makes everything so much more convenient.  As I mentioned before, this is great for vacation or any type of travel, such as, for business.   It's light, takes up minimal space, and built well, so it can handle the normal abuse that comes with traveling.  With six USB ports, all my charging needs are pretty much covered.  In fact, if I go on vacation with someone else, I can probably cover all their charging needs along with mine.
But it doesn't stop there because the great thing is that I'm finding it pretty fantastic to use at home on my desk as well.  I no longer have a mess of plugs and I don't need to use a power strip with a bunch of adapters that take up so much more room.  Everything is less cluttered too.  The iClever 6-Port charger lies neatly on my desk and takes up very little room yet it can keep six of my devices charged.  The supplied power cord is also about five feet long, so I don't have to be concerned about placement on my desk.  I like it so much and it's so reliable that I'm thinking about leaving this one permanently on my desk and buying another one just for vacation.  For $25, that's easily done and not to mention a steal too.  Think about it this way: as photographers we sometimes spend more on a simple memory card.
Some may say that you can find something a little cheaper, and that is probably true since there are so many different options out there these days but you may not get such a well-made and reliable product such as this one.  Let's face it, it can be a tall order to charge so many devices at the same time repeatedly, and be built well enough to stand the rigors of traveling.  I've been using this for the past month and not only has it been trouble-free, I absolutely love it.  If anyone is looking for a great USB desktop charger hub with the capability of charging multiple devices at the same time, look no further because the iClever 6-Port 50W 10A Fast USB Desktop Charger is a fantastic choice.