Fuji XF 16mm F1.4 R WR Lens Review:
There are quite a few wide angle lenses to choose from if you are invested in the Fuji X Series system.  Manufacturers like Fujifilm, Samyang, and Zeiss all make great wide angles.  Furthermore, there are even ones that can be adapted to fit on the X Series cameras thanks to the various adapters on the market.  So, why did Fujifilm feel the need to produce another wide angle lens?  Well, a fully complete camera system nowadays includes many different types of lenses.  To attract more buyers, especially DSLR users, Fuji needs to not only create uniquely different lenses for its system, it also needs to create lenses that DSLR users are accustomed to, and in this case, one crucial lens is a fast wide angle.  For instance, Nikon does have a 24mm F1.4 lens in their catalogue.  So, the fast wide angle lens that Fuji decided to produce is the XF 16mm F1.4 R WR lens (B&H Photo/Amazon), which is essentially a 24mm equivalent.  Due to its focal length, a lens like this may not be needed by every photographer but to some, the XF 16mm F1.4 may be one of the most important optics in a photographer's kit.
Fuji XF 16mm F1.4 R WR Lens Build Quality:
For a Fuji lens, the build quality of the XF 16mm F1.4 R WR lens is downright impressive.  In fact, this is easily one of the best built lenses that has come from Fuji so far in my opinion.  I've been a Fuji X user since the original X100, and I've used quite a lot of their stuff.  It's pretty neat to see how the Fuji X gear has evolved and changed over just a short amount of time.  For instance, there is none of that "hollow" feel that once plagued some of the first generation XF lenses but then we really haven't seen this issue with the new lenses from Fuji anyway, so it'll probably be the last time I mention it.  Instead, this lens, which has a metal exterior, is very solid yet at 375g, it's not that heavy.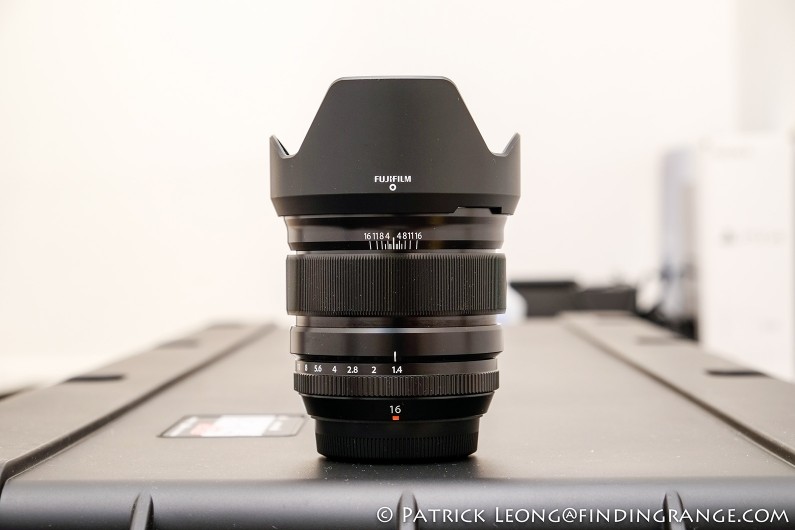 ↑ The Fuji XF 16mm F1.4 R WR lens with lens hood attached.
It's not even that large either.  In my review of the XF 23mm F1.4, I did complain that it was a little too big because in my opinion, a lens of that focal length and speed is designed to be used as an everyday lens.   Some will even have that lens almost permanently mounted on their body.  But if you take into consideration that the XF 16mm is a 24mm equivalent and has an aperture of F1.4, it's really dare I say, kind of compact.  In fact, while they are different focal lengths, this lens is around the same size as my Zeiss Touit 12mm F2.8, and as frequent visitors of my blog know, I use that lens quite a bit.  Therefore, while in some respects, the XF 16mm F1.4 can be considered a specialty lens, if you wanted to used this lens as an everyday wide angle, it is perfectly suited for that as well.  I had no problems carrying around my X-E2 all day with this lens mounted.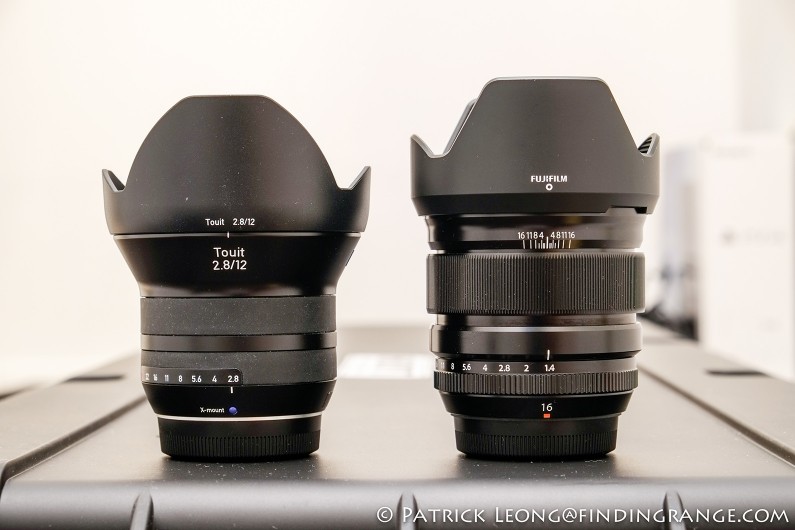 ↑ The Zeiss 12mm Touit F2.8 vs. the Fuji XF 16mm F1.4 R WR lens size comparison.
Like many of the newer XF lenses, the XF 16mm F1.4 also has sealing that makes it weather resistant.  There are a total of 9 seals in 8 areas of the barrel and operation is guaranteed in low temperatures down to -10°C.  While I didn't have a chance to test it in the cold since it's currently summer time in NYC, I actually did get stuck in the rain quite a few times while I had the XF 16mm F1.4.  I didn't get stuck in huge downpours but the lens did get wet.  I'm glad to report that I had absolutely no problems with the XF 16mm F1.4.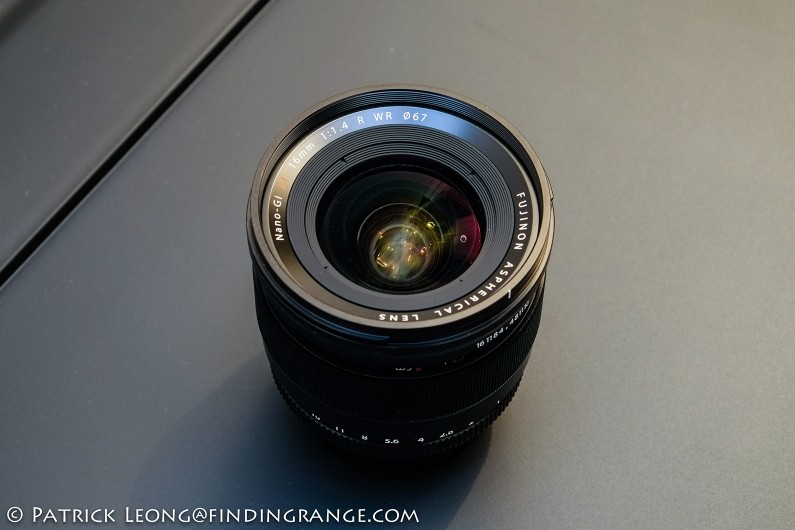 ↑ The XF 16mm F1.4 uses a 67mm filter.
As for the lens hood, I'm actually one of those who really liked the original lens hoods that came with the first generation XF lenses like the XF 35mm F1.4.  They were rather compact, they served their purpose, and because you can clip the lens cap directly on the hood, you could leave the lens hood permanently on.  The only complaint I really had with the older lens hood design was how easy it was for the lens cap to fall off accidentally but if Fuji fixed that problem, to me, I would've been completely content with that design.  Like many of the newer XF lenses, the XF 16mm F1.4 R WR lens comes with a rather generic hood.  It is petal shaped but the good news is the lens hood isn't as huge as some of the hoods that come with some of the other newer XF lenses.  So, with the decently sized lens (at least to me) and lens hood attached, the whole system isn't outrageously large for the focal length and speed.  However, for those who do not like the petal shaped hood, Fuji will release the new LH-X16 metal lens hood that looks similar to the lens hoods that come with the Leica 21mm and 24mm Summilux ASPH lenses.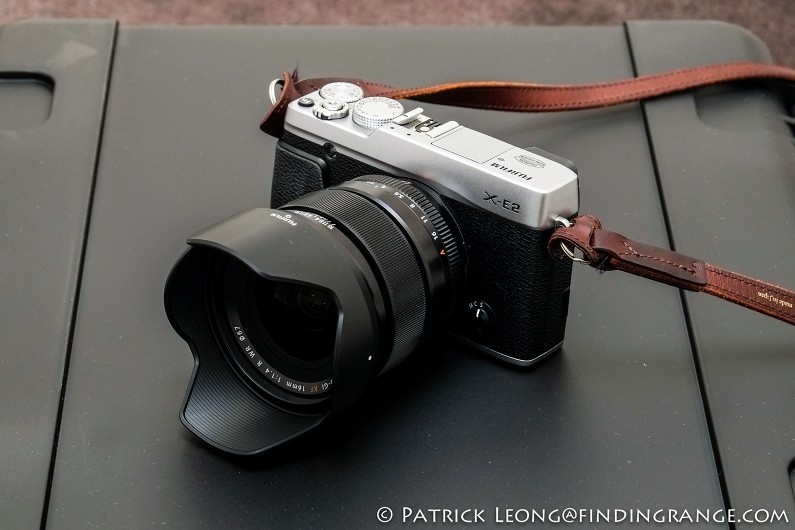 ↑ The XF 16mm F1.4 mounted onto the X-E2.
As for the functions of this lens, the aperture ring rotates very smoothly and at least on my copy, it has just the right amount of resistance when rotating the ring.  In fact, the aperture ring is more fluid on this lens than any other Fuji lens that I've tested so far.  Like other Fuji XF lenses, it does click in third stops but it almost glides to each third stop.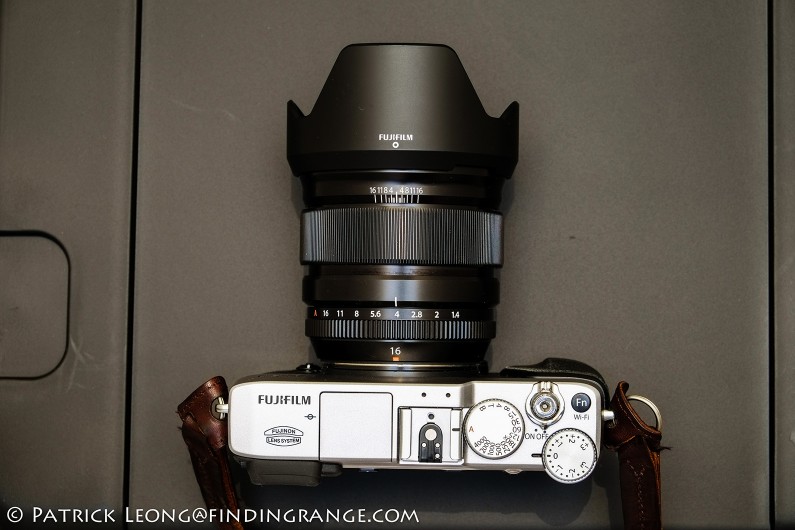 ↑ Top view of the Fuji X-E2 with the XF 16mm F1.4.
Fuji XF 16mm F1.4 R WR Lens Autofocus:
In terms of the autofocus, the XF 16mm F1.4 has a Rear Focusing System, and according to Fuji, it can autofocus as fast as 0.11sec with the help of a built-in high-torque DC coreless motor driving the focus unit.  From what I experienced, focusing is quick and for the most part, very accurate.  It's also quiet.  There were a couple of misses but nothing out of the ordinary or alarming.  Like many of the other Fuji lenses, focusing did slow down a bit in lower lighting but not so much that it was a problem.  Overall, I had no major issues with focusing this lens and it performed very well.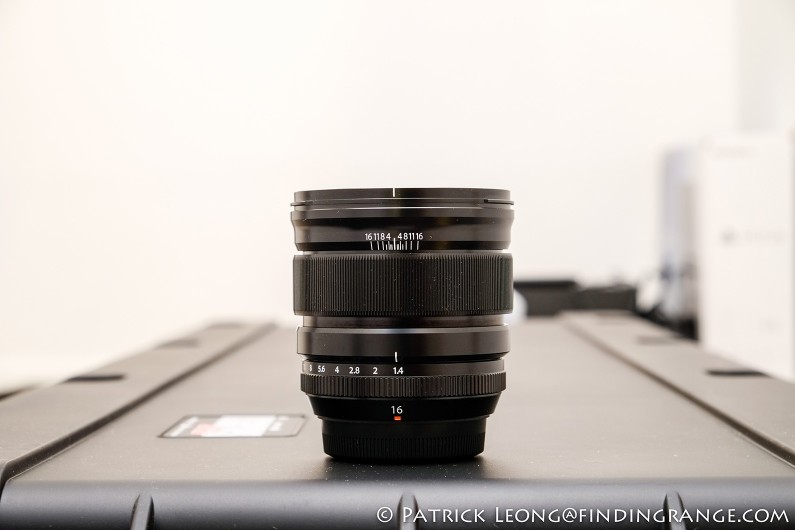 ↑ The XF 16mm F1.4 in autofocus mode.
Fuji XF 16mm F1.4 R WR Lens Manual Focus:
While this is primarily an autofocus lens, one can choose to focus manually by simply pulling the focus ring back, which is an action that is similar to many of the newer generation XF lenses like the XF 23mm F1.4 for instance.  When manually focusing, the focus ring is also quite smooth and it has hard stops at both ends.  Combined with focus peaking, and the fact that this lens has a depth of field scale, I found the XF 16mm F1.4 R WR lens (B&H Photo/Amazon) to be quite pleasant to focus manually.  The depth of field scale was very helpful for street photography.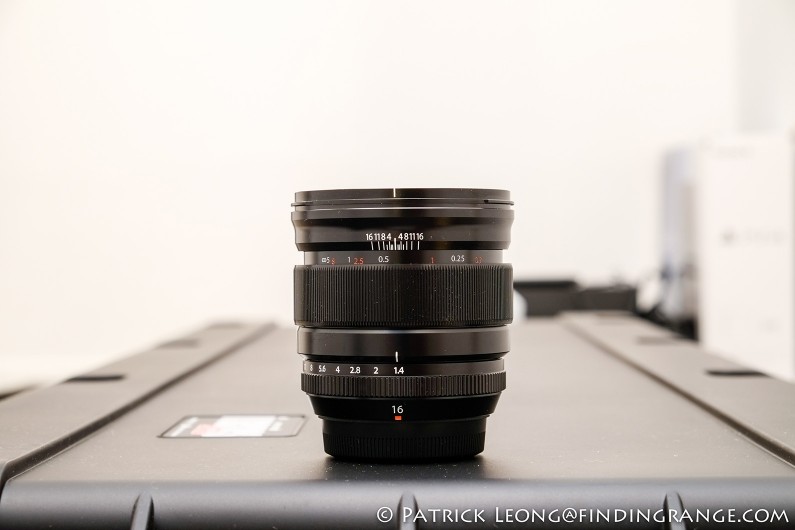 ↑ The XF 16mm F1.4 in manual focus mode.
Fuji XF 16mm F1.4 R WR Lens Image Quality:
Many of the XF lenses offer excellent image quality and the XF 16mm F1.4 R WR lens is no different.  In fact, this lens is up there with some of Fuji's best like the XF 56mm F1.4 in my opinion.  For instance sharpness is quite astounding.  The detail that this lens can resolve is simply incredible.  From what I see, stopping down does help the corners a bit but in real world usage, I personally don't think it matters much because you're already getting such sharp images.  There is absolutely nothing to complain about.  This lens can definitely be used throughout the whole aperture range.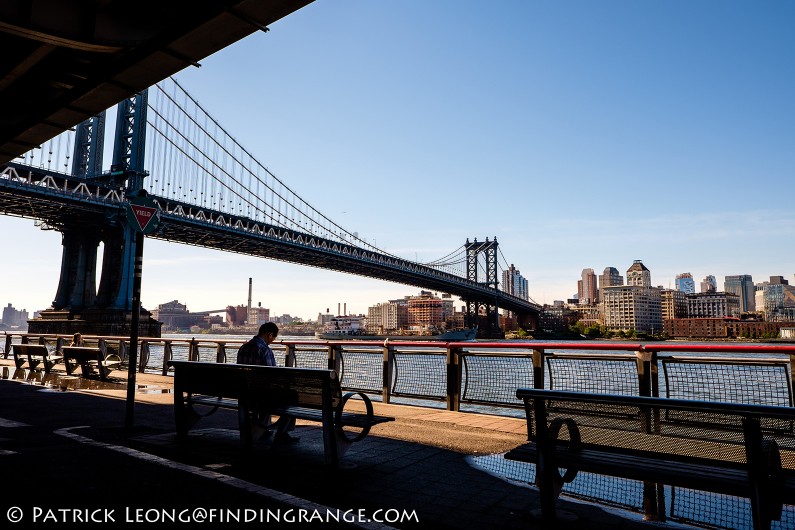 ↑ A view of the Manhattan Bridge taken at F5.6.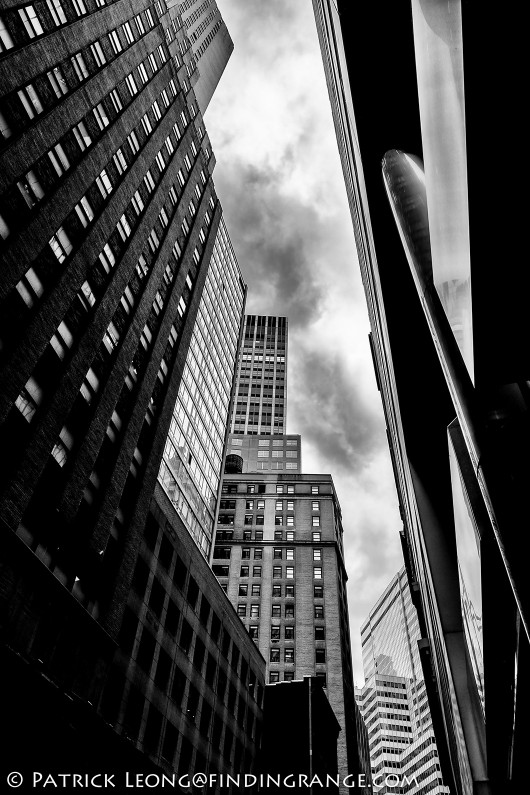 ↑ Downtown Manhattan taken at F8.
But as all of you know, sharpness is not the only quality that makes a lens great.  With that said, this lens also produces beautifully bright, bold, vivid, and rich color and contrast.  The contrast and color that this lens produces combined with the detail that this lens can resolve, gets you very high quality images with fantastic clarity to them and this is what I personally love about this lens.  Let's be honest; we all had a pretty good indication that this was going to be a great performing lens, so characteristics that I mentioned like sharpness are nothing out of the ordinary.  For the most part, the Fuji lenses that I've tested have all performed very well, and of course, this one is no exception.  But what really sets this lens apart, at least for me, is how crisp and clear the images look.  Images almost look like a breath of fresh air if that makes sense.  They also have a lot of depth to them.  Colors are bold but not over done.  In my opinion, this lens really has some real magic to it, and even though this wasn't my favorite focal length, the XF 16mm has become one of my personal favorites in the X Series system because of the image quality it produces.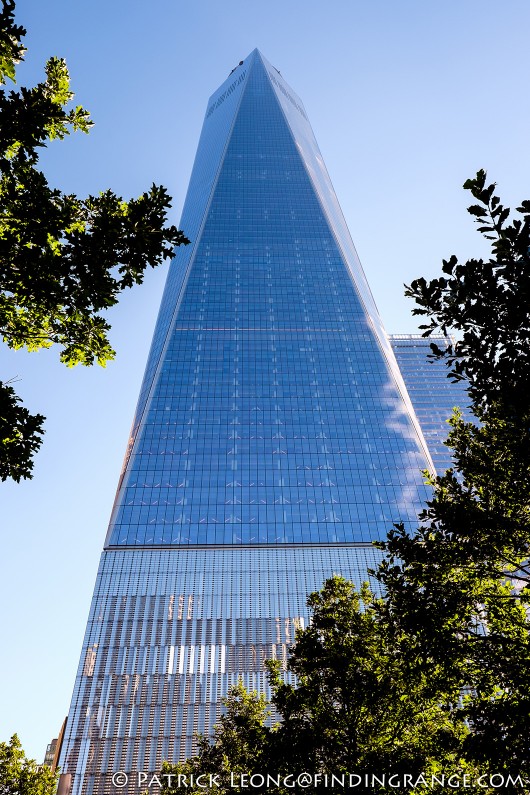 ↑ WTC taken at F8.
↑ The Coney Art Walls is a great place to go see.  This was taken at F5.
As for other characteristics like vignetting, from what I saw, there is slight vignetting at F1.4 but it's very minimal and expected.  Unless you are shooting white walls all the time, it's nothing that will ruin an image and of course, when you stop down a bit, it disappears.  Distortion is also very minimal and best of all, this lens is actually quite flare resistant.  While the petal shaped lens hood is a bit smaller than some of the other hoods that have come out with the newer Fuji lenses, it's still not something I really wanted to carry around, so I'll admit that I used this lens a lot without a hood.  I didn't really have much of an issue with flare at all.  Overall, this lens is extremely well-corrected, and just an excellent optic in general; I wouldn't be at all surprised if this lens produces greater image quality than what we can actually see at this point.  I would imagine that as Fuji sensors get better, we will see even more resolution from this lens.  So, while the XF 16mm F1.4 R WR lens (B&H Photo/Amazon) is one of Fuji's more expensive lenses, it's a lens that one can keep for a very long time.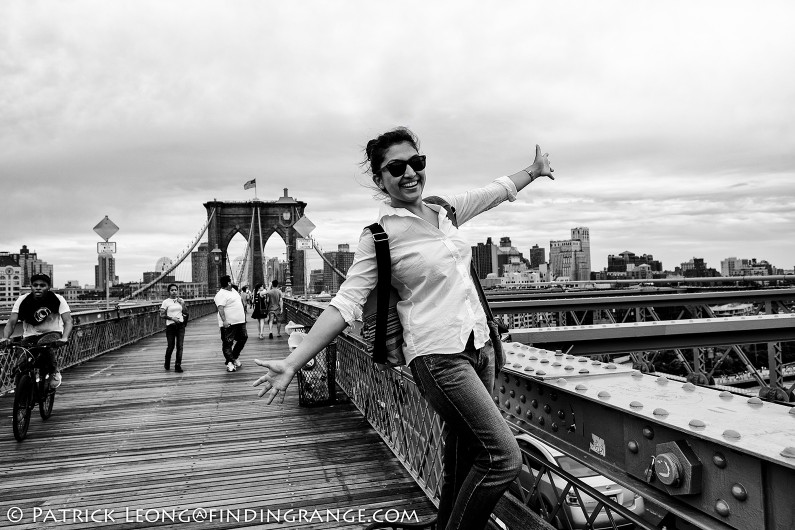 ↑ My very good photographer friend who by the way, had no problems carrying her Canon 6D with L lens zoom along with her work bag in the summer heat, so I guess I shouldn't be complaining about weight :).  This was taken at F4.5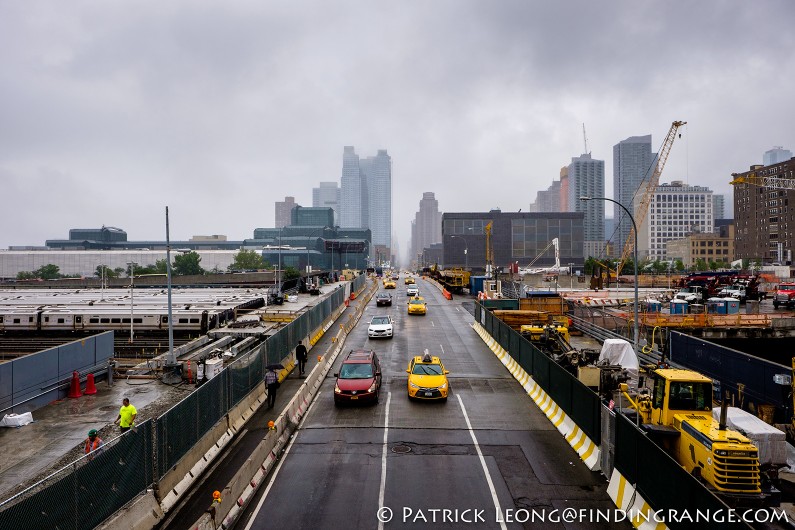 ↑ A view from the High Line taken at F5.6.
The Fast Aperture of The Fuji XF 16mm F1.4 R WR Lens:
As I said earlier, there are plenty of great options to choose from if you want a wide angle lens for your Fuji X Series camera.  But what sets this lens apart from the rest is its fast F1.4 aperture.  Some may say they don't need such a fast aperture for their wide angle lens, and I completely agree.  This lens is not for everyone but for those who rely on a 24mm lens or even just a wide angle in general for a lot of their work, the XF 16mm F1.4 R WR lens can be the greatest thing in the world.
For instance, let's talk about shallow depth of field or bokeh as some would say.  Often times, it's harder to get a shallower depth of field with a wide angle lens but because the XF 16mm has a fast F1.4 aperture and you can get as close as 15cm, it's much easier to accomplish.  While bokeh is a personal preference, I found it to be very smooth and pleasing.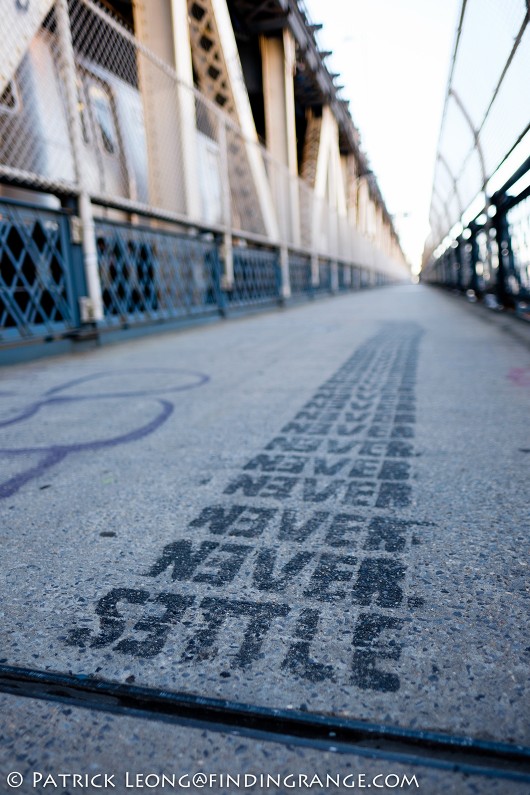 ↑ Here's an example taken at F1.4.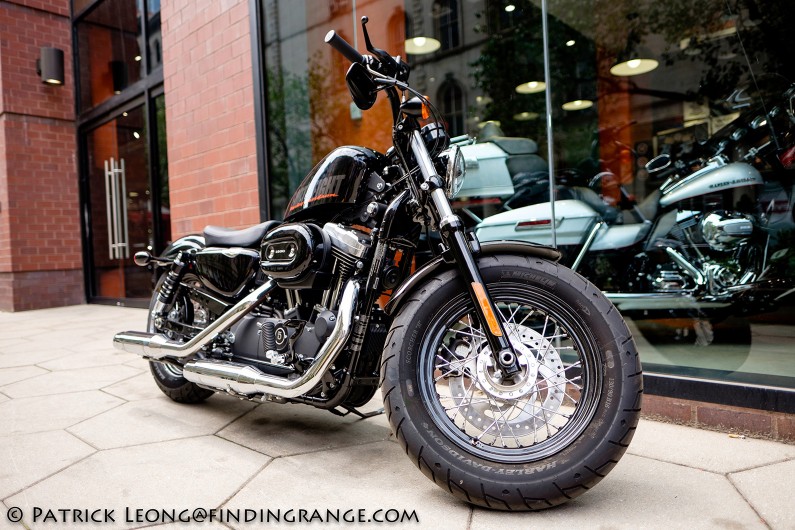 ↑ If I were to buy a motorcycle, I think this would be the one :).  This was taken at F1.4.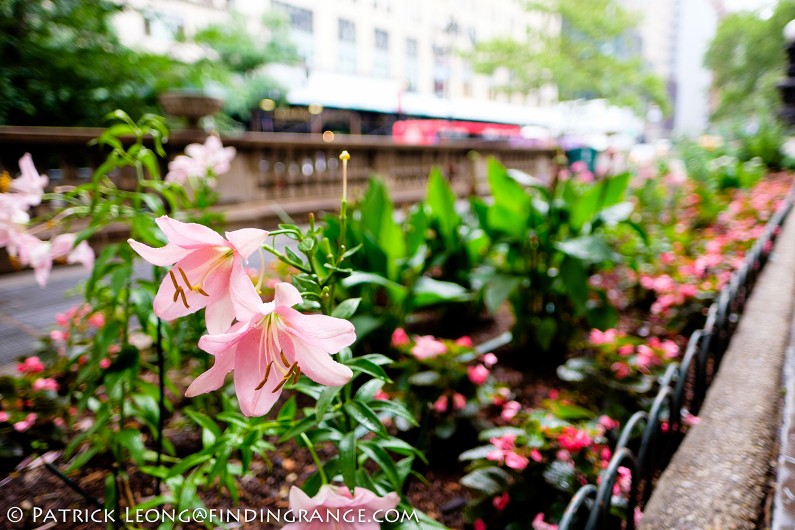 ↑ Here's another wide open shot.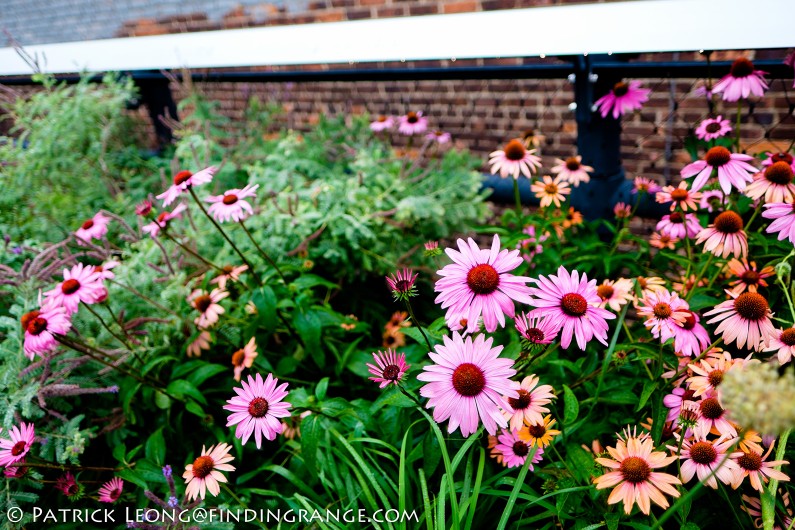 ↑ Even at F1.4, images are sharp to a fault.  Colors are also very vivid.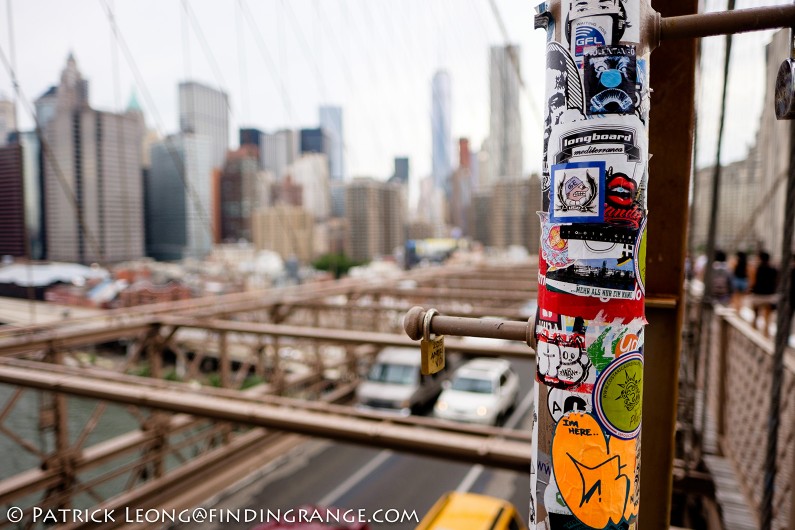 ↑ One last example taken at F1.4.
But for me, bokeh is not as important as the flexibility that the F1.4 aperture gives me.  If I was really looking for extreme bokeh I would be using a longer focal length if I can get away with it in terms of the shooting situation that I would be in.  As some of you know, I love my 12mm Zeiss Touit and my Leica 18mm Super Elmar.  At one point, I was using those lenses more than any other lens in my collection.  The one thing I think that would make them even better (only if I can keep them relatively compact, however) is if they were faster lenses.  When I tested the Leica 21mm Summilux ASPH in Japan for my review, I used that lens almost exclusively for my whole trip.  I couldn't get enough of that lens, and I still miss it dearly.  I brought other lenses but I had no need for them.  The wide angle view was great for such a crowded city, and the F1.4 aperture allowed me the flexibility to shoot in pretty much all conditions.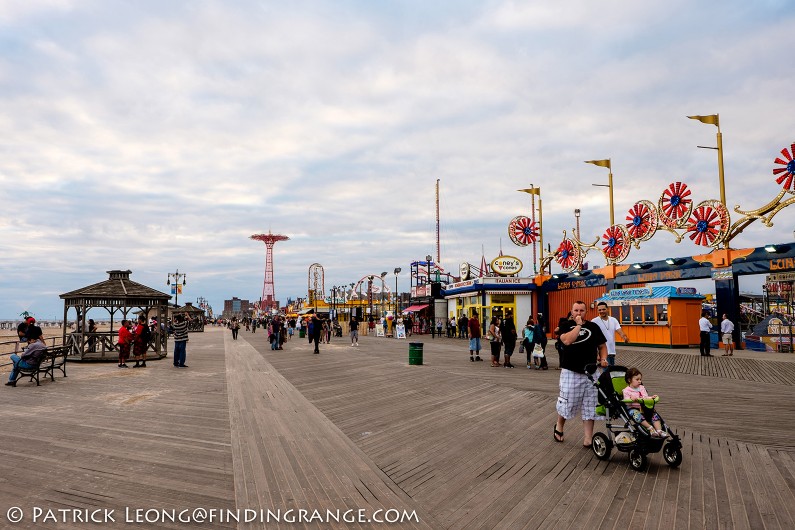 ↑ Coney Island on a breezy summer evening taken at F5.6.
Therefore, for me the F1.4 aperture of the XF 16mm makes it just a more well-rounded lens for the photographer that relies on wide angles a lot for their work.  Not only do you have the ability to achieve a shallower depth of field, you have a more flexible lens in general.  Think about this: The XF 14mm is a great lens with an aperture of F2.8.  The XF 16mm F1.4 R WR lens is two stops faster but that can translate into shooting at 1600 ISO versus 6400 ISO.  While the Fuji X cameras have very decent high ISO capabilities, there's still a difference in image quality when you compare 1600 and 6400 ISO.  Plus, if you go beyond 6400 ISO, you can't shoot RAW files with the current Fuji cameras.  For me, I want the best image quality I can possibly get from my camera.  That's what I paid for.  So of course, I'd rather be shooting at lower ISO settings if possible or at least have the choice to choose to if I want.  A lens like this gives me that choice.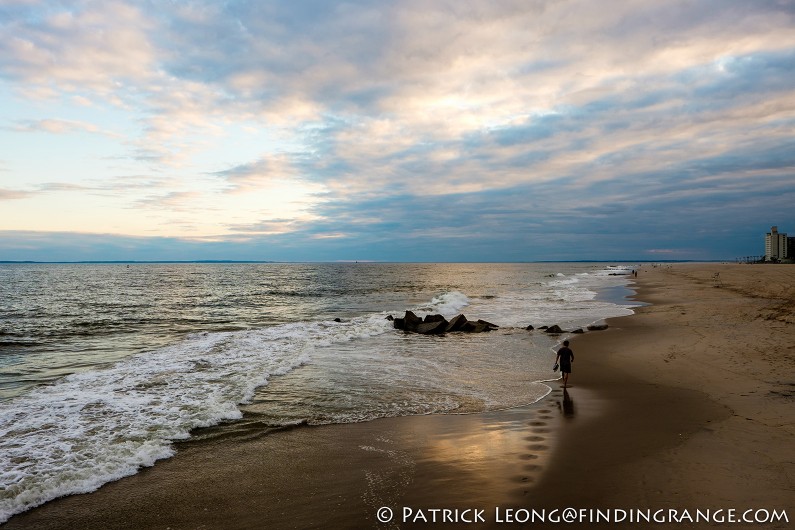 ↑ Can you believe there's a view like this in Brooklyn ;)?  This was taken at F5.6.
Fuji XF 16mm F1.4 R WR Lens Verdict:
The XF 16mm F1.4 R WR lens (B&H Photo/Amazon) in many ways can be considered a specialty lens, and this is something a manufacturer should not mess up because a lens like this is crucial to many photographers.  I'm glad to say that Fuji has done a fantastic job in creating this fast wide angle prime.  This is seriously one killer lens.  Build quality is some of the best that I've seen from Fuji so far, the optics are near perfect with a little magic added to it, and with it's F1.4 aperture, you not only get great bokeh from a wide angle lens, you get incredible flexibility to shoot in almost any condition.
↑ I wish I had spent more time at the Coney Art Walls.  I will have to go back soon, and if any of you are interested, check out their Facebook page.  This was taken at F8.
Unfortunately, like many good things, this lens comes with a price.  The XF 16mm F1.4 is one of the more expensive lenses from Fujifilm but it's not outrageously priced for what you are getting.  This is a fast wide angle lens that is very well corrected, so the image quality is top notch.  As I said earlier, it's also one of the better built XF lenses.  Lastly, if you compare this lens with other 24mm F1.4 lenses, in a way, the XF 16mm F1.4 can be considered a bargain.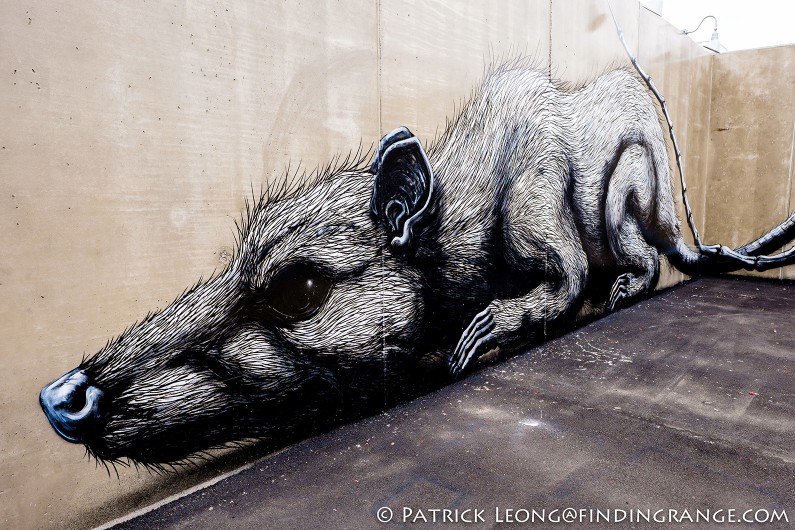 ↑ Here's one more photo from the Coney Art Walls taken at F5.6.
At this point, some of you might be asking yourselves, if I think this lens is so great, why haven't I bought it yet?  Well, it's hard to find anything wrong with the XF 16mm F1.4 but if I had to mention just one thing, it would be that I'm not a huge fan of this focal length.  Of course, this is in no way anything against the lens itself.  This is just a personal preference.  The 24mm focal length has almost been kind of an odd ball lens for me.  The first one I ever bought, I didn't like it because I just didn't feel like it was wide enough.  The second one I bought, I liked it but now after using this lens for the review, I think my tastes have changed again.  Overall, I really had to take some time to get used to this focal length again.  My personal preference would be either getting a wider lens or a longer lens.  I think the 24mm and 28mm focal lengths just don't fit me well.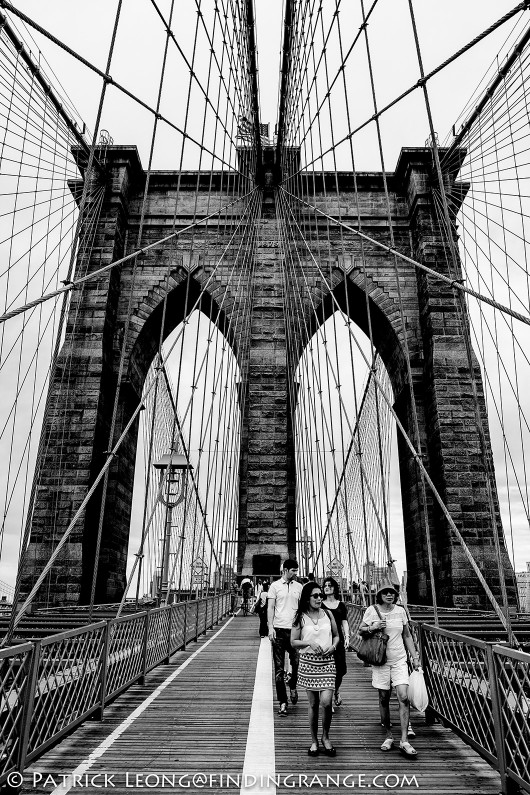 ↑ Walking on the Brooklyn Bridge.  This was taken at F8.
Still, other than that, the XF 16mm F1.4 R WR lens is another incredible performer from Fuji.  I really mean it when I say optically and mechanically, this is one of my favorite Fuji XF lenses so far, and I urge anyone who is considering purchasing a new wide angle lens for their Fuji X camera to take a look at it; you will not regret it because this is seriously one of Fuji's best lenses so far.
That's it for my review and thanks for taking the time to read it.  If you're considering buying the XF 16mm F1.4, and my review helped you decide, please help support this site by purchasing from one of the links below.  These are places I shop at myself, and it will not cost you anything extra.  Thank you for your support!
XF 16mm F1.4 R WR lens at B&H Photo
XF 16mm F1.4 R WR lens at Amazon