Fuji XF 90mm F2 LM WR Lens Review:
When I first invested in the Fuji X Series system, there was only one camera: the X100.  After a while, the X-Pro1 was introduced, which had many of the same features as the X100 but also had the ability to interchange lenses.  At the time, there were only three lenses, which I also bought.  Now, in just a short amount of time, Fuji has grown from that small system into something that includes a large selection of lenses that not only are excellent optically but encompass a huge variety of focal lengths aimed at satisfying a broader audience.  What was once a compact system that some could argue was aimed at purists or even rangefinder users has now grown into a system that also gives some users the option to leave their larger DSLR cameras for a compact mirrorless design.  One lens that was missing from this continuously increasing list of lenses was a decent 135mm focal length lens, which is often considered as a classic portraiture lens.  This missing focal length has finally been filled by Fuji with the XF 90mm F2 LM WR lens (B&H Photo/Amazon).
Fuji XF 90mm F2 LM WR Lens Build Quality:
In terms of construction, the XF 90mm F2 LM WR lens not only follows in the same tradition as the newer generation lenses, it's one of the best built Fuji lens that I've tested so far.  The barrel is made out of metal and being that this is a fast lens, you can be sure there is a lot of glass in it.  The aperture ring feels tighter than a lot of the previous XF lenses I tested yet it still has a nice fluid, damped motion when you rotate the ring.  Like many of the other Fuji lenses, the ring clicks distinctively in third stops as you rotate it.  Manual focus is also very smooth.
Another great feature of the XF 90mm is it's weather and dust resistant, which actually makes it the perfect match for a camera like the X-T1.  This is great news for anyone who plans on using this lens a lot outdoors because with seven seals on the lens barrel, you're protected against rain, dust, and splashes of water.  This lens can also work in temperatures as low as -10ºC.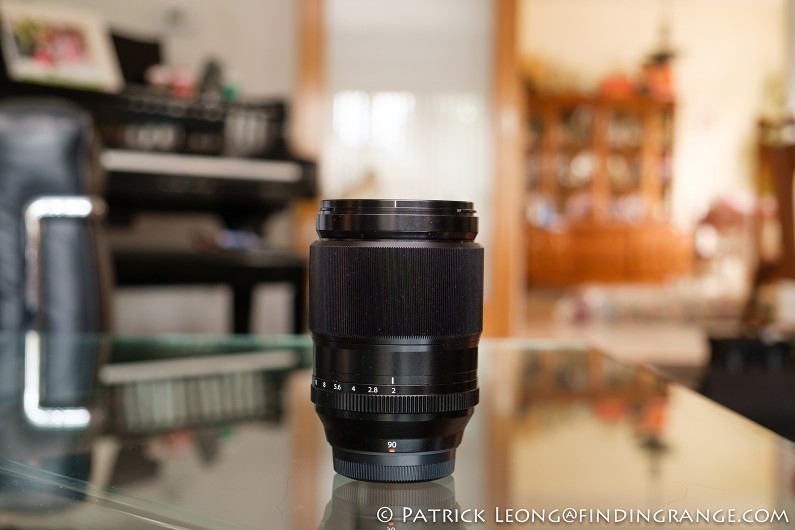 ↑ The Fuji XF 90mm F2 LM WR lens without lens hood.
Overall, this is a very solid lens with no rattles or creaks.  The only thing is if the camera is off (which means no more power to the lens), you will hear a slight "clunk" in the lens if you rotate it around but apparently this is normal and just noise from the floating element in the lens.  Once the magnets aren't powered anymore, the floating element is free to move around a bit.  To some, this may be a deal killer but from what I experienced, I didn't have any problems and the "clunk" was never loud at all.
↑ The Fuji XF 90mm F2 LM WR lens with lens hood attached.
In terms of overall size, the XF 90mm is one of the heavier primes in the X Series catalogue weighing in at 540g.  At 105mm in length, it's also one of the longest.  When mounted on the X-T1, the XF 90mm isn't so bad but on the X-E Series bodies, it's huge.  I had it briefly mounted on an X-E1, and if I remember correctly, only the back edge of the bottom part of the camera was touching the table.  Still, it's understandable and it's not out of the ordinary being that this is a 137mm equivalent lens with a fast aperture; in fact, it actually comes out lighter and more compact than some DSLR counterparts.
Fuji XF 90mm F2 LM WR Lens Autofocus:
In addition to its superlative build, the XF 90mm F2 LM WR lens (B&H Photo/Amazon) uses a newly developed Quad Linear Motor, which according to Fuji, can focus onto a subject as fast as 0.14 seconds.  While I did not do any scientific testing with this lens, I did find the autofocus very decent in practice, and I didn't really experience any major problems with it.  It's quiet, fast, and reliable.  In normal lighting, the lens worked great and it only slowed down a little when I was using it in dim lighting.  It's plenty fast enough for portraits, which I'm sure many will be using this lens for, and apparently, it's not so bad for fast moving animals like dogs either :).  My brother in-law's golden retriever is very active and I was able to lock on to her several times at F2.0 with no problem.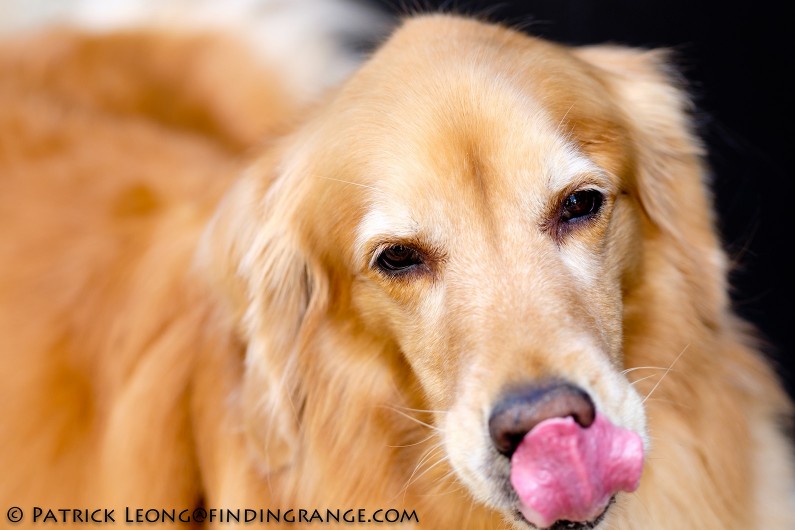 ↑ My sister's golden retriever licking her chops.  Of course, at F2.0, the depth of field is so shallow that only her eyes are in focus.  But as you can see here, the autofocus is fast and accurate.
Lens Hood For Fuji XF 90mm F2 LM WR Lens:
The only real complaint I have with the XF 90mm F2 LM WR lens is the lens hood.  It's another generic hood that Fuji decided would be a great match with this lens but it makes the XF 90 so long.  As I mentioned before, the lens may not be as long as some DSLR equivalent lenses but in my opinion, it's already pretty long for the compact X Series bodies, so adding this hood does not help.  Personally, I'd always rather use a lens hood than not but I did not experience any flare issues or loss of image quality, so I rarely used the lens hood while I had the XF 90mm.  As you can see further down below, I shot throughout the aperture range with this lens as well.  The times I did use the lens hood, it was only for this review.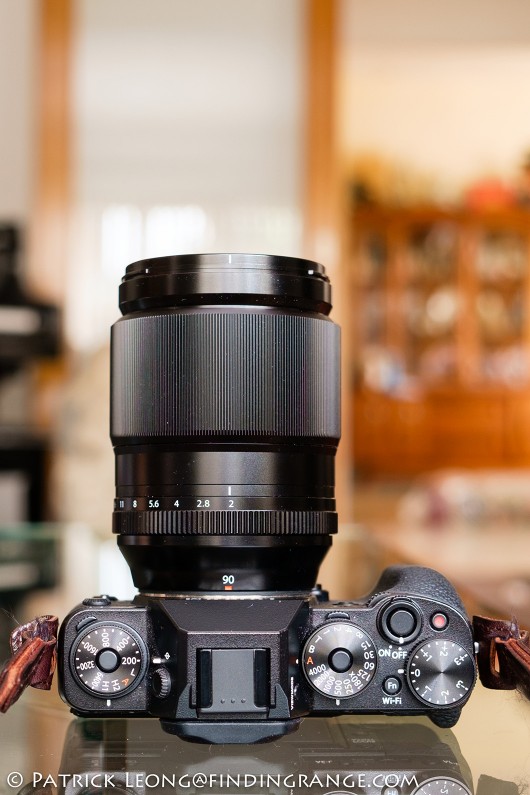 ↑ The XF 90mm mounted on the X-T1 without a lens hood.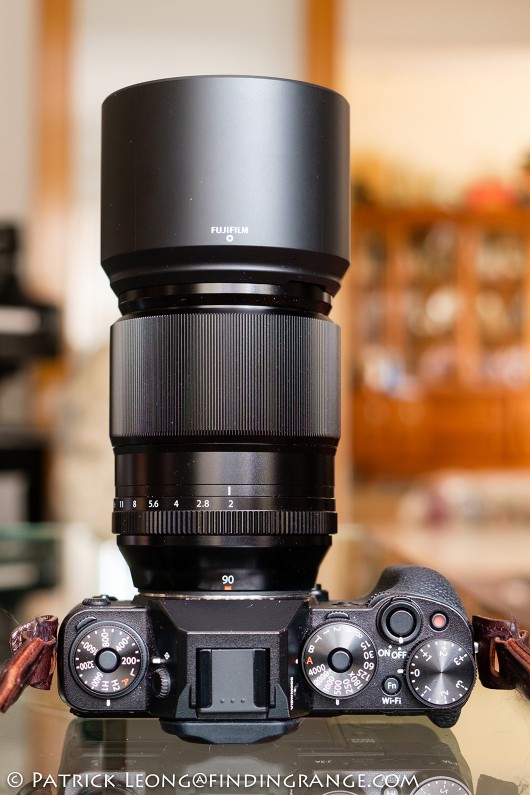 ↑ The XF 90mm with lens hood mounted on the X-T1.  As you can see, the lens hood makes the XF 90mm quite a bit longer.
Fuji XF 90mm F2 LM WR Lens Image Quality:
In terms of image quality, the XF 90mm F2 LM WR lens is simply mind blowing.  Like all my other reviews, I spent a lot of time testing this lens but I knew after only a few shots that I wanted one for myself.  The fact that I just made that statement is a big deal because normally I don't even shoot with focal lengths this long.  I've shot mainly with rangefinders all my life, and therefore, most of the time, the longest lens that I use is maybe a 90mm on a full frame camera body.  But I am just floored by the image quality that this lens produces.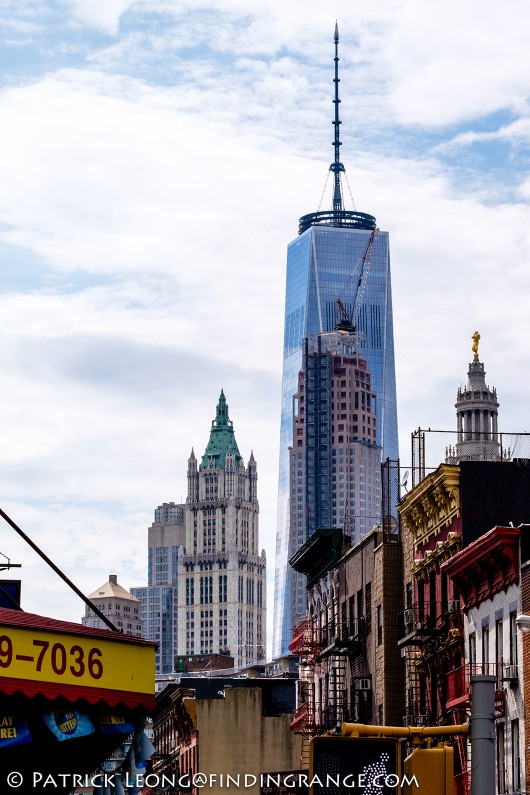 ↑ A photo of WTC taken at F11.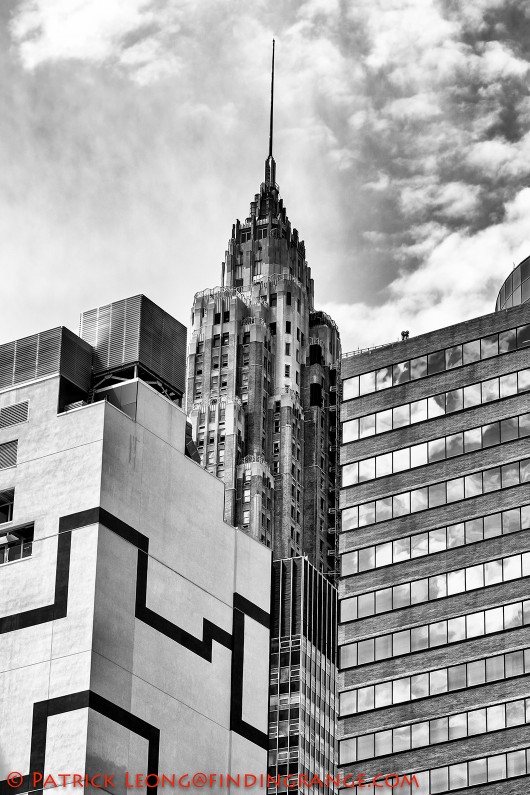 ↑ In addition to portraiture, a lens of this focal length is great for taking photos of buildings and skyscrapers. This was taken at F5.6.
Simply put, the XF 90mm F2.0 is near perfect optically.  There's so much clarity and three dimensionalism to the photos.  The color rendering and contrast of this lens look just about perfect to me.  Even the OOC jpegs look incredible although Fuji jpegs have always been very decent.  There's also no distortion.  Vignetting is very low at F2.0 that unless you're shooting white walls for a living, I doubt you would even notice it.  Once you stop down a little, it's virtually non-existent.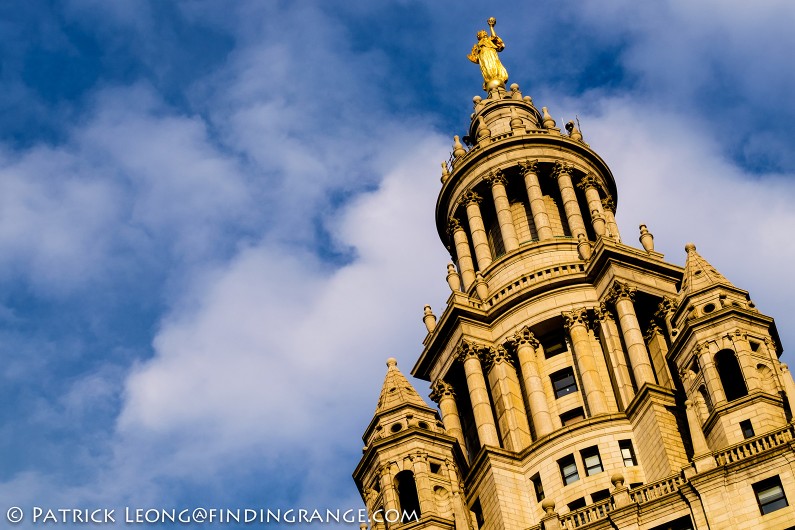 ↑ An end to a beautiful day; the XF 90mm and X-T1 combo captured the sunset drenched building perfectly.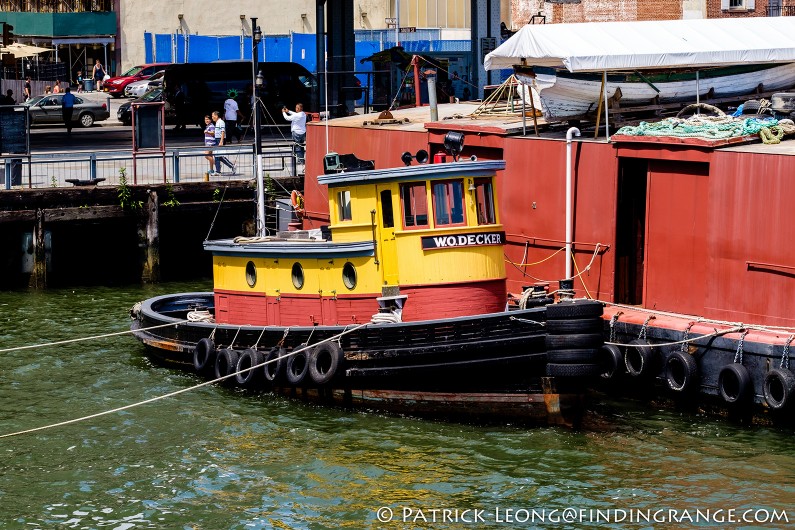 ↑ The colors are vibrant and lively without being overdone.
To top it off, this is easily one of the sharpest lenses in the Fuji X Series line.  The XF 90 is incredibly sharp when shot wide open.  It does not miss any details.  But you'll also be in for a very pleasant surprise when you stop this lens down; the XF 90mm F2 LM WR lens (B&H Photo/Amazon) performs extremely well throughout its aperture range.  I stopped this lens down around F5.6 to F8 and photos become so sharp that it feels like subjects just pop out of the page.  I've been looking at them on my Macbook Pro retina display and they are simply astounding.  If anything, this lens is so good that I sometimes feel that it simply out resolves what the current Fuji sensors are capable of producing.  In fact, without any scientific testing, it's hard to imagine anything sharper in the Fuji catalogue, at least from what I've tested previously although come to think of it, the XF 56mm may be just as good.  The point is, the XF 90mm is definitely up there with the best that Fuji has to offer.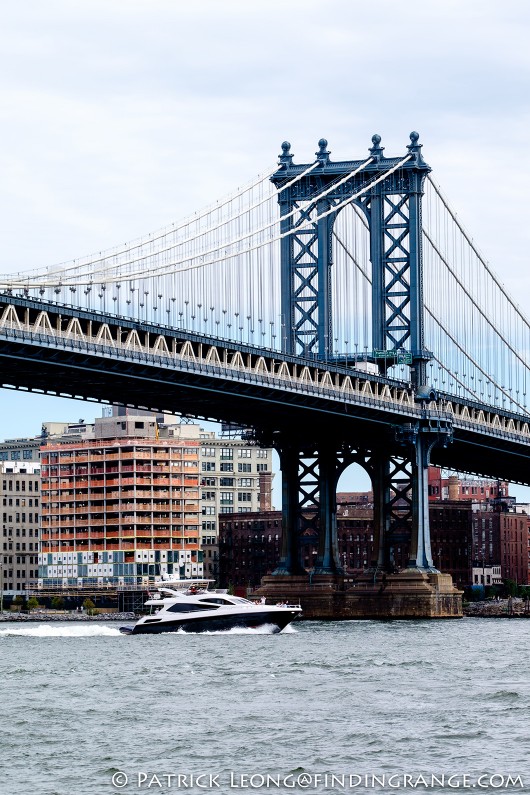 ↑ In addition to the color rendering, this lens is extremely sharp.  This was taken at F8.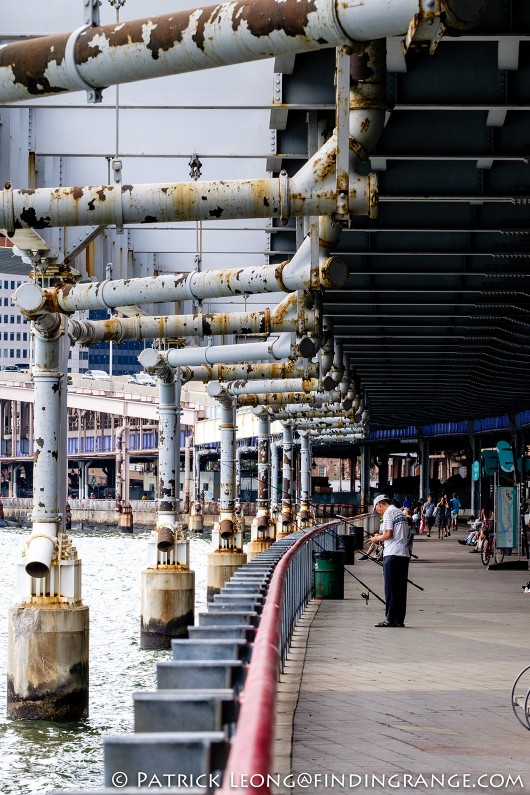 ↑ Fishing under the FDR.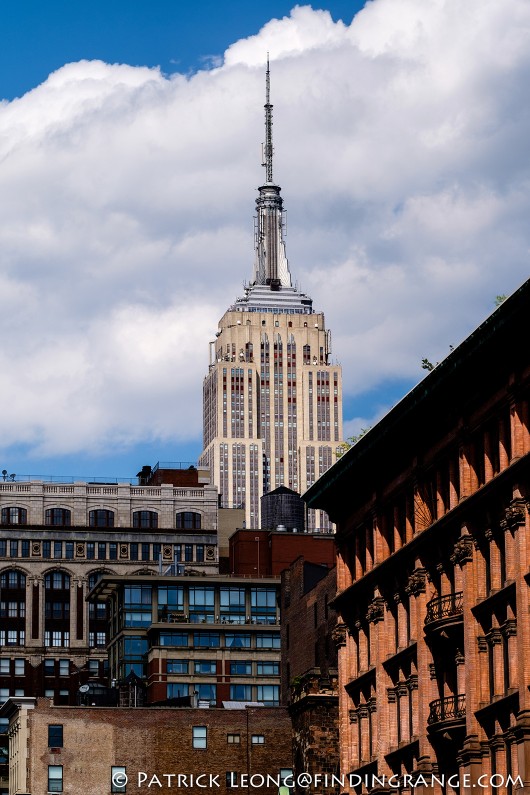 ↑ The Empire State Building taken at F5.6.
The Fuji XF 90mm F2 LM WR Lens Bokeh and Shallow Depth of Field:
In addition, the bokeh is simply incredible, and some of the best I've seen so far.  It's ultra smooth without getting to the point where it's overdone.  While tastes are different, as far as I'm concerned, there are really no distracting artifacts in it either.  But what sets this lens apart for me in terms of selective focus is the transition from sharpness to out of focus in a photo.  The way that it transitions is so smooth and flattering.  If you take a portrait for example, you can really see the details in the eyes because this lens is so tack sharp wide open but the subject never looks harsh or unflattering because it somehow just blends so well into the background.  Over the last year, I grew a little tired of seeing pictures with shallow depth of field and bokeh because it's everywhere on the internet but this lens has really started making me appreciate shallow depth of field and bokeh again.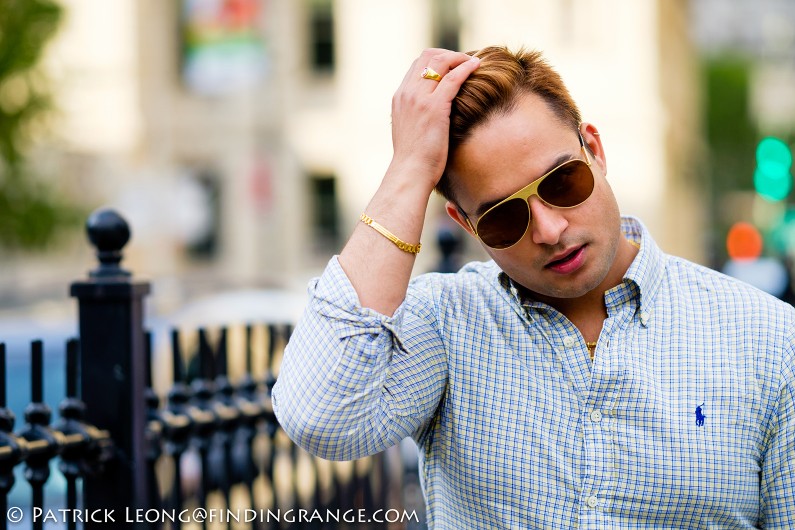 ↑ The shallow depth of field is ultra smooth from this lens.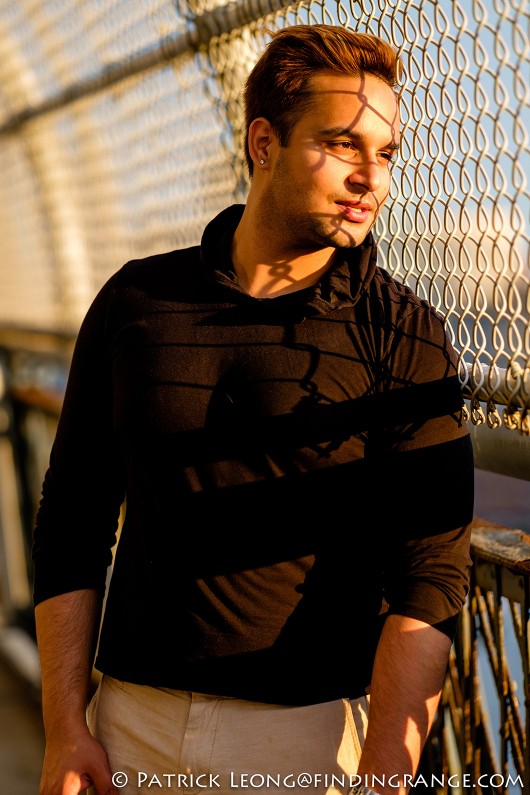 ↑ Even with the fence, the background simply fades away without any harshness.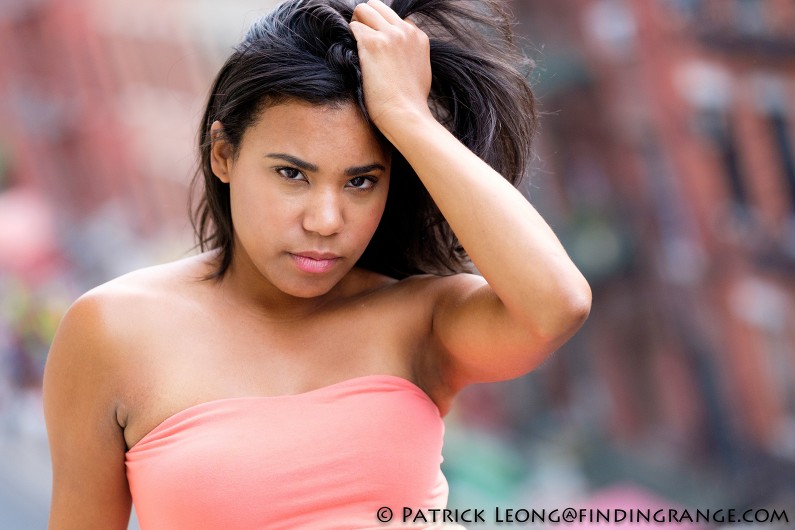 ↑ I love how smoothly the sharpness of the subject transitions into the background.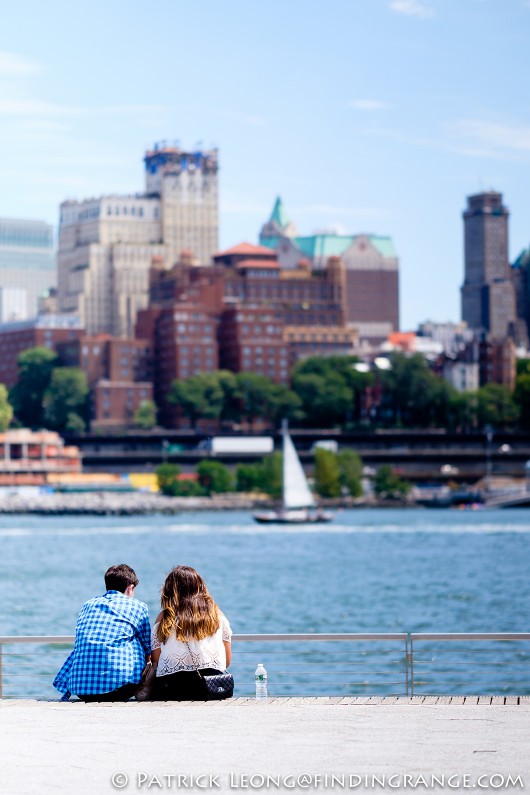 ↑ You'll still get a nice shallow depth of field even if you're farther away.
Why I Didn't Buy The Fuji XF 90mm F2 LM WR Lens:
As you can see, I clearly love this lens, and I had every intention of buying one for myself.  In fact, I almost bought one on the first day that I was using it.  But I decided to hold off and use it some more before I took the plunge.  In the end I actually ended up purchasing an XF 56mm F1.2 APD instead.
The XF 90mm and XF 56mm lenses are different enough that if you really like taking portraits or that's what you do for a living, it does make sense to buy both.  But as of the publish date of this review, I had just bought another lens, and so I could only choose one of these portrait lenses for now.  I ended up choosing the XF 56mm because I found it was a more versatile lens for me not just for portraiture but for whatever else I like photographing.
The XF 90mm F2 LM WR lens (B&H Photo/Amazon) is absolutely amazing but I found the focal length a little too long for me.  Obviously, this is nothing against the lens and just my personal preference; in fact, I prefer the effects of this focal length for portraits over something like the XF 56mm.  If I had everything set up for a portrait shoot, yes, this would be such a great lens but candidly or spontaneously, there were times when I struggled with finding enough space, especially in a crowded place like NYC, to shoot with the XF 90mm.  There are even times when I did set up a portrait shoot but in that particular location, again, I just didn't have the space for what I wanted to do with the lens.  Even when I'm just on the street taking candids or cityscape photos, I found it sometimes difficult to use because of the longer focal length.  It could also be because I use a lot of wide angles for street shooting, so I've grown accustomed to wider focal lengths but in the end, the XF 56mm just made more sense for me because I know I would be using it a lot more.  While the XF 56mm is no means a direct replacement for the XF 90mm, it can do a lot of the same things, at least for me.
Plus, the XF 90mm is a large lens for the X Series.  I realize that it has to be for its focal length and aperture speed but it's a lot more cumbersome to carry around than say the XF 56mm.  In addition to its size, I also took issue with its weight.  At 540g, it's not that the lens is heavy, especially for its focal length and speed, but it makes the camera front heavy, which makes it harder to hold steady (especially without some sort of image stabilization like OIS).  That's why sometimes I think it would be nice to have a little more weight added to the X bodies to kind of balance them better with the newer, better built lenses, which are often times also a little heavier.  Too much weight and the camera becomes a chore to carry but some weight is always good, in my opinion, because it does help steady a camera when you're hand holding it.  That's one aspect I really like about the Leica M cameras.  I find them pretty much perfect for me in terms of weight.  I didn't have any problems with blurry photos due to camera shake but I know I definitely had to make sure I wasn't shooting at too low of a shutter speed.
With all that said, I still definitely plan on buying the XF 90mm F2 LM WR lens in the future.  It's a focal length I've enjoyed using quite a bit and there is definitely a place for it in my workflow.  It's absolutely such a fantastic lens, and while I'm sure many of you will be using it for birds, cityscape, and various other subjects in addition to portrait work, I want this lens solely for portraiture.  I think what comes out of this lens is simply amazing and now that the lens is not with me anymore, I really miss it.  It was seriously hard for me to choose between this lens and the XF 56mm.
Fuji XF 90mm F2 LM WR Lens Pros And Cons:
Here's a recap of what I think are the pros and cons of the XF 90mm lens.
Fuji XF 90mm F2 LM WR Lens Pros:
One of the better built Fuji X Series lenses.
Weather sealing.
Autofocus is reliable, fast and quiet.
Optically near perfect.
Superb image quality: simply some of the best I've seen from Fuji.
One of the sharpest lenses from Fuji.
Bokeh is some of the best I've seen.
At the list price, this lens is a steal – this is one of the best lenses that I've used so far.
Fuji XF 90mm F2 LM WR Lens Cons:
One of the largest primes in the Fuji X Series system.
Slight "clunk" noise when there's no power to the XF 90mm.
Lens hood makes the XF 90mm even larger.
No OIS.
Front heavy when mounted on the compact Fuji X Series bodies.
Fuji XF 90mm F2 LM WR Lens Verdict:
In my opinion, there really isn't much more to say than XF 90mm F2 LM WR lens (B&H Photo/Amazon) is one of the best lenses to come from Fuji.  If you ask me, Fuji really hit the sweet spot with it.  Not only is it one of their best built lenses so far, the optics are superb.  The colors, contrast, sharpness, clarity, crispness, bokeh, and all that good stuff just come together so perfectly.  Some would say it's even magic.  I personally feel like it's more than just a great lens technically.  I've been a huge fan of the XF 35mm since it was released and, like many others, I feel that when you add all the qualities up, the XF 35mm is more than just a great lens; it's something special.  It is something that can't necessarily be described completely in words or by test charts.  Now, I feel the same with the XF 90mm.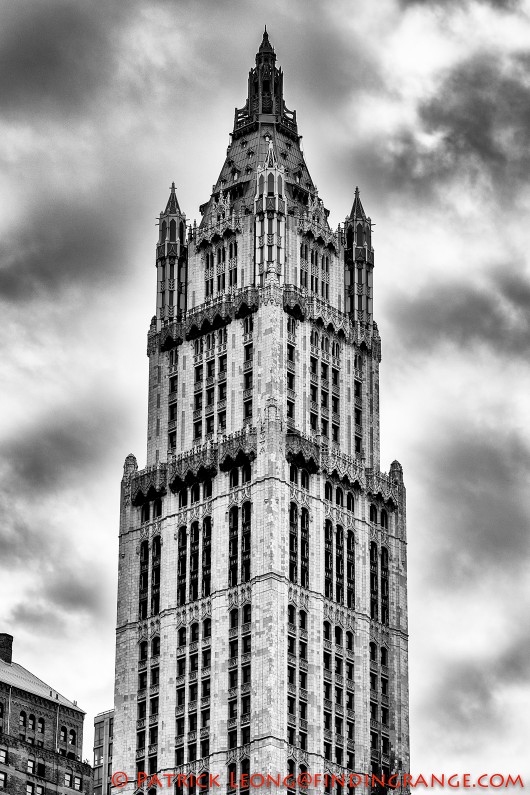 ↑ This was taken at F2.0
In terms of price, Fuji lenses are steadily getting more expensive.  When the first generation lenses were originally introduced, they were around $600 to $700 dollars, which is the reason some people bought into the X Series system in the first place.  It was one of my main reasons for getting into the Fuji X Series system.  I'm also a Leica M shooter but I wanted a system that would compliment the M but also something that was more affordable.  But while the prices have gone up, at the same time, the quality has definitely gone up with the newer generation lenses.  The XF 90mm retails at $949, which makes it one of the more expensive Fuji lenses currently available but at the same time, for what you are getting, I firmly believe this lens is worth every penny.  In my opinion, the optics alone are worth more than its retail price.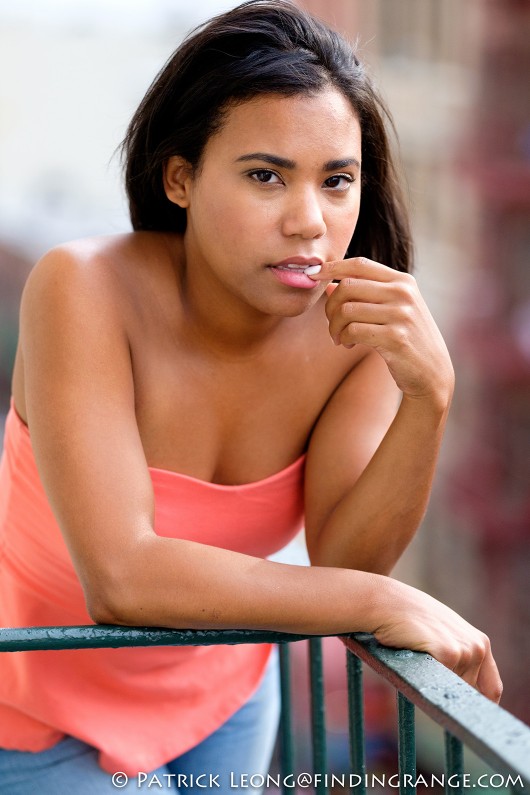 ↑ Here's one more photo to demonstrate the bokeh and shallow depth of field from the XF 90mm.
I wasn't expecting to be such a huge fan of the XF 90mm F2 LM WR lens mainly because of the focal length but that all changed after I used it.  I really can't give this lens enough praise and in every sense of the word, it is a true professional lens.  If you've been waiting for this focal length for your X Series system, just go out and buy it.  There is no question that this is not only one of Fuji's best lenses, it's also one of the best lenses optically currently out by any manufacturer.
That's it for my review and thanks for taking the time to read it.  If you're considering buying the XF 90mm F2.0, and my review helped you decide, please help support this site by purchasing from one of the links below or any of the links in this blog.  These are places I shop at myself, and it won't cost you anything extra.  Thank you for your support!
Fuji XF 90mm F2 LM WR lens at Amazon
Fuji XF 90mm F2 LM WR lens at B&H Photo