EasyAcc Classic Gen2 6400mAh Power Bank Review:
Over the past couple of months, I've been reviewing more and more power banks because I use them myself in my photographic kit.  They are extremely useful, and can definitely be a lifesaver.  With a few exceptions, most of the power banks that I've been reviewing have been large in capacity, so I thought it would be great idea to review something more compact and smaller in power capacity.  I love the capacity in the larger portable chargers but there are times when I want to carry the least amount of gear as possible like only a camera and one lens.  So, I would need something that still has the capacity to charge a large battery like the one in my iPhone 6 Plus but still something small enough to fit comfortably in my pocket since I wouldn't be carrying a bag.  Thanks to EasyAcc, I was able to get something with these specs: the Classic Gen2 6400mAh.
EasyAcc Classic Gen2 6400mAh Power Bank Build Quality:
If you want something that is small, minimalistic, and easy to carry around yet still powerful, you don't have to look any further than the EasyAcc Classic Gen2 6400mAh.  Ergonomically, it is just about perfect.  It's also a great looking power bank, which never hurts.  It's very compact, (more than the photos suggest), light, and thanks to the matte finish, it's easy to grip and does not collect fingerprints easily.  The rounded edges also make it more comfortable in the hands and pockets.  However, with 64oomAh, you can be sure that you will have plenty of power to make it through the day.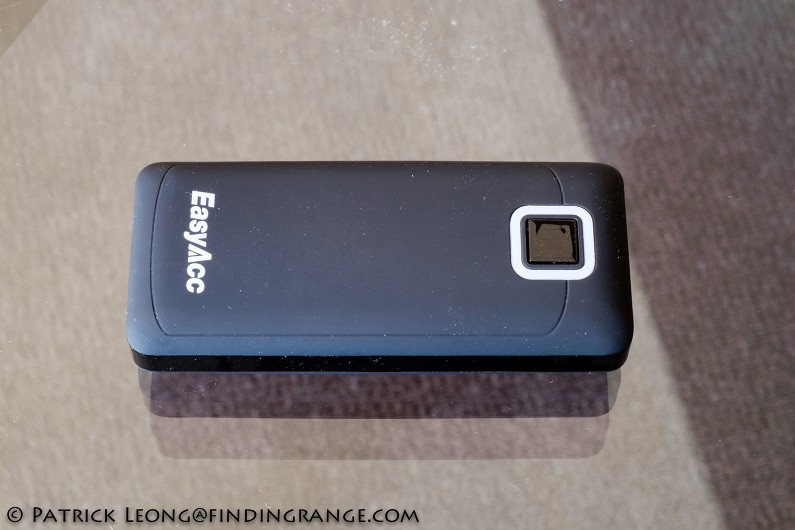 ↑ Compact, understated yet powerful, the EasyAcc Classic Gen2 6400mAh is great as a daily user.
To top it off, the build quality is exceptional and the power bank feels extremely solid.  The shell is constructed out of hard plastic and there are absolutely no creaks or rattles whatsoever.  On the side of the EasyAcc, there is a micro USB port used to charge it, and on the front, there's a USB port that offers a very tight connection.  A tight connection is definitely a good thing, especially since most of these power banks will be used quite often.  Day to day plugging and unplugging can take its toll after a while but so far, this power bank's USB port has show no signs of wear.  There's also a flash light next to the USB port that is not just a gimmick because it's actually very bright making it very useful and practical.  Lastly, there are two small holes in the back where you can loop a small hand strap through.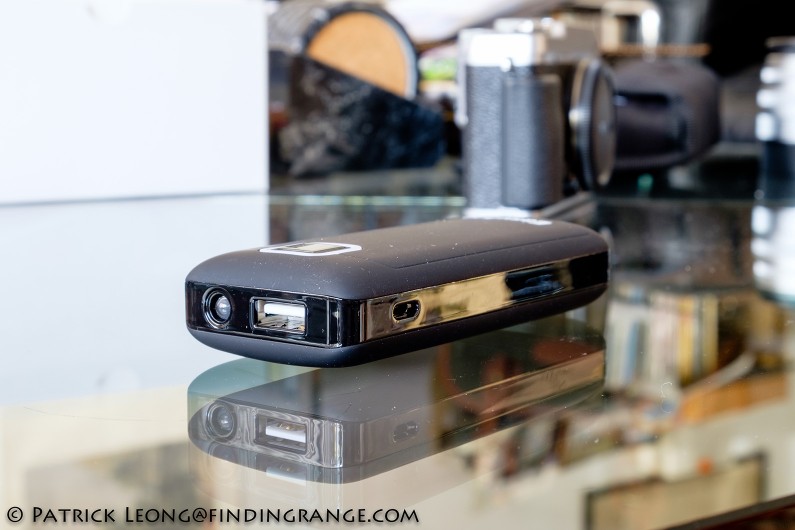 ↑ The power bank has one USB port for charging devices and one micro USB port to charge itself.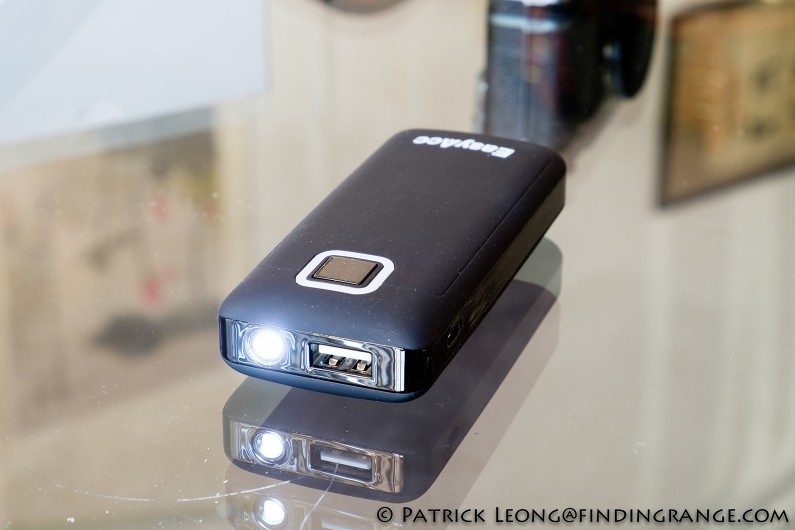 ↑ The EasyAcc has a very powerful flashlight for something this compact.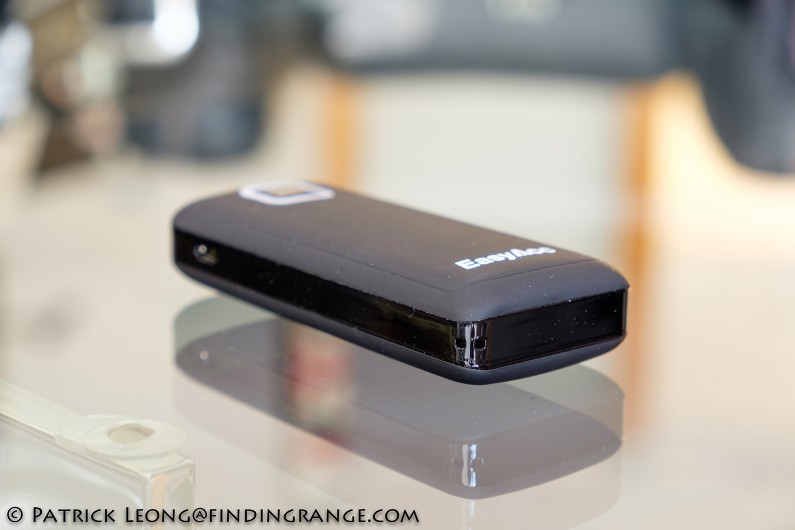 ↑ There's a loop hole in case you have a small hand strap.
What I think is particularly neat is the power gauge.  It's not just a typical LED lit gauge.  There are four blue LED light bars that wrap around the square power button, and each bar of light represents approximately 25% power.  It looks very cool, and it's very stylish in my opinion.  It's a really nice touch considering the price.  Overall, this is one of the best built portable battery chargers from any manufacturer that I've used so far; and it's one of the nicest style wise yet surprisingly, it is also one of the cheapest, especially for its power capacity.  Currently, the EasyAcc Classic Gen2 6400mAh is priced at less than $10!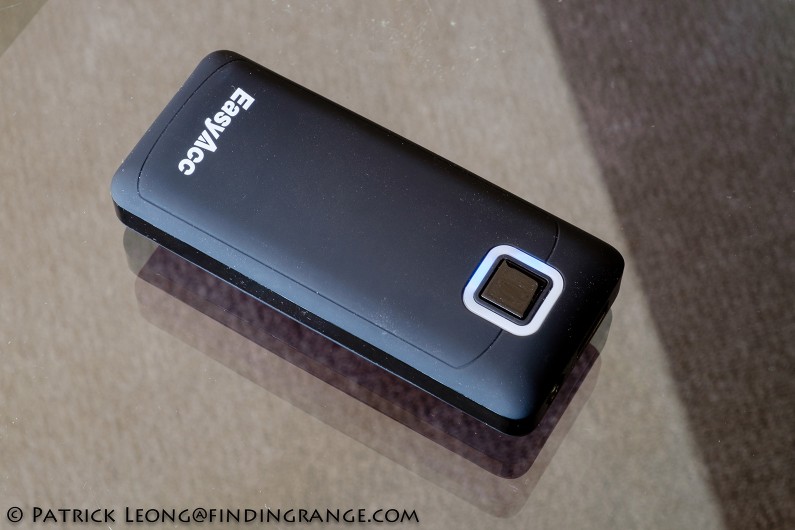 ↑ Blue bars that surround the power button tell you how much power you have left.
As for included accessories, the EasyAcc Classic Gen2 6400mAh comes only with a micro USB cable.  You would need to plug the micro USB cable into the AC adapter that is included with your mobile device to charge the power bank but that is not a problem, and pretty much the norm with any power bank on the market these days.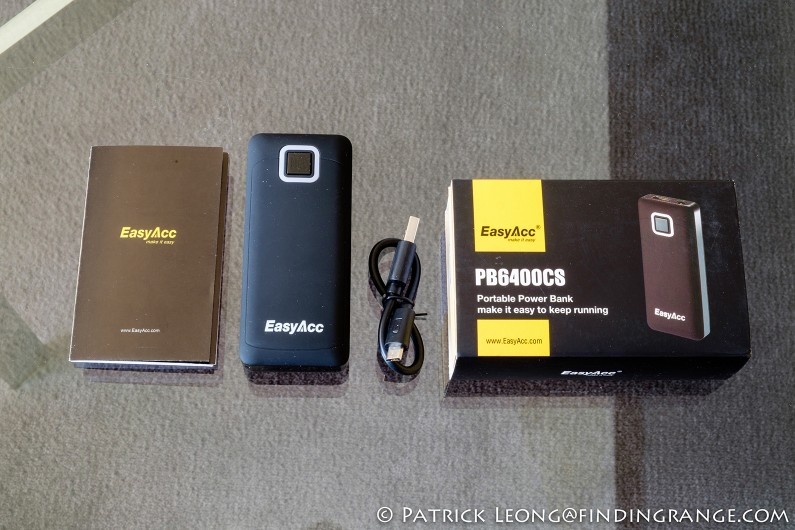 ↑ This is what's included when you buy this power bank.
EasyAcc Classic Gen2 6400mAh Charging Capabilities:
According to EasyAcc's website, this power bank can charge an iPhone 6 approximately 2.6 times, a Samsung S5 1.8 times, and a Nexus 5, 2 times.  But I imagine that those results were obtained from ideal testing conditions, so I thought I would post a test result from my normal daily usage.
EasyAcc Classic Gen2 6400mAh with a full charge:
iPhone 6 Plus with 19% power left – approximately 2 hours 15 minutes to charge it.
iPhone 6 Plus with 13% power left – approximately 1 hour 10 minutes to charge up to 49% and then charger dies.
I gave this power bank no special treatment; I did not obtain my results by testing it in ideal conditions because I think it's more important to get real world results.  None of us is going to use this in a lab on a test bench, right?  So, you have to keep in mind that charging times won't be the same for everyone because different phones run different apps, have different settings, and are possibly receiving calls or texts while charging.
With that said though, I found the EasyAcc Classic Gen2 6400mAh did great in terms of its ability to charge my devices before it needed charging itself.  For instance, it charged my iPhone 6 Plus around 1.3 to 1.5 times, which pretty much agrees with EasyAcc's specs.  Since my phone is the Plus version, it has a much larger capacity battery than the regular iPhone 6, so it makes sense that the power bank wouldn't be able to charge my phone as many times.  My phone also has a larger battery than the Samsung S5 as well but not by much, so the power bank should be able to almost charge my phone as many times as the S5.  As you can see from my results, this charger does it.
EasyAcc Classic Gen2 6400mAh in Everyday Use:
As I mentioned earlier, this power bank is ergonomically near perfect, and light making it easy for me to carry it around all day.  It's so small that I can just fit it into my pocket.  Yet with its 6400mAh power capacity, it has the ability to keep my phone going all day with a little extra just in case.  I've been using this power bank for a few weeks now, and it has integrated into my photographic kit perfectly.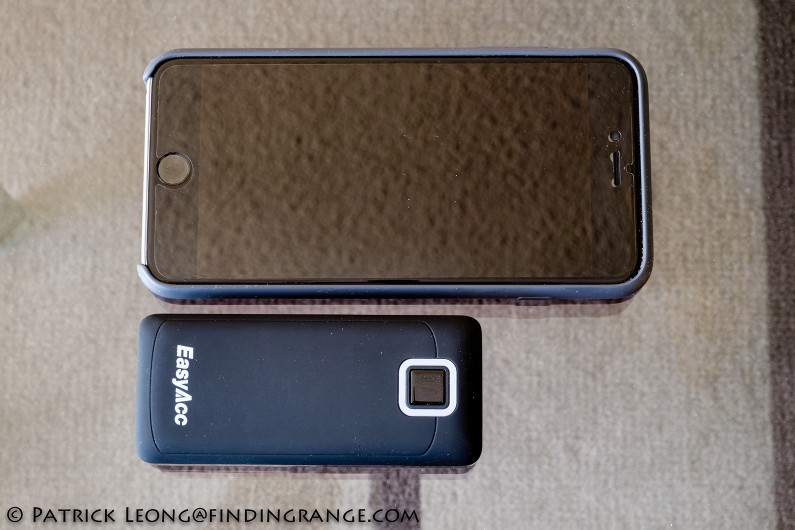 ↑ Size comparison: iPhone 6 Plus vs. the EasyAcc Classic Gen2 6400mAh.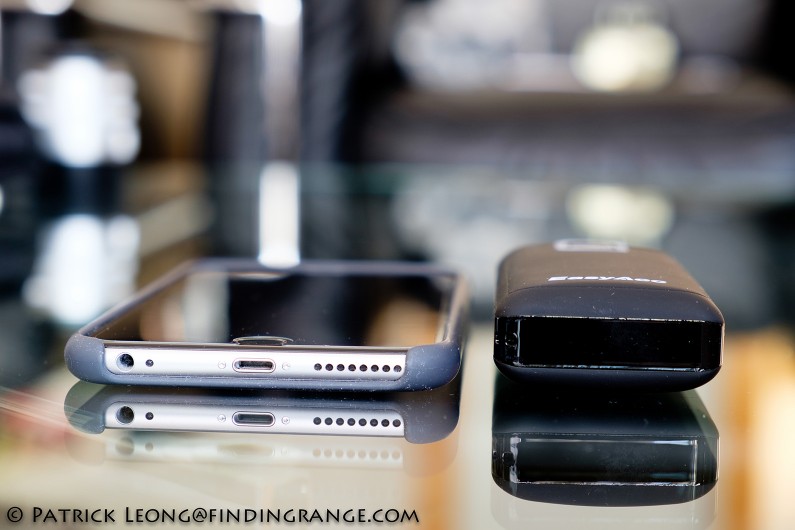 ↑ The EasyAcc Classic Gen2 6400mAh is thicker than the iPhone 6 Plus but still compact enough to fit comfortably in one's pocket.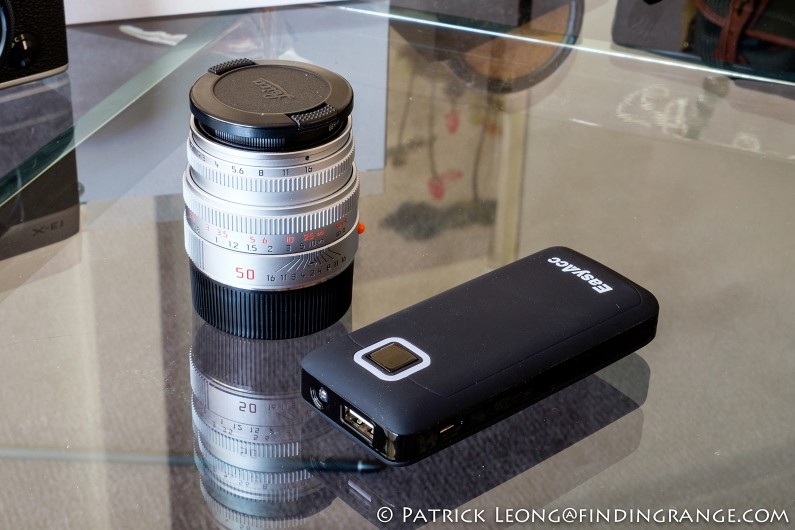 ↑ Here's a size comparison between the EasyAcc Gen2 6400mAh and a Leica 50mm Summicron.  For those who don't know, the 50 Summicron is one of the most compact lenses in the Leica M catalogue, and as you can see, the EasyAcc isn't much larger.
The EasyAcc Classic Gen2 6400mAh is also built very well, which is very important in my opinion.  Usually, I put all my power banks into the smaller compartments in my camera bags where I store other miscellaneous items, which means they are always constantly bouncing around with each other.  My power banks also get passed around to my friends and family members often.  Once in a while, they even get dropped.  The point is, they are going to be used a lot and quite often, they aren't going to be as well taken care of as, say, an expensive lens. So far, this power bank hasn't shown any signs of wear other than maybe a superficial scratch.
EasyAcc Classic Gen2 6400mAh Verdict:
Obviously, we all want something as compact as possible, which often times means getting a power bank with a smaller power capacity.  However, that's becoming increasingly difficult nowadays because batteries are getting larger in our devices.  A couple of years, ago, I had a 3000mAh power bank that I was completely happy with because it was very compact yet it still had the ability to charge an older phone of mine several times.  Now, like many others, I need something with a bit more capacity.  To me, the power bank fits this slot perfectly.
↑ I think this is one of the most beautifully designed power banks.
The 6400mAh has just about the perfect capacity for daily use.  In addition to it's superlative build and compact design, this power bank is a beautifully designed product that is also conservative enough, so it doesn't attract unwanted attention.  If any of you are looking for a power bank with these specs, consider the EasyAcc Classic Gen2 6400mAh.  It's one of my personal favorites.  At the price of less than $10, it is simply a steal.
Thank you for taking the time to read my review!  Comments are always welcomed!  If you want more info about power bank, please go to EasyAcc's Classic Gen2 6400mAh Power Bank page on their official site.  Please note: from what I've been just told, the 6400mAh power bank in this review has been superseded by this newer version.