Sunlows Orange-LL Leather Camera Strap Review:
A short while ago, there were just a few major camera strap companies out there but now, there are more manufacturers than ever before, and one of these companies is Sunlows.  Sunlows is a company from Turkey that has been producing fine leatherwork for quite some time, and has brought that experience and knowledge to photography.  They produce wrist straps, and neck straps made not just from leather but also from other various materials.  One of their products is the Orange-LL, which is an all leather camera neck strap that Sunlows was kind enough to send me to review and evaluate.  Here is what I think of it.
Sunlows Orange-LL Leather Camera Strap Build Quality:
The Sunlows Orange-LL is one of the nicest straps I've come across in quite a while for several important reasons: first off, it's beautifully made, it's understated in appearance, it's all leather, and the stitch work is excellent.  It's soft, very pliable, and light making it one of the most comfortable neck straps that I have worn.  I want to emphasize comfort here because if your camera is light enough (for instance, I tried it with the Fuji X70 for a few days), you almost forget you even have a camera around your neck.  In addition, it's also built to last.  I've been using this strap mainly with my Fuji X-T1, and there are absolutely no issues with build quality.  But it does not stop there.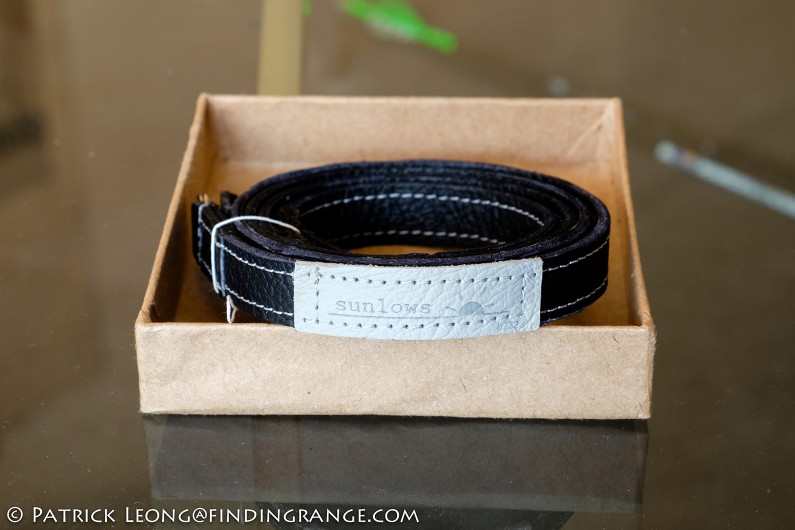 ↑ The Sunlows Orange-LL Leather Camera Neck Strap.
There are also useful options that you can choose from like whether or not you want lug protectors to what length will fit you best.  In terms of length, you have up to four options: 95cm, 105cm, 115cm, and 125cm.  This kind of flexibility is great to see because a lot of manufacturers don't even give you the option of length for a leather neck strap, and if they do, it's only two sizes: normal length or long.  One size or even two sizes do not fit all, and even I've had instances where I find a great neck strap but I don't end up purchasing it because it just did not fit me well.  There are leather straps that allow one to adjust the length but that just in my opinion, makes it more cumbersome, heavy, and less flexible.  Sunlows' approach is great because with four different lengths, there's enough flexibility that their straps should be a nice fit for a vast majority of people.  The price for this strap is $105 but that's a flat fee; none of the options that I've mentioned cost anything extra.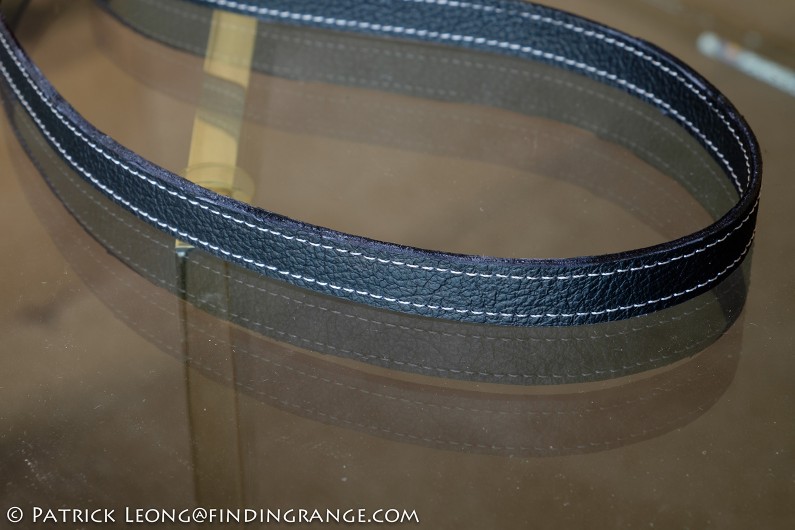 ↑ I ordered a 95cm strap, and as you can see, the stitching is nice and neat.
As you can see in the photos, the Sunlows Orange-LL is also quite flexible, which is one of my favorite characteristics of this neck strap.  Leather straps are always nice to have but let's face it; some of them out there are just not that flexible making them uncomfortable long term.  In my case, I often wrap my neck strap around my wrist when I'm out shooting.  After a while, it can get quite annoying when you're trying to shoot a photo but the neck strap isn't flexible enough to do what you want it to do.  I could get a wrist strap but a lot of times, I prefer a neck strap because sometimes I need both hands free, and I don't want to always have to put my camera back in my bag.  For a leather neck strap, I don't think you can ask for more flexiblity.  Look at how the Sunlows Orange-LL is placed in the box when it first arrives to its destination.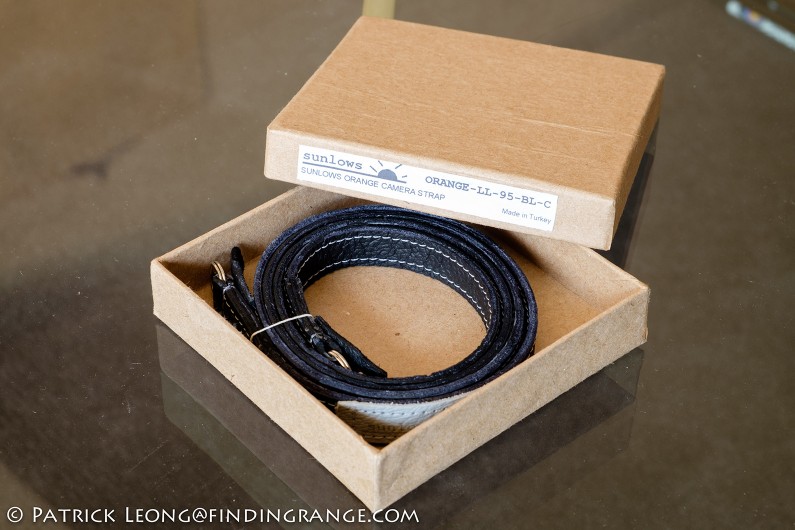 ↑ As you can see, the Sunlows Orange-LL is very flexible for a leather strap.
Another great characteristic of this neck strap is it's not large and burdensome. It's not that wide.  The O rings are even smaller than some other manufacturers' neck straps, such as, the Artisan & Artist brand, and truthfully, they actually fit a bit better in the lug nuts.  A wider neck strap will give you better support if you're using a large camera but in this case, this neck strap is designed more for mirrorless cameras and rangefinders.  These types of cameras are already very light and compact, and therefore, there really isn't a need for such a large, wide, and thick strap.  In fact, it would just make handling the camera more cumbersome in my opinion.  Who really wants to deal with a large, stiff, and thick neck strap, especially long term?  I've reviewed a lot of different neck straps, and I have to tell you, it's just not comfortable using a large or thick neck strap with smaller cameras like these mirrorless bodies.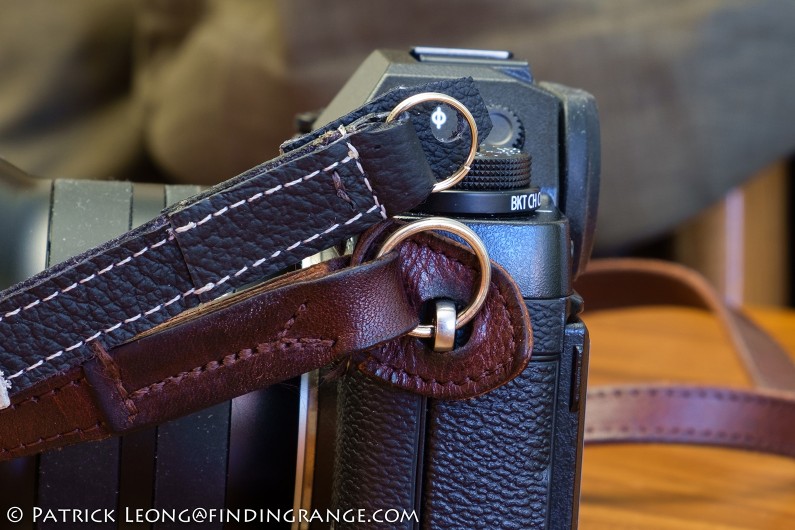 ↑ The Sunlows Orange-LL is not a big cumbersome strap; in fact, the O rings are even smaller than my Artisan & Artist Kobe strap.  The O rings actually fit better too.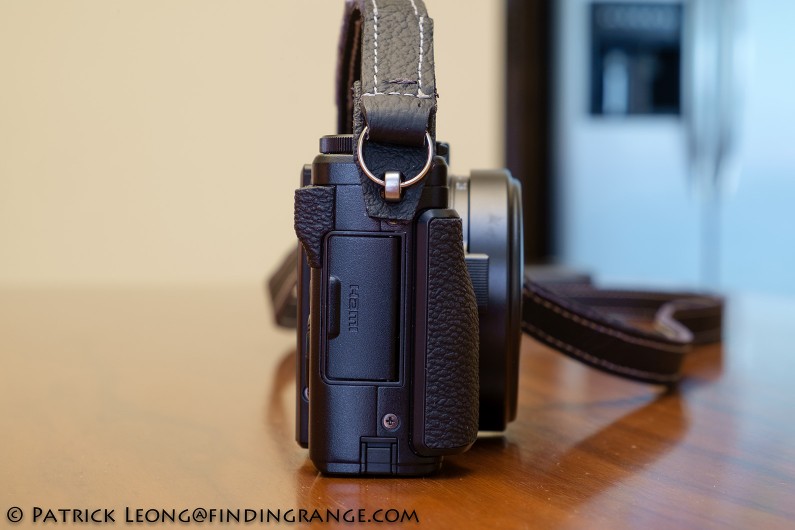 ↑ The Sunlows Orange-LL fits nice and neatly to the camera, in this case, a Fuji X70.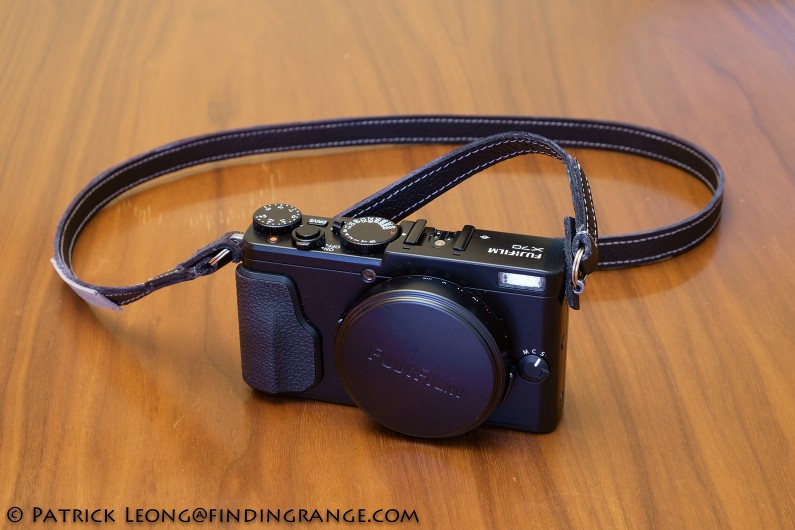 ↑ As you can see, the Sunlows Orange-LL is a very nice fit for mirrorless cameras, such as, the Fuji X70.  I love how flexible and light this neck strap feels.
Sunlows Orange-LL Leather Camera Strap Issues:
Were there things that I didn't like about the Sunlows Orange-LL?  Well, having the option to choose whether I want lug protectors is great but I wish the lug protectors looked more integrated into the design.  For instance, the lug protectors are simply stitched on whereas on the Artisan & Artist Kobe Strap for example, the neck strap itself is looped into the lug protectors.  Also, I would prefer the lug protector pads be larger but the truth is, during my time with this strap, not once did the O rings leave any marks on my camera.  In other words, the lug protectors did their job.  Overall though, these issues are minor, and I mention them because this is a review.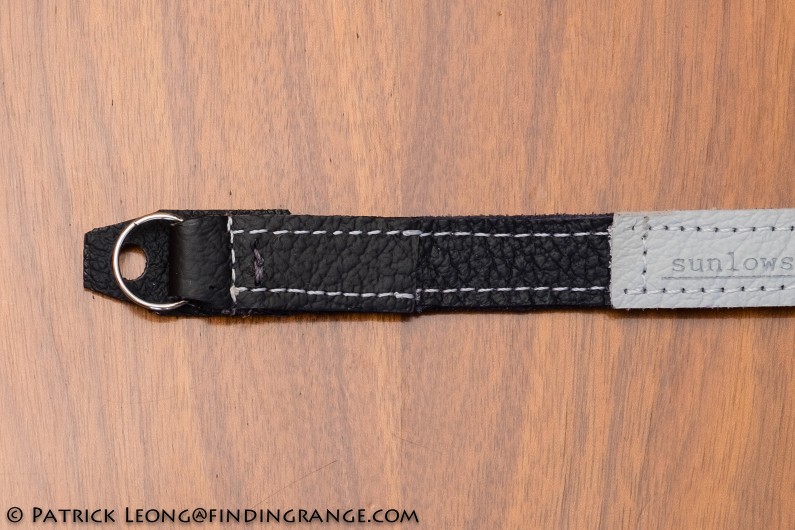 ↑ The lug protectors are stitched on to the neck strap.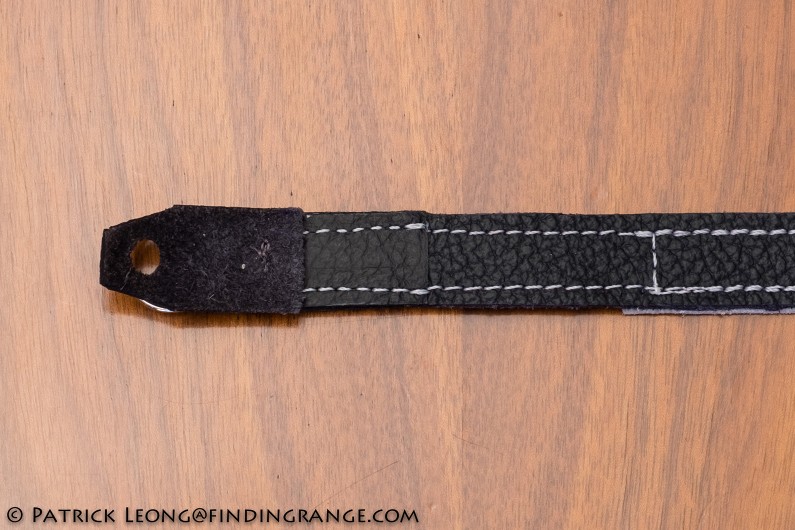 ↑ Here's a photo of the back of the neck strap.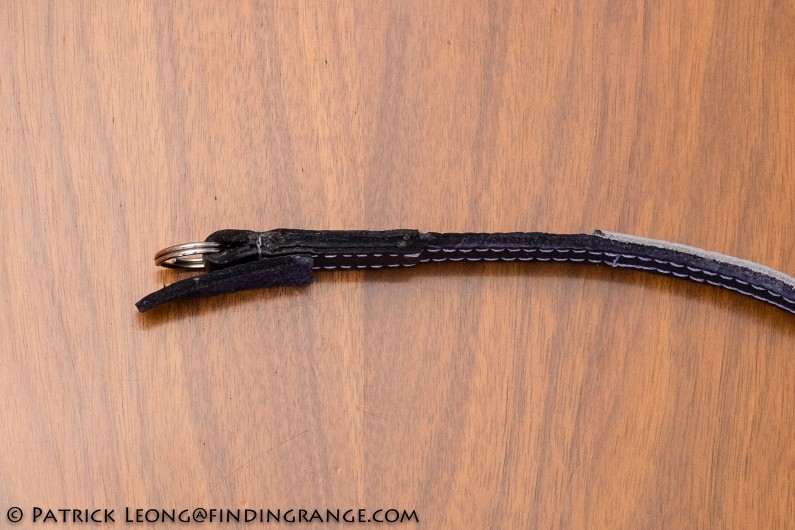 ↑ Here's a view of the side.
Sunlows Orange-LL Leather Camera Strap Verdict:
When I was contacted by Sunlows, I personally didn't know what to expect, since I've never even heard of this company until now but I have to say, I am really impressed by the Sunlows Orange-LL neck strap.  Functionally, it fits my criteria perfectly.  I like the options that I can choose from, it's well built, it's leather, and the price while not low, isn't really high either, especially when you compare it to the competition.  It also has an understated appearance,which I personally like, and I'm sure many others will too.  To top it off, it's really one of the most incredibly comfortable leather neck straps that I've worn.  I highly recommend this neck strap, and I urge all of you to take a look at Sunlows' official site to see the options and different kind of straps that they make.  They even have neck straps that are only $45!