Classic Cases Leica M Typ 240 Case Review:
There are plenty of accessories for Leica cameras, and a popular one is the good old fashioned leather half case.  A half case is not only visually appealing to many, it also serves as protection for a pricey investment like a Leica.  Manufacturers like Artisan & Artist, Gariz, and Luigi, just to name a few, all make half cases.  Another manufacturer that produces half cases is Classic Cases from England.  Paul Glendell, who is an award-winning photographer himself, is the person behind this company, and he designs many different cases for several Leica models.  The one in this review is the leather half case designed for the M Typ 240.
Classic Cases Leica M Typ 240 Case Build Quality and Construction:
Not all half cases are equal in terms of quality.  There are a lot out there these days and some are pretty shoddy but the M 240 case made by Classic Cases is definitely a top-tier product.  Each case is handcrafted by a qualified saddler in their workshop on the edge of Dartmoor, and each one is also hand-stitched.  As you can see, the stitching is very neatly done as well.  Unlike a lot of cases out there, these have also been used in a professional setting, and therefore, field tested for durability and reliability.  Paul uses his Leica cameras professionally to shoot for clients like the BBC New website, so you know that these cases were designed to take all kinds of abuse and last.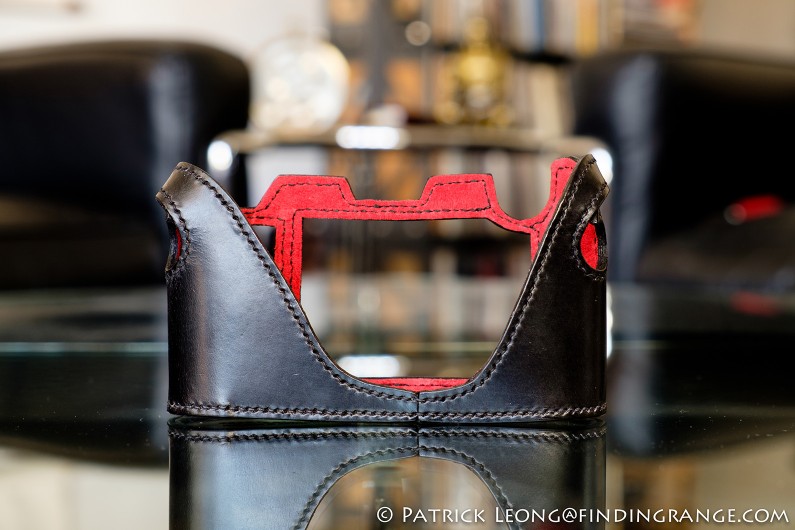 ↑ The front of the Classic Cases M Typ 240 case.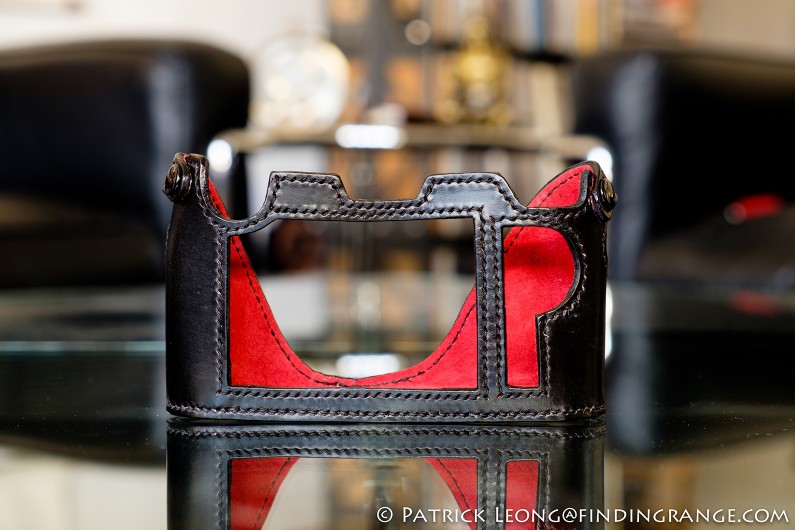 ↑ Here's the back of the case.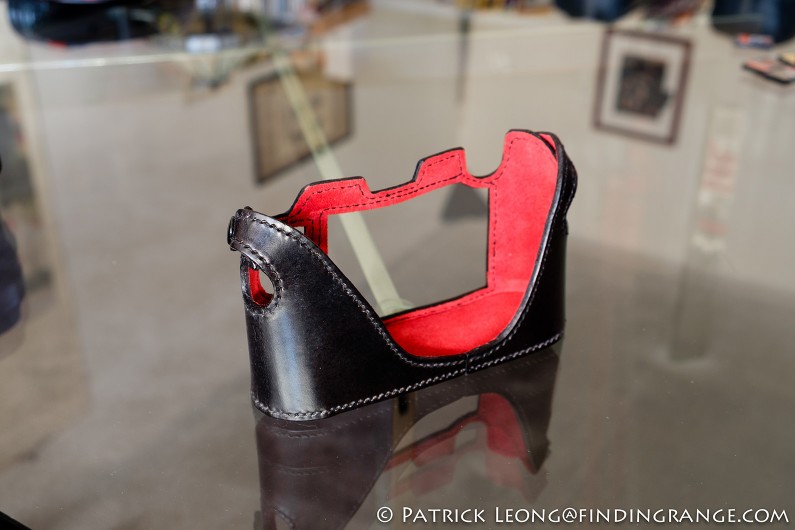 ↑ Here's a different view of it.
In addition, what really sets these cases apart for me is the leather that is used to make them.  As soon as you open the box, you're greeted with the rich scent that only leather of the highest quality produces.  Each Classic Cases half case is made from the finest English Oak-bark tanned leather, and there isn't anything inside the case that will mark up your camera because it is lined with beautifully soft suede.  Overall, the leather used is some of the best that I've seen in any half case.  This is the type of leather that you want wrapped around a $7,000 camera!  Watch the video below, and you can see the intensity, precision, and time that it takes to tan this leather.
Moreover, the leather is a bit thick and and glossy in appearance but don't think of thick as being stiff.  It's not really a stiff leather at all, so it actually fits the M 240 superbly.  In fact, this is how well the M 240 fits into this case: the case has two leather latches on each end that secure around your neck strap with metal snap buttons to keep your camera in place.  However even with these unbuttoned, the case is still secure enough that it won't come off that easily.  The best part is with a case like this, over time, it will develop a patina and fit your camera like a proverbial glove.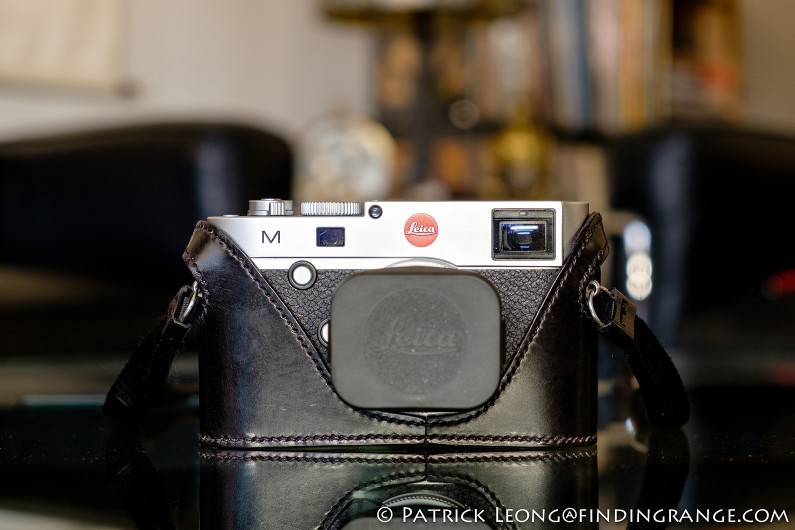 ↑ Here's how the M 240 looks in it.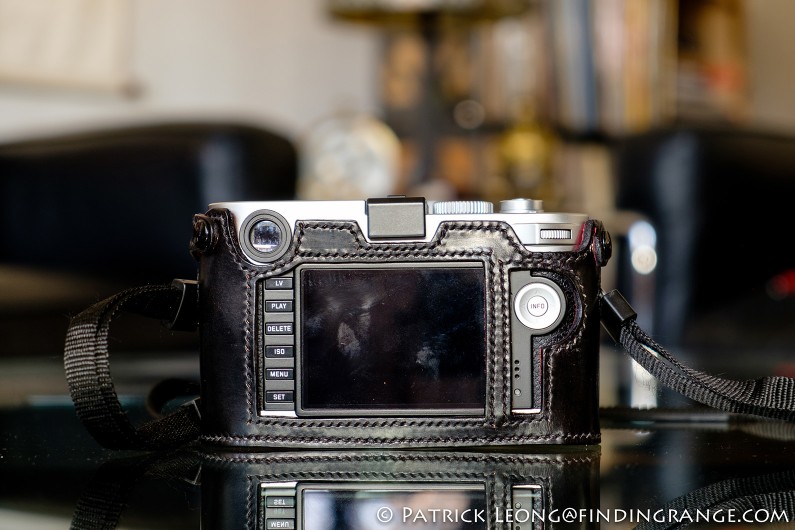 ↑ Here's how the back of the M 240 looks in this case.
The Classic Cases M240 case is also very soft and comfortable in the hands.  I don't use half cases all the time but I have to say, this case really feels good around the M 240.  While the M 240 is snug in it, the case has a little bulk to it, which actually allows me to grip the M 240 better.  At the same time the bulk is insignificant enough that it's not cumbersome.  You can walk around with a lens as small as a 35mm Summicron and you really won't notice much of a difference in the overall size of the camera.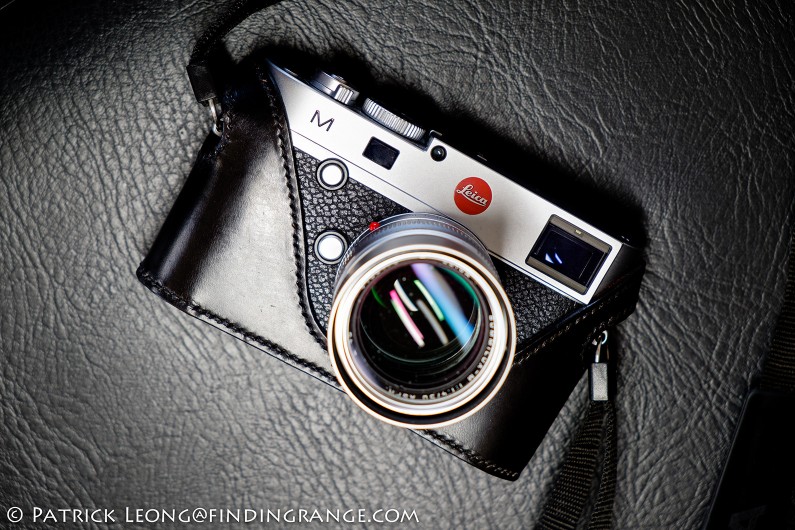 ↑ Since it's sometimes hard to get a feel of a case and its quality, I figured that I would post several pics of it with the M240 in this review, to give all of you a better idea of it's appearance and how this case is constructed.
In addition to how pleasing this half case looks and feels, it also offers additional protection for your M 240.  The leather is thick, and the base is adequately padded, so it will definitely protect your camera from bumps and scrapes.  Furthermore, even though I asked for an M 240 case without a screen protector, the leather still wraps completely around the entire camera.   This not only adds more structure, and therefore, a better fit, it also adds more protection around the camera.  The sides are also high, which adds even more protection.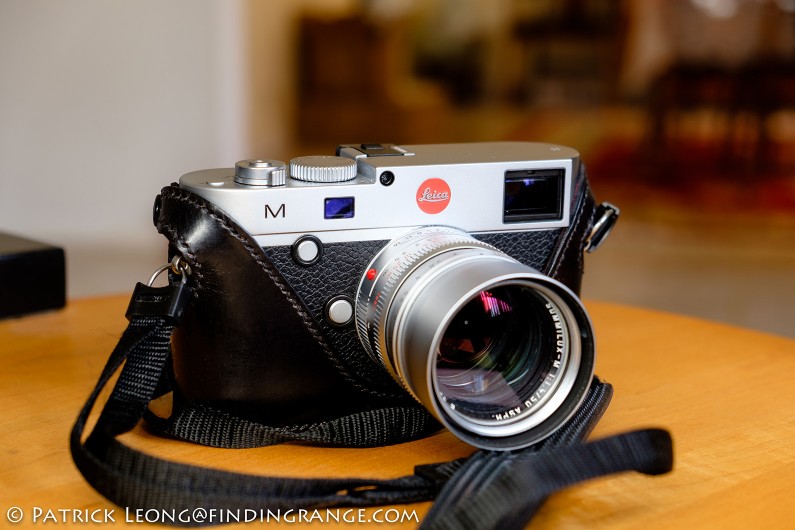 ↑ Here's another picture at a different angle.
All the cases from Classic Cases are essentially customized one-off made to orders.  For instance, you can personalize your case with your initials on the bottom.  You can choose from several different colors for the leather, such as, brown, dark brown, and black.  You can even choose different colors of suede like red, green and blue.  If you have a Thumbs Up grip, it's not a problem because Paul can also make a case that will fit that accessory as well.  I chose a case that did not come with a leather screen protector but you can get one with that option.  The standard screen protector unbuttons from the top, and falls down like a flap but I heard of people requesting ones that have snap buttons on the top and bottom, so it can be completely removed.  Paul does not have any problem with this request.  Lastly, like I said earlier, Classic Cases makes cases for several other Leica cameras like the Q, the M9, M8, M7, and M6.  They'll even do special orders.  For instance you could get a case for an M3, an M6 with a hand grip or get red stitching.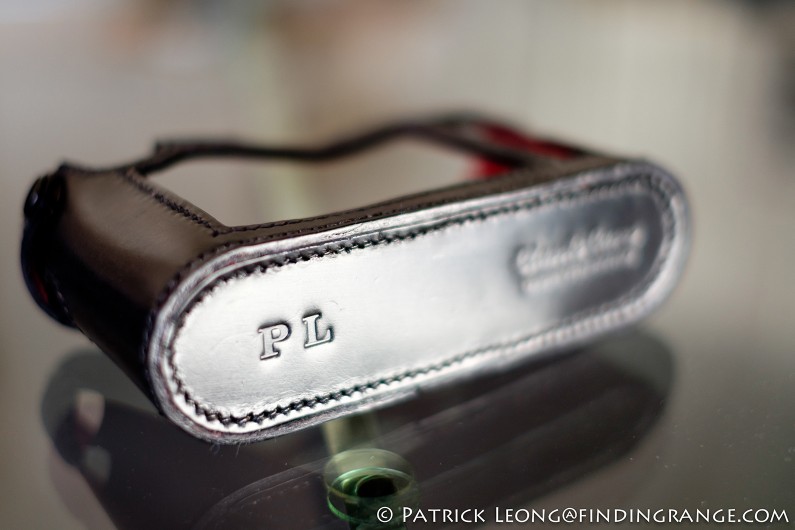 ↑ If you want, Classic Cases will personalize your case with your initials.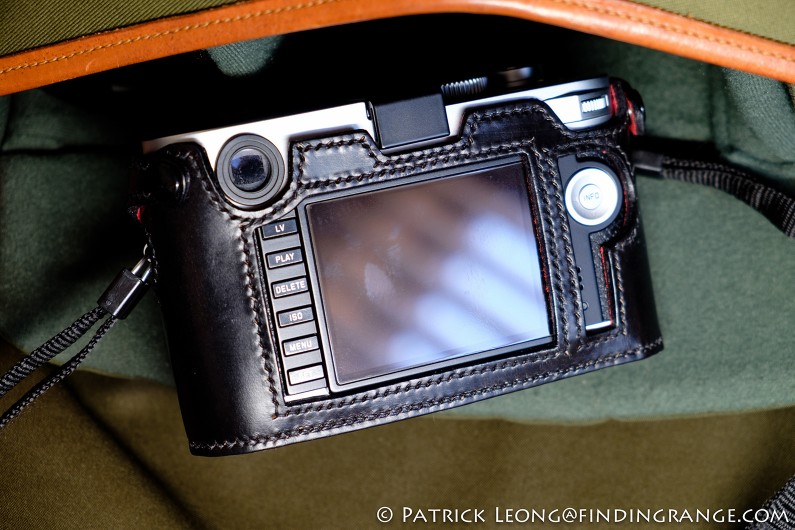 ↑ Here's another view of the back of the case.   think Classic Cases did a great job with the back.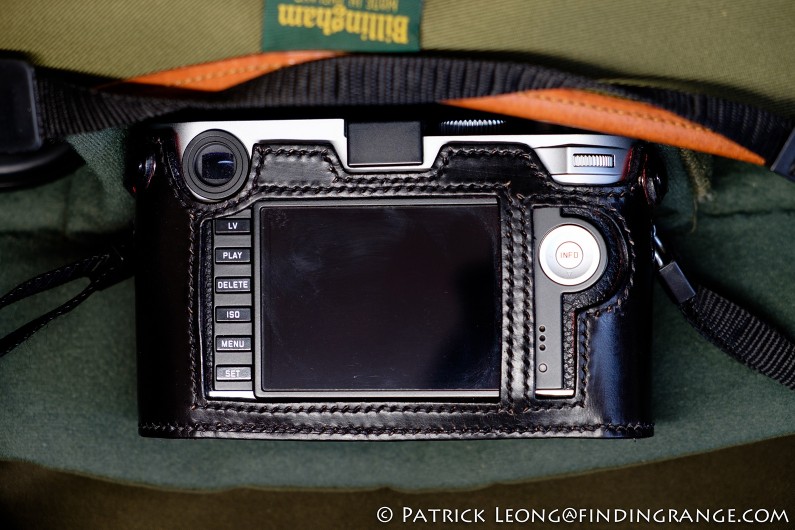 ↑ Here is another view of the back.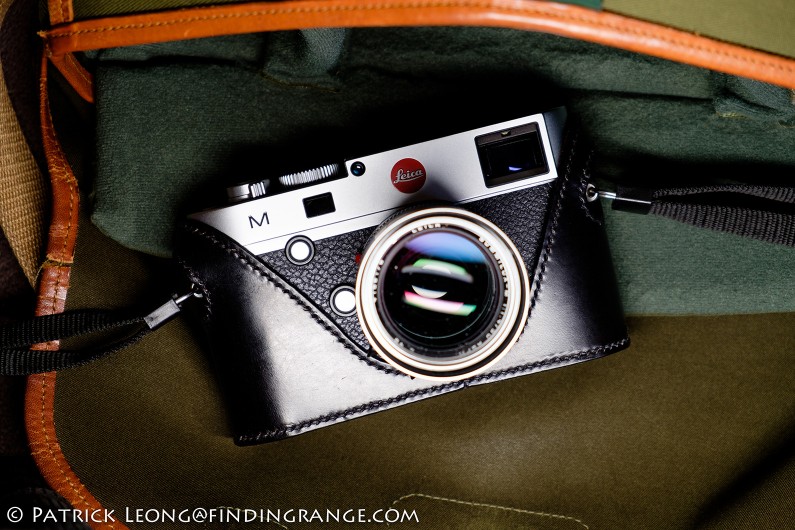 ↑ Here's one more view of the front.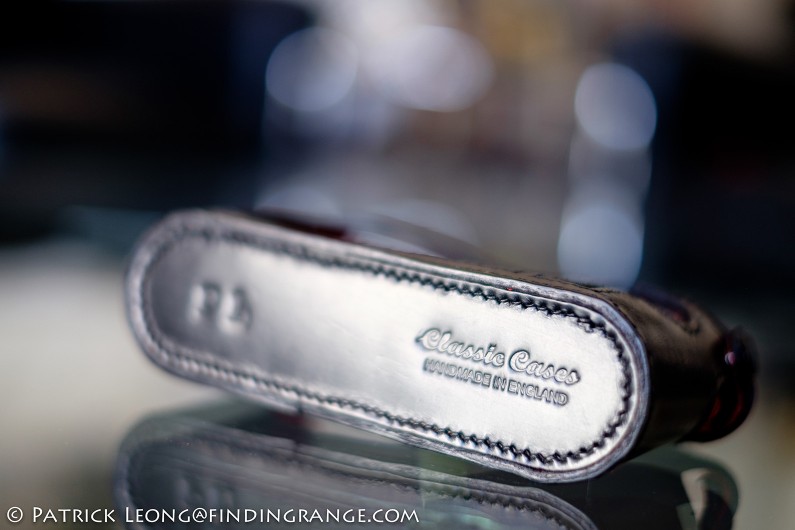 ↑ Here's one more of the bottom.
Classic Cases Leica M Typ 240 Verdict:
Overall, I'm very impressed with the M 240 case made by Classic Cases, and I urge any of you who are looking for a decent half case to take a look at this one.  It oozes with quality, and the great thing is you can feel that it's been handcrafted.  It doesn't have that aura of mass production around it.  The case feels unique and holding one in your hand will give you the impression that a true artisan made it, not some machine, and that should mean something because that's also part of the appeal of Leica cameras.  At around $250 (with the current exchange rate), it's priced pretty competitively to the Artisan & Artist.  Considering the time and effort it takes a craftsman to handcraft such a superb half case out of high quality raw materials, and fine leather, I don't see this as being expensive and outrageously priced.  There are cases out there that cost even more and some aren't even made as well.  If you truly want something that feels special to match a camera that many argue has special and unique qualities, this is the case that you should be looking at.
If you want more information on these fine cases, check out the Classic Cases website.