Billingham Rucksack 25 Review:
When I was younger, I never even considered using a backpack to carry my photo gear.  The main reason is because you kind of have to take the backpack off in order to retrieve gear, and while that isn't necessarily a hassle, it can be a little inconvenient at times .  But over the past year, I've started to see the benefits to using a backpack.  For one, if you're carrying a lot of gear, a backpack is a great option.  Yes, you can buy a larger shoulder bag but it's going to be a bit more awkward to carry around with so much gear.  A shoulder bag also won't offer nearly as much support as a backpack.  The weight is more evenly distributed with a backpack, which is actually the main reason why I've been looking around for a decent one.  My back has been definitely paying for all the years I've been carrying gear in my shoulder bags :).  So, for a while now, I've been keeping an eye out for a backpack that I think would fit my needs, and it almost seemed like perfect timing because Billingham recently released two new bags.  One is the Rucksack 35, and thanks to Billingham, I was able to review the larger Rucksack 25.  Here are my thoughts on it.
Billingham Rucksack 25 Build Quality:
If you're a frequent visitor of my site, you probably know that I am a huge fan of Billingham products.  I've not only reviewed a lot of their bags, I've enjoyed using them so much that I've ended up accumulating a lot of them for myself over the years.  One of the main reasons why I am such a fan is because the build quality is exemplary to say the least.  The Rucksack 25 is clearly no exception.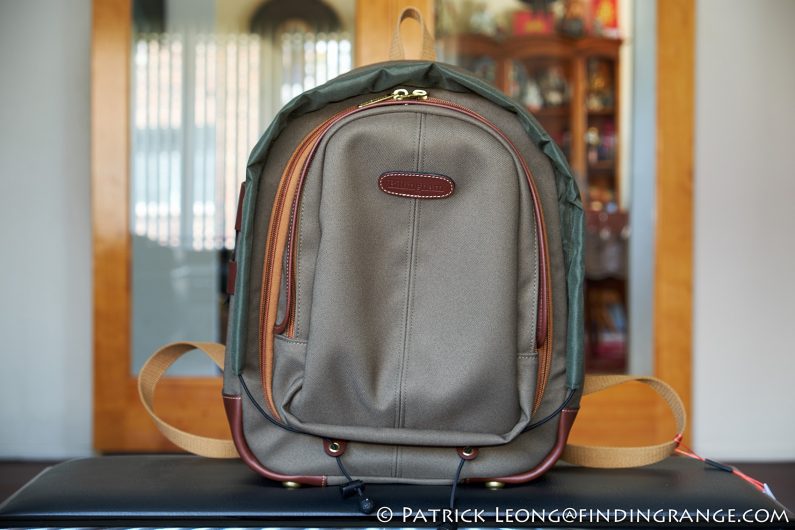 ↑ The front of the Billingham Rucksack 25.  In this photo, the rain guard for the main compartment is loosened.
In fact, I would argue that it's even a bit more impressive than the previous Billingham bags I've had the pleasure of using.  The craftsmanship is seriously second to none.  Everything is so well-put together.  Just take a look at the pictures, and you'll see what I mean.  The stitching for example, is absolutely perfect.  There's also no excess material that needs to be trim off or any type of imperfection.  On a side note, here's another reason why I love Billingham bags so much.  Every bag of theirs that I've reviewed, owned or used over literally decades have been this consistently well-manufactured.  That's not an easy task for any manufacturer to do.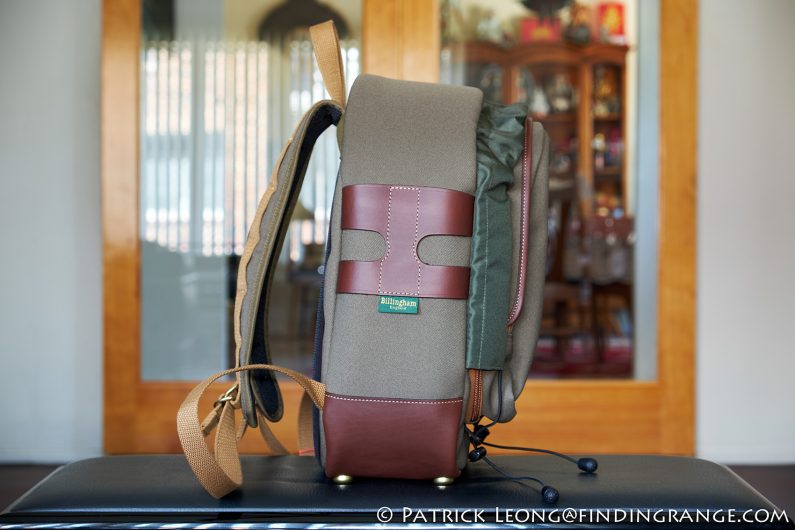 ↑ Here's a photo of the side of the backpack.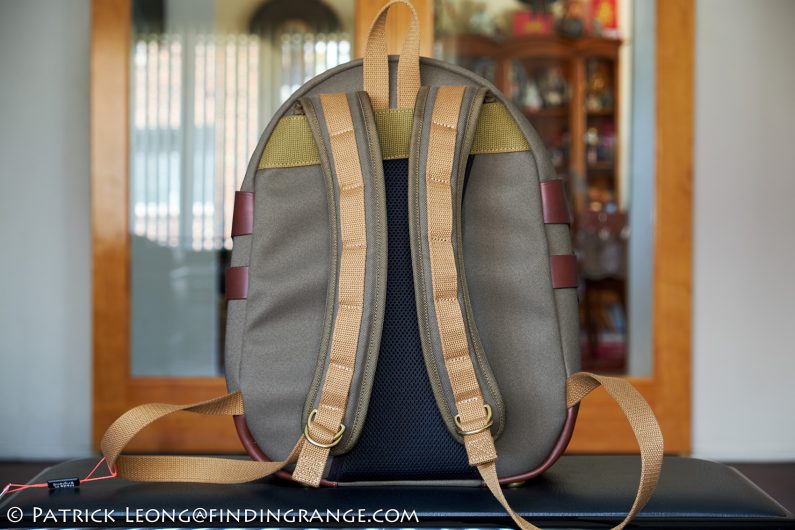 ↑ Here's how the back looks like.
Of course, what's the point in having a well manufactured bag if the raw materials aren't that good, right?  Well, no need to worry because the materials used are literally some of the best available.  Where there is metal, you see solid brass.  The outside pocket along with the main compartment for example, each use double brass zips.  The zippers are also very smooth in operation I might add.  Seriously…it's noticeably smooth enough that I felt the need to actually include this little tidbit in my review.  Then there's also the solid brass feet on the bottom of the rucksack, which is a nice touch.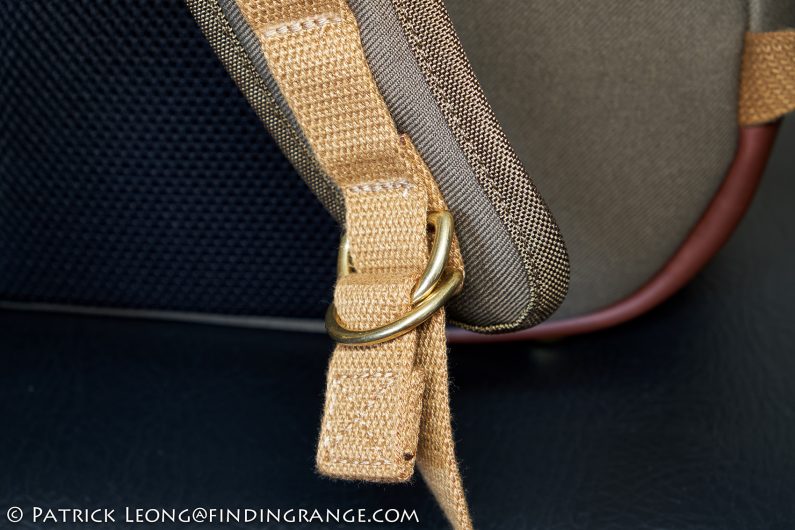 ↑ Solid brass parts are found in numerous areas of the Rucksack 25.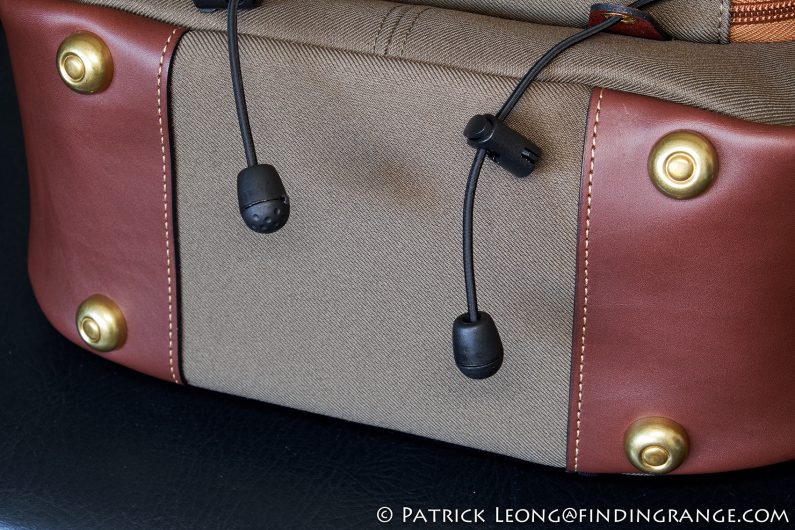 ↑ The Rucksack 25 has solid brass feet.  The black draw string in the photo is used to tighten or loosen the rain guard for the main compartment.
As for the outer material, you can actually get the the Rucksack 25 in either traditional canvas or Billingham's FibreNyte material.  I used to purchase a Billingham bag based more on the color than the type of material used but over time, I started to value the benefits of FibreNyte more.  The canvas that Billingham uses is great.  It's a bit softer than the FibreNyte, and it's a tough material that lasts.  My canvas Hadley for example, is over two decades old, and it's still holding up quite well.  It is still in constant use.  However, FibreNyte is a synthetic material that acts, and feels like canvas but it's even more durable, and resistant to fading.  It's also lighter than canvas.  Ultimately, this is really a personal preference.  There are also a lot of color combinations to choose from as well, such as, khaki canvas/tan leather, black canvas/black leather, burgundy canvas/chocolate leather, grey canvas/black leather, and black canvas/tan leather.  The one in this review is the sage FibreNyte/chocolate leather.  Know that whatever you choose though, you're still going to get a bag that will last a very, very long time.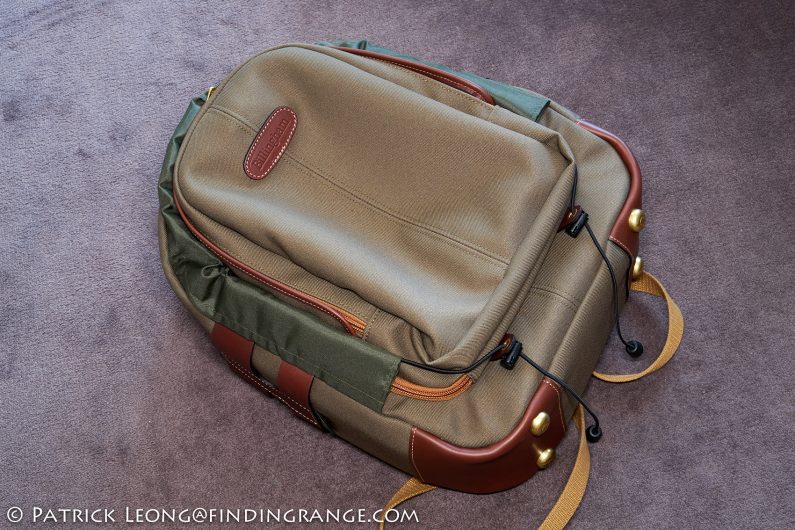 ↑ This is probably my favorite color that Billingham currently makes.
Now, the build quality, and materials used add up to a bag that may not be bullet proof but it sure does feel like it.  In terms of protection against the elements, The Rucksack 25 is just as good as any other Billingham product.  In other words, I think it would be pretty difficult to find another backpack that is able to handle harsh weather as well as this one.  The Rucksack 25 is essentially waterproof.  You may not be able to dunk it in the ocean but rain is definitely not going to get in no matter how rough it gets out there.  The Rucksack 25 uses what Billingham calls the three layer Stormblock fabric, which includes a layer of butyl rubber that is impermeable to water.  Both the main compartment, and the front pocket's double zips are also protected against the elements with their own rain guards.  The rain guard for the main compartment is also adjustable thanks to a drawstring, so it can be closed tight when you need ultimate protection or pulled back for easy access.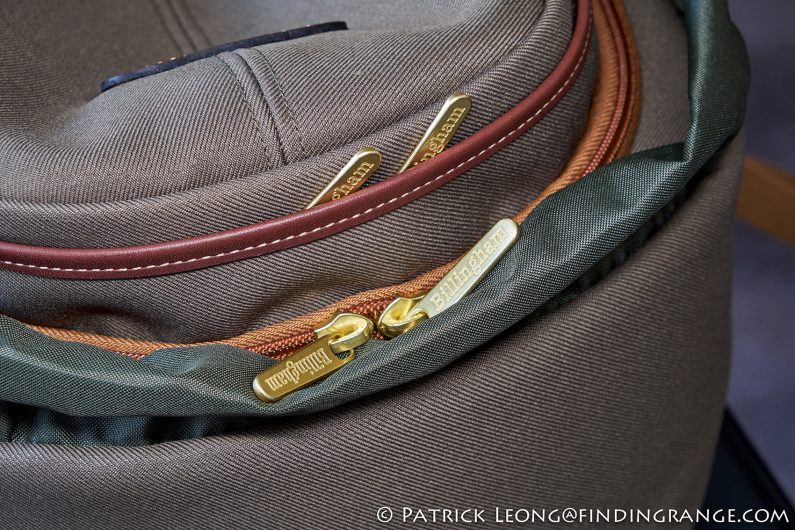 ↑ As you can see, this bag has solid brass zips.  The front pocket is also covered to protect its contents from the elements.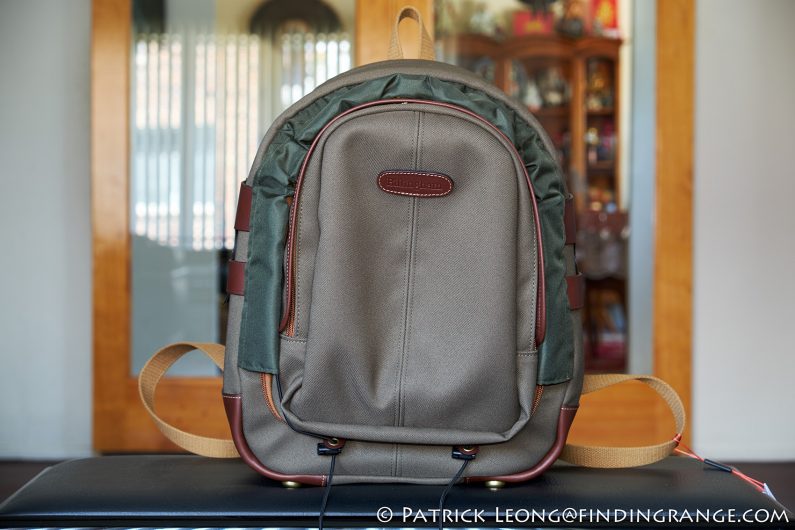 ↑ Here's how the rain guard for the main compartment looks like when it is closed tight.  
During my time with the Billingham Rucksack 25, I experienced some rain that of course didn't cause me any issues but I just want to emphasize that these bags can handle some seriously bad weather conditions.  The weather protection from Billingham bags is another main reason why I love them so much.  I've said this in previous Billingham reviews but I am repeating it here just in case this is the first Billingham review that you've read from my blog.  I've had puddles form on top of my own Billingham bags from massive rain storms but everything always stayed completely dry inside.  It really is pretty amazing.  Yes, Billingham bags are not cheap but you're paying for quality here.  You're paying for peace of mind.  I'm out all the time whether it's in the blistering heat or if it's snowing 12 inches.  I have to because I run this blog.  If you're a New Yorker, you are most likely going to take a lot of public transportation :), and there are plenty of times when I'm out in the freezing cold while it's snowing like crazy waiting for a bus or even a train.  I know that once I put my gear back in my bag, it is going to be safe until I get home no matter how bad it gets out there.  That's peace of mind that in my opinion, is priceless, especially if you consider the cost of gear these days.
In addition to the great weather protection, the Rucksack 25 also has some of the best padding that I've seen in any bag.  The dividers, which attach by velcro, are nice and thick.  All around the sides, and the bottom feature a closed cell foam padding that's 2.5 cm thick.  It's actually a bit stiff, which is great for several reasons.  For one, the the bag feels again, bullet proof.  Another reason why this is great is it helps the Rucksack 25 retain its shape better.  This helps make sure your gear doesn't move around too much, and bang into each other while you're walking.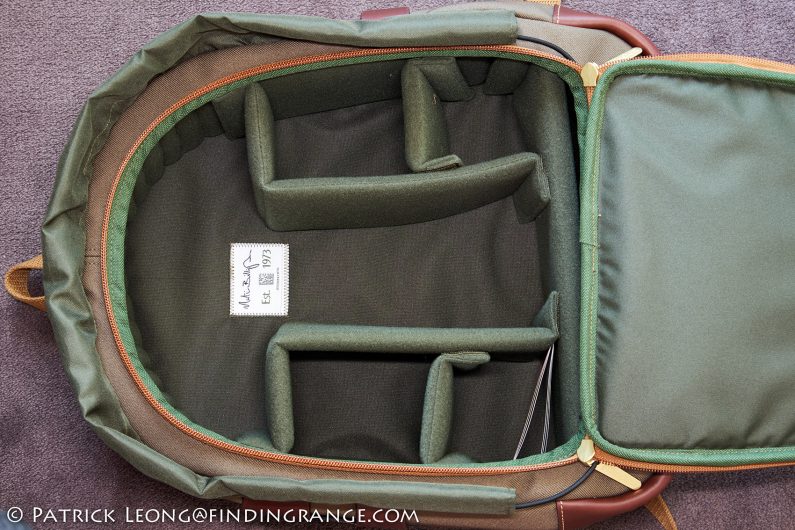 ↑ Here are the dividers that are included.  All are held by velcro, so they can be moved freely around the bag.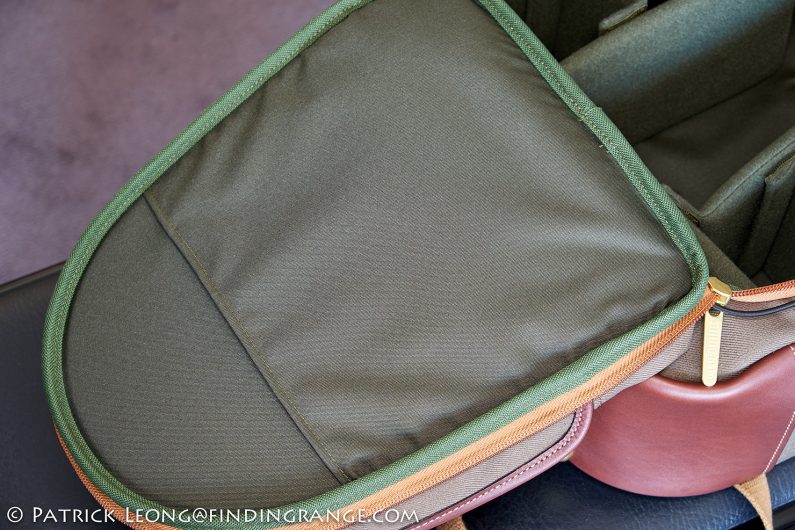 ↑ This pocket is inside of the main compartment behind the main flap.  It's used to hold documents.
Billingham Rucksack 25 Carrying Capacity:
Now that we've talked about the overall quality of the Billingham Rucksack 25, let's discuss what will actually fit in it.  This bag will fit quite a lot of gear.  According to Billingham, the Rucksack 25 will fit a full frame DSLR with five lenses.  I don't own a DSLR, and I don't have one currently on loan that I am reviewing, so I used the Rucksack 25 with my own gear, and a borrowed Pen-F (currently reviewing the 8-18mm).  Below are images of different configurations with all my gear to give you a better sense as to what the Rucksack 25 will fit, and how you can implement its massive storage space.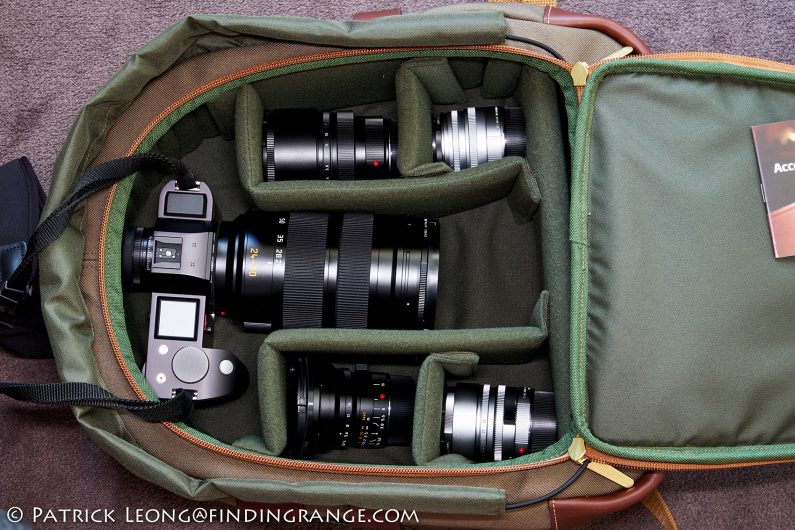 ↑ In this photo, I have my Leica SL, 24-90mm Vario-Elmarit, 18mm Super Elmar, 75mm Summilux, 50mm Summilux ASPH, and 50mm Summicron.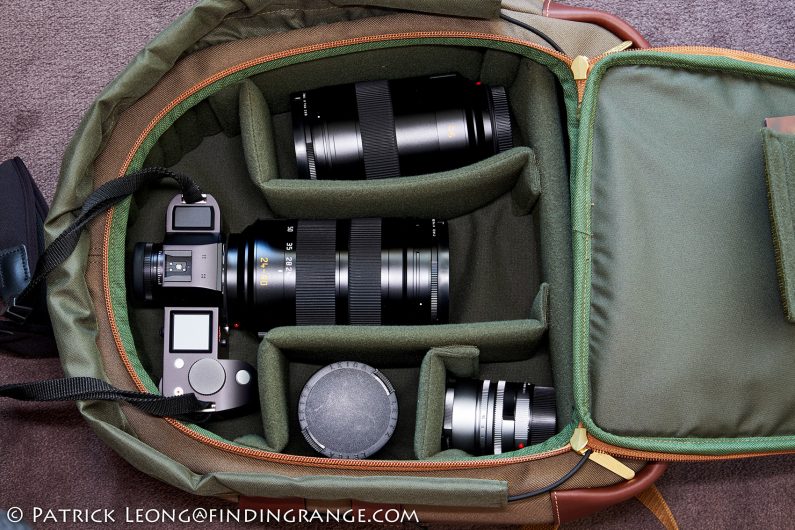 ↑ In this photo I have my SL, 24-90mm Vario-Elmarit, 50mm Summilux-SL, 50mm Summilux ASPH, and 75mm Summilux.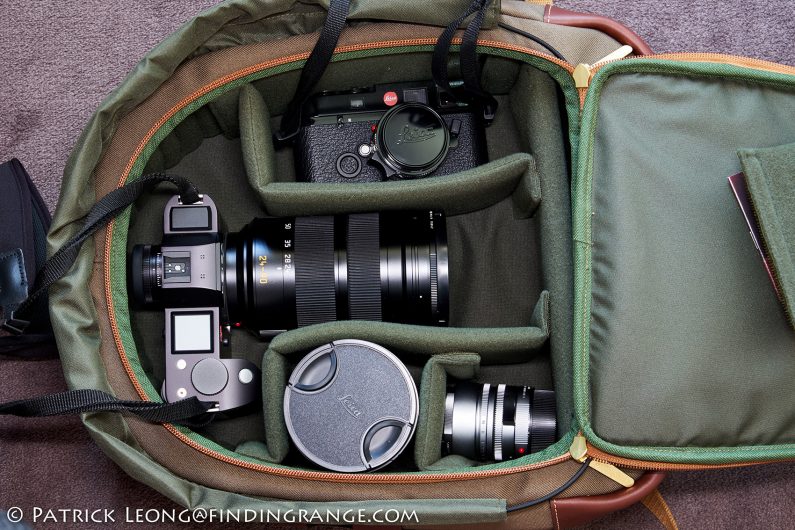 ↑ In this photo, I have my SL, 24-90mm, 50mm Summilux-SL, 50mm Summilux ASPH, M6, and 35mm Summicron ASPH.  The bag has enough depth that I can put my massive 50mm Summilux-SL in it with the rear element facing the back of the bag.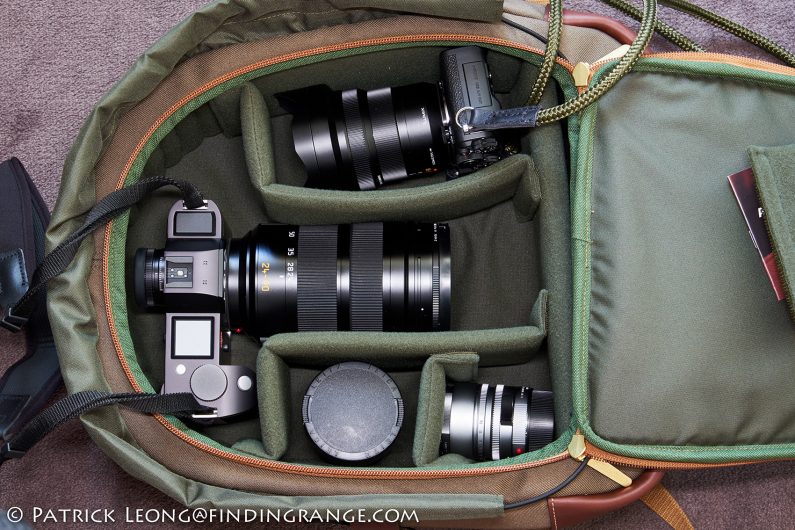 ↑ In this photo, I have my SL, 24-90mm, 75mm Summilux, 50mm Summilux ASPH, Olympus Pen-F, and the Panasonic 8-18mm f2.8-4.
The front pocket is huge.  It will fit quite a lot of stuff.  In the photo below, I have my Leica SF-58 flash (which is a full fize speedlight), light meter, and a bunch of filters in the front pocket.  I still had plenty of room for other stuff.  If you need even more room, you can attach AVEA pockets to each side of the Rucksack 25 as well.  If you want more details on the AVEA pockets, check out my review of them.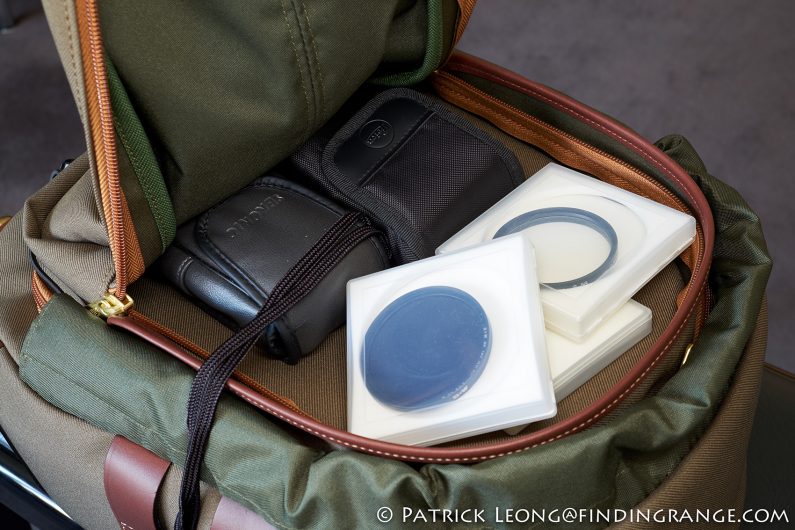 ↑ This front pocket fits a ton of accessories.  Even with all of this, I still had plenty of room left.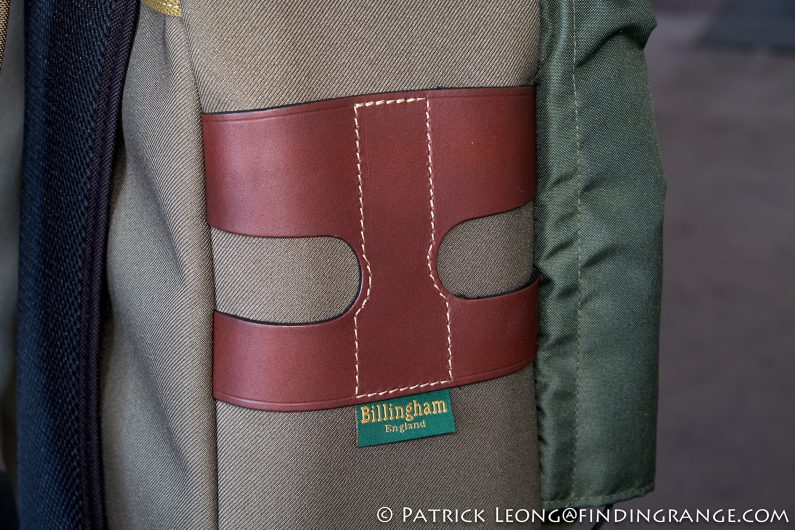 ↑ If you need even more room, you can attach the Billingham AVEA pockets to each side of the bag.
During my time with the Rucksack 25, I primarily used it with my Leica SL system.  The SL body isn't that much larger than an M but the native lenses are big, so if I'm carrying a system with SL and M lenses, I need a larger bag, and I found the Rucksack 25 to be actually a great fit.
Billingham Rucksack 25 in Use:
It terms of actual usage, it has been a nice change using a backpack instead of a shoulder bag, especially for when I need to carry more gear.  I've been carrying a camera bag with me practically everyday for at least the past decade, and the amount of gear I carry has actually steadily increased over the years, so it really is better for me to have the weight more evenly distributed.  I'm no longer leaning to one side to counteract the weight of a shoulder bag :).  In fact, I find myself using the Rucksack 25 even when I'm just carrying minimal equipment.
It's the summer right now in New York City, so it's been hot and humid.  It's not easy to strap on a backpack in this kind of heat but the Rucksack 25 does have a central backing made of padded spacer fabric, which does help with breathability, and makes it easier to carry, especially for long periods.  This fabric is also found on the shoulder pads, which is really smart of Billingham.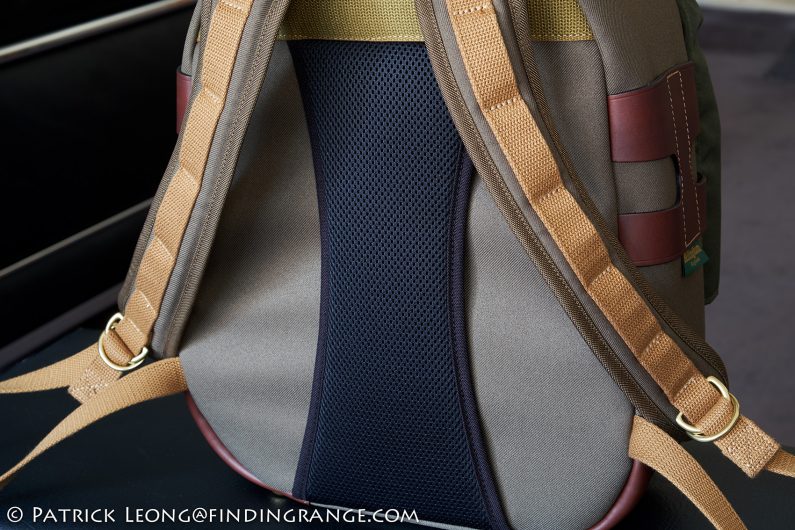 ↑ The Rucksack 25 has a central backing made of padded spacer fabric, which helps with breathability.  The insides of the shoulder straps have the same fabric.
Speaking of the shoulder pads, they are quite comfortable.  They are ergonomically designed to fit your shoulders, which is nice.  They aren't too thick or thin.  For me, they are just right in terms of size.  If you're carrying a ton of gear, the Rucksack 25 does get heavy but that's to be expected considering the Rucksack 25's capacity.  If you don't need to carry so much gear, Billingham does make a smaller version called the Rucksack 35.  I'll tell you one thing though: it's definitely easier to carry a ton of gear in the Rucksack 25 than it is in a large shoulder bag.  Since the Rucksack 25 has such a large capacity, a waist strap with buckle might be a nice addition to have on this backpack.  However, I also wouldn't want one of these bags to end up like a climber's backpack.  That kind of extreme is just not needed here, in my opinion.
In terms of appearance, I think the Rucksack 25 looks great.  There's no mistaking that it is a Billingham, and in my opinion, it's actually one of the better looking Billingham bags currently available.  It doesn't look like the typical backpack for photographic gear, so I would think it's a little more discreet.  At least in my experience, no one gave me a second glance when I was walking around with it.  The Rucksack 25 has a very classic look, which is what I prefer.  It's not over the top, too elaborate or overly decorative like some bags can be in this price range.  That's partly why the Rucksack 25, like other Billingham bags, is so versatile.  Yes, it can look proper and formal when you're at a nice dinner, art gallery or business meeting but it's also a user's bag.  It will still feel right at home roughing it taking pictures with you.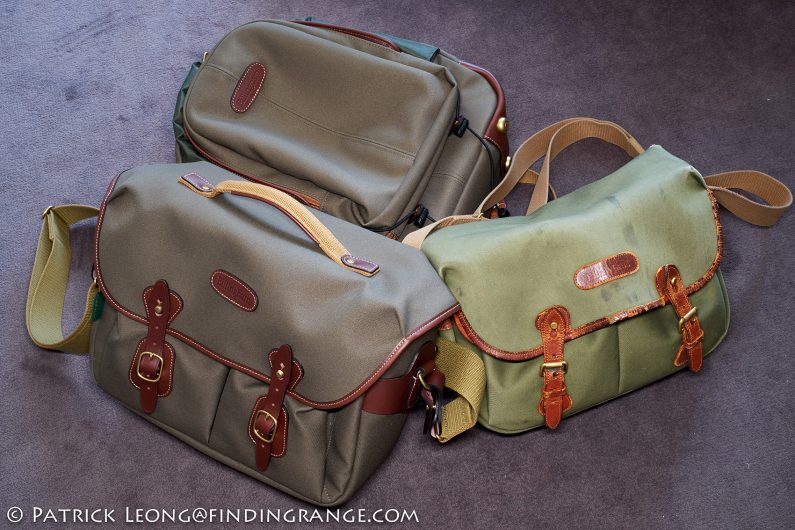 ↑ The Rucksack 25 has the same signature look of other Billingham bags.  In this photo is my original Hadley, and my new Hadley One.  I reviewed the Hadley One as well, if you would like to see it.
Billingham Rucksack 25 Specifications:
External Dimensions:
Internal Dimensions:
Main Compartment: W250mm x D130mm x H310mm (with removable padding in place)
Capacity:
9.4 litres with padding (11.4 litres with padding removed) – Additional 1.6 litres in front pocket.
Weight:
Pockets:
Front Pocket: W230mm x D50mm x H300mm
Billingham Rucksack 25 Verdict:
Try as I might, I don't really have anything bad to say about the Billingham Rucksack 25 because the truth is, I'm not only impressed with it, it has become one of my favorite bags that I've tested so far.  It's everything that you would expect from Billingham and then some.  I love the fact that it is in backpack form too :)!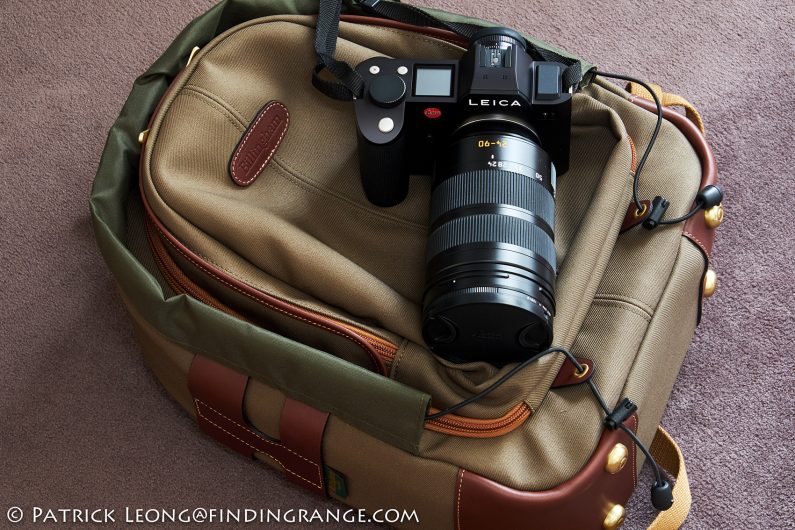 ↑ One more photo of the bag with my SL.
At $499, it's not a cheap bag by any means.  There's no doubt about this.  However, I feel the Rucksack 25 is worth every penny because you're paying for real quality here.  The craftsmanship is absolutely superb, the materials used are some of the finest available, and the Rucksack 25 offers the best protection available for your gear.  Nothing here is going to rip, tear or fall apart anytime soon.  Billingham is so confident about the quality of their bags that they even come with a 5 year manufacturer's guarantee.
It's also worth noting that this is a bag that will last many, many years even under hard use, so you'll definitely get your money's worth.  My Hadley, for example, has been in constant use for over two decades, and trust me, I am definitely not easy on my bags.  I originally paid I believe $230 for it.  I had over two decades of hard use with it, and I am still using it now.  It's still one of my "go to" bags because it is just so downright dependable.  It still works like a champ, and the truth is, I've actually grown a little attached to it because it's been a constant in my gear inventory for so many years.  Plus, not much has changed in terms of appearance, so it's not like I feel my bag looks dated either.  This timeless characteristic is a quality that all Billingham bags share.
So, if you're in the market for a new backpack for your photographic gear, and if the Rucksack 25 fits your criteria in terms of space and storage, I highly recommend you take a closer look at it.  This is really one of the nicest bags to come from Billingham so far!
If you want more info, you can find it on Billingham's own website.