Billingham 72 Camera Bag First Impressions:
As some of you know, I am a huge fan of Billingham bags.  I've reviewed quite a lot of them, and I also own a few.  They are extremely well-made, offer some of the best protection that you can buy, and last forever.  But there's been one size that I've always felt was missing from Billingham's vast collection of bags.  They needed a bag that just fit the essentials like one mirrorless or rangefinder camera, one lens, and basic accessories.  They do have the Stowaway series but the bags in that series while good, don't quite fit the same criteria.  Well, now we have the new Billingham 72, which fills this spot perfectly.  Let's take a closer look at it.
So, since this isn't my review yet, I'm not going to go into crazy detail right now but I will say this: I have actually been quite excited to try the Billingham 72 ever since I heard about it.  That's because I've been looking for a day bag for a very small kit for a long time now but truthfully, I wanted something that had the qualities that I've come to expect from a manufacturer like Billingham.
↑ The Billingham 72 is absolutely perfect for rangefinder and mirrorless camera.
Now, before I dive into the details, let's talk about something real quick: some may ask, why would you need a bag for just a body and lens?  Well, when I'm out shooting, I don't always want to flash my camera around, if I'm on the train or bus for example.  I also want protection for my gear when I'm done using it or if I stop by for some food :).  Yes, most gear can handle a decent amount of abuse these days, and a lot of the stuff out there is weather protected but I still won't bang my gear around or get it drenched for the sake of it, if I can prevent it from happening.  Gear is expensive, and having to replace it or even repair it is something I just don't want to do if I don't have to.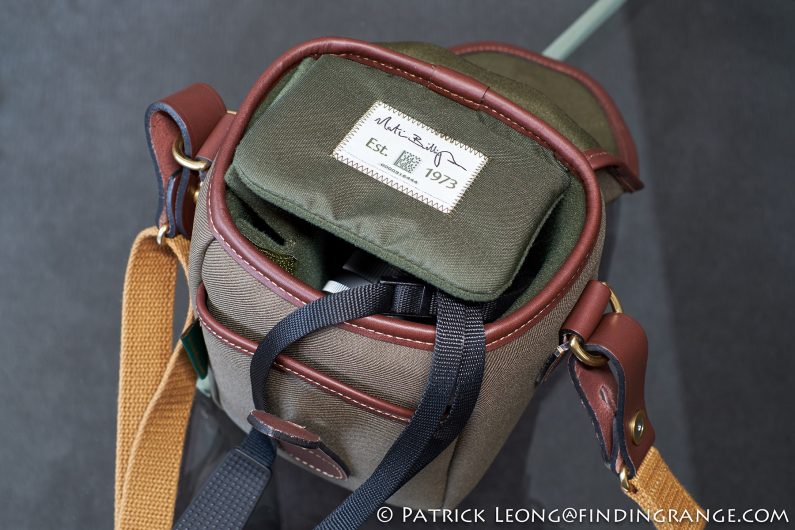 ↑ In addition to padding that surrounds the entire main compartment, there is also a padded flap on top.
Plus, with the 72, you're not really carrying that much more weight.  It weighs just 0.46 kg, yet it still has the excellent quality, and the amazing protection one would expect from a Billingham bag.  You're still getting beautifully stitched leather trim, and solid brass parts.  The padding for example, is in every way as good as the padding found in more expensive models like my Hadley One.  Seriously, I can't even remember another time where I used a bag of this size with such good padding.  Speaking of the padding, there is also one padded divider that is included, which is a nice touch.  If your camera is just a little bit smaller than the space in the main compartment, you can make use of the empty space as you see in the photo below.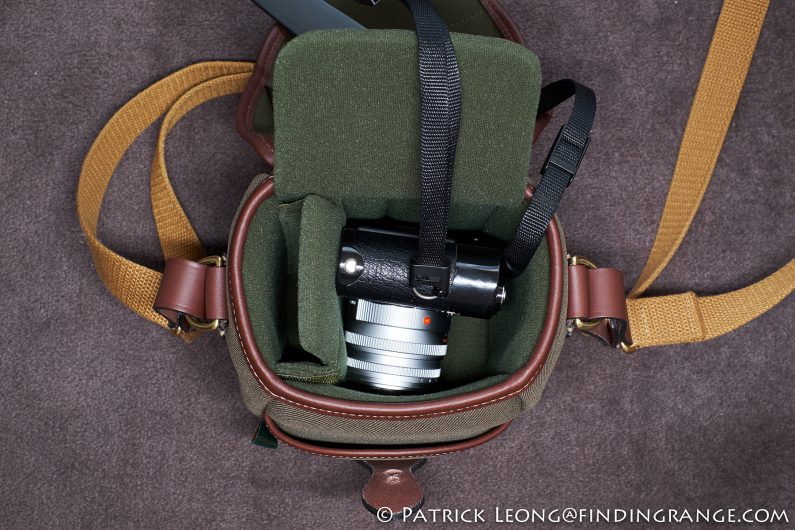 ↑ As you can see in this picture, a rangefinder (in this case an M6 TTL Millennium) with a 50mm Summicron fits perfectly in the Billingham 72.  In fact, there is just enough room for the padded divider on the left side as well.
Of course, besides the excellent impact protection, you'll also get the other forms of protection that have made Billingham bags famous.  For one, the canvas is very tough.  This stuff is going to last, and I know from personal experience because I've own an original Hadley for over two decades, and it's still in constant use to this day.  The canvas has held up brilliantly.  But if that's not enough, and you want something even tougher, go for the FiberNyte material.  Not only is this synthetic material tough as nails, it has the feel and flexibility of canvas, it is a bit lighter, and even more fade resistant.  It's actually my preferred choice now.  Either way though, both materials are basically waterproof, so your gear is protected even in extreme weather.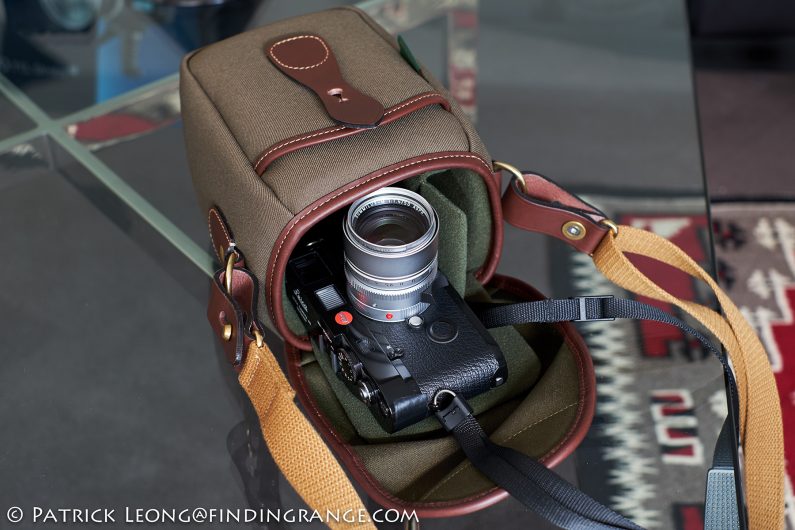 ↑ Here's another photo at a different angle to give you an better idea of the dimensions of the bag.  In this case, I have a 50mm Summilux ASPH, so it's larger than the Summicron I had mounted on the M6 in the previous picture.
But besides the quality of materials, superb craftsmanship, and durability, you're also getting a bag that is quite comfortable to use on a daily basis.  The Billingham 72 really wraps around the body nicely, and I like the fact that there is just one buckle for the main flap.  The buckle is the same basic design that you would see on most Billingham bags, which means it's quick, easy, and quiet to operate yet very secure at the same time.  The shoulder strap is also removable, which I find particularly useful in a compact bag.  For those worried about the security of the removable shoulder strap, don't because it is quite secure.  It will not come off by accident, and it will be very difficult for a thief to remove it.  The removable strap's design is similar to the Hadley One's, and I've been using that bag for I think over a half a year now without any issues.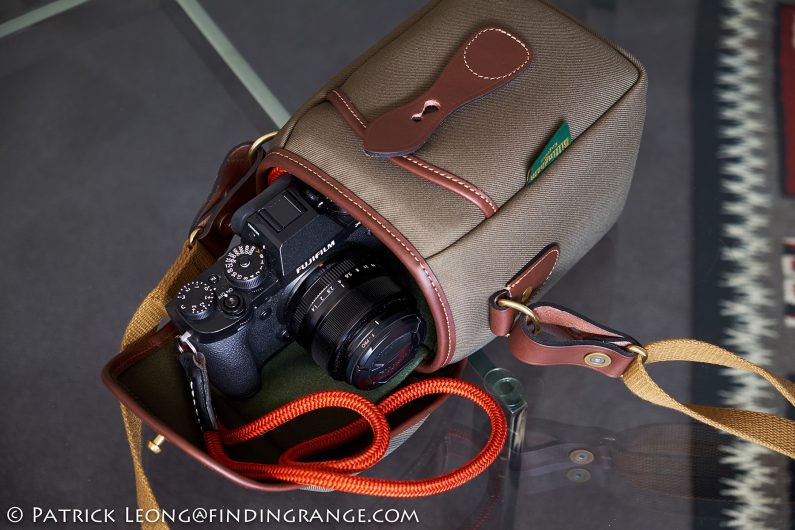 ↑ This bag doesn't just fit rangefinders.  It fits a variety of mirrorless cameras, such as, this Fuji X-T2 with XF 35mm f1.4 lens.
In terms of what gear the Billingham 72 will carry, as I mentioned earlier, it's basically designed for a mirrorless or rangefinder body with one lens.  I've been using the Billingham 72 with my Fuji X-T2, and Leica M6.  I use the front compartment for a lens cleaning cloth, spare batteries, and memory cards.  Check out the photos to get a better idea of how, and what you can fit in the Billingham 72.
As you can probably tell, I am definitely a fan of the Billingham 72.  In fact, it has actually replaced my M Combo many times as the bag I take out now for my photo walks.   If you're thinking about purchasing one, the Billingham 72 isn't available outside of the UK yet but it will be by December 31st 2017.  The price in the US is $156.  Expect my review soon but if you want more info now, you can check out Billingham's website page for the 72.  Thanks for stopping by!