Cravar Rana 10 Leather Camera Bag Review:
If you're looking for a premium leather camera bag, and you still haven't found the one that fits your needs, there is something new that may strike your fancy: the Rana Series by Cravar.  For those who don't know, Cravar is a manufacturer of premium leather goods, and they have been doing it for a while but now, they have decided to specifically target photographers with their new Rana Series bags.  They are releasing four sizes, which should suit a variety of needs: the Rana 7, 10, 13, and 15.  Thanks to Cravar, I was able to obtain a Rana 10 to review.  Here are my thoughts on it.
Cravar Rana 10 Leather Camera Bag Build Quality:
For me, the craftsmanship and materials used in a camera bag are extremely important because while I may baby my camera, I tend to be pretty rough on my bags.  In this department, the Cravar Rana 10 does not disappoint.  For one, the materials used are all up to par with what one would expect from a premium leather camera bag.  For instance, full grain vegetable tanned leather surrounds the Rana 10.  In my opinion, the leather is quite nice here.  One of the things I don't like about some leather bags is they can be a little rigid, which can be uncomfortable.  In this case, I'm happy to report that you really don't get this here.  The Rana 10 is a leather bag, so it still won't feel like a canvas one but it's more comfortable than I expected.  The leather is still very durable but at the same time, it's really not overly stiff.  It's also soft.  Over time, the leather will break in, and develop a nice patina as well, which is an added bonus.  The leather also comes in two colors, which are espresso and fox.  Espresso is a bit darker while the one you see in these photos is the lighter fox version.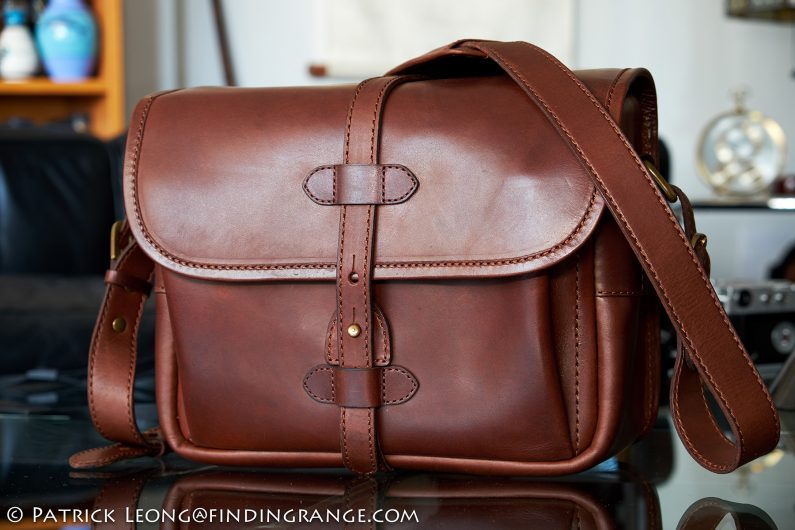 ↑ The Cravar Rana 10 leather camera bag in fox.
Now, let's talk about the shoulder strap for a bit, which is also made of leather.  A lot of leather shoulder straps that I've used on bags before were often times stiff, and sometimes even a bit unwieldy.  It just can sometimes be the nature of using leather as a raw material.  The Rana 10's however, is soft and flexible.  It's quite nice, and at the same time, the durability doesn't suffer.  It's still a very strong strap.  It is removable as well.  For those worried about the security of a removable strap, don't because it's fastened using small buckles.  They won't come apart accidentally, and it would be pretty difficult for a thief to remove the bag without you noticing.  The length of the shoulder strap is also fully adjustable through a buckle, so it won't slip once you acquired the desired length.  Lastly, a shoulder pad is included, and one noteworthy feature is that the bottom of the pad is divided into segments to curve better to your shoulder.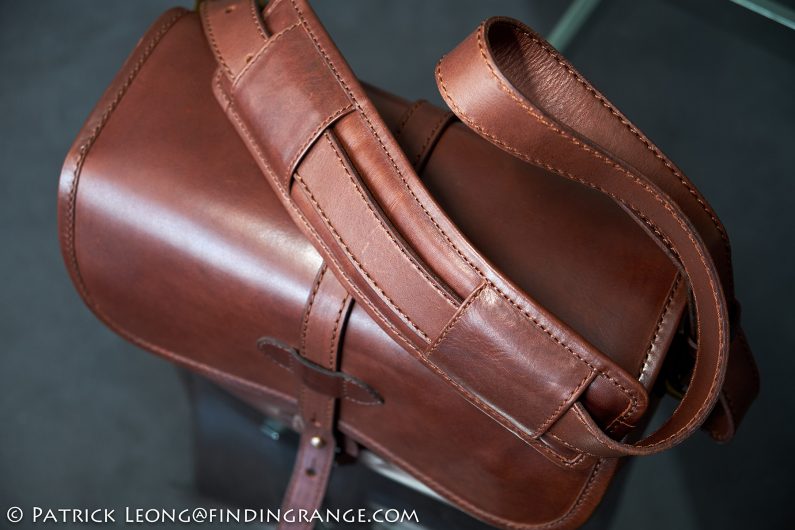 ↑ The leather shoulder strap is great; it's comfortable, durable, and quite flexible as you can see in this photo.  The Rana 10 also comes with a shoulder pad.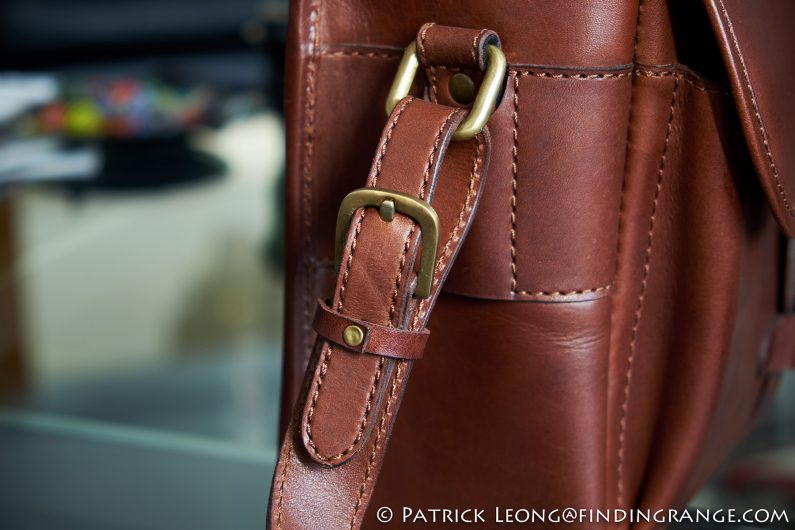 ↑ The shoulder strap is held in by buckles on each side of the bag.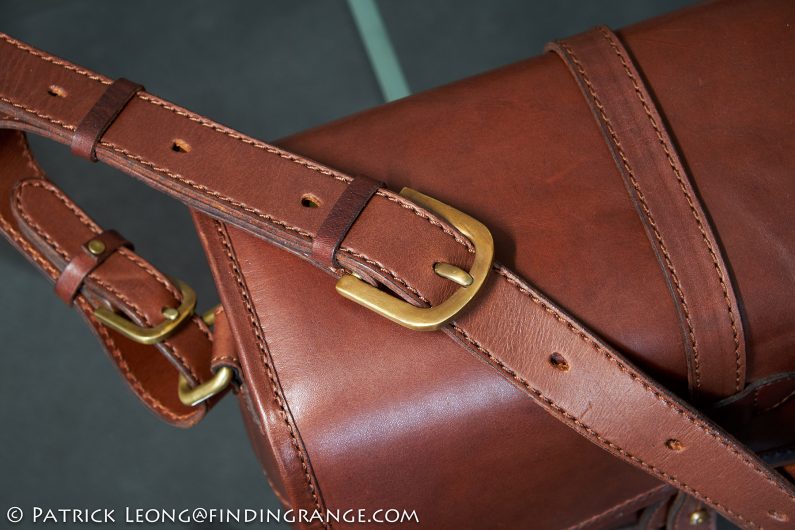 ↑ The shoulder strap is also adjustable.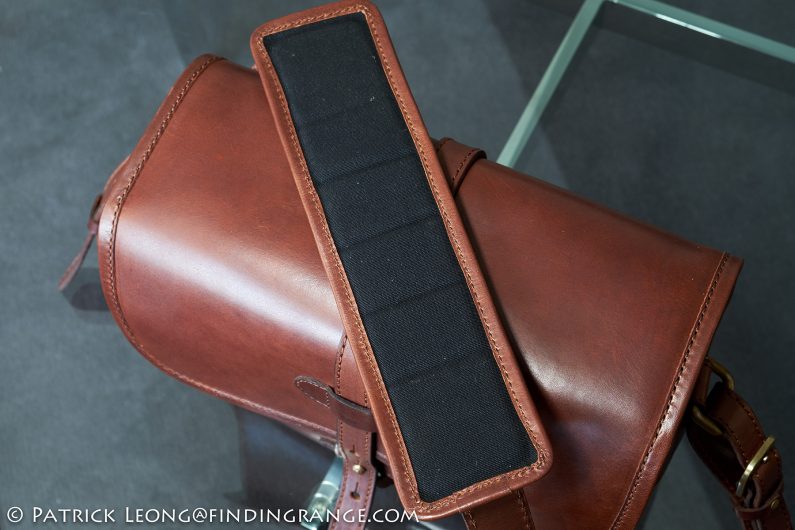 ↑ The back of the shoulder pad is divided into segments allowing it to better fit your shoulder.
Besides the leather, there are other parts of the Rana 10 that are equally as good.  For one, the stitching is immaculate, and all the materials are put together very neatly.  For example, there are no materials or leather pieces that were improperly trimmed or anything like that.  I mention this because I've seen leather bags that I felt weren't made as neatly as I wanted them to be, especially for their asking prices.  There's also solid brass hardware with an aged finish throughout the entire bag, and the stress points are riveted.
As for how well the Cravar Rana 10 protects your gear, let's first talk about its weather resistant capabilities.  First off, the Rana 10 does have flaps on the side to help prevent water from getting into the main compartment.  These are okay, and they do their job but they do make it a little more difficult to open the main flap.  See the photo below to see what I mean.  In addition to the side flaps, the bag overall is also extremely weather resistant.  Unfortunately, there hasn't been much rain in NYC recently to put it through an intense test but Cravar has tested the Rana 15 with a hose, and also left it out in a massive rainstorm for around 11 minutes.  The only reason they didn't go longer than 11 minutes was because the camera that was recording was overheating.  In both trials, the inside of the bag was completely dry.  That's downright impressive in my book.  But don't take my word for it; check out the videos below.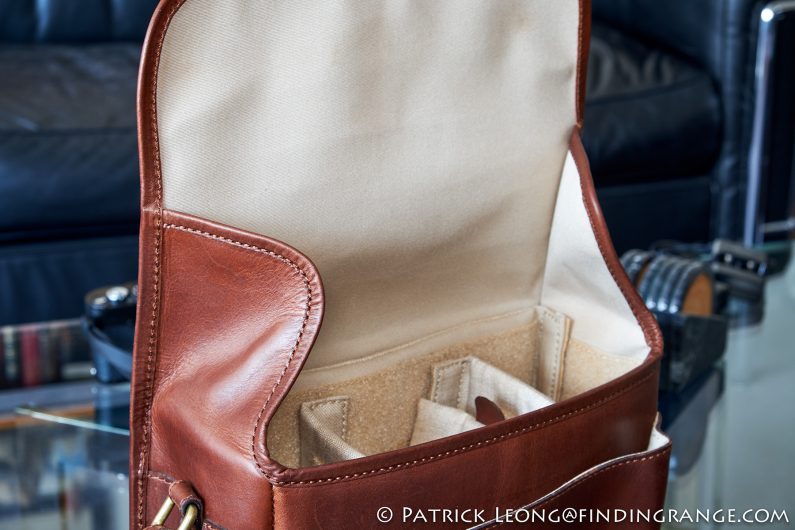 ↑ The rain flaps are useful for protection against the elements; however, it restricts the main flap a little.
But as we all know, protection from the weather isn't the only thing to worry about.  We want to make sure our gear is completely safe in a bag even from impacts.  Well, I'm happy to report that the padding in the Rana 10 is excellent.  In fact all Rana bags are padded with closed-cell foam with extra padding on the bottom.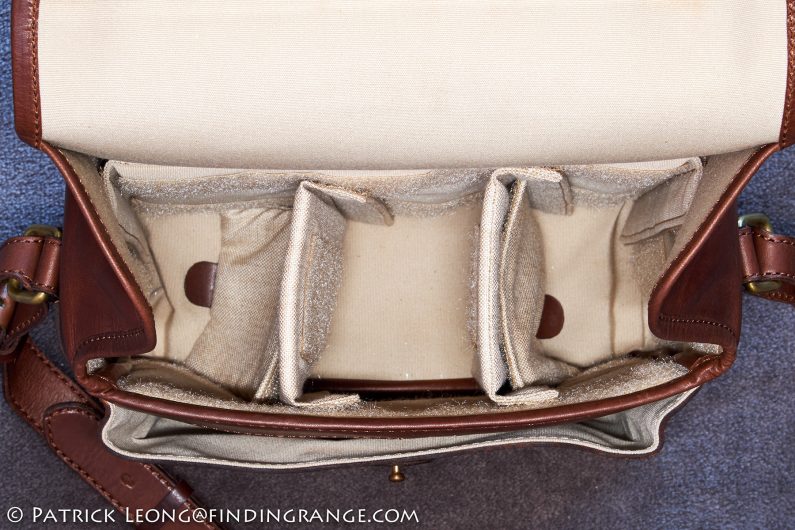 ↑ Here's the main compartment.
The dividers also have adequate padding but they aren't overly thick, which gives you a little more free space.  They are lined with linen, and there are three different types of dividers: a tablet, vertical, and stack divider.  You get one tablet divider, two vertical dividers, and two stack dividers.  They are all held in by velcro, so you can move them freely around the entire bag.  I think one of the coolest features is that if you use the Cravar Rana 10 as just a non-photographic day bag, you can flip the tablet divider to use pockets, for accessories like a phone or pens.  Another great feature is that the stack dividers have leather tabs on the ends making it easier to lift them, and move them out of the way.  The Rana 10 isn't a cheap bag, so little details like this are especially important.  Overall, your gear is going to be extremely safe inside this bag.  Now, let's talk about what will actually fit in the Rana 10.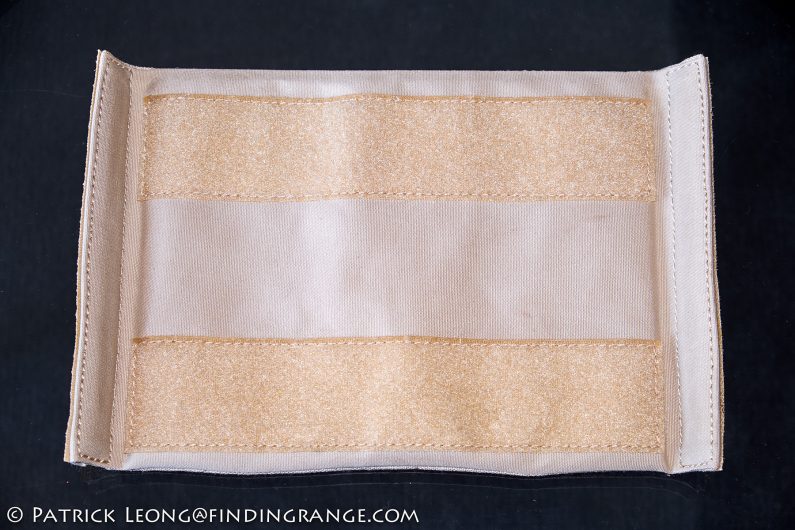 ↑ This is really cool.  here is the tablet divider.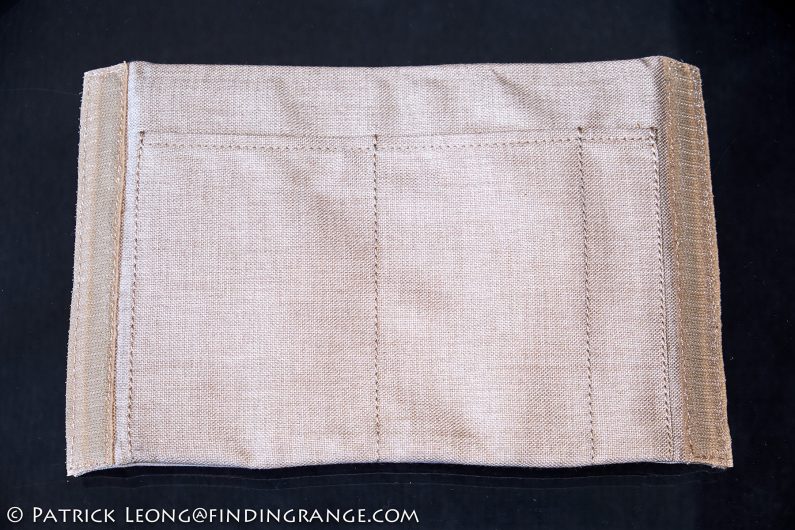 ↑ If you want to use your bag for non-photographic gear, you can simply flip the tablet divider, and now you have pockets for things like a phone or pens.  This is a great idea, and increases the versatility of the Rana 10.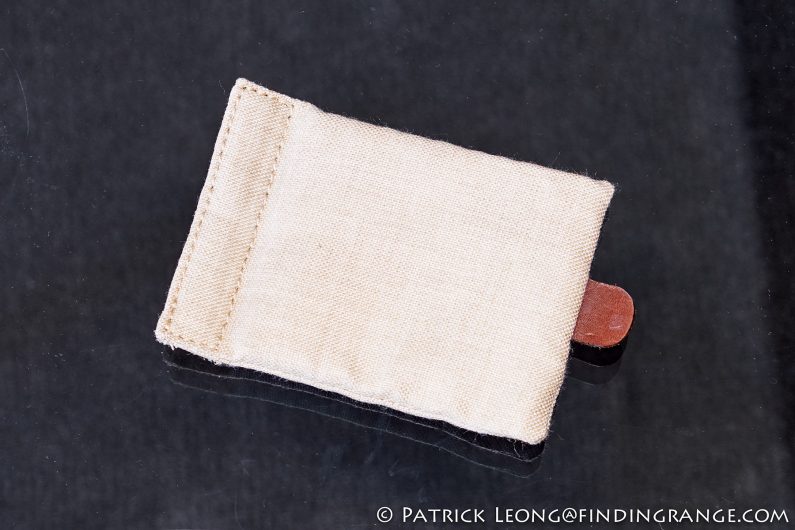 ↑ There's a little leather tab on the ends of the stack dividers, which is another great little feature.  It makes it a little easier to lift them in the bag.
Cravar Rana 10 Carrying Capacity:
The Rana 10 is designed as a walk around bag for short shoots.  It has a big front pocket, and a back pocket.  The front pocket has a decent amount of room considering the size of the bag, which is great for extra filters, batteries, and whatever small accessories you might carry.  However, while nothing has accidentally slipped out of the pocket, I would've liked to see maybe a flap for it with an enclosure system or even a zipper.  I often times walk around a lot with the main flap of my bags unfastened, so I don't want to be thinking in the back of my mind that something may slip out accidentally from an accessory pocket.  As for the back pocket, there's some nice space here too for documents but I'd like some way to close this pocket as well.  But these are not big issues.  It's a review, so I'm going to nitpick.  Let's now talk about the main compartment.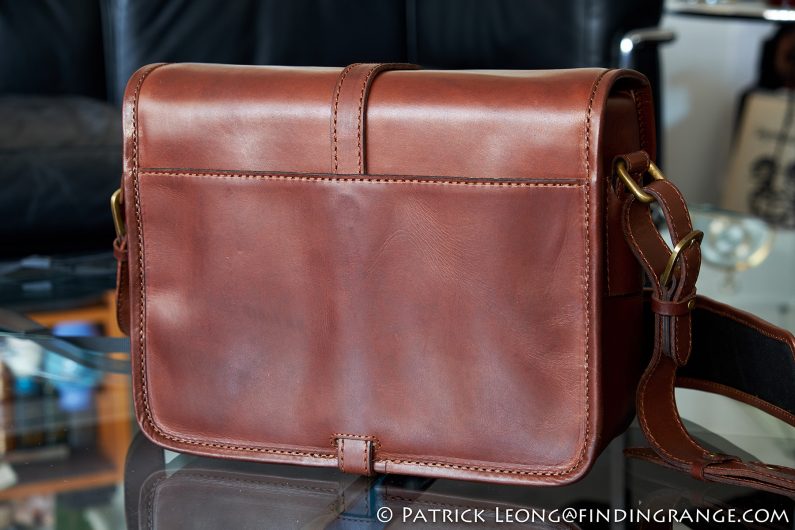 ↑ The back of the Rana 10 has a large pocket.
If you use a larger camera like a DSLR, the main compartment will hold one body, and two lenses with either a 9.7″ or 10.5″ iPad.  But the Cravar Rana 10 also makes a fantastic bag for a mirrorless or rangefinder system.  In this case, you will be able to fit more gear like an extra lens.  In fact, depending on the size of your lenses, and if you're willing to stack, you might be able to add even more.  Don't forget, there are two stack dividers, which means you can potentially fit 5 lenses total.  You'll still be able to fit the tablet too.  For a better idea of what will fit in this bag, take a look at the photos below.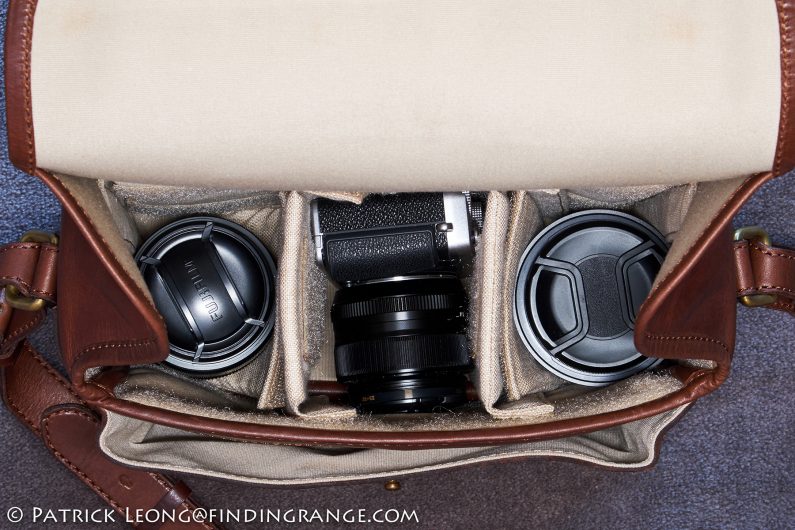 ↑ In this photo, I have a Fuji X-E1 with XF 35mm f1.4 attached, the XF 56mm f1.2 APD, and the Zeiss Touit 12mm f2.8.  I could actually fit more lenses by stacking them if I wanted too.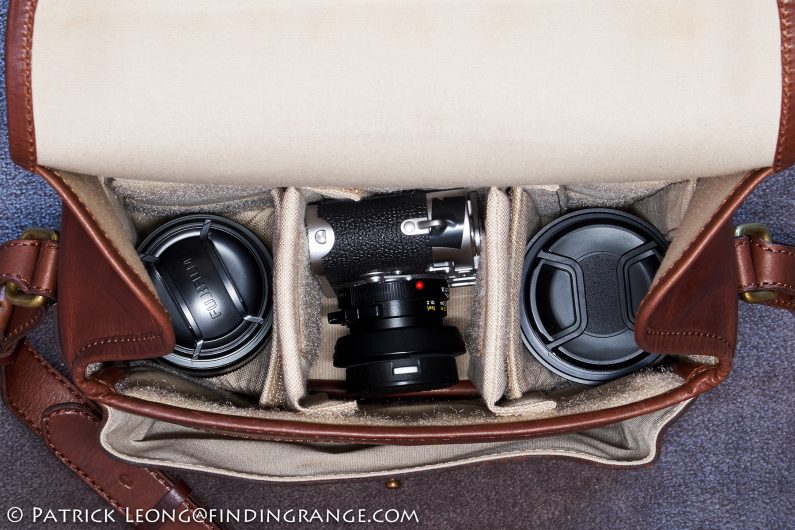 ↑ In this photo, the two lenses on the side are the same as the above photo but I have a Leica M3 with 50mm Summicron in the middle.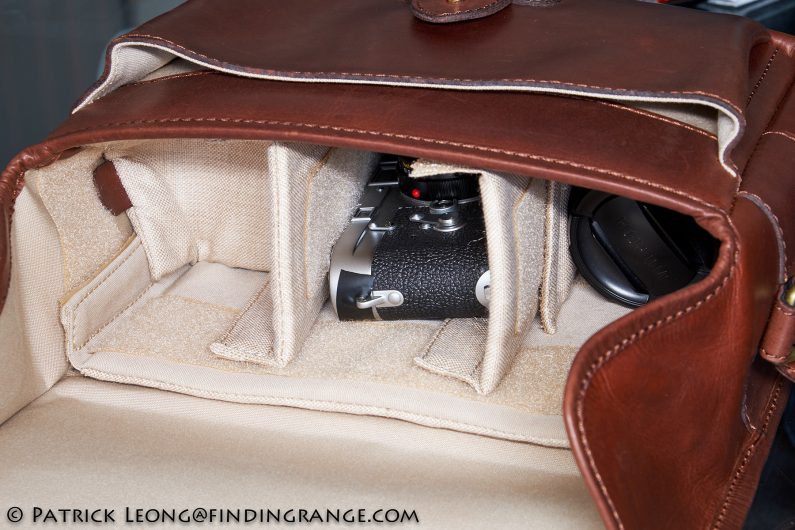 ↑ Here's another angle to show you how much room I actually had left.  As you can see on the left side, I have one of the stack dividers positioned over my Zeiss Touit 12mm f2.8.  I can definitely stack another lens on top if I wanted too.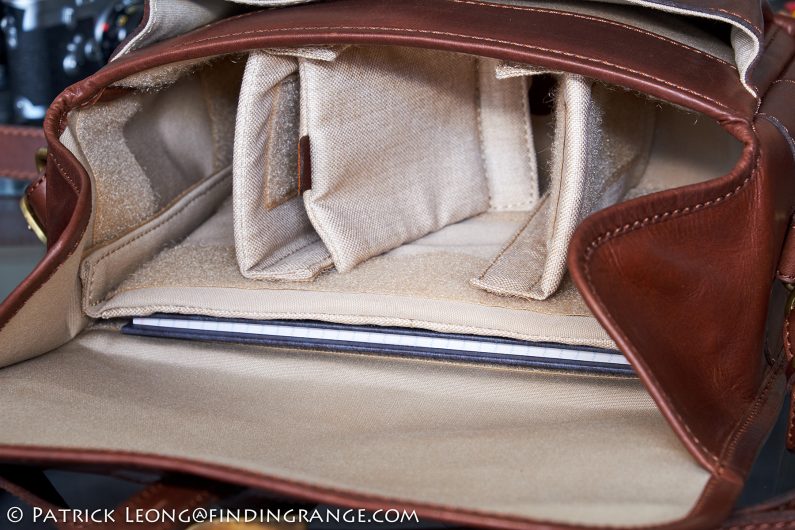 ↑ My iPad was loaned out, so I substituted a booklet that is actually a little bigger than my iPad 9.7″ Pro.  It fits perfectly in the tablet slot.
Cravar Rana 10 in Use:
As you can see, the Cravar Rana 10 definitely has a lot of the features that we expect from a premium leather bag for camera gear.  But more importantly, it actually operates in the field very well.  For one, the Rana 10 is a comfortable bag to carry around all day.  I think this is probably the most important characteristic…at least for me :).  I look at it this way: having the perfect bag is great but if I don't like carrying it around, I won't use it.  As I said earlier in my review, I don't find the leather to be overly stiff, which makes it much more comfortable to wear around my body.  I appreciate how flexible the shoulder strap feels, especially when compared to a lot of other leather bags out there.  In my opinion, the Rana 10 really strikes a nice balance between stiffness, softness, and flexibility for a leather bag.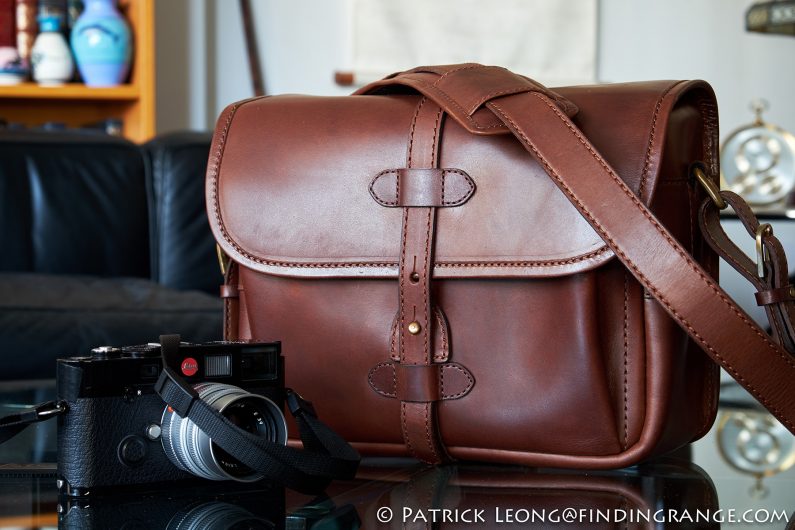 ↑ The Rana is a really good looking leather bag.
Retrieving gear is also drama free.  The Rana 10 uses a simple brass stud, and leather slot system, and quite frankly, it works.  What's the point in complicating things, right?  I like this system a lot.  There's no velcro to make noise, and there's no overly complicated locking mechanism that will slow me down.  With the Rana 10's system, I can use just one hand, to unfasten the leather strap while I'm walking, which is often what I do with all my bags.  I don't even have to look at the bag because the enclosure system is simple enough that I can unlock it based on feel alone.  You can leave the body strap unfastened like I do a lot or you can fasten the strap in two ways: the first way is to fasten the leather strap to the brass stud, and then slide the end of the strap into the leather slot below the stud.  This is of course, is the most secure way but it's also the slowest way.  If you want to speed things up a bit, and you still want to fasten the strap, just fasten it to the brass stud, and that's it.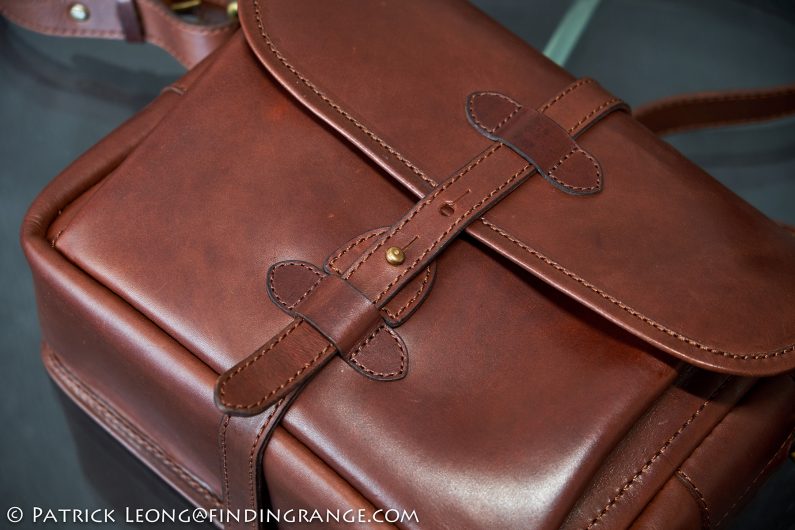 ↑ This is the most secure way of fastening the main flap.  I use this method when I'm just transporting gear.  However, it is also the slowest way to access the main compartment, so if you want to speed things up, look at the photo below.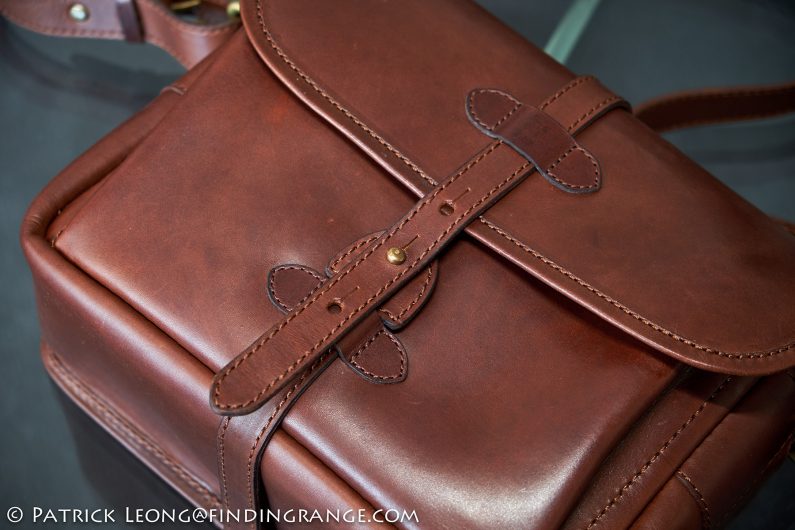 ↑ Simply press the leather strap into the brass stud, and the main flap is secure.  This is the way I secure the main flap if I'm out shooting.
Now, let's talk about the appearance.  The Cravar Rana 10 isn't a particularly flashy bag, which is a very good thing in my book.  My first impression of it when I took it out of the box was that it's strikingly beautiful but it's also understated.  Some leather bags look a little too over the top for me whereas I really appreciate the more subtle approach of the Rana 10.  It's a classy looking bag that has an air of timelessness to it.  You can easily carry the Rana 10 to an art gallery or a fancy dinner but at the same time, it's also in its element roughing it.  It'll probably look a lot better once it's worn in too.  It also looks like bags I've seen people use on the train going to work.  The point is, the Rana 10 doesn't look like a typical camera bag, which is why it doesn't look out of place in all these situations that I've just mentioned.
Cravar Rana 10 Specifications:
Fits a camera and up to 2 lenses (more if you're using smaller format) and a 9.7/10.5″ iPad/similar sized tablet.
One spacious front pocket, one full width back pocket.
1 Tablet/Work Panel, 2 Vertical, 2 Stack dividers.
Exterior: 11.4″ x 8.7″ x 5.1″/29 x 22 x 13 cm.
Interior: 10.6″ x 7.9″ x 4.7″/27 x 20 x 12 cm.
Max tablet size : 10.4″ x 7.9″/26.5 x 20 cm.
Weight: 2.5 lbs./1,150 grams – with shoulder strap.
Weight: 2.9 lbs./1,300 grams – with shoulder strap & all 5 dividers.
Cravar Rana 10 Verdict:
Overall, I quite enjoyed using the Rana 10, and while the Rana Series is Cravar's first venture into the world of making bags specifically for photographic gear, I find them every bit on par with what one would expect from a leather camera bag in this price range.  Speaking of cost, the Kickstarter price is $230, while the estimated retail is $279.  Yes, that's expensive.  There's no doubt about it but don't forget, you have to compare it to other premium leather camera bags.  If you do, I think the price is about right.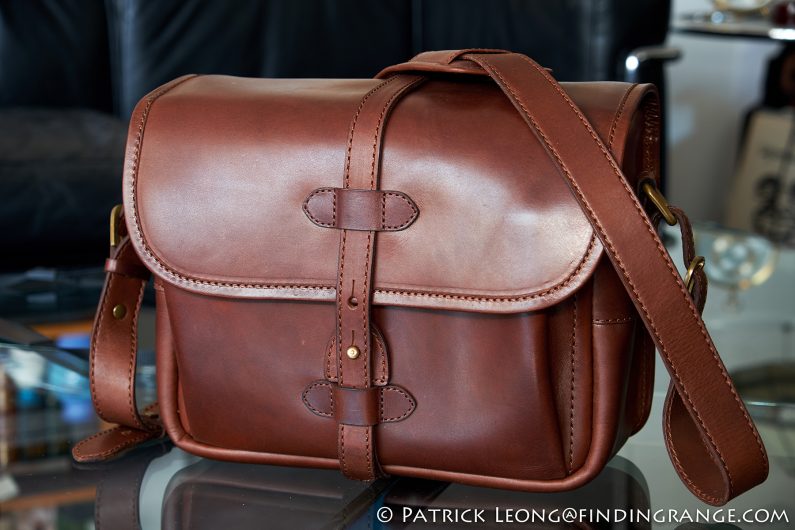 ↑ Here is one more photo of the Rana 10.
You are really getting a fantastic bag here.  This wasn't a bag that was just slopped together, and marketed as something for a photographer.  All one needs is a closer look, and one can tell that this bag was designed by photographers for photographers.  One can tell that the people at Cravar have a passion for what they do, and that scores a lot of points for me.  The quality, and all the little details are here.  As I mentioned in my review, the materials used are top notch, and the manufacturing is excellent, so the Rana 10 is made to last.  At the same time, it also offers excellent protection for one's gear, and plenty of customization to specifically suit an individual's needs.  Plus, the overall design itself is really good.  Function wise, it's more than just a good looking bag.  It's easy to use, and comfortable, so you'll want to take it with you everywhere.  The truth is, I'm kind of amazed that this was Cravar's first attempt at making a series specifically targeting photographers because I feel the Rana 10 can definitely run with the big boys as they say.  Bottom line is the Rana 10 is excellent, and deserving of a place in the premium leather bag world.
If you want more info on the Cravar Rana 10, their Kickstarter has just ended, but you can preorder it at Cravar's website, so check it out :)!