Gitzo Century Compact Camera Messenger Review:
Gitzo is probably best known for their excellent tripods but for their 100th anniversary, the company has released new bags that should appeal to many photographers.  There are three bags total: one backpack, and two messenger style bags.  The smallest of these bags is the Gitzo Century Compact Messenger, which is what I am going to talk about today.  It's designed to carry a mirrorless or rangefinder camera with a variety of lenses.  Let's take a closer look.
Gitzo Century Compact Camera Messenger Build Quality:
Gitzo is pretty innovative when it comes to building tripods, and the general consensus is that their tripods are extremely well-made.  I am definitely a fan.  In fact, I've been using their tripods for over two decades, and currently, my go-to tripod is the GT2542, which I reviewed a while back.  I absolutely love it, and I'd go as far as to say it's the best tripod I've ever owned.  But how about the new Century Compact?  Gitzo isn't exactly famous for their bags, so how does it measure up?
Well, I found the Gitzo Century Compact Messenger to be not only well-made but also to offer a lot of innovative features that I don't even see from some veteran bag manufacturers.  First off, the construction is excellent.  It is in every way up to par with what one would expect from a high end bag with a price tag of $169.99.  The stitching is neat, and the materials fit nicely together.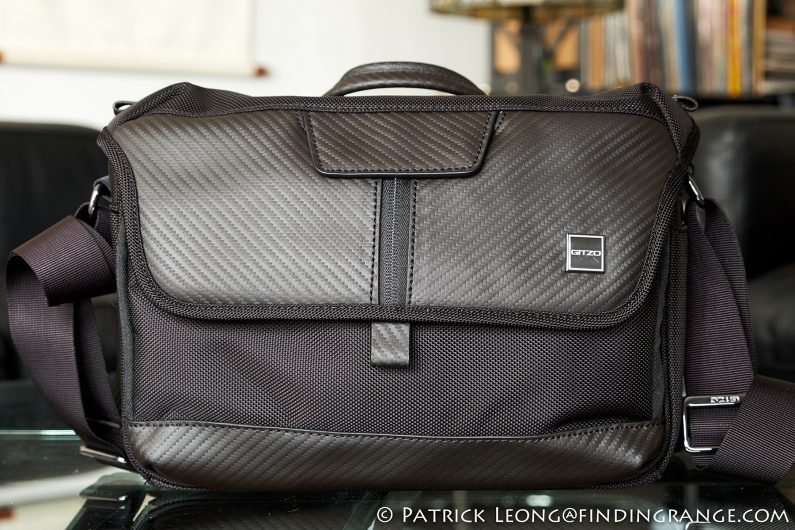 ↑ The Gitzo Century Compact Camera Messenger.
Speaking of the materials, there's genuine Italian leather with a carbon fiber design, and high-quality wear-resistant nylon that's been treated with water repellent.  If you want ultimate water protection, you would use the supplied rain protector that unfolds from pouch form, and wraps around the entire bag.  However, this is something I didn't use much.  Gitzo isn't the only manufacturer to use this idea; there are other bags with this type of a pouch/rain protector system but I just find it a little time consuming to water proof my bag in this way, and I generally just take my chances with the water resistance of the bag itself unless it is absolutely pouring out.  That's just me.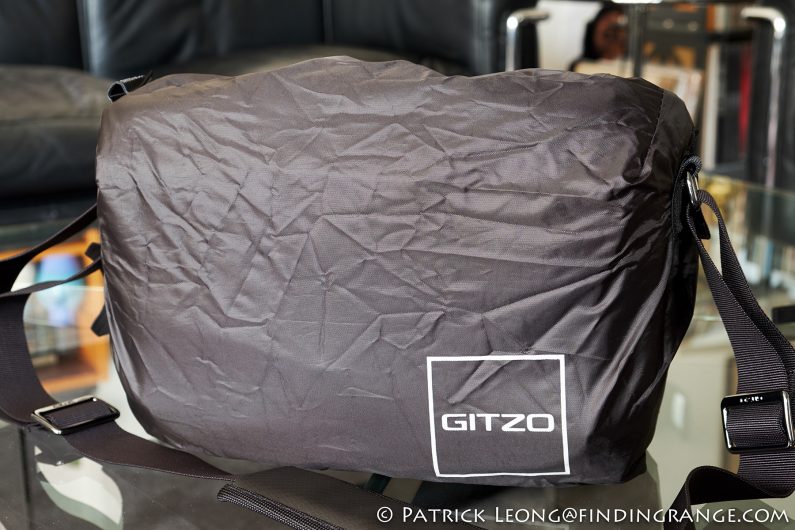 ↑ The Compact Messenger comes with a pouch that unfolds, and becomes a rain protector for the bag.
Now, let's talk about the locking feature of the Gitzo Century Compact Messenger, since it's a little bit different.  Gitzo uses what they call a G-Lock flap closing system by Fidlock.  At first, it sounded a little gimmicky to me but in practice, it's actually really good, and works like a charm.  It's quick, and easy to use.  Opening only requires one to pull on the leather tab pictured below to unlock it yet it is very secure when it is locked.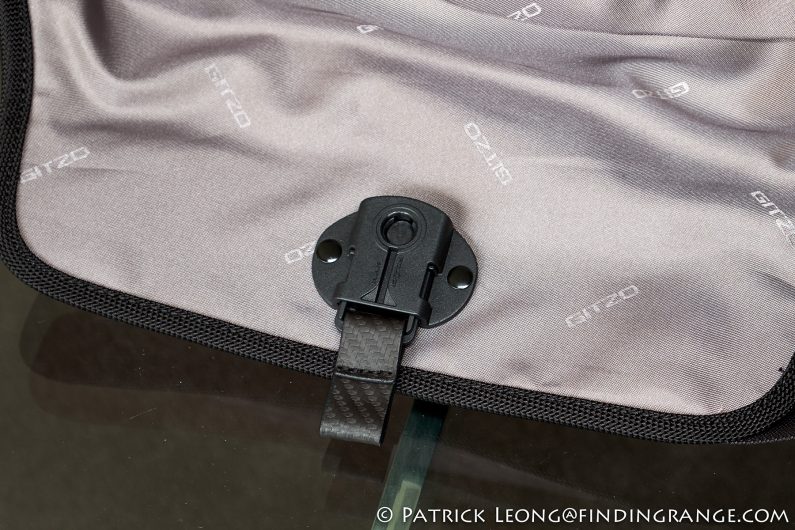 ↑ Here is a close up of the locking mechanism.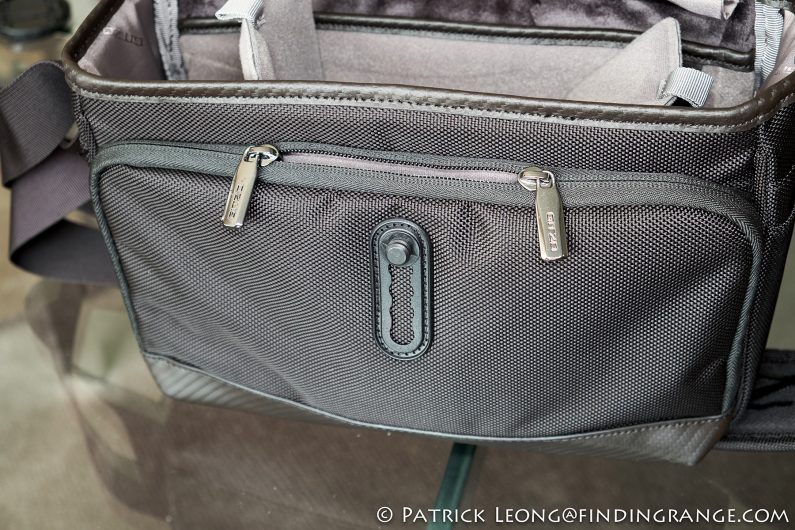 ↑ It attaches to this part on the bag.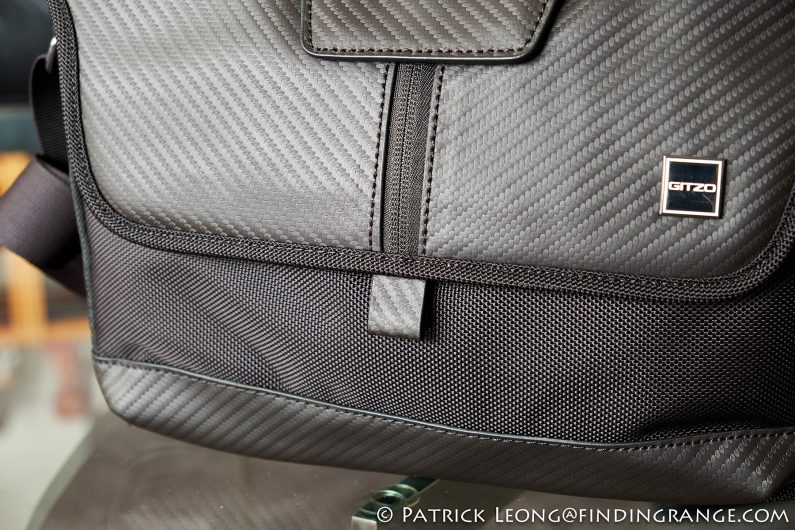 ↑ To unlock the bag, you simply pull down on this leather tab.
If you want an even quicker way of accessing gear in the main compartment, there's even a zipper on top of the main flap.  In this way, one does not even need to open the flap to grab gear.  I found this quite useful at times.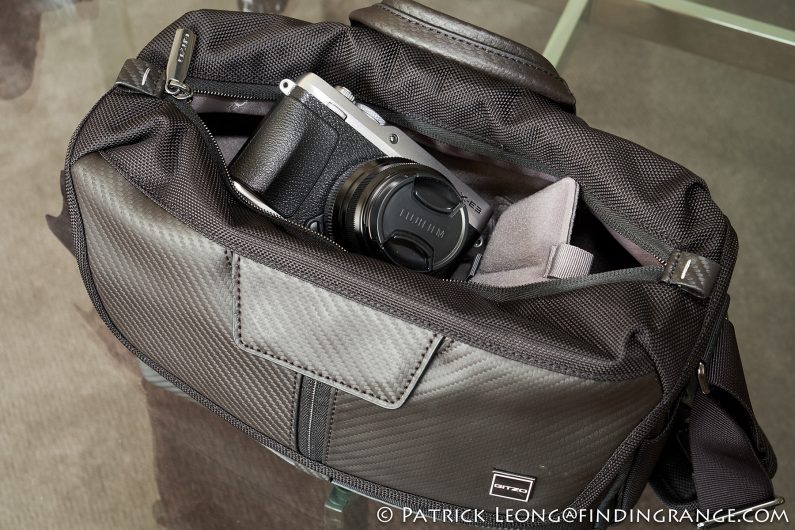 ↑ There is a zipper on top for quicker access to the main compartment.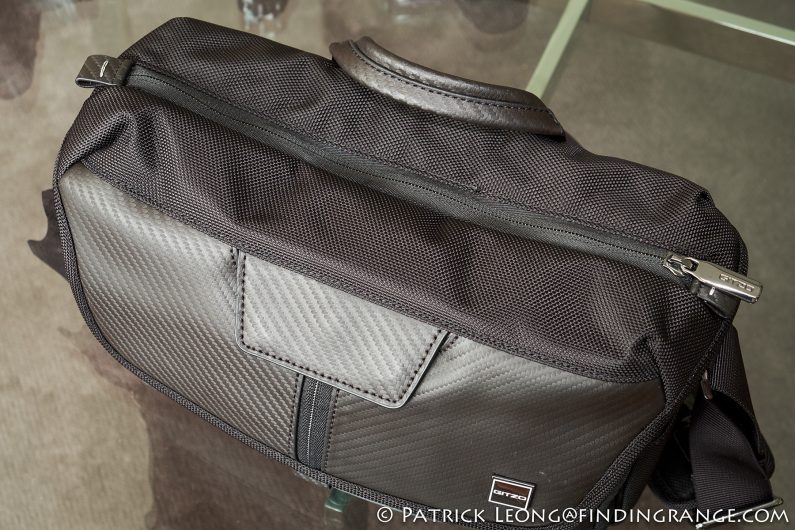 ↑ Simply zip the top back up, and it'll work like any other flap.
There are a lot of other useful features I want to mention.  For one, there a trolley connector on the back, and a top handle.  There's also a back pocket.  The shoulder strap is quite comfortable, and it even comes with a shoulder pad.  On the front, there is a small pocket with a magnetic flap, and it's designed to hold your lens cap.  I thought this was a really cool feature.  I know that at least for me, I either throw my lens cap somewhere in my bag, and forget where I put it or I stuff it in my pocket, which gets the cap covered in lint.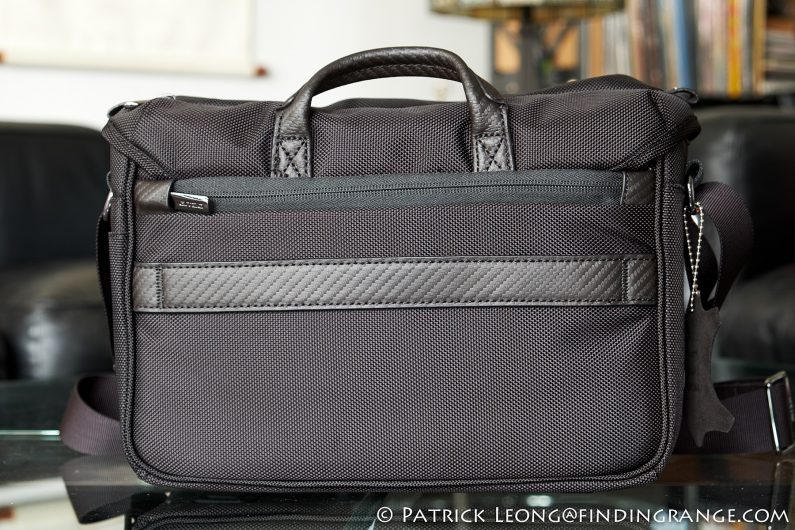 ↑ There is a back pocket, and a trolley connector.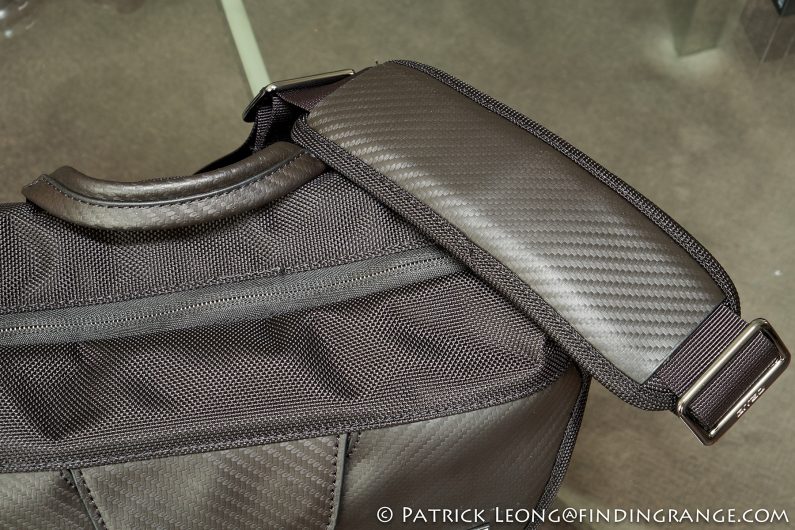 ↑ The Century Compact comes with a shoulder pad, and a top handle.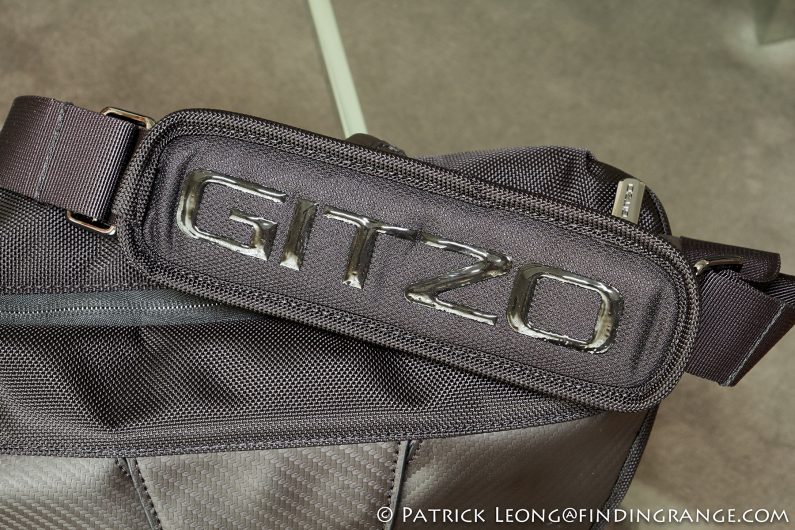 ↑ Here's a photo of the back of the shoulder pad.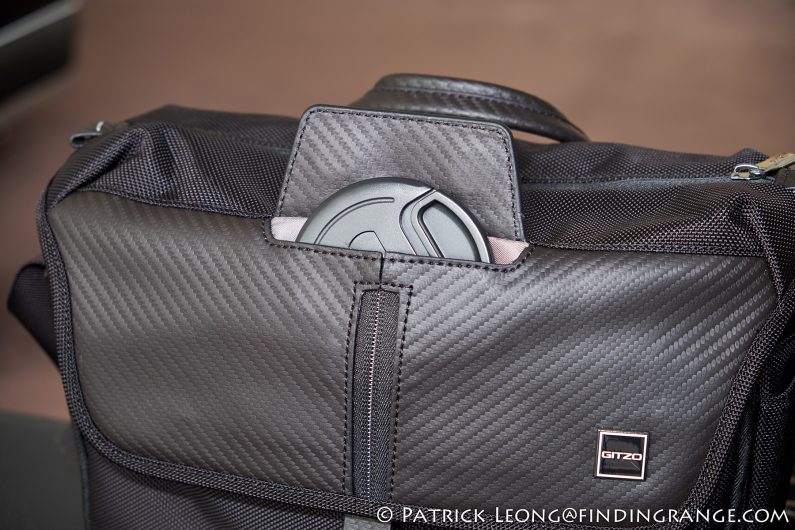 ↑ The lens cap pocket is a great idea.
Gitzo Century Compact Camera Messenger Capacity:
Now that we've discuss the features on the outside of the Gitzo Century Compact Messenger, let's take a closer look inside.  Opening the main flap allows you access to the front pocket.  I love how Gitzo designed this area because as you can see in the photo below, there are a lot of little compartments making it easy to organize your accessories.  Also, there is a clip for the rain protector pouch as you can see in the photo.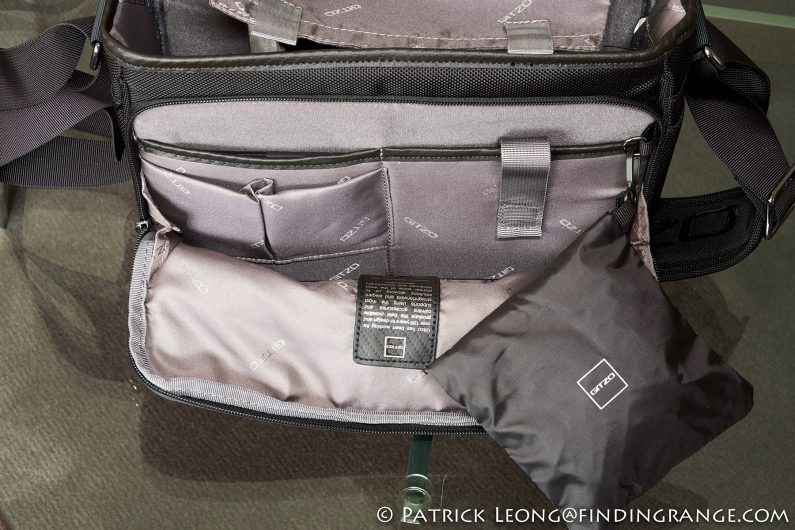 ↑ This is the front pocket.  The pouch on the right is the rain protector, and it attaches to a clip.
For a bag that has rather compact external dimensions of 8.27″ x 12.99″ x 4.72″, it can hold quite a lot.  The main compartment is very well-padded, and it is designed to hold a mirrorless outfit with three lenses (possibly more depending on the size of your lenses, and if you stack), and a tablet.  For instance, my iPad Pro 9.7 with case had no problems fitting in the padded tablet compartment.  All of this is in addition to the accessories the front pocket will hold, and documents the rear pocket will hold, of course.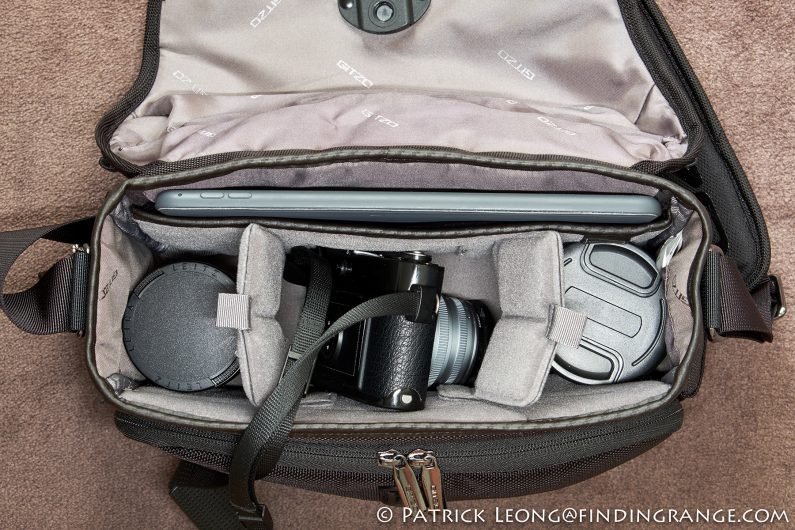 ↑ In this photo, I have my Leica M6 TTL Millennium with 50mm Summicron attached, 75mm Summilux on the left, 18mm Super Elmar on the right, and an iPad 9.7 Pro in the bag.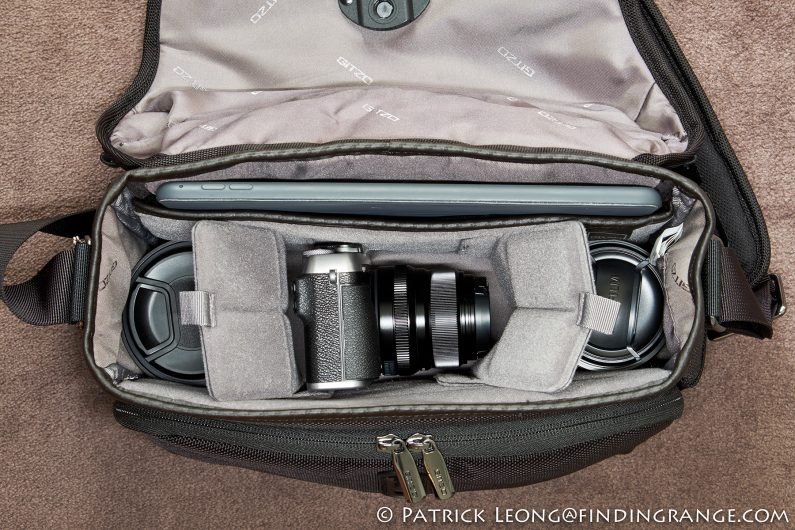 ↑ In this photo, I have the Fuji X-E3 with the XF 23mm f2 attached, the Zeiss Touit 12mm f2.8 on the left, the XF 56mm f1.2 APD on the right, and an iPad 9.7 Pro in the bag.
For the main compartment, three padded dividers, which are held in place by velcro, are included.  I particularly like the small tabs on the dividers, which make it easier for me to lift them out of the way.  It's a nice touch, and it's another example of how conscientious Gitzo is about the little details.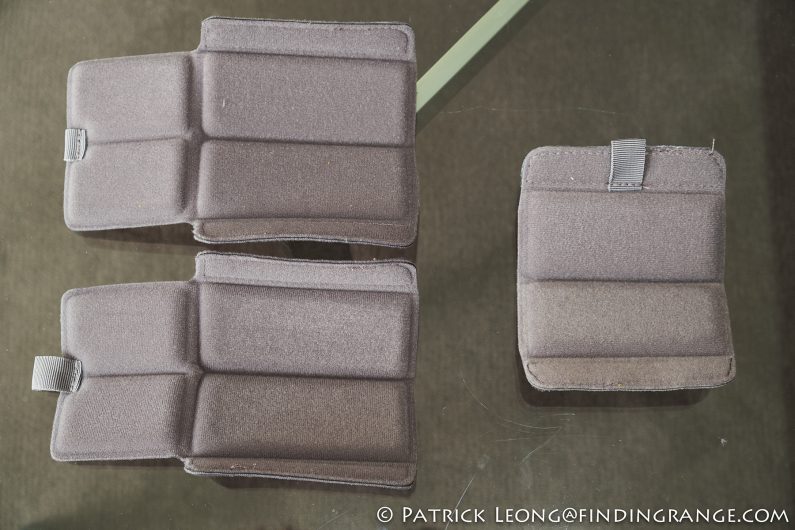 ↑ Here are the dividers that are included.
Gitzo Century Compact Camera Messenger in Use:
The Gitzo Century Compact Messenger is a joy to use.  I love the size of it.  At 26.45 oz, it's not particularly heavy either, so it's not a pain to carry around all day.   As I mentioned earlier, this bag is designed for a mirrorless or rangefinder system with three lenses but since it is so compact and light, it's also great for the times when you're carrying considerably less gear.  To top it off, accessing gear, whether it's by opening the main flap or using the zipper on top, is quick and easy.  The shoulder pad is soft and flexible as well.
I also think the Century Compact is a decent looking bag.  It's not tacky or boring.  It also doesn't scream, "Look at me, I am a full on camera bag" yet it doesn't go totally traditional either like a leather bag, for example (for those who are not looking for the features of a leather bag).  It's a dark color too, so it helps with blending into the environment.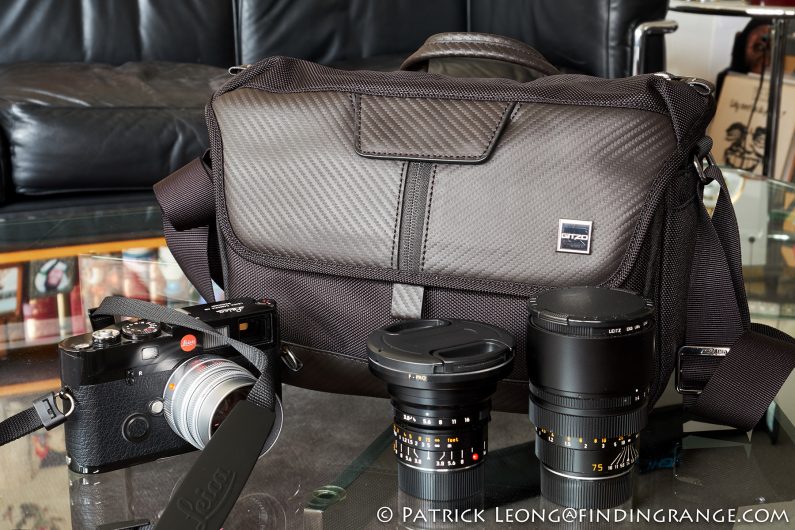 ↑ The Gitzo Century Compact is great for most mirrorless or rangefinder system with three lenses.
Gitzo Century Compact Camera Messenger Specs:
Weight – 26.45 oz
External Height – 8.27 in
External Length – 12.99 in
External Width – 4.72 in
Internal main compartment height(H) – 7.87 in
Internal main compartment length(L) – 11.42 in
Internal main compartment width(W) – 29.53 in
Laptop Compartment Height – 7.87 in
Laptop Compartment Length – 9.65 in
Laptop Compartment Width – 0.59 in
Gitzo Century Compact Camera Messenger Verdict:
Overall, I am quite impressed with this bag, and I feel that Gitzo did a fantastic job on the Century Compact.  The quality of materials, and craftsmanship are excellent making it every bit worthy of its $169.99 price tag.  But it doesn't stop there.  The Century Compact also has plenty of the features that photographers expect nowadays yet at the same time, it's small, and easy to live with on a daily basis.  It's really the perfect size for a three lens mirrorless kit or even smaller.  So, for those who may not like a canvas or leather bag, and are looking for an alternative but still want something that is high-end or just want more options to choose from in this price range, this is an absolutely great choice to consider.
Thanks for taking the time to read my review!  If you're considering purchasing the an Century Compact, and my review helped you decide, please help support this site by purchasing from any of the links in this review.  It will not cost you anything extra.  Thank you for your support!