Billingham 72 Camera Bag Review:
Billingham have been manufacturing camera bags of the highest quality since 1973, and their range of bags have grown significantly since then allowing them to satisfy the demands of many photographers.  Recently, they've added to their portfolio of bags with the introduction of the Billingham 72.  The 72 is currently one of Billingham's smallest bags, and it is designed for a rangefinder or a mirrorless body with a fixed prime.  Quite frankly, I've always felt that this is a bag that Billingham needed in their collection, especially with the popularity of mirrorless cameras these days.  The Billingham 72 really fits nicely between the Stowaway Series and Hadley Digital in my eyes, and I've been especially excited to try it.  Thanks to Billingham, I was able to get one in to review.  Here are my thoughts on it.
Billingham 72 Camera Bag Build Quality:
The overall build quality is something I usually like to discuss first in a review, and in the case of the Billingham 72, the quality here is second to none.  It should come as no surprise given the reputation Billingham have earned over the years for making high quality products.  Everything here is meticulously crafted at a level of professionalism, and expertise that one would expect from a company that has been manufacturing high end camera bags for over 40 years.  Just take a look at the photos, and you'll see what I mean.  Everything is so neat and perfect.  I am just utterly impressed with the quality of the Billingham 72.  It's a small bag but in every way, it is made to the same level of quality that is evident in larger, and more expensive Billingham products.  The stitching throughout the 72 for example, is flawless.  Everything is neatly trimmed with no excess materials leftover.  Of course, the excellent craftsmanship is just one piece of the puzzle.  The other part is the quality of materials that Billingham use to make the 72.  Top grain leather and solid brass is found throughout the entire bag.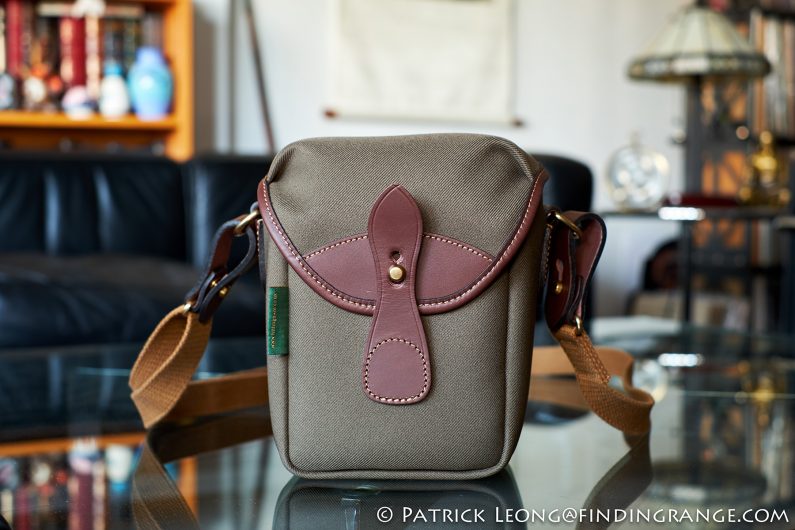 ↑ The Billingham 72 inSage FibreNyte/Chocolate Leather.
There are also some great features that increase the Billingham 72's usability.  For one, the shoulder strap is removable just like the Hadley One's.  For those worried about a removable shoulder strap, don't because it's very secure.  Not only will it not come off accidentally, if a thief does understand how to remove it, that person won't be able to do so without you noticing it.  For me, there are actually only benefits to this feature.  For one, if I'm going on a trip that's not purely for photographic purposes, I'm most likely going to have a variety of stuff in my carry-on.  The great thing is, I can remove the shoulder strap from the 72, use it as a storage case, and just put it into my carry-on with the rest of my stuff.  Also, since the 72 is compact, there is a wide belt loop on the back of it for those who prefer a different method of carrying it.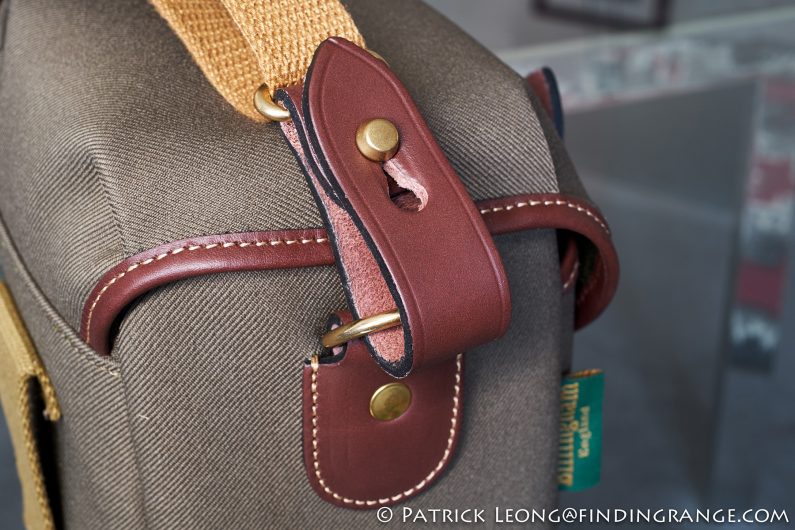 ↑ The Shoulder strap is removable.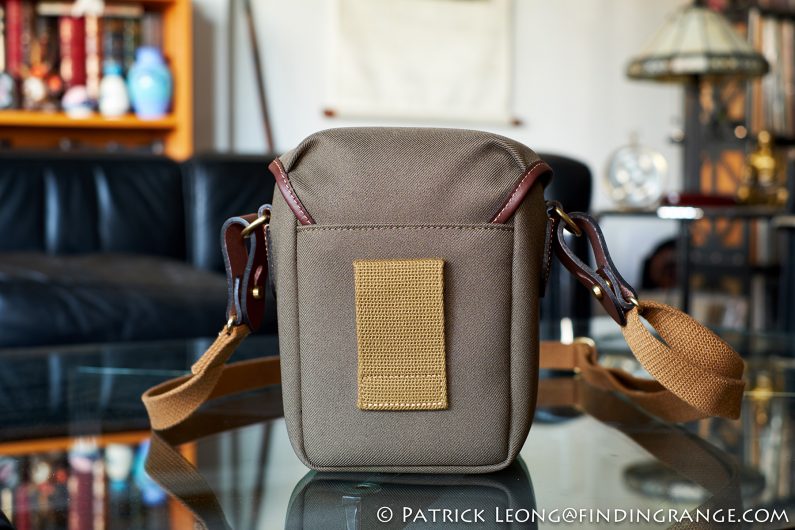 ↑ There's a belt loop on the back.
Now, let's talk about the outer material of the Billingham 72.  There's a choice between the traditional canvas, and Billingham's synthetic FibreNyte material, which is what you see in this review.  For those who are wondering what the differences are between the two materials, FibreNyte isn't quite as soft as canvas but it comes real close.  Plus the added benefits are that the material is lighter, more durable, and more fade resistant.  I've found all these features to be true through my own use over the years with various bags.
Both materials are fantastic, and they'll last for what feels like forever.  It comes down to personal preference.  I used to pick my bag based on color rather than material but over the years, I've grown to really appreciate the FibreNyte's qualities, and it's my preferred choice now.  Speaking of color, there are plenty to choose from: There's Sage FibreNyte/Chocolate Leather (what you see here), Khaki Canvas/Tan Leather, Burgundy Canvas/Chocolate Leather, Black Canvas/Tan Leather, and Black FibreNyte/Black Leather.
Whatever material you choose, know that both provide extreme protection against harsh weather.  I've said this before in other reviews but I'm going to repeat it again: I've been in massive tropical downpours with bags like my Hadley for instance, where puddles would form on top of the flap but there was never even a hint of dampness inside the bag.  Keep in mind that my original Hadley is made of canvas too, which is supposedly the less durable material of the two choices.  What's great about the Billingham 72 is that like the Hadley, the 72's flap covers the entire opening of the main compartment and the front dump pocket.  Look at the photo below; you'll see that it covers even the sides of the bag.  This entire enclosure system is a huge help in protecting one's gear, and it only adds to the superior weather protection of the bag.  It also makes me even more confident that my gear is safe once it's in the 72.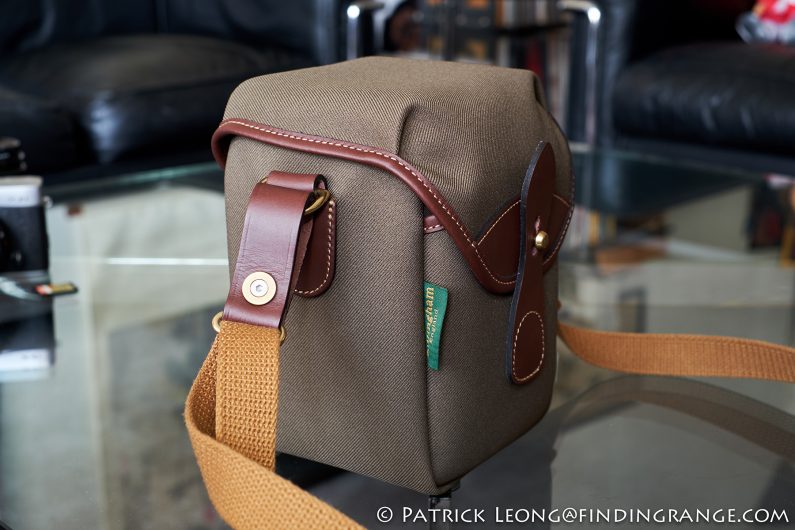 ↑  The flap covers the entire main compartment including the front dump pocket.
Another point worth mentioning is that both the three layer waterproof canvas, and the FibreNyte never need reproofing.  My original Hadley is very old, and I still use it as an everyday bag through all types of weather from snow to sleet and rain.  I have never experienced any problems, and I believe it is over two decades old at this point.
Let's talk a bit about the inside of the 72 now.  To open it, you simply remove the thick leather tab on the front from the brass ClogBall.  Billingham calls this their Quick Release System, and it can be found on many other Billingham bags.  Speaking from personal experience, this system works great.  It's simple and efficient.  It not only allows for very fast opening of the bag, it can also be done with just one hand while walking, and never having to put the bag down.  At the same time, it is very secure.  It won't open by itself, and you will definitely feel something if someone tries to open it without your approval.  Lastly, this type of closure system is noise free, which means it's great for situations where you have to be discreet.
Once you open the Billingham 72, you will be greeted with some of the best padding out there for a bag of this size.  In fact, it has some of the best padding I've seen in any size bag.  The padding isn't just nice and thick, it surrounds the entire bag!  Even the top and bottom have thick, soft padding.  There's also a padded divider that is included with the Billingham 72, which can be repositioned anywhere inside the main compartment thanks to its velcro strips.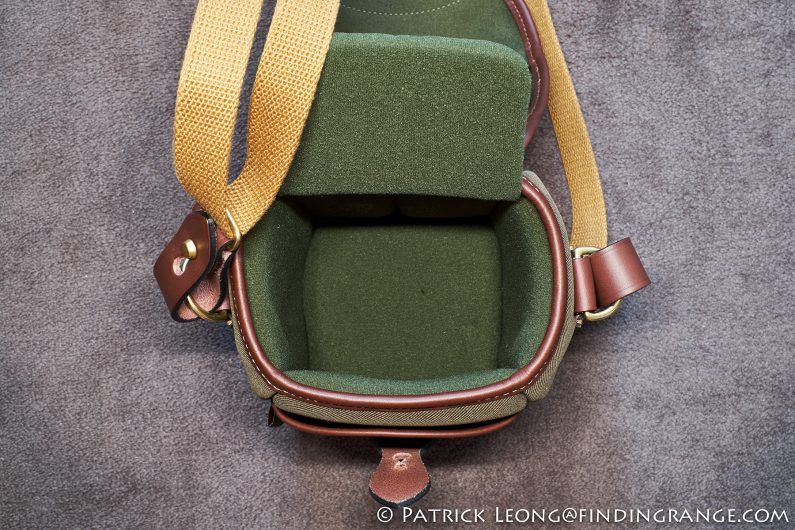 ↑ Here's the main compartment.  The padding is exceptionally good.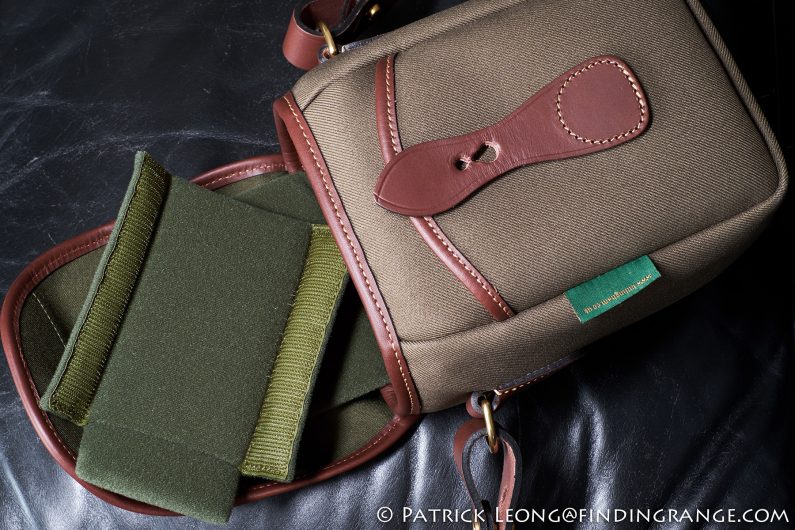 ↑ There's one divider included with the Billingham 72.
I've used many different bags from ones I've owned to ones I've reviewed but I have to say that overall, the padding in a Billingham bag is truly exceptional.  In the case of the 72, the padding is so good that I feel it is in every way up to the same level of padding you would find in Billingham's more expensive, and larger bags like the new Hadley One.  Some may think the padding is excessive, and maybe that's true for some.  But for me, while I may be gentle with my camera gear, I am definitely hard on my bags, so I expect quite a lot out of them.  I use my bags everyday.  The padding needs to live up to the constant bumping, scraping, cramming into subway cars, and overall abuse that living in a crowded city like NYC dishes out.  I also expect a bag like the Billingham 72 to hold up well long term, and last for years to come.  I need to know that once my gear is in a bag, it is completely safe, especially given the cost of gear these days.  I need that peace of mind, and the 72 gives that to me.
Billingham 72 Camera Bag Carrying Capacity:
So, now that we've talked about the craftsmanship, and the features of the Billingham 72, let's discuss what it will actually hold.  As I mentioned earlier, the 72 is designed for a rangefinder or a mirrorless camera with one small standard lens.  Examples of some cameras that will fit are Leica M cameras, the Leica Q, Fuji X Series cameras, the Fuji X100F, Olympus OM-D Series cameras, the Sony RX1, etc.  I had a couple of good questions on my Instagram account asking me if certain zoom lenses will fit into the 72.  The answer is it depends on the size of the zoom and the camera.  I tried my Fuji X-T2 with the XF 18-55mm for example, and while it was very close, this combo just couldn't fit.  This is not a mark against the 72 though; remember, this bag is designed to carry a mirrorless camera with a small standard lens.  But just so you know, I did try the X-E3 with the same lens, and it fit perfectly.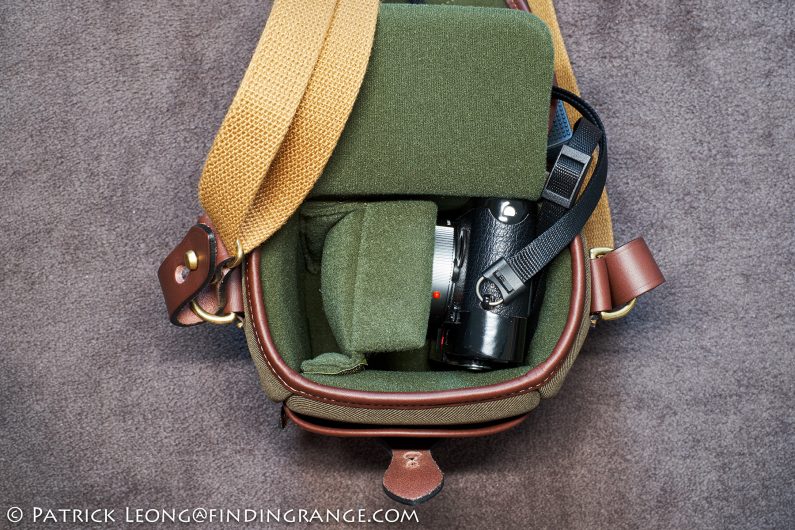 ↑ In this photo, I have my Leica M6 TTL Millennium with 50mm Summicron.  I also have the divider in here.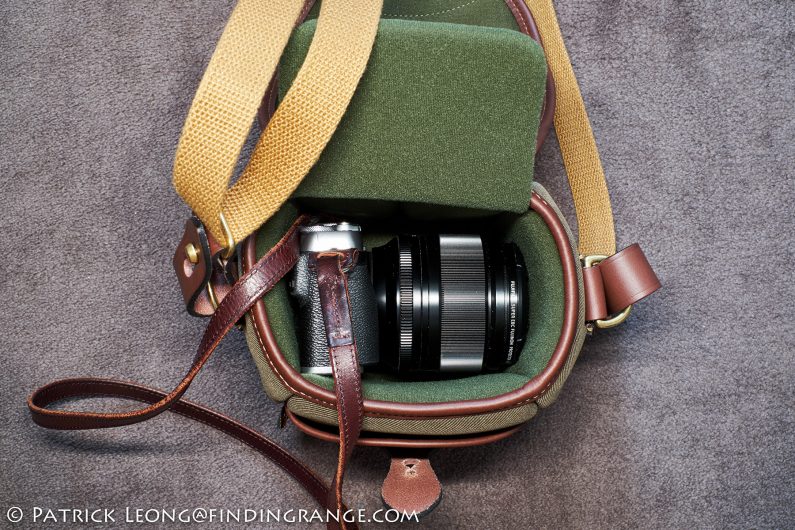 ↑ I have the Fuji X-E3 with the massive XF 56mm f1.2 APD attached.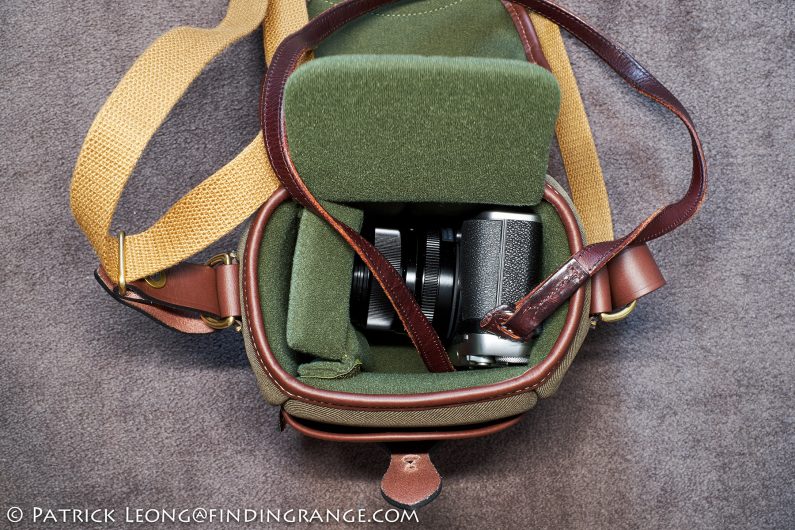 ↑ I have the X-E3 with the XF 23mm f2 attached in this photo.  The divider is in here as well.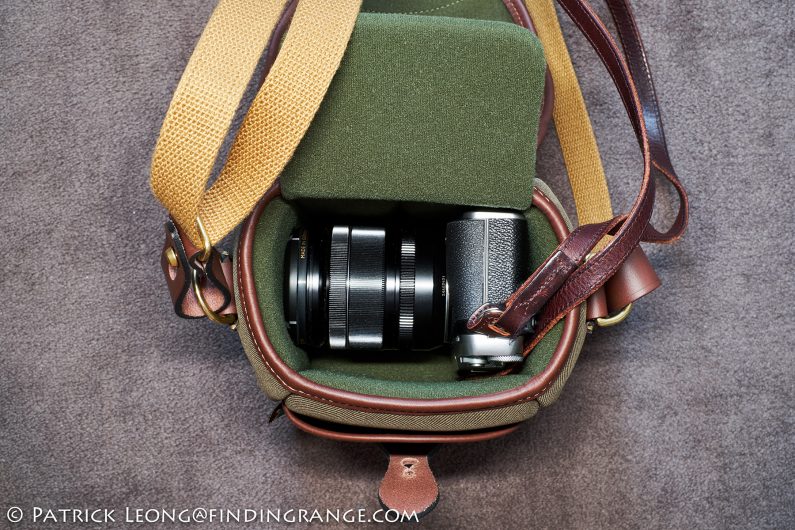 ↑ I have the X-E3 with the XF 18-55mm zoom attached in this photo.  It's actually a perfect fit.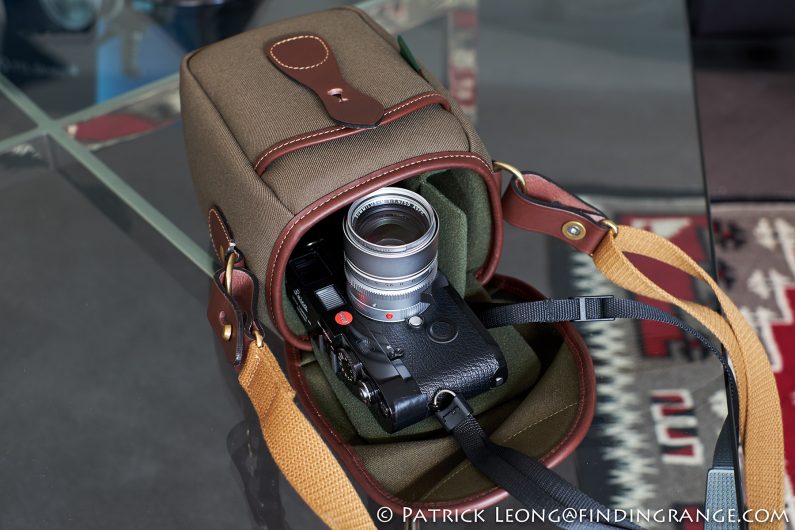 ↑ I thought I'd give you a couple of photos taken from a different angle.  In this photo, I have my Leica M6 with 50mm Summilux ASPH attached.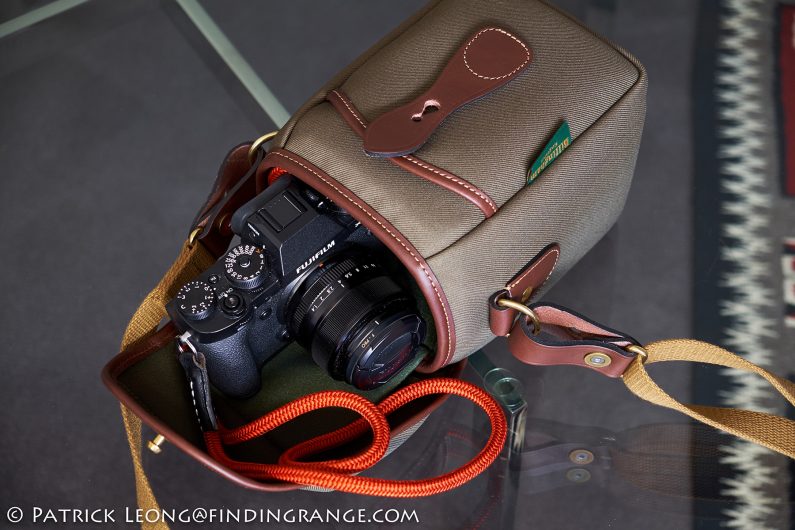 ↑ I have my Fuji X-T2 with XF 35mm f1.4 attached in this photo.
When you open the main flap, you have access to the front dump pocket, which will hold small accessories like batteries, memory cards, and a lens cleaning cloth.  Normally, I prefer some sort of closure system like a buttoned flap or a zipper for the front dump pocket but in this case, it really isn't necessary because the pocket doesn't extend too far out from the bag.  In fact, adding some sort of closure system specifically to the Billingham 72 would probably increase the size, which wouldn't make sense considering this is a bare essentials type bag.  Absolutely nothing fell out of the 72 when I was using it even during the times when I was walking around with the flap unsecured.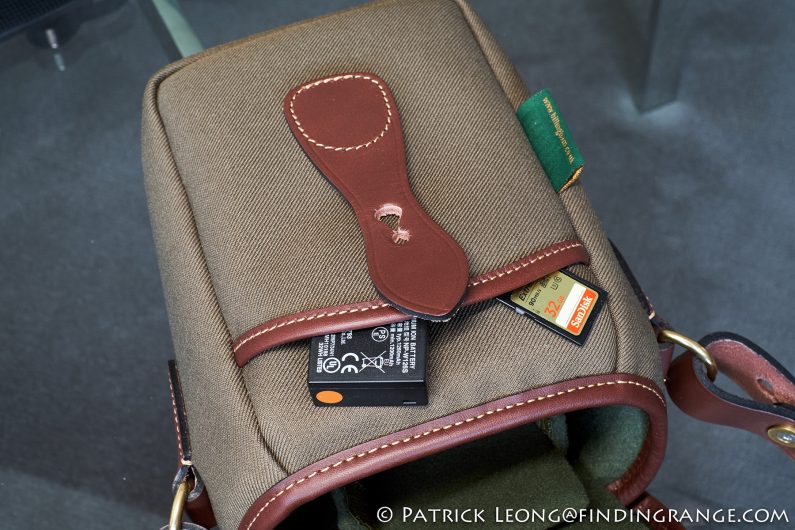 ↑ The front compartment will fit small accessories like batteries and memory cards.
If you're looking at the 72, you might also be considering Billingham's other compact choices.  If you're looking at the Stowaway series, there are actually big differences between the Billingham 72, and bags like the Stowaway Compact or Stowaway Pola.  The two Stowaway bags will hold mirrorless cameras but they are also designed for more compact cameras, and for travel.  The shape of the 72 is quite different, and unlike the zippered opening on both Stowaway bags, you get a huge flap on the 72.  I found the 72's overall design, and the more accessible opening makes it a lot easier to store and retrieve gear, especially average size mirrorless or rangefinder cameras.  When I say average size, I mean bigger than compact cameras like a Leica M or Olympus Pen-F.  The 72 also has considerably more padding.  I still own a Pola and Compact, so I may do a comparison if I have enough time.  For those who want more info on the Stowaway bags now, you can check out my Stowaway Compact review, and my Stowaway Pola review.  I also did a comparison review between the two bags.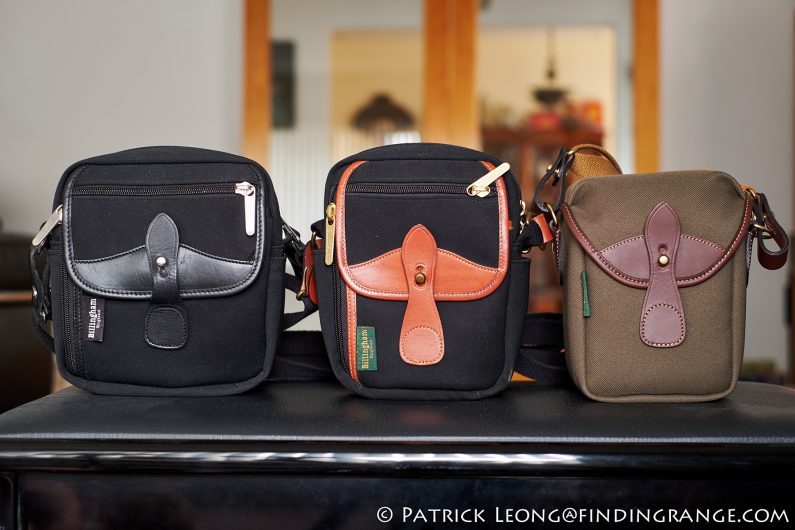 ↑ From left to right, we have the Stowaway Pola, the Stowaway Compact, and the Billingham 72.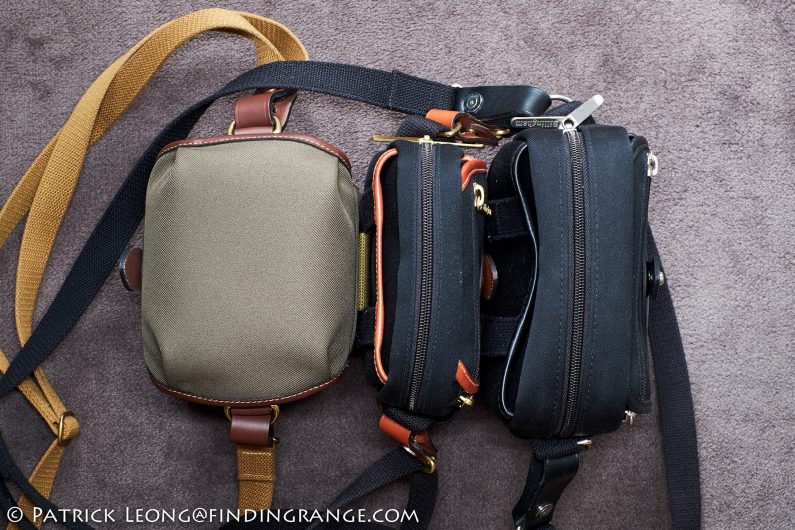 ↑ Here's a top view of the bags.  From left to right, we have the Billingham 72, the Stowaway Compact, and the Stowaway Pola.
Another bag that some may be considering is the Hadley Digital.  The Hadley Digital is a great bag but it's larger than the 72.  You can actually fit a mirrorless camera with three lenses in it.  It's still an excellent choice for a one camera/one lens set up because in general, Billingham bags are all pretty light, and easy to carry around all day.  But now that Billingham have released the new 72, this would definitely be my choice for a one body/one lens kit.  If you want more info on the Hadley Digital though, I did review it as well.
Billingham 72 Camera Bag in Use:
Overall, the Billingham 72 is a fantastic bag to use on daily walks.  I really love using it.  It measures at 150mm x 130mm x 190mm, and weighs just 0.46 kgs, so it's light, and very comfortable to carry around all day long.
What I like most about the Billingham 72 is that in a way, it feels like a mini Hadley to me, which is probably the best compliment that I can give it.  What I love about bags in the Hadley series is you get great protection for your gear but in no way does having that level of protection ever inconvenience you.  In other words, you never really have to make any sacrifices for that kind of protection and security. It's the same with the Billingham 72.  For instance, the 72 feels nearly indestructible yet gear is still easy to store and retrieve using just one hand without even looking.  When I'm out shooting, I don't even have to stop walking or put my bag down to retrieve gear. I never miss a beat.  The way that Billingham have attached the main flap on the 72 allows it to fully open, so the flap never gets in the way either.  The strap is fully adjustable, and if you are carrying something especially heavy, Billingham makes the SP-10 Shoulder Pad, which you can purchase.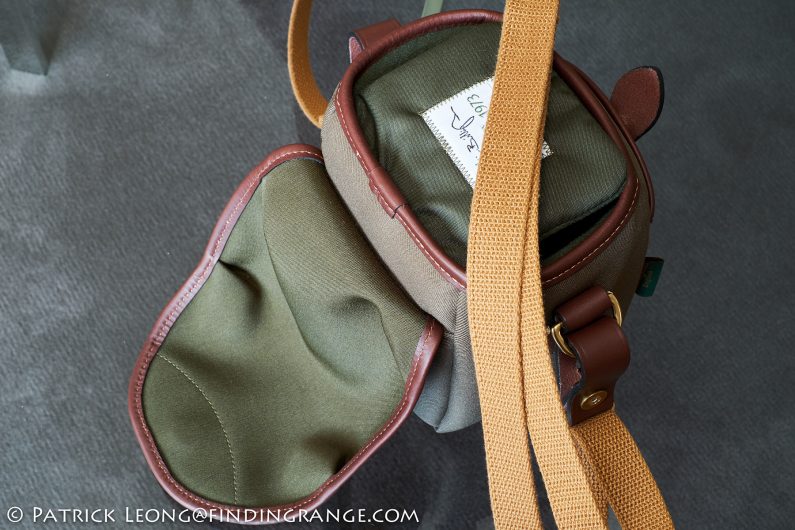 ↑ The flap opens fully allowing you easy access to the pockets.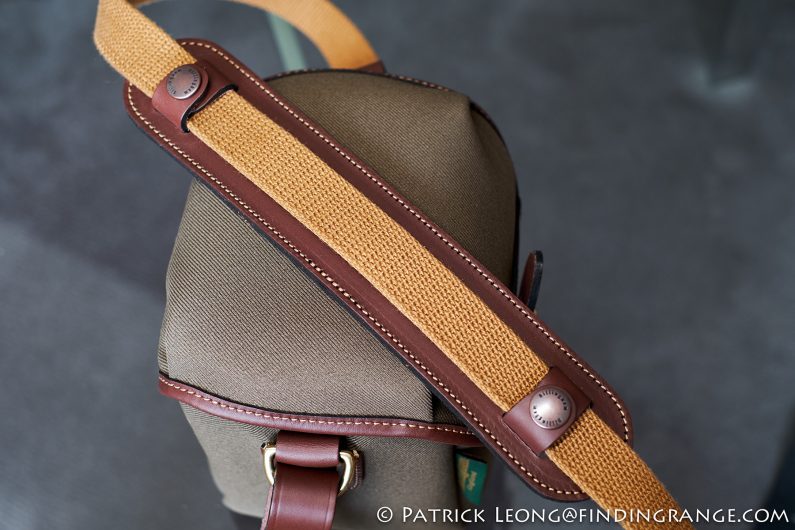 ↑ Billingham does make the SP-10 Shoulder Pad, which you can purchase, if you need more support.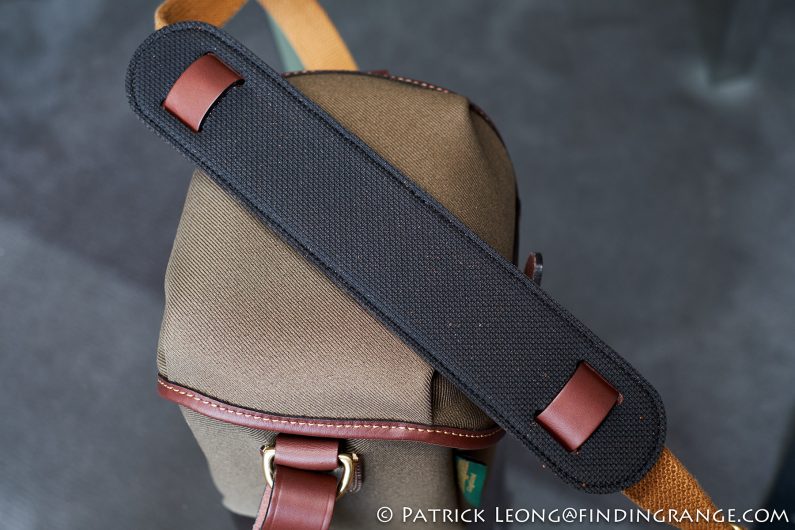 ↑ The back of the SP-10 has a rubber grip.
Like it's big brother, the Billingham 72 also has a classic, understated yet beautiful appearance, which I imagine will get better with age just like other Billingham bags.  The 72 is not only versatile in function; it's appearance makes it versatile in that you can take it with you to a formal event or a gallery opening but at the same time, it will feel right at home in any photographic situation.  It won't have any problems roughing it.
Billingham 72 Camera Bag Specifications
External Dimensions: W150mm x D130mm x H190mm

Internal Dimensions: W110mm x D90mm x H140mm

Capacity: 1.38 litres

Weight: 0.33 kgs (without sling) – 0.46kgs (with sling)

Pockets: 1
Additional Information:
Sling adjustable between 99cm and 172cm in length
Front pocket has following dimensions – W110mm x D nominal x H120mm
Billingham 72 Camera Bag Verdict:
Mirrorless cameras are definitely popular these days, and even the ones with a fixed lens are quite expensive.  So, it makes a lot of sense to buy a bag that will not only help you carry one around but also protect your investment.  In my opinion, the Billingham 72 really hits the bullseye.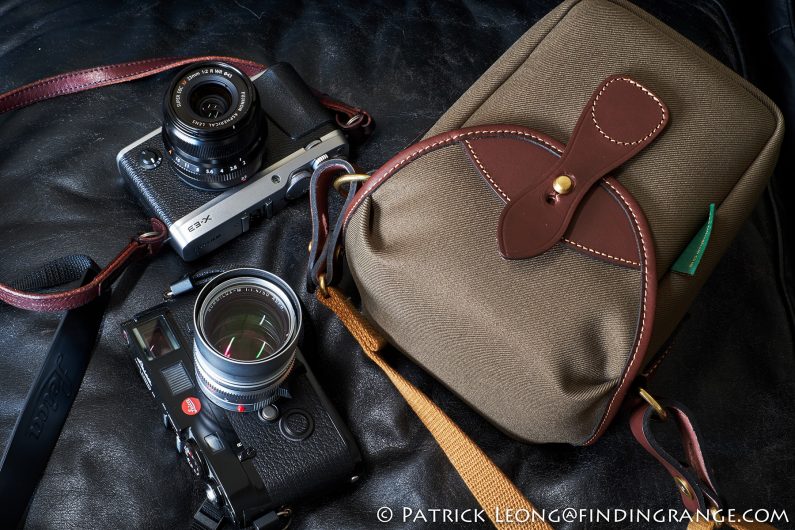 ↑ The Billingham 72 is a great choice when you want something to carry the bare essentials.
At $156, the 72 isn't cheap but it's definitely not overpriced either.  In fact, considering what you're getting here, I think it's worth every penny.  For one, to say that your camera will be well-protected against impacts is an understatement because the padding in the Billingham 72 is some of the best you'll find anywhere.  The 72 is also expertly crafted with only the best materials out there, so you're getting a bag that is outright rugged, dependable, and can tough it out in the most extreme weather conditions.  It's also worth pointing out that while Billingham bags are more expensive than some initially, I feel like I've actually saved money over the years because my Billingham bags have lasted for so long.  I never have to replace them.  Plus, their designs do not change drastically, so I never feel like my older bags are dated.
In my opinion, there's no need to look further, if you're in the market for a high end compact bag that holds a small kit.  For what it is designed for, I feel this bag is perfect in so many ways.  I highly recommend you take a closer look at the Billingham 72.  I truly feel like this is one of the best bags that Billingham have released so far.
Thanks for taking the time to read my review!  Have a question?  Leave a comment, and I'll try my best to answer it!  The Billingham 72 is currently only available in the UK through select dealers but will be available worldwide starting December 31st 2017!  Check out Billingham's 72 page, if you want more info.