Billingham Rucksack 35 Backpack Review:
If you follow my blog, it is no secret that I've been a huge fan of Billingham products, and I've been using them for a very long time.  The truth is, they really know how to make great bags.  Recently though, they released two new backpacks.  There's a larger one (which I reviewed) called the Rucksack 25, and it fits quite a lot of stuff.  Think DSLR territory or even my Leica SL with its native lenses.  Then there is the Rucksack 25, which is what I will be talking about today.  This is a nice little backpack, and I imagine a lot of mirrorless or rangefinder users may want a closer look at it.  So, let's begin.
Billingham Rucksack 35 Backpack Build Quality:
Let's talk about the overall manufacturing quality first, since I feel it's especially important when looking for a new bag.  At least from my own experience, I feel a bag is one of those photographic pieces that takes most of the abuse from the day to day, so it needs to be made well.  At $399, the Billingham Rucksack 35 is rather expensive but you really get what you paid for here.  The Rucksack 35 is downright one of the most well-manufactured bags that you can buy for camera gear.  The stitching, and leather work throughout the entire bag are flawless.  The canvas is trimmed neatly and properly.  If you compare it to other Billingham products, you'll notice that the level of quality is consistent as well.  I accumulated a lot of these bags over the years, and I reviewed most of Billingham's collection; from what I see, the level of quality never drops.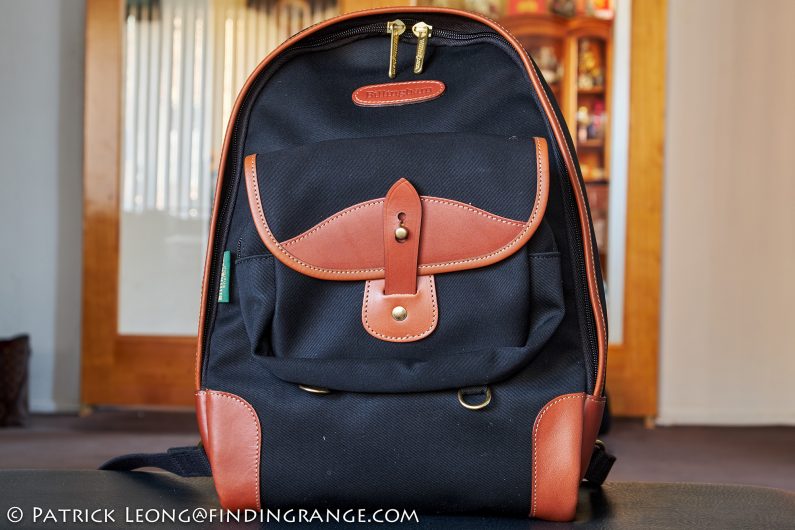 ↑ The Billingham Rucksack 35 in Black Canvas/Tan Leather.
Of course, the craftsmanship is just one piece of the puzzle.  Quality materials is another, and Billingham uses some of the finest out there to make the Rucksack 35.  Top grain leather along with solid brass fixings for instance, are generously used throughout the entire backpack.  Then there's also the cloth material, which can either be the traditional canvas or Billingham's FibreNyte material.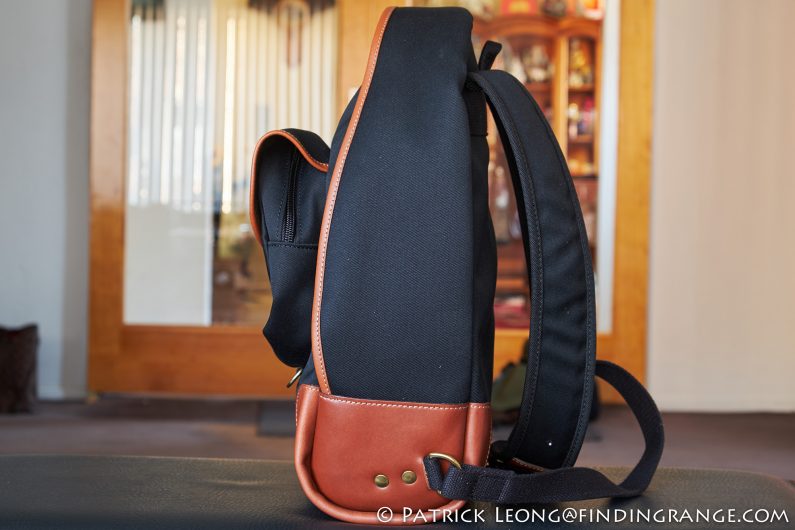 ↑ Here's a side profile of it.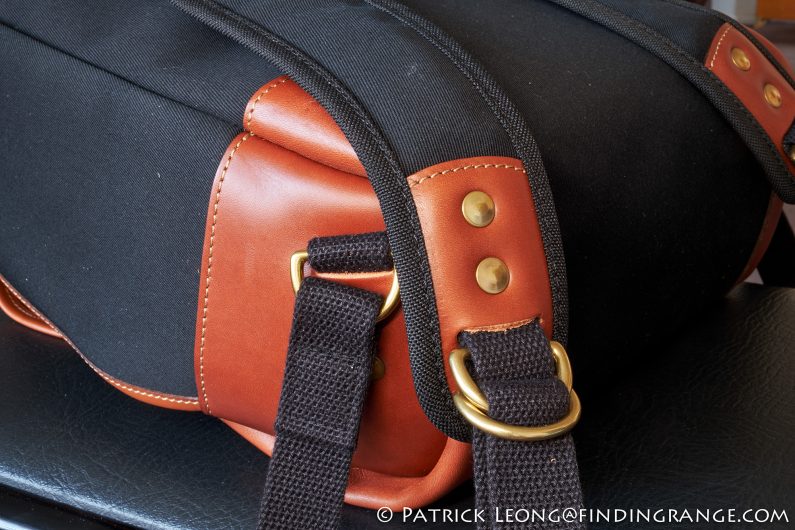 ↑ This bag is made with only high quality materials.  The leather is rich, and there's solid brass fittings all over.
For those who don't know, FibreNyte is a synthetic material that looks and feels like traditional canvas.  However, it's not quite as soft as the canvas.  But what you gain is an even tougher and more resilient material.  It's also more resistant to fading, and it's a little lighter than canvas.
↑ The back of the Rucksack 35.
The choice between the two materials is up to you but just so you know, I feel you really can't go wrong with either one.  In fact, I used to base my choice more on the color of the bag rather than the material itself. But now, I do prefer the FibreNyte because I feel the benefits are worth it.  First off, the FibreNyte usually comes in my preferred color anyway, which is Sage/Chocolate.  Also, I really don't feel like I'm losing much compared to the canvas.  FibreNyte is really nice, and it comes close enough to traditional canvas that it really can be mistaken for being it.  As for color choice, there are several to choose from, such as, Black Canvas/Tan Leather, Burgundy/Chocolate Leather, Khaki Canvas/Tan Leather, and Sage/Chocolate Leather.
No matter what material you end up choosing, the Billingham Rucksack 35 is built to withstand whatever Mother Nature has in store for you.  To start off, both zips on the bag are protected from rain.  The zip for the main compartment has a rim of leather trim that covers it.  The smaller front pocket has a flap that covers the pocket's zip.  The flap is secured with a clogball, which should be familiar to any Billingham user.  Furthermore, the Rucksack 35 uses what Billingham calls the three layer Stormblock fabric, which includes a layer of butyl rubber that is impermeable to water.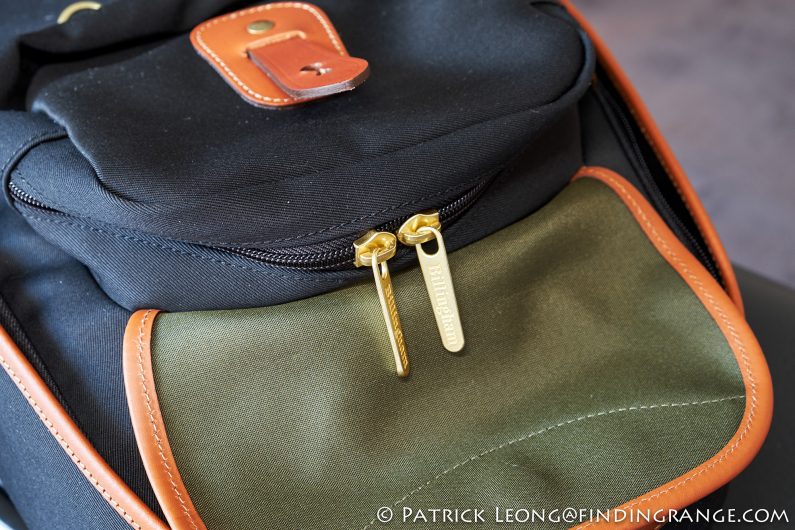 ↑ There are double zips for the main compartment, and the front pocket.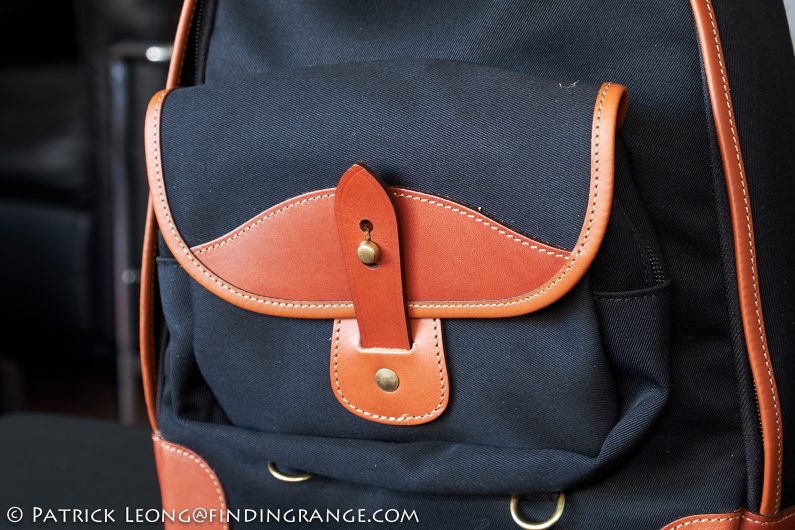 ↑ The front pocket is protected by a flap that is secured by a brass clogball.
One of the biggest reasons why I like Billingham bags so much is because they are so resilient against water.  Over the years, I've used a lot of their bags, and no matter how bad the weather gets outside, my gear always stay nice and dry.  I've been in snowstorms where icicles would form on my bag.  I've been in tropical rain storms where a puddle would form on top of my bag. In all these instances, there wasn't even a hint of dampness inside.  It's really quite incredible, and the best part is you never have to reproof the bag for weather protection.  It doesn't matter how old the bag is either.  I have a bag that is over two decades old, which I still use regularly by the way.  It's really beat up on the outside but it protects my gear as well as it did the first day I bought it.
Of course, there is more to the Rucksack 35 than just excellent weather protection.  You're also getting a bag that has some of the best padding out there.  This stuff is incredibly thick, and soft too.  The padding is designed to take some serious hits.  Now, I wouldn't go out there, and drop my bag full of camera gear down a flight of stairs or anything lol but let's just say what you get here is peace of mind because you know once your gear is in this bag, it's safe.  Unlike its big brother, the Rucksack 25, the padding for the Billingham Rucksack 35 comes in the form of a removable insert.  In this way, it's similar to other Billingham bags like the Hadley Pro.  There are also three padded dividers that are included: two larger vertical dividers, and one smaller one.
↑ The insert is fully removable.
The large removable insert is actually a really great idea for a backpack.  It makes the rest of the bag less stiff, and therefore much more nimbler, and easy to carry around.  This is what you want in a smaller backpack.  In many ways, the Billingham Rucksack 35 reminds me of the Jansport backpacks I used to carry around in high school, and this is a good thing.  Those bags were light, and really comfortable like this one.  The truth is, if you remove the insert (which is in held by press studs), you can actually use the Rucksack 35 like any other backpack.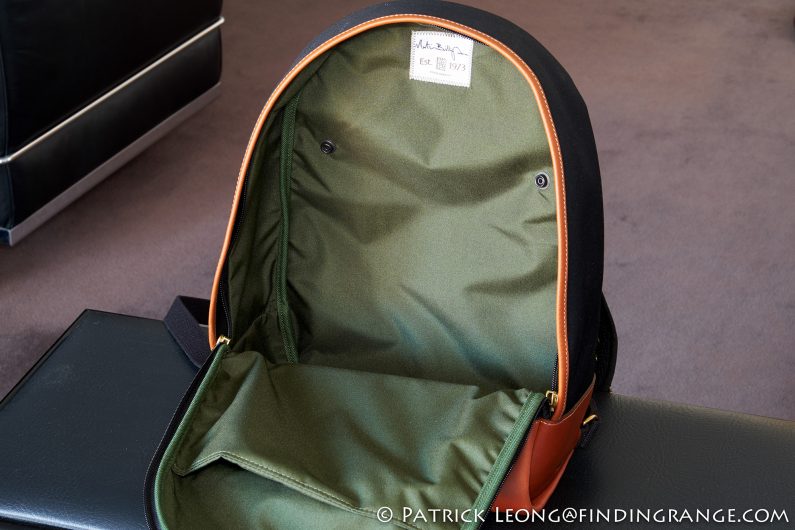 ↑ When you remove the insert, you can use the Rucksack 35 like any other backpack.
Billingham Rucksack 35 Backpack Carrying Capacity:
So let's talk about what will fit in the Billingham Rucksack 35.  If you're a mirrorless or rangefinder user, I feel this bag is a great option for you.  This is also great for anyone with a smaller DSLR kit.  But instead of describing everything, I'll just show all of you some pictures of gear I tried with the Rucksack 35.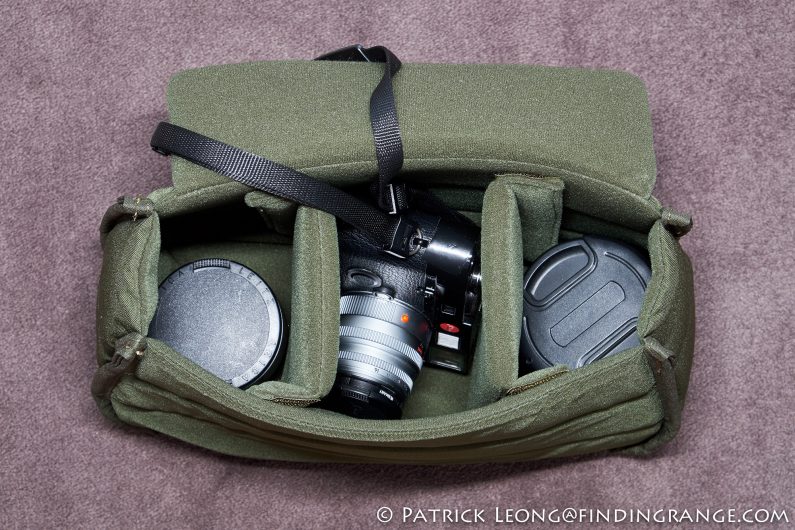 ↑ In this photo, I have my Leica M6 TTL Millennium with 50mm Summicron attached, a 75mm Summilux (left), and an 18mm Super Elmar (right).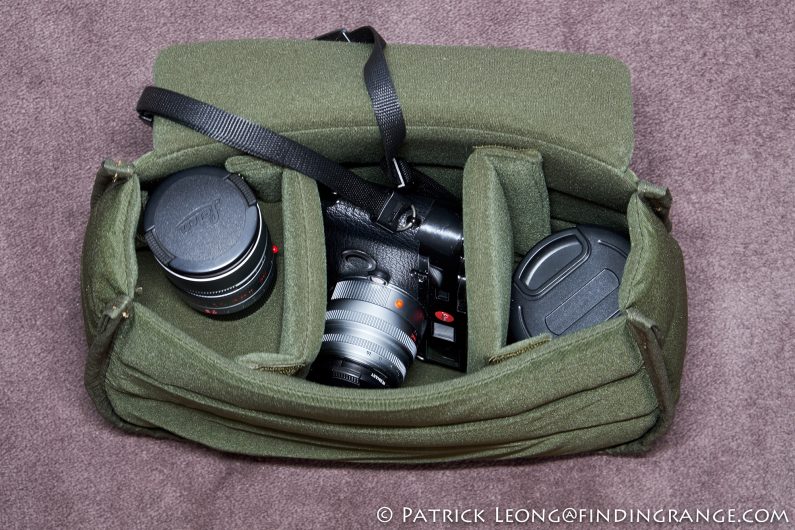 ↑ In this photo, I have the same gear as before but I used the small divider that is included, and placed it on the left side of this photo, so I could also stack my 50mm Summilux ASPH on top of my 75mm Summilux.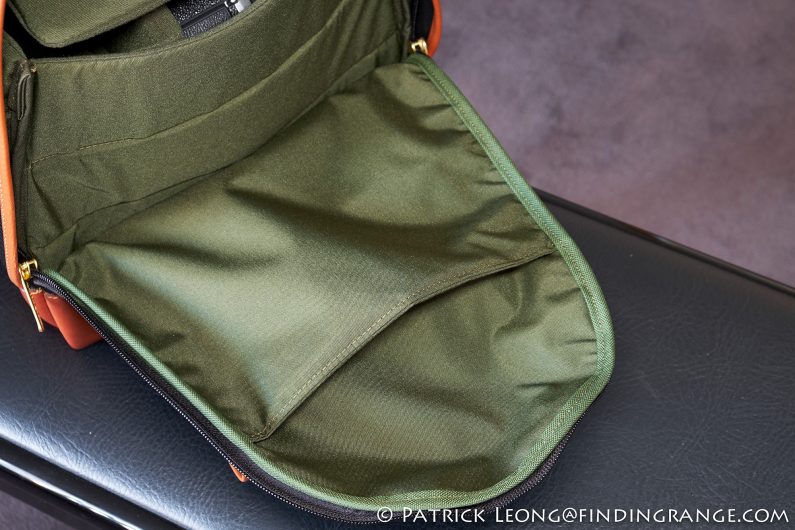 ↑ There is a nice big pocket inside the bag as well.  If you need to store chargers, memory cards, and other miscellaneous stuff, the front pocket with the zip is probably best.  It actually holds quite a lot.
Billingham Rucksack 35 Backpack in Use:
Overall, the Billingham Rucksack 35 is a comfortable bag to use.  The straps for instance, are ergonomically designed, and are lined with spacer fabric to help with breathability.  Like I said earlier in my review, the Rucksack 35 kind of reminds me of my old Jansport bags from high school.  This is good for several reasons though one being it's easier to live with on a daily basis.  The other is that it blends better on the street.  It looks more like an average backpack you would see on the train for instance, than say the Rucksack 25.  The fact that it does not retain its shape as well as the Rucksack 25 (the padding on both bags are configured differently: see my Rucksack 25 review), also makes it easier to navigate on crowded streets.  It's less stiff.  The Rucksack 25 is a different type of bag though.  It's larger and therefore, it needs that extra padding to protect larger gear.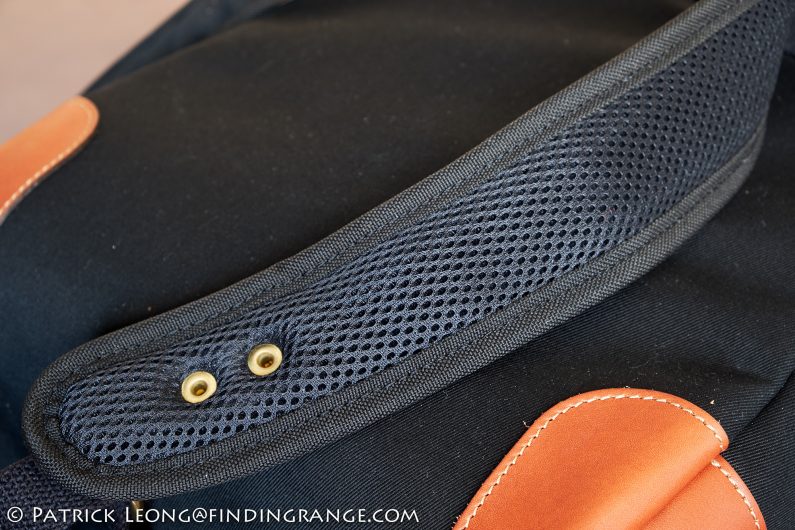 ↑ The inside of the shoulder straps have spacer fabric to promote breathability.
I have to say, I particularly like the removable insert in this bag as well.  It makes the Rucksack 35 more versatile.  For those concerned about the insert moving around inside, don't be because when the insert is in the bag, it definitely stays in place thanks to the two press studs.  But I can easily remove the insert whenever I want to, and then I can use the Rucksack 35 just like any regular backpack.
The fact that the insert is top loading makes it easier to retrieve gear as well.  While I still think a shoulder bag wins out in this area, I didn't need to stop, and put the backpack on a flat surface to retrieve gear because of its top loading feature.  I like that a lot, and in this way, it gets an extra point when compared to the Rucksack 25.  But again, these are two different bags designed for different things.
The more I think about it, the more I think the Billingham Rucksack 35 really makes a great alternative to a Hadley Pro or even a Hadley Small.  I own the original Hadley, and the Hadley Small.  I probably would've went for this bag instead of the Small, if they made it at the time.  At an asking price of $399, it is a little more expensive than either one of those bags I just mentioned but your back and shoulders will definitely thank you :).  This backpack gives much better support than a shoulder bag.
Billingham Rucksack 35 Backpack Specifications:
External Dimensions:
Internal Dimensions:
W230mm x D75mm x H240mm (of photo insert) —- W260mm x D180mm x H380mm (of main pocket without photo insert)
Capacity:
5.6 litres in padded insert (7 litres in whole of main compartment with padded insert removed) —- Additional 1.8 litres in front pocket.
Weight:
Pockets:
Additional Information:
External Front Pocket internal dimensions W200mm x D60mm x H170mm
Billingham Rucksack 35 Backpack Verdict:
If you're a fan of Billingham bags but you're looking for a backpack alternative to say a Hadley Pro or even a Hadley Small, the Rucksack 35 might just be the bag that you're looking for.  At $399, the Rucksack 35 is not cheap, and I'd be lying if I told you it was but it's worth every penny because what you get is something that is not only expertly crafted with the best materials, you're getting a bag that will give you some of the best protection you can get for your gear.  It's also a bag that will last but not just in terms of construction.  Unlike a lot of things these days that have a very short shelf life where each new iteration is vastly different than its predecessor, even when Billingham does come out with new stuff, their designs don't change much.  They have a signature look, and therefore, older bags never feel dated.  If anything, older bags are more valued by some users because of the patina they develop.  I'll tell you right now that if Billingham offered to replace my old beat up Hadley with a new one even for free, I wouldn't do it.  I love this bag.  It's been through so much with me.  So overall, they may be expensive initially but I can tell you from personal experience that you really get your money's worth.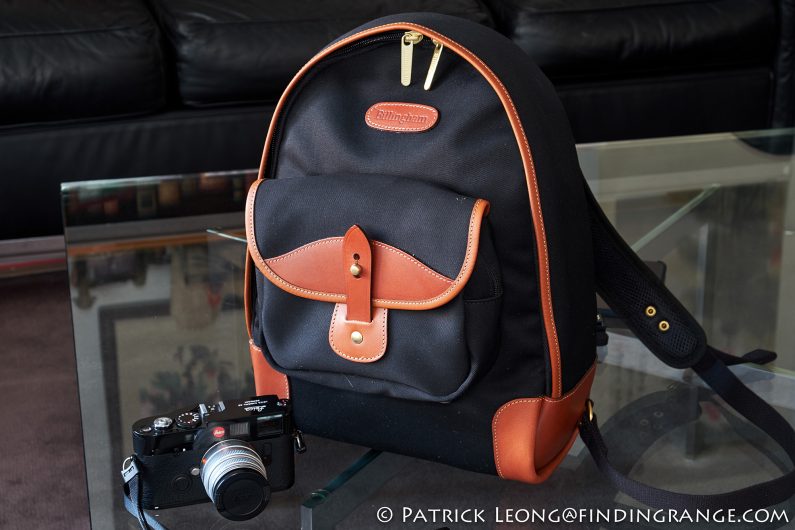 ↑ The Rucksack 35 is a really nice backpack.  It's actually great for a mirrorless kit.
The Rucksack 35 really has all the qualities one would expect from Billingham.  Therefore, if you're looking for a decent backpack around this size, the Rucksack 35 should definitely be on your short list of bags to consider.
Thanks for taking the time to read my review!  If you're considering purchasing the Rucksack 35 and my review helped you decide, please help support this site by purchasing from any of the links in this review.  It will not cost you anything extra.  Thank you for your support!
Billingham Rucksack 35 in: