Opteka 35mm f1.7 Lens Review For Fujifilm X:
I'm always on the lookout for 50mm (or 50mm equivalent) lenses because the focal length is my favorite.  I don't necessarily buy them all; I just like to see what's out there.  Like many others, I also like good deals, if I can get them.  So, when I saw the new Opteka 35mm f1.7, I definitely wanted to get one in to review.  Why?  Well for one, it has a reasonably fast maximum aperture.  It also sells for about $90, and it comes in Fuji X Mount.  In other words, no adapters required.  So, how is this lens?  Read on and find out!
Opteka 35mm f1.7 Lens Build Quality:
So, for about $90, I wasn't sure what to expect.  Sometimes a lens in this price range can be a great find but there are times it can be not so good.  I have to say, when I finally opened the box, I found the Opteka 35mm f1.7 to be pretty decent.  It's an all metal construction, and at 204 g, it's only slightly heavier than Fuji's XF 35mm f1.4.  It's also a compact lens; length wise, it's not that long and together with the weight, it balances quite nicely with my X-T2.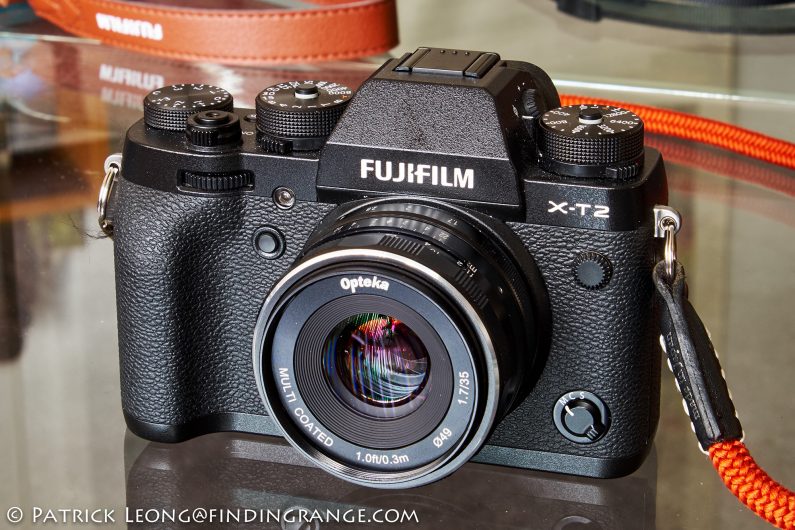 ↑ The Opteka 35mm f1.7 is a great match size wise to the Fuji bodies.
In terms of the functions, it's an all manual lens.  But with Fuji's various focus aids one being focus peaking, focusing isn't difficult at all.  Depth of field and focus distance scales are engraved on the lens barrel to help with pre-focusing needs.  The focus ring is very smooth, especially when you consider the price but I did notice that it stiffens up a little bit if it is really cold out.  I was testing the lens in February, and we had a few cold days here in NYC.  Still, it's not really a big deal, and the only reason I'm mentioning it is because it's a review.  As for adjusting the aperture, there is a de-clicked aperture ring, which some may or may not like.  It might be good for video but I don't do much video, so my preference is for a clicking one.  Also, it's missing some F stop markings.  It goes from f1.7, f2, f2.8, f4, f8, and then f22.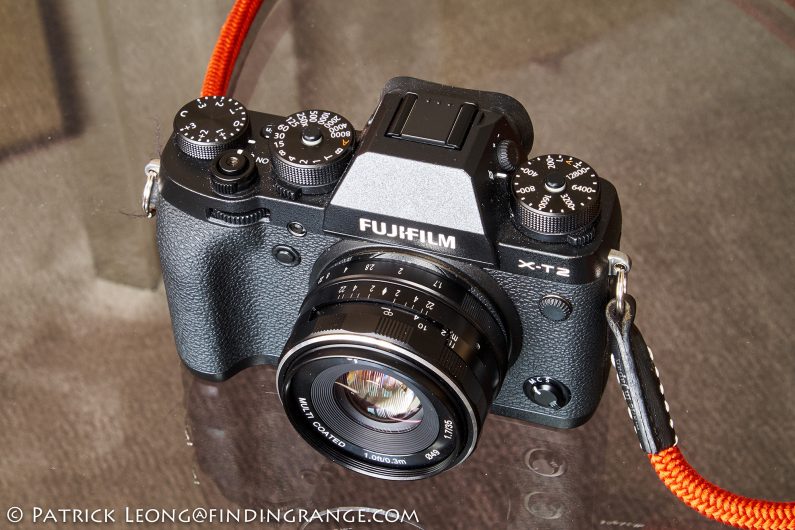 ↑Here's a top view of the lens.
Overall though, I found the construction to be great considering it's asking price.  In fact, it's more than I expected. The Opteka 35mm f1.7 has a bit of an old school feel to it, which is good.  My copy was very solid feeling with no loose parts or anything like that.  It does not come with a lens hood but flare is very well-controlled.  Plus, the lens is kind of nice without a lens hood because it's so compact.
Opteka 35mm f1.7 Lens Image Quality:
Optically, I found the Opteka 35mm f1.7 to be quite good overall.  Is it up there with what Fuji has to offer? Maybe not quite but that in no way means this lens wouldn't make a worthy companion on your Fuji camera, especially since it costs less than $90.  Color rendering and contrast look great.  As I mentioned earlier flare is very well-controlled.  There is some vignetting at f1.7 but as you stop down to f2.8, most of the vignetting is gone.  The truth is, I feel the vignetting even adds a bit of character.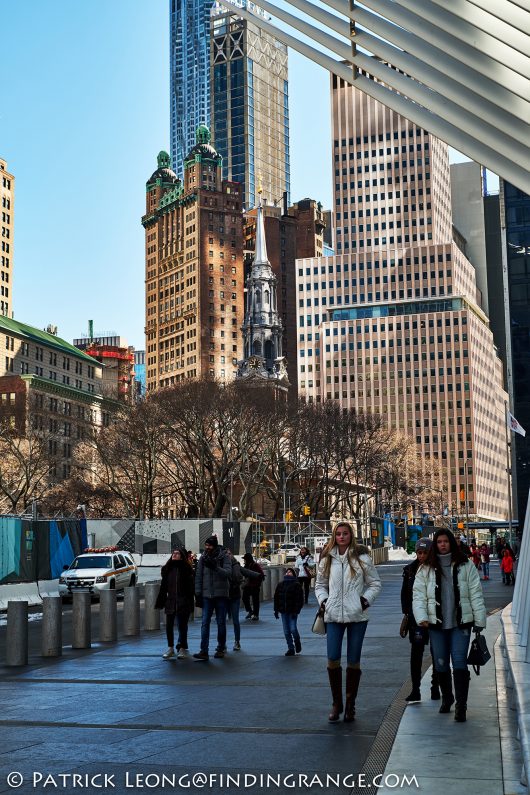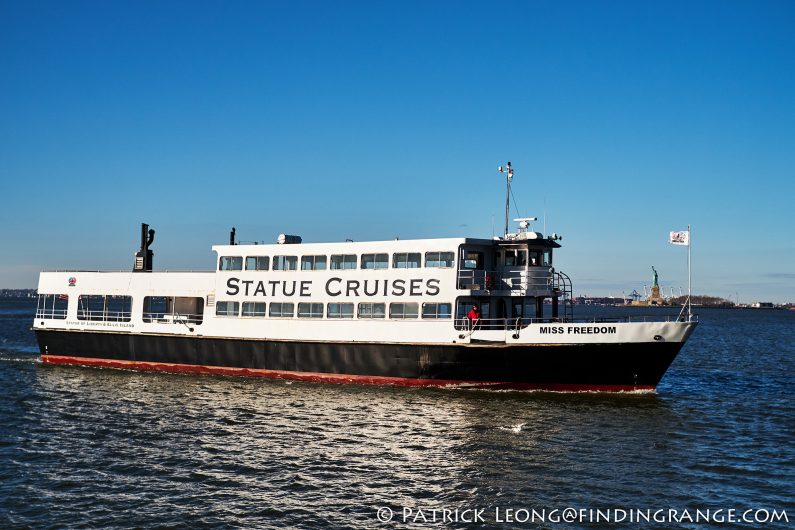 As for sharpness, it's very good overall in the center at f1.7.  The corners are soft at its maximum aperture but they do start to sharpen up as you stop down the lens.  It's at f4 when I feel you start to notice the most difference in the corners.  Center sharpness increases as you stop down as well.  In fact, sharpness is excellent overall from 2.8 to f8.  There is really nothing to complain about here; in my opinion, this is actually a great little lens.  I don't think anyone would be seriously at a disadvantage, if they chose this lens as their go-to 50mm, especially if you're not constantly pixel peeping at 100%.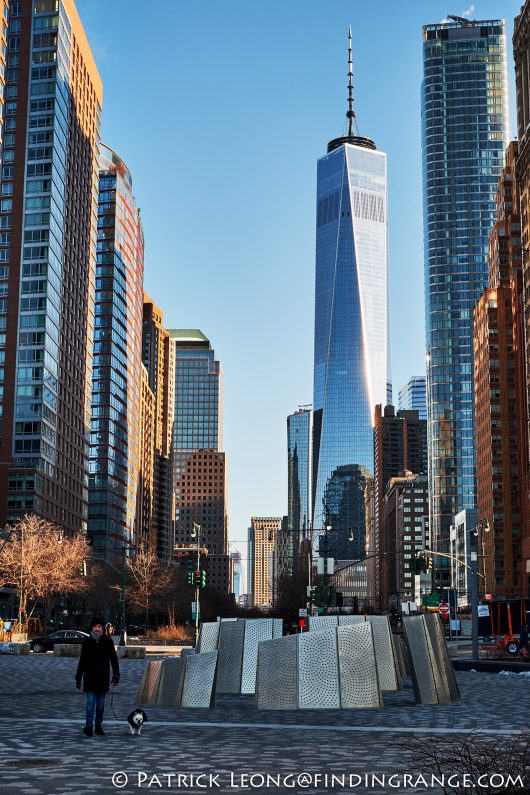 ↑ Stopped down, the lens is quite sharp.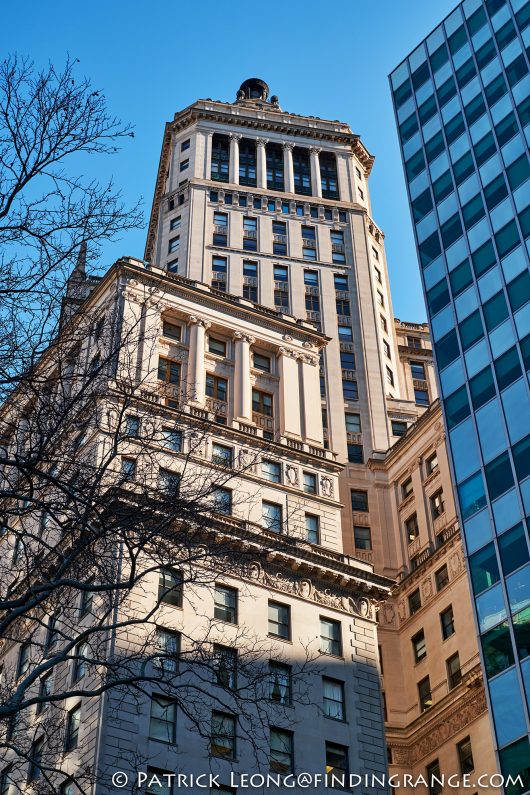 ↑ Here's another example.
↑ Here's a 100% crop of the photo above.
Since this is a relatively fast lens, I'm sure many are wondering about the bokeh and shallow depth of field.  The Opteka 35mm f1.7 has a nine blade diaphragm, which in my opinion, contributes to its smooth bokeh.  Opinions can sometimes vastly differ when it comes to bokeh but I'm very happy with what this lens produces.  I didn't see anything that I felt was particularly distracting or that took away from the images.  There's nothing here but nice, soft creamy bokeh.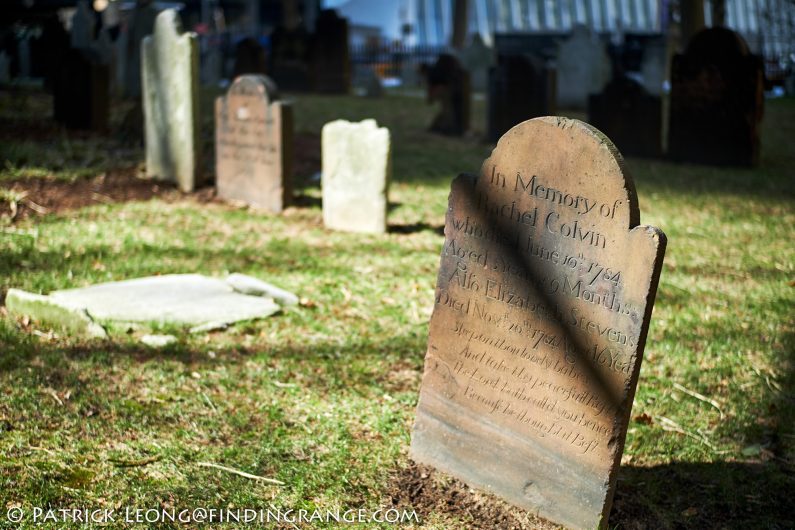 ↑ Here's an example at f1.7.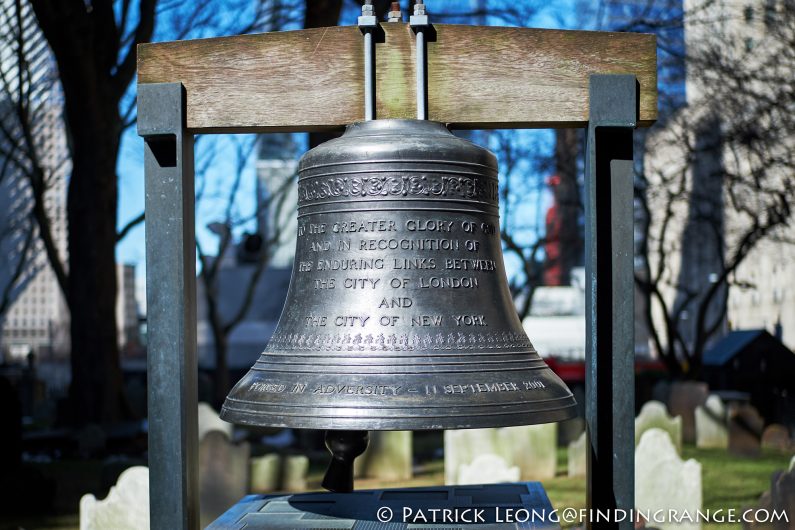 ↑Another taken wide open.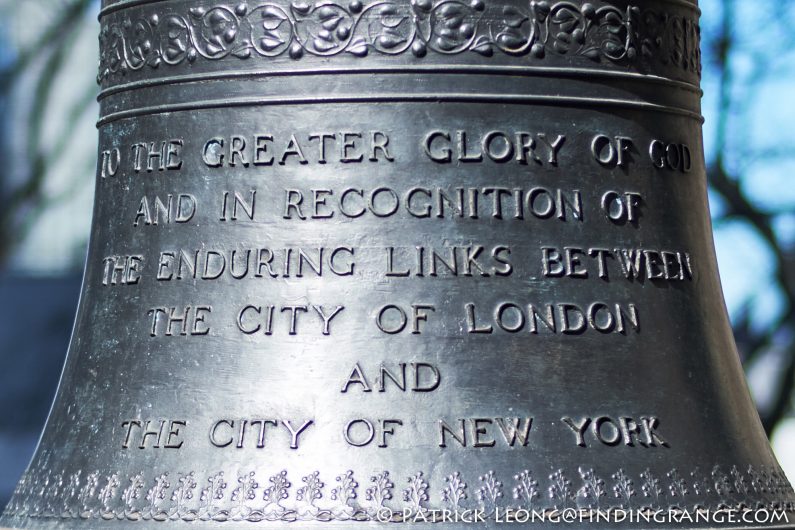 ↑ Here's a 100% crop of the photo above.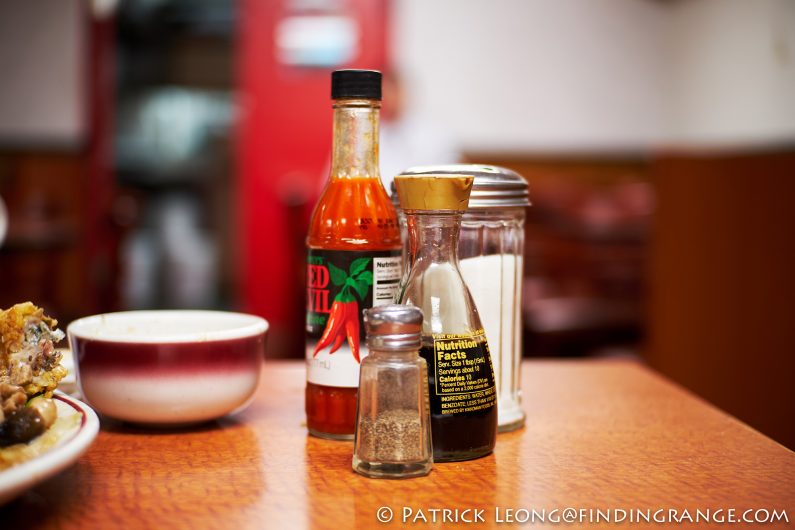 ↑ The bokeh can be quite good with this lens.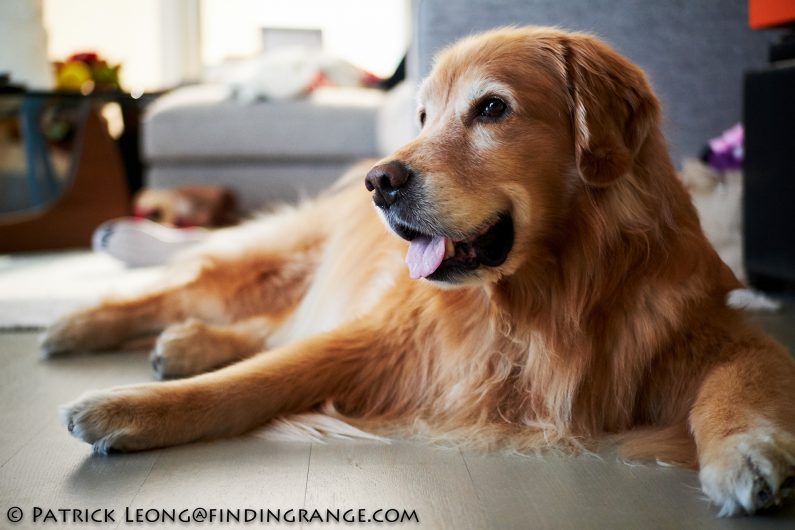 ↑ For those who frequent my blog, here's a pic of Kopi.  Haven't posted a pic of her in a while.
Opteka 35mm f1.7 Lens Pros And Cons:
Opteka 35mm f1.7 Lens Pros:
All metal construction.
Well made for the asking price.
Compact and light.
Balances nicely with the Fuji bodies.
Very good optics overall.
Fast maximum aperture.
X Mount meaning it requires no adapters for your Fuji camera.
Great Price.
Opteka 35mm f1.7 Lens Cons:
Edges are soft.
Not quite as optically gifted as some of Fuji's offerings but then again, it's also a lot cheaper.
Opteka 35mm f1.7 Lens Verdict:
Overall, I feel the Opteka 35mm f1.7 is a great offering for the Fuji X Series system.  It's an all-metal construction that is well-made, and it's compact making it an easy lens to carry around all day.  At a maximum aperture of 1.7, it's also fast, so you can get great shallow depth of field shots along with a better ability to work in low lighting.  The optics are also very good.  The lens is not perfect but then, there's not much out there that is perfect.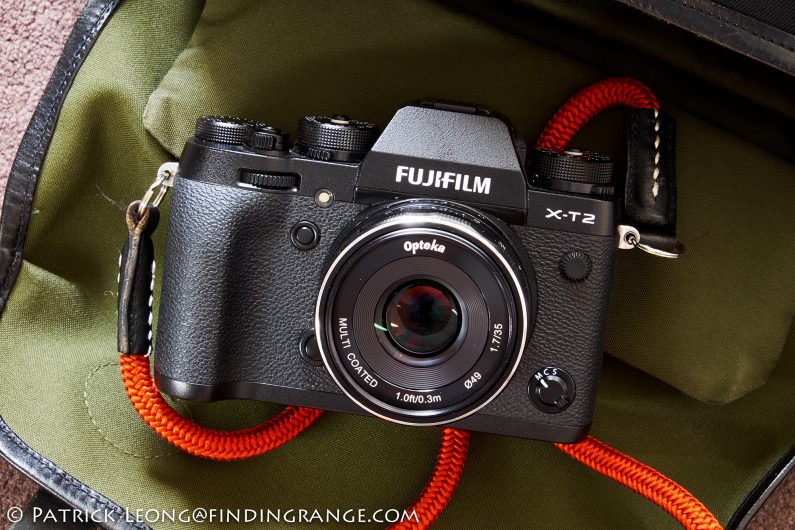 ↑ The Opteka 35mm f1.7 is a nice match with the X-T2.
Bottom line is for the price of about $90, it's a great deal in my opinion.  If you miss the thrill of a true manual lens, and you don't want to deal with adapters, the Opteka 35mm f1.7 might be a great choice for you.  It also might be great for someone who is just starting their X Series system.  Lenses can definitely get expensive, so to have an option like this on the table is great.
Thanks for taking the time to read my review!  If you're considering purchasing the 35mm f1.7, and my review helped you decide, please help support this site by purchasing from any of the links in this review.  It will not cost you anything extra.  Thank you for your support!