Billingham Hadley Small Pro Camera Bag Review:
The Hadley Small has been one of the most popular bags from Billingham for many good reasons.  It's compact yet it can carry a decent size mirrorless or even mid-level DSLR kit.  It's lightweight, It has tons of padding, and it can handle one seriously rough weather.   Best of all, it's rugged enough to last, so you'll get more than your money's worth in the end.  Overall, a lot of people consider it the perfect everyday bag but that didn't stop Billingham from improving on it even further with the newly released Hadley Small Pro.  Thanks to Billingham, I was able to get one in to review, and here are my thoughts on it.
Billingham Hadley Small Pro Camera Bag Build Quality:
Before I go into the major differences between the old bag and the new one, let's first talk about all the good stuff that remains from the Hadley Small.  I've not only own but also tested a lot of Billingham bags, and there's always one commonality that clearly sticks out:  Billingham products are made to the highest quality.  This is clearly the case with the new Hadley Small Pro as well.  The stitching throughout the entire bag is immaculate.  All the materials are trimmed properly, and fit together perfectly.  Furthermore, only the best materials are used to make the bag, such as, full grain ultra rich leather trim and solid brass parts.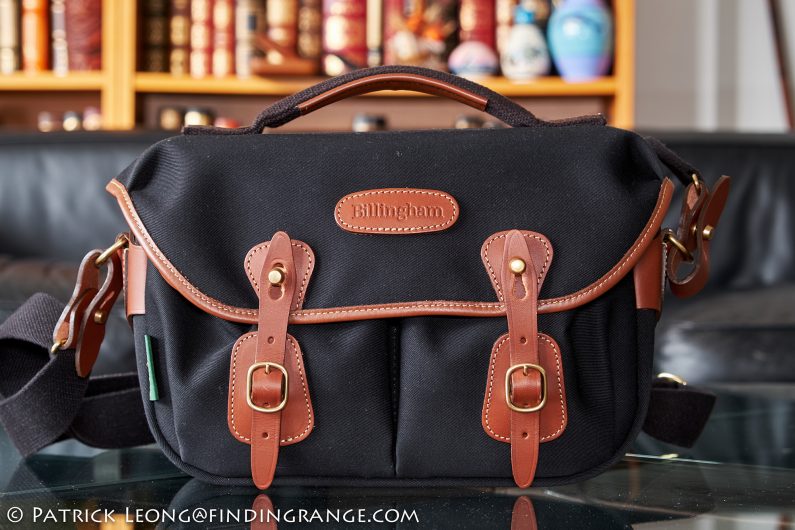 ↑ The Billingham Hadley Small Pro in black canvas with tan leather.
You can even choose between two main materials: the traditional canvas or Billingham's synthetic FibreNyte.  The traditional canvas may be slightly softer.  However, when given a choice, I always go for the FiberNyte because not only does it feel very similar to traditional canvas, it is also more durable, lighter, and resists fading better.  In addition to being able to pick the main material for your bag, there are several color combinations to choose from.  If you purchase a canvas version, the colors that you can choose from are khaki canvas with tan leather, burgundy with chocolate leather, and the one you see here, black canvas with tan leather.  If you go for a FibreNyte version, you can choose from sage FibreNyte with chocolate leather, black FibreNyte with black leather, and khaki FibreNyte with chocolate leather.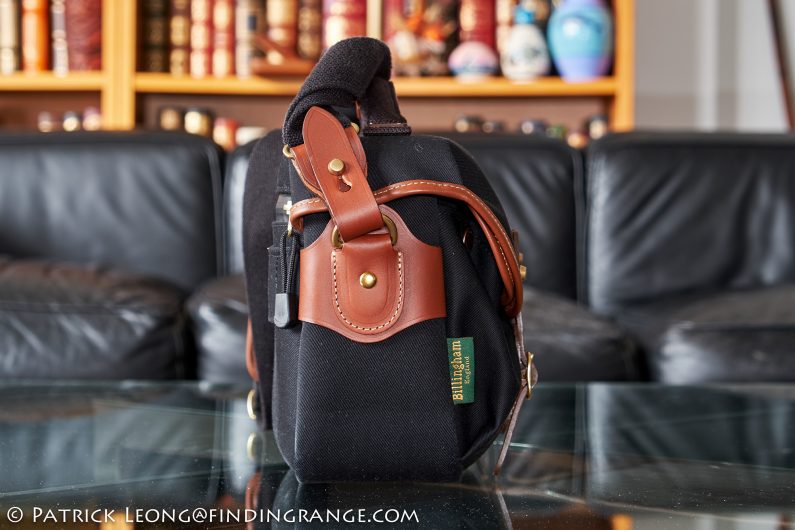 ↑ Here's a side view of the bag.
Whatever material and color combination you end up deciding on, know that the Hadley Small Pro was built to withstand pretty much whatever Mother Nature has in store.  The outside of every camera bag that Billingham make is made with a three layer stormproof "Stormblock" material.  It basically consists of two layers of fabric bonded together with a layer of butyl rubber in the middle.  Since the butyl rubber is permanently bonded into the core of the fabric, the bag never needs re-proofing either.  To further protect your gear from the elements, the Hadley Small Pro's top flap is sculpted over the entire opening of the main compartment.  This design is hugely beneficial in preventing the elements from entering your bag.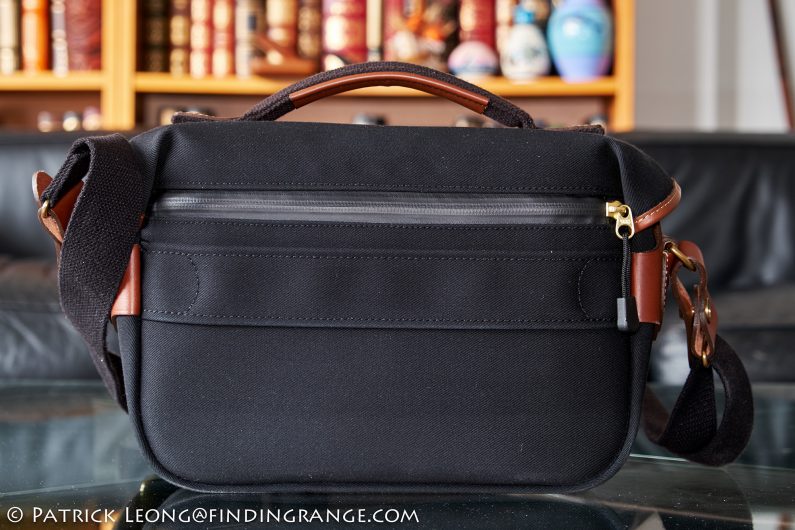 ↑ Here's the back of the bag.
Bottom line is Billingham bags are simply amazing when the weather gets rough.  I know this from personal experience NOT just from reading the press release.  I've been using Billingham bags constantly for over 20 years, and I've been through everything with them.  I've been in tropical rain storms where puddles would form on top of the flaps of some of my bags but the insides were never in the least bit damp.  I've been in conditions where it was sleeting, and snowing causing ice to form on my bag.  Not only have my bags protected all my gear over the years, each one is still being used today.  For example, I'm still using my 20+ year old Hadley as an everyday bag!  It definitely shows some signs of patina but it protects my gear from bad weather just as good as day one.  As some of you know, a lot of the parts on the Hadley series of bags can be changed if they wear out, which further increases the longevity of the bags but the only thing I ever changed on my original Hadley was the removable insert.
Of course, the protective capabilities of the Billingham Hadley Small Pro do not stop there; quite frankly, the padding in this bag is some of the best in the industry.  Like various bags in the Hadley line, the Hadley Small Pro has a removable insert that is held in by a press stud.  The insert is quite dense, and it's basically a fabric covered "closed cell" foam that provides excellent impact protection on all six sides of the bag (the top is protected as well).  There are also four dividers that are included: two vertical and two flaps for stacking lenses.  All of them are padded as well and have velcro strips, which can attach to pretty much anywhere in the bag.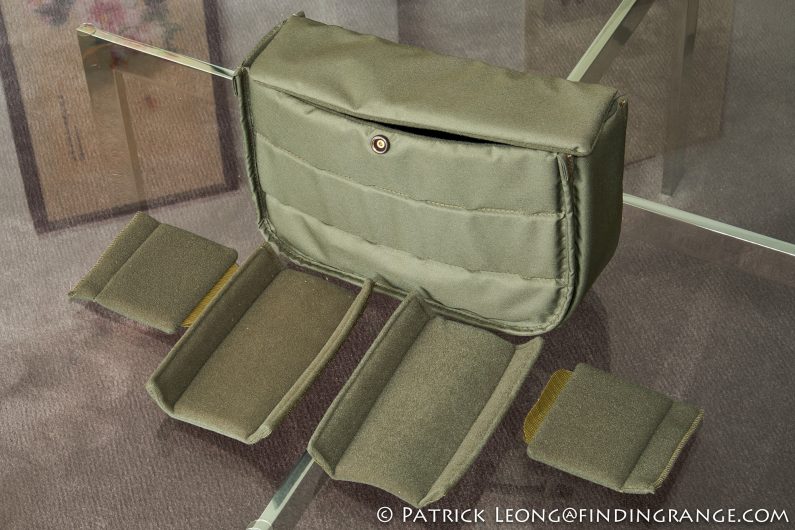 ↑ The Hadley Small Pro comes with a removable padded insert and four padded dividers.
Some may wonder why it might be important to have a removable insert.  Well, one of the benefits is you can use the Billingham Hadley Small Pro for non-photographic purposes like a regular messenger bag.  Also, if you need to replace the insert for some reason, such as, in the case with my original Hadley, it's quite easy to do, and it's definitely cheaper than buying a whole new bag.  Lastly, while the Hadley Small Pro officially has no slot for a tablet, I found that the space between the back of the bag and the back of the insert fits my iPad Pro 9.7 with case perfectly.
Billingham Hadley Small And Hadley Small Pro:
So, now that we've talked about the overall quality of the Billingham Hadley Small Pro, let's discuss the differences between this new bag, and the Hadley Small.  One of the new features of the Hadley Small Pro is the top handle.  This might not seem like such a big deal considering this bag is so compact but I found it quite useful.  Whenever I was riding the train during rush hour while I was in Japan for example (I reviewed the bag while I was there), I held the bag by the handle to make more room.  If I'm carrying other things, again, the handle makes it much easier to carry the bag.  In all these instances, using the handle was definitely less cumbersome, and easier than wrapping the strap around my arm, which is normally what I do with my own Hadley Small.  As for the quality of the handle, it is definitely on par with what we expect from Billingham.  It's in no way an afterthought; in fact, it's actually quite comfortable.  The bottom is leather for added comfort.  It's also worth noting that the top handle never makes the bag feel top heavy.  Instead, the top handle balances nicely with the bag.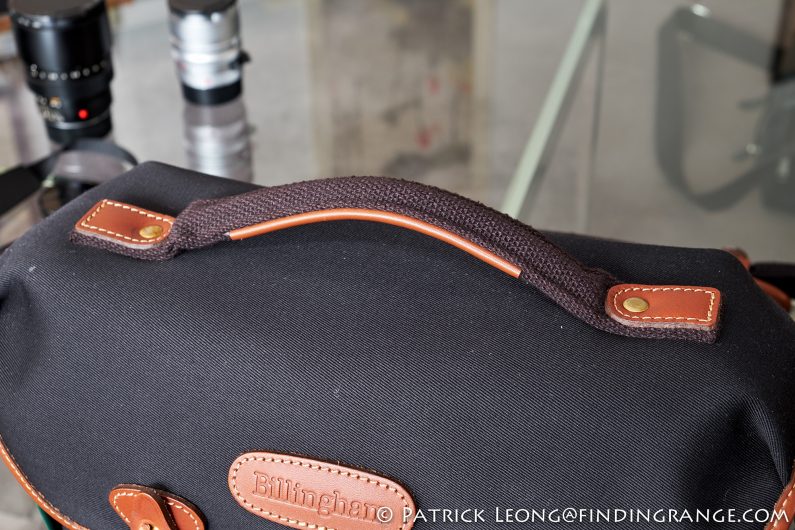 ↑ The top handle is quite useful.
Another feature of the Hadley Small Pro is the removable shoulder sling.  We've seen this on the Hadley One, and the Billingham 72.  I'm definitely glad to see it on the Hadley Small Pro.  In this way, one could remove the shoulder strap, and then thanks to the top handle, one could use the Hadley Small Pro as a briefcase.  For those worried about theft, it would be extremely difficult for a thief to remove the shoulder strap without you noticing it.  As you can see in the photo below, the shoulder strap is held in by very thick leather, and solid brass clogballs.  As I mentioned before my Hadley One has the same style strap.  I've owned it before it was released, so I've had it for quite a while, and I've NEVER had any issues with the removable shoulder sling.
↑ Unlike the Hadley Small (on the right), the Hadley Small Pro comes with a removable shoulder sling.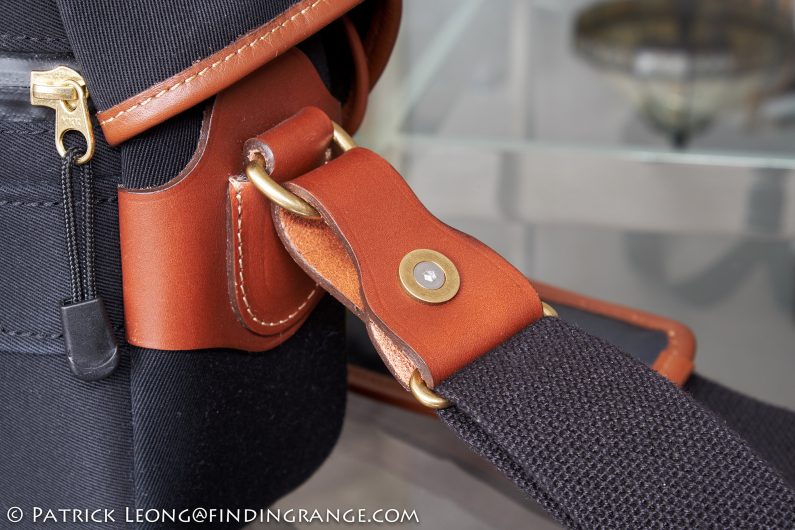 ↑ The quality of the sling and the attachment area are quite impressive.
Additional features of the Hadley Small Pro are a new document pocket, and a luggage trolley strap.  Both are found on the back of the bag.  The document pocket has a waterproof zip for protection against a downpour.  The luggage trolley strap allows you to slide the Hadley Small Pro over the handle on a trolley suitcase for added convenience.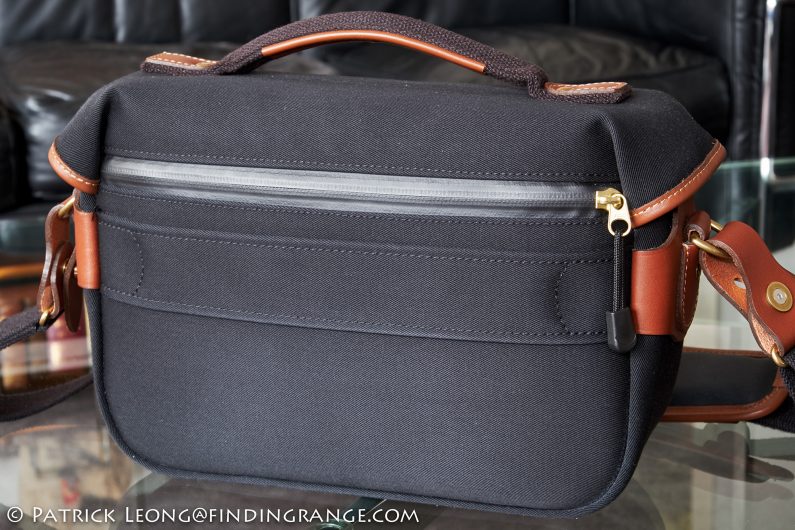 ↑ There's also a waterproof zip, and luggage trolley strap on the back of the bag.
Overall, the changes make the Hadley Small design even better, and more importantly, none of these changes affect the bag detrimentally.  In other words, I've been using my own Hadley Small for years, and other than the added conveniences from the new features, the Pro version still feels just like the original one in every way, which is a great thing.
Billingham Hadley Small Pro Camera Bag Carrying Capacity:
Now, let's discuss what we can actually get into this bag.  Just like the original version, the new Billingham Hadley Small Pro is able to hold quite a lot of gear for its size.  In fact, the Hadley Small Pro is the same size internally as the original one, and therefore, uses the same padded insert.
With that said, Billingham says the Hadley Small Pro can hold two rangefinder cameras with lenses attached or a mirrorless camera, such as, a Fuji X-Pro2 with two or three small to medium sized lenses.  Another setup could be a mid-sized DSLR without a battery grip, such as, a Canon 5D Mk4 with a 24-70 f2.8, and 24-105mm lens.  I found this bag can also fit a Leica rangefinder with a total of five lenses.  See the pics below.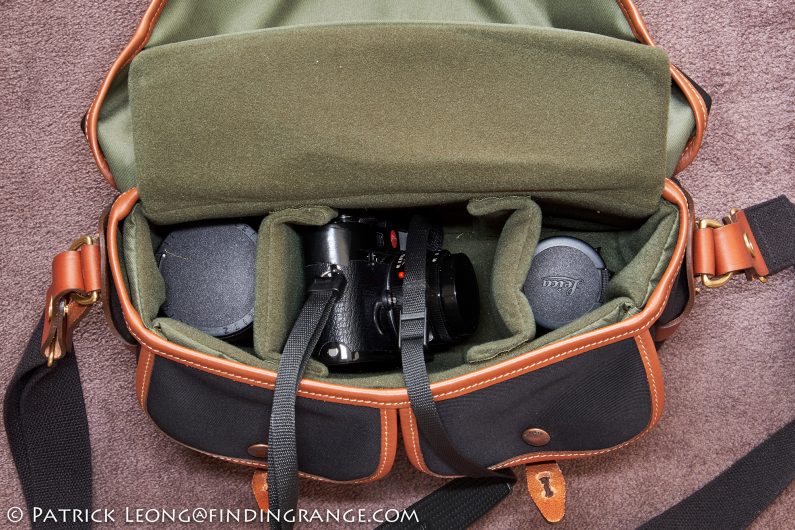 ↑ From left to right, I have a 75mm Summilux-M, a Leica M6 TTL Millennium with 35mm Summicron ASPH Millennium, and a 50mm Summilux APSH in the bag.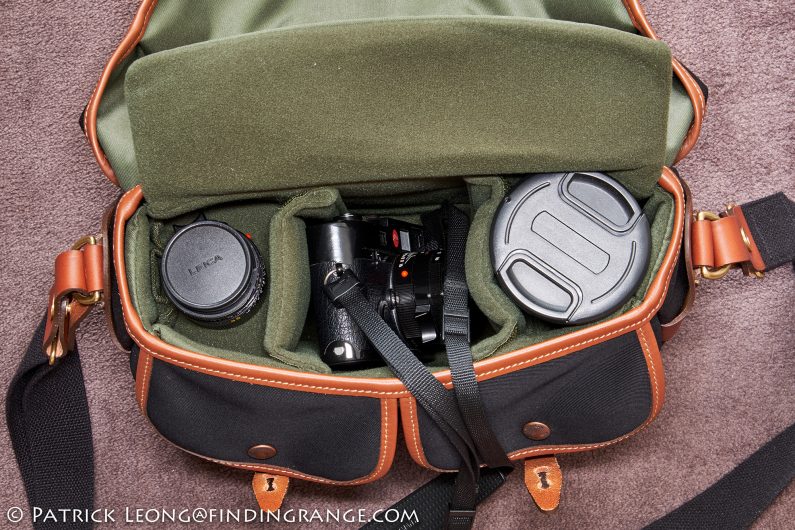 ↑ In this photo, I used the stacking dividers, so that I could add a 35mm Summicron Version 4 (left), and an 18mm Super Elmar ASPH (left) in the bag.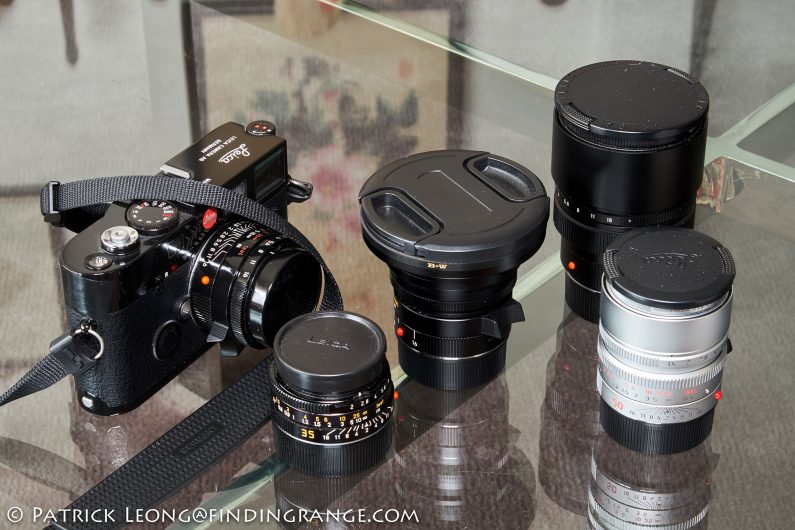 ↑ This is basically the kit in the above photo.
As for accessories, there are two big dump pockets in front of the bag.  They each have a flap, and a press stud to secure the flaps.  Like the Hadley Small, the two front pockets of the Hadley Small Pro are fitted with a secondary stud in their top outer corner.  By opening this stud, you can expand each pocket.  When this stud is secured, it can form a pen holder.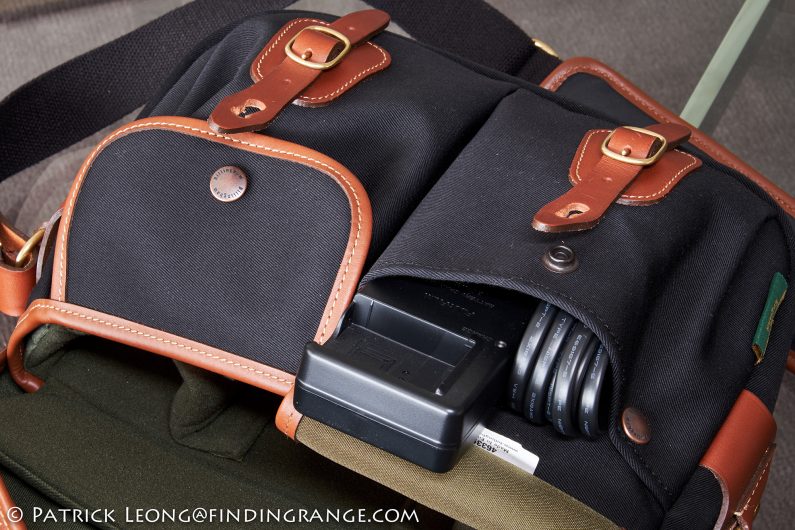 ↑ The dump pockets can fit miscellaneous items like chargers, SD cards, and batteries.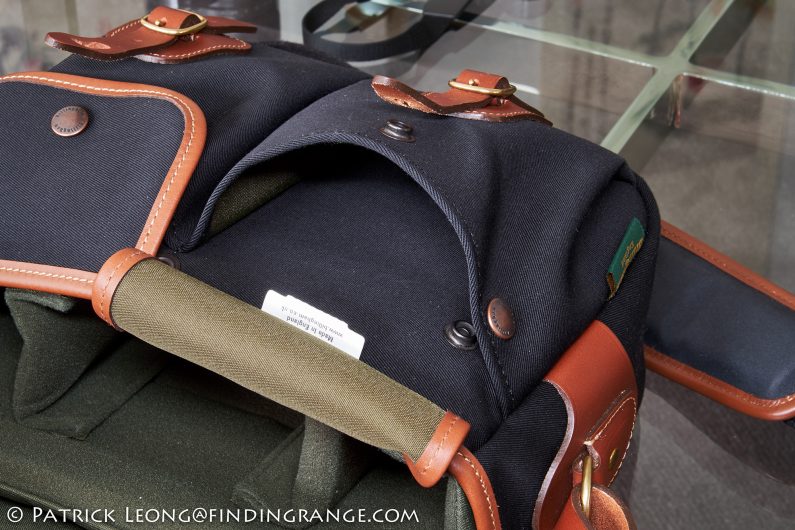 ↑ The pockets are expandable.
While I was in Japan, I had a different setup then the ones I just mentioned.  I carried a Leica M10 with a 35mm Summicron ASPH, a 50mm Summilux ASPH, and an 18mm Super Elmar.  I used the dump pockets for my iPhone X, SD cards, headphones, camera battery charger, and phone charger.  I also brought along my iPad Pro 9.7.  Of course, with the bulk of the chargers, and miscellaneous accessories, the bag was definitely stuffed full but still manageable.  Luckily, Billingham also sent me the SP-40 Shoulder Pad, which I highly recommend.  It's worth every penny.  It's one of the most comfortable shoulder pads that you can get, the quality is amazing, and it offers quite a bit of extra support, especially if you know you're going to be lugging a lot of gear.  When I arrived in Japan, I took the chargers, and iPad out.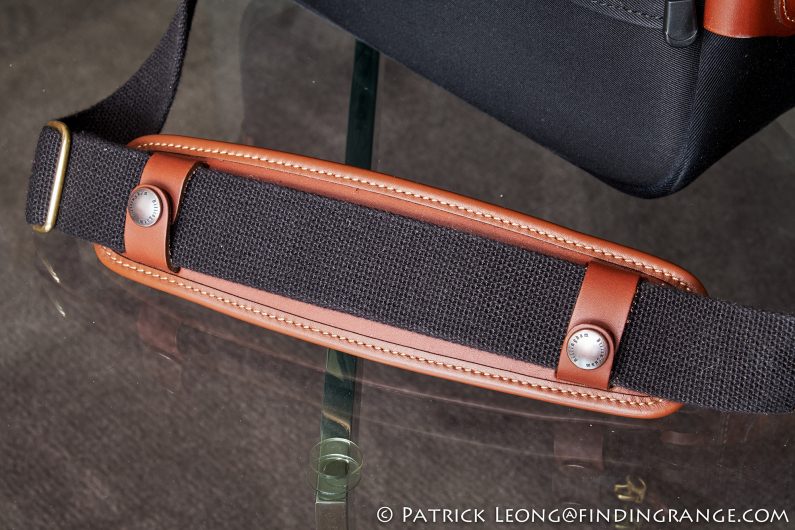 ↑ This is the SP-40 Shoulder pad.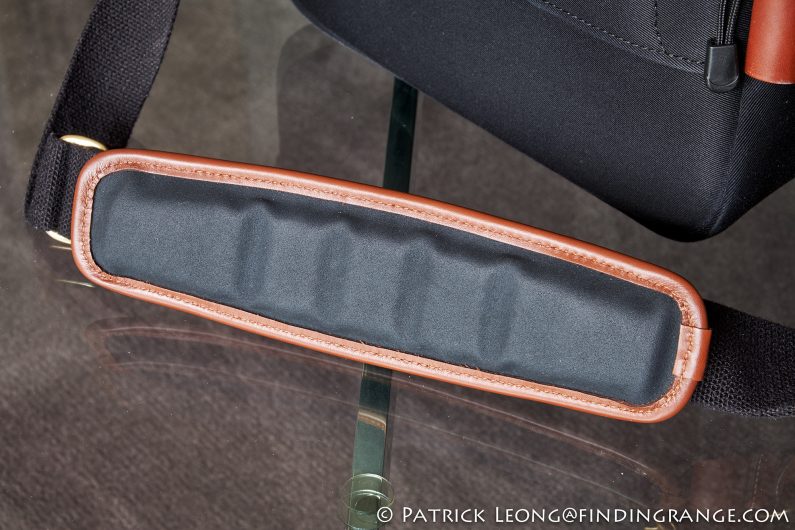 ↑ This is the back of the shoulder pad.
Comparing The Hadley Small Pro With Other Billingham Bags:
To give you a better idea of the Hadley Small Pro's size, I thought I'd just put it next to a few bags that I have here.  I didn't put it together with Billingham bags that were drastically different in terms of size, so if you want more info on say a Billingham 307 or the new Billingham 72 for example, you can check out my review section.  I've reviewed a lot of Billingham bags of all sizes, and hopefully those reviews will help you find the right one for you.
So, here are a few pics of the Hadley Small Pro with various other Billingham bags.  First up is the M Combination bag, which is one of my favorites.  This used to be my most used bag for a very long time but it gets used less now because I switched from the Leica M to the SL system.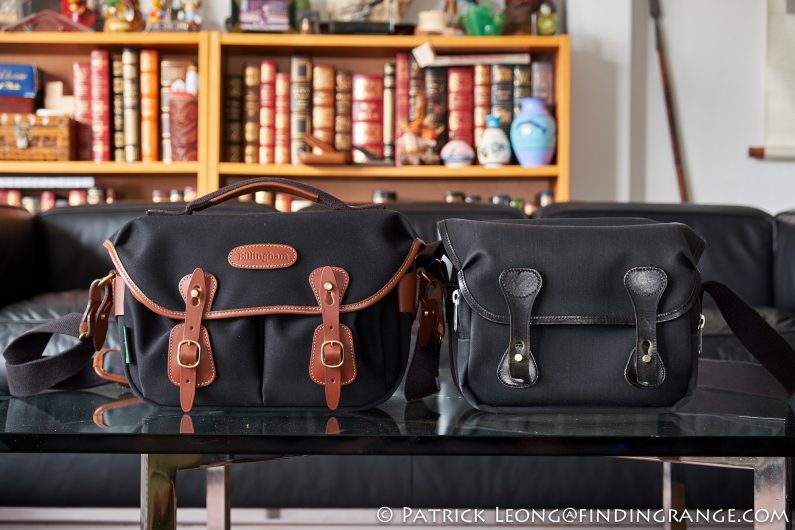 ↑ The Hadley Small Pro vs. the M Combination Bag.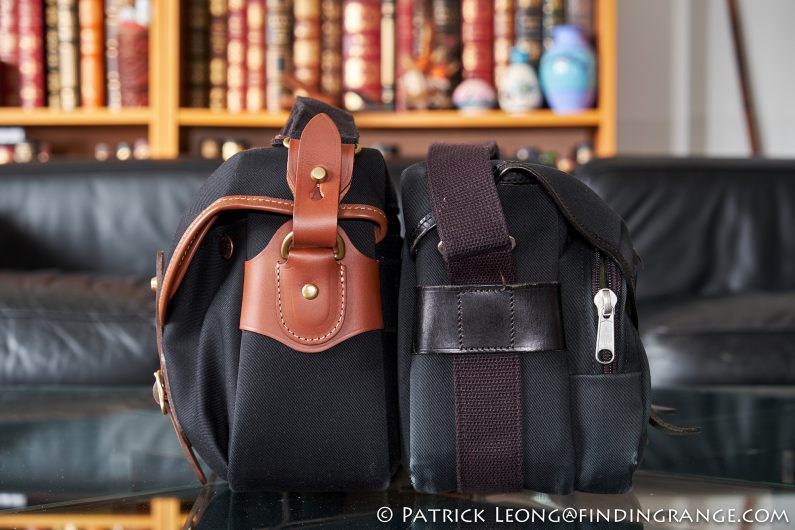 ↑ Side view of the bags above.
Next up is the original Hadley.  I thought I'd compare this one because it's about the size of the Hadley Pro, and I'm sure there are some that want to know how much larger the Hadley Pro is versus the Hadley Small Pro.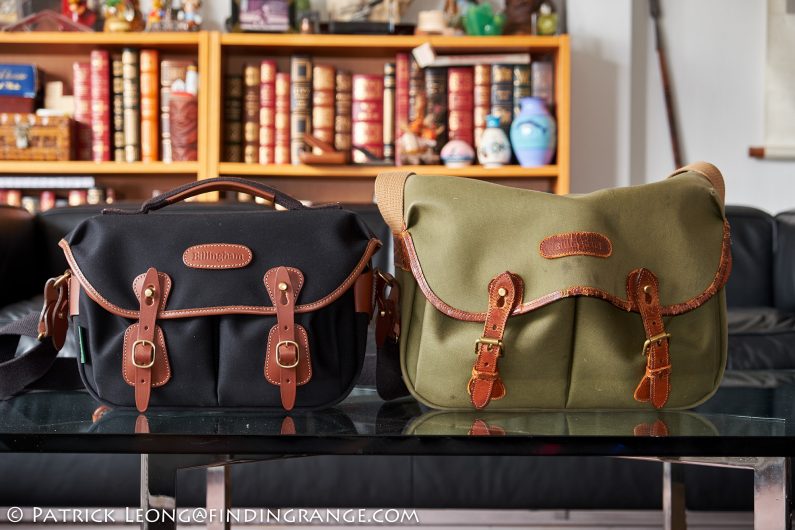 ↑ The Hadley Small Pro vs the Hadley.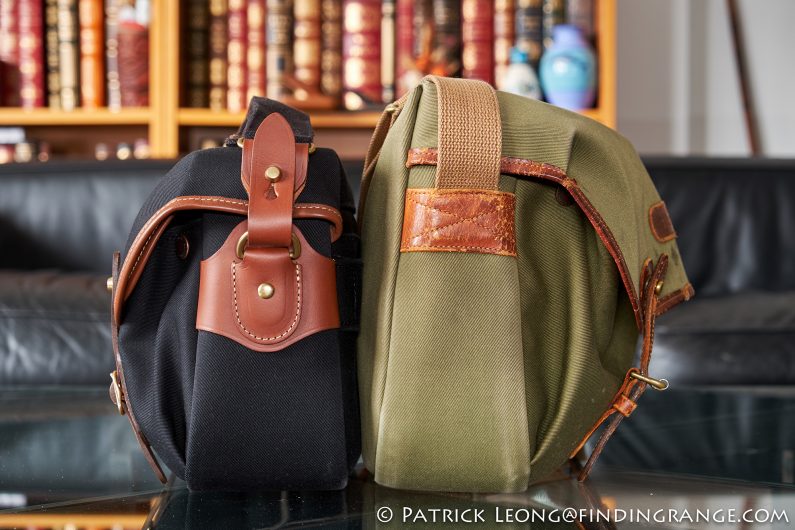 ↑ Side view of the bags above.
Last up is the Hadley One.  This is absolutely one of my favorites, and while I'm normally hard on my bags, this is one bag that gets the white glove treatment (just kidding 🙂 ).  As you can see, the Hadley One is a pretty large bag.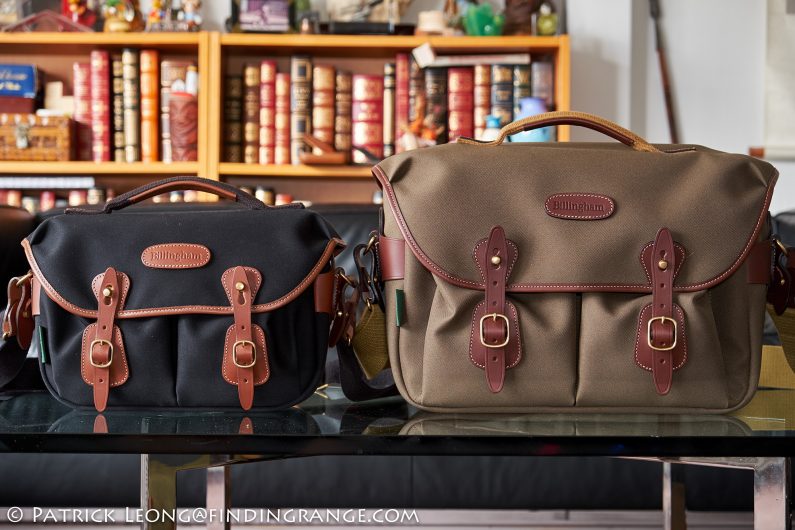 ↑ The Hadley Small Pro vs. the Hadley One.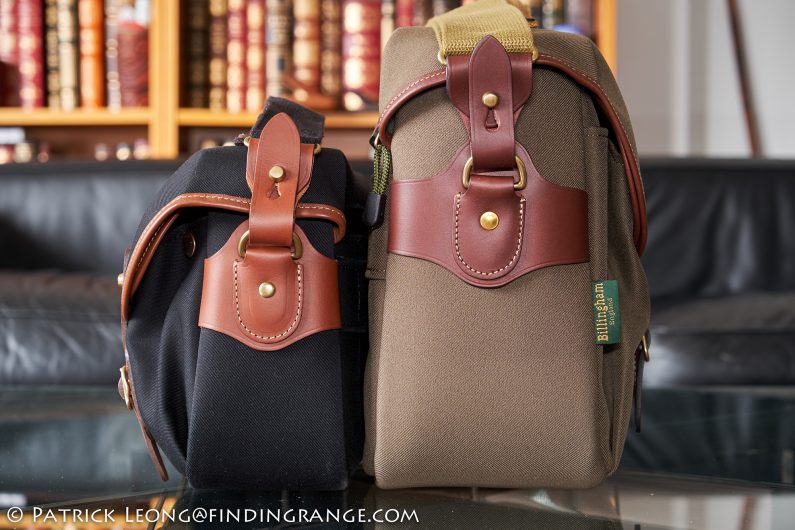 ↑ Side view of the bags above.  As you can see, the Hadley One is quite larger.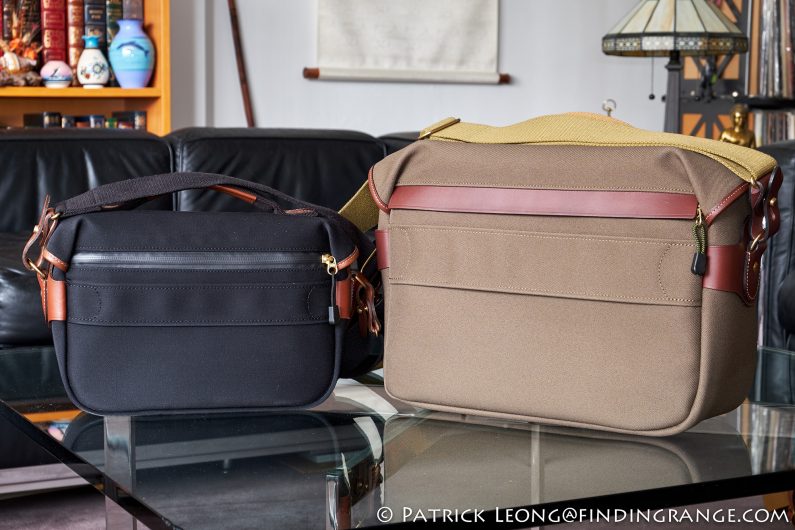 ↑ The Hadley One and the Hadley Small Pro look nearly identical.  I just noticed that there's a leather protector for the back pocket zip on the Hadley One.  The Hadley One also has the waterproof zip.
If you want to see reviews for each of the bags I just mentioned, click on the links below:
Billingham M Combination Review
I didn't really bother comparing the Hadley Small Pro to the Hadley Small because they are essentially the same size.  If you want to read the review to the Hadley Small, it's here.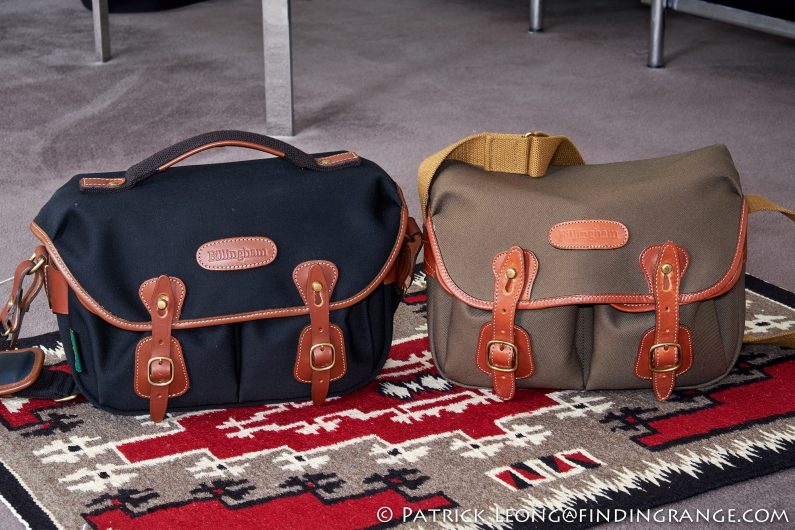 ↑ The Hadley Small Pro vs. The Hadley Small.
Billingham Hadley Small Pro Camera Bag in Use:
As I mentioned earlier, the Billingham Hadley Small Pro operates just like the original version in actual use.  In other words, it is an absolutely wonderful bag to carry around all day.  It's beautifully balanced, it hugs the body well, and it's slim enough, so you can weave through crowded streets with ease.  It's also very light, which was a lifesaver while I was in Japan.  I was out early in the morning, and arrived back to my hotel very late in the evening everyday.  I did a lot of walking, and before I arrived in Japan, I had actually pinched a nerve in my back but I couldn't ask for a better bag to be my all day companion.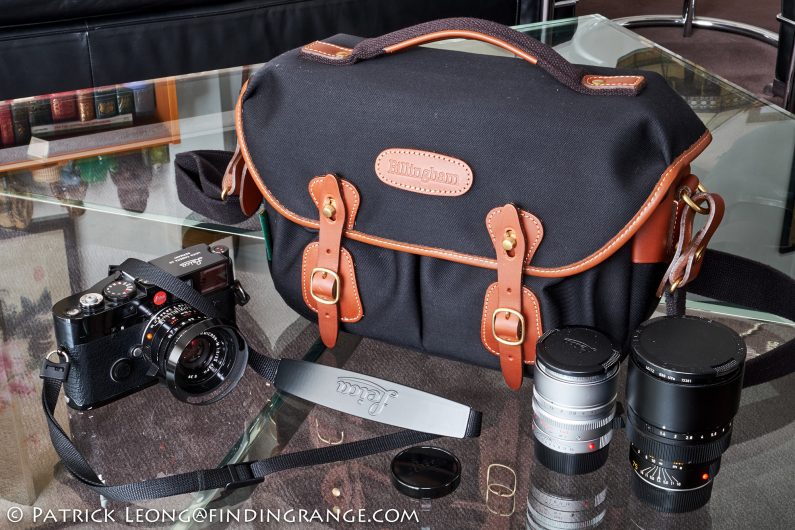 ↑ The Hadley Small Pro makes a great everyday bag.
Gaining access to the Hadley Small Pro is also a hassle-free operation.  What I love about Billingham bags in general is that they offer great security but at the same time, it's not at the expense of the photographer's convenience.  The Hadley Small Pro's front closing straps are part of a design that Billingham calls their Quick Release System.  Opening the bag is very simple; the top of the straps go into brass clogballs, and when you want to open the bag, you simply slide the straps off them.  The buckles below are simply there for adjusting the fit of the top flap and pockets.  You do not use them to open the bag.
Billingham have been using this design on nearly all their bags, and in my opinion, it's one of the best designs out there for several reasons.  First of all, you can gain access to your bag extremely quickly, hence the name, Quick Release System :).  Unlocking the main flap can easily be done with one hand without looking while walking as well.  You never have to put the bag down.  The system is also essentially noiseless.  There's nothing like velcro or metal banging into each other that will cause noise.  This design is also very secure.  You really don't have to worry too much about someone trying to open your bag because you will definitely feel them trying to manipulate the straps.  It's also secure enough that you could technically flip the bag over (which I do not recommend you do with any bag), and nothing will fall out.  Lastly, it's not overly complicated, and I think this is extremely important to mention.  It's just a plain out good design that works extremely well.  Something like this just needs to be easy to manipulate, and discreet to operate while also being very secure, which Billingham have clearly achieved.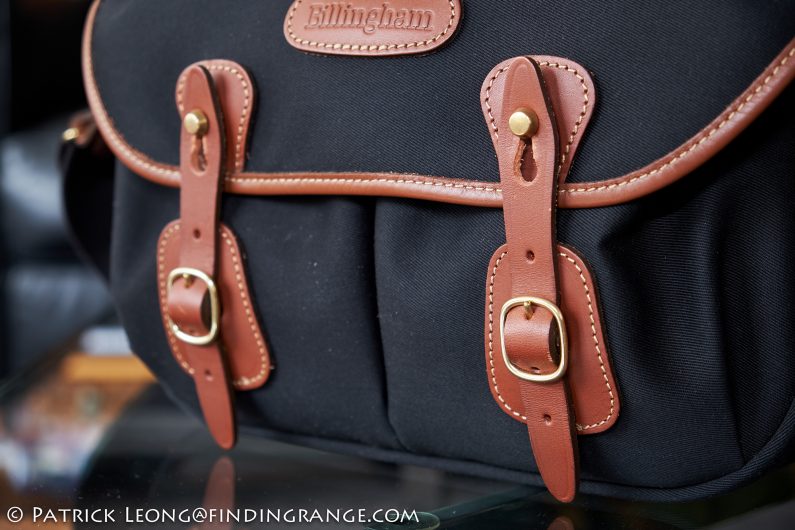 ↑ Close up of the Quick Release System.
In terms of appearance, we all have our own preferences but I love the overall design of the Billingham Hadley Small Pro.  Like the rest of the Billingham family of bags, the Pro has a classic and somewhat understated appearance, which in a way, can also help increase the longevity of the bag.  In other words, it never really goes out of style.
It also doesn't really look like a traditional camera bag, and therefore, it doesn't scream camera gear.  I walk around with Billingham bags in NYC all the time, and quite frankly, I just blend in with the rest of the crowd.  Once the bags break in and patinas a bit, blending in is even easier.  I see people carrying bags to work that look similar to the Hadley Small Pro.  I've actually seen people on the train using Hadley Pros as work bags before :).  In fact, my former organic chemistry professor still uses a Hadley Pro to go to classes.  The Hadley Small Pro's appearance makes it blend in well in a variety of scenes.  It never feels out of place whether your in a gallery, a nice dinner, at work or roughing it out in the field.
Billingham Hadley Small Pro Camera Bag Specifications:
External Dimensions

W330mm (13) x D140mm (5½") x H260mm (10¼") (H measurement includes height of handle)

Internal Dimensions

W260mm (10¼") x D80mm (3⅛") x H190mm (7½")

Capacity

3.50 litres (0.12 feet³)

Weight

0.80 kgs (1.76 lbs) (excluding shoulder sling) OR 0.95 kgs (2.09lbs) (including shoulder sling)
Front 'dump' pockets (2): W100 to 140mm (4" to 5½") x D40 to 50mm (1½" to 2") x H170mm (6¾")
Front 'dump' pocket capacity: 0.5 to 0.75 litres (0.02 feet³ to 0.03 feet³)
Luggage trolley strap retainer will fit handles approximately 19cm wide – however if the top of the hand is slightly bigger than this you can 'jimmy' it over the top handle to put the bag on.
Billingham Hadley Small Pro Camera Bag Verdict:
Billingham really have making bags down to a science, and this is clearly evident with the new Hadley Small Pro.  The Hadley Small Pro keeps all the best parts of the Hadley Small that we love like the superb craftsmanship, quality of materials, and overall size.  But then they add features that simply make the bag even better all while not ruining the overall feel of it.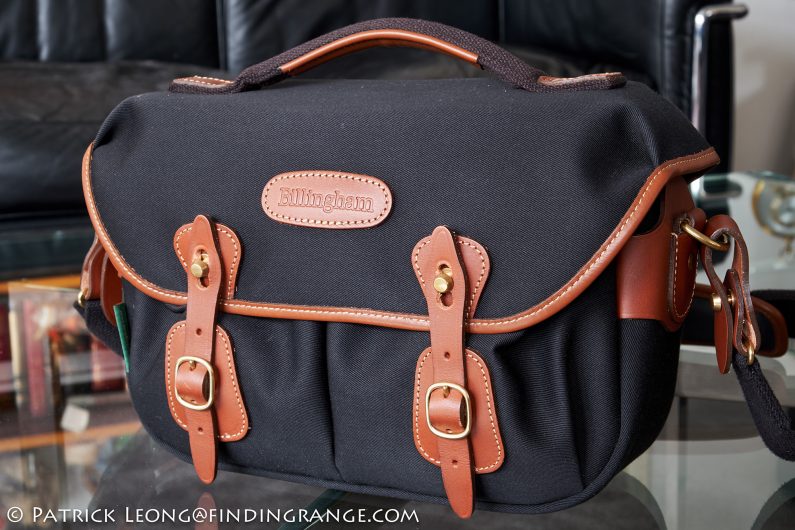 ↑ One more pic of the Billingham Hadley Small Pro.
As of now, if you want one of these bags, the price will set you back $330.  It's expensive but not overpriced by any means considering what your getting, and when you compare it to many of its competitors.  Plus, considering how much gear costs these days, I don't mind spending a little more money on a bag that will give me that extra insurance.
Because of the price, Billingham bags are often associated with boutique bags but in my opinion, they aren't boutique in the traditional sense.  What you're really paying for here is the materials and craftsmanship that will produce a bag that not only offers some of the best protection available for your gear, it is truly functional in every sense of the word like any "pro" bag.  These bags are also built well enough to last for many years to come even when you subject them to the harshest of conditions.  You could find a cheaper bag but not all of them will last nearly as long as this one, so in the end, you might even be saving money with the Hadley Small Pro.  I know I saved in the end because all my Billingham Bags simply last forever, and I am out nearly everyday with a bag.  Unlike my camera gear, I tend to be pretty rough with my bags as well.  Plus, the peace of mind from knowing that my gear is so well-protected in something like the Hadley Small Pro or any Billingham bag for that matter is priceless in my opinion.
With all this said, of course, there are other manufacturers that also make quality bags.  I don't dispute that.  If you're looking for all leather, Oberwerth makes excellent bags, and so does Cravar.  Domke also makes great bags like the F-803.
But there is no disputing that the new Hadley Small Pro is a superb bag.  For a person looking for this size of a bag, the Hadley Small Pro is definitely a keeper.  It is just about perfect.  It will be your constant companion through thick and thin protecting your gear like the best of them, and it'll last you the lifetime of several other bags put together.  This is not me just feeding you what I read in a press release; this is coming from a guy that has been regularly using one of his Billingham bags for 20+ years.
Thanks for taking the time to read my review!  If you're considering purchasing the Hadley Small Pro, and my review helped you decide, please help support this site by purchasing from any of the links in this review.  It will not cost you anything extra.  Thank you for your support
Billingham Hadley Small Pro at B&H Photo in:
Khaki FibreNyte/Chocolate Trim
If you want more info, check out Billingham's webpage!