Billingham Hadley Pro 2020 First Impressions Review:
As some of you know, I'm a huge fan of Billingham bags.  They're worth every penny because they protect gear so well, they're extremely well-made, and more importantly, they last forever.  I have a bag that is over two decades old, and it's still one of my normal day-to-day users.  It's not an exception either; I have other bags from them that are many years old as well.  I treat them all like daily users, and trust me, I do not have, shall we say, the most delicate touch when it comes to my bags.  They get beat up, scraped, rained on, and snowed on.  One even had an unfortunate accident in my organic chemistry class a long time ago but it still survived ;).  My philosophy is camera bags are designed to protect my gear, and that's how I'll use them.  Anyway, I love Billingham bags, and I was definitely excited when I heard from them that a new bag was being released.  In fact, it's not just a new one, it's a new version of one of their most iconic, and best selling bag ever, the Hadley Pro. Thanks to Billingham, I'm sharing with you my first impressions of the new Hadley Pro 2020.
So, what is actually different, and how could Billingham possibly improve on an already superb bag that has been trusted by so many users?  Well, you definitely don't want to make drastic changes to something like the Hadley Pro in an attempt to try and improve it.  The Hadley Pro is a classic, and it has a big fan base,; you definitely don't want to mess with the overall formula.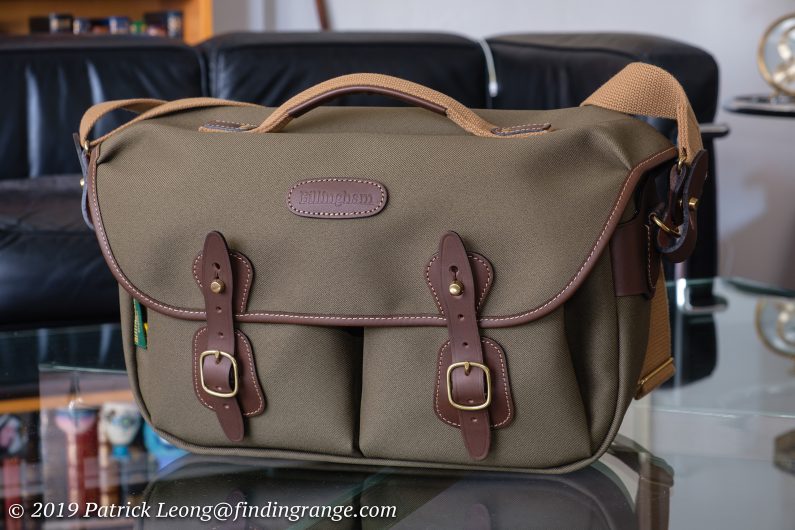 ↑ The Billingham Hadley Pro 2020 in Sage FibreNyte and Chocolate Leather.
With that said, there is always room for improvement.  Gear evolves over time, and the needs of photographers do as well.  The Hadley Pro has been in production for years, and thanks to feedback, Billingham was able to figure out what needed to be changed to make the Hadley Pro even better.  The good news is that from what I see, and experienced so far, none of the changes detrimentally affect the overall formula of the bag in any way.  In fact, most of these changes can be found on other recently released Hadley bags, such as, the Hadley One (my review here).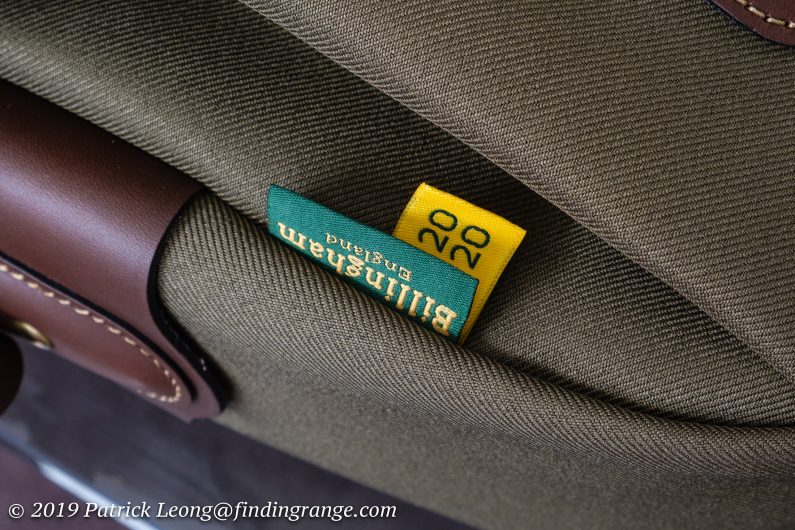 ↑ Like the Hadley Pro, the new Hadley Pro 2020 is one of the most versatile bags currently out.
What are the changes?  For one, the Hadley Pro 2020 has a luggage trolley strap on the back, which is great for when you're traveling.  The luggage trolley strap allows you to slip the Hadley Pro 2020 over the handle of a suitcase for added convenience.  There's a weather proof zippered compartment for papers and travel documents on the back as well.  This zippered compartment can still be accessed when you're using the trolley strap by the way.  Other changes include a new removable shoulder strap like the one found on my Hadley One and the Hadley Pro Small (review here).  Lastly, there's also the high strength handle that we see on the Hadley Pro, but in the case of the Hadley Pro 2020, there's leather covering the underside for added comfort.  The handle is reinforced with fiberglass, so it's definitely designed to handle the stress of heavy gear.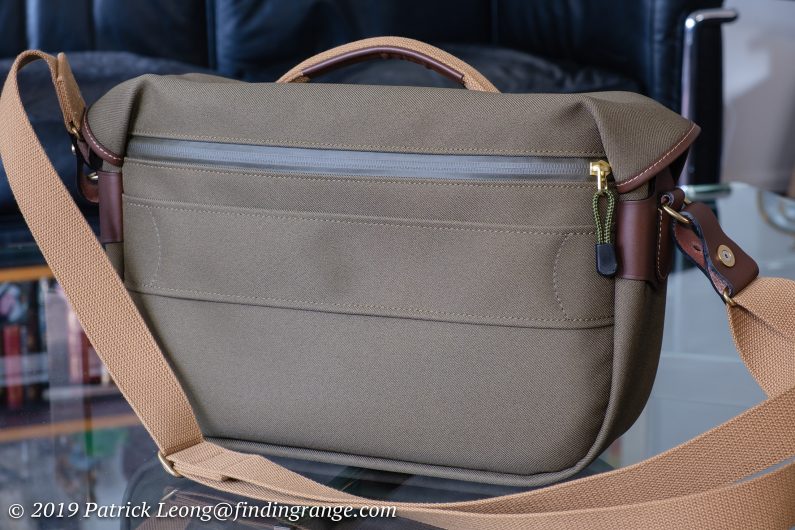 ↑ The back of the bag.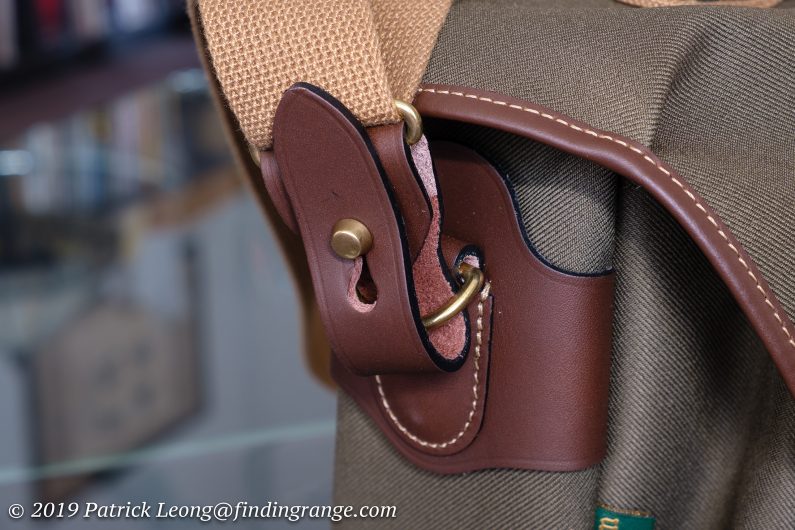 ↑ The new removable shoulder strap.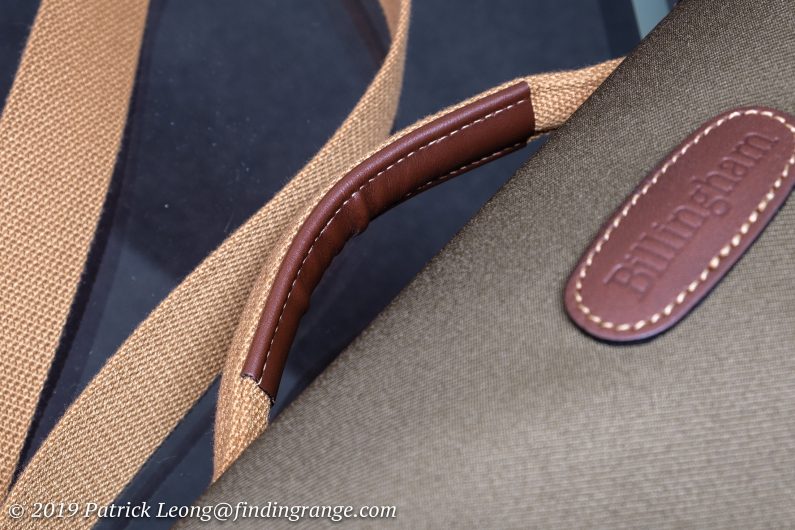 ↑  The underside of the handle is covered in leather for more comfort.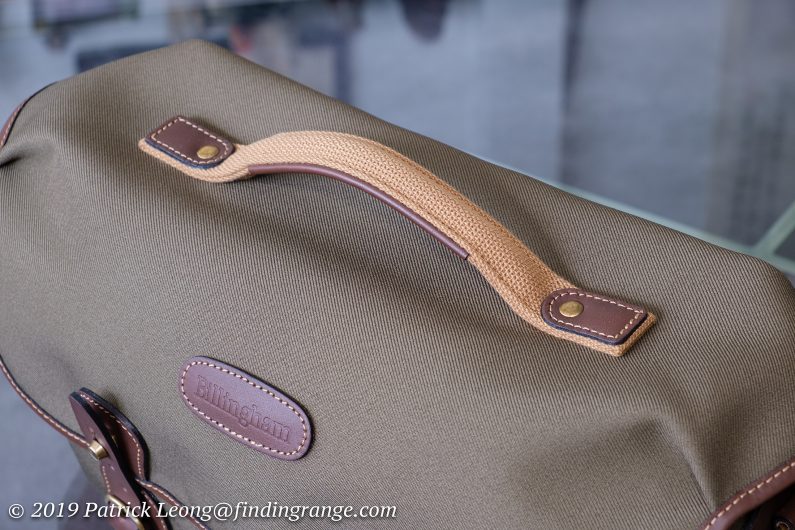 ↑Top view of the handle.
The rest of the Billingham Hadley Pro 2020 is just like any other Hadley: it's built to protect your gear, and built to last.  It's also beautifully made.  There's fine leather trim and solid brass parts all over the Hadley Pro 2020.  The entire bag is weather-proof thanks to the inner layer of butyl rubber, so it'll handle pretty much whatever Mother Nature has in store.  I've been using Billingham bags for years, and I'm still amazed at what kind of bad weather these bags can handle.  Like the Hadley Pro, the Hadley Pro 2020 has a removable insert that is extremely well padded.  In fact, Bilingham offers some of the best padding in the industry, if you ask me.  Having the ability to remove the insert, definitely comes in handy too.  It's great to be able to use the bag without the insert, if for instance, you choose to use the Hadley Pro 2020 for something else other than photographic gear.  It just adds to the versatility of the bag.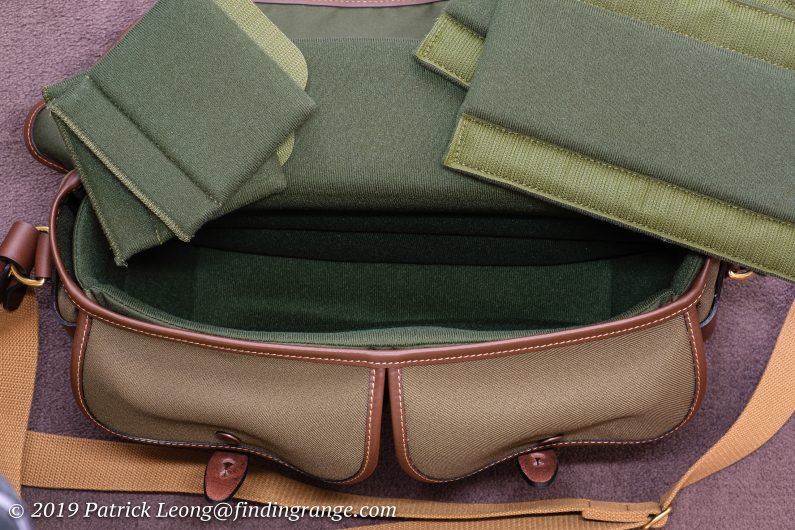 ↑ The insert is removable.  There are four dividers included.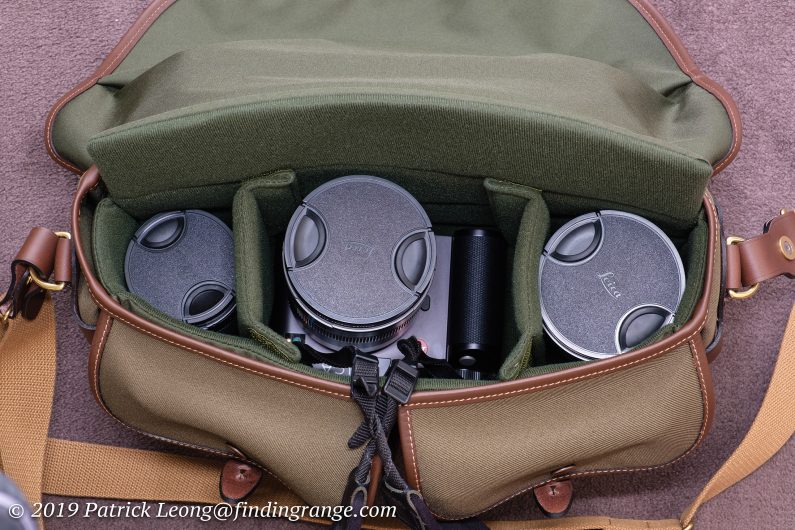 ↑ The Hadley Pro 2020 does not look it on the outside but it can sure hold a lot of gear.  Pictured here is my Leica SL with Summilux-SL 50mm ASPH in the center.  My Vario-Elmarit 24-90mm ASPH, and APO-Summicron-SL 90mm ASPH are on the sides.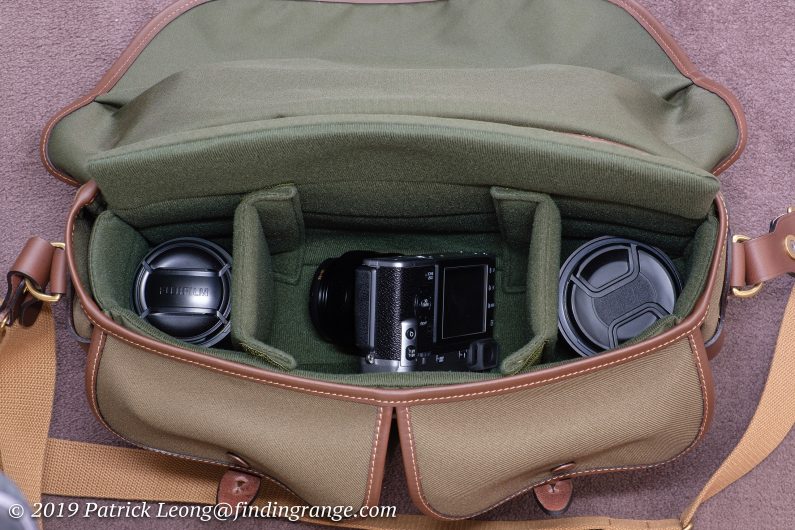 ↑ You can, of course, use the Hadley Pro 2020 for more compact gear.  I have my Fuji X-E1 with XF 35mm f1.4 mounted in the center.  The Zeiss Touit 12mm f2.8, and XF 56mm APD lenses are on the sides.  If I wanted to, I can use the smaller dividers, which are included with the bag, to stack two additional lenses.
Like many other Billingham bags, you can get the Hadley Pro 2020 in either traditional canvas or their more synthetic FibreNyte material.  I've owned both materials over the years, and both are excellent.  It just comes down to personal preference: if you want something slightly softer, and more traditional, go for the canvas.  If you want something that gives you a very close feel to canvas but is slightly more durable, lighter, and more fade resistant, go for the FibreNyte.  My preference now is the FibreNyte.  Whatever you choose, both materials last for what seems like forever, and their waterproofing never needs reproofing.  There's also many colors to choose from.  The one in this first impressions review is Sage FibreNyte/Chocolate Leather.  It's one of my favorites, and almost my recent Billingham bags are this color combination.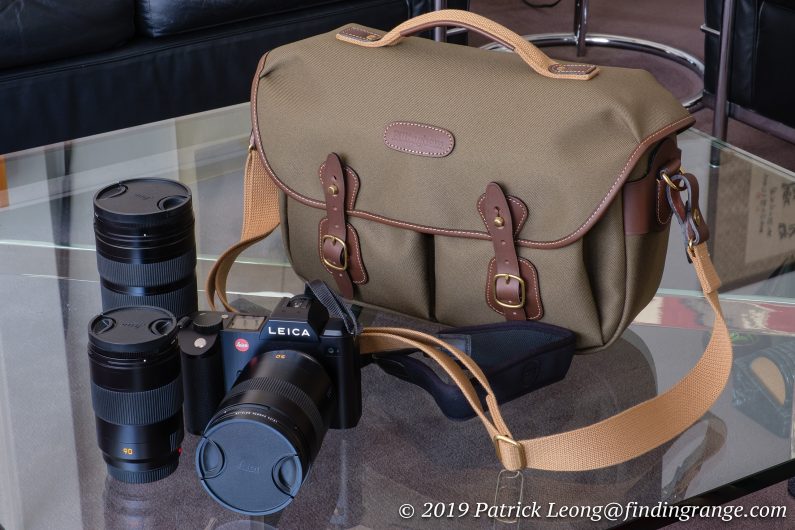 ↑ The Billingham Hadley Pro 2020 next to my Leica SL system.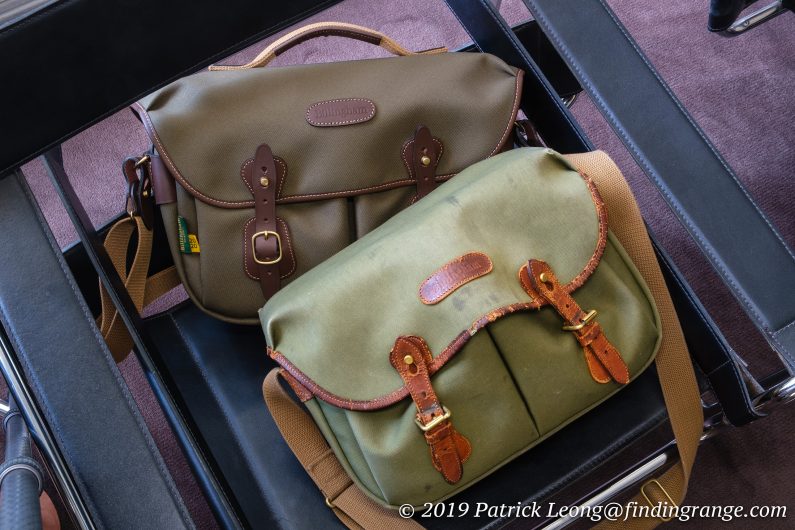 ↑ This is my Original Hadley.  If I remember correctly, this bag is over two decades old.  I love this bag; it's still treated like a daily user to this day.  But I am so loving this new Hadley Pro 2020…it may be time for my Original Hadley to retire or at least work part time ;).
So, that's about it for my first impressions.  As you can see, I've added a few pictures, so all of you can get a feel of the bag.  I'm going to be using the Hadley Pro 2020 for the next few weeks, and testing it with my Leica SL system, and my Fuji X Series system.  Those systems are very different in terms of size, so I figure it would give all of you a better perspective of what the Hadley Pro 2020 can handle.  Expect a very detailed review of it to come here soon.  If you have any questions, you can always ask me below.  You can also find me on Instagram.  If you want to know more about other Billingham bags, I've reviewed nearly the entire collection, so check them out here.  Thanks for stopping by!
If you want more info, you can also check out Billingham's webpage for the Hadley Pro 2020.