Expert Shield Screen Protector Review For The Leica SL2:
As some of you know, I've had my Leica SL2 since the day or the second day that it was released.  But one of the downsides of having a new camera so early is there aren't many accessories that you can buy for it yet.  For instance, I couldn't find a decent screen protector for it.  Leica usually comes out with them for their cameras but even they haven't released one for the SL2 yet.  So, I decided to contact Expert Shield.  I've not only reviewed their screen protectors in the past, I've also used them for every single one of my cameras except for my SL only because at the time, one was already thrown into the mix when I bought it.  Anyway, they did not have one for the SL2 yet but from past experience, I know that they are more than willing to make me one, which is what they did.  (As of now, the Expert Shield screen protector for the Leica SL2 includes two screen protectors for the back LCD display and two for the top LCD display.  Check my post about the top LCD display screen protectors here).
So, this is going to be a mini-review, since I've already reviewed Expert Shield screen protector before (link here).  Just know that in my opinion, these are the best screen protectors that you can buy, and this is after years and years of using them.  They come in either Crystal Clear or Anti Glare.  I prefer Crystal Clear, which is actually what you'll see in the photos below.  They're also just slightly thicker than what's generally out there, so the quality is definitely there.  However, the touch screen still works, and they aren't more noticeable than any other brand, once they are attached to screens.  I test a lot of different things, which include screen protectors, and I'm telling all of you, this is quality stuff.  Best of all, this screen protector isn't permanently glued on to my screen.  Whenever I want to peel it off, I definitely can, and it will NOT leave a residue.  The Expert Shield screen protector pack also costs about $12-13, which isn't bad at all.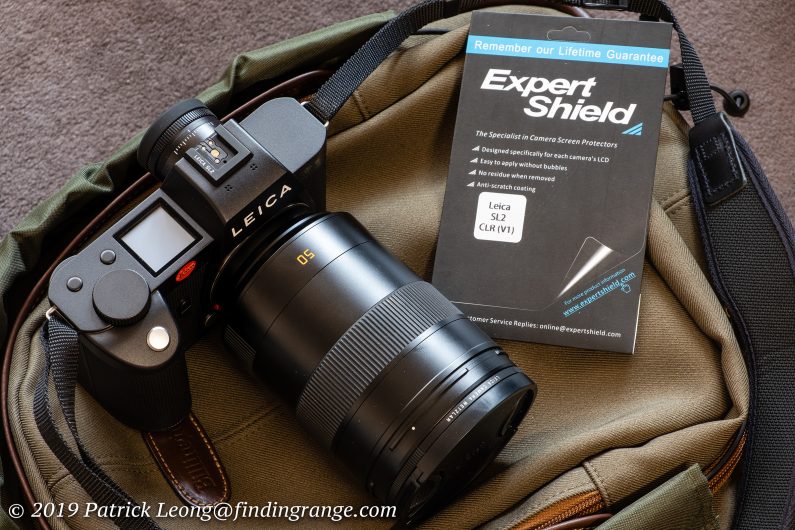 ↑ The Leica SL2 and the Expert Shield screen protector.
Now, some may be wondering why I would even need a screen protector considering the SL2's LCD display is gorilla glass.  True, it's a pretty tough LCD display but one of my biggest pet peeves is a scratched screen.  Why take the chance?  We're talking about a $6K camera, and I'm only putting in a $12-13 investment.  That's a pretty good price for that extra peace of mind.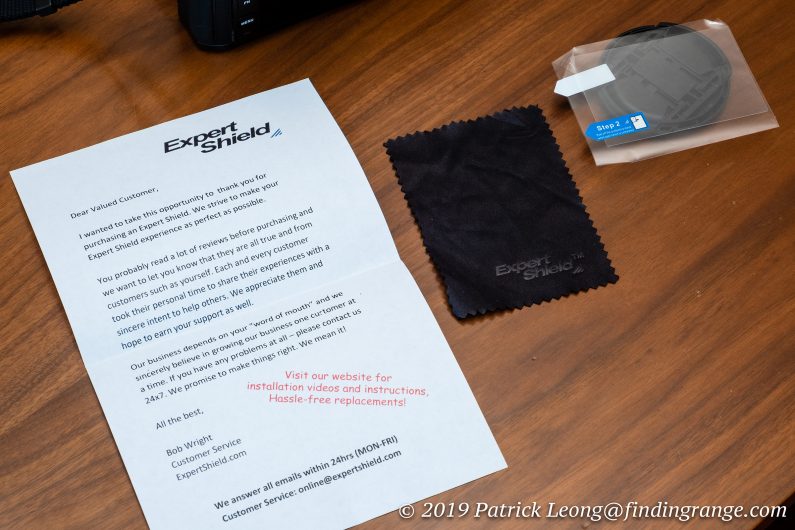 ↑ This is what is basically included in the package.
As for putting the Expert Shield screen protector on the LCD display, it couldn't be easier.  The package comes with full instructions, and links to even more instructions and videos.  All I did was turn on my shower to steam my bathroom a bit, so the air was denser making it harder for dust particles to float around.  I had some scotch tape near me just in case I needed to lift the screen protector and re-align it.  I also had my Giottos Rocket Blaster (large) to help me blow some of the remaining dust off my screen (the Giottos is like the best thing I ever bought lol.  So useful).  So, there are two tabs on the screen protector itself.  Make sure you align the screen protector, and practice a bit before you peel any of these tabs off.  Once you're ready, peel the first tab, which exposes the ESgel or the part that clings to the LCD display, and begin laying it on your LCD display like a band aid.  It will attach immediately to the LCD and to dust as well, which is why you should do this quickly.  This is also why I was telling you to align the screen protector and practice before hand.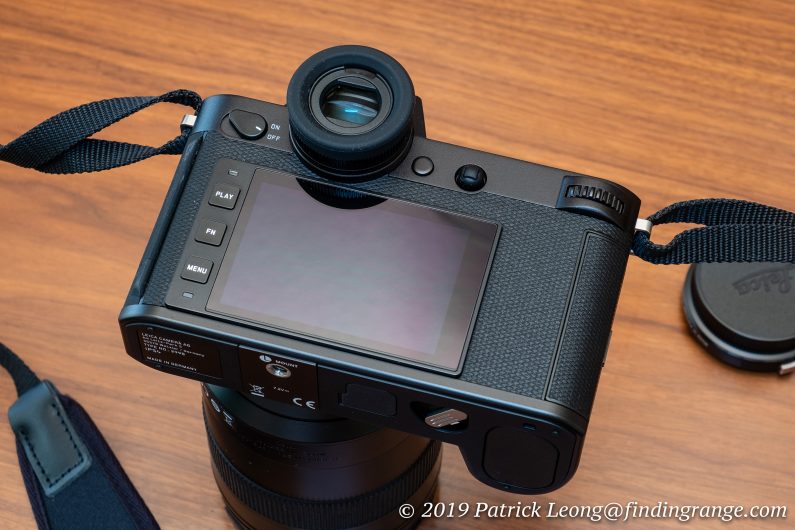 ↑ This is the SL2 with the screen protector attached.
Once it's attached, there is a second tab, which peels a protective layer off the top of the screen protector that you will need to remove but first, make sure there are no bubbles or any debris under your screen protector.  If there are a couple of bubbles, they are easily removed simply by either using a credit card or a finger wrapped with the microfiber cloth provided, and start pushing the bubbles out to the nearest edge.  After that, you can peel off the last protective layer.  That's basically the abbreviated directions.  The package does come with a much more detailed one.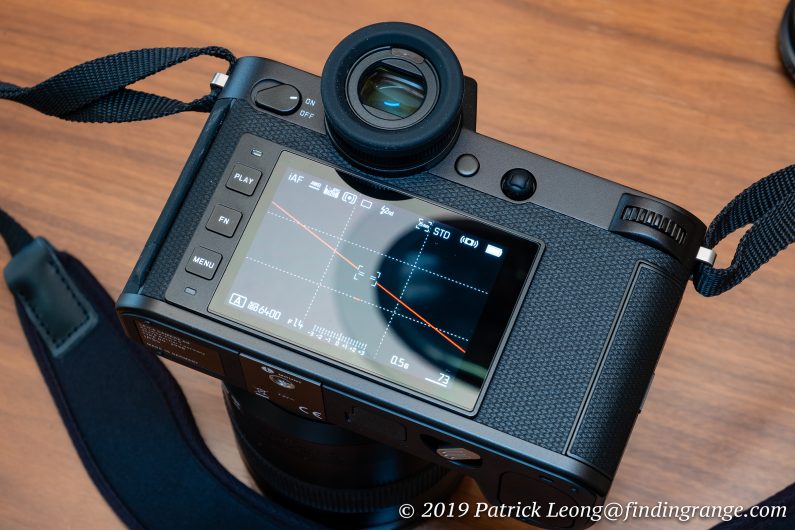 ↑ Here's how the screen looks like turned on.
So, do I like it?  Well, look at the pictures for yourself.  You wouldn't be happy with the final results ;)?  I love it.  It was easy to put on, and the fit couldn't be any better.  Also, if you mess up, Expert Shield has a guarantee for the lifetime of your device.  They'll take your return for free through Amazon, and send you a new one.  That's crazy good service.  Speaking of service, they are so communicative, friendly, and respond very quickly.  While they say they respond Monday through Fridays, I was getting responses even on weekends.  As soon as I sent them my measurements of my screen, they sent me the screen protector immediately.  For me, service and communication are very important; I've avoided brands before simply because I didn't feel their service was good enough to back up their products.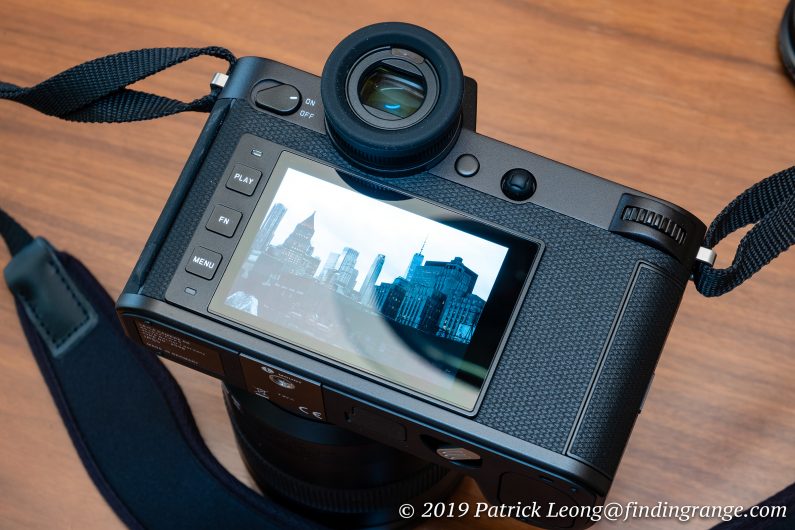 ↑ Here's another view of the screen turned on with the Expert Shield screen protector.
Now, as I mentioned earlier, Leica does make their own screen protector, and you could buy that one but first off, I didn't want to wait anymore, and second, it only comes in matte.  I had the Leica version for my SL, and it's an excellent one as well but I never liked the matte protector.  The Leica SL2 has such a nice screen; of course, I would want to see all its vibrance and colors.  The Leica version does include two screen protectors in the package but that's for $25.  The Expert Shield version includes two screen protectors as well, and you can now get two screen protectors for the top display as well (Again, if you want more info on the top LCD display screen protectors, you can check out my post about it).  The price?  $12-13.  You also get the guarantee I mentioned above.
As for ruggedness, the Leica SL2 is new, so keep in mind that I haven't had months of usage with it yet.  However, I have had a few long shoots already, which means I've shot a few thousand shots with it in various conditions, and so far, there's not even a little scratch on the screen protector.  Also, as I mentioned earlier, I've been using Expert Shield screen protectors for quite a few years already.  Not one has ever peeled off unless I wanted to peel it off.  I also have not seen any damage either.  These screen protectors are fantastic, and will last for a very, very long time.
So, that's about it.  If you have any questions, let me know.  If you need a screen protector for your SL2, I'm not sure if Expert Shield has them on Amazon yet but you can surely contact them.  They will definitely help you out.  Thanks for stopping by!