Introduction:
There are many companies out there these days that make fine leather goods specifically for Leica M's: Luigi Crescenzi from Leicatime, Zhou, Rainbowimaging (this company is new to me but they look like they make awesome half cases.  You should definitely check them out here at Amazon)…but for me, my favorite is Artisan & Artist.  IMO, the leather that Artisan & Artist uses in their products is by far the best.  Their leather straps are beautifully crafted, and form a nice patina as they get older.  You can check out my review of the Kobe strap if you get a chance.  Their straps and leather half cases look and feel like high quality, precision products, and honestly, while other manufacturers also make quality stuff, I don't see that same level of quality coming from them.  This is strictly my opinion, and others may disagree.  Anyway, a few weeks ago, someone sent me the Artisan & Artist half case for the Leica M9 to check out, and I thought that I would write something up about it since I really can't find much about it on the web.
Build Quality/Protection:
Like every other product that they make, build quality of the Artisan & Artist half case for the Leica M9 (which I reviewed) is superb.  The stitching is perfect, and the half case is made out of soft lamb skin leather.  Your M9 will be cushioned and protected against scratches with the nice and soft olive inner suede lining.  Seriously folks, this is a high quality product!  I personally love the smell of fine leather, and if you're like me, then you will definitely love this case.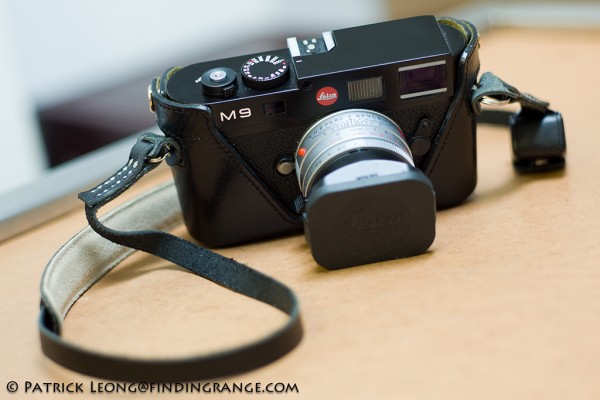 ↑ Here's a frontal view of Artisan & Artist half case for the M9.
Will this case offer adequate protection for your Leica M9?  The answer to that is a big fat yes!  All main areas of vulnerability on the M9 are protected without adding a significant amount of bulk.  The sides where the lug nuts are located are protected by nice thick leather with a button so that the strap can connect from the outer lining of the case.  The leather while thin to reduce bulk, is still thick enough so that it can protect your camera from any normal wear and tear you may receive as you walk around the streets.  The slightly added bulk of the half case also helps you get a better grip on M9.  With this half case, you may not need a camera bag anymore if all that you're carrying a camera bag for is to protect your camera.
↑ Here's a side view of Artisan & Artist half case where the buttons are located.
Like I said before, the leather is nice and thin.  The Artisan & Artist half case may not be the thinnest half case out there but IMO, it offers the best combination of thinness, quality of materials, quality of workmanship, and protection.  This half case will fit your Leica M9 like glove.  IMO, I think It fits the M9 better than the half cases made by Leica and Luigi, both of which, I tried before.  The Leica half case seemed a little too big and bulky for the M9, and the Luigi half case, while also a very high quality case, never seemed to fit well with my M9.  I had a Leica D-Lux 3 half case made by Luigi once, and it didn't fit too well either.  The cut out for the screen was slightly crooked, which made it difficult to compose shots.  Some of my photos were crooked :).  I guess it's not that big of a deal but come on; those Luigi cases aren't cheap.  I had to push down really hard onto one side of my camera just to level it.  I discovered that a couple of other people had the same issue as well.  What I like about the Artisan & Artist half case is that it offers the look and feel of the past while also offering the quality, workmanship, and perfection of the present.  What I mean by this is that you'll get the look and feel of say the 1950's, which many of us Leica users love.  But you'll also get the precision quality that we all have now grown accustomed to in the present.  An example of this: there aren't crooked parts.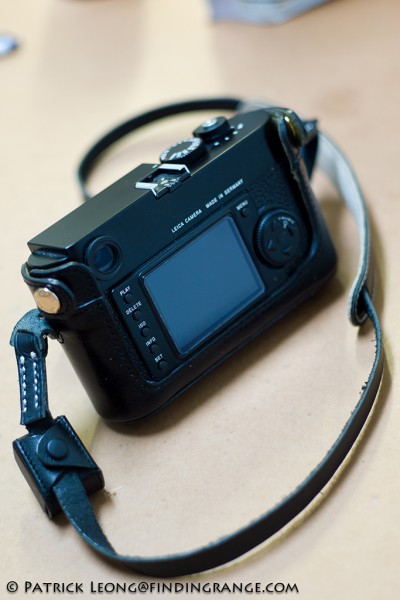 ↑ Here's a rear view of Artisan & Artist half case for the M9.
Negatives:
The first is that by adding a half case, you're adding bulk.  There's no way of getting around that even if you have the thinnest case in the world.  But for those who want a half case, they obviously don't care about that so I can't really say that this is a negative :).  I just wanted to bring this issue to your attention.  I will say that for the protection and quality that the Artisan & Artist half case offers, it's not that bulky at all.  Plus, like I said before, the case actually makes it easier to hold the M9.
Something else that someone might have to take in consideration is that the Artisan & Artist half case is somewhere between $200 to $250.  That's pretty expensive compared to some of its competition.  For instance, Zhou makes an excellent case for $70.  Rainbowimaging makes cases in the $90 range.  I haven't used the Zhou or Rainbowimaging half cases but I heard good things about the Zhou, and the Rainbowimaging half cases look pretty nice.  But I do believe that the Artisan & Artist case is worth every penny.  It's a wonderful case.  Furthermore, the Luigi cases are pretty expensive themselves.  They run anywhere from $150 to almost $300, and that's before shipping them from Italy.
What else?  Well…if you want another color you should maybe consider a Luigi half case because the Artisan & Artist case only comes in black with an olive suede in the inner lining.  I think they came out with two special editions before but one was only sold in Japan in very limited quantities.  There is one last option if you really want an Artisan & Artist case: Artisan & Artist made a case for the Leica M8, which you can use on the M9.  It was a different color where the inner suede resides but if you decided on this case, keep in mind one thing: when Leica built the M9, they took the photo counter out, and chopped the corner off.  The Artisan & Artist half case for the M9 has taken that into account so it's slightly lower on that side.
Conclusion:
If you're looking for a half case for your M9, I urge you to consider the one made by Artisan & Artist.  You can find the this half case here on Amazon.  I don't get paid by Artisan & Artist or anything; it's just that if I see a high quality product I want to say something.  Would I buy one for my M9?  The answer would be that I'm tempted…really tempted…but I wouldn't because I'm just not a half case kind of guy.  But who knows, maybe that'll change in the future :).  I don't know.  But as of now, while this half case is not bulky, it still adds to the camera, and I like the feel of my M9 without the extra bulk.  My M9 is spartan…it has no grips, thumb things or soft button releases.  I love how my "naked" M9 feels, and grown accustomed to it from the Leica M's that I have used in the past.  But that doesn't mean that it's bad if anyone else likes accessories on their camera.  I have a friend who bought an Artisan & Artist half case and one of their straps for his M9 because he loves how it makes the camera look so vintage.  I love the look too.  Hey, if you're paying that much for a camera, you better be happy with it; if that means you want a case or a soft button release then you should get it.  It's just for me, I just don't like the feel as much.  But…I am sooooo tempted because this half case is really nice…who knows…maybe I'll buy this example :).