The Leica 50 Summicron Lens Review:
The 50mm lens is my favorite focal length for the Leica M system, and one of the biggest reasons for this is because of my relationship with the 50 Summicron.  When I received my first camera (a Leica M3), this was my first lens (borrowed from my dad), and it was my only lens for many years to come.  There was no way that I could afford another Leica lens while in high school, so I made do with only a 50mm.  When I went to college, I finally saved up enough money to buy an M6.  My lens of choice?  Again, it was the 50 Cron.  At the time, since I bought my M6 new, this was the only lens that I could afford other than the 50 Elmar.  Combine the price with the image quality that the 50 Summicron has to offer, and it's pretty much a no brainer.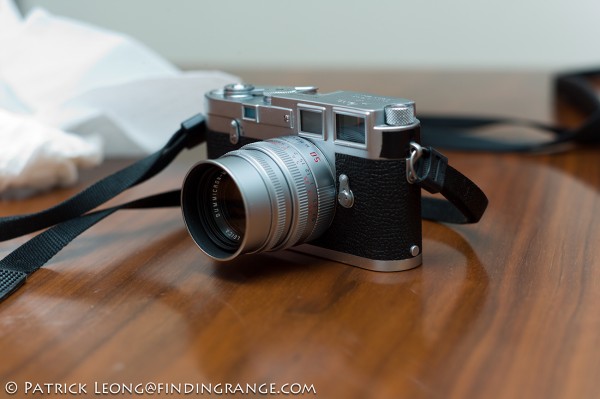 ↑ My old Leica M3 with my 50 Summicron in chrome.
The Ever Growing Choices of Leica 50mm Lenses:
Fast forward ten or twelve years from when I bought my M6 TTL, and now you have a variety of Leica 50mm lenses to choose from to complement your M system.  For those who are more price conscious but still want a Leica lens, you have the wonderful 50 Summarit for $1,495 without lens hood.  While still a little expensive, you're getting a brand new Leica lens that performs exceptionally well.  It's small size is great, and reminds me of the previous 50 Cron with the detachable hood (my favorite version of the Summicron).  I had the 35 Summarit on loan to me from Leica, and I loved it.
The next one up is the 50 Summicron.  Introduced in 1953 with the Leica IIIF, the price for this gem is $2,295.  Like the Summarit, this lens does not have an aspherical design.  But don't let that little fact fool you.  Even though this version has been introduced in 1978, which makes the 50 Cron the oldest lens in the current Leica catalog, it can and still competes with the latest and greatest.  Don't forget, the 50 Summicron is the last Mandler design currently in production.  Mandler built wonderful lenses, such as, the 75 Summilux which I reviewed.  The current version of the 50 cron, which has a built in lens hood and no focus tab, has been in production since 1994, and has essentially the same optics as the earlier version from 1978.
The third 50mm in the Leica catalog, which is also my favorite, is the 50 Summilux ASPH.  If I had one lens to choose from, the 50 Lux ASPH would be it.  It's got an aperture of F1.4, and a built in locking lens hood.  Plus, it's only slightly bigger than the current 50 Cron.  This lens costs $3,995 but trust me, it's well worth it.
The last 50mm in the Leica line up is the Noctilux.  This is a beast of a lens, and offers a truly unique quality that no lens can match.  But the price is $10,995, which basically prices itself out of the reach for many people plus…it's huge!  It would be a great lens to own for certain purposes but not something that I would like to carry everyday.
If the Leica 50's don't suit your need or if they're too pricey, there are a variety of 50mm lens choices from manufacturers, such as, Voigtlander and Zeiss.  You can get such lenses as the Voigtlander 50 Nokton F1.1 for about $1,100 or a Zeiss 50 Planar for under $800.  If you want something faster, you can get the Zeiss 50 Sonnar for half the price of the Summicron.
So with all these 50mm lenses to choose from, why choose the 50 Summicron?  Its the oldest lens in the Leica catalog, and it's not even an aspherical design.  It's certainly not the cheapest choice.  Well, the 50 Cron might be the oldest but to me, it just means that it's so close to perfection that there is no reason to change it.  Plus, while there are cheaper alternatives made by companies, such as, Voigtlander and Zeiss, IMO, none of them can offer you the same image quality, build quality, and Leica feel that the 50 Summicron can.  You can say what you want but there is something about how a Leica lens feels that draws people in like no other, and the Summicron is no exception.  While the 50 Lux ASPH might be my lens of choice, you're not losing much if you choose a Summicron instead.  It's really that good.
 The Leica 50 Summicron:
My M9 was my first digital M…actually my first real digital camera other than the D-Lux's, and I was extremely eager to try all of my older M lenses on it.  For those who are afraid because the formula for the 50 Summicron hasn't changed in quite a few years, all I have to say to you is that I was completely blown away by the image quality from the M9 and 50 Cron combo.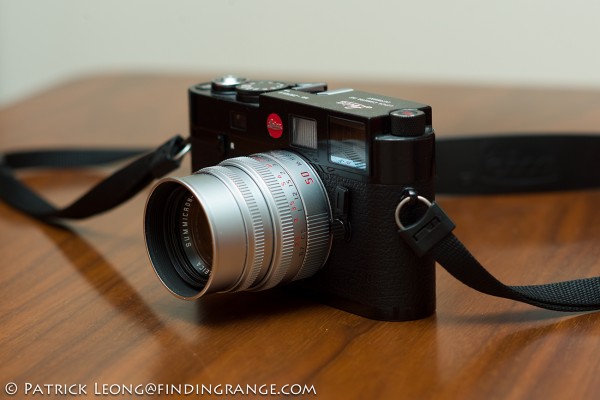 ↑ Leica M6 TTL Millenium with 50 Summicron.
Build Quality of the 50 Summicron:
Like every other Leica lens, build quality is top notch.  The aperture ring on the 50 Summicron clicks very nicely and firmly.  Plus the focusing ring is extremely smooth besting the feel of my 50 Lux ASPH.  My example is the silver or chrome version, which is made out of brass.  This adds quite a bit of welcomed heft to the lens, and definitely adds to the solid feel of this lens.  Say what you want about Leica, and how much they charge for the cron but this lens is one solid, overbuilt piece of glass that can withstand the test of time.  It feels like it was carved from a solid block of brass.  You can easily keep this lens for the rest of your life, and many people do.
50 Summicron Sharpness, Detail and Contrast:
This lens is EXTREMELY sharp!  It was always a sharp lens on film but when I attached the 50 Summicron to the M9, it just blew me away.  I've had my M9 since November 2009, and I still can't believe how much detail this lens resolves. You can use the 50 Cron at any aperture without any loss of detail but just like any other Leica lens, the 50 cron begs to be shot wide open.  The only thing that I noticed is that there is slight vignetting at F2.0.  But this is normal for a lens like this, and it's hardly noticeable in practice.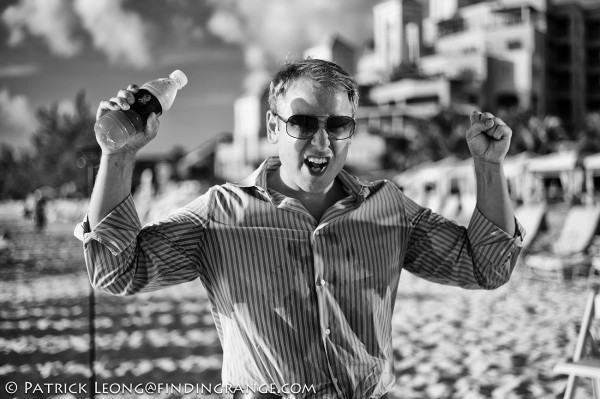 ↑ I took this at a wedding rehearsal a couple of years ago but it's still one of my favorite photographs.  It was shot wide open, and the detail is amazing.  Check below for the 100% crops.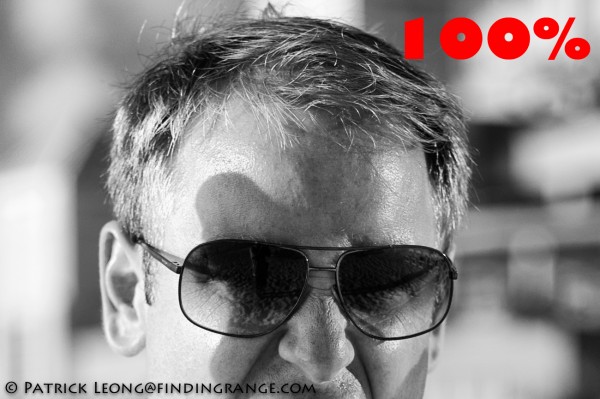 ↑ Check out the detail in his hair and face.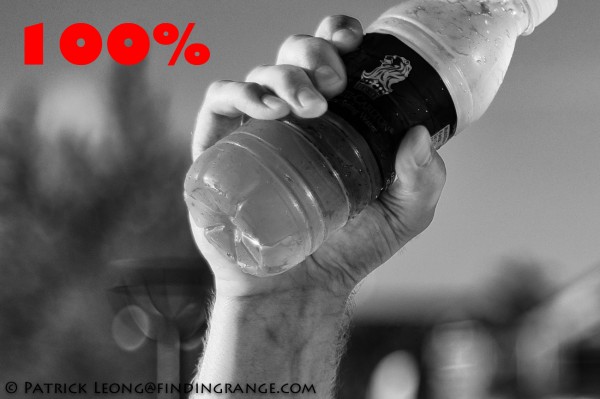 ↑ Check out the condensation on the water bottle.
I used many Leica lenses (pre-asph and asph), and this lens is easily up there with the best.  Don't forget, this lens design is old…quite a few decades old!  Many say that the 50 Lux ASPH is sharper, and maybe it is on paper but in my experience, it's quite hard to tell the difference between the two in terms of sharpness.  Sometimes I feel the 50 lux is sharper but at times, I almost feel that the 50 Summicron is a tad bit sharper (my 50 lux has no focusing issues).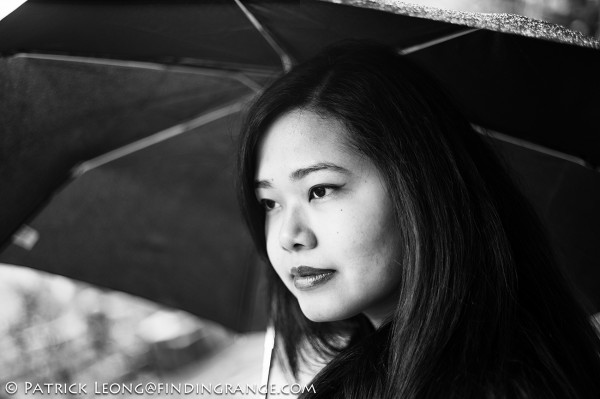 ↑ My friend Phyo one rainy morning. 
The sharpness, the contrast, and the beautiful color rendition that the 50 Summicron produces really gives an image that "wow" effect, especially if you print large.  It's almost a shame to have this lens if you don't print large because you'll miss all the detail that the cron has to offer.  A few say that the contrast and color remind them of the pre-asph era.  I completely disagree with that.  I've had this lens for a long time, and in my experience, it's actually quite contrasty.  Maybe they had bad copies or they let their preconceptions about pre-asph lenses affect their conclusions.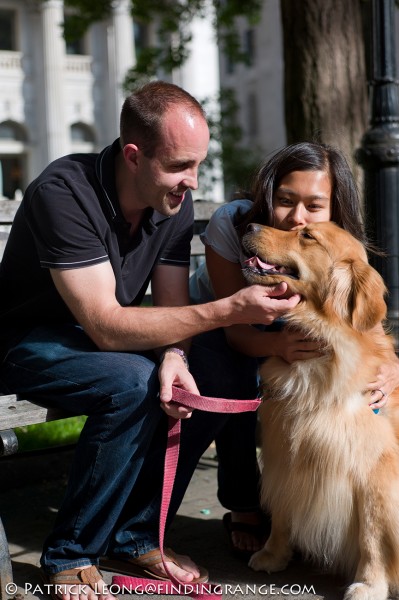 ↑ A candid shot of my sister, brother in-law, and Kopi (the golden retriever) taken at Madison Square Park in Manhattan.  I love the 50 Summicron for its ability to make a photo come alive.
Some also said that the 50 Summicron has that classic Leica look, and in many ways that's correct.  However, just because it's a pre-asph design does not mean that it should automatically have a certain look to it.  I like to judge a lens from what I see for myself.  In many ways, I think the Summicron has a very modern look to it because every time I use it, I get sharp, contrasty images with rich and velvety colors that just pop out of the page.  Images are incredibly three dimensional and very lifelike.  That's the important thing…lifelike.  It's great to be technically perfect but you know you have something truly special if a lens can make a picture come alive.  There are rumors surfacing about a new 50 Summicron ASPH but I don't even know how Leica would improve on this lens.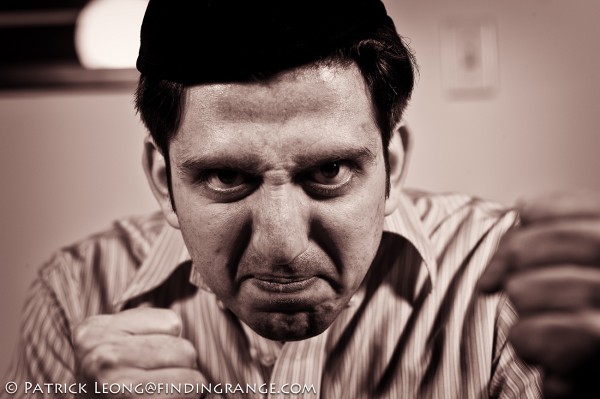 ↑ This image was shot at F2.0, and it demonstrates the three dimensional abilities of the 50 Summicron.  It almost looks like I copy/pasted his head into the photograph :).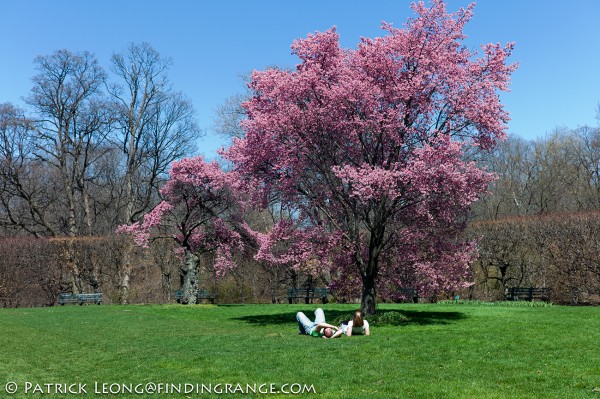 ↑ This photo was shot at F5.6 at the Bronx Botanical Garden in the Spring.  When the 50 Summicron is stopped down, it just sucks all that detail in like a Dyson.
Bokeh From the 50 Summicron:
You can't talk about a Leica lens without talking about its bokeh.  Who doesn't love to throw the background out of focus to get that dreamy three dimensional look? 🙂  That's what bokeh essentially is, and the 50 Summicron does a great job at it.  Some say that the bokeh from the Summicron looks "busy" but I that's not how I feel.  If you're comparing the bokeh of the cron to something like a 50 Lux ASPH, then that's a different story.  But the bokeh is great for any 50mm F2.0 lens.  There are no annoying shapes, and the bokeh is smooth and silky.  No complaints from me.  Don't forget, it is a Mandler design so there's gotta be a little magic there :).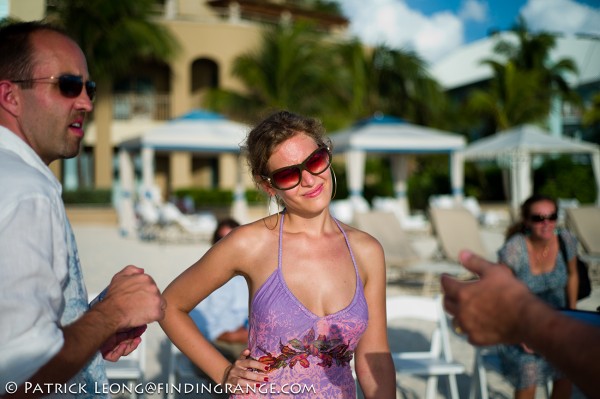 ↑ This was shot with the 50 Summicron at F2.0.  The out of focus background is very smooth, and really helps make the subject pop out of the picture.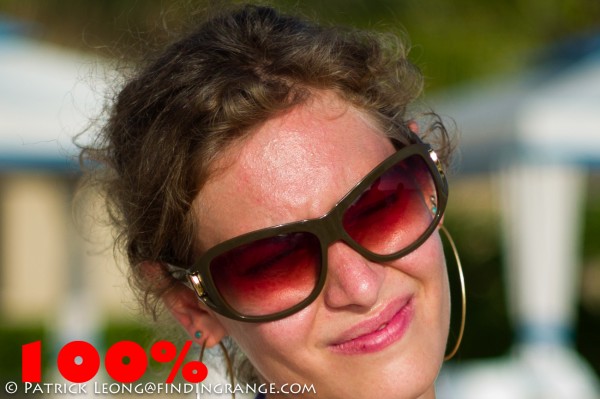 ↑ This is a 100% crop of the image above demonstrating two things: First, you can see how sharp the subject is (you can see the dirt in her glasses).  Second, the out of focus area is very creamy looking.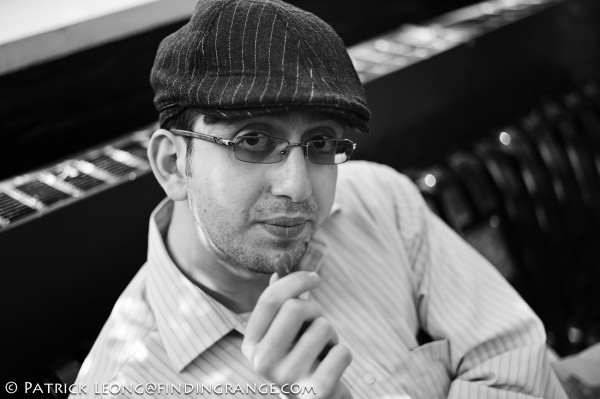 ↑ Another photo shot wide open.  Bokeh is plenty smooth for me.  I would also like to note that the bokeh has just the right amount of smoothness for me.  Sometimes, it gets to blurred, and becomes distracting especially in a portrait like this one.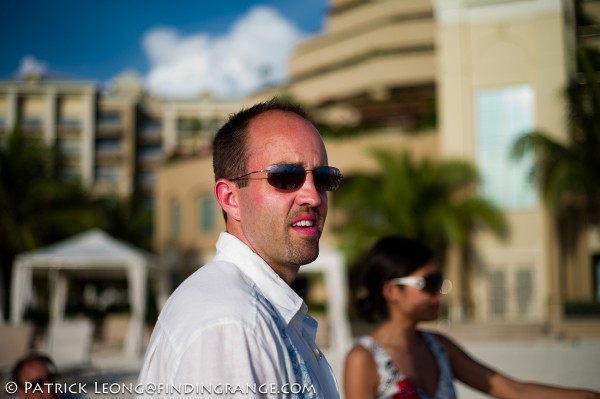 ↑ Another photo with the 50 Summicron demonstrating the bokeh.
Flare Issues with the 50 Summicron:
I'd be lying if I told you that I never got the 50 Summicron flare but it only occurred a couple times.  Unfortunately, I don't have any examples now.  Plus, when it did flare, it wasn't that bad.  I also use a filter just so you all know.  Again, this is from my own personal experience with the cron, and others may have different experiences.  But if it helps, keep in mind that I use the lens hood on the 50 Cron every time I shoot with it.
↑ The sun was right above her, and I didn't get any flare.  The colors were reworked using Nik Software Color Efex Pro 4.
Things that I Don't Like About The 50 Summicron:
Optically, the 50 Summicron is perfect.  I honestly can not ask for more from a 50mm F2.0 lens.  Heck, I can't ask for more from any 50mm.  I love it so much that i couldn't even sell it after my purchase of the 50 Lux ASPH.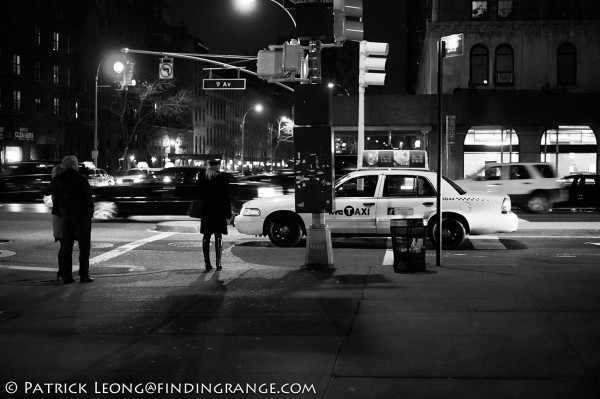 ↑ Walking around the west side in New York City at night.  The 50 Summicron is definitely fast enough for night photography.
That being said, there are some minor issues that I do have with the 50 Summicron.  First of all, the current version is bigger than the previous version.  Because of this, the Summicron lost that compact feel it once had.  If you put the Summicron side by side with the Summilux, you'll notice that the Summilux is not much bigger, especially if you see it, and hold it in person.  A big reason for why I would buy a 50 cron over a 50 lux is because I want a compact 50mm.  All of the sites that I visited, and all of the forums that I searched through gave me the impression that the 50 Summilux ASPH is a lot bigger than the Summicron.  It prevented me from even considering the 50 lux for a very long time.  My local dealer had one in stock, and let me play with it, and only then did I realize how little of a difference in size the 50 lux is when compared to the 50 cron.  Below is a side by side comparison of both lenses.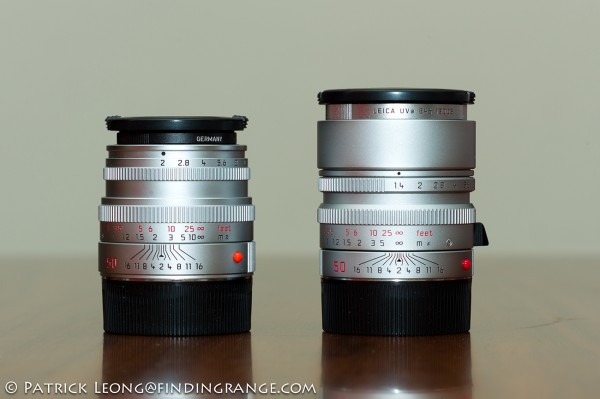 ↑ A side by side comparison between the 50 Summicron (left) and the 50 Summilux ASPH (right).
Also, sometimes 50 Summicron feels a little awkward in my hands.  Maybe it's just me but it never feels like the previous version with the detachable hood.  Even though the Summilux is bigger, it feels more balanced in my hands.  When I was playing with the lux for the first time, I couldn't believe how well it felt when I attached it onto my M9.  My guess is that the front of the Summilux is bigger (it uses a E46 filter vs. the cron's E39) so the weight is more evenly distributed throughout the lens.  Since we're on the topic of handling, I really don't like that Leica took the focusing tab off of the Summicron but that's a small issue.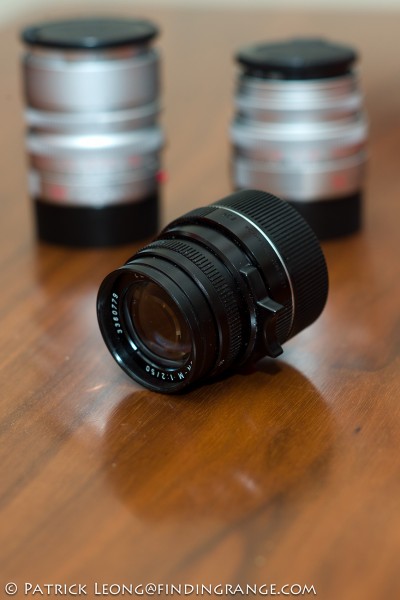 ↑ The scalloped focusing tab on the older version 50 Summicron.
The last concern that I have with the 50 Summicron is that while it's great that Leica put a retractable hood on it, why not make it locking like the 50 Lux?  Since day one, it has been a little annoying because depending on the position, sometimes the hood will slide back into its retractable position by itself.  This could just be my copy because I had a friend who also owned a silver 50 Summicron, and he did not have this issue.  I can probably get Leica to tighten it or something but it's a pain in the butt to send it in just for that.
The 50 Summicron vs. the 50 Summilux ASPH:
First of all, there are no bad Leica lenses out there.  So if you're stuck choosing between the 50 Summicron and the Summilux, there is no wrong decision.  Back in the pre-asph era, Summicrons were traditionally better than their Summilux counterparts but thanks to modern technology, things are now different.  Like most things, it really comes down to how much you're willing to spend on a 50mm lens.  Nowadays, ALL Leica lenses will produce excellent images, so you're really only paying more money for speed (of course they all have their own unique signatures as well).  But just like everything else in the world, if you read a little deeper into things, you will find the differences between things.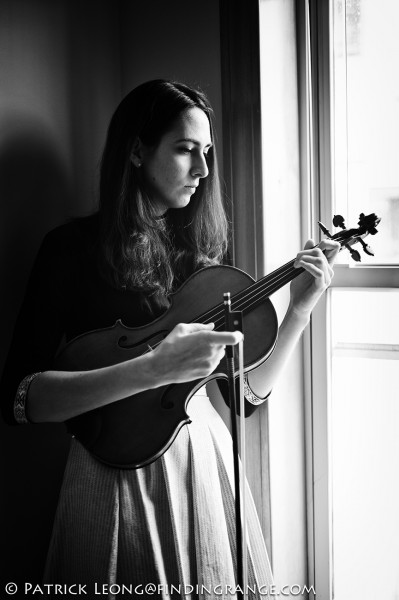 ↑ Here's a photo of a local violinist.  The 50 Summicron is a great portrait lens and it's really great at making subjects just pop out of the page.
For instance, after shooting with the 50 Summicron and the 50 Summilux ASPH extensively, I would say that the 50 Summicron has slightly more contrast than the lux.  However, this is not bad at all.  I believe that Leica designed it this way because the lux, with its faster aperture, is designed with available light photography in mind.  Leica use to design their lenses in the Leitz era the same way because they would produce better images in available light.  Because of this characteristic, it makes the 50 Summilux ASPH more of a "finesse" lens over the cron.  The images coming from the lux look more delicate…I'm not even sure that's the word that I should use…maybe more graceful?  I believe it's part of the reason for why the lux has a bit more "magic" than the cron.
As I said before, it's difficult to tell which lens is sharper when you're confronted with two photographs.  There are times when I think a couple of my images from my 50 Summicron are slightly sharper but this could also be caused by the different ways that both lenses draw.  The Summilux is always more delicate in the way that it approaches an image, while the Summicron is more deliberate with its strokes.  This is, IMO, where the "magic" comes from with the 50 Lux ASPH.  Sometimes I feel that the cron tries a little too hard to compete with its bigger brother.  The 50 lux is not only superbly sharp, it's really delicate and more precise in the way that it handles a subject.  If you never used the Summilux before, you wouldn't even know the difference because you'd think that your 50 Cron is the best 50mm on the planet.  That's how I felt with my cron until I bought the lux.  There is absolutely nothing wrong with the 50 Summicron, and I'm just trying to tell you what I got out of these two lenses.  The 50 Summicron is an amazing lens that wil make anyone happy and feel lucky to own.  It just does not have the same level of "magic" or delicacy as the 50 Summilux ASPH, and that's somewhat to be expected since the lux is double the price.
The 50 Lux ASPH just has something special about it…it really does.  Images just have a little bit more glow.   Photographs are also smoother with the lux, which results in producing that beautiful oil painting effect that many Summilux's are famous for.  One particular feature that I noticed is how smooth the transition from sharpness to out of focus is with the 50 lux.  Images shot with the lux are very three dimensional…even more so than the 50 Summicron, and I'm not just talking about shooting at F1.4.  The 50 Lux ASPH performs extremely well at all apertures, and images really have a nice pop to them.  After purchasing my lux, it made my cron obsolete.
Lastly, as I have mentioned before, the 50 Summicron is only slightly smaller than the 50 Lux ASPH so there really isn't a point in buying the cron because you want a smaller lens.  Check out the photo below for a side by side comparison.  If you still need some convincing, go to a local dealer, and see if you can play with them side by side (if you can actually find both in stock at the same time, then you should buy a lotto ticket that day 🙂 ).  If you're getting the Summicron because you want a compact 50mm, I suggest you either buy a 50 Summarit or buy an older version of the Summicron.  The older version with the detachable lens hood is a nicer choice than the new version in my opinion.  It's compact, and I actually prefer the detachable hood over the new version's built in one.  Plus the optics are the same as the new one.  Otherwise, save up some more money, and go for the lux.  It's not much bigger.  You can keep Leica lenses forever, and they only go up in value so in the long run, it's better to be happy with what you got than to purchase another one  in the future.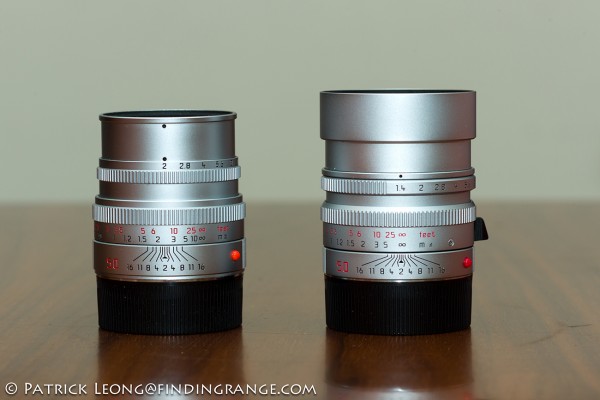 ↑ Here's a comparison between the 50 Summicron (left) and the 50 Summilux ASPH (right) both with their hoods up.  IMO, there's not much of a dfference in size.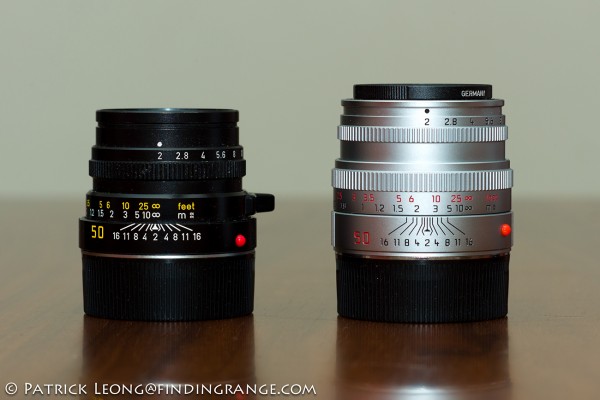 ↑ Here's a comparison between the older version of the 50 Summicron and the current version.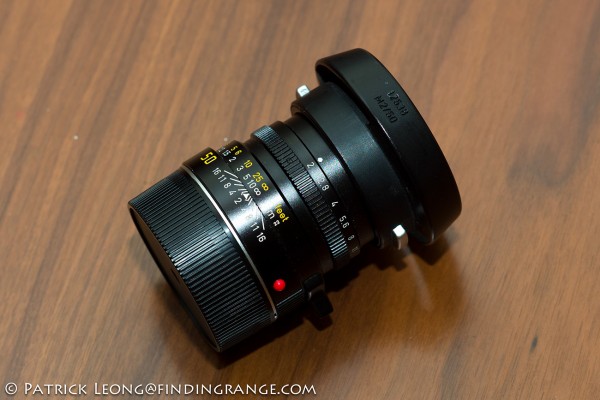 ↑ The older 50 Summicron with the detachable hood.
 With All the 50mm Leica Lenses, Where Does The 50 Summicron Fit?:
There are so many 50mm lenses for the M system nowadays…both new and old.  So where does the 50 Summicron fit?  I believe that the 50 Summicron is the workhorse of the 50's.  It's the "go to" lens when you need something that's small, packs plenty of punch, and is dependable.  It's the marine of lenses.  It might not be as exotic as a 50 Summilux ASPH but it's a lens that you can grab anytime, and expect excellent results time after time even when you need to shoot wide open.  It's plenty fast with a wide open aperture of F2.0, extremely sharp, has plenty of contrast, and it produces beautifully smooth colors.  It's not only perfect in the technical sense, it also produces images that are lifelike, which is what makes a lens truly special.  This is a lens that you can buy once, and be happy with it for the rest of your life.  It's seriously that good.
↑ This was shot at F5.6.  The 50 Summicron makes a wonderful people lens.
I prefer the 50 Summilux ASPH over the 50 Summicron but if you don't want to spend $3,995 for a 50mm, then the 50 cron is the 50mm for you.  At $2,295, the cron is half the price of the Summilux but gives you performance that's very close to it.  The cron can be seen as expensive but in the Leica world, it's an excellent deal, especially since you're getting one of the best 50mm lenses in the world by a far margin.  The 50 lux might get all the glory these days but the 50 Summicron has a long distinguished history making it a legend not just among Leica lenses but other manufacturers' lenses as well.  Over the years, the 50 Summicron has established itself as the world's reference for 50mm's by combining a superb list of features, and the highest degree of performance all while being small, lightweight, and handy.  Come on, that's pretty cool, and you can get all of that for around two grand or even cheaper used.  Another thing that's great about this lens: The fact that it hasn't changed in decades says to me that there's not much improvement needed.  Hope you all enjoy my review, and please feel free to post comments!