Hands On With The New Zeiss Touit Lenses!:
Hey everyone!  On Tuesday, I got the chance to go to the Zeiss Touit press event here in NY, and it was great.  Bob from Bergen County Camera hooked me up with an invite, and I actually got my hands on the new Touit lenses for the Fuji X Mount (they had the Sony versions as well).  I've been looking forward to trying out these new lenses for quite some time, and for the brief time that I was using them, I have to say that they do not disappoint!  Again, this is more of a preview, and first hands on experience rather than a review, since I only had the lenses for the afternoon.  But I will definitely be getting them for future reviews.  Here's what I think of them so far.
Zeiss Touit Lens Build Quality:
In terms of build quality, these all glass lenses from Zeiss are built wonderfully as expected.  They are definitely built better than my Fuji lenses, which makes sense since they cost more.  The sleek design of these lenses are definitely a bit of a departure from Zeiss' traditional lens designs but I really like them.  I also really like the little touches like the rubberized focusing and aperture rings.  The Touit lens bodies are made from a combination of metal and plastic to keep them light yet very strong but in no way do they feel cheap.  Let's be honest; the Fuji lenses are great, and a killer deal in my opinion but they do give you that plastic feel sometimes, which I've mentioned in my reviews but there is absolutely no evidence of this feel with the Zeiss Touit lenses.  The new Touit lenses don't have the same heft as a Leica M lens or even a Zeiss rangefinder lens but that's because these lenses are specifically designed for the Fuji and the Sony.  Mirrorless cameras are small, and that's what we love about them.  Who wants a lens that weighs a ton on a light body?  These Zeiss Touit lenses feel completely balanced on my X-E1. Even the larger 12mm feels great.  You never get that front heavy feel.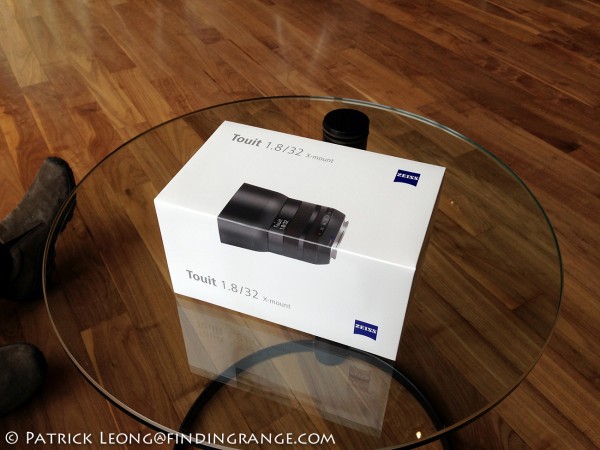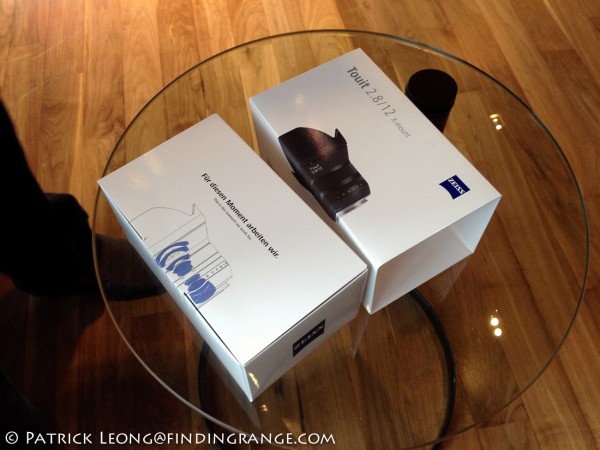 Sometimes I'm wary about purchasing 3rd party products for my cameras because I'm not sure if they are truly compatible with my equipment.  After spending so much money on photographic equipment, why would I want something that wasn't truly compatible, and that might actually damage my cameras?  I really like the fact that Zeiss actually consulted Fuji, and Sony when building and designing these lenses, so full compatibility is guaranteed.  Zeiss even had representatives from Fuji and Sony at the event to answer any questions.  Using these Zeiss Touit lenses on my Fuji X-E1 felt completely natural and fully integrated.  The focusing works great (and it's quiet), and you select your aperture on the lens just the same as with the Fuji lenses.  If you have the Sony, aperture setting is done in the camera.
↑ The Fuji X-E1 with the Zeiss Touit 12mm f2.8.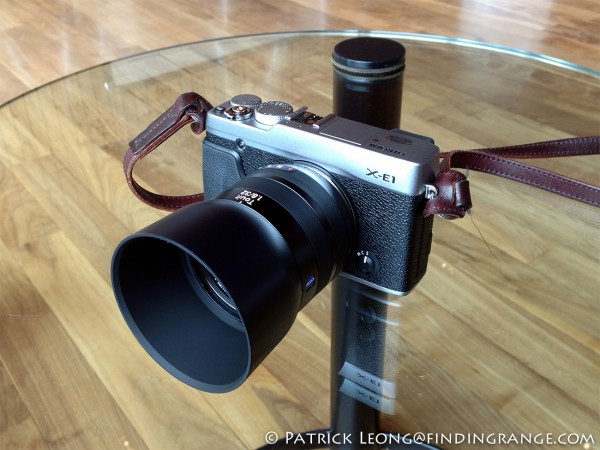 ↑ The Fuji X-E1 with the Zeiss Touit 32mm f1.8.
Zeiss Touit Image Quality:
I really wished I had more time to test these lenses but the only area where I got to play with them was on the balcony of the hotel where the Zeiss event was held.  But I will definitely have plenty of photos because I'm getting both of these lenses in for review when they're released.  I can't wait!  From what I have experienced so far, I am quite impressed.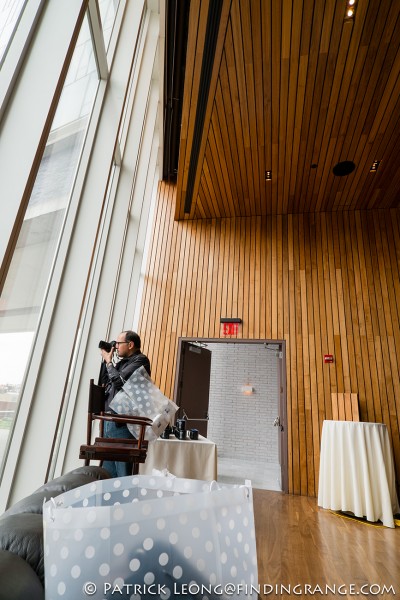 ↑ Fuji X-E1 and Zeiss 12mm f2.8 Touit at f5.6.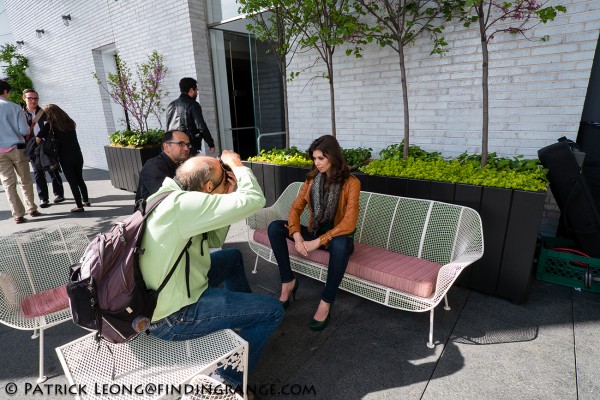 ↑ X-E1 and Zeiss 12mm f2.8 Touit at f8.
The 12mm f2.8, which I'm guessing most of you are waiting for, is absolutely perfect.  It is a gem of a wide angle, and anyone looking for a super wide should definitely consider this one.  I use to own a 21mm Elmarit for my Leica, so using an 18mm equivalent is simply awesome.  What a huge difference that 3mm makes!  The Zeiss Touit 12mm F2.8 does not disappoint.  Distortion and vignetting is minimal, especially for an 18mm equivalent.  It is also highly resistant to flare.  I went with Bob from Bergen County Camera; he was shooting the wide angle with the sun in his photos, and he could not get the lens to flare.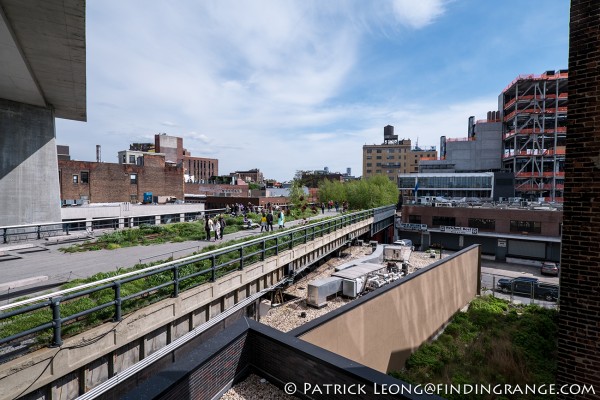 ↑ X-E1 and 12mm f2.8 Touit at f8.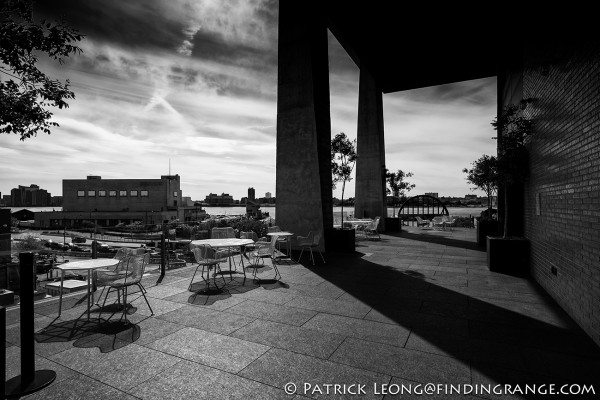 ↑ Fuji X-E1 and Zeiss 12mm f2.8 Touit at f5.6.
Surprisingly, the 32mm F1.8 became my favorite of the duo even though I was more interested in the 12mm at first.  Who knows, maybe it's my love for 50mm's but I absolutely love the 32mm.  Luckily, I did a little research before I went to the event: I checked what size filter the 32mm uses in hopes that my ND filter for my XF 35mm would be the same size.  It is the same size, so I was able to shoot in daylight at f1.8.  This also means that if I decide to sell my XF 35mm for this lens, I don't have to buy new filters :).  The photos I took at f1.8 look plenty sharp to me.  How does it compare to the XF 35mm?  Well, when I actually get my review samples, I'll definitely do a full comparison test but I think I might have to put that Leica lens I've been wanting on hold for a bit because I really want this lens.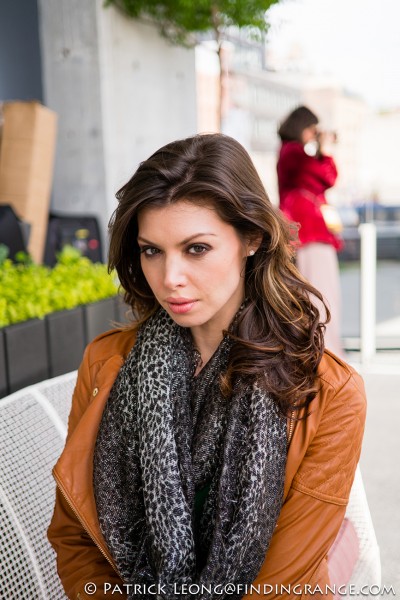 ↑ Fuji X-E1 and Zeiss 32mm f1.8 Touit wide open.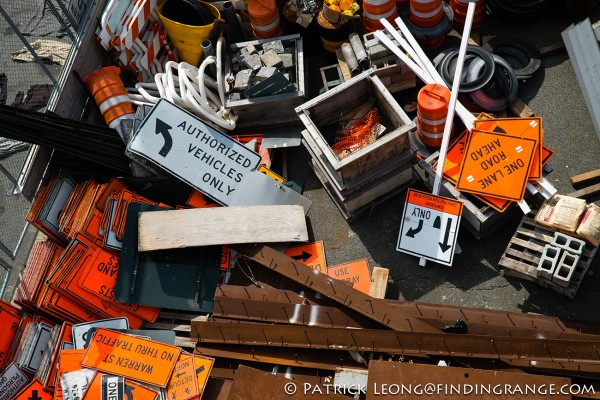 ↑ X-E1 and Zeiss 32mm f1.8 Touit at f8.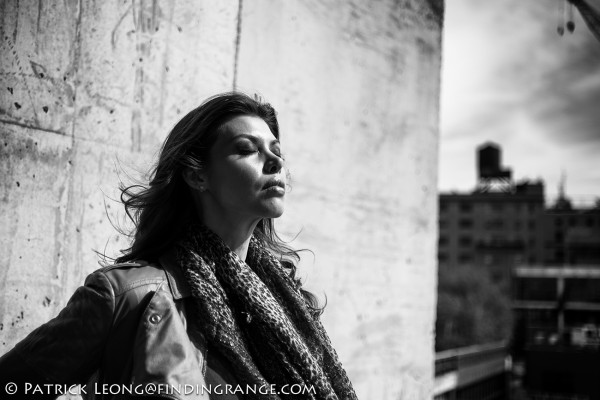 ↑ X-E1 and Zeiss 32mm f1.8 Touit wide open.
In general, both lenses produce images with three-dimensional pop.  Colors are rich, vibrant, warm, and inviting.  Contrast is nice.  Both of these lenses have 9 aperture blades, which will help you produce beautifully smooth out of focus highlights.  I really believe that the 32mm f1.8 will be a great portrait lens.  The biggest plus for me is that the overall images produced from these lenses look less clinical than photos shot with the Fuji lenses yet detail is still retained.  But again, this could just be my imagination, so a comparison test in the future should tell the truth.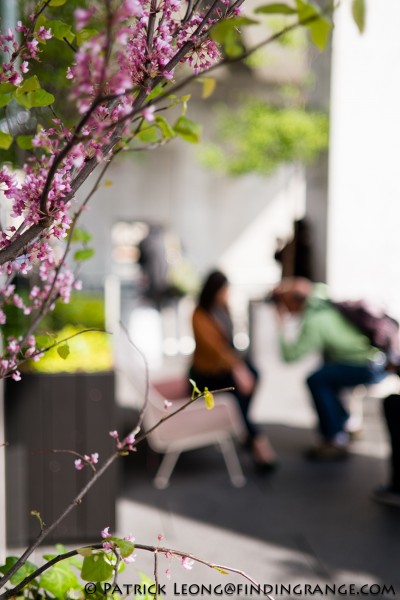 ↑ Fuji X-E1 and Zeiss 32mm f1.8 Touit wide open.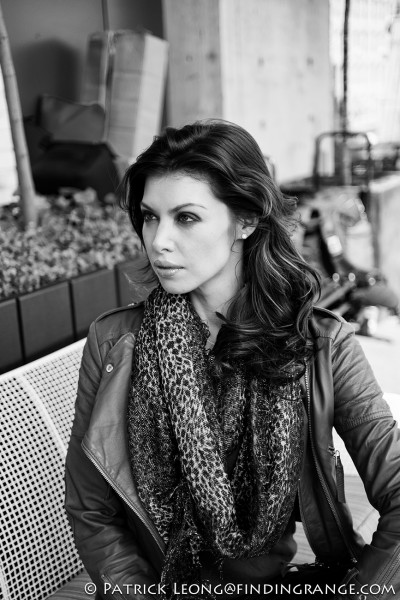 ↑ X-E1 and Zeiss 32mm at f1.8.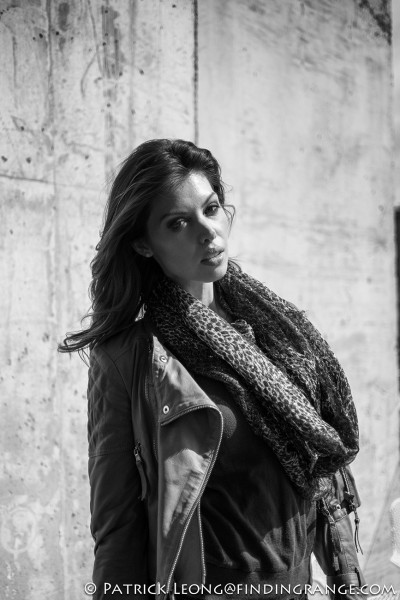 ↑ X-E1 and Zeiss 32mm f1.8 Touit wide open.
The Overall Experience at the Zeiss Touit Press Event:
Overall, it was great getting the opportunity to check out the new Zeiss Touit lenses.  These lenses are absolutely perfect for the Fuji X Mount because just like Fuji, Zeiss built these lenses for people who just love to go out and shoot.  These products are top notch, high quality lenses, which of course come with a price.  How much do these lenses cost?  The 32mm f1.8 goes for $900, and the 12mm f2.8 goes for $1250.
Yes, they are priced high for mirrorless lenses.  But you you get the Zeiss signature image quality, which includes wonderful colors, contrast, and pop.  You can argue that you could get the M adapter, and use the Zeiss rangefinder lenses but the Touit lenses were specifically designed for the Fuji, which means you have full autofocus capability and compatibility.  You can't beat that.  Plus, with an adapter and M compatible lens, you're probably going to end up paying more.
↑ Zeiss mugs!  Got to keep one too :).  Fuji X-E1 and Zeiss 32mm f1.8 Touit wide open.
I love the Fuji lenses but from the limited time that I was able to use the  Zeiss Touit lenses, I feel like there's more life to the images.  I really feel like images look less clinical than images shot with the Fuji lenses.  But again, a head to head comparison will be necessary to settle the issue.  The 32mm f1.8 will definitely be a hot little portrait lens because of the way it draws.  It's a little slower than the XF 35mm F1.4 R lens but that's perfectly ok by me.  The bokeh is ultra smooth and inviting.  The 12mm f2.8 is priced at $1250, which might seem like a hard pill to swallow but think about it this way; the XF 14mm is already priced at $899.  You're already at the $1,000 range, so if it was me, I would just jump for the Zeiss.  You're getting a better built lens with all glass, and an 18mm equivalent.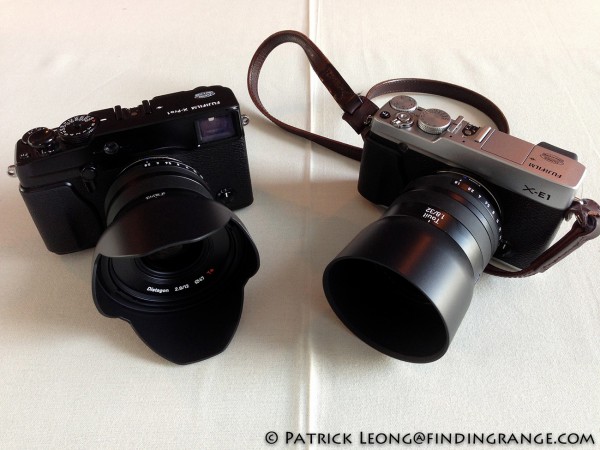 I was really quite impressed with both of these lenses…so impressed that I spent the night after the event googling Zeiss products :).  Now, I'm even thinking about purchasing a 50mm Planar for my Leica.  I will be doing a full review of both Zeiss Touit lenses soon, and I'll probably end up buying at least one of them ;).  Before I go, I want to thank Bob at Bergen County Camera for getting me an invite!  He has already ordered his shipments of the new Zeiss Touit lenses, so if you want one, you should definitely give him a call!  Btw, on a side note, the people at Zeiss were very pleasant to talk to.  The event was absolutely a wonderful way to spend an afternoon, and at the end, they even took us out to a bar :).  So, big thanks to Zeiss for hosting it, and giving everyone a chance to check these new lenses out!