Note from Admin: Here is part 2 of Jed Orme's GUEST POST about various M mount lenses!  Part one, where he discusses using the Leica 90mm F2.8 Tele-Elmarit on his Fuji X-E2, can be found here.  In this part he gives us a highly detailed look at how the Zeiss 50mm F2 Planar ZM lens performs on the X-E2.  Definitely a very enjoyable and informative read.  Enjoy!
A Tale of Two M Lenses 

(Part 2 of 2 Parts)

This is the second part of my write-up about two recently acquired Leica M rangefinder type lenses.  The first part dealt with adapting a Leica 90mm f2.8 Tele-Elmarit lens on my Fuji X-E2 camera.  My goal was to create a rangefinder style system, without the resources needed for a Leica centric one.  Following my getting the Leica 90mm, I set out to add something in between my Fuji XF35mm & the Leica 90mm.  As they say, here is the rest of the story.

The second rangefinder type lens I acquired was the Zeiss Planar-T* 50mm f2.0 ZM.  ( If you read Part 1, you already know this.)  This lens rounds out my self-designed rangefinder like lens portfolio.  With the addition of the Zeiss, I now have four diminutive prime lenses to use on my X-E2 body.  All of this gear, along with spare batteries & SD cards, fit nicely (albeit quite snugly) in the bag in use when I started writing this, a Think Tank Retrospective 5.  But I've ordered & just received a Billingham Hadley Small bag that has a bit more room to better accommodate this entire system.  In fact the Billingham literally swallows up my X-E2 & these four lenses.  (Both the Billingham & Think Tank bags will be used when working most of the time with only 1-3 lenses.)  Here is a look at the fully packed Billingham.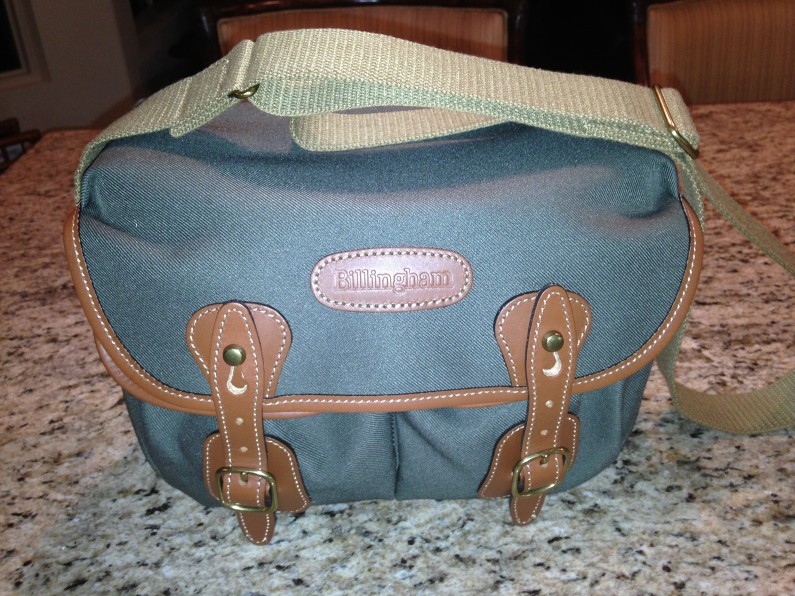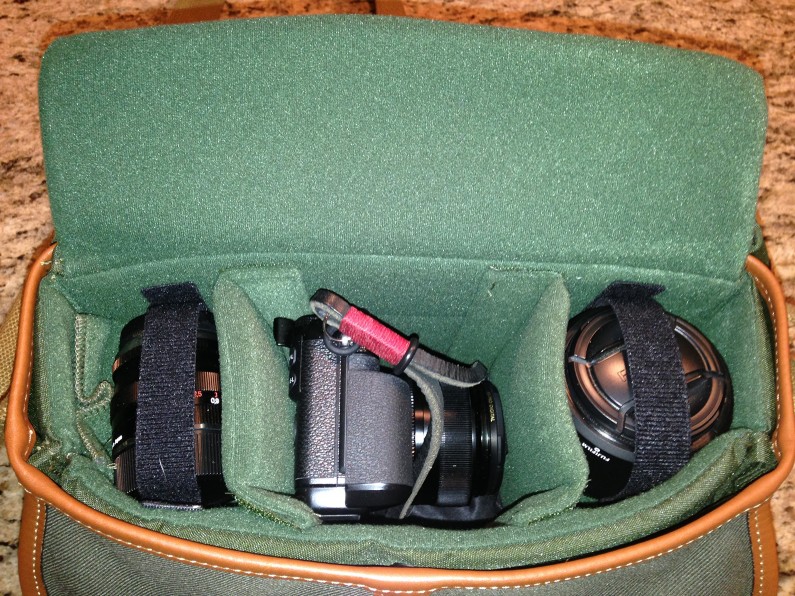 Equipment transport & management was one of my secondary objectives in developing the following long range lens plan:  (1) only prime lenses not exceeding 100mm focal length; (2) Fuji XF lenses, or adapted with image quality equal to or better than Fuji glass; (3) price also equal to or less than Fuji glass; & (4) as small & lightweight as practicable without significantly sacrificing speed or IQ.  This last requirement was quite important after my past experience trying to lug around a large DSLR & related gear.  So based on these criteria, I had decided that something in the 45mm to 70mm range would be an ideal addition to the 14mm, 35mm & 90mm already in my bag[s].
Once again, it was Patrick who suggested a universally popular RF lens choice – – the 50mm focal length.  He said that if I couldn't find a used Leica 50mm Summicron within my budget, then I should look carefully at both of the 50mm Zeiss offerings, the Planar & the Sonnar.  He added that the latter was one of his favorites, which he considered to be highly under-rated & under-appreciated.  I would dearly love to have the Leica, but it proved indeed to be out of my reach.  I found the costs for most used Summicrons ranging from $1500 to $1700 & above for good condition lenses.  So I began to study the new & used pricing on these two Zeiss choices, while also gathering information about them.
And I considered the Fuji possibilities in this same 50mm, plus or minus, range of lenses.  There are two:  (1) an XF 60mm f2.4 that was one of a trio of primes first introduced the same time as their X-Pro1 camera a couple of years ago (my XF35mm was also one of these, along with an XF18mm); & (2) a fairly new XF56mm f1.2 that is the current craze among Fuji fanboys.  However, when I quizzed Patrick about the XF60mm (he has one), he admitted that it was not one of his favorite lenses.  He said that this was partly because it just wasn't the best focal length for street work in congested NYC, & also because, in his opinion, it wasn't built as well as the new XF56mm.  As for this Fuji XF56mm, it is an aspherical lens design that all agree has incredible optical performance – – who could (or should) ask for more?  Thus I came extremely close to getting one, until I reconsidered my own list of requirements.  This new Fuji weighs almost a pound without a lens hood, is about 3 inches in length without the hood (almost twice that with it), & has a 62mm sized piece of glass up front.  These numbers were just about twice my optimal criteria.  Additionally, the expected price was $1,000, while I was hoping to get something for about three-fourths of that amount.
When I looked at the two Zeiss options (which come in either a black or silver finish), they are both about a half-pound in weight, barely a couple of inches long, with a front lens of 46mm.  And used ones, particularly the Planar, were in my price range.  So after further discussion with Patrick (my go-to-glass-guru), I decided on the Planar.  Quite frankly though, I found the one-stop faster Sonnar to be most intriguing.  Unfortunately it has an almost absolute either "love-it" or "hate-it" reputation.  In fairness, this is apparently largely due to a back focusing problem it has when wide open.  The lens reputedly is optimized to focus at f2.8.  Thus when focused more open (e.g., at either f1.5 or f2.0), quite often a focus shift occurs – – a lack of focus in the actual image even when the finder shows focus is right on  (This shouldn't be a problem when used on an X-E2 with its EVF functionality, & ability also to use focus peaking in manual focus mode).  Then there is a further issue with what is called a "classic style" of image that the Sonnar renders, mostly at larger apertures – – it has a kind of amorphous, soft patina that is quite attractive for portrait work, but many consider not very pleasing for landscape, architecture or other general photography.  This concerned me the most.
However, there seemed to be no downside with the Zeiss Planar 50mm.  Patrick also agreed it would be a fine choice based on what he knows about my photographic interests & style.  Here is some of what is said about this lens on one of the very popular Leica camera forum websites:
"The Zeiss Planar T* 2/50 ZM lens compares directly to the Leica Summicron 50mm f/2 in many ways. They're of the same focal length, speed, diameter and weight, neither lens utilizes aspherical elements and both offer fantastic (if not identical) image quality. While the Summicron has a slight bit of an edge as far as lens size goes  . . . , the Planar costs an awful lot less money (in fact, it's one of the least expensive ZM lenses available). . . . . . Ironically, the Summicron is also a planar design!"
With such abundant encouragement, I made my decision to get a black Zeiss Planar 50mm.  But about this time all black finished ones, new or used, seemed to evaporate from dealers or eBay sellers.  I even checked in Canada with no better luck.  When about ready just to add my name to the queue, I found a listing for a new one with one of Amazons' approved sellers in the US (a few foreign sellers were listing them by I didn't want to get into customs issues). So kind of like my jumping on the eBay listing for my Leica 90mm, I hit the Amazon order button as soon as I saw this availability.  And less than five days later a new black Zeiss Planar 50mm was delivered by the fast, friendly FedEx folks.  So let's talk a bit about what can be done with the business end of this lens on an X-E2 camera.
First though a word or two about first impressions on opening the box of this brand new-to-me Zeiss creation.  I've had some experience with Fuji buying new, but only with them.  So I was most pleased when this very well packaged, attractive all white & blue box (in contrast to Fuji's all black packaging) presented itself.  I saw immediately that the box was a great deal smaller than the box for the Fuji XF14mm I had recently purchased.  (See photo below)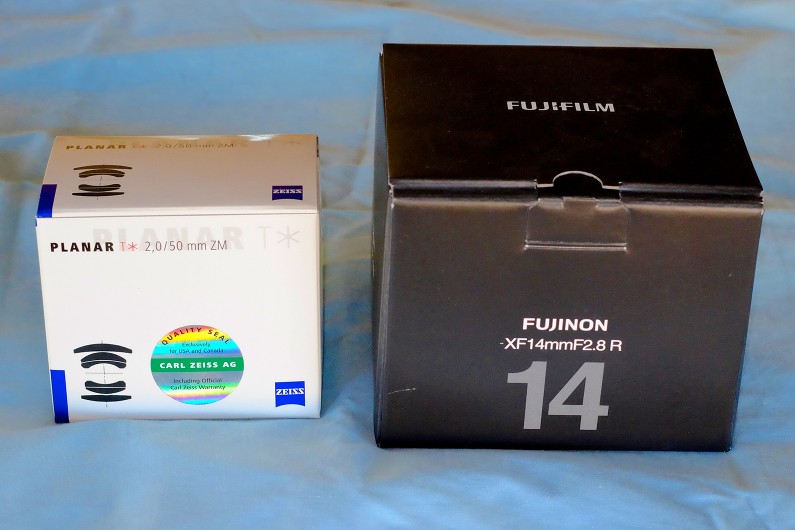 The manual & other paperwork, in contrast to Fuji, were also much more sparse, but still very adequate for a non-autofocus lens (non-auto anything really).  What I observed right off however was, like its' box, the lens was also smaller than I'm used to seeing. This is particularly true in comparison to the Fuji XF14mm I had been using when I got the Zeiss.  I think it is fair to say the Zeiss 50mm overall is just about half the size of the Fuji 14mm.  Not so with the weight though – – there I was a bit surprised when I found that the weight of the Zeiss was heavier than I expected based on its' appearance.  At the same time, some of the reviews of it I had read commented on its build quality by comparing its weight to that of the Leica 50mm Summicron.  Having only seen the Leica, but never having held one, maybe there is a noticeable weight difference.  I'll have to ask Patrick.  But I was still most pleased that this Zeiss is literally no lightweight in the build department, & seems quite solidly constructed.
And it exudes quality in all other respects as well.  The appearance is quite handsome, with its simple design, all black barrel & adjustment rings, but polished stainless steel framing around the front lens & mounting flange.  The white & red markings for aperture & focus are all very neatly engraved into the surface (I think that the distances in feet marked in red, however, are not so easy to see in dim or practically no light; the Leica 90mm uses an off-orange color that is somewhat easier to see in these same conditions; yellow might even be a better color to use).  This lens, like the Leica 90mm, also has a very easy to read & well calibrated distance scale.  The early Fuji primes lack this important & very useful feature, so that is most gratifying to me. 
The center focus ring is smallish, but appropriately sized for the overall lens, & moves as smooth as silk.  A very nice addition is a slight metal protrusion built into the bottom of the focus ring that allows movement with just one finger, but with a very short throw also permits setting distance by feel in the dark.  Just behind the front lens assembly are the aperture markings, & a rotating ring that clicks sharply into each f-stop setting.  Even the third stops in between the full ones are clearly marked on the lens, so you don't have to count or guess where you are between full stops.  My only complaint initially was that the pinch-type front lens cap (the only plastic on or in the entire lens) seemed a bit squiggly.  I had to work with it a bit to make sure it was either locked on, or to get it to come off the lens (putting on a clear B&W filter solved this problem – – the lens cap fits easily & snugly on this brass filter).  And while not an issue for me, some other reviewers have noted that on a Leica, there may be some slight blockage of view of the finder, with a bit more so if using the optional metal Zeiss lens hood.
But once installed on the X-E2, using the Fuji X-M adapter, it looked right at home, felt perfectly balanced & ready to go to work.  I had just removed my XF14mm from the camera, so the difference in overall look, balance & feel was very noticeable.  Plus there was just a bit of an old fashioned, vintage look to the camera with this lens, aided somewhat by the Fuji designers' retro styling of the X-E2.  I fully expect that I will get many folks asking me if this isn't an old film camera when I start using it in public. Here is an iPhone photo to give you a bit better idea of this camera/lens combination that I have been trying to describe: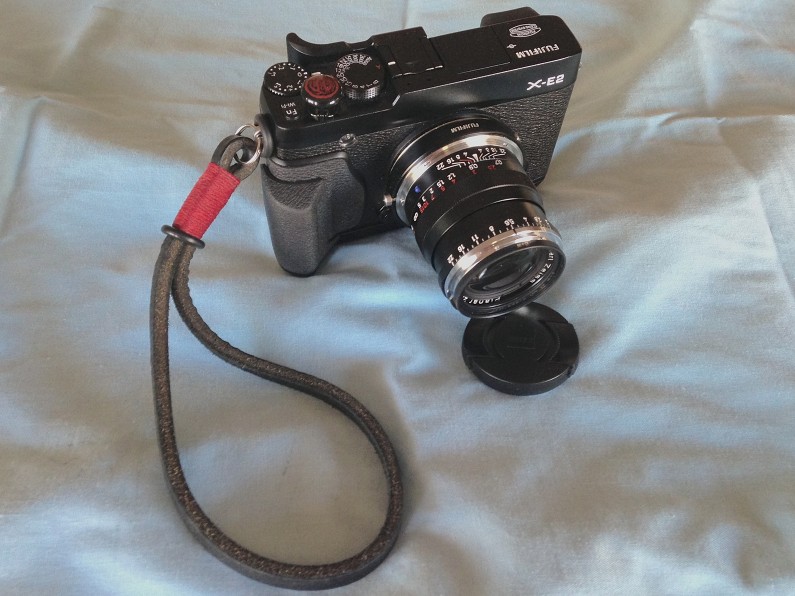 Performance wise, while I have not used it extensively in most conditions, I can't imagine how the Summicron could possibly be any better than this lens.  And from what we read in the article above & in many other reviews, it apparently is considered equal in IQ, as well as stats, to the Summicron, in the opinion of many Leicaphiles!  Colors, saturation & sharpness are exceptional, with a level of detail that is surprising.  Contrast is really impressive & images almost jump off a print or screen.  The out of focus areas it can create are possibly the best of any of my lenses – – & the Fuji XF35mm & Leica 90mm are certainly not slouches in this area by any means.  Some say, however, that the Sonnar, with its slightly more open capability, produces even better bokeh (since this is totally a subjective thing, I'm not sure it can be discussed very meaningfully).  But that is not the main reason I got the Planar.  And I don't pixel peep either – – I barely have enough time to take the camera outside as it is.  However, for those that do (pixel peep that is – – not go outdoors), there is seemingly much to make one happy in that department as well.  Really impressive MTF curves, negligible barrel distortion, little or no falloff (i.e., dark corners), no lateral color fringes, etc., etc.
But for folks like me just looking for the best optical performance in the smallest & most affordable package, I can't think of a better recommendation than this petite "Nifty Fifty".  To better judge, here are some photos taken right after I got the Zeiss Planar 50mm: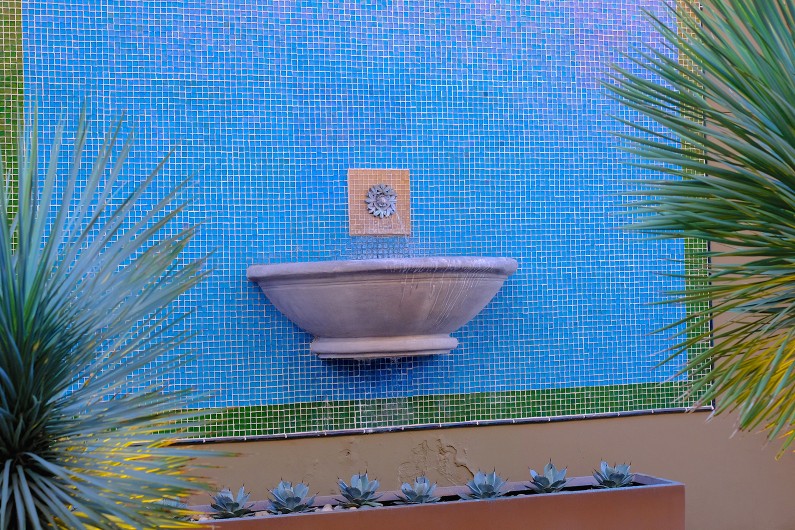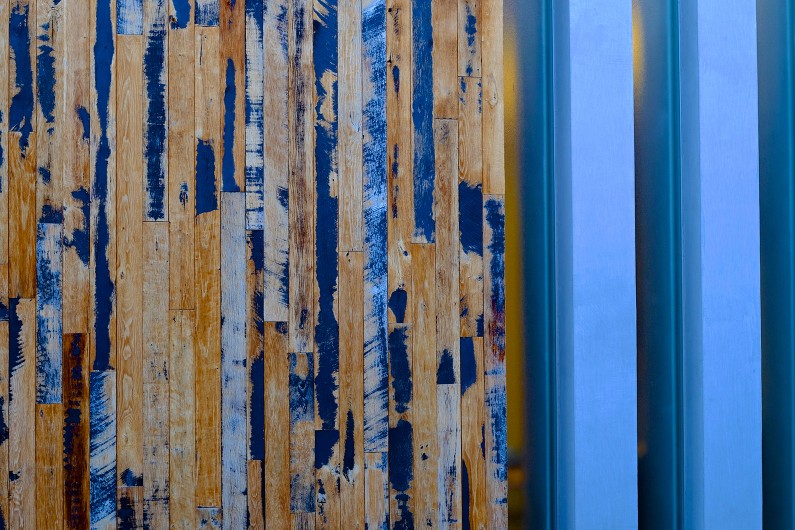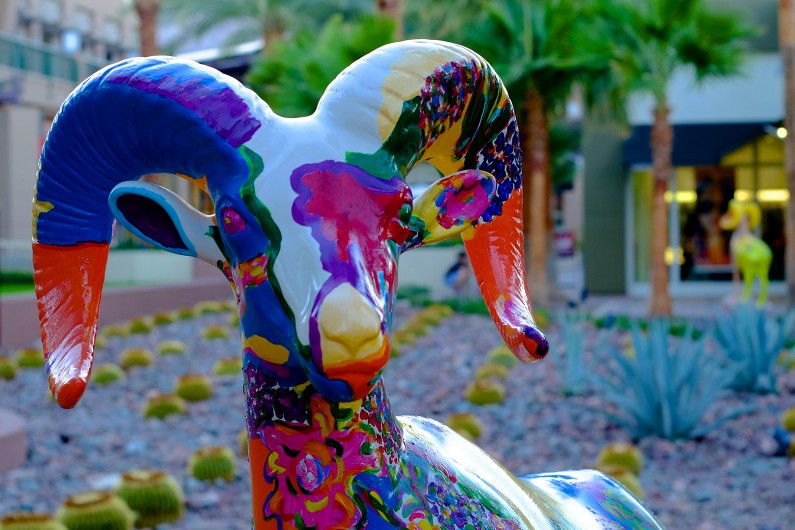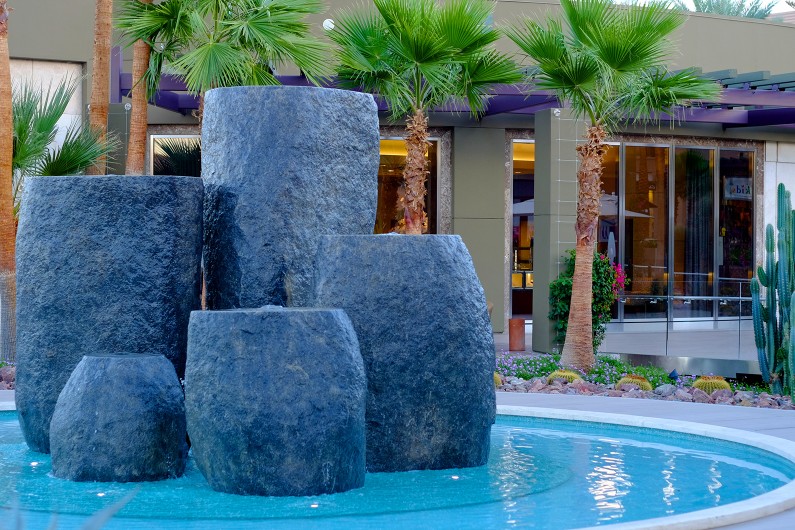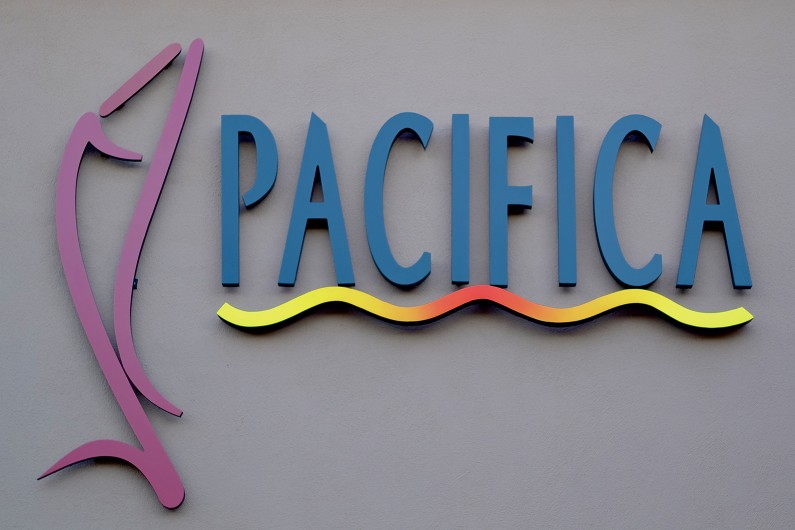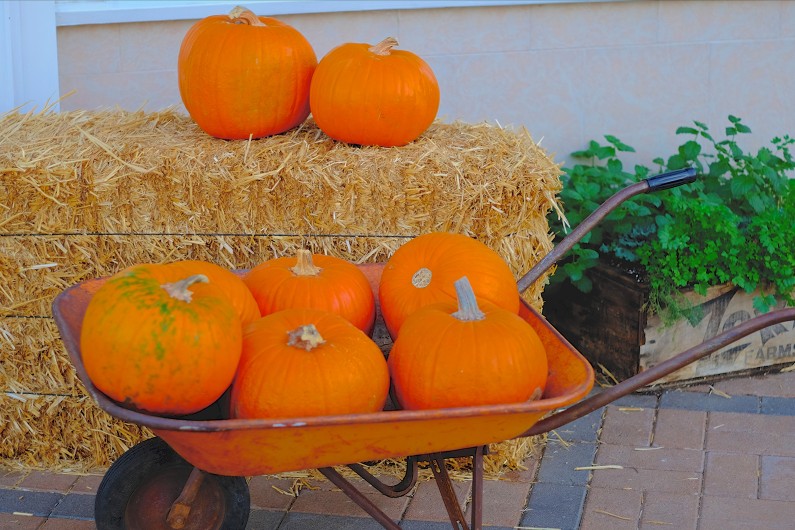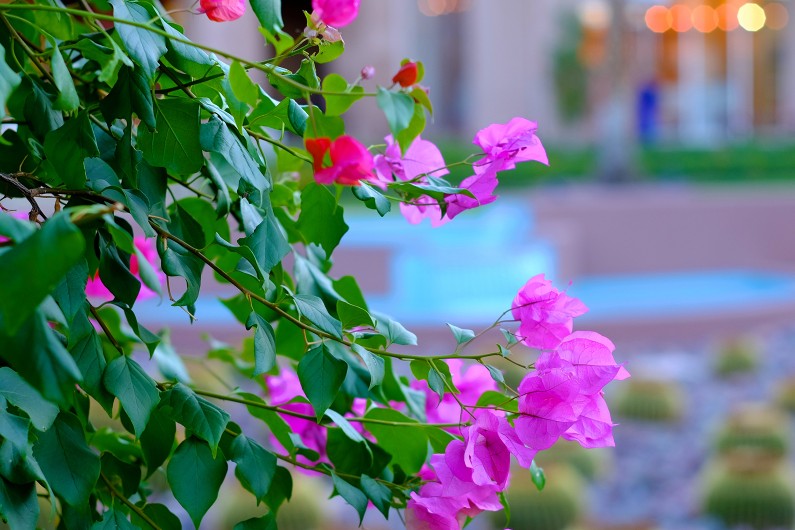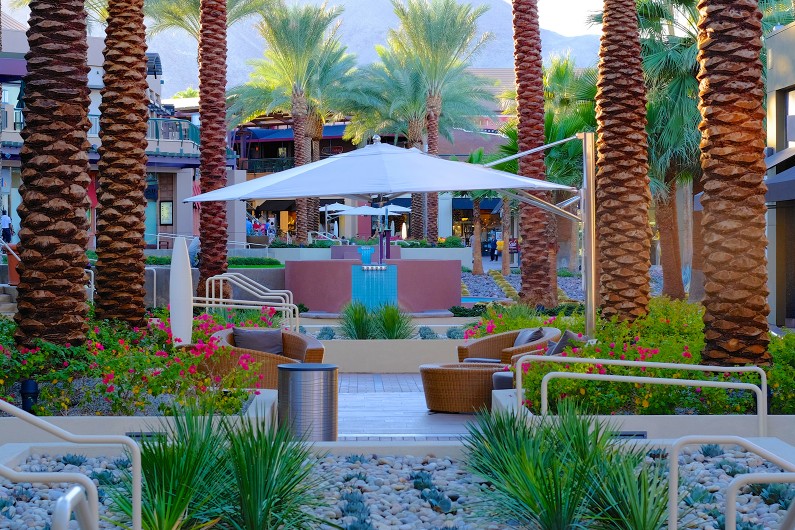 I certainly have to thank Patrick not only for guiding me to the great compact Leica 90mm Tele-Elmarit, but also for suggesting this little Zeiss powerhouse.  The Zeiss' cost was more than I have spent on any of my Fuji lenses (but less than current pricing for the more recent Fuji lens releases).  Still it was with some trepidation that I ordered the Zeiss.  And it is one of the reasons that I bought new with a two year warranty, & from a reputable dealer who would take it back, no questions asked, for a full refund.  However, when compared to Zeiss pricing on all of their other lenses, I think this 50mm Planar actually is a bargain for a brand new lens of this caliber.  And it is, in my opinion, a lens both whose construction & output are a cut above that provided by my Fuji XF35mm & XF18-55mm.  Having said this, I also must note that my new XF14mm is built like a tank, extremely fast for an ultra wide & sharp as a tack at all apertures.  Time will tell as to which I might use more, but I know both will certainly manage their respective applications equally well.
My lens decisions aside, I am nonetheless concerned that Fuji initially seemed to want to generate a real option for those seeking a rangefinder like experience.  And they seemed also to have their eye on professionals & very serious amateurs with their top of the line equipment offering.  But now they appear to be trying more to provide an alternative to Nikon & Canon with their recent lens & camera development.  Their new X-T1, for example, has been created in the image of an SLR, looking much like its bigger non-Fuji brethren.  Current & proposed lenses are also being compared directly to some of the best glass made by Canon & Nikon.  To be fair, however, Fuji is succeeding quite well from a price & quality point of view in all that they have been doing. 
I certainly accept that the sizes of the lenses that they are now making are still quite a bit smaller than those from their "Canikon" competitors.  Yet they are significantly larger than anything else currently being made for rangefinders by Leica, Zeiss, Cosina Voigtlander, & probably others.  And this is really what drove me to consider using adapted legacy lenses like the Leica 90mm & Zeiss 50mm, instead of the good quality Fuji counterpart primes.  I can live without Fuji's autofocus, image stabilization & more layers of glass if I have to in order to keep my gear more comfortably sized, affordable & manageable by me.
As for the X-E2, in my opinion it remains one of the best RF styled, interchangeable lens cameras being made today that can provide a Leica-like experience.  (I acknowledge the lack of an optical viewfinder with true rangefinder focusing, but wonder how long it will be before Leica may be integrating top notch EVF's into their M cameras, much like the one in the new Fuji X-T1 – – or in the Leica X Typ 113 for that matter.)  So for me at least, until Fuji comes out with the X-E3 or X-Pro2 (or both), there really isn't much else that is available out there that has the form & function of a Leica style camera.  Many also are still using the X-Pro1 with adapted lenses & are quite pleased.  Happily, Fuji also just announced another significant firmware upgrade for the X-E2 & X-Pro1 (Fuji has been very unique among camera makers in their support for earlier releases). 
The fact that Fuji has developed their own M lens adapter also encourages me that they are seriously committed to continuing to offer a RF like system.  But if their XF lenses are going to be made more SLR like in their appearance, size, operation & capabilities, it may well be that those wanting a true RF like experience will have little choice other than to incorporate adapted M or LTM lenses in their use of Fuji cameras.  In this regard, the two lenses discussed herein will remain as excellent choices in terms of their size, weight, cost, features, performance & optical quality.
And while I am thinking about it, maybe I really should look a bit more closely at either the Zeiss Biogon 21mm or 25mm to fill that gap at the lower end of my focal length spectrum.  Oh – Oh, I think I hear my wife!  I guess I had best quit while I'm ahead.  Thanks for reading what I have to say about the Leica 90mm Tele-Elmarit & the Zeiss 50mm Planar – – two incredible adapted lenses, & their exceptional ability to integrate into my use of the Fuji X-E2 in a rangefinder like system.  And please join me in continuing to follow the excellent articles, images & reviews in Patrick's "Finding Range" blog.
Note from Admin: I'd like to thank Jed for sharing with us his expertise and knowledge of both these fine lenses! The Zeiss 50mm F2 Planar ZM lens looks like it performs great on the Fuji X-E2!  Like the previous part, this section was a truly enjoyable read!  For those who haven't seen part one, you should definitely take a look at it when you get a chance!  Thanks again, Jed!