Note from Admin: Here is part two of Jed Orme's guest article about his trip to the South Pacific using only his Fuji X-E2 and select prime lenses.  There are some beautiful pictures in this article…great examples of Fuji blues.  For those who haven't seen part one, definitely check it out!  He also has a Flickr page with even more photos.  Enjoy!
South Pacific Sojourn – To Zoom or Not To Zoom 

(Part 2 of 2)

This is the second part of a two-part article about photography on a thirty-day cruise, & related photo gear considerations as well as image capture experiences.  The first part covered travels my wife & I took from San Diego to the Hawaiian Islands, & then on to our gateway to the South Pacific.  This last place is a magical isle with a perfect name – "Bora Bora".  It was originally called "Pora Pora" (there are no B's in the Tahitian language).  But when Captain Cook visited, he mistook the "P" sound for a "B".  On the way to Bora Bora, we also spent a day at one of the most remotely inhabited islands on our planet – Fanning Island, with its small population living without any running water or electricity.

For me, the trip up to this point was preparation for an entry into the world of "Bali Hai" & other equally mystical tropical locales.  And I can say that I was not disappointed, either with Bora Bora or anything that was to follow.  But unlike the Hawaiian Islands, which kind of sneak up on you when approached from the sea (being mostly hidden by heavy clouds until you are almost are on top of them), Bora Bora announces itself visually almost at the same time it can be seen by the ship's radar.  The approach to the harbor took almost an entire day.  So I was ready with my camera to record all that was waiting. The photo above is one of many taken during this approach with my Fuji X-E2 & adapted 90mm Leica lens. These were taken from inside the upper lounge on the bow of the ship – the dirty windows from a lot of rain between Hawaii & Bora Bora didn't help.  Here though are some more photos taken when we got to Bora Bora, one of the loveliest spots visited on our cruise, with people beautiful on the inside & out: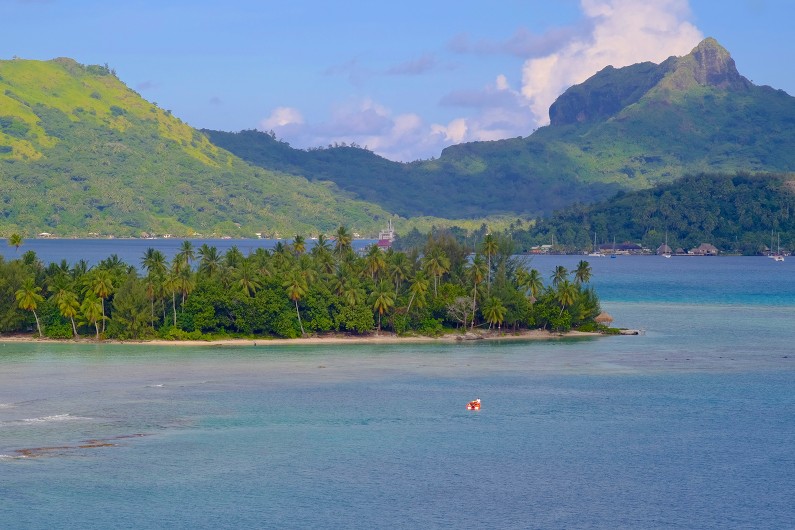 ↑ Vaitape, Bora Bora (Society Islands); Entering harbor where ship anchored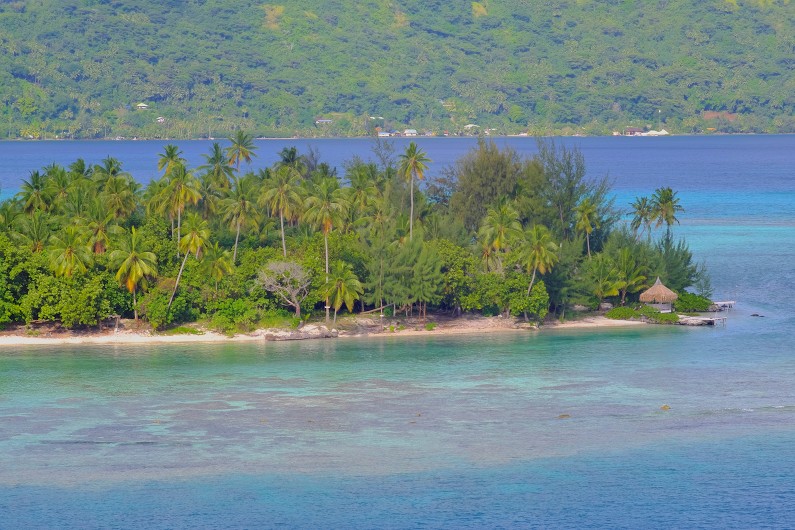 ↑ Bora Bora; Tip of large palm island in lagoon near anchorage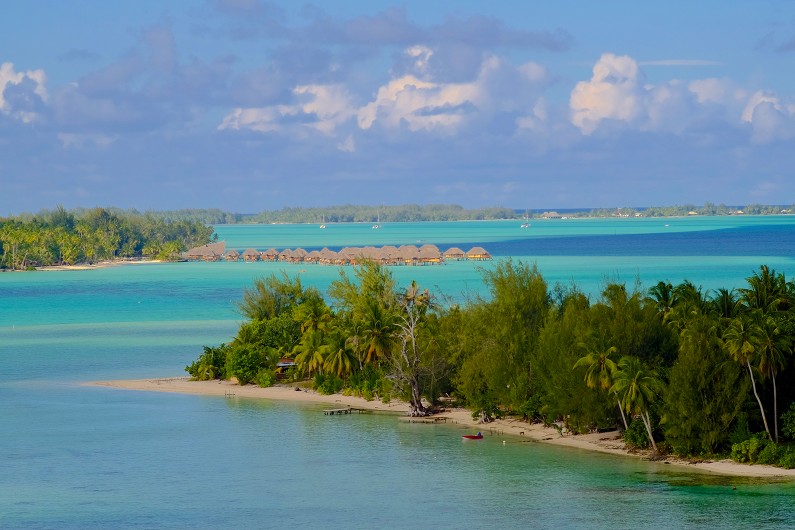 ↑ Bora Bora; Luxury overwater bungalows at other tip of palm island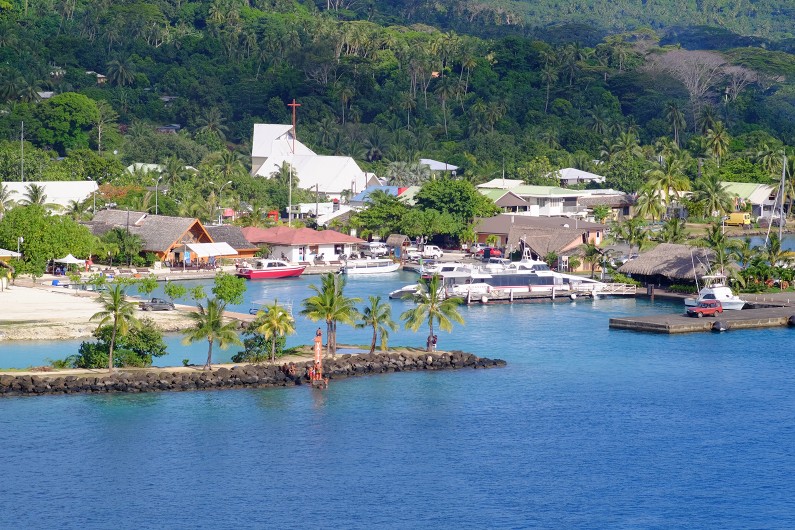 ↑ Bora Bora; Vaitape tender harbor from ship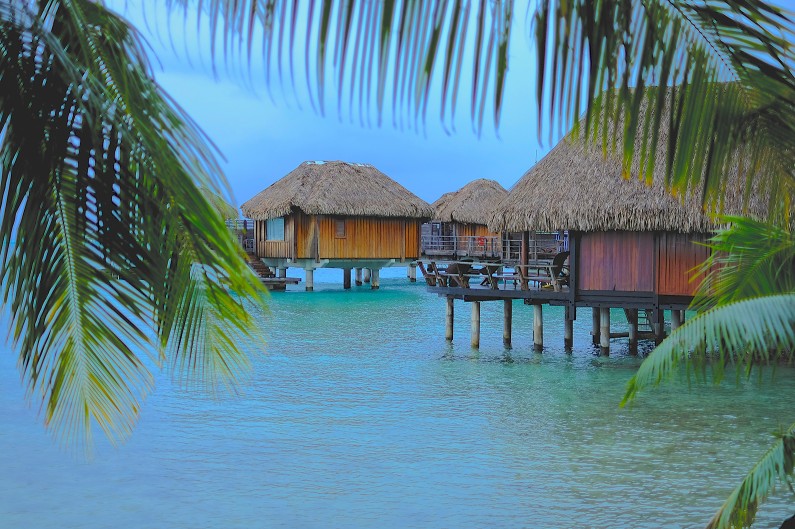 ↑ Bora Bora; Closeup view of Vaitape overwater bungalows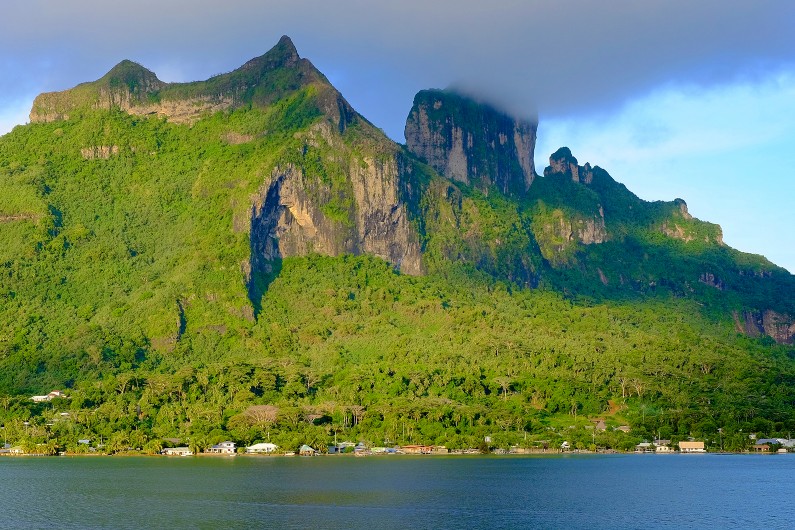 ↑ Bora Bora; View of iconic Mt. Otemanu from anchorage off Vaitape
In the above grouping, four of the six shots were taken with the 90mm & the rest with the XF-35m.  But in all the photos I took at Bora Bora, there is no use of my Zeiss 50mm, & actually not too much use of the XF-14mm.  We had rainsqualls when ashore, so I didn't want to be trying to change lenses & left the 35mm mounted most of the time off the ship.  And there was a close proximity & intimacy about much of the island when ashore that I thought lent to being better captured by the 35mm.
Following our all-too-soon departure from Bora Bora, the next island visited was Raiatea (originally named "Havai'i" by the ancient Polynesians.  It was their homeland & their most sacred island in the South Pacific).  This equally enchanting island was virtually unknown to this photographer, & a most pleasant surprise.  The dock was located next to the island's main village (too small to be called a town), which had a waterfront full of very old, colorful & beautiful French colonial buildings.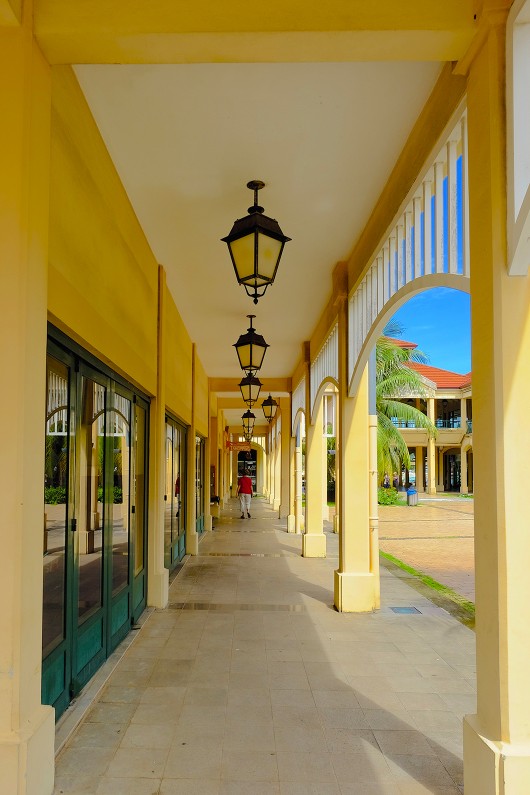 ↑ Uturoa, Raiatea (Society Islands); Old French colonial offices in harbor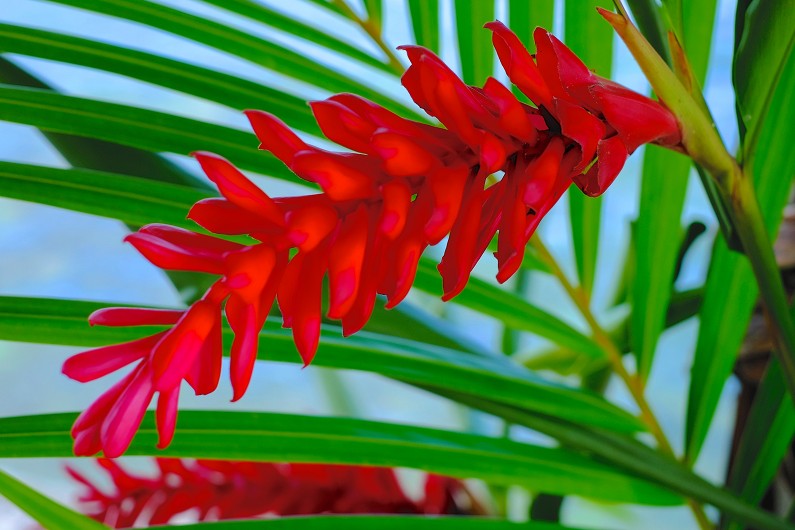 ↑ Raiatea island tour; beautiful local flower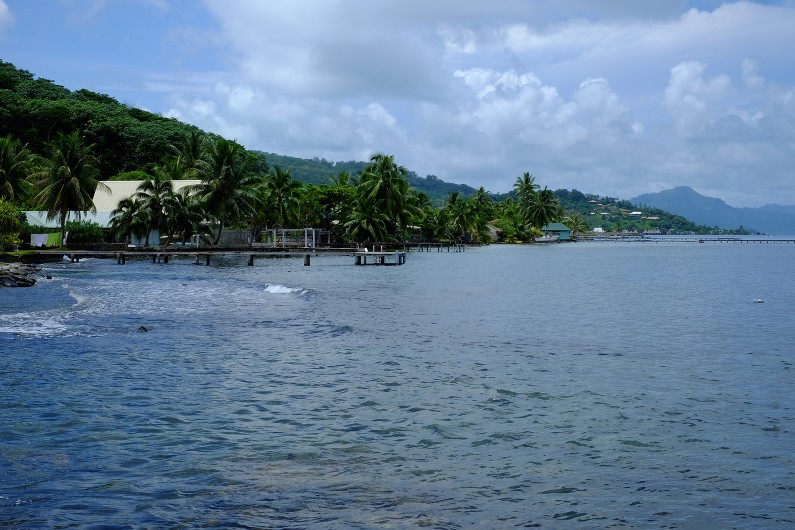 ↑ Raiatea island tour; shoreline view from pearl farm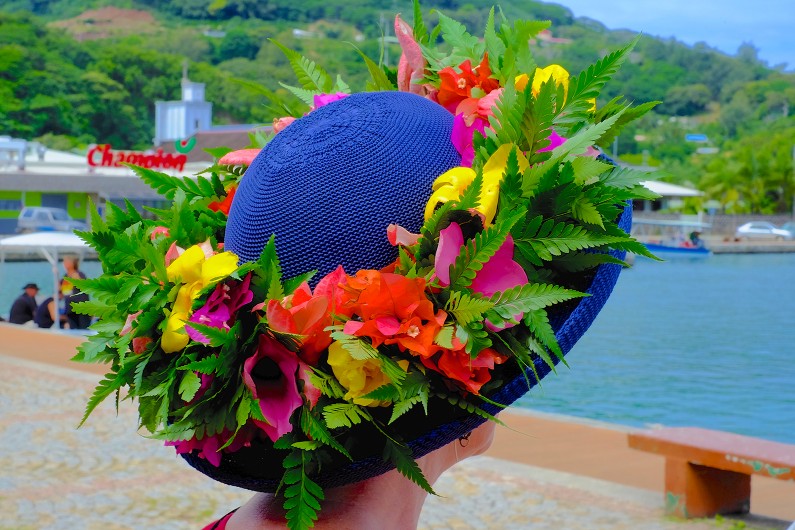 ↑ Raiatea; My wife's local flower lei for her hat
Here I was able to put the 14mm to good use & it will be no surprise as to which photo it is.  Our cruise ship in this port of call was also accessibly docked along side a pier, so the 14mm was used to take some photos of the ship.  But that is what you end up with if not very creative – a wide-angle photo entirely filled with a big ship – & not much else.  The other three were taken with the 35mm, which is quickly becoming the workhorse of the trip.  My general practice now is to go ashore with only one or two lenses, one always being the 35mm.  I can't recall a time when it wasn't either on the camera or in the bag the entire trip.  A second one in the bag was usually either the 90mm (more often) or the 14mm.  These three lenses were a very capable trio.
Tahiti was the next island visited, with docking right in downtown Pape'ete, the capital of French Polynesia.  My wife & I lived in Honolulu in the 60's, & we both reacted that Pape'ete looked exactly like we remember Honolulu looking back then.  But the prices in Tahiti weren't anything like those of the past – very, very expensive indeed!  But we hired a car to take us around the quite large island (the largest in French Polynesia), something we did at every island in order to see more things, experience their culture, & hopefully also hit the most photo-worthy locations.  Here we found some of the most beautiful flowers anywhere on the trip, with equally wonderful scenery.  A sampling of photos taken is set out below: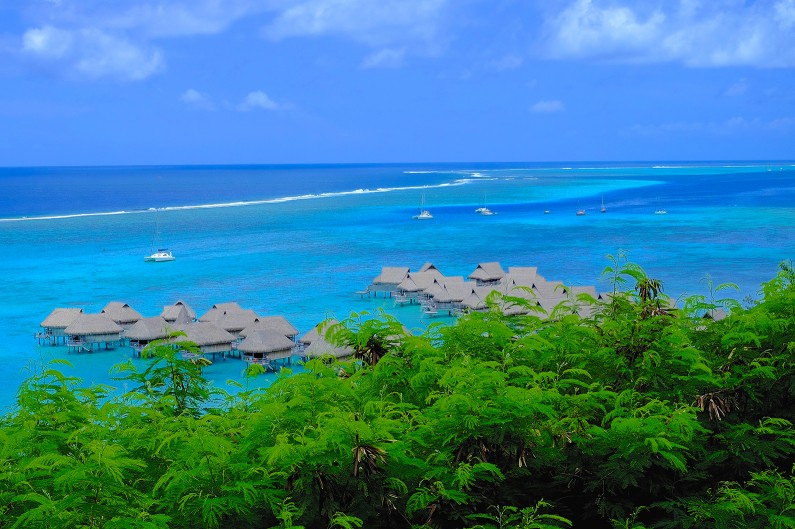 ↑ Tahiti (Society Islands); Overwater bungalows taken on drive around island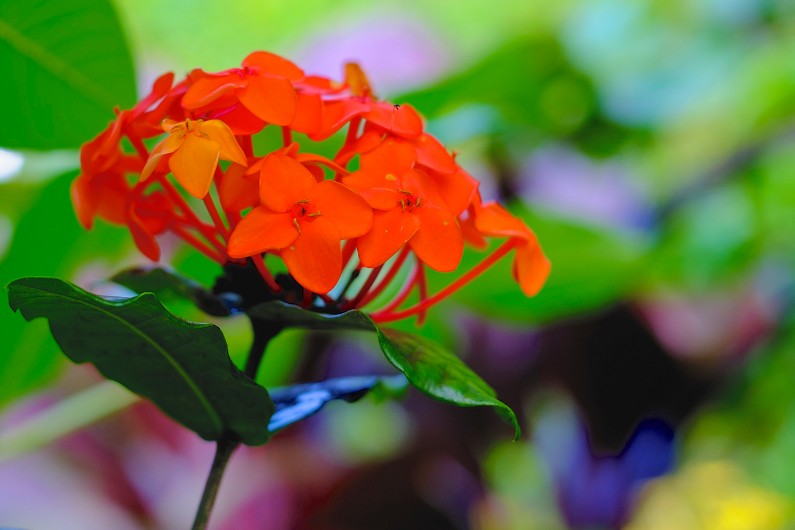 ↑ Tahiti; Taken in floral gardens outside Pape'ete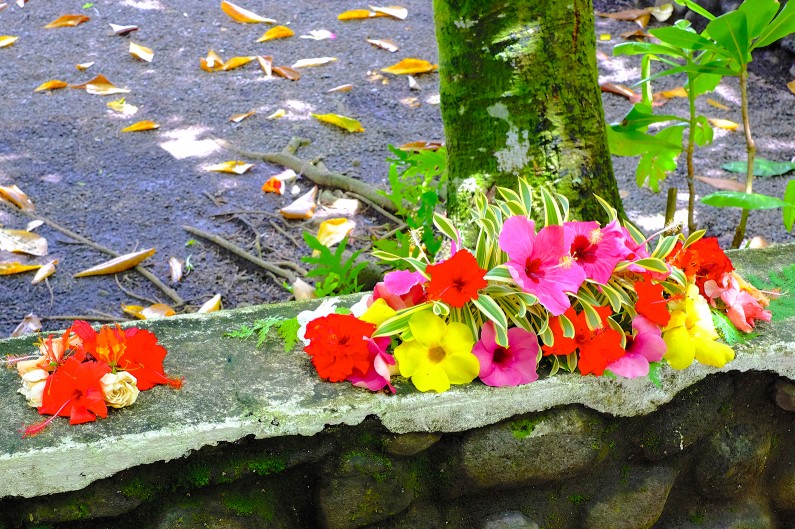 ↑ Tahiti; Taken on drive around island at small bay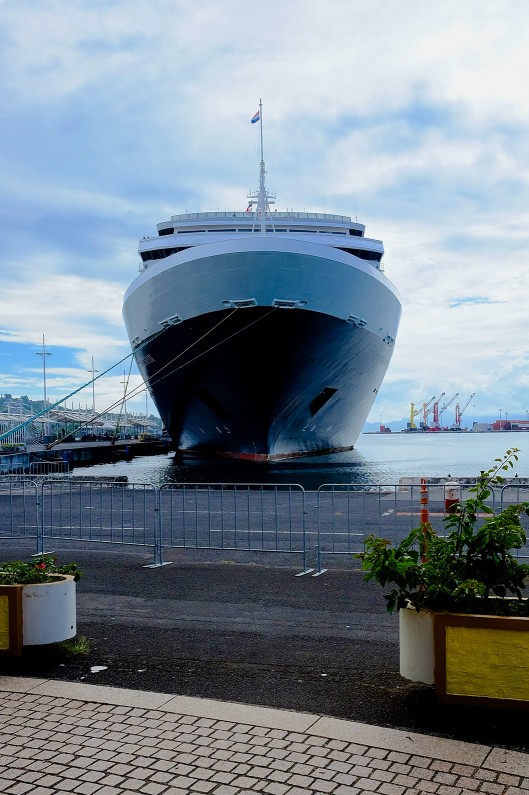 ↑ Tahiti; Bow of ship seen from dock in Pape'ete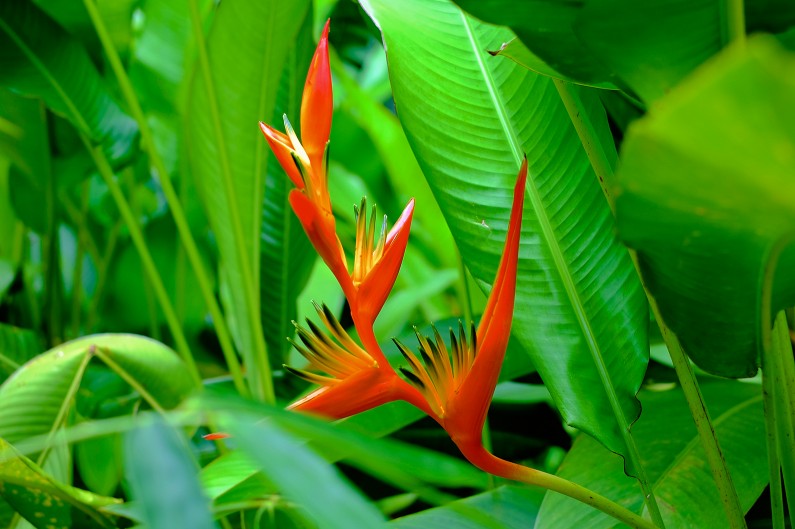 ↑ Tahiti; Taken in floral gardens outside Pape'ete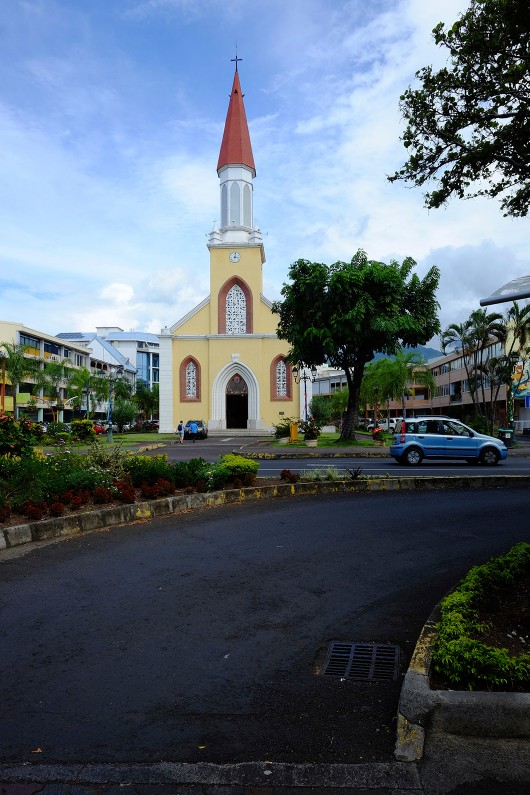 ↑ Tahiti; Cathedral in downtown Pape'ete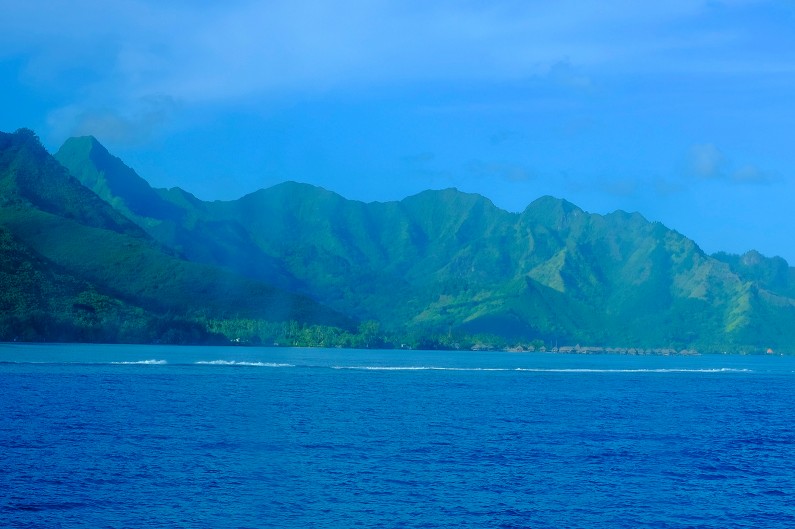 ↑ Tahiti: Tahiti departure
Here too we experienced frequent rain showers, & also ended up sharing a small SUV with two other large couples.  So lens changing (just breathing) was restricted, & the 35mm was perfect for this location.  This lens was used on all but a couple of these snaps; these two others were taken with the 14mm (including one of the ship's bow from a viewpoint not often seen).  But I hoped our next stop in Moorea might offer even more opportunity for both wide angle & telephoto.  And it did so in practice, but unfortunately not very represented again in those photos selected for viewing. 
Reaching the heart-shaped island of Moorea, we anchored in Captain Cook's Bay (atop the "right ventricle").  This idyllic island was probably the most scenic & dramatic of all islands visited.  More diversity was present as well, including drives up steep winding roads to scenic overlooks, & thru dense tropical rain forests in order to view archeological sites.  Also the 50mm by this point was in a drawer in our cabin instead of in my bag.  But Moorea is probably the gem of the South Pacific, certainly from the perspective of a photographer.  I thought I had seen it all when first glimpsing the topography & beauty of Bora Bora (of course, that name also has it all), but if I had to pick only one island to return to, it would be Moorea.  Here are a few images that barely touch on what was there to see.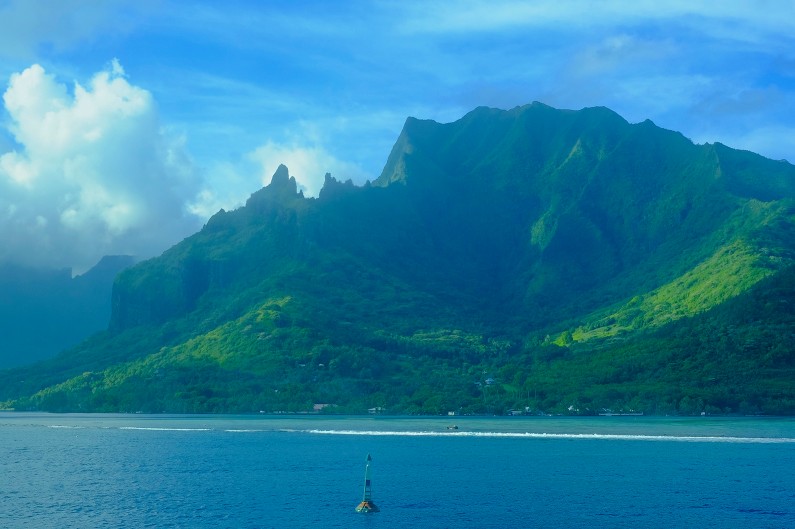 ↑ Moorea (Society Islands); Taken from cruise ship in Cook's Bay anchorage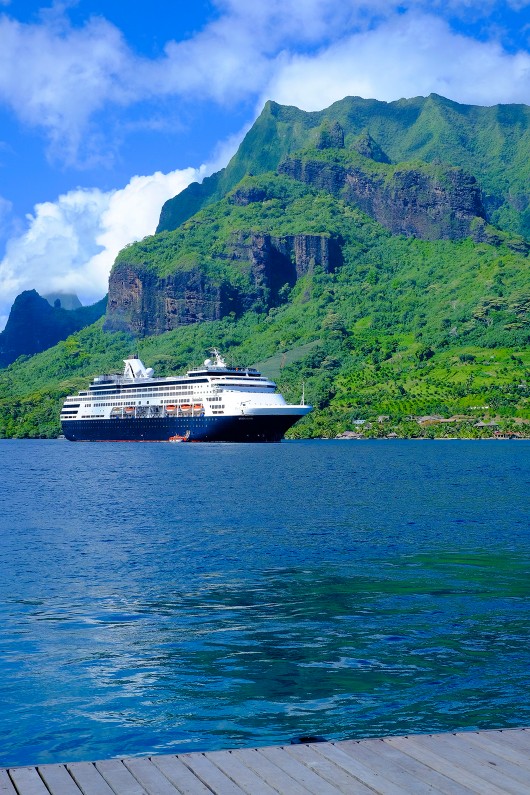 ↑ Moorea; Tender dock view of ship & mountains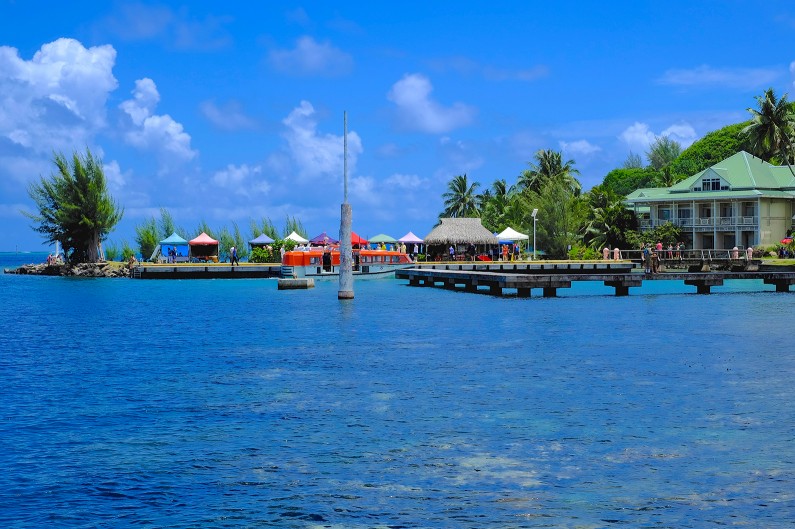 ↑ Moorea; Piha'ena village harbor scene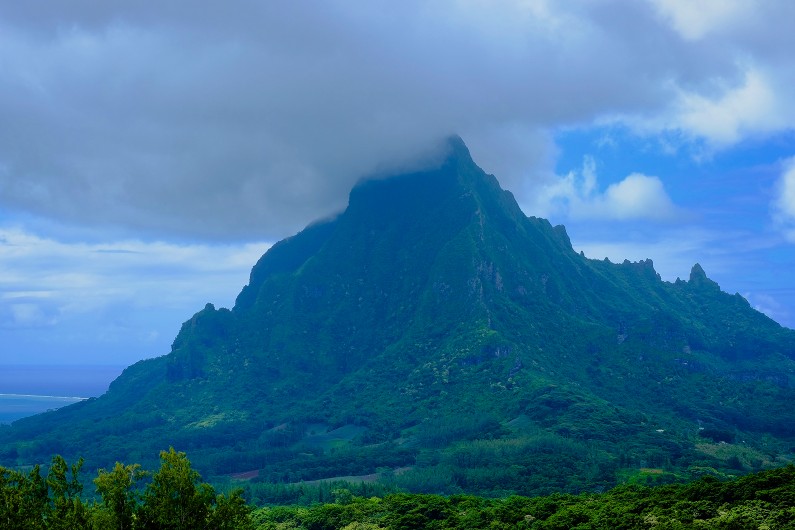 ↑ Moorea; Mt. Rotui taken from Pt. Belvedere lookout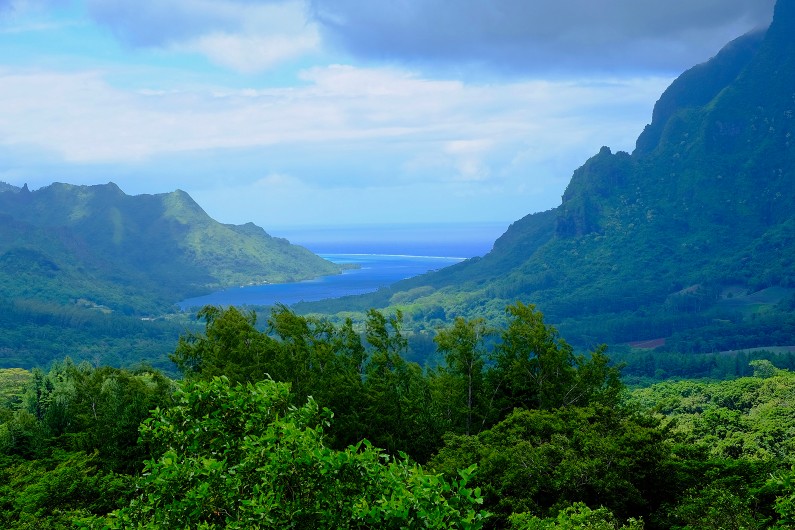 ↑ Moorea; Pt. Belvedere view of Oponuhu Bay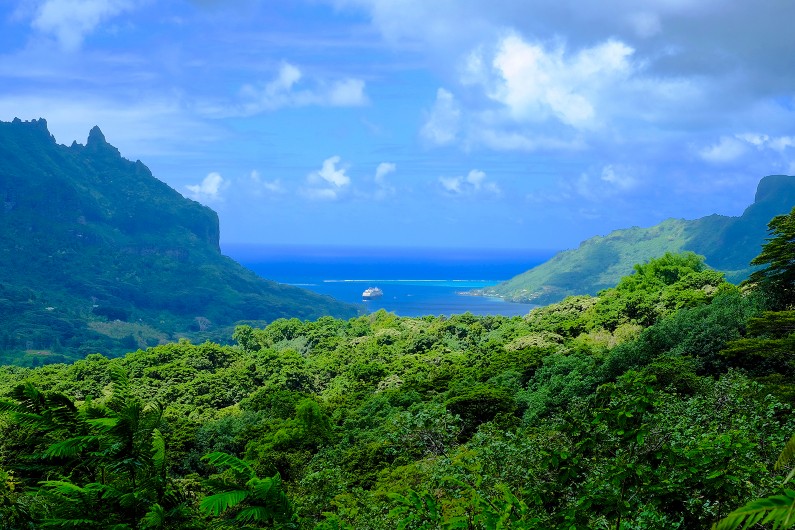 ↑ Moorea; Pt. Belvedere view of ship in Cook's Bay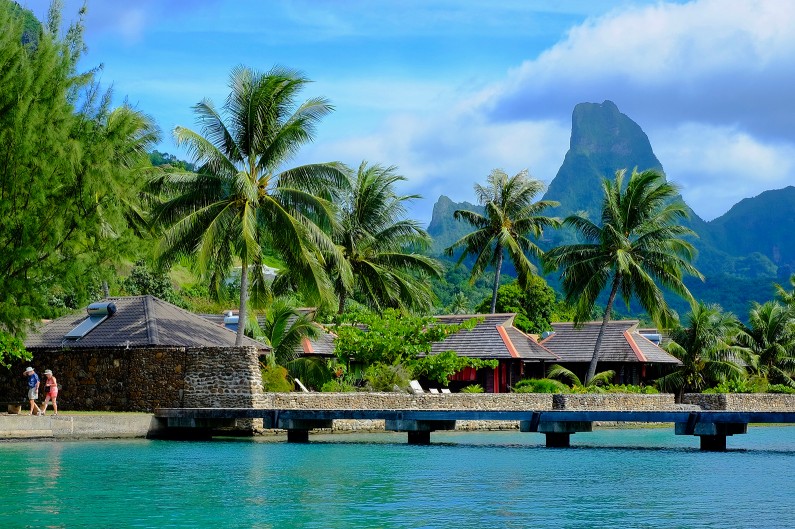 ↑ Moorea; Another tender dock view
However, once again we have photos all taken with the trusty & now entirely essential 35mm.  Here something might also be said about an alleged quirk of the Fuji X system sensor.  Fuji doesn't use a traditional Bayer type, but rather one it developed, called the X Trans.  In very simple terms, it uses a more varied combination of red, green & blue photosites, with a greater number of green photosites as well.  Some feel that this may have a tendency to display dense green foliage in a slightly less accurate & flattering manner – a sometimes visible smearing of details & colors. 
Thus, almost all of the islands visited, but particularly Moorea with its very dense green foliage & abundances of it, should really be a test for the X Trans system.  I am not expert enough regarding this particular issue to know if it affected any of my photos – & as I said in a prior article, I don't pixel peep.  But I understand it is more of a potential issue when editing & refining raw images.  All my photos were developed in the camera as JPEG's using Fuji's very competent built-in engine, & then further edited by me using limited adjustments with Aperture.  Possibly it was a factor in my rejection decisions, but I really don't think so.  There certainly is a lot of green in many of these photos, but a lot of other colors as well.  I see no difference in the rendering of all of these colors.
Any problems I had in post processing more often involved highlights or shadows.  A number of images had issues involving the management of aperture opening & shutter speed to best control these extremes in seeking correct exposures.  To be certain, this part of the world, (a) at mid latitudes very close to the equator, (b) with extremely bright sunny skies during the time of most of our stops, & (c) presenting extreme color combinations that also have extensive dark shading, is no piece of cake for any photographer.  I mainly work in aperture priority (using the sunny 16 rule of thumb) with both ISO & DR set to auto.  The cameral then picks the shutter speed; & I only override things if I see the following:  (1) ISO numbers higher than I prefer, or (2) a shutter speed too slow for the focal length of the lens being used.  But it was a challenge much of the time when you throw in the factor of light bouncing off of, or becoming intensified by, large expanses of water.
However, back to lenses being used, it is clear that in the approximate 1500 or more photos taken in the South Pacific part of the cruise, there was more reliance upon & usage of the 35mm than in the cruise's first phase.  However, my sampling of images somewhat skews things even more, as many of the images not selected for this article were taken with either the 14mm or 90mm – very few however with the 50mm.  With only two islands left on the voyage, let's see if anything changes.
The little island of Rangiroa, part of the Tuamotus, was next on our itinerary.  It actually is a circular coral atoll that stretches around for 117 miles, one of the longest such atolls in the world.  It too was most unique & quite beautiful in its own way.  Its' enormous lagoon, where we anchored, is a very famous dive location as well.  But after the majesty & grandeur of Bora Bora, Tahiti & Moorea, it would be easy to become jaded & expect more.  Additionally, even the photos shown that I thought were among the best really don't do it justice.  The first photo though is one of my favorites, & to me conveys much of what was so dramatic & unique about this part of the world.  Take a look.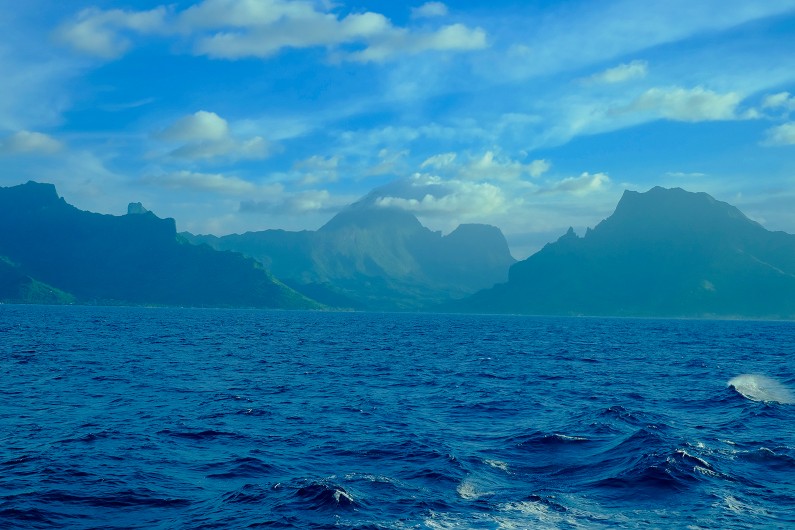 ↑ Rangiroa (Tuamotus); At sea departing Moorea heading for Rangiroa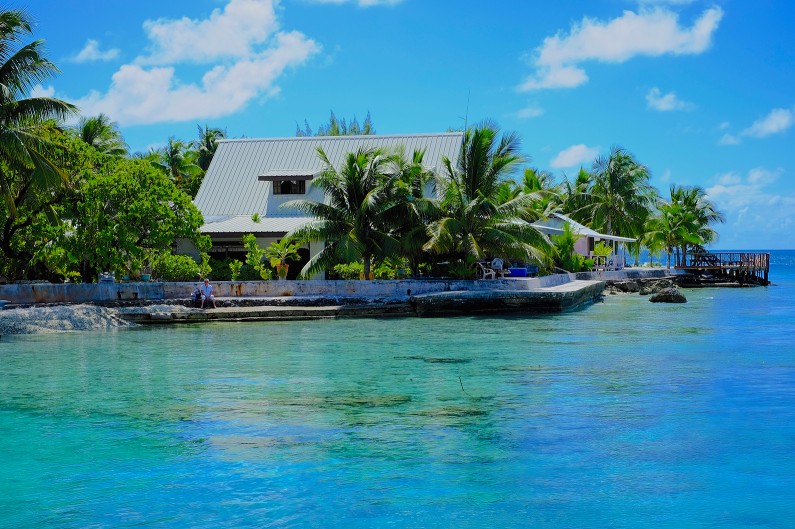 ↑ Rangiroa; View from the tender dock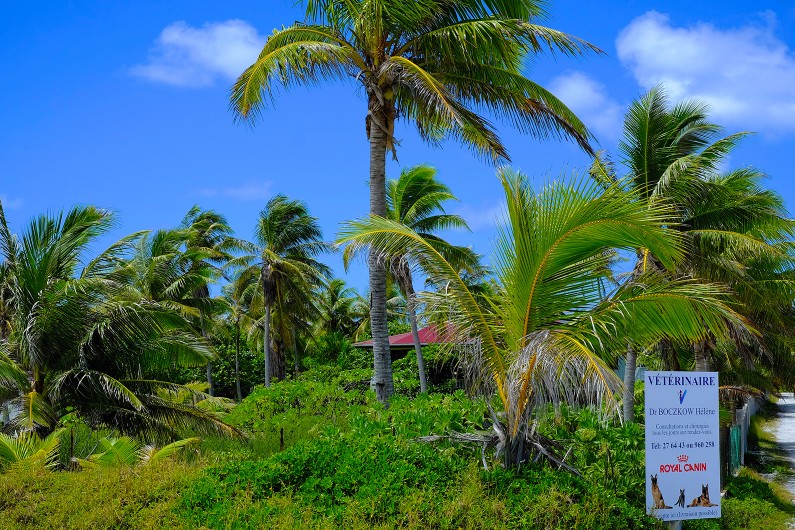 ↑ Rangiroa; Vet sign & foliage outside village of Avatoru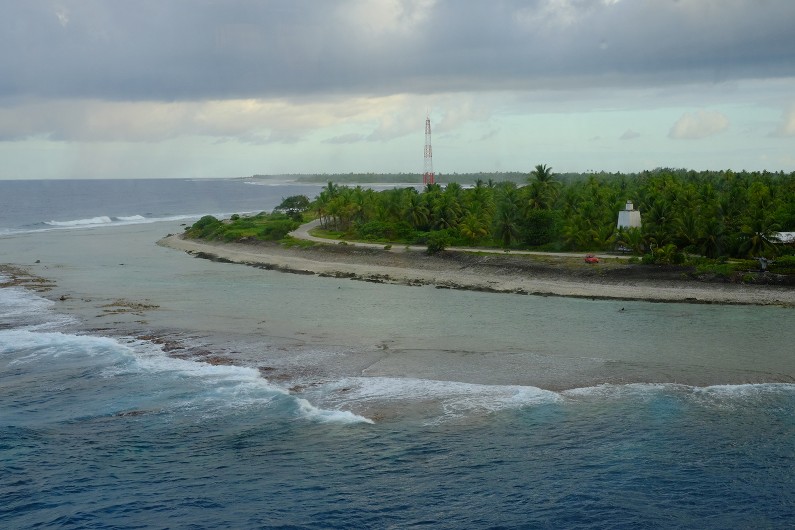 ↑ Rangiroa; Cruise ship's narrow channel lagoon departure
Again, these were taken with the ever-present 35mm.  Now with only one more island to complete my tour of this French Polynesian paradise, we will see if there can be some use of the 14mm or 90mm in those photos selected for this article.  But first, a bit of info about our last stop, the Island of Nuku Hiva.
All of the major islands previously visited (excluding Fanning Island atoll) are part of five different groups of islands that comprise French Polynesia.  Fanning Island is part of the Line Islands, which are a chain of eleven atolls and low coral islands in the central Pacific Ocean south of Hawaii.  Eight of them are governed by Kiribati (a separate island nation) & the remaining three are part of the territory of the US.  Our visits were in two of those groups known respectively as the Society Islands & the Tuamotus.  Four of these five island archipelagos are geographically located somewhat together, but the fifth, the Marguesas, are located thousands of miles to the east.  As a result of such separation, the geography is quite different – a kind of mixture between South Pacific tropical & South American continental.  Nuku Hiva is the largest of six islands that form the Marquesas. Here are some photos from Nuku Hiva.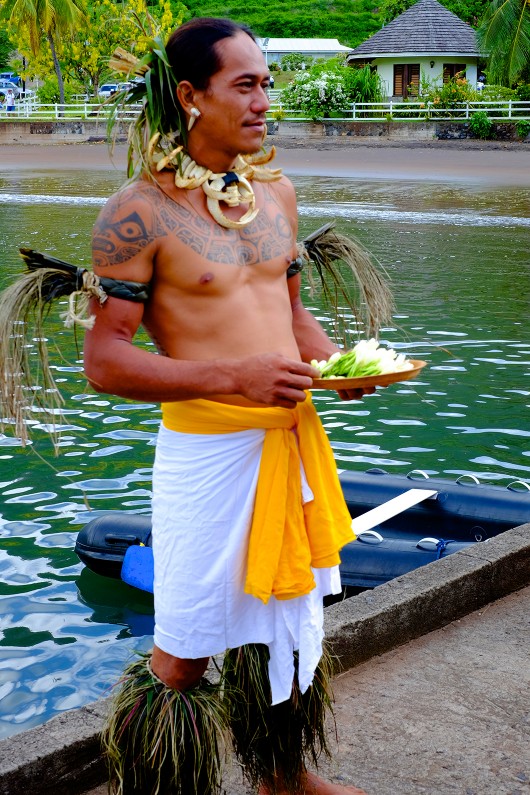 ↑ Nuku Hiva (Marquesas); Traditional native flower greeting for visitors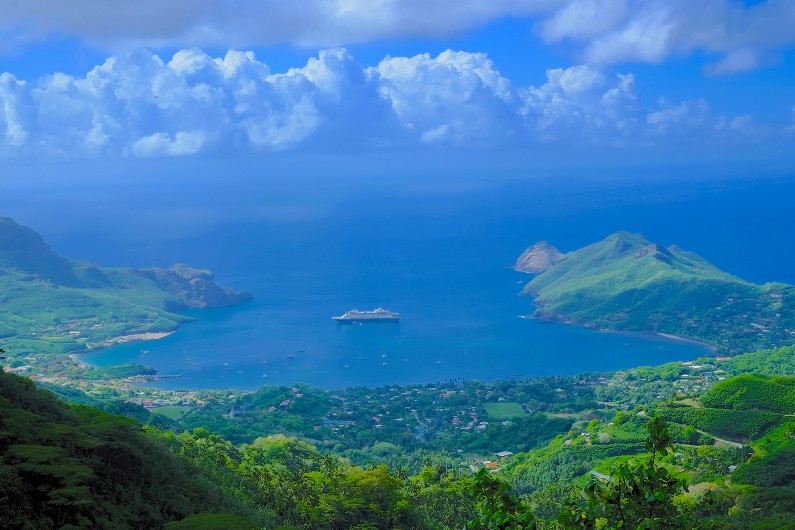 ↑ Nuku Hiva; View of ship at anchor in Taioha'e Bay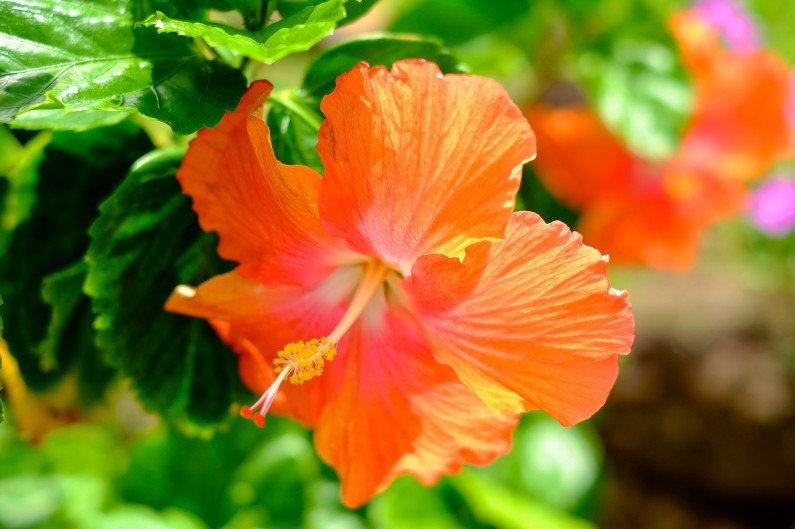 ↑ Nuku Hiva; Beautiful wild flower outside of Taipivai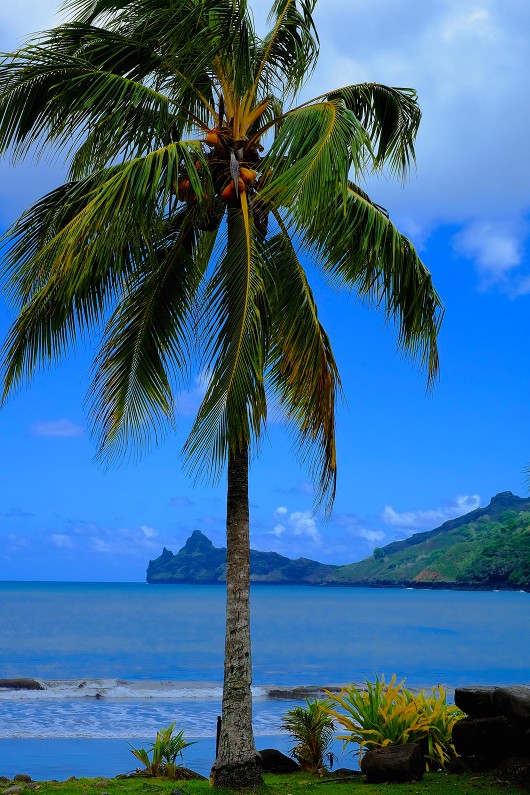 ↑ Nuku Hiva; Lonely palm on beach near Taipivai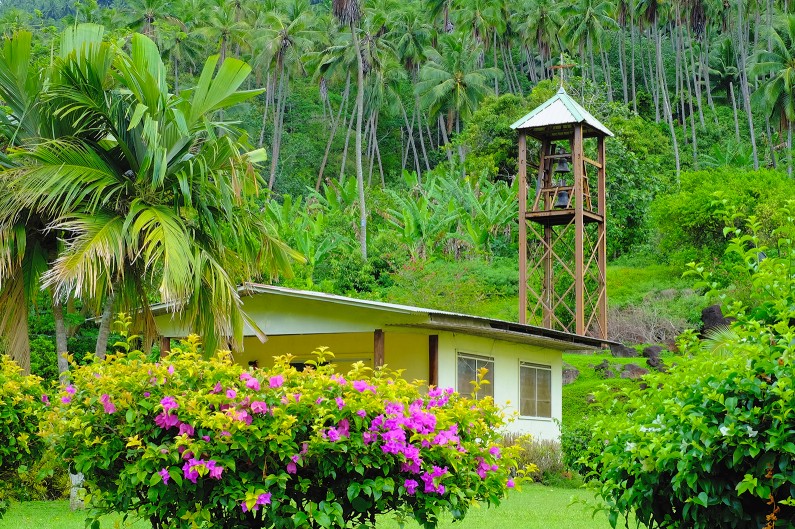 ↑ Nuku Hiva; Small church in remote interior region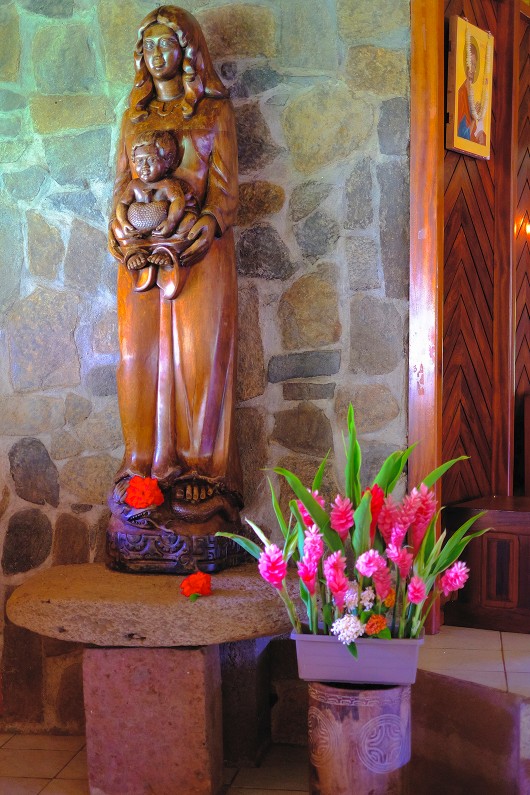 ↑ Nuku Hiva; Native carved Madonna & Child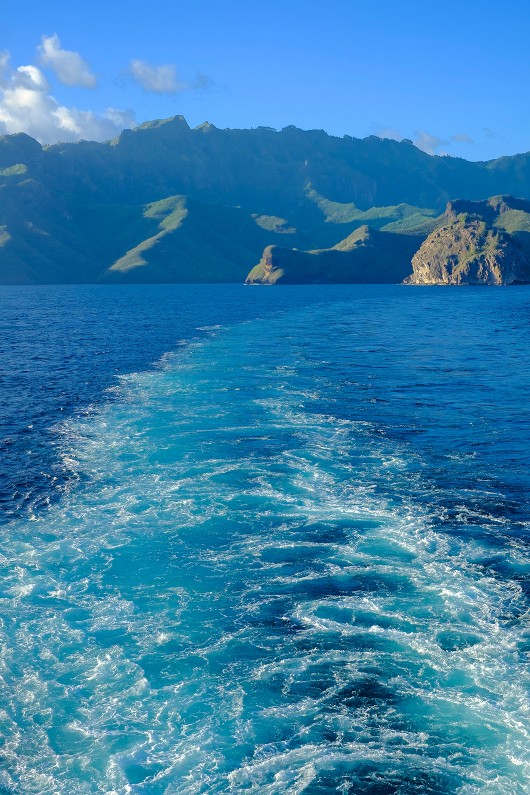 ↑ Nuku Hiva; Ships' wake departing Nuku Hiva heading for San Diego
Though I recall using the 14mm for some island interior shots & the 90mm for some taken from our distant Taioha'e Bay anchorage location, none of these photos were among the better ones.  Again these last photos all were with the 35mm.  Overall, I took a total of around 2400 photos on the entire trip. Then at home I reduced them down to just 70 as my "pick of the litter".  (Anyone wanting to view these 70 can find them on my Flickr page by clicking on this link:  https://www.flickr.com/photos/131033855@N03/.  Not all of the images in this article are included in the Flickr posting).  Some other photos were selected to better represent what is described on this South Pacific cruise.
.  But again overall, while I can remember much more actual usage of the 90mm & to a lesser extent the 14mm, they simply don't appear very frequently among my choices as the better ones.  I'm sure that says more about me as a photographer than these two excellent lenses: additional caveat – they both are also my newest.    
However as to my initial quandary, what might be concluded I think are two somewhat contrasting observations.  First is that if I had to do so, I could have managed fairly well on this trip by only taking the 35mm; as to possibly taking only the 18-55mm zoom, who knows!  But second & somewhat conversely, if I had decided in advance to take only one lens, it almost certainly would have been the zoom & not the 35mm; however the zoom's 55mm max telephoto range would not have permitted me to get many of the good photos that I obtained with the truly excellent Leica 90mm.  So maybe it's as they say in the UK: "horses for courses".  More important, I thoroughly enjoyed using & getting to know both the 14mm & the 90mm better, & am very happy that they were in my bag when I needed them.  Also even though the 50mm wasn't used very much at all, it was by no means in the way or unnecessary to have along.  So in retrospect, my decision to take the four prime lenses was the right one for me.  And this is true even if this article, & the photos I chose as among the better ones, may not demonstrate a need for all four lenses. 
Most significantly, I think the primes made me a much more aware & contemplative photographer.  Much more so than spending time & effort on each image, zooming in & out in order to see various compositions, & maybe never being quite certain as to which is best.  And very importantly, I have over 200 photos that I selected from this trip to go into my permanent album of what we saw & did.  Many of these were taken with the other three lenses in addition to the 35mm.  These memories would not have been recorded without them.  These are the photos that will show up on my TV as my screensaver when listening to our music or when the video is on hold.  So they will be much appreciated & enjoyed, even if not shared with you readers.
My thanks to Patrick for offering me the opportunity to write about this fantastic cruise experience, & the many decisions made regarding camera lenses needed & used for it.  And thanks to all who have read this article, & hopefully enjoyed seeing some images from this most beautiful part of our world.  Please also join me in continuing to support all of the good work done by Patrick to produce his excellent "Finding Range" blog.  "Aloha oukou",
Jed
Note from Admin: I would like to thank Jed for this impressive article!  It's quite informative and the images are sensational!  For those who haven't seen part one of his article, I urge you all to check it out.  Also, please visit his Flickr page for even more photos.  Thanks again, Jed!