Olympus Pen-F Mirrorless Camera Review:
I've always been attracted to Olympus Pen cameras for a lot of the same reasons its users like them.  Their compact, retro-inspired forms are attractive but there's definitely more than meets the eye; they are also versatile cameras that can produce excellent images.  But one feature I felt was always missing was a built-in viewfinder, which is why the OM-D series was always what I would look at first if I were to consider a micro four thirds system from Olympus.  However, decisions just got a little more difficult with the newly released Pen-F.  Not only is there a new built-in viewfinder, there is a list of other upgrades, improvements, and features.  Unlike the SLR-like qualities of the OM-D series, the Pen-F has a more rangefinder-like design.  So, the question is, which one is best for you?  Read on and find out.
Olympus Pen-F Build Quality:
Side note: I'm missing a couple of images of the back of the camera and the articulating LCD screen.  I have it on a memory card but it's not with me.  I thought I'd post the review anyway, since I am going away on a weekend trip.  When I get back, I'll add the images.
I usually like to start off my reviews discussing the build quality, and I have to say, I am mighty impressed with the Pen-F in this category.  There are a lot of manufacturers nowadays that are introducing retro themed cameras but with the Pen-F, I feel that Olympus has taken it to a whole new level because unlike some cameras in its class that only have the retro appearance, the Pen-F, which comes in silver or black, also has the solid feel and quality parts that will remind you of old film cameras from the 1960s.  Whereas some manufacturers just follow the same formula over and over again when they release a retro-themed camera, one can clearly tell that Olympus has pulled out all the stops for the Pen-F.  It almost feels like they went back to the drawing board, and started from scratch, when they designed the Pen-F.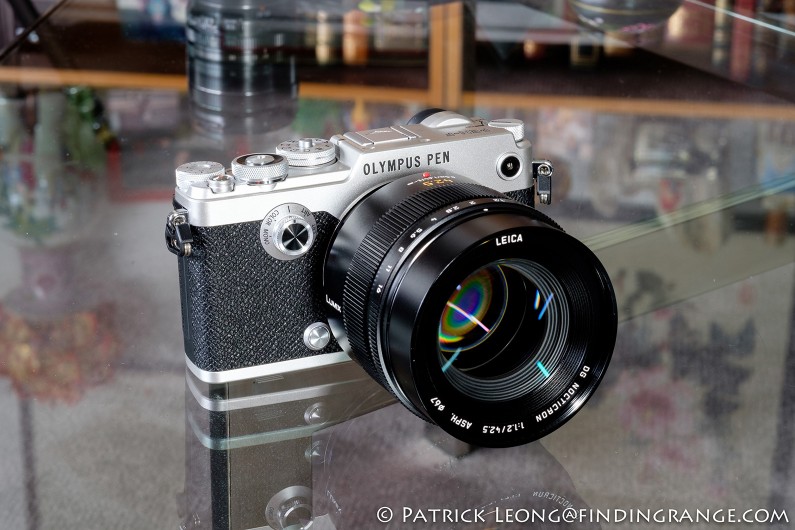 ↑ The Olympus Pen-F with the Panasonic 42.5mm F1.2 Nocticron.
The Olympus Pen-F is one of the best built cameras in its class.  As you can see in the photos, it is an all-metal design.  There is absolutely no flex of any kind, and the attention to detail is incredible.  The magnesium top plate doesn't even have any visible screws, and they even brought back the screw-in cable release, which I really like.  In my opinion, the Pen-F's metal dials are also some of the best in their class.  They have a nice weighted feel, and they rotate smoothly clicking very securely in position.  Nothing feels cheap; on the contrary, everything here spells high quality.  I personally like the dials on this camera more than the ones on my Fuji X-T1.
Speaking of the dials, these are some that I found particularly noteworthy.  First up is the on and off knob on the left of the camera that gets its design cues from old film cameras.  It literally looks like the film rewind crank on my Leica M3, and everyone I've shown this camera to loves the knob.   Then there is the Creative Dial on the front of the camera, which gives you certain options to enhance your images.  Rotate it to Color, and you are able to modify the hue and saturation of your images.  A total of 12 different colors by up to ±5.  If you rotate the Creative Dial to Mono, you can choose a color filter to be applied to your black and white images, and adjust its strength.  There's also the Color Creator option, which is the CRT setting on the Creative Dial.  It allows you to adjust the overall color of your image using any combination of 30 hues and 8 saturation levels.  You can even adjust the shadows and highlights for these three settings just mentioned by viewing the Highlight and Shadow Control screen.  Lastly, if you switch the Creative Dial to Art, you'll get access to many different art filters.  Of course, all these these settings and effects from the Creative Dial only affect the jpegs, not the raw files.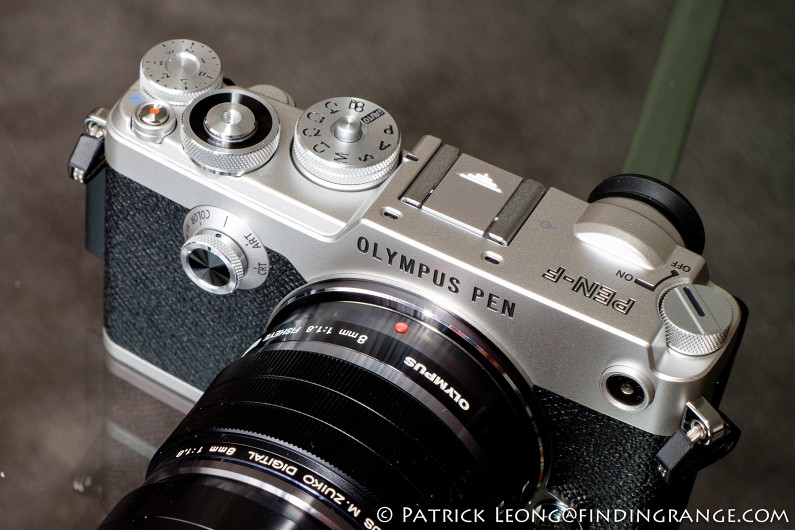 ↑ The top plate of the Pen-F.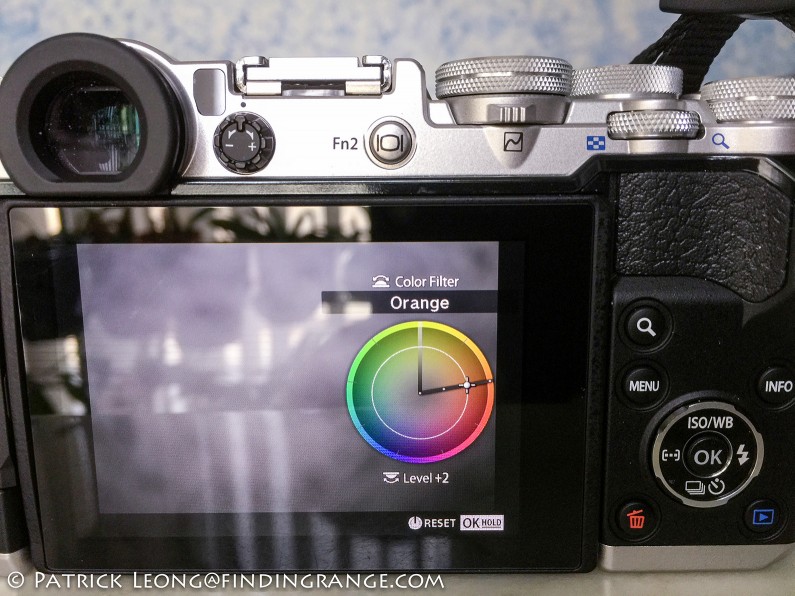 ↑ Here is how I would adjust a color filter when I am shooting in black and white.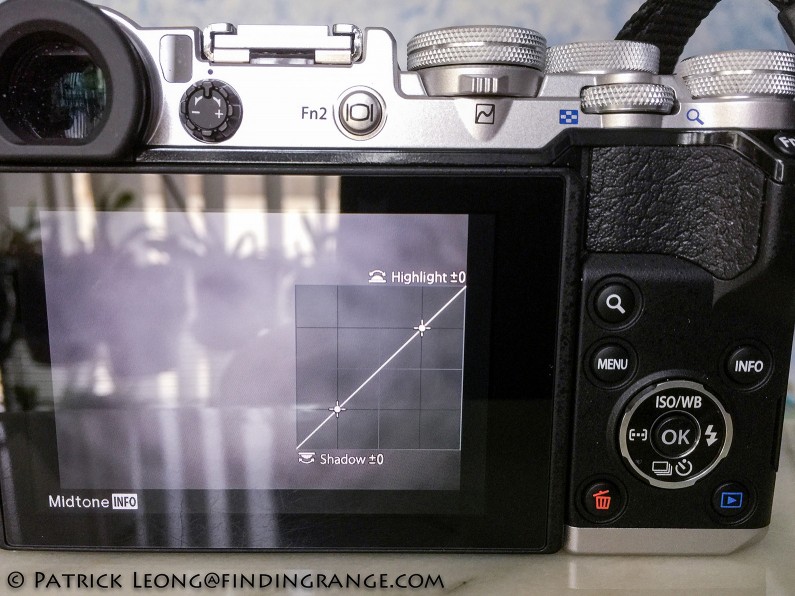 ↑ Highlight and Shadow Control screen.
In addition, there are plenty of other dials and levers surrounding the camera.  There's a mode dial that allows you to change the shooting modes.  I particularly like the lock on it.  All you have to do is press it once to lock or unlock it.  You don't need to hold it down in order to rotate the dial.  There is also a lever under the mode dial, a dial surrounding the shutter release button, and one right below it in the back of the camera that helps you adjust various functions on the camera.  There's a dial right next to the viewfinder that allows you to make diopter adjustments, and an EV compensation dial to the right of the camera that can make up to ±3 stops of adjustment.  Just so you know, like the rest of the dials, the EV compensation dial stays in place.  I may have moved it accidentally once or twice.  That's about it.  Of course, there are a bunch of other buttons as you can see in the photos.
The number of dials, buttons, and levers can sometimes feel a little overwhelming, and sometimes one or two did get in the way but overall, the camera is still very comfortable to hold and use.  In fact, I found this camera more comfortable to hold than a Fuji X-E2S.  It also feels more solid.  The body is literally a perfect fit in my hands, it's very well-balanced, and I particularly found the thumb rest helpful.  It gave me just the right amount of support, and it even allowed one handed shooting with a lens as big as the Panasonic Nocticron 42.5mm f1.2 ASPH without the Pen-F's incredible 5 Axis In Body Image Stabilization turned on.  The beauty is the thumb rest isn't even big or cumbersome; on the contrary, it actually flows well with the design of the body.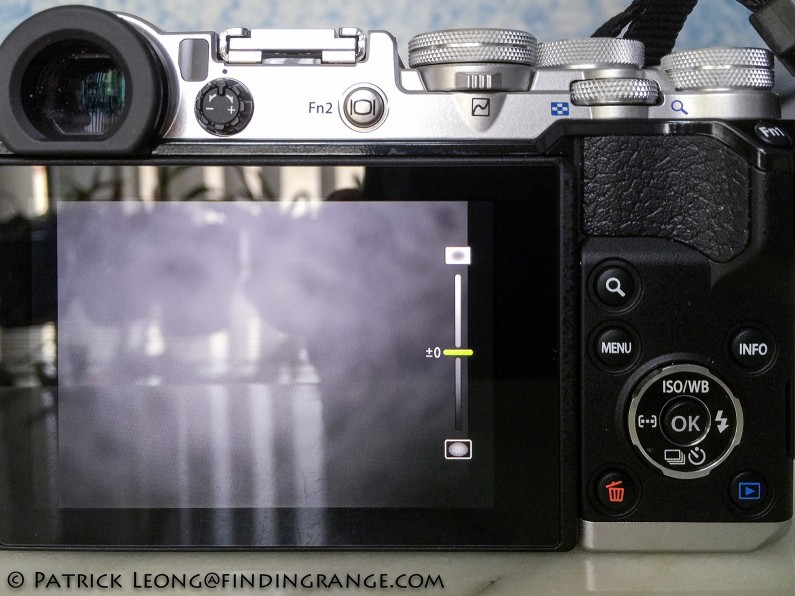 ↑ Here is how the back looks like.
Overall, there really isn't much to complain about except for maybe a few minor issues.  For one, the Pen-F doesn't have any weather sealing.  This isn't the end of the world for me, as I own some cameras that don't have weather sealing, and I've never had any issue. But quite frankly, it surprises me, and it's a little bit of a let down when you consider the Pen-F's sibling, the Olympus OM-D E-M5 Mark II, is similarly priced and comes with this feature.  Still, I like the build quality, and the ergonomics so much that if I were in the market for something from Olympus, I'd choose this camera over the OM-D series.  It is absolutely beautiful but the great thing is it's more than just about the looks; as I mentioned before, I find it a very balance and extremely comfortable camera to use.
Another issue I had with the Pen-F is with the location of the tripod socket.  As you can see in the photos, the tripod socket is located very close to the lens.  If you're using a larger or bulkier lens like the Nocticron for example, you'll find it difficult to mount this camera to some tripods.  Of course, there are brackets out there that you can purchase to help you get around this problem but it can be very inconvenient.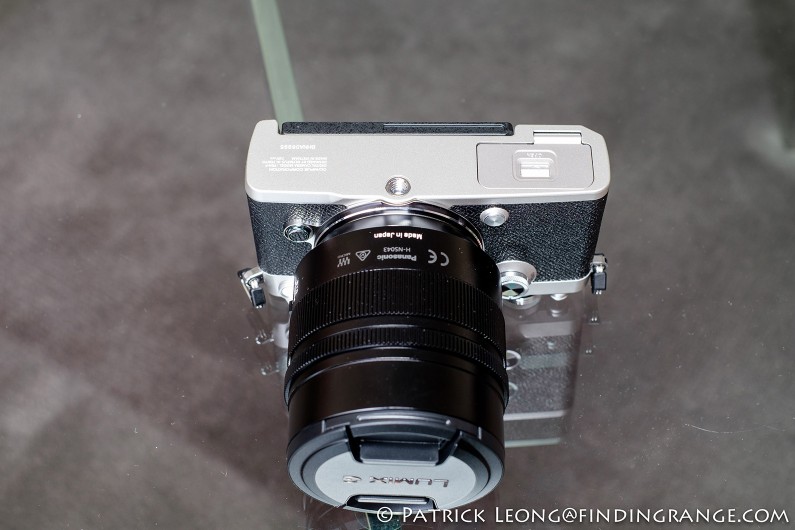 ↑ I wished the tripod socket was in a better location.
Lastly, the SD card slot is located in the battery compartment like a lot of other cameras but I found it rather difficult to pull an SD card out.  It's just a bit cramped, and in my opinion, the camera doesn't pop the card out far enough.
Olympus Pen-F LCD Screen and EVF:
In terms of the articulating LCD screen, I found it to be very well designed.  The 1,040,000 dots 3.0″ TFT color LCD can rotate in various ways allowing one to even take selfies.  The best part is you can flip the screen around, and use the camera without the screen being viewable.  This is great for those who find the screen distracting.
The LCD is also a touch screen, and there are several ways that you can set it.  One way is you can tap a subject on the screen and the Pen-F will automatically focus and release the shutter.  Another way is you can have it set where a tap will display an AF target and focus on that subject.  For those who don't like using a touch screen, that's no problem; you can simply turn this feature off.  I chose to turn it off for most of the time but I have to say, it's a great touch screen for those who love this feature.  Taking a picture feels almost instantaneous.  There really isn't much of a delay or anything like that at all.
Of course, what really separates the Olympus Pen-F from the rest of the Pen cameras is the built-in electronic viewfinder.  In my opinion, the EVF really completes this camera.  It's not just the fact that you get to compose your image by looking through a viewfinder instead of an LCD screen.  Having a built-in viewfinder also helps stabilize the camera better because you can press the camera against your face when you are looking through the viewfinder.  It also doesn't hurt that the EVF is an excellent one as well.  Simply put, the 2.36M dot OLED electronic viewfinder is a pleasure to use.  It's sharp, bright, and shows plenty of detail.  There isn't much lag at all except when you are shooting in very dim lit situations, and even then, it isn't that bad at all.  There is also more noise when you are shooting in dim lighting but nothing out of the ordinary.  Overall, this is a great EVF, and it matches the Pen-F perfectly.
Other Olympus Pen-F Noteworthy Features:
In addition to finally getting a decent EVF in a Pen series camera, the Olympus Pen-F also has what seems like an endless amount of features.  Some are particularly noteworthy, and therefore I thought should be further discussed.  For one, there is the 5 Axis In Body Image Stabilization, which works fantastically well.  It can provide up to five steps of shutter speed when you are hand holding the camera.  I also found the battery life to be pretty decent for something in this class.
In terms of the mechanical shutter, you can reach speeds as high as 1/8000, which is great for when you want to use fast lenses in brighter conditions.  You can also shoot up to 10 fps, and up to 5 fps if you're in C-AF mode, which means that focusing is adjusted between frames.  Something else worth noting is that there's virtually no shutter lag at all.  According to Olympus, at 0.044 seconds, the Pen-F has the shortest release time lag of any compact system camera.  It's really hard to disagree with this because in practice, the camera feels lightning quick.  On a smaller note, I also really like the sound of the shutter.  It's quiet, and has a more mechanical sound than electronic.
Furthermore, if you're shooting something like an event where ultimate discreetness is key, you can switch to Silent Mode, which uses the electronic shutter.  With the electronic shutter, you can shoot up to 1/16,000, and up to 20 fps in Silent H+ mode.
Olympus Pen-F Focusing Capabilities:
Let's now talk a bit about the focusing capabilities of the Pen-F.  In terms of the autofocus, it uses a contrast detection system rather than a hybrid AF like the Fuji X-Pro2, for example.  In practice though, it is still very fast.  You can set the focus from 81 focus points and with Face Priority AF and Eye Priority AF, the Pen-F can detect and continue adjusting the focus on faces or eyes during portrait shooting.  Accuracy is also great although, at least from what I experienced, I felt it wasn't always as dead on as my X-T1.  Don't get me wrong, the AF is excellent overall but I did feel like I had more missed focus shots than with my X-T1.  It's funny because if this were even just a couple of years back, I'm sure the opposite would've been said.  Fuji really deserves credit for the their perseverance in improving their autofocus systems over time.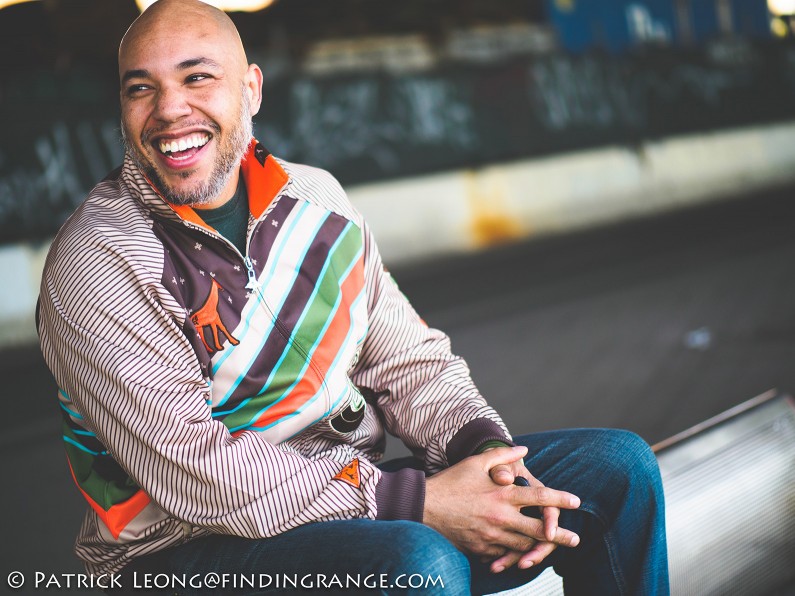 ↑ The autofocus combined with the near instantaneous response of the shutter is great at capturing candids.  This was taken with the Panasonic Leica 42.5mm F1.2 Nocticron ASPH at F1.2.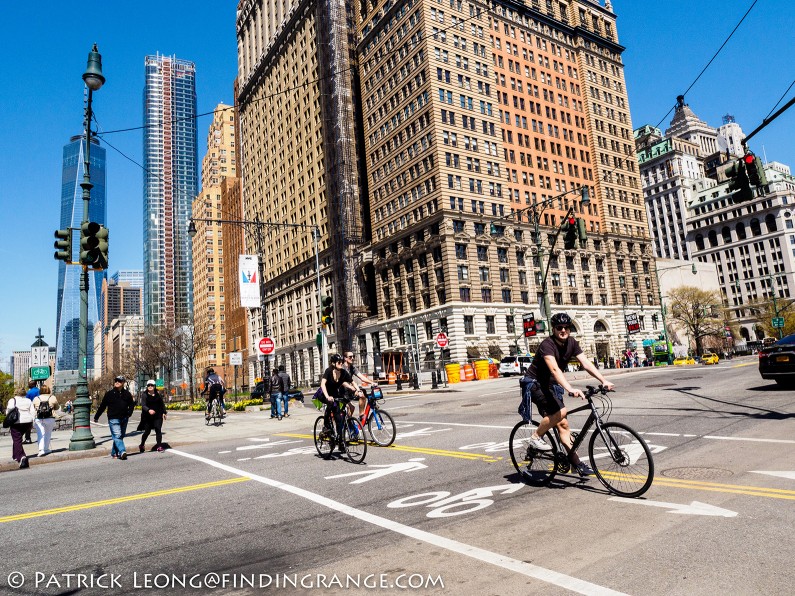 ↑ The quickness of the Pen-F is also great at capturing action and street scenes.  This was taken with the Olympus 12mm F2.
↑ It's also great at capturing pets like my sister's dog :).  This was taken with the Nocticron.
As for manual focus, there is the magnified display function, and focus peaking to help you with precise and fast focusing.  There are three intensity levels, and four colors to choose from with the focus peaking feature.
Olympus Pen-F Image Quality:
Now that we've discussed many of the new features of the Olympus Pen-F, let's talk about the image quality.  Truthfully, I'm seriously impressed with what the Pen-F produces.  The new 20 megapixel Live MOS sensor and TruePic VII image processor along with the great lenses from Panasonic and Olympus really come together well to create superb images.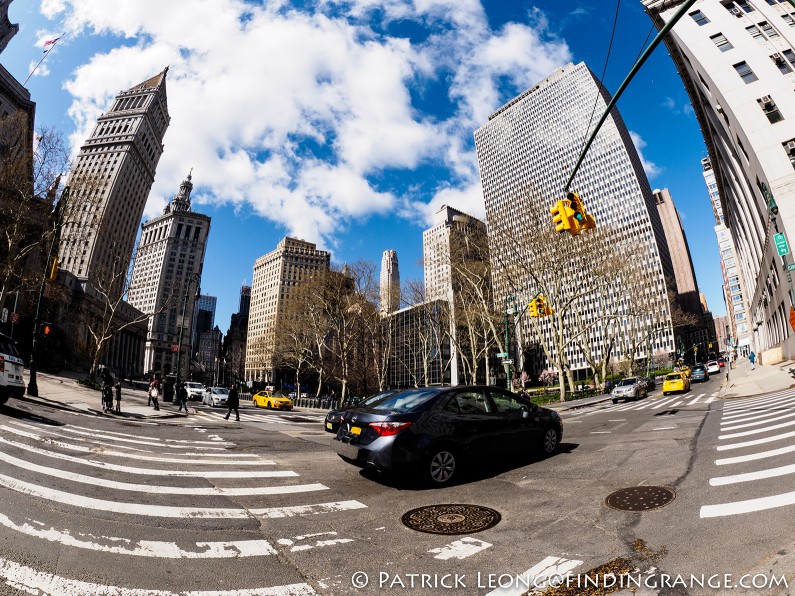 ↑ I had the Olympus 8mm F1.8 fisheye on loan as well.  This is a fantastic lens, and my review of it should be up soon.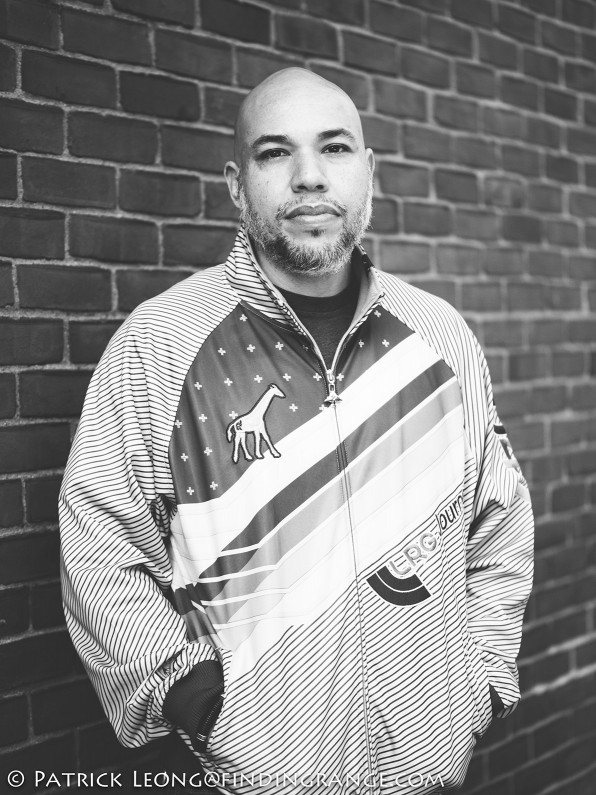 ↑ Here is a portrait taken with the Panasonic 42.5mm F1.2 Nocticron ASPH.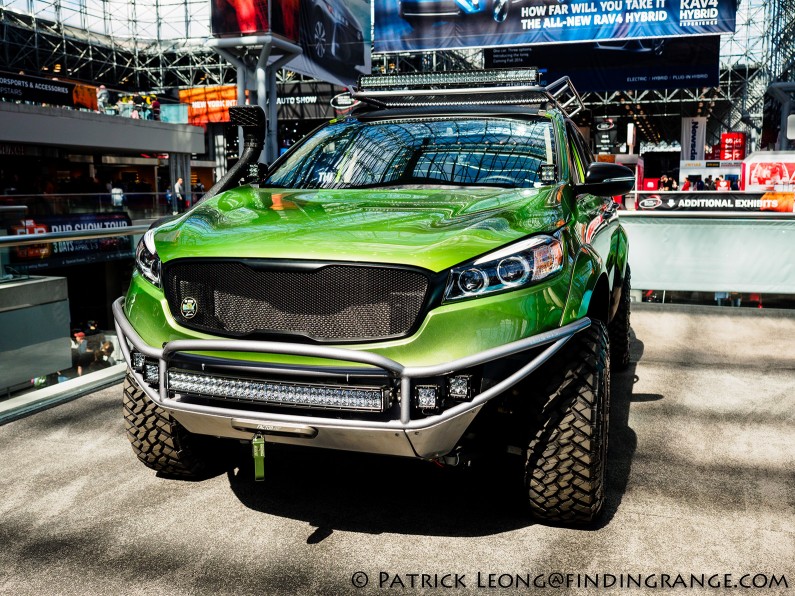 ↑ This was taken at the 2016 New York Auto Show with the Olympus M. Zuiko 12-40mm F2.8 Pro.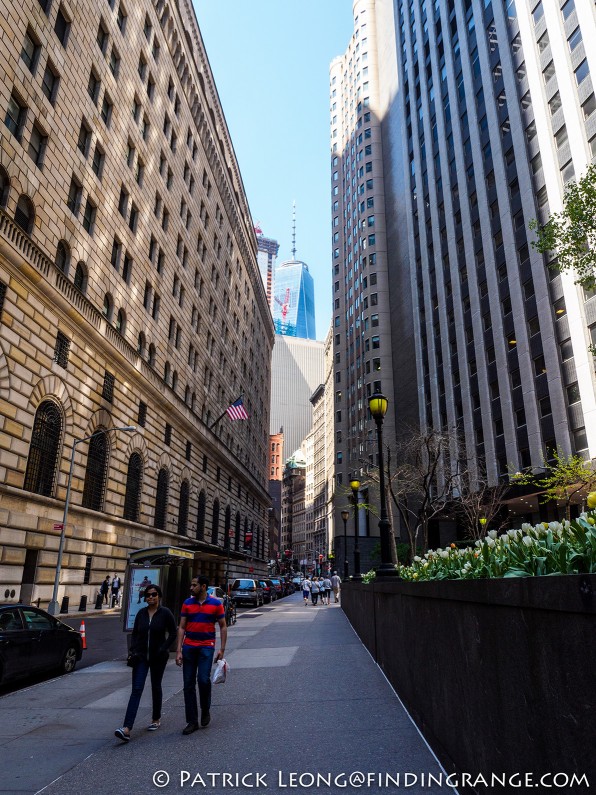 ↑ A great lens to use with the Pen-F is the 12mm F2.  It's so compact, and sharp.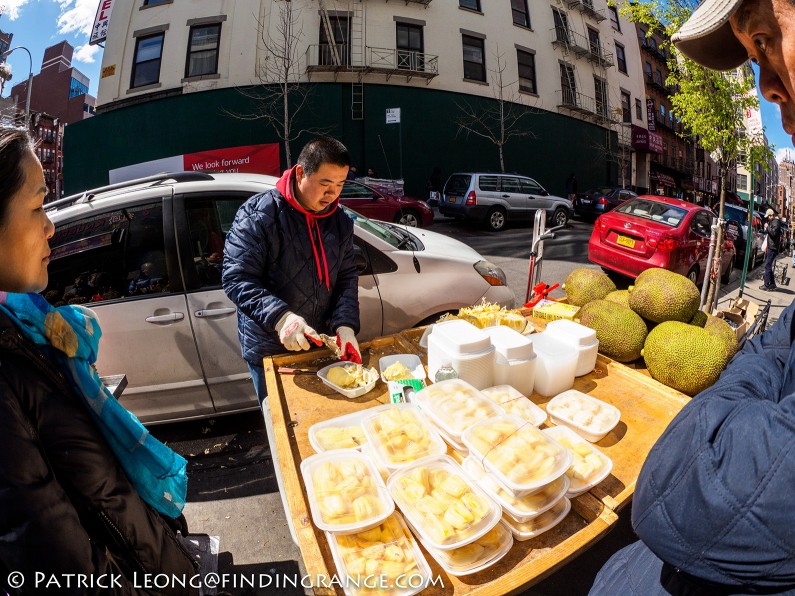 ↑ Here's another taken with the Olympus 8mm F1.8.
In my experience, this camera has no problems competing with whatever is considered top tier in the mirrorless world right now.  Thanks to the lack of a low pass filter, you also get that extra bit of bite and detail in your photos.  But it goes even further than that.  Images have that wonderful three dimensional pop that we all love (and I'm sure the lenses play a hand in that as well), and color rendering is extremely good; to me it's more natural, and I really like it.  Contrast is also excellent, and dynamic range is very decent.  The more I shoot with this the camera, the more I'm addicted to it's great handling and image quality.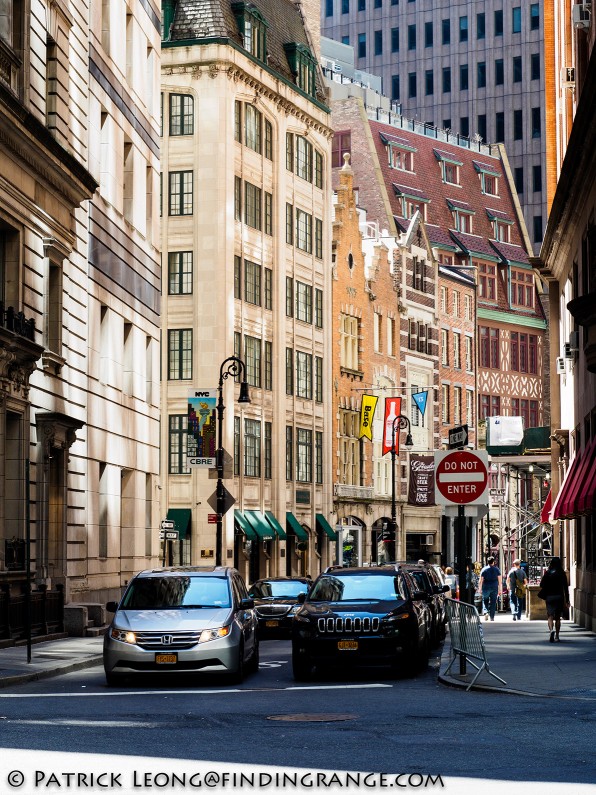 ↑ Downtown with the Panasonic Nocticron again.  This lens is large but it still felt well-balanced with the Pen-F.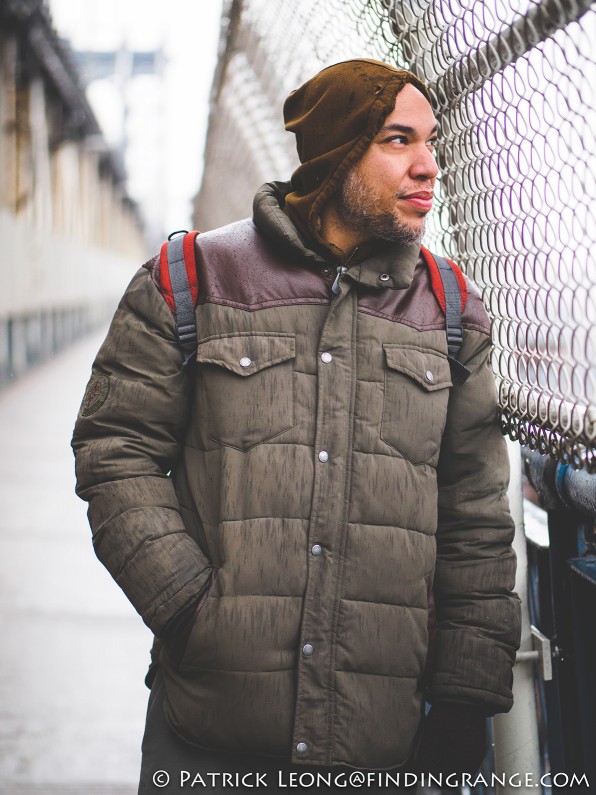 ↑ Here's another image with the fantastic Nocticron taken at F1.2.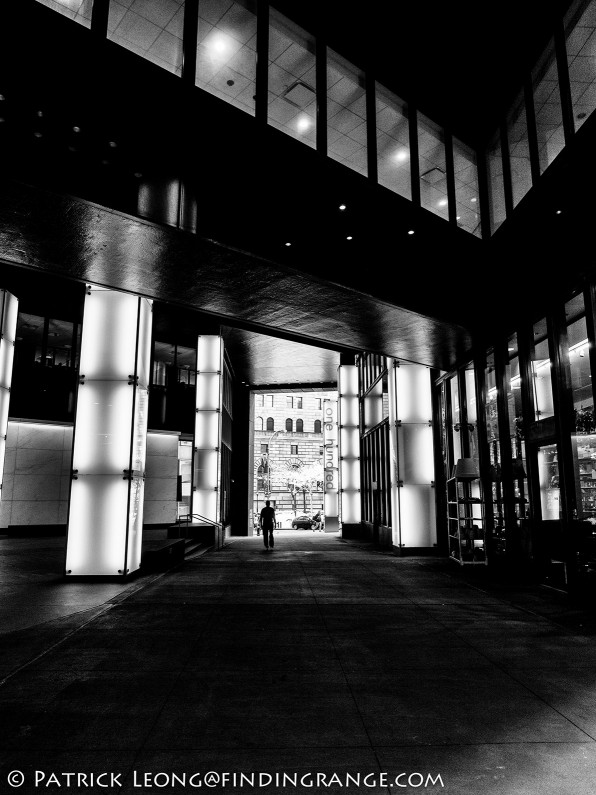 ↑ Here's another taken with the Olympus 12mm F2.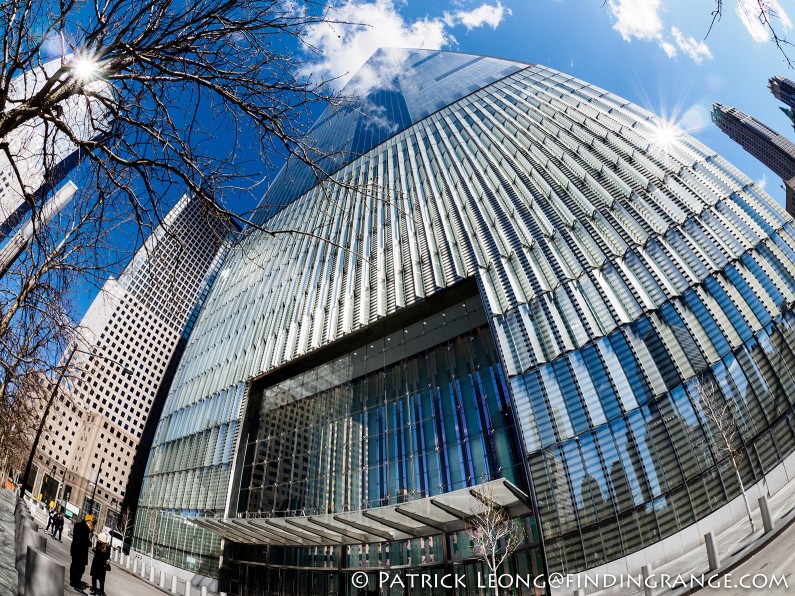 ↑ This is WTC, and I used the Olympus 8mm fisheye to photograph it.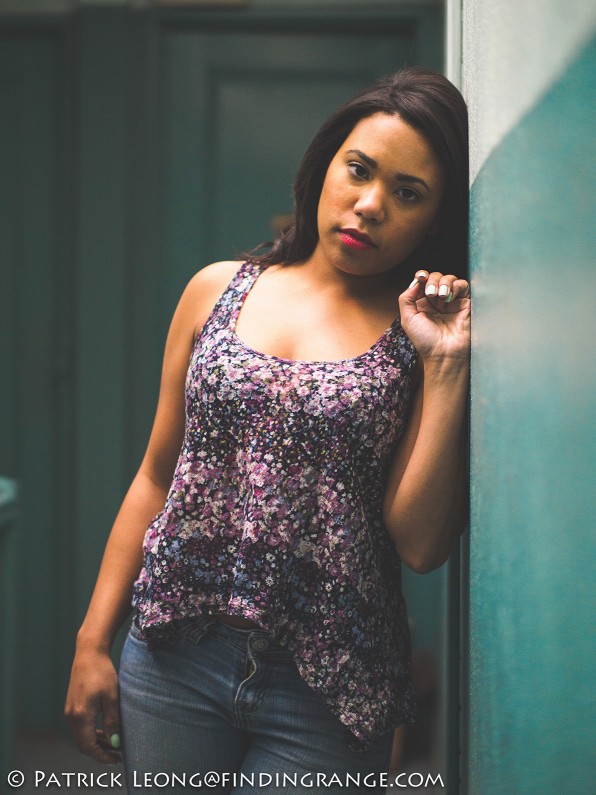 ↑ The Panasonic was my favorite lens to use with the Pen-F.  This was taken using 1,250 ISO at F1.2.
Furthermore, the ISO capabilities are also excellent for the most part.  ISO ranges from 200 to 25,600 with the ability to be extended as low as 80 ISO.  Noise is very well controlled even as high as 3200 ISO.  Above 6400 ISO is when more noise comes in along with more desaturation.  Photos even as high as 16,000 ISO are usable in my opinion but keep in mind that there is definitely a lot more noise.  Careful exposure will help.  If you are shooting out of camera jpegs at such high ISO speeds, you'll also see quite a bit of noise reduction at this point.  Personally, it's too much for my taste but I shoot raw, so it doesn't affect me.  Of course, you may not even need to reach such high shutter speeds, thanks to the Pen-F's excellent 5 Axis In Body Image Stabilization.  With up to 5 steps of shutter speeds, high ISO may only need to be reserved for those occasional extreme circumstances.  The only reason I even shot at such high shutter speeds was for this review.  Below are some examples of high ISO photos.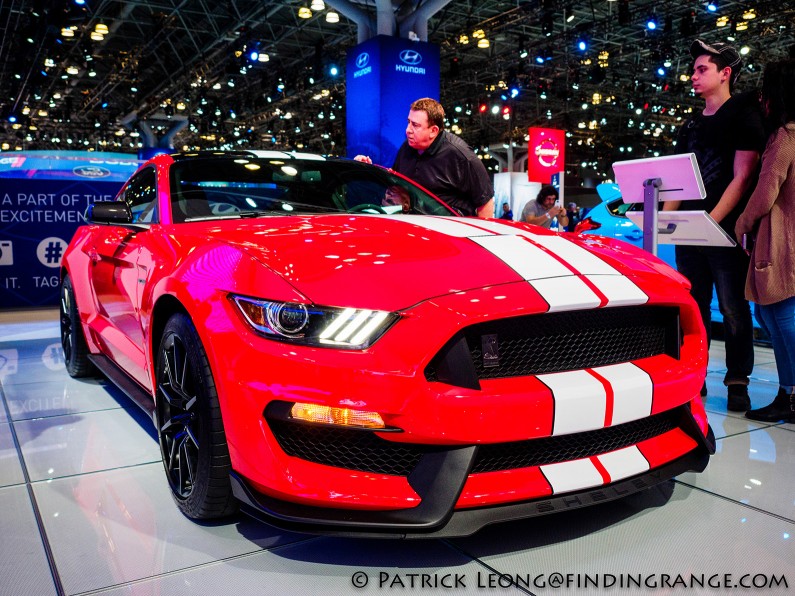 ↑ This was taken at the 2016 New York Auto Show with the Olympus 12-40mm F2.8 using 1250 ISO.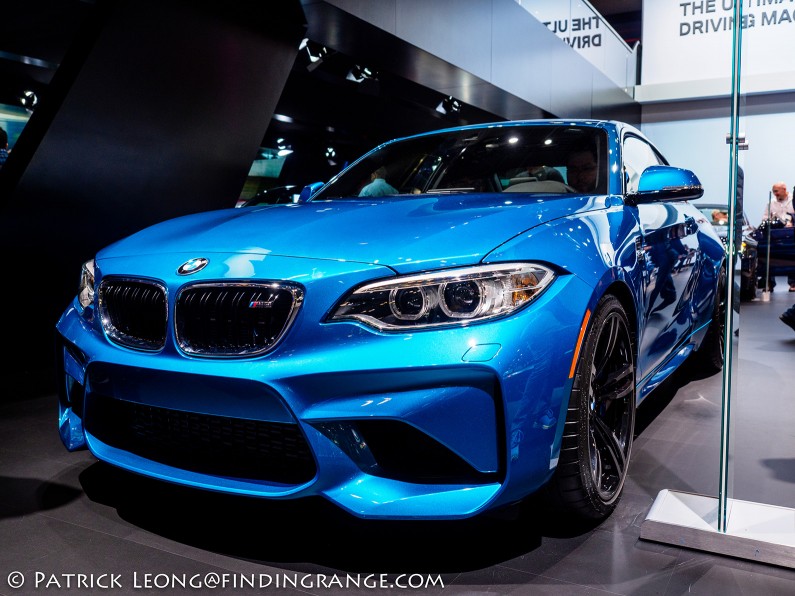 ↑ This was also taken with the 12-40mm F2.8 using 640 ISO.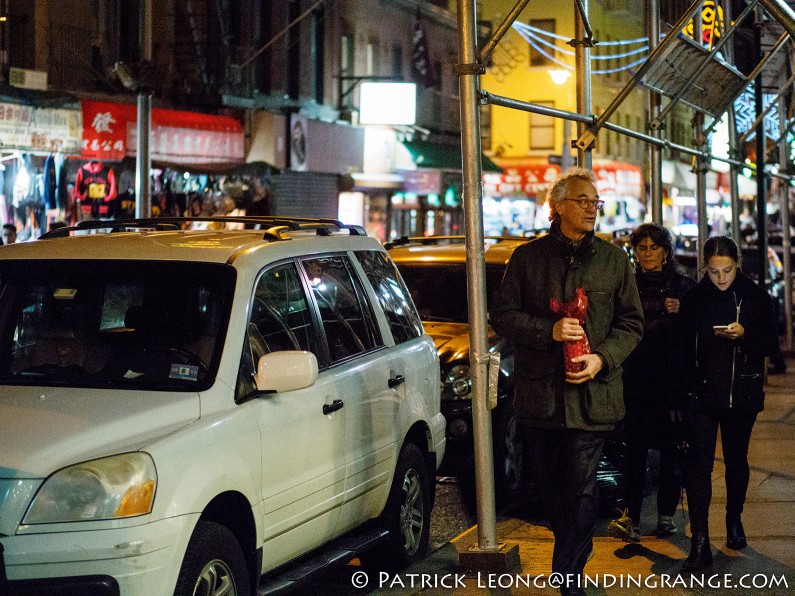 ↑ Here's a photo taken at 12,800 ISO using the Panasonic 42.5mm Nocticron.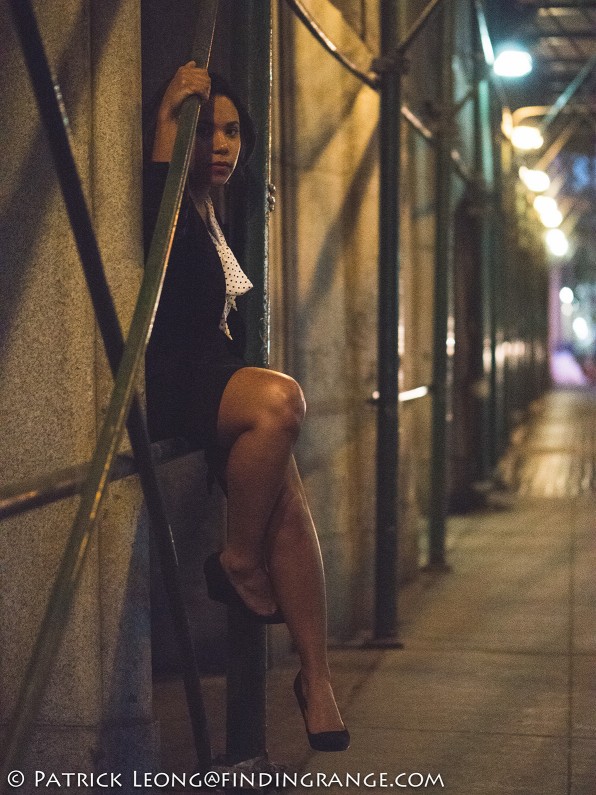 ↑ This was taken with the Nocticron using 16,000 ISO.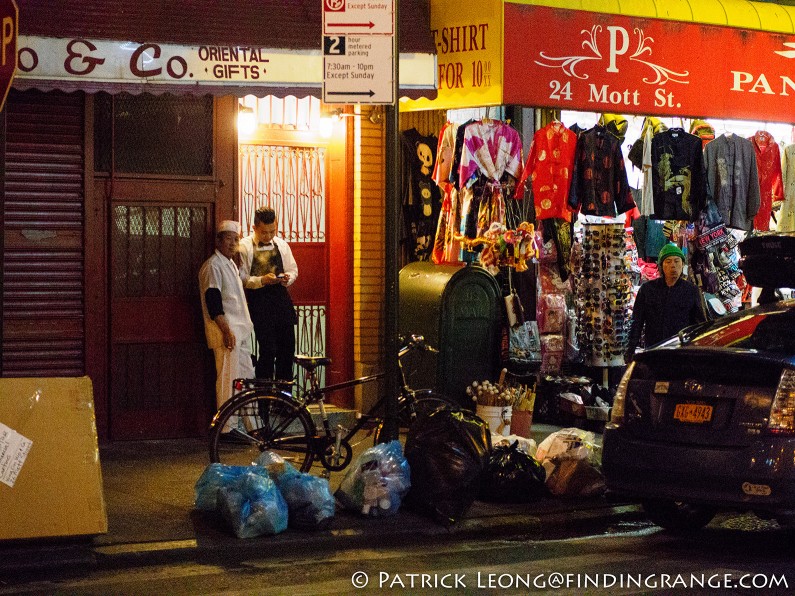 ↑ This was taken with the Panasonic 42.5mm Nocticron using 25,600 ISO.
In addition to the excellent image quality and high ISO capabilities, the Olympus Pen-F also has a High Res. Shot mode capable of producing 50 MP jpegs or 80 MP raw files.  It's sounds almost insane but I personally love this feature.  High resolution images are recorded by the camera shooting several times while moving the sensor.  Therefore, you would also need a tripod or a place to keep the camera still.  The subject should also be essentially still.  You also can't go past F8 on your lens but with all this said, it's still a fantastic feature to have, especially if you are photographing architecture or landscape.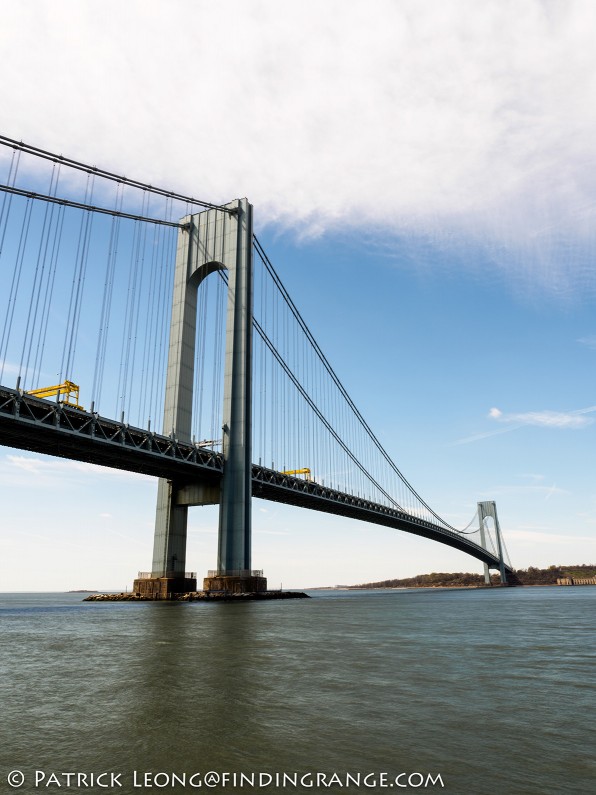 ↑ Here's a jpeg converted from my 80 mp raw file.  I had to shrink it down and compress it in order to upload it.  Plus, I didn't have a great tripod at the time, and it was very windy but I thought I'd give you a photo, so you can see how it looks overall.  This was taken with the Olympus 12mm F2.
Olympus Pen-F Pros and Cons:
Olympus Pen-F Pros:
One of the best built cameras in its class.
Beautifully designed with quality parts.
Extremely comfortable in the hands.
Compact.
I personally love the retro design of this camera.
Touch screen capable.
Excellent EVF.
5 Axis In Body Image Stabilization.
Decent battery life.
Fast autofocus.
Superb image quality.
Great high ISO capabilities.
High Res Shot mode.
Many micro four third lenses to choose from.
Olympus Pen-F Cons:
Lack of weather sealing.
Tripod socket in a poor location.
SD card can be difficult to pull out because of its cramped location.
Olympus Pen-F Verdict:
Olympus micro four third cameras have always been extremely popular and for good reason.  There is a lot of technology crammed into these compact bodies, they're versatile, and they produce superb images.  With the Pen-F, I feel that their popularity will only increase.  It's retro design is more than just simple appearance; it's beautifully constructed, and many of the individual parts are some of the highest in quality that you can get in its class.  As a Fuji X user, even I'm a bit envious of the Pen-F's build and solid feel.  To top it off, there's plenty of technology in the Pen-F, there's finally a great EVF, and it produces stellar images.  Emphasis on stellar.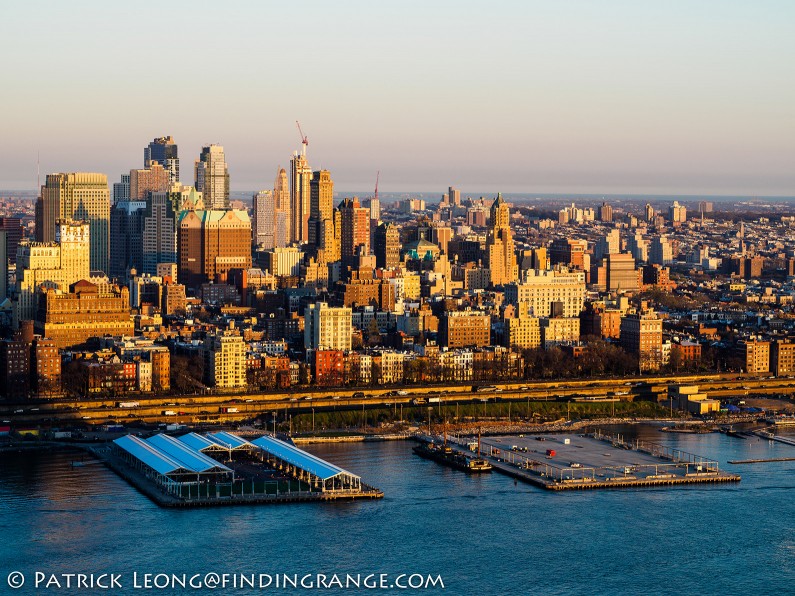 ↑ Sunset taken with the Nocticron stopped down to F5.6.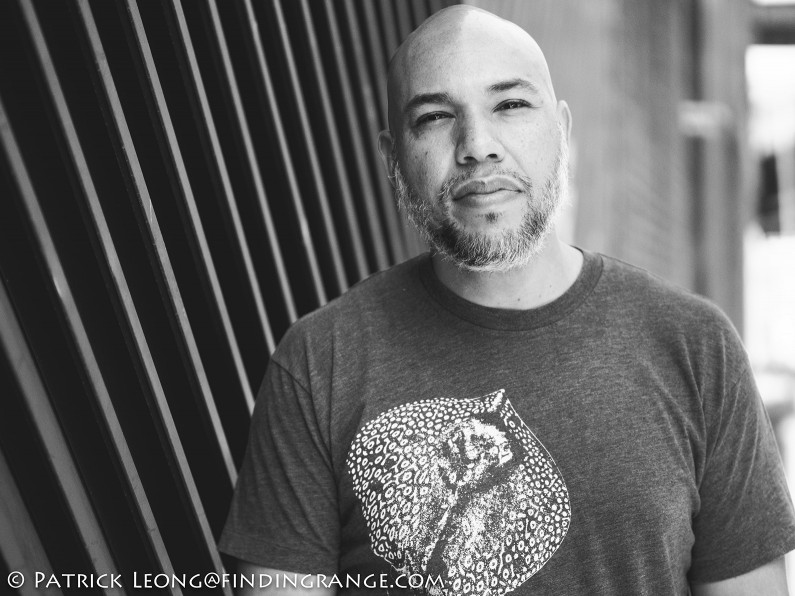 ↑I had to post one more with the Nocticron.  I love using this lens!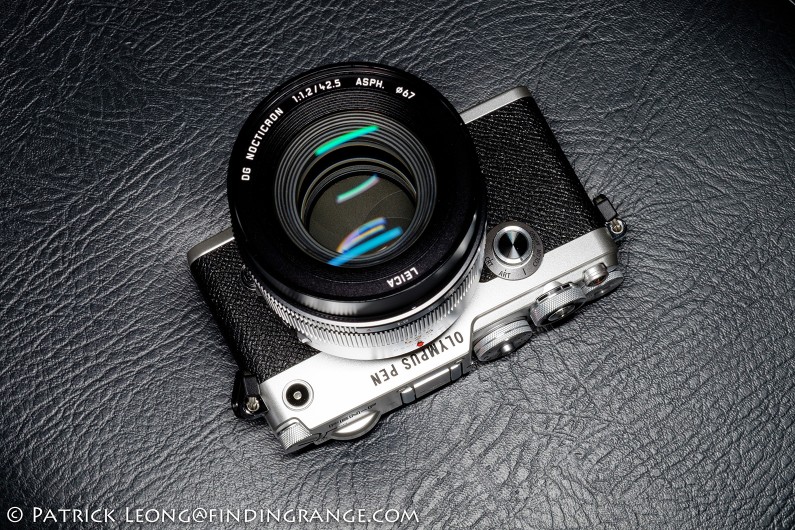 ↑ This is one of the most attractive cameras to come out in a long time but the beauty is it also performs exceedingly well, and it's fun to use.
Overall, the Olympus Pen-F has left a huge impression on me.  It does have its faults but what camera doesn't?  Whatever issues it does have, they are minor in my eyes.  The truth is, I've enjoyed my time with this camera so much so that even though I've been a Leica user for years, and a Fuji user since the beginning of the X Series system, I'm thinking about adding a micro four thirds kit now.  If you want a camera that performs well but also brings back the fun in photography, the Pen-F is definitely something you should consider.  In my opinion, this is one of the best cameras to come out so far this year.
Thanks for taking the time to read my review.  If you're considering purchasing the Pen-F, and my review helped you decide, please help support this site by purchasing from the link below or any mentioned in this review.  It will not cost you anything extra.  Thank you for your support!
The Olympus Pen-F at B&H Photo (black)