Billingham S4 Camera Bag Review:
With mirrorless on the rise, Billingham decided to start a new line of bags specifically catering to the needs of these users.  This new line of bags is called the S Series, and there are currently three models.  I already reviewed the smallest one, and the middle one.  If you have a smaller kit, you may want to read my S2, and S3 reviews instead.  However, if you have a larger mirrorless kit or you want something for even a DSLR set up, the S4 is probably a better fit, and it's the bag that I will be talking about today.
Billingham S4 Camera Bag Quality:
Since the Billingham S4 is essentially a bigger version of the other two in the S Series, I'll be talking more about the finer points of this bag instead of re-hashing everything I basically said in the other two reviews.  If you want more detail, you can always refer back to my S2 and S3 reviews.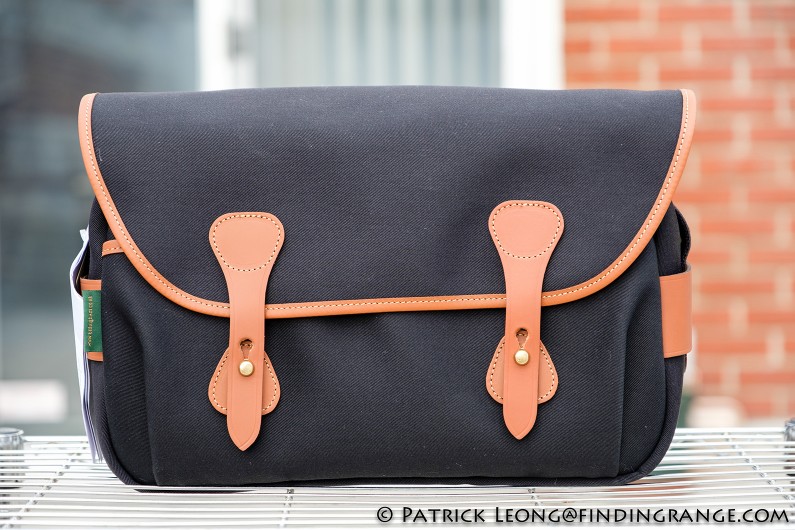 ↑ The Billingham S4.
So, getting back to the review, the pictures don't do the S4 any justice.  It's a beautifully made bag where only the best materials are used.  For instance, when I say solid brass fittings, I truly mean it.  Even something as small as the zippers have a distinct solid feel, and weight to them.  The leather here is also definitely better quality than I've seen on many other bags even ones costing more.  It's is durable yet soft to the touch.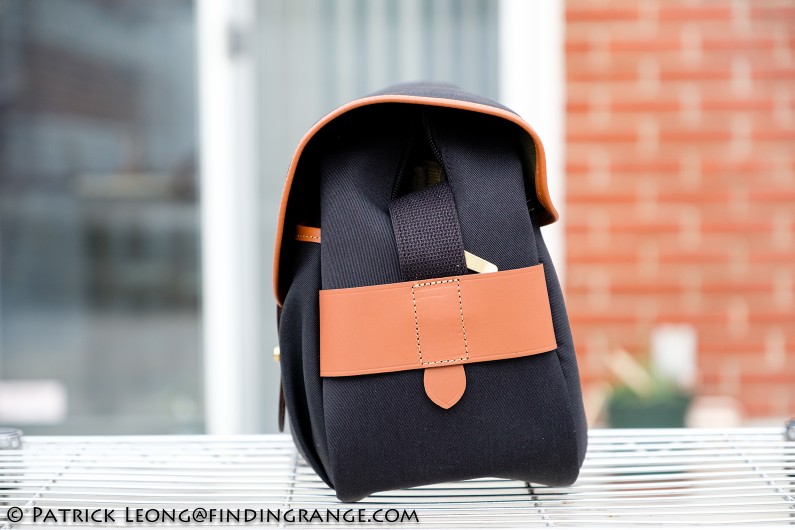 ↑ Side profile of the S4.
But this isn't just the typical expensive bag where the manufacturers lists all its fancy materials just to try to entice people to buy it.  If you take a closer look, you can tell that it's been expertly crafted by some of the best artisans out there.  The stitching, for example, is absolutely perfect in every way.  There's no loose threading or misalignment.   All the seams are neat.  There's no excess material lying around.  I didn't just get lucky, and end up with a good review sample.  The of S Series bags I reviewed, and my own Billingham bags have the same consistent attention to detail.  At $295, the Billingham S4 isn't a cheap bag but in this case, it's one example of the phrase, "You get what you pay for".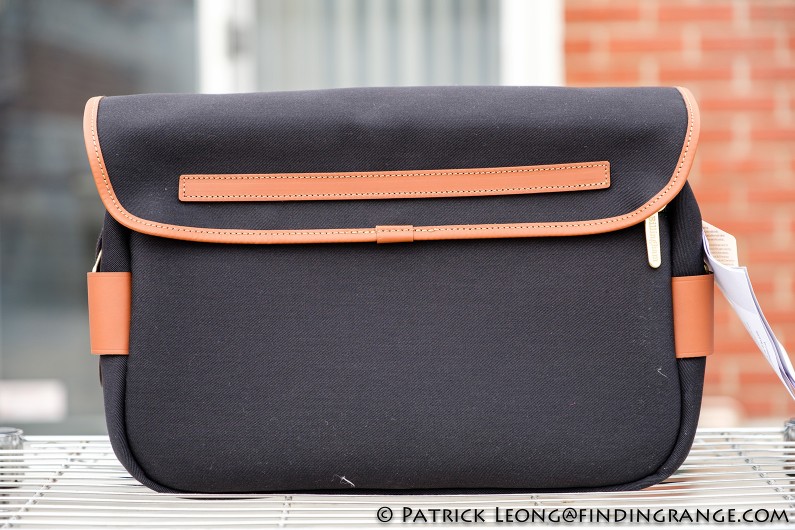 ↑ Back of the S4.
To top it off, the S4 also comes in either the soft traditional canvas or FibreNyte.  For those who don't know, FibreNyte is a synthetic material made by Billingham, and it's more durable than the traditional canvas.  It's 10% lighter, and it also resists fading better.  The only downside is it isn't quite as soft as the canvas option.
Personally, I've been using Billingham bags for decades, and I've bought bags made from both materials over the years.  Both materials can handle plenty of abuse.  As I mentioned before, the FibreNyte isn't quite as soft as the canvas but to me, it's not a huge difference.  In other words, it wouldn't be a deciding factor for me.  If you do like the patina look however, you're best bet is probably to get the canvas.  The bags I have that are made from FibreNyte do resist color fading quite well.  But truthfully, I don't really have a preference between the two materials, and therefore, base my decision more on what color I prefer.  The colors for the canvas are khaki/tan, black canvas/tan leather, and burgundy canvas/chocolate leather.  The FibreNyte color is sage/chocolate leather, which is my favorite out of all the choices, so this is the one I would buy myself.
Both materials are designed to protect your gear from the elements.  For example, both materials are essentially waterproof.  I've been in tropical rain storms where my bag was completely soaked, and everything inside was dry.  It's pretty incredible, and the way these bags protect against water is one of the main reasons why I love using Billingham bags so much.  It's also worth noting that it doesn't matter if the bag is old.  I still use my Hadley regularly, which is over 20 years old, and it still protects my gear from the elements just as well as it did when I first bought it.
Now that we've talked about the outer portion of the Billingham S4, let's discuss the pockets and main compartment.  There are two pockets in the S4.  One is a zippered pocket in the back of the bag, and the other is in the front of the bag, which is secured by a button.  It is also covered by the main flap.  Opening the main flap couldn't be easier.  You simply unhinge the two leather straps from the brass clogballs, and flip open the flap.  This style of closure design should be familiar to Billingham owners, and it's a great way to secure the bag.  The S4 can be opened with one hand very quickly, even while walking yet it doesn't make any noise like velcro.  It also won't open by accident, and you'll definitely notice if someone is trying to get into your bag.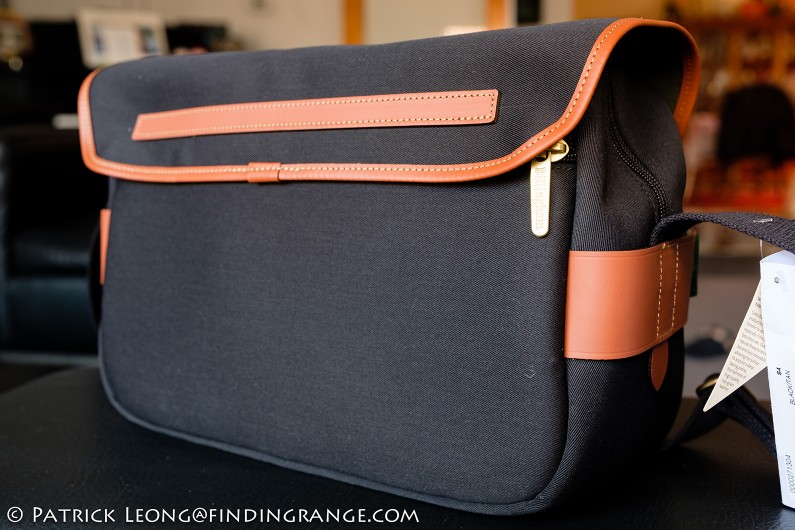 ↑ There is a back pocket with a zipper.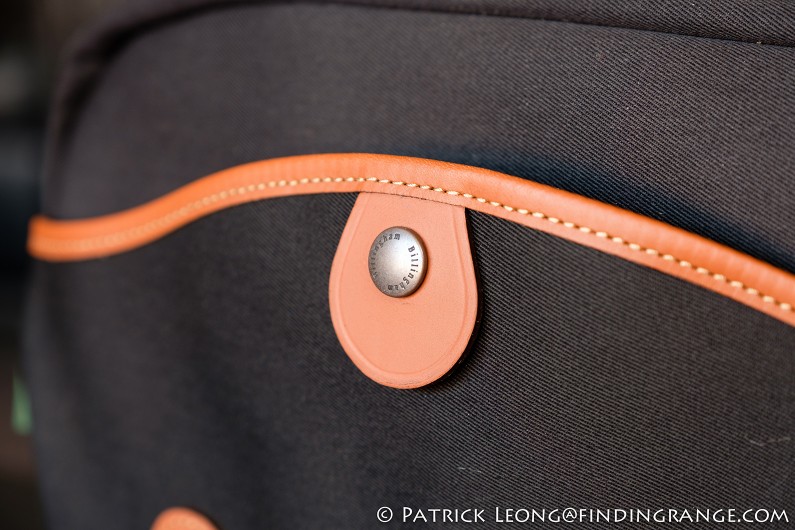 ↑ The front pocket is held with a button.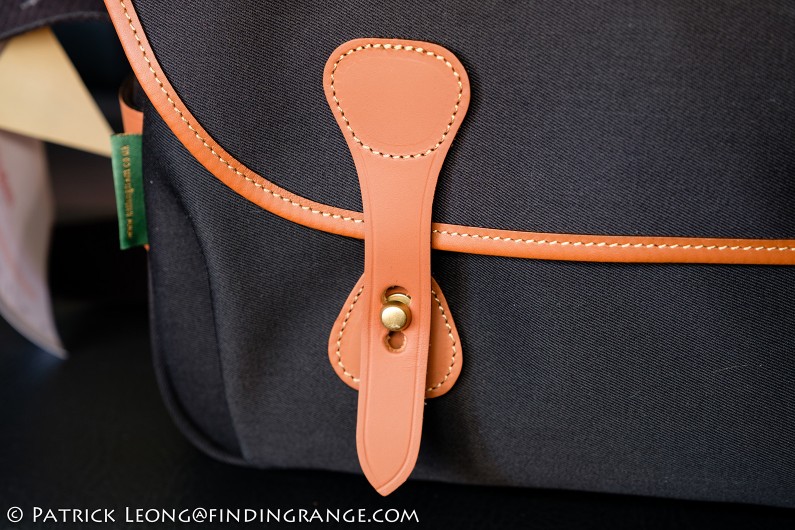 ↑ The leather strap and clogball combo work great to secure the bag.
To access the main compartment, you have to unfasten the main zip, which has two zippers that can be opened from either end.  I find the zip slows me down a bit but as I said in my S2 and S3 reviews, there are some that will like having the additional security.  Billingham already have plenty of bags without zips like the Hadley Pro, for instance, so the zip is a great way to diversify their line of bags.  Plus, there is a Tuktop feature that allows you to tuck both sides of the main zipper behind the S4's internal front and rear dividers, which gives you easier access to your gear.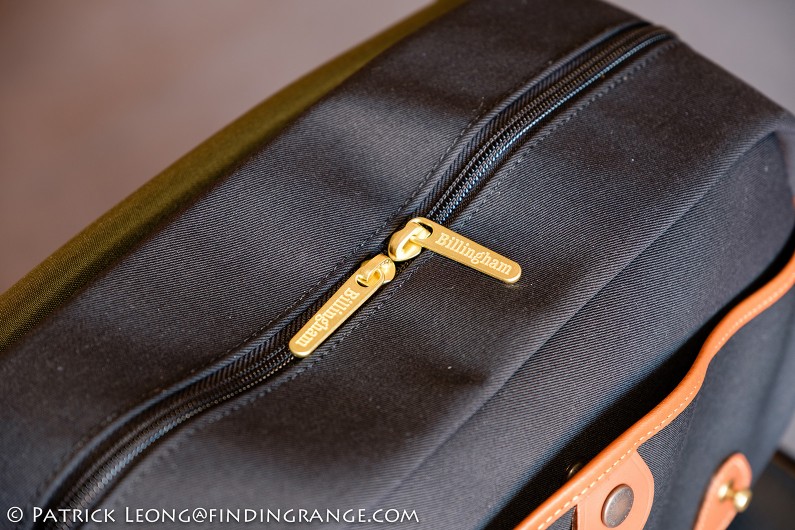 ↑ The zip for the main compartment has two zippers.
Once you gain access to the main compartment, you'll be greeted with truly some of the best padding in the industry.  The padding surrounds the entire bag.  There's even a removable 25mm fabric covered, deep foam base on the bottom of the S4, which is definitely a plus when you put your bag down on hard surfaces.  It comes with two padded dividers, which have velcro, so they can be pretty much arranged in whatever way that you like.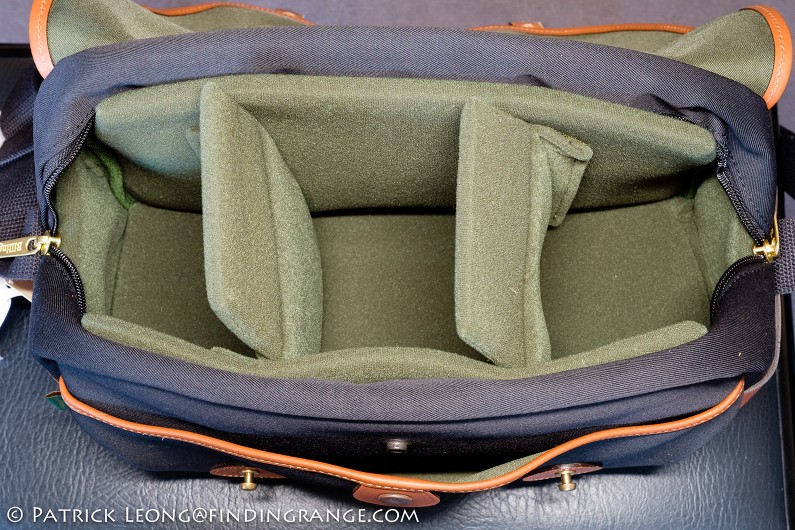 ↑ The interior is filled with thick padding.
What Will The Billingham S3 Fit?:
The Billingham S4 is definitely a great choice if you need more space.  Based on the way that the S4 is configured, it is ideal for a system that includes two bodies (one could even be a decent size DSLR) with two to three lenses.  This is great but I think the S4 would benefit from an additional divider for people who use maybe one body, and want to just carry more lenses or even a flash.  there's plenty of room, that's for sure.  Still, it's easy enough to buy an extra divider.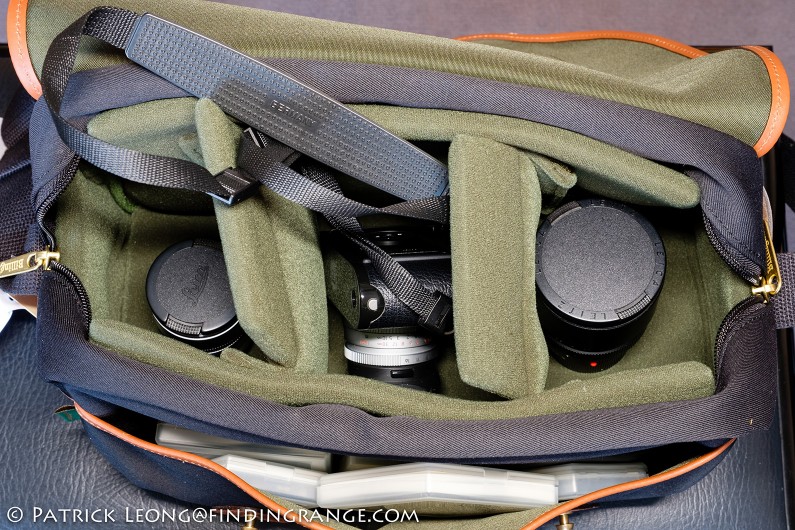 ↑ As you can see, there is quite a lot of room in the S4.  In this photo, I have a 50mm Summilux ASPH, Leica M6 TTL Millennium with a 35mm Summicron ASPH mounted to it, and a 75mm Summilux.  The 75 Lux is a big lens yet look at how much space surrounds the lens.
As for the front and back pockets, they can definitely hold more than the S2 and S3 pockets.  I was actually able to fit my iPad Pro 9.7 inch into the back pocket.  As for the front pocket, you can fit miscellaneous gear like filters and extra batteries.  Hopefully, the picture above will give you a better sense of what the front pocket can fit but it really depends on the individual.
Billingham S3 in Use:
For a rather large bag, the Billingham S4 is quite comfortable to carry along.  It doesn't feel that heavy considering its size, and the strap is very comfortable.  The bag also feels very balanced on my shoulders.  I go out shooting three or four times a week, and they are often times, all day events.  Plus when I'm out, I don't really sit much or rest.  I'm walking around quite a lot, and standing when I'm in the train or bus.  Therefore comfort is very important to me, especially since I've always had a bad back.   The S4 is actually a great bag for me because often times, I'm carrying multiple bodies and lenses when I'm out reviewing gear.  It's not as big as say the Billingham 307, which is fine because I don't always need that much space but at the same time, it can carry two bodies comfortably.  It's also quicker to retrieve gear from the S4 than from the 307 as well.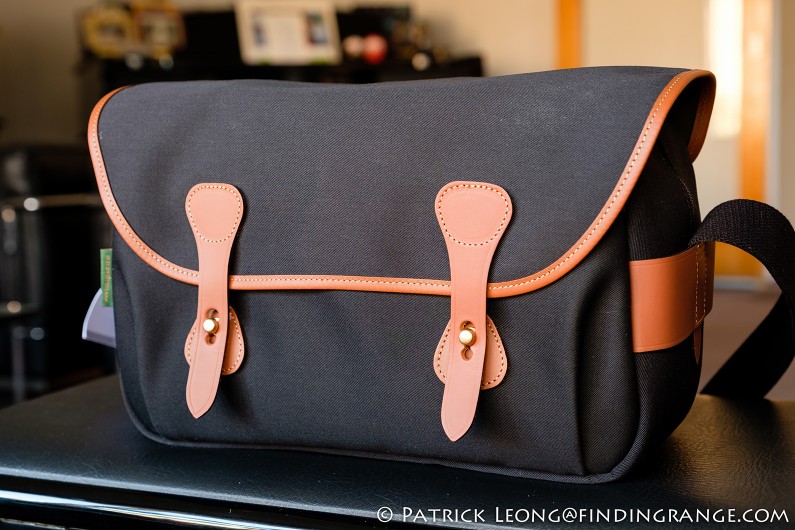 ↑ The Billingham S4 is a great looking bag.
Furthermore, the S4 has a more rectangular shape than say the Hadley Pro.  It's true that the Hadley hugs your body better because it's kind of like a messenger bag but in this case, I find the shape of the S4 to be very beneficial when carrying larger gear.  When you pack the Hadley full, and you're walking around, it can be hard to retrieve gear out of it because of the way it wraps around your body unless you actually put it down.  Since the S4 retains its shape better, I find it easier to pull gear out of it while I'm standing, especially when I pack it full with larger equipment.
As for appearance, the Billingham S4 is definitely an attractive looking bag but in a more understated way, which is what I like.  The S4 can definitely rough it but at the same time, it won't feel out of place for when you have to say meet a client at a fancy dinner after a hard day of shooting.  That's not always easy to pull off.
It's also worth noting that the S4 does not shout camera bag, especially once you actually start using it.  There is only one small label that actually says Billingham, and it's tucked away on the side of the bag.  The truth is, no matter what bag you purchase, it's going to be noticeable but once something like the S4 starts getting used, and worn in a bit, it's going to blend in to its environment.  I've lived in New York City all my life, and I've been carrying around Billingham bags all over the city since I basically started photography.  I've rode the trains and buses countless times, I've walked throughout all five boroughs, and no even gives these bags a second look.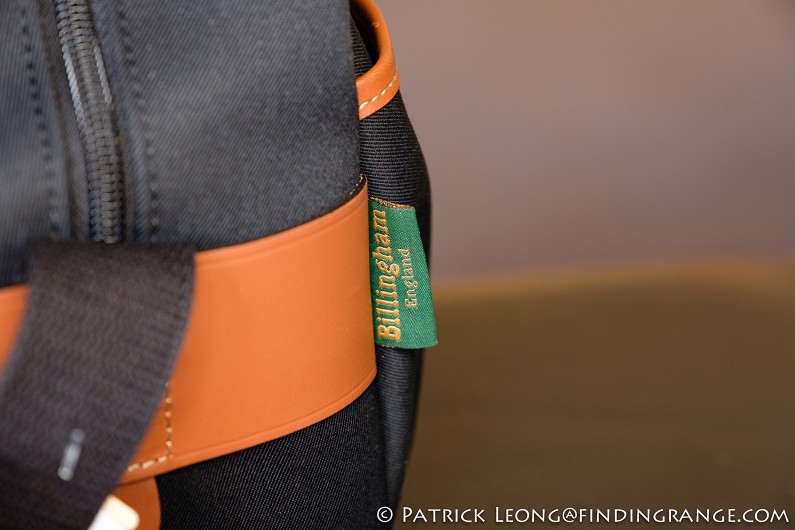 ↑ The only name tag on this bag is a small label on the side.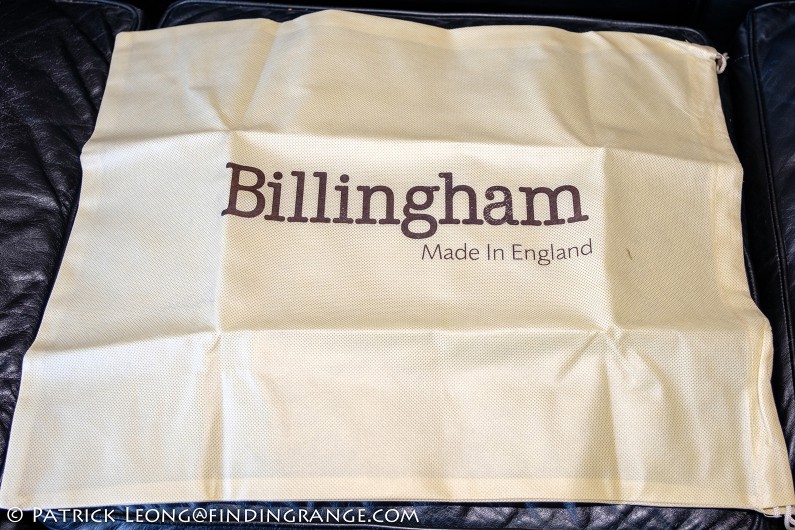 ↑ As with all Billingham bags, the S4 comes with a bag that you can store it in.
Billingham S3 Specifications:
External Dimensions: W370mm x D170mm x H270mm
Internal Dimensions: W330mm x D100mm x H190mm
Capacity: 1.05 kgs (2.31 lbs)
Billingham S3 Verdict:
Overall, the Billingham S4 is a great choice for when you need a bag to carry a decent size kit.  At $295, it's definitely expensive but like the rest of the Billingham line, the craftmanship and the materials used are second to none.  The S4 is designed to last what feels like a lifetime, so if you think about it, it's actually not outrageously priced.  For instance, I've had my Hadley for over 20+ years, and it's still a bag I use regularly.  The style hasn't changed much throughout the years, so I don't feel like I need to change the bag because it looks dated.  Some manufacturers dramatically change the appearance of their bags with each new successor.  Plus, since my Hadley lasted so long, it most likely came out cheaper than if I were to buy multiple bags over that 20+ year period.
It's also worth noting that I'm actually quite hard on my bags; I do not baby my them at all, and you will almost never see me without a camera bag on my shoulders when I go out, so I used them quite a lot.  I'll throw my bags around, scrape, bump, drag, and even leave them out in the elements but I have not actually broken a Billingham bag yet.  The truth is, in a strange way, I've grown quite attached to my Billingham bags because they are just so darn dependable.  If I'm out in the freezing cold, and it's snowing like crazy, they'll be right there with me protecting my precious cargo.  No matter what gear you have, it's all expensive, so having the peace of mind that these bags offer is priceless in my opinion.  Judging by what I've experienced with the S4 so far, I have no doubt it'll last just as long, and protect my gear just as well as the Billingham bags that I do own.
Thanks for taking the time to read my review!  If you're considering purchasing the S4, and my review helped you decide, please help support this site by purchasing from any of the links in this review.  It will not cost you anything extra.  Thank you for your support!
Billingham S4 at B&H Photo in:
Burgundy canvas/chocolate leather