Cravar Rana 15 Leather Camera Bag Review:
Cravar has been a manufacturer of premium leather goods for quite some time but recently, they entered the world of photography with their Rana Series bags.  With the aim of satisfying most photographers' needs, there are currently four sizes to choose from.  They're called the Rana 7, 10, 13, and 15.  Earlier in October, I reviewed the Rana 10, and I found it to be a great little bag that you can carry around all day.  It's beautifully crafted, functional, and built to last.  However, it's a compact bag, so for those who want something larger, there are two other options.  You could either choose the Rana 13 or the Rana 15, which thanks to Cravar, I'm reviewing now.  Here are my thoughts on the Rana 15.
Cravar Rana 15 Leather Camera Bag Build Quality:
Leather camera bags are definitely nice to own but they are generally not cheap.  The price of the Cravar Rana 15 is $349, which is expensive but it's actually not overpriced, if you compare it to its competitors.  Plus, the craftsmanship and materials used completely justify its asking price.  It is an absolutely beautiful bag, more so than the photos suggest.  I get a lot of different gear shipped to my home to review, and when my friends come over, they're so used to seeing it all that generally, none of it ever really phases them.  When I received the Rana 15, it immediately caught my friends' attention.  They loved the feel, and the quality of it.  They loved how it looked.  My mother came by for a visit, and wondered if she could get a bag from them for work :).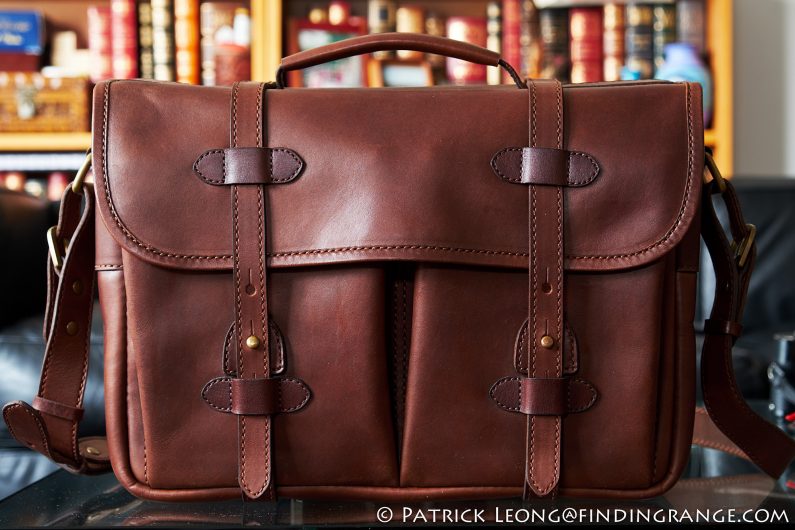 ↑ The Cravar Rana 15 in fox color.
But there is more to the Rana 15 than just its great looks.  The quality of materials for one are excellent.  Full grain vegetable tanned leather is used throughout the entire bag.  It's a leather that is soft to the touch but also very durable.  It's not overly stiff, so the bag is comfortable when it's hung across one's shoulders.  Over time, the leather will break in, which will only add to the comfort level because it will soften a bit further, and a nice patina will also develop making the bag look even better.  You can also get the Rana 15 in two colors, which are espresso and fox.  Espresso is a darker version of the one you see here.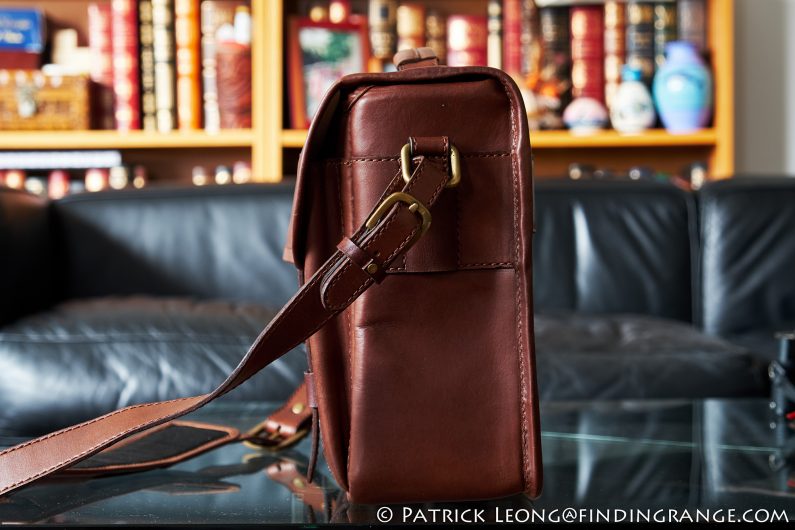 ↑ Here's a side view of the Rana 15.
The shoulder strap is also made of leather, which doesn't seem too significant or surprising considering there are many other leather bags out there with leather shoulder straps but here's the thing: I found some leather straps are a bit stiff, and therefore, almost feel like they have a mind of their own at times but the one on the Rana 15 isn't stiff at all.  On the contrary, the leather strap is ultra soft and flexible and believe me, this adds to the overall comfort level.  It makes carrying the bag, and using it in general that much better.  At the same time, the shoulder strap is still very durable, so it's not going to break or wear down anytime soon.  You can fully adjust the length, and you can remove it as well.  For those concerned that a removable strap makes it easier for thieves to steal your bag, don't be because it's fastened using solid brass buckles.  It would be extremely difficult for someone to manipulate the buckle, and remove the bag without you noticing.  Lastly, the Rana 15 also comes with a shoulder pad, and the bottom of the pad is divided into segments to curve better to your shoulder.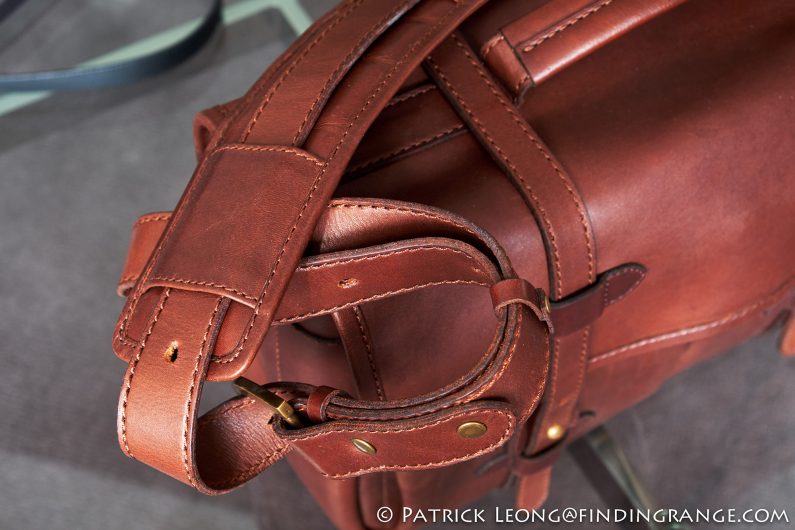 ↑ The shoulder strap is extremely flexible but as you can see, it is still thick enough to last.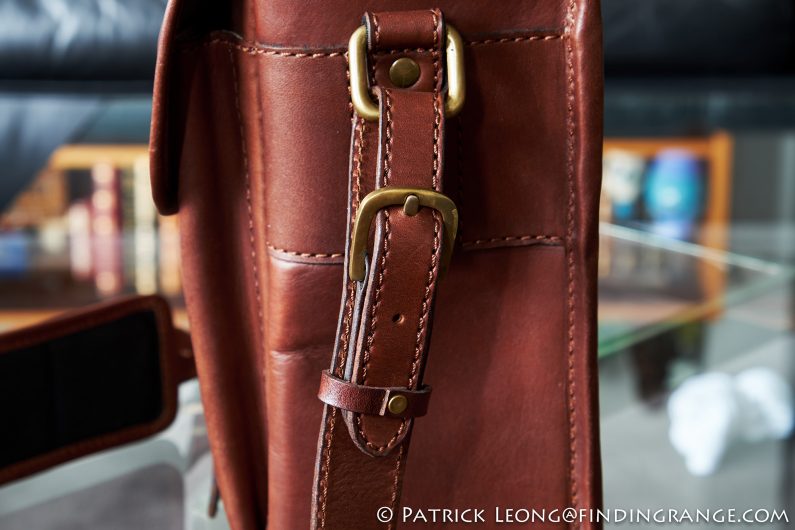 ↑ The shoulder strap is fully removable.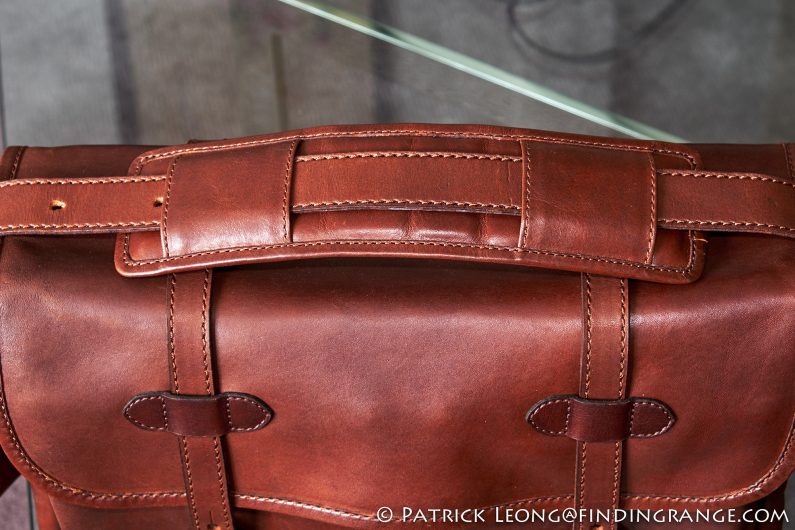 ↑ The Rana 15 does come with a shoulder pad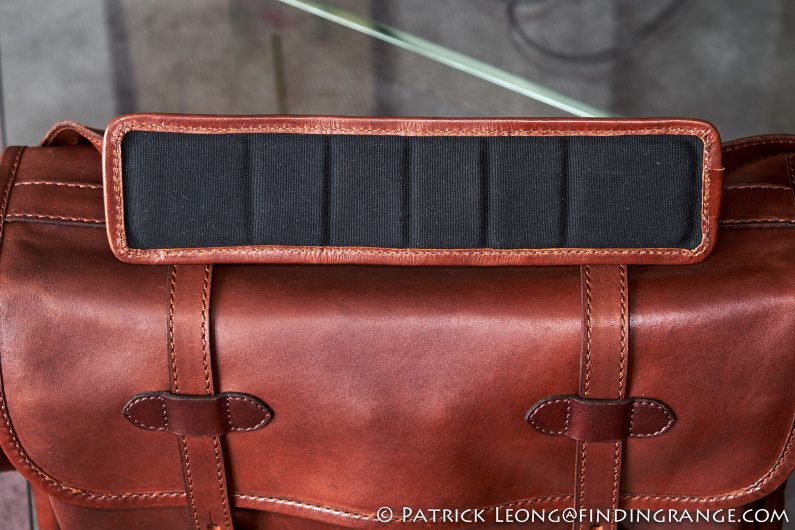 ↑ The back of the shoulder pad is broken into segments to mold to your shoulder better.
The rest of the Rana 15 is also up to par with what should be expected from a bag in this price range.  All the metal pieces like the buckles for example, are solid brass with an aged finish.  The stress points of the bag are riveted.  All the materials are put together neatly, and trimmed properly matching the pristine stitch work.  There is even a luggage handle slot on the back of the bag for added convenience.  Overall, this is a really well put together bag.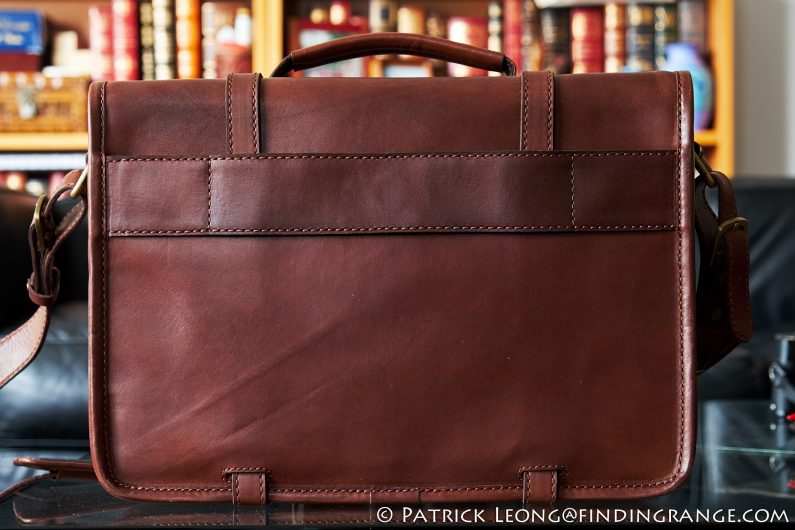 ↑ There's a luggage handle slot on the back of the bag for added convenience.
To top it off, the Cravar Rana 15 isn't a bag you need to leave home when bad weather rolls in.  It is actually highly weather resistant.  It even has flaps on the side to help prevent water from getting into the main compartment although I must admit that while they do their very job well, they also do somewhat limit the opening of the main flap because they are actually attached to it.  But this to me isn't a make or break issue.
The bottom line is the weather protection really works.  Unfortunately, there was more snow than rain in NYC while I was reviewing the Rana 15, and it was so cold out that the snow never really had a chance to stick on the bag, but take a look at the videos below to see how insanely weather resistant this bag really is :).  In the first video, Cravar uses a hose on the Rana 15 but what really impressed me was the second video where the bag was left outside during a massive rainstorm for around 11 minutes.  The only reason they didn't go any longer than 11 minutes was because the camera that was recording started overheating.  In both trials, the inside of the Rana 15 was completely dry.
Speaking of the inside, to gain access to it, you simply release the two leather straps in the front, and lift the flap.  The straps are held in by simple brass studs.  This leather slot system is similar to what Billingham uses in a lot of their bags, and quite frankly it's great because it's uncomplicated, yet does the job quite well.  I don't even have to look at the bag when I unfasten the straps.  I can do it based on feel, and while I'm still walking.  It's also very secure when you need it to be yet it makes no noise like velcro.  There are two ways in which you can fasten the straps as well.  The most secure way is to slide the end of the straps into the leather slots below the studs.  If you want a quicker way, you could also just fasten the straps into the brass studs, and not slide the end of the straps into the leather slot.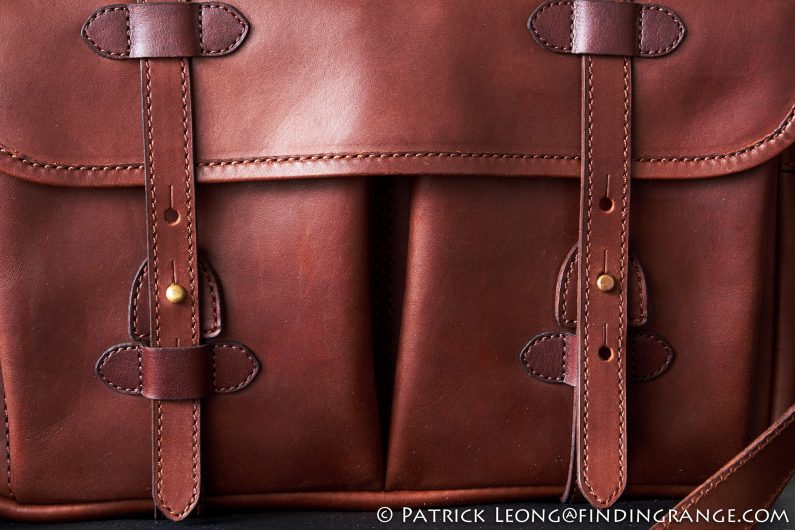 ↑ There are two ways to fasten the straps on the Rana 15: the first way (the most secure way) is to slide the strap through the leather slots (left).  If you need quicker access, just fasten the straps into the press studs and leave it at that (right).
Once you open the bag, you are greeted with a beautifully padded compartment designed to protect all your precious gear from impacts.  Like the rest of this series by Cravar, the Rana 15 is padded with closed-cell foam with extra padding on the bottom.  There are also a bunch of padded dividers that are lined with linen, and held in place by velcro.  In fact, there are a total of six dividers broken down into three types: you have one laptop divider, three vertical dividers, and two stack dividers.  That's a lot of dividers, and this really allows for quite a lot of customization.  Also, I'd like to add one thing: the stack dividers even have small leather tabs on the ends, so it's easier to lift them, and move them out of the way.  I really like this little feature.  It's not at all gimmicky because it's quite helpful.  Bags in this price range are all about the little details, and in the case of the Rana 15, this is one of them  This is one way that shows you're getting your hard earned money's worth.
↑ The main compartment of the Rana 15.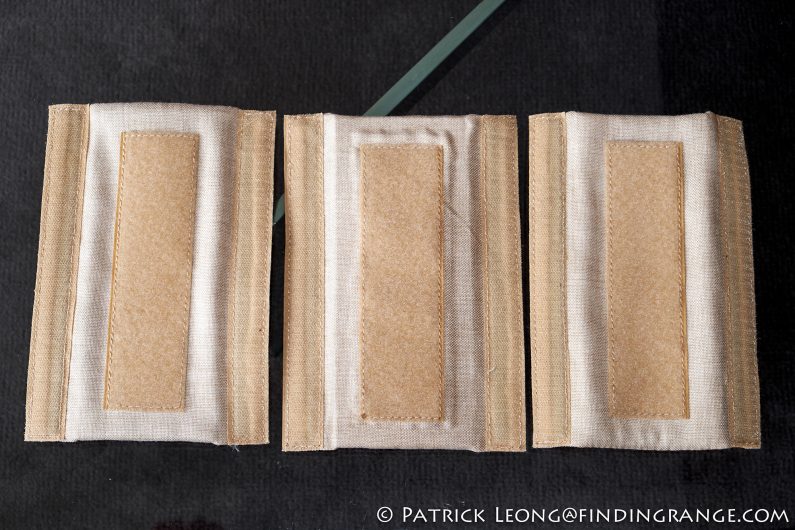 ↑ The Rana 15 comes with three vertical dividers.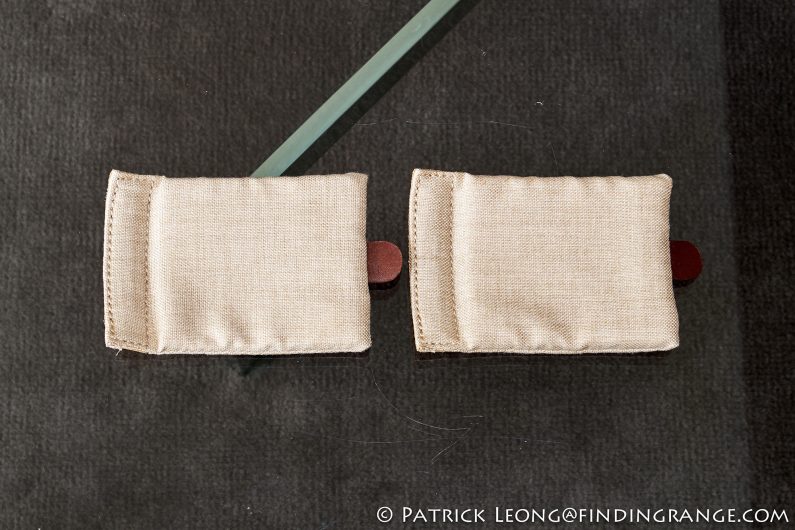 ↑ The Rana 15 also comes with two stack dividers.  Notice the small leather tabs on each one.
Now that we've talked about the vertical and stack dividers, let's talk a bit about the tablet divider, which I particularly find interesting.  So, this divider basically allows you to store a 15″ laptop or a tablet in the main compartment of the Rana 15.  That's pretty much a given, right?  Well, on one side of the divider, there are pockets for accessories like a phone and pens.  So, if you're using the Rana 15 as a non-photographic day bag, you can flip the tablet divider to use these pockets.  I think this is a really great idea that just adds to the versatility of the Rana 15.  I should also mention that the Rana 15 really does make a great day bag, even more so than the Rana 10 I reviewed before.  The rectangular shape makes it great for documents, folders, books, etc.  It also has a great top handle.  The top handle doesn't feel like an afterthought but instead, something the Cravar team knew they wanted to add from the beginning, so the bag actually feels quite balanced, and comfortable when you're using it.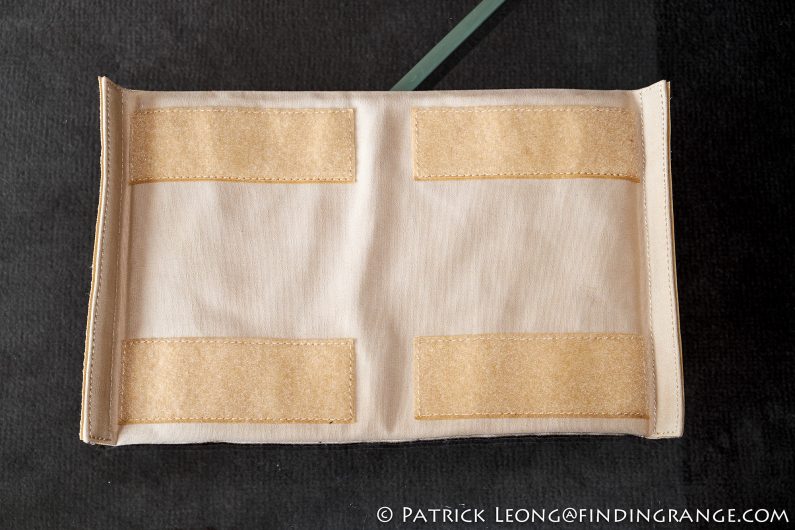 ↑ The laptop divider has two different sides.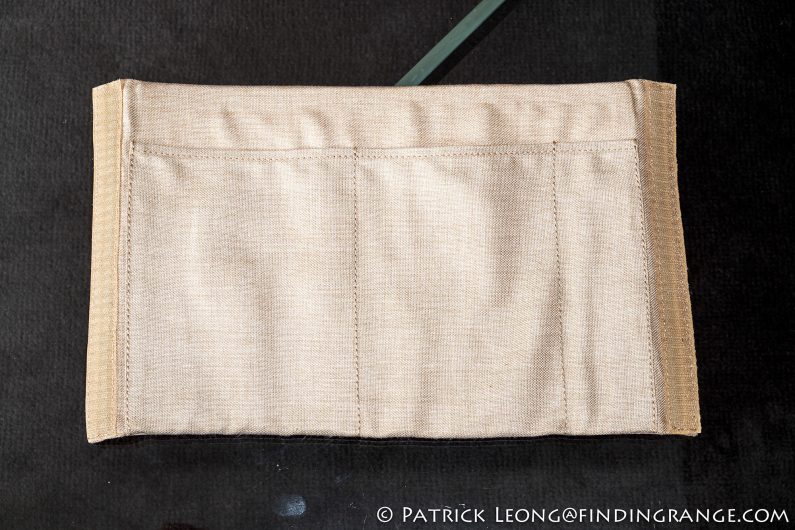 ↑ If you want to use the Rana 15 as a non-photographic bag, simply flip the laptop divider, and you can gain access to extra pockets.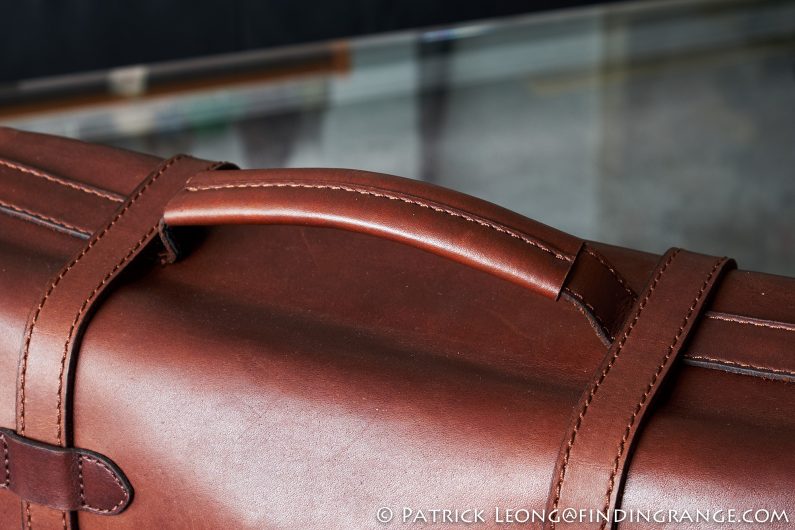 ↑ The Rana 15 comes with a top handle.
Cravar Rana 15 Leather Bag Carrying Capacity:
Let's now talk about what you can carry in the Cravar Rana 15.  If you have a DSLR system, you can fit the camera, three lenses, and a 15″ laptop in the main compartment.  But if you're a rangefinder or mirrorless shooter, you're able to store a lot more.  For instance, I primarily shoot with Leica and Fuji gear, so I can even put two cameras in the Rana 15 with lenses attached to them, and still have space for an additional four lenses as the photos below demonstrate.  I could also remove one of the cameras, and put a lens or flash in place instead.  Results will vary depending on the size of each individual's gear, of course, but you get the picture.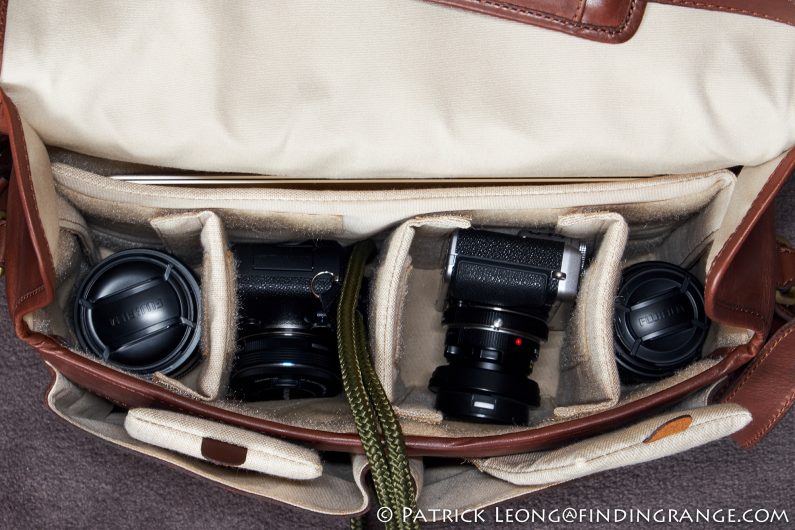 ↑ From left to right, I have a Fuji XF 56mm f1.2 APD, a Pen-F with a compact zoom attached, a Fuji X-E1 with a Leica 50mm Summicron attached, and an XF 35mm f1.4.  I also have a Macbook in the laptop slot.  The Macbook is only 13 inches but this bag will fit a 15 inch laptop.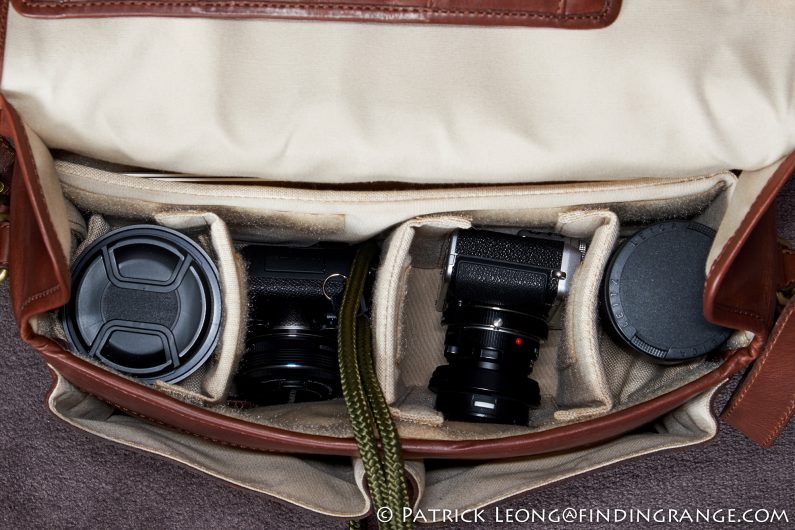 ↑ In this photo, I have to same gear as above except I used the stack dividers on the left and right slots.  So, in addition to the gear above, I'm carrying a Zeiss Touit 12mm f2.8 on the left, and a Leica 75mm Summilux on the right.
In addition to the space in the main compartment, the Rana 15 comes with one pocket in the back that will fit various documents, and two in the front.  I particularly like having two in the front instead of one big pocket because I find it easier to organize things.  The front pockets will fit miscellaneous accessories like a charger, extra batteries, and filters.  They have a decent amount of space but I would've liked to see some sort of enclosure system for these pockets like flaps for instance.  Nothing fell out of them while I was reviewing the bag but I don't always completely fasten my bag while I'm walking for convenience sake, so I don't want to be thinking in the back of my mind that something may have slipped out accidentally.  But this isn't a major issue or anything, and it wouldn't stop me from buying the bag.  I own the Billingham f1.4 bag, and it has no enclosure system for its front pocket as well.
Cravar Rana 15 Leather Camera Bag in Use:
So, now that we've discussed the quality and the capacity, let's talk about how this bag actually operates in the field.  In this regard, I feel leather bags are definitely not all equal.  Some will look great, and are made really well but they just aren't comfortable to use.  I'm sure many of you know what I mean.  Leather can be a very tough material.  However, I'm happy to report that for a leather camera bag, the Rana 15 is absolutely great to use, and I imagine it'll be even better as it breaks in further.  As I said earlier, the leather is really nice; it's strong enough to last but at the same time, it's not overly stiff and unyielding, which I feel is especially important since this is actually a large bag that is designed to carry plenty of gear.  You want this to be as comfortable as possible.  I also love the shoulder strap, which I mentioned earlier.  The flexibility of it makes it easy to manage and more comfortable, especially on longer days.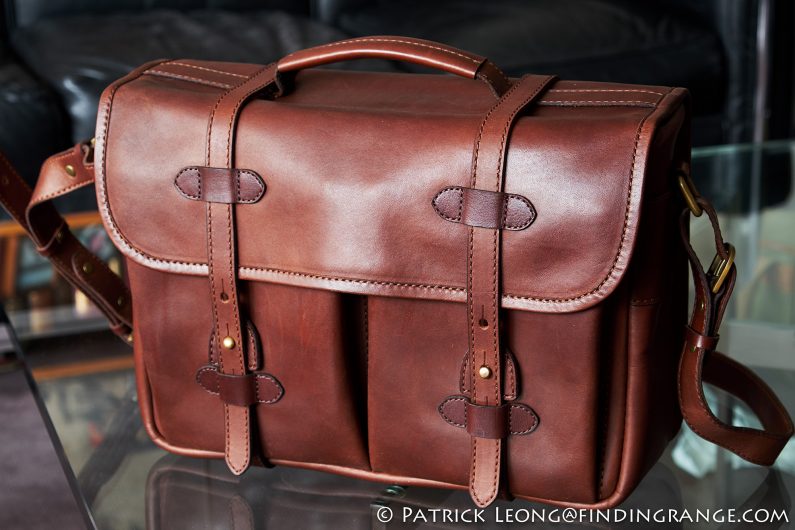 ↑ Here's another pic of the Rana 15.
As for the weight of the bag, I know what some of you will say when you see the specs: 4.2 lbs with all the dividers included is heavy.  First off, the Rana 15 holds a lot of gear, so it's not exactly compact, which means it'll weigh more than your average bag.  It's also made of leather, and leather bags from all manufacturers are generally heavier than say canvas options.  If you want leather, especially one that is able to carry more gear, a little more weight generally comes with the territory.  Also, I was actually surprised by the weight listed on the spec sheet because the Rana 15 didn't feel that heavy while I was reviewing it, and keep in mind that I actually threw my back out the day before I received the Rana 15, so my back was already particularly sensitive to any type of strain.
Appearance wise, I'm generally pretty particular with leather bags because I feel some of them can be a little too flashy for my taste.  The Rana 15 though, isn't over the top and flashy but instead, veers towards a more classic and understated appearance.  The Rana 15 is one of those bags that I can see myself carrying around for years because the design has a timeless element to it.  Look at this thing; it's absolutely beautiful but classy as well :).  It's not something that only stays in fashion for a brief moment.  It's also a bag that you can essentially take anywhere.  I feel the Rana 15 blends in really well here in NYC, for example.  I see people everywhere with bags similar in design going to work, school, etc.  The Rana 15 feel perfectly at home at an art exhibit, and the office yet it will happily rough it out in the streets with you even in bad weather.
Cravar Rana 15 Leather Camera Bag Specs:
Fits a camera and up to 3 lenses (more if you're using smaller format).
Space for most 15″ laptops (max laptop size : 14″ x 9.8″/35.5 x 25 cm, can tightly fit slightly bigger laptop).
Two spacious front pockets, one full width back pocket.
Top padded handle, with aluminium reinforced top flap.
Luggage handle slot at the back.
Exterior (W x H x D): 15″ x 10.6″ x 5.1″/38 x 27 x 13 cm.
Interior (W x H x D): 14.2″ x 9.8″ x 4.7″/36 x 25 x 12 cm.
3.5 lbs./1,600 grams – without dividers.
4.2 lbs./1,900 grams – with all 6 dividers.
Cravar Rana 15 Leather Camera Bag Verdict:
If you've been looking around for a leather camera bag that will hold a decent amount of gear with a laptop but you're having difficulty deciding on which one is best for you, the Cravar Rana 15 will only make your decision more difficult because it is a fantastic bag that is also deserving of a place in the premium leather bag market.  At the current price of $349, it's definitely not cheap.  But when you compare it to its competitors, it's not overpriced, especially for what you're getting.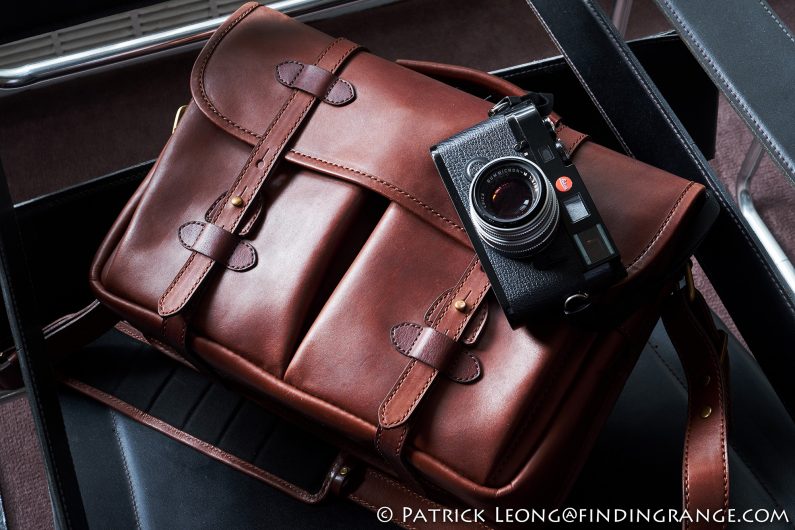 ↑ One last pic of the Rana 15 with my Leica M6 TTL Millennium and 50mm Summicron.
The Rana 15 is really well-made from excellent materials, it offers superb protection for your gear, and it is made to last.  The attention to the little details like the small leather tabs on the stack dividers, the stitching or the laptop divider that serves multiple purposes show me the designers weren't just trying to produce any old bag, and charge a premium just to make money.  They really care about their product, and therefore, put serious thought and time into making a great one for their customers.  So, if you've been looking around for a premium leather bag for a decent size photographic setup, the beautifully crafted Rana 15 is definitely a bag that you should take into consideration.
If you want more info on the Cravar Rana 15, check out Cravar's website :)!