Leica CL Mirrorless Camera Review:
I became a huge fan of the Leica L mount when I traded my M 240 in for an SL last year. However, while I've been a huge fan of Leica for many years, and I like the fact that Leica also has an APS-C line of L mount products, the TL cameras are just not my cup of tea. I respect the capabilities of the new TL2; the electronics are great, and it does produce brilliant images but it's just not my type of camera.  I can get over most of the things I don't like because no camera is perfect but having no built-in viewfinder in its price range is a deal breaker for me.  Yes, there is a viewfinder that you can purchase separately but it not only ruins the clean lines of the TL2 and makes it bulkier, it also takes away the use of the hot shoe.  The new Leica CL on the other hand, seems to be the answer for people who feel the same way that I do.  The CL takes a more classic approach than its sibling, and more importantly, it finally comes with a built in viewfinder.  It also seems to have many of the characteristics of dare I say, a mini M.  So, is this camera all hype or is there something special here? Read on and find out!
Ergonomics and Overall Design of the Leica CL:
One of the reasons why I'm a big fan of Leica cameras is because I love the overall designs and ergonomics.  Everything is as direct and uncomplicated as possible, and you know they go through great lengths to do this because quite frankly, it is not easy to do with today's full featured cameras.  I own a Fuji X-T2 for instance, which I absolutely love.  But quite honestly, I probably haven't used half the buttons and scroll wheels on it.  Same goes with the features.  One thing that you can count on from Leica is that they're really good at concentrating on just the important stuff.  If you're after a camera with every single option and gizmo available, you should probably look elsewhere.  Leica cameras have never been about that but that's the beauty of them.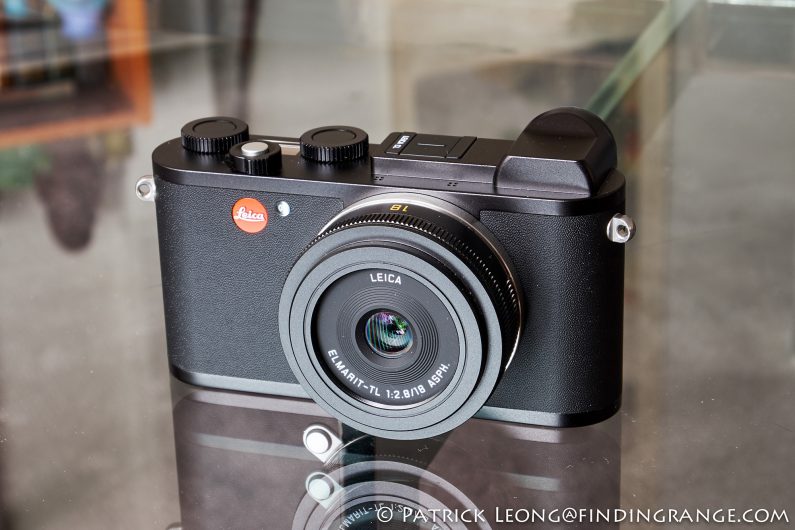 ↑ The Leica CL with the Elmarit-TL 18mm f2.8 ASPH lens.
The new Leica CL is no exception. It was just so nice to hold it in my hands for the first time. It feels like such a serious photographic tool.  The layout is so clean.  There are only three buttons, and a direction pad on the back.  There's a diopter next to the viewfinder, and on the top plate, there are two scroll wheels with center buttons on top of them.  There's also a small display on top to give you essential info like what mode you're shooting in, exposure compensation, and f stop.  The display looks tiny, and hard to read in pics but in reality, it's very easy to see, and quite useful.  It also backlights in the dark as well.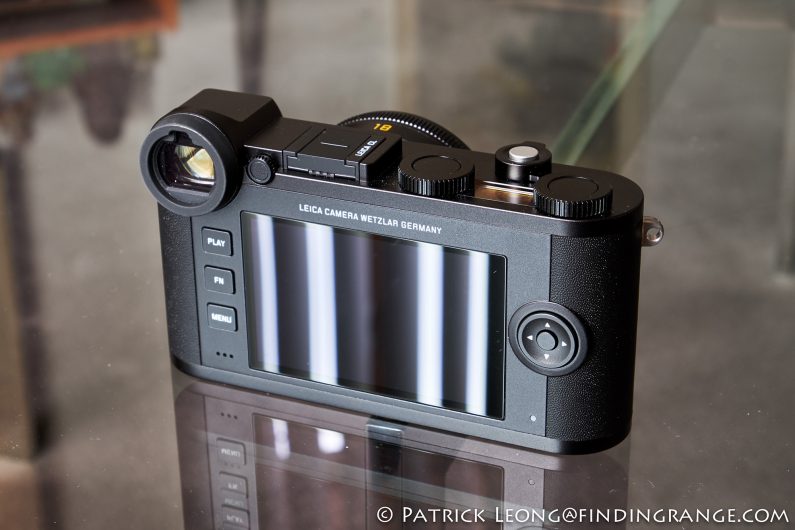 ↑ The layout is very clean.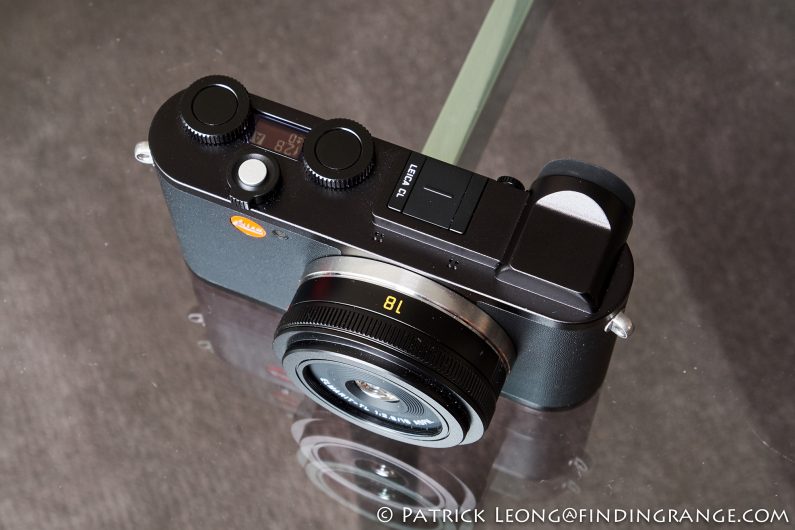 ↑ The top deck only has two scroll wheels, and the shutter button.
Now, having a camera that has such a clean layout may still take a little getting used to, especially when the functions of each scroll wheel change depending on your shooting mode, for example.  But once you set the CL up to your shooting style and preferences, you should have no problems.
To top it off, the menu system in the CL is similar to other Leica cameras in that it is straightforward and very easy to navigate through.  It isn't unnecessarily complicated with countless features and functions that I probably wouldn't use, and therefore, would only make it more difficult to find things I would use.  Everything is in a logical order, and accessing things is effortless.  In terms of overall ergonomics, I don't think there are many cameras quite like this, especially in its class.
In addition to great ergonomics, the Leica CL is also very well-made, and one should expect this considering the price tag, which I'll talk more about later.  It's not as solid or as well-built as an SL or even an M but then again, I don't think anyone expects it to be considering the CL doesn't carry the price tags of either.  However, the build quality will not disappoint.  This is quality stuff, and it feels like a real Leica.  It even sounds like one.  The sound of the CL's shutter to me is really something special :).  I find it has one of the best sounding shutters from Leica to date.
Getting back on point, quality materials are used here.  The top and bottom plates are constructed from milled and anodized aluminum alloy.  The front and rear body shells are magnesium alloy.  These materials are not only rigid, they're lightweight as well.  According to the specs, the CL weighs a mere 403 g with the battery in it.  Everything is put together so well that the CL feels like it was carved from one solid block of metal.  There are actually no other doors besides one, which is for the battery and SD card compartment.  Some may or may not like because there isn't a USB port for charging, for example but I like it.  To me, it makes the CL feel that much more solid, and besides, I still charge my batteries the old fashioned way :).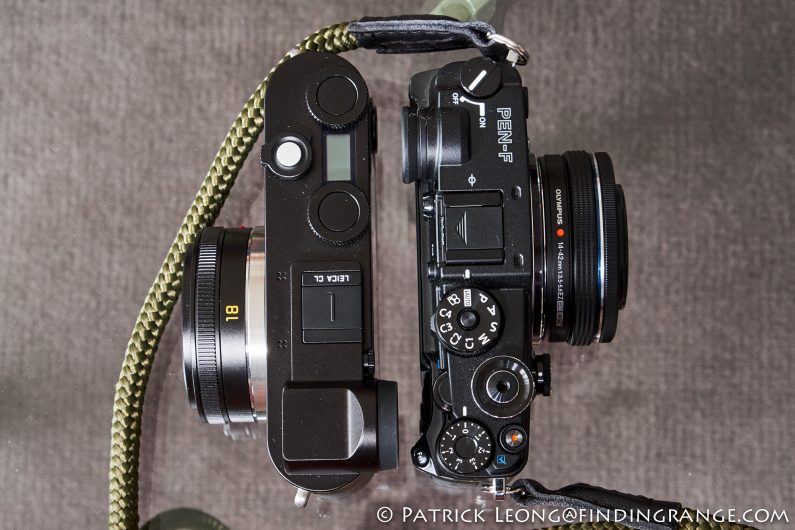 ↑ The CL is very compact; as you can see, it's about the size of an Olympus Pen-F, which is a camera with a micro four thirds sensor.
But of course, the CL isn't perfect.  For instance, I'm a little surprised it only has one memory card slot, especially in this price range, and Leica didn't use the joystick from the SL but instead, went with the direction pad.  I love the joystick, and I know many others do as well.  Even Fuji cameras have gone the route of the joystick.  The CL also isn't weather sealed.  Lastly, the camera is almost a little too clean and smooth if that makes sense.  It isn't necessarily slippery but I think a little indent where my thumb goes while I'm holding the camera in my right hand would help make it feel more secure.  With the M lenses that I tried, and the 18mm Elmarit-TL, it was perfectly fine.  I think if you use bigger lenses like R lenses, tele M lenses or SL lenses, it would help if you also purchased the Leica Handgrip CL or the Leica Thumb Support CL.  I feel these should only be purchased though if you really need them because if it was me, I wouldn't want to ruin the overall shape of the CL.  I really like it the way it is.
Overall though, the CL is such a fantastic camera to use.  Things like having one SD card slot or no weather sealing, quite honestly, don't really matter much to me.  What I'm saying is it's nice to have but it isn't the end of the world if I don't have these features, and therefore, they wouldn't be a deciding factor for me if the overall ergonomics and layout are good, which they are in this camera.
I found the ergonomics so good that this is one of the few compact cameras that wasn't too difficult to use even in cold weather.  I had the Leica CL while it was absolutely freezing here in New York City.  There were days the weather was in the single digits.  So, I was bundled up and most of the time, I had gloves on.  I find it sometimes difficult to use a compact camera when I have multiple layers but the CL's clean layout was so helpful.  I could hold and shoot the camera with my thick leather gloves.  I could make adjustments, and even press the buttons on the back of the camera.  Lastly, it's worth mentioning that with such a clean layout, I start to be able to concentrate more on actual photography than just the technical stuff.  It kind of frees the mind a bit, at least for me.
Now, let's talk a little bit about the battery real quick.  The CL's battery is supposedly only good for up to 220 shots.  But here's the thing; as I just said, I was using the CL when the weather was extremely cold here in New York City, and I actually had no issues with the battery.  I had the CL hanging around my neck most of the time because it was just too cold to hold it in my hands, which meant it took the cold head on.  The battery power was consistent and therefore, dependable.  Of course, battery drainage isn't the same with everyone.  It depends on how each individual uses the camera but since I was testing the CL, I didn't make any effort to conserve the power.  I used the screen constantly, and of course the EVF to compose, shoot, and review my images.
The EVF and LCD Display of the Leica CL:
Speaking of the electronic viewfinder, the Leica CL has a built in one unlike its sibling, the TL2.  We waited a long time to see this, and it is well-worth the wait because the EVF is absolutely phenomenal, and it's one of the major features that makes this camera so great if you ask me.  I found it to be one of the best I've used so far in its class.  It is a 2.36 MP EyeRes viewfinder with a large 0.74x magnification.  You get an expansive, sharp, clear, and bright image with great color.  The view is almost better than real life :).  If there is any delay or lag, it's negligible.
I was a fan of the optical viewfinder for a very long time as an M user but I have to say, EVFs like this are the reason why I don't own a digital camera with an OVF anymore.  Both types of viewfinders have their strengths and weaknesses but for me, the strengths of an EVF like the one in the CL far outweigh the strengths of an OVF.  Again, this is me, and others may feel differently.  It's all about personal preference.  Leica cameras have always been famous for having decent viewfinders back in the film days, and the OVFs in the digital Ms have also been excellent.  It's nice to see this tradition being carried on with Leica EVFs now.  Those Leica hot shoe attachment viewfinders weren't always so great but I'm really happy to see Leica using such awesome viewfinders in their SL, Q and now the CL cameras.  The CL's is truly one of the best EVFs I've used so far.
In addition to the EVF, there's also a decent 3" TFT LCD, 1.04MP with touch and gesture controls as well.  There is no tilting display, which I sometimes miss but truthfully, with the CL being such a such a solid camera, I wouldn't want anything to change that feeling for me, so I can live with this minor inconvenience.  The screen is sharp and very clear with colors that are on point but in my opinion, you won't be using it much with such a great EVF on this little camera.  I sure didn't :).  I not only used the EVF to take pictures, I reviewed my images, and did a lot of my menu adjustments looking through it.
Performance of The Leica CL And The Autofocus:
As for the electronics and the overall performance, the Leica CL in general is fast and very responsive.  Everything is immediate from previewing your images to all the operations in the camera.  There's no delay because the electronics in this camera are excellent.  Scrolling through the menu is quick, for example.  More importantly, there's a consistency here, which means there are not going to be times when it hiccups.  It's consistency and dependability remind me of the SL quite a lot.  It never falters but instead is very efficient, and good at what it does.  With the Q, the SL, and now the CL, Leica has really been on their A game.
Specs wise, the CL can shoot 10 fps as well.  If you're using the mechanical shutter, it'll go up to 1/8000s.  With the electronic shutter, not only is it completely silent, it'll go as high as 1/25,000s.
The autofocus is also really good.  Of course, autofocus speed depends on the lens as well, and in this case, I only had the the Leica Elmarit-TL 18mm f2.8 ASPH (Black or Silver).  I was going to get a couple of more TL lenses but I ended up really enjoying the 18mm.  I don't really shoot sports, so I can't give you a fair assessment of how the CL performs in that category but for everything else, I have absolutely no complaints.  The 49 point autofocus system is contrast based, and it's quick enough that it will lock on to people walking towards me even on busy streets.  It'll lock onto bikers.  In other words, it's great for street photography, which I imagine most people will be using this camera for.  The autofocus is very accurate, and I also found the face detection worked very well.  Sometimes the CL will hunt a bit in dim lighting but overall, I have to say that it was pretty comparable to my Fuji X-T2.  I've owned the X-T2 since its release, so I've used that camera for a little over a year and a half.  I didn't feel I had to change my way of shooting when I was using the CL.
The Leica CL is also great with manual focus lenses.  I actually get more consistent results than with an M when I am using fast glass.  As I said earlier, the EVF is excellent, so you can really see the little details.  Focus peaking of course, helps quite a bit as well.  If you have the Leica M-Adapter L (Silver or Black), which I have from my SL, you can use nearly all those great M lenses.  The beauty is, Leica designed the CL, so you know that all those little M lenses will perform at their optimum level when used with it.  That makes sense, right?  No one can expect another manufacturer to make their camera perform optimally with another manufacturer's (in this case Leica) lenses, right?  However, I actually enjoyed using the 18mm Elmarit-TL so much that I used it for most of my review but for the times I did use M lenses, I was very content with the results.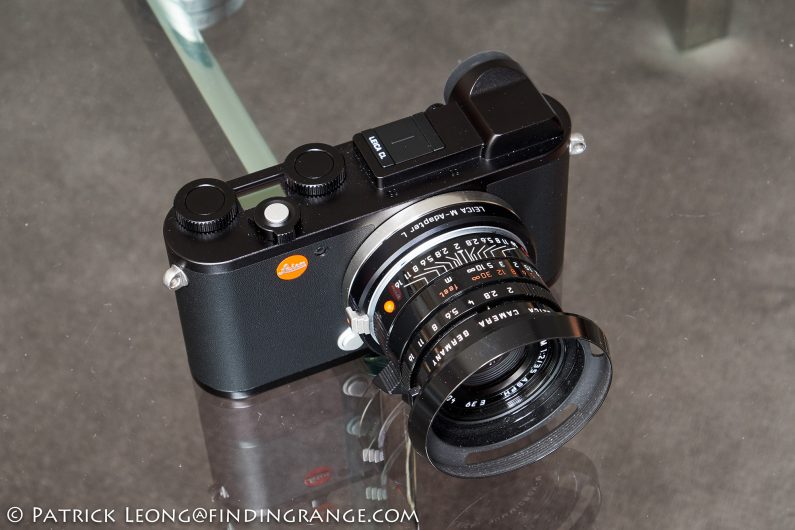 ↑ The CL is great with M lenses.  Pictured above is the CL with my 35mm Summicron-M ASPH Black Paint Millennium edition.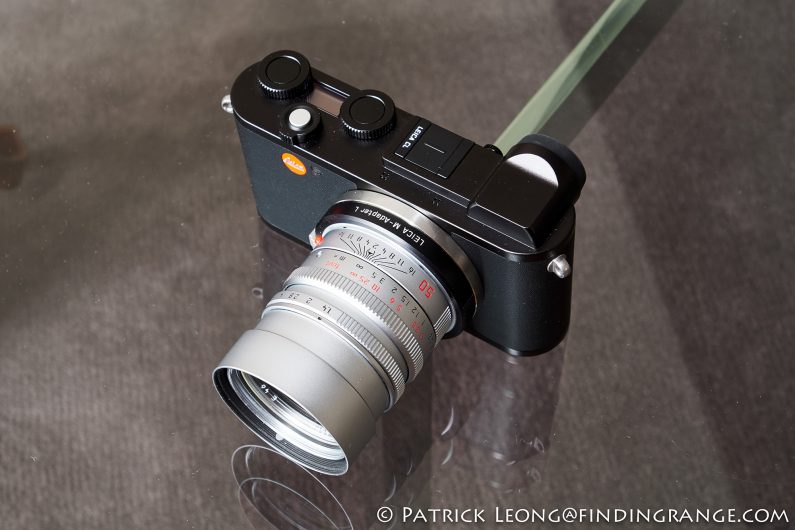 ↑ Here's the CL with my favorite M lens, the 50mm Summilux ASPH.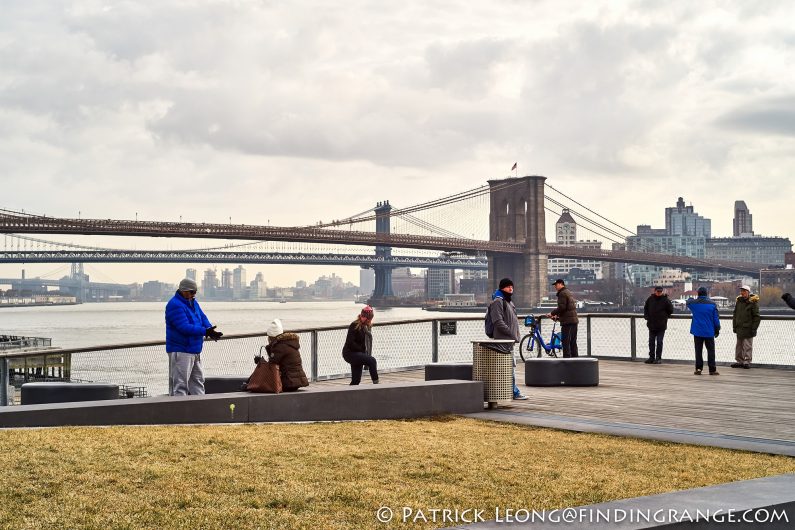 ↑ This was taken with the 35mm Summicron ASPH at 200 ISO.
↑ Here's one taken with my 50mm Summilux ASPH at 100 ISO.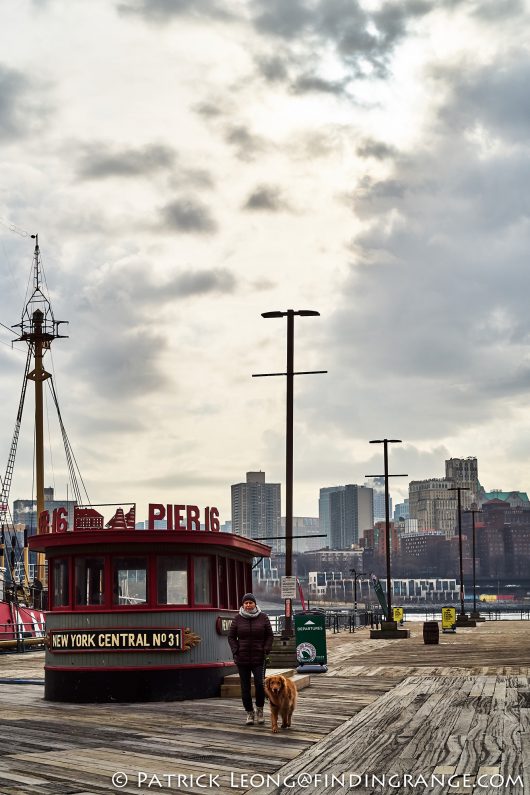 ↑ Here's another with the 35mm Summicron ASPH at 100 ISO.
Overall, the electronics are really up to par with what we should expect but some may take issue with this camera's lack of image stabilization.  I'm going on record to say that I'm completely fine with this; the Fuji and Leica cameras that I own don't have image stabilization (except for some lenses), and it has never been an issue for me. But it's something I wanted to bring up for those who like this feature.
There are other great features as well like 4K video and WiFi.  You can record video at 30 fps.  You can transfer images and remotely control the camera through the Leica CL app for your smartphone.
Leica CL Image Quality:
Let's talk about image quality now, which is really a strong point of the Leica CL.  With its 24.2 MP APS-C sensor and Maestro 2 processor, the CL really produces some superb images.  Photos are extremely sharp with colors that are more natural than over-exaggerated.  There's just so much detail, especially at the lower ISO range, and of course, the brilliant Leica lenses have a hand in this along with the fact that the CL's sensor does not have an anti-alias filter, which means images with even greater detail.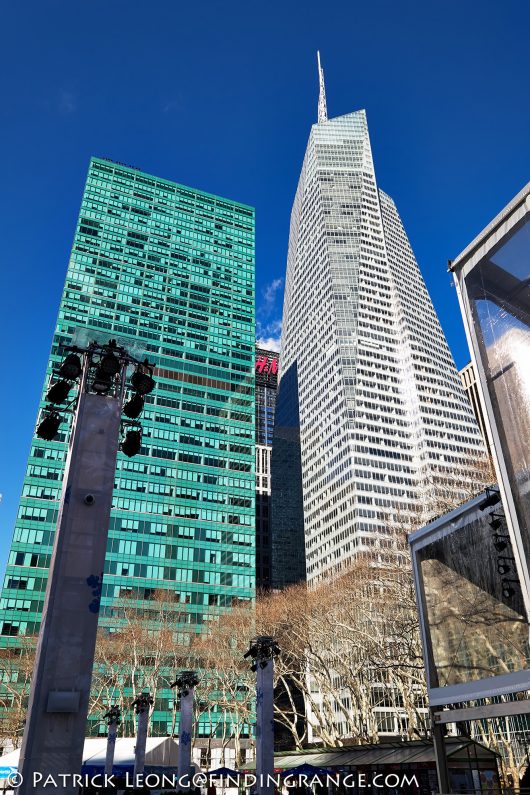 ↑ 18mm Elmarit-TL ASPH at 100 ISO.
↑ 18mm Elmarit-TL ASPH at 800 ISO.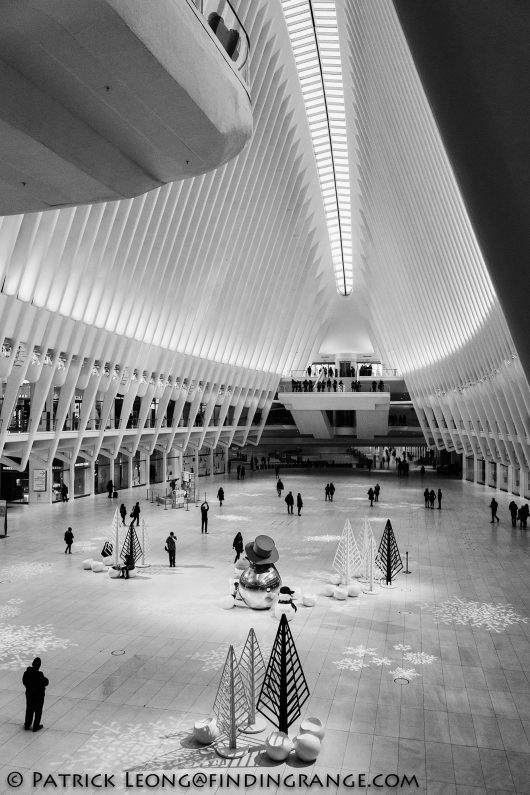 ↑ 18mm Elmarit-TL ASPH at 1600 ISO.
It's also worth mentioning that the dynamic range is quite impressive.  There were a couple of photos that I messed up on.  One is actually below.  I saw this person standing next to the railing, and I only had a split second to snap the shot because I knew he was about to move.  I completely underexposed the image below but I was pleasantly surprised to see that I can really retrieve that detail in the shadows.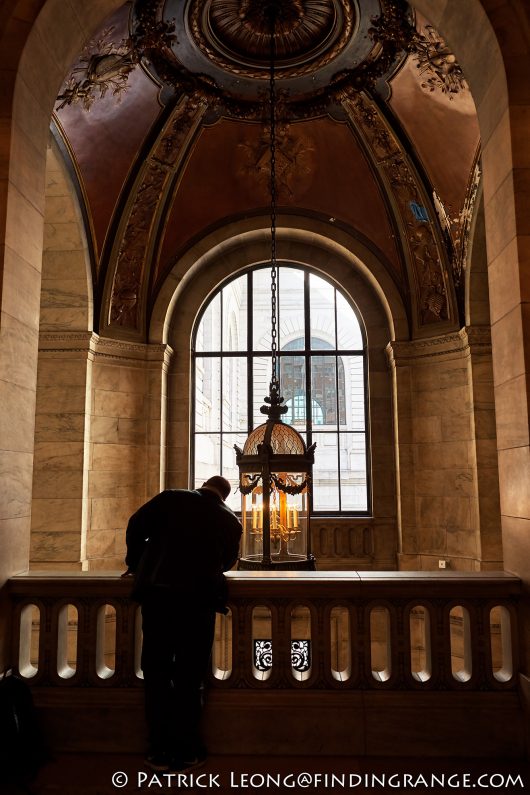 ↑ I completely underexposed this photo by accident but I was able to bring the detail out.  18mm Elmarit-TL ASPH at 100 ISO.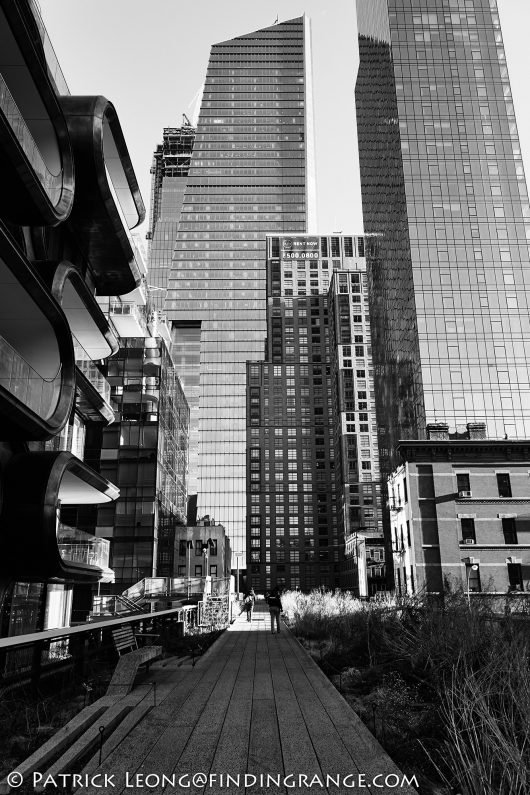 ↑ This was taken in the morning on the High Line in Chelsea.  18mm Elmarit-TL ASPH at 250 ISO.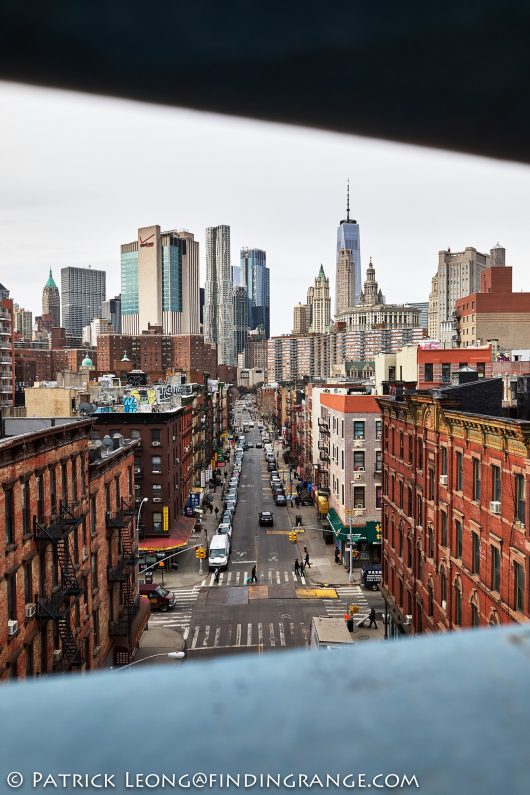 ↑ This was taken on the Manhattan Bridge.  18mm Elmarit-TL ASPH at 160 ISO.
The high ISO is also impressive.  The lower ISO ranges are super clean.  You get a little noise coming in at 1600 ISO but its something you would have to zoom in to really see.  In other words, it's completely usable.  In fact, I would have no problems shooting this camera up to 6400 ISO.  There is noise at 6400 ISO as expected but nothing out of the ordinary.  The noise levels are very well controlled in the CL.  12,800 ISO is usable as well but keep in mind that there will be considerably more noise.  I would use 25,000 and 50,000 ISO only when I truly needed it.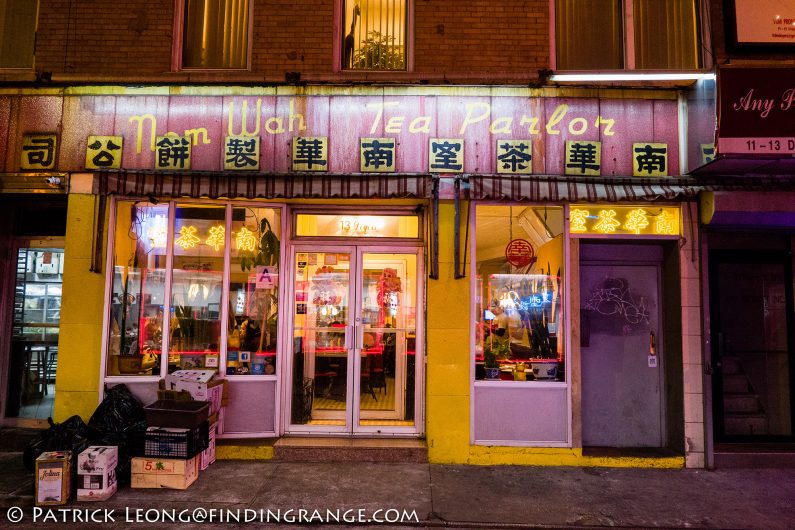 ↑ Here's a photo taken at 3200 ISO with the 18mm Elmarit-TL ASPH.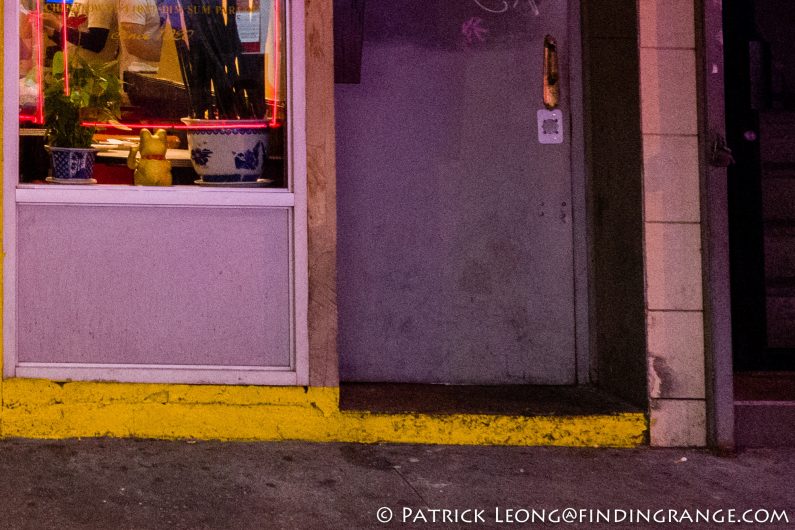 ↑ Here's a crop at 100% of the photo above.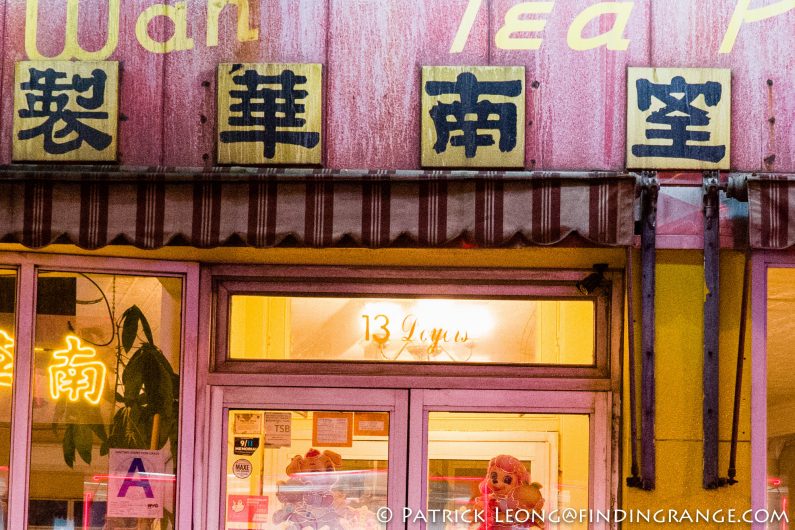 ↑ Here's another crop.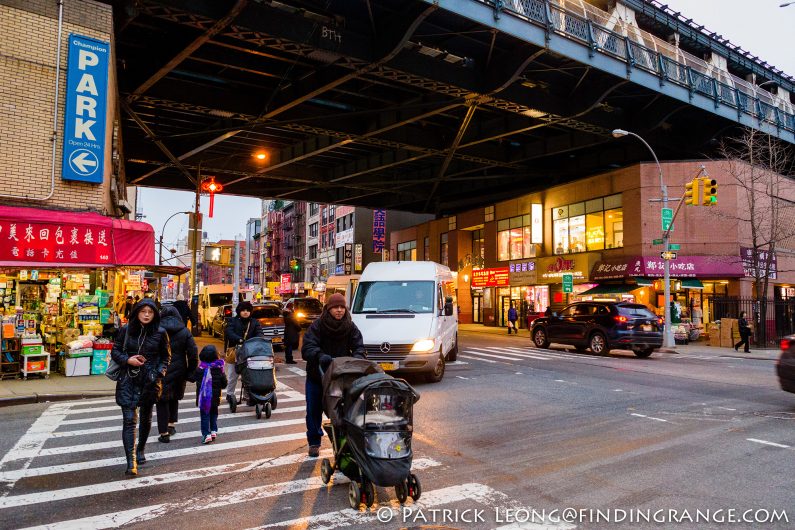 ↑ This was taken at 6400 ISO.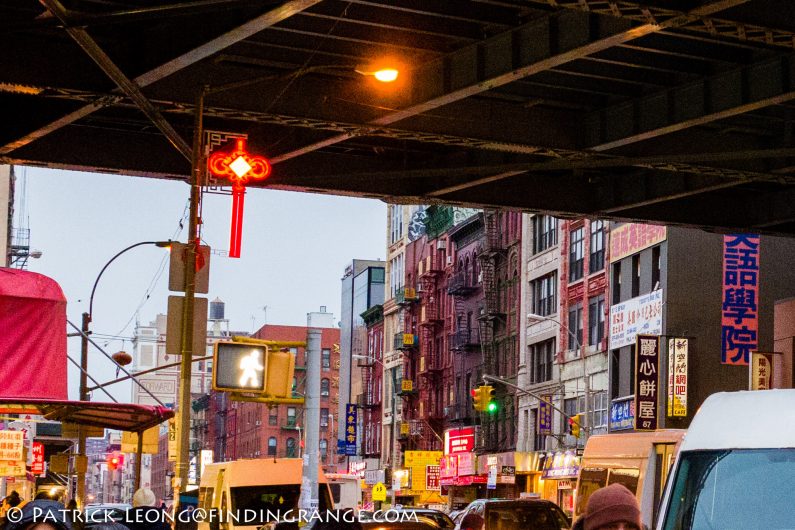 ↑ Here's a crop at 100% of the photo above.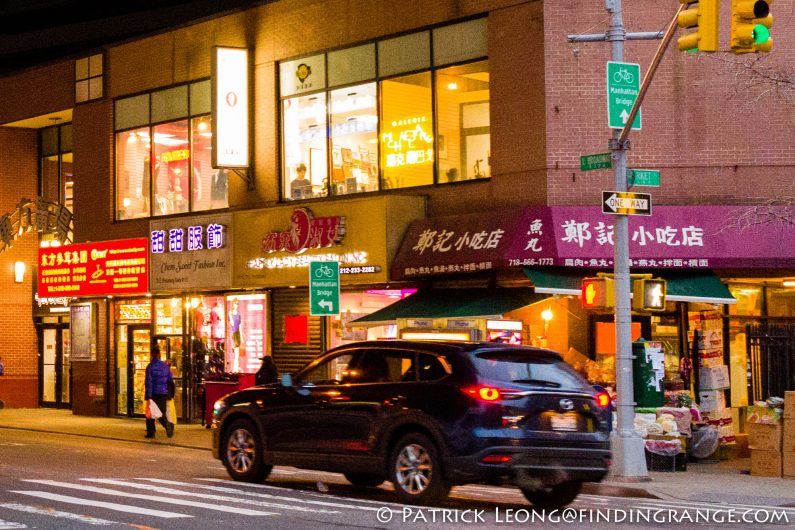 ↑ Here's another crop.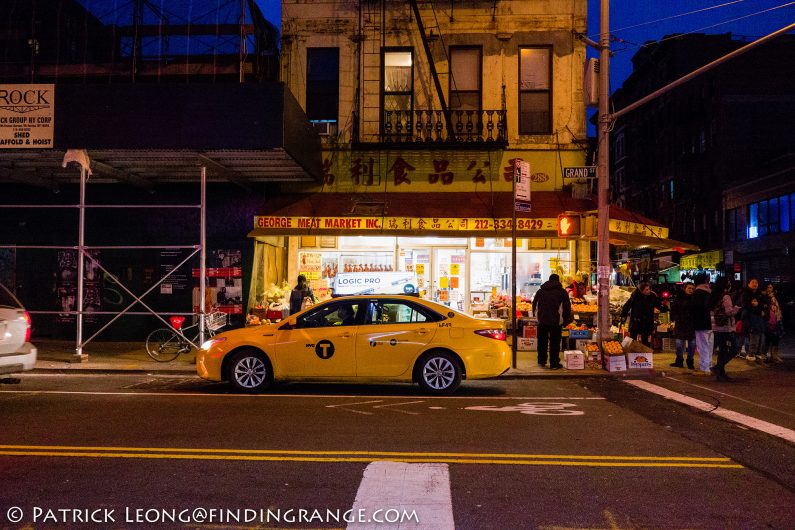 ↑ Here's one taken at 12,500 ISO.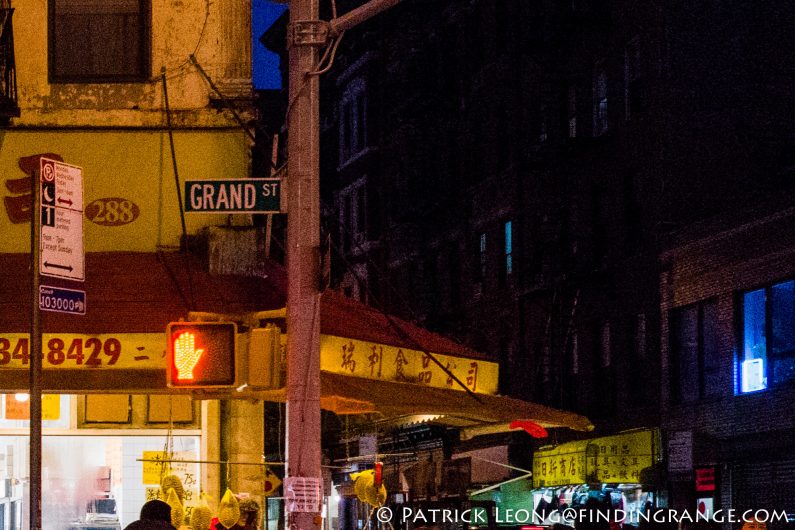 ↑ Here's a crop at 100% of the photo above.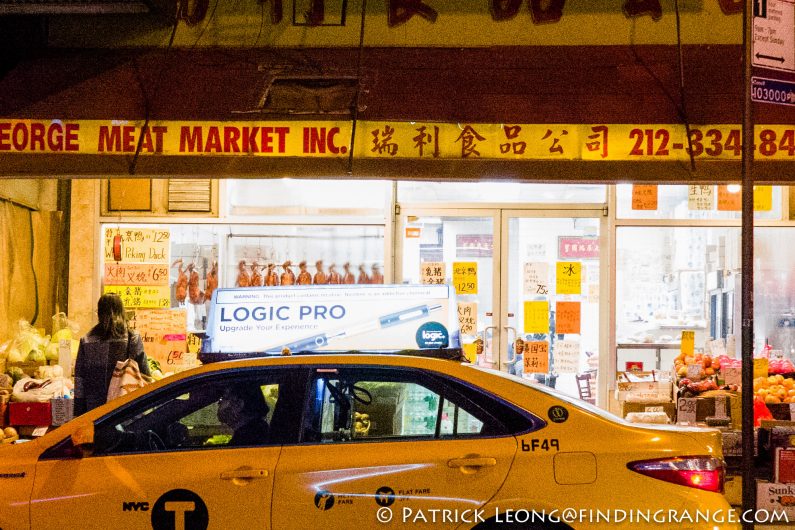 ↑ Here's another crop.
↑ Here's one taken at 25,000 ISO.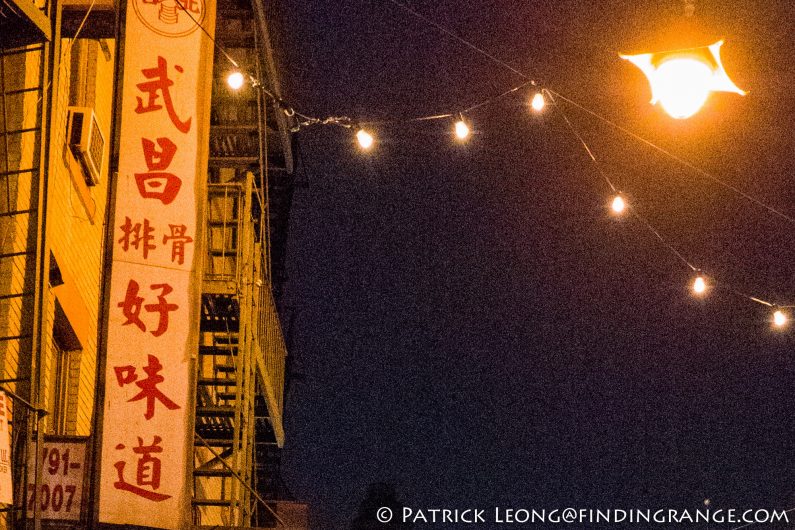 ↑ Here's a crop at 100% of the photo above.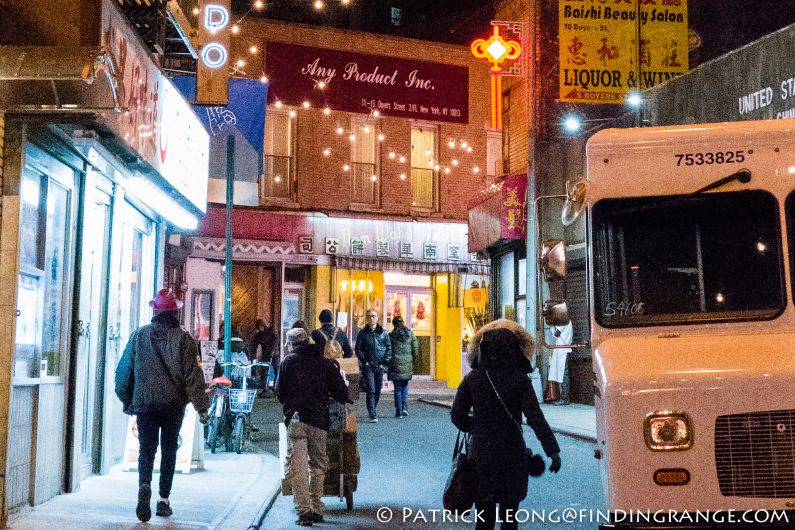 ↑ Here's another crop.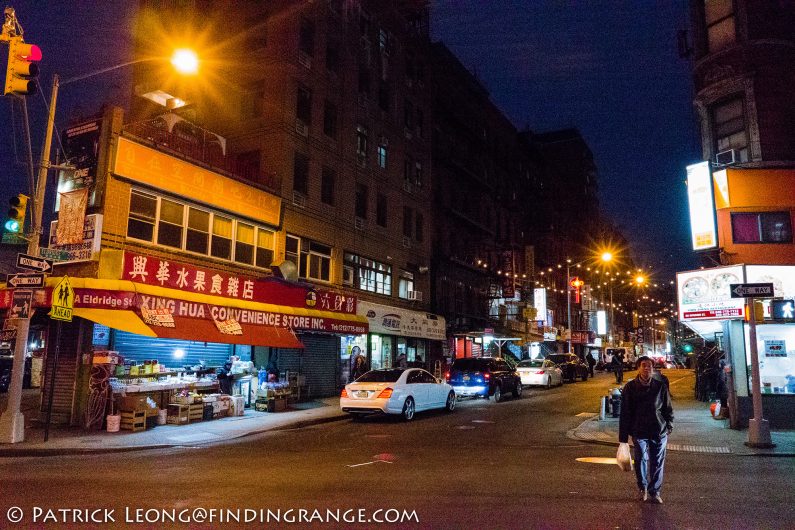 ↑ Here's one taken at 50,000 ISO.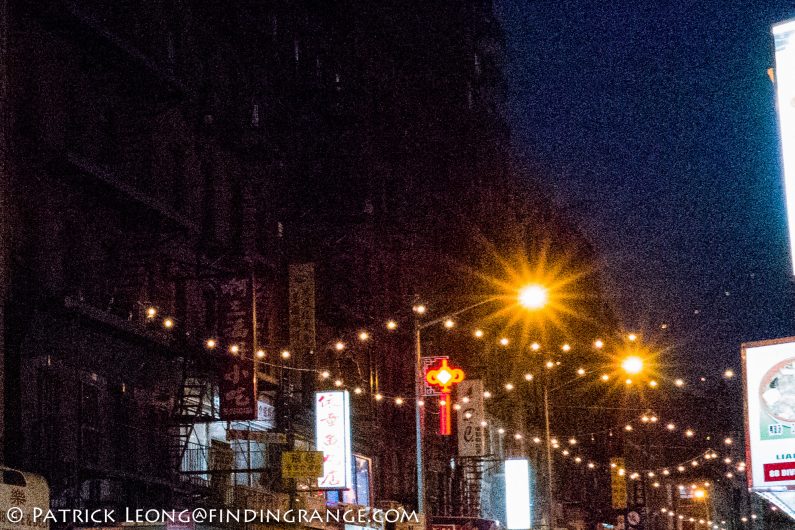 ↑ Here's a crop at 100% of the photo above.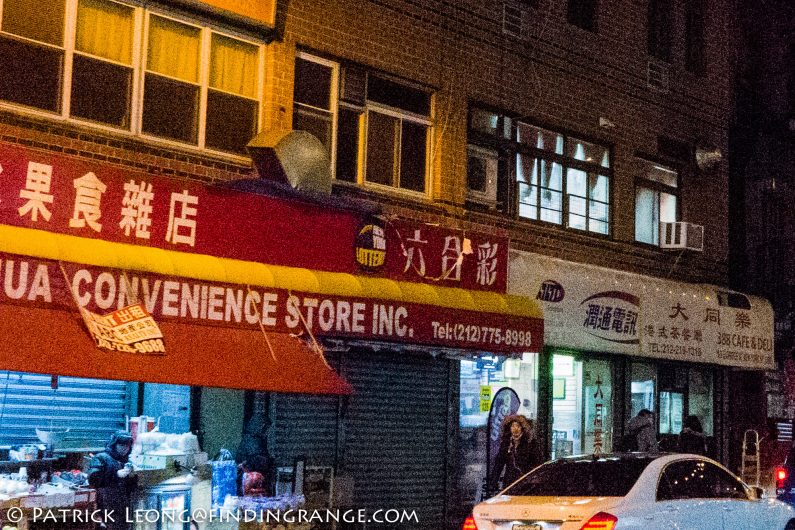 ↑ Here's another crop.
Leica CL Verdict:
Overall, I truly enjoyed my time with the Leica CL.  The build quality is definitely up to Leica standards, the ergonomics are excellent, the electronics are up to par, and the image quality of course, is superb.  Overall, this is an extremely capable camera that, given what it's designed for, is hard to fault.  There's really nothing here that is seriously lacking or needs major improvement.  In other words, for those who aren't sure of it's capabilities yet, I feel the CL is every bit as capable as any great camera out there.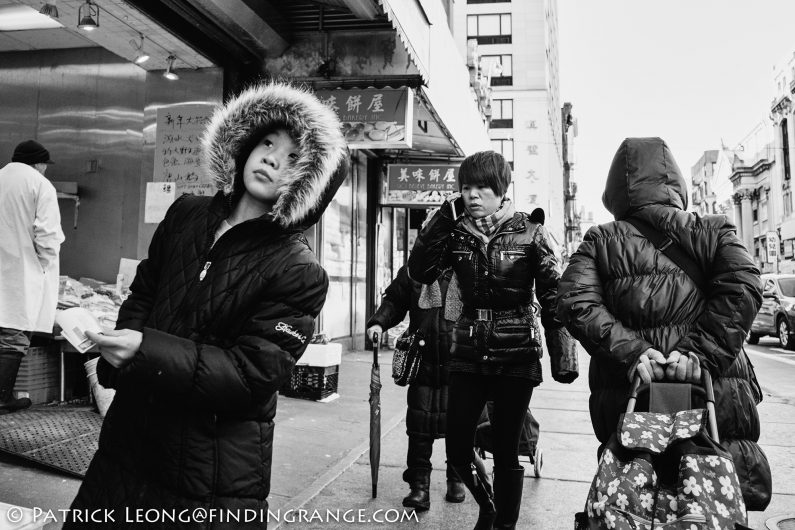 ↑ The CL is such a great little street camera.  It's compact, discreet, quiet, and fast.  This was taken with the 18mm Elmarit-TL ASPH at 500 ISO.
However, the CL is definitely not cheap.  The body currently retails for $2,795, which actually puts it into full frame territory.  If you're planning on buying the CL with a lens, you can save a little money if you buy one of the CL kits.  The Leica CL with the 18mm Elmarit-TL for example, retails for $3,795 while the Leica CL with the 18-56mm goes for $3,995.  If you were to buy the CL and 18mm separately, you'd have to come up with $300 more.  If you were to buy the 18-56mm and CL separately, you'd have to come up with $450 more.  Leica rarely releases kits, and I applaud them for doing so with the CL but still, they're not cheap.  For comparison, you can purchase something like a Nikon D610 with a 24-85mm lens, for $1996.95 now or for $3,198, you can purchase a Sony A7R III.  Both are full frame too.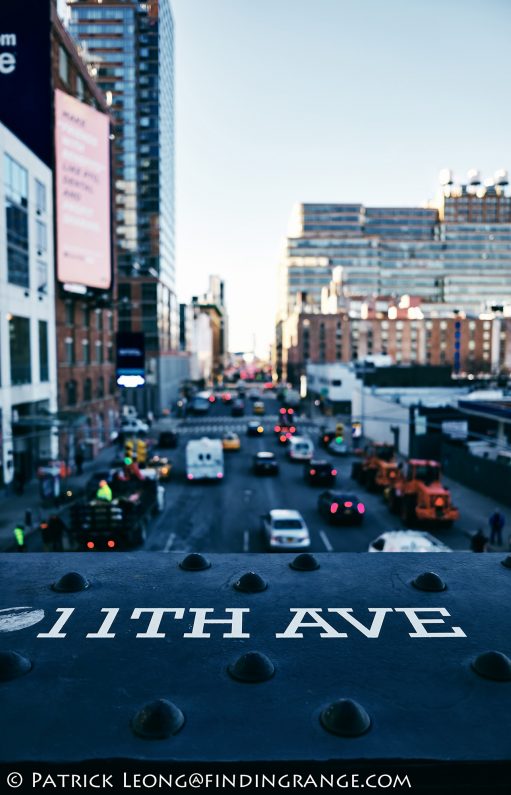 ↑ The 18mm Elmarit-TL probably isn't the first choice for shallow depth of field images but I wanted to give it a try :).  100 ISO at f2.8.
First off though, it's a Leica, so we all knew the CL was going to be priced a bit higher.  I think it's pretty obvious at this point :).  If you want the Leica build, ergonomics, and the Leica rendering, it's not going to come cheap.  Leica have never been about the mass market, and they're perfectly fine with it.  They are a niche brand, and they know the customer base that they're targeting.  I love Leica products, and of course, I would love it if I could pay less for them lol 🙂 but for the most part, I'm a loyal user for a reason.  I feel they're worth it not just in terms of user satisfaction, and image quality but also in terms of resale value.  I feel the CL is worth it but everyone has different needs and preferences, so you have to decide what is right for you.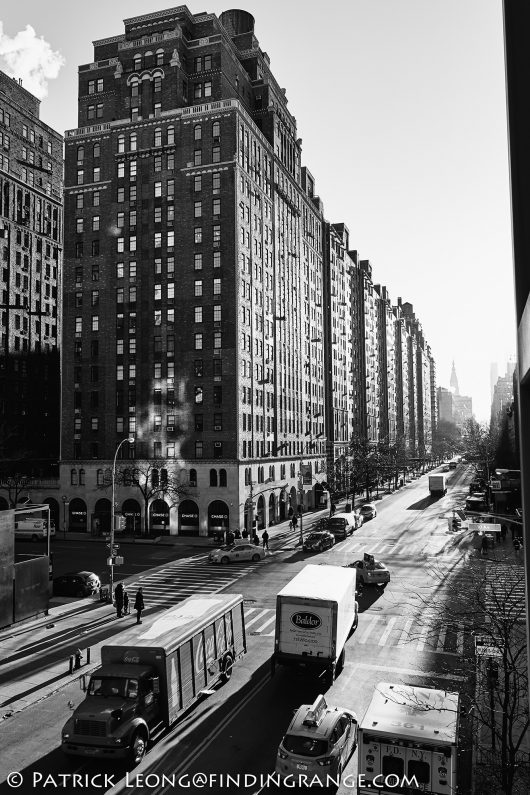 ↑ Here's another early morning shot taken with the 18mm Elmarit-TL ASPH at 100 ISO.  It's funny because I actually don't like the 28mm focal length, which the 18mm Elmarit basically equates to but I really loved using the tiny Elmarit.
I will say this though.  I love this camera, and I want it to do really well.  I think if the price was a little lower, more people, specifically non-Leica users, would give it more of a chance.  I don't expect the price to be in the ballpark as other APS-C competitors.  People already know they're going to pay a premium for a Leica.  It just needs to be less expensive enough to get the attention of people who wouldn't even look at it because it is completely out of their price range to wondering if maybe they should take a closer look.  I have no doubt Leica will make their quota with the CL because it is a fantastic camera but I think a lower price would make the CL a really hot sell.  But if you think about it, the price is kind of right in Leica terms.  I wouldn't expect the CL to be less expensive than the TL2, and it isn't.  The TL2 sells for $1,950, and if you want a viewfinder, you'll have to add $575 to the price for the Visoflex EVF.  For a little bit more, you can get the CL with quite frankly, one of the best EVFs I've used so far in its class, and also get a completely differently shooting experience.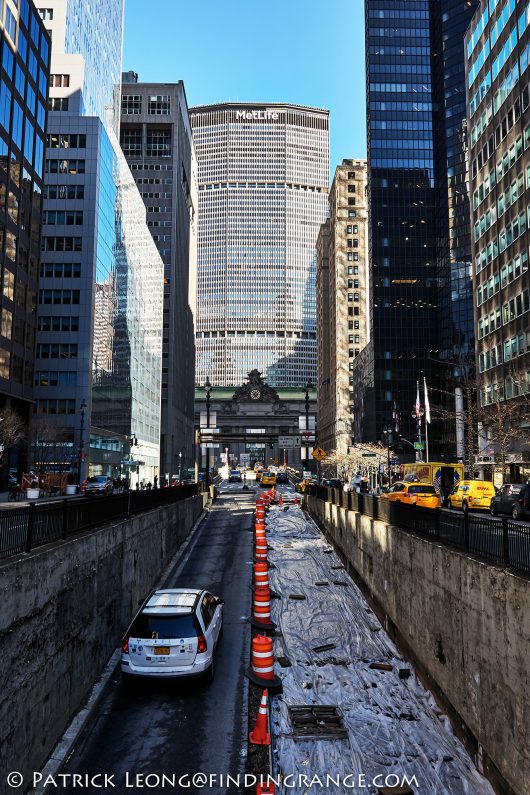 ↑ Here's another with the 18mm Elmarit-TL at 500 ISO.
It's also worth mentioning that while there may be some full frame cameras in it's price range that also might arguably produce better image quality on a technical aspect, the CL is definitely no slouch either.  In other words, it's already pretty darn good in the IQ department.  If this was the only camera that I could own, I would be completely satisfied with what it produces.  Nowadays, there really aren't any bad cameras in terms of image quality, if you think about it.  In terms of sensor size, I don't feel that a good APS-C camera is that much worse off than a full frame one.  I'm also a Fuji user, and I currently have an X-T2 that quite frankly, kicks some serious butt.  APS-C sensors have come a long way.  Sensor tech in general has come a long way.  I think we're getting to the point in camera tech where image quality in general is so good that other factors like ergonomics, build quality, and electronics for example, can come more into play, and help dictate what camera fits us best.  In other words, there's more to a great camera than just having the absolute best sensor in the world, for example.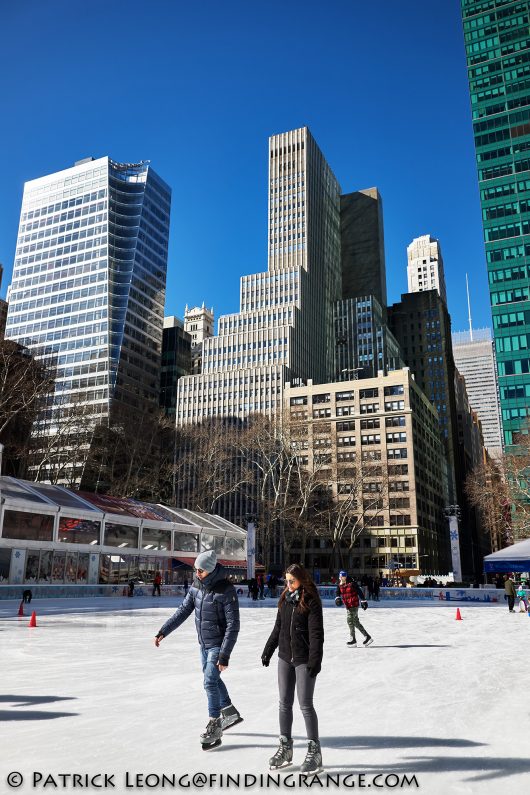 ↑ Here's one with the tiny Elmarit-TL at 100 ISO f2.8.
We have to look at the total package, and in my opinion, the Leica CL truly excels in this way.  While I do not dispute that there are other cameras out there that are also great as a whole, the CL really does it for me, and it does have it's own unique qualities that make it more than relevant in the camera world all while also yielding excellent results, and being a ton of fun to use.  There's no doubt it's expensive but in my opinion, you'll get more than your money's worth because it's a camera you're going to want to take out and shoot every time.  It offers a truly satisfying user experience.  Just like all manufacturers have their own unique rendering, in the case of the CL, you'll also get that unique Leica rendering.  So, as a whole, the CL is a fantastic package, and in the right hands, it's a truly capable camera that will yield professional results without breaking a sweat.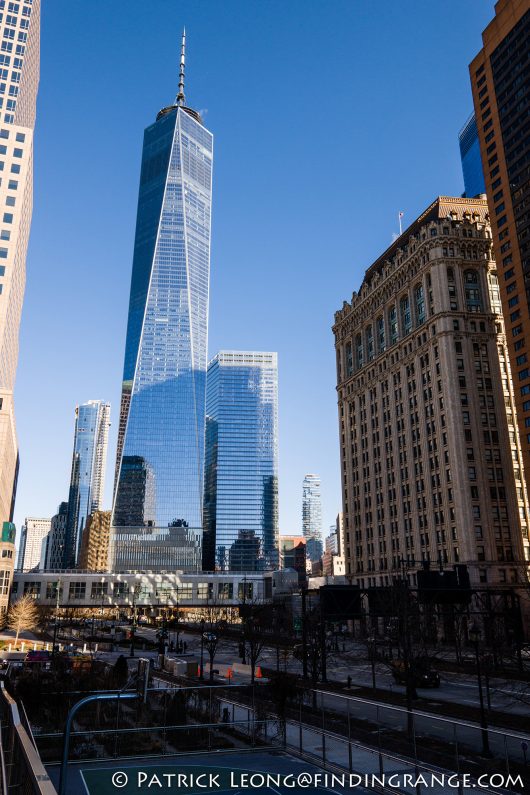 ↑ This was taken with the Elmarit-TL 18mm at 400 ISO.
As you can tell, I really enjoyed using the CL, and I'd be lying if I told you I didn't have thoughts of buying one for myself.  I think all it's really missing are more decent lenses, which I think in time, will be resolved.  Leica have done a decent job covering a wide range of focal lengths but I'd like to see more primes.  For instance, my two most used lenses on my X-T2 are my Zeiss Touit 12mm, and my XF 56mm f1.2 APD.  Leica have zooms that kind of cover these focal lengths but it's not the same for me.  You can argue that you could buy M lenses or other 3rd party M mount lenses but just like with my SL, I want to use autofocus lenses.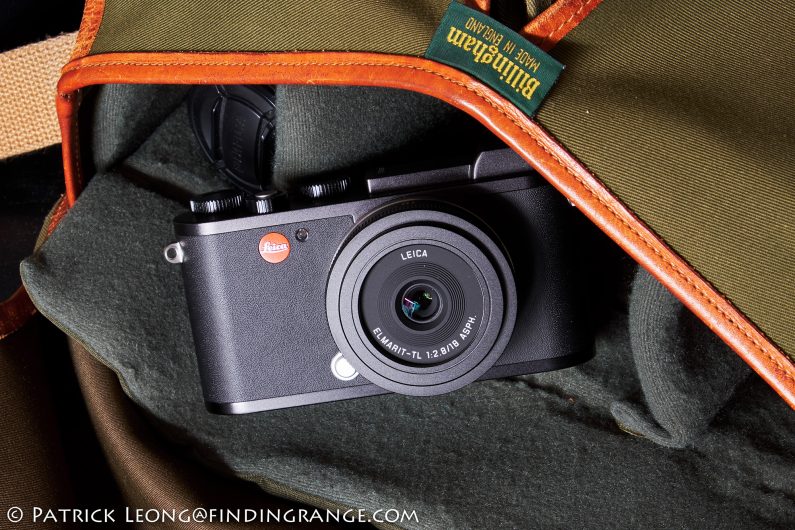 ↑ One last pic of the Leica CL :).
As a Leica user, this is one tempting little camera. I keep saying to myself that this would make a great companion to my SL.  In so many ways, the CL draws its strength from many other Leica cameras because a lot of the best qualities from other Leica cameras are incorporated in the CL.  You can call it a mini M but in many ways, it can be a mini SL or an updated X.  For those who love the X, pop the 18mm or the 23mm on this baby, and the CL becomes an X on steroids.  The electronics feel light years ahead.  Furthermore, the CL not only has the built-in viewfinder we always wanted in an X, it has an absolutely outstanding one.  For those who like the M but have issues focusing it or just want autofocus, I feel the CL can be a great alternative for some.  In addition to having autofocus lenses, the CL works absolutely great with M lenses.  I can actually focus faster, and get more consistently in-focused shots thanks to the focus peaking and quality of the EVF.  If you're lugging around an SL like I am, and want a sidekick to it, the CL is also a great choice.  It shares a lot of similarities not just in design but it can also share the same lenses without an adapter.
To me, the CL is not just a fantastic Leica, it's a fantastic camera when compared to its peers as well.  It's a much needed camera in the Leica system that should've been out a long time ago if you ask me.  But as they say, better late than never, right?
Thanks for taking the time to read my review!  If you're considering purchasing the CL, and my review helped you decide, please help support this site by purchasing from any of the links in this review.  It will not cost you anything extra.  Thank you for your support!
Leica CL and 18mm Elmarit-TL kit at B&H Photo