Leica SL Shoot: APO Summicron-SL 90mm ASPH And Tiffany:
In addition to all the reviews, comparisons, and just in general, gear related articles, I'm also going to write up a post with photo sets each week.  I mentioned this a while back before my site went down, so now, I'm going to start.  Why am I doing this?  Well, portrait, fashion and boudoir are what I do when I'm not on this site.  I also believe that while all the technical descriptions in reviews are great, it's important to also put the gear to good use.  I shoot with my own gear but often times, I will also use the gear I'm reviewing for my own work.  In this way, I can give all of you a more comprehensive review than just something filled with tech specs.  Often times, tech specs just don't give you the whole picture of how a piece of gear will actually perform.  With that said, I bring you a shoot I did with Tiffany (Instagram).
I shoot a lot with Tiffany.  In addition to being one of the most talented people I know, she's really nice, and funny.  Plus, good food is always somewhere in the equation when we meet up, which never hurts.
Tiffany always comes with such a great collection of outfits that we always end up with tons of decent content at the end of a shoot.  In fact,  there's usually more than I even need but that's why she's so awesome.  Usually, one of us will give each other a call, and be like, "What are you doing next week? Let's shoot!"  We talk a lot about what styles we're after before hand, and what I love about working with Tiffany is I never have to worry about what she brings in terms of outfits.  It's always perfect.  All I have to do is worry about the gear and location.
Speaking of gear, I used my Leica SL this time.  The lens of choice was my APO Summicron-SL 90mm f2 ASPH.  I wish I could post the full resolution photos because this is such a killer lens.  You can check out my review of it here but be warned: it is a long write up but there are plenty of pics.  The bag I normally use is the Billingham 307.  It's definitely big but when I do shoots, this is my go-to bag.  In fact, for the past year, this is my most used bag.  I don't use this as my street bag though; I use it to carry all my transmitters, lenses, camera, batteries, etc. to my studio.  Then, if I go street shooting, I'd take with me a smaller bag that I leave at my studio, if needed.  This time however, I was using the new Hadley Pro 2020, which Billingham was kind enough to loan me to review.  If you want more info on it, you can read my first impressions post here.  This bag is amazing; it actually fits my SL, 24-90mm Vario-Elmarit, 50mm Summilux-SL ASPH, and 90mm APO-Summicron-SL ASPH perfectly.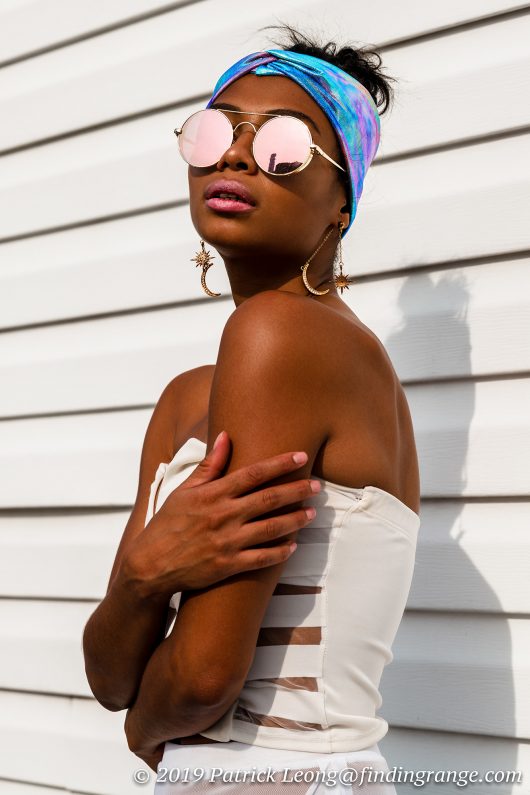 Anyway, for this post, I didn't have many photos from this set but I really wanted to post the photo above, since it was something I liked.  But I didn't just want to post one photo, so I thought I'd include some of the ones that Tiffany wanted.  In the future though, portrait sets I post will have more pics included.  Im still dealing with a backlog of pics to edit.  I also want to start posting more gear reviews, and overall content more frequently, and consistently here, so I'm quite busy these days :).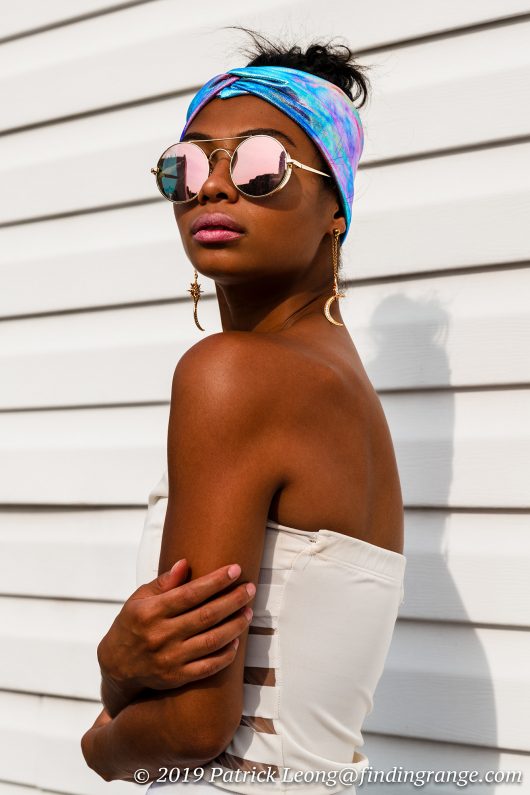 As for the way I shot these pics, with the exception of one photo (below is f2), I stopped down the 90mm.  I felt these pics would be better capturing all the detail from her glasses, the headband to her earrings.  In fact, my favorite pic out of this set was shot at f8; however, if I could reshoot it, I'd probably stop it down to even f11.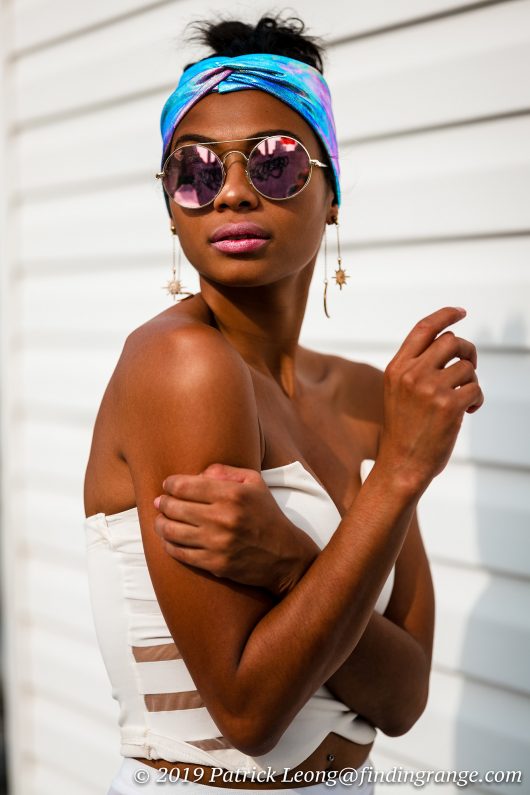 Location wise, we were on top of a building's roof.  It was actually a very sunny day, which as you know, isn't always ideal conditions for portraits.  But Tiffany had the sunglasses, which helped with any dark circle around the eyes, and for some reason the lighting just worked at that moment :).
All pics here were also processed from RAW files in Photoshop CC Camera RAW.  Touch up of skin was done in Photoshop but I didn't do too much; I respect (and even admire some) photographers who do more intense editing of facial features (to each his own as they say) but in general, I still like a little bit of naturalness to my photos.
So that's about it from this set.  If you'd like to see more of my work, please feel free to check out my Instagram by clicking on the link here or just type findingrange in the search on insta. Thanks for stopping by!