Leica Leather Wrist Strap Review:
There are tons of great camera straps on the market to choose from these days, and a lot of them are very good, which makes it even harder to choose sometimes.  I've reviewed quite a few in the past from several manufacturers, and for the most part, each one brought something cool, and unique to the table.  I always thought that Leica should've capitalized on the strap market a bit more, and well, they have.  There is, for example, the Leica Leather Wrist Strap, which is designed to fit M and X cameras, and it is what I am going to talk about now.
Leica Leather Wrist Strap Build Quality:
So, let's start off with the overall craftsmanship of this strap, which by the way, is excellent.  Like the name suggests, it is all leather, and beautifully made.  It comes in black or cognac.  I chose to review the cognac because I love how that color compliments a silver body (I used it on my M6).  The stitching is very neat with no loose threads hanging off of it.  The color of the threading, and of the leather give off almost a two tone-like appearance, which I like very much.  It's not overly flashy either; it's a subtle look, which I like.  They're keeping it classy ;).  The leather overall is very flexible but there still is a little stiffness or backbone for structure and strength.  For those who know the Black Label stuff (reviewed here), the Leica Leather Wrist Strap has a similar feel to their version.  The leather might be slightly thicker with the Leica version.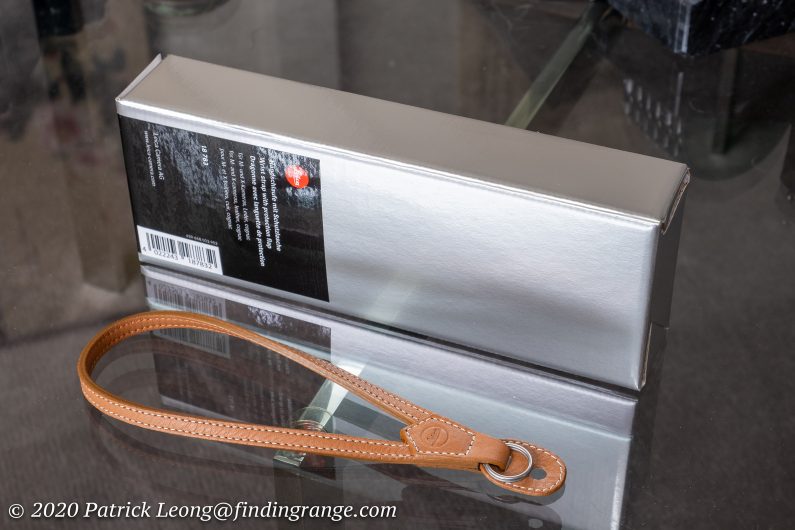 ↑ Here's the Leica Leather Wrist Strap in cognac color.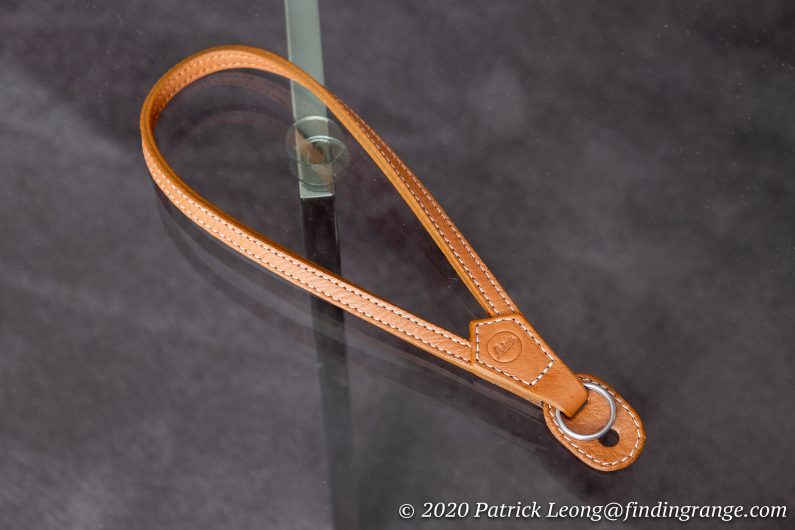 ↑ Here's a closer look at the strap.
Attaching the wrist strap couldn't be simpler.  All you do is loop the metal O ring through your camera's lug nut, and that's it.  the wrist strap even has a leather protector flap, so the sides of your camera don't get scratched up by the O ring.  I've been getting back into film lately, so I currently have been using this with my Leica M6.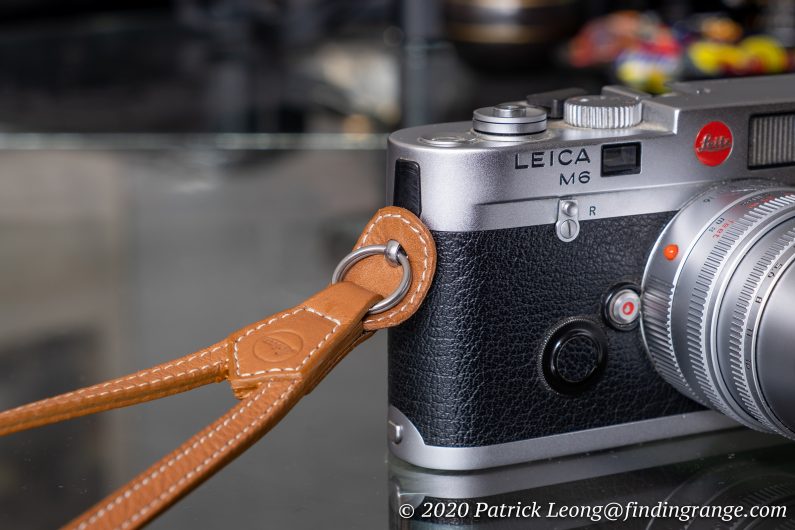 ↑ Attaching it is pretty simple: just loop the O ring through your lug nut on your camera.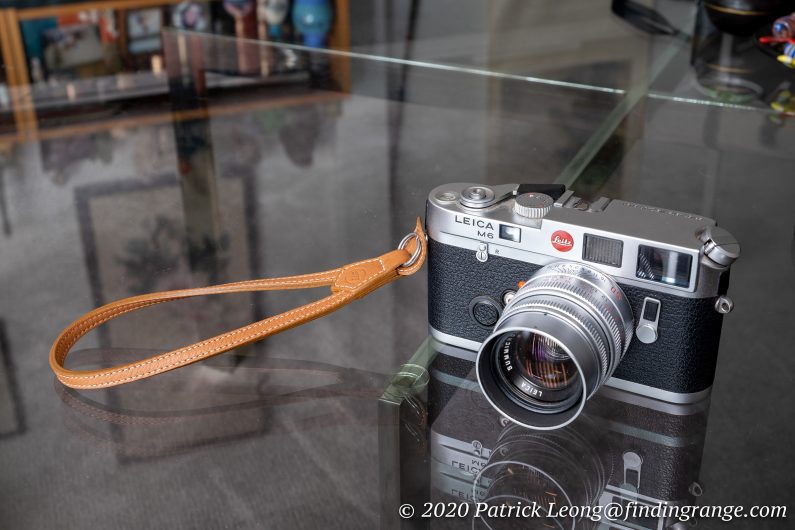 ↑ Here's how it looks like attached to my Leica M6.
Leica Leather Wrist Strap in Use:
I generally love wrist straps because I'm out shooting, I don't hang my camera around my neck that often.  Instead, I always have the camera in my right hand, and if there's a neck strap attached to it, I wrap that around my wrist.  For me, it's just easier to do shoots that way or even walk around the city when I'm doing photo walks.  So, it's nice to have a wrist strap sometimes because I don't have so much material to wrap around my wrist.
↑ Here's one more shot of the Leica Leather Wrist Strap attached to my M6.
For a wrist strap, this Leica version has been great to use. Comfort wise, I have absolutely no complaints.  The Leica Leather Wrist Strap isn't too large, and the width of it isn't too wide either, so it doesn't get uncomfortable or even hot around your wrist (especially since we're hitting summer weather now in NYC).  It's also a light feeling wrist strap.  In other words, it's not overbearing.  As I said before, it's very flexible while still having a slight stiffness to it, so it can keep its shape and strength.  Overall, this is a strap that is very easy to live with on a daily basis.
As for aesthetics, I think it also looks great on an M.  It really does match the camera's overall appearance.  The wrist strap is a bit understated, which goes with the M's style.
Leica Leather Wrist Strap Verdict:
So, if you're in the market for a new accessory for your camera, the Leica Leather Wrist Strap is a great option to consider.  It's well-made, easy to live with, and it's up there with the best of them in terms of craftsmanship.  It also matches well aesthetically, and in terms of balance with an M.  In fact, if you don't mind that imprinted Leica logo, this strap would be a great match with any camera similar in size and weight to an M for that matter.
Plus, price wise, believe it or not, it's actually reasonable, if you compare it to other leather wrist straps of the same league.  It's still not cheap but it's also not outrageous.  Currently, it sells for $69.96, which is in the range of the norm.  In fact, there are some leather wrist straps that cost even more.  For example, some of the Artisan & Artist leather straps are in the $80 to 90+ range.
So, I definitely recommend it.  It's a great little accessory that will not only be useful but also looks quite good as well :).
Thanks for taking the time to read my review!  If you're considering purchasing the Leica Leather Wrist Strap, and my review helped you decide, please help support this site by purchasing from the link below or any mentioned in this review.  It will not cost you anything extra.  Thank you for your support!