Fujifilm Gear: Shooting Cityscape in New York City:
Like many of you, I've been staying inside, and social distancing because of the corona virus pandemic.  I'm doing what I can work wise at home.  I've had some extra time, which I've used to do a variety of photographic activities (you can read my article: 6 Photo-Related Activities to do Under Self-Isolation).  But since I'm not going out there for extended periods to get pics for any reviews or even for my own work, I've had extra free time, which I've been spending looking back at some of my older work.  Particularly, I've been looking at some of my cityscape shots of New York City, a place I'm missing a little, since I no longer can walk around as freely, at least for the time being.  Apparently, I did most of my cityscape work with my Fujifilm X Series cameras, and since I haven't made a Fujifilm-related post in a while, I thought I'd share a few with all of you, go through what was on my mind at the time, and what specific gear I used.
So, if you've been following my blog for a while, you might have seen a few of these images.  I've included many here and there in my reviews, and Fuji posts but never all together like this.  None of them have been re-edited.  I do want to re-edit some but I have so many other shoots I have to finish right now that I didn't want to tack on more work.  It will have to wait until later :).  These were shots with various Fuji gear and lenses along with third party lenses as well.
Let's start off with the first image below.  This was taken with my Fujifilm X-T2 at the time with one of my most used and favorite lenses, the Zeiss Touit 12mm f2.8.  I've given this lens so much praise over the years because I truly believe it's one of the better ones for the Fujifilm system.  Plus, I'm a huge fan of ultra wides.  Shooting an ultra wide can be difficult at first because, at least for me, the first time I used something like an 18mm lens, I had to get used to shooting a lot closer, since things seemed so far away in my photos.  Plus you have that perspective/distortion issue to get used too.  However, if you get the right angle with an ultra wide, I don't think there is anything like it.  I just love what these kinds of focal lengths can produce.  You can find more detail about the gear in my Fujifilm X-T2 Review and Zeiss Touit 12mm f2.8 Review.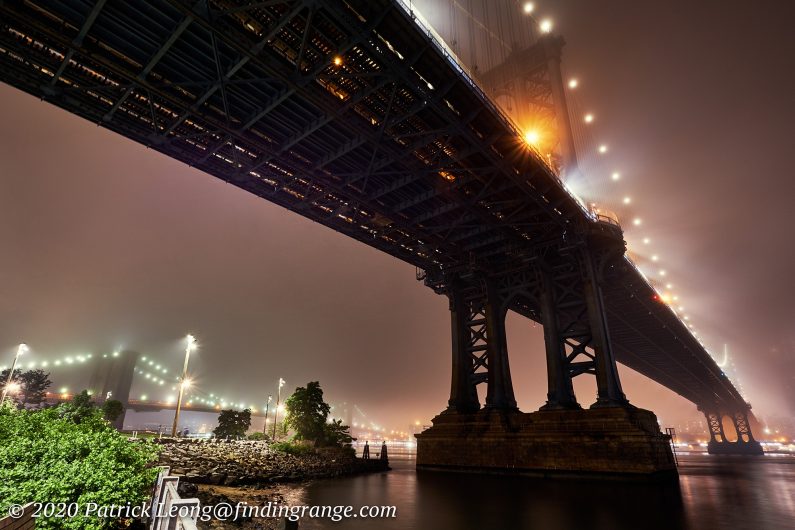 Speaking of ultra wides, the picture below was taken with the incredible XF 8-16mm f2.8 R LM WR lens.  If you want what, in my opinion is one of the best Fuji branded lenses out there, this should be in your bag.  It's expensive, and it isn't a lightweight but if you need a focal length range like this one, it's worth it.  Anyway, for the picture below, I had the lens' focal set at 8.1mm.  I think this was the widest lens I've ever used on any of my Fuji cameras.  By the way, the camera of choice here was the Fuji X-T3.  If you're interested, you can find more detail about the gear in my Fujifilm X-T3 review and XF 8-16mm f2.8 review.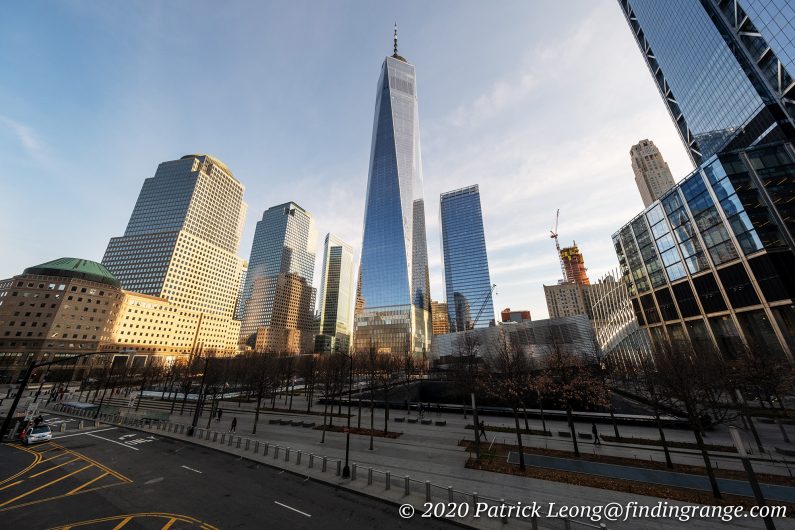 Below is another pic that I shot with my Fujifilm X-T2 and Zeiss Touit 12mm f2.8.  At one point, the 12mm f2.8 was my most used lens on a Fujifilm body.  The WTC is one of my favorite skyscrapers to shoot.  I'm sure you've seen plenty in this blog, if you've been following me for a while.  This time, when I was walking towards it, I saw this guy with his headphones on, and I thought it would make a nice street/cityscape shot, especially since the day in general, was so nice as well.  Also, I loved the construction and the rest of the people walking by; this, to me, is what New York looks like on an average day.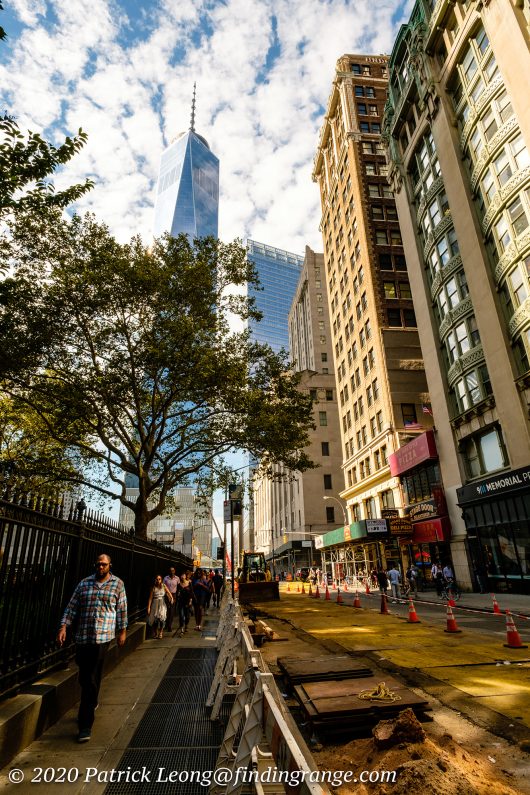 Let's take a look at a black and white image now.  It was taken with my Fujifilm X-T2, and the XF 14mm f2.8 R lens, which was what I was reviewing at the time.  The XF 14mm f2.8 is another fantastic Fuji lens, which I highly recommend.  It's definitely one of my favorites (I have a lot of favorites haha).  This was taken in Grand Central Station.  You can find more detail about the lens I used in my XF 14mm f2.8 R lens review.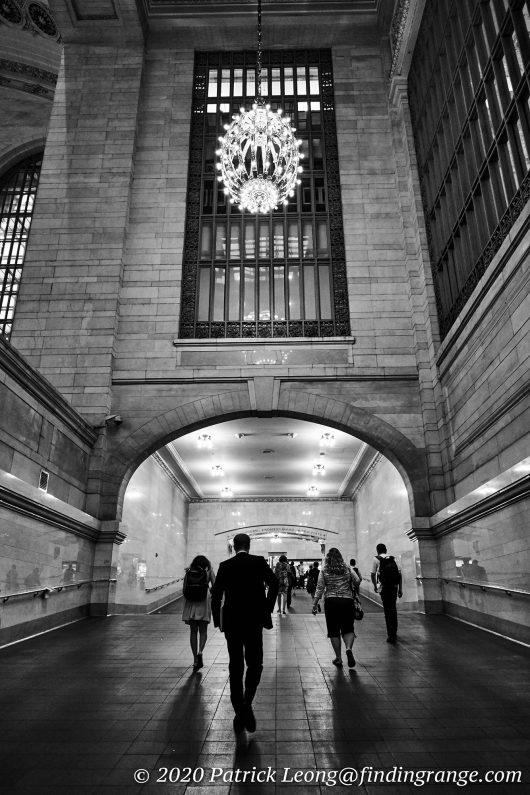 Let's look at something a bit more funky now.  I'm generally a fan of fish eye lenses but it's funny because, I don't actually own one either ;).  The image below of the Oculus was taken with the 7artisans Photoelectric 7.5mm f2.8 Fish Eye and the X-E1.  For those who don't use a fish eye lens often but would like one in their kit for those special moments, this might be the best bet.  This is one of the most fun lenses I've used, and it costs like $139, so it's not crazy expensive.  It also comes in several different mounts, which include Canon EF-M, Sony E, Micro Four Thirds, and of course, Fuji X Mount.  I review this lens a while back, and the first place I wanted to go to was the Oculus.  I thought it'd be kind of cool to see what an ultra wide fish eye could do.  You can find out more about the gear I used in my Fuji X-E1 review and 7artisans Photoelectric 7.5mm f2.8 Fish Eye review.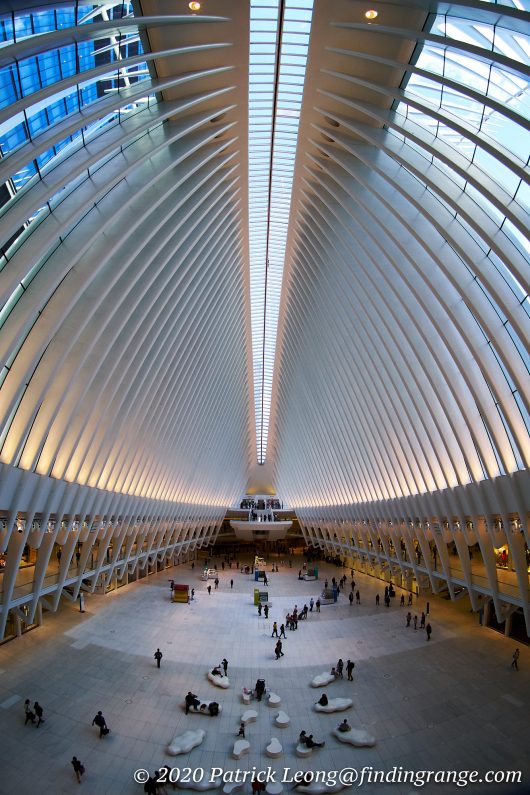 The next picture up is similar to the first one but on a much clearer night.  It was taken with the Fujifilm X-T2, and the XF 14mm f2.8 R lens.  I liked the movement of the clouds, so I had the exposure set at 27 seconds, and the lens set at f10.  Of course, this was on a tripod.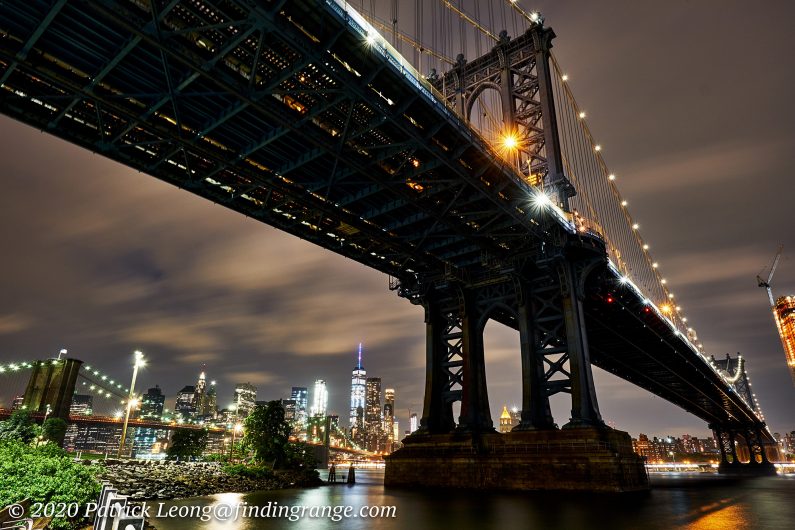 Below is another photo taken with the XF 14mm f2.8.  Again, the Fujifilm X-T2 was used here, and this photo is of the Verrazzano-Narrows Bridge.  For those who don't know, this bridge connects Brooklyn to Staten Island.  Again, this was on a tripod.  Speaking of, if you plan on shooting any night time landscapes, I highly suggest the best tripod that you can purchase because tripods can make a huge difference in image quality.  You will definitely see it, especially if you're talking longer exposures.  My tripod of choice, and the one that I've used in all these photos requiring one is my trusty Gitzo GT2542 (I reviewed it here).  This is easily one of the best investments I've made in my photographic career.  I use it quite a bit.  It's expensive but think about it this way: a good tripod makes a huge difference in your image quality, and you won't have to replace it anytime soon.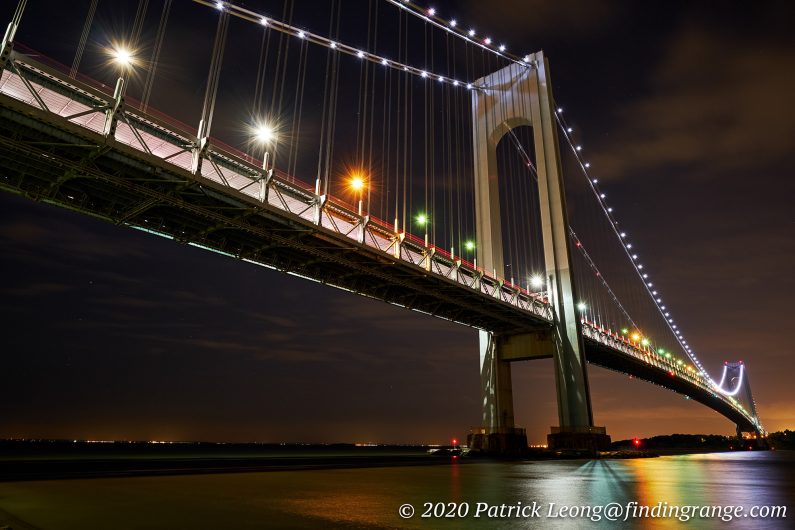 Of course, you don't always need a wide angle lens to take cityscape photos.  The photo below was taken with the Fujifilm X-T2 and the XF 80mm f2.8 R LM OIS WR Macro lens.  I definitely don't review many macro lenses but once this pandemic is over, I will definitely get more in to review.  You can find out more about this lens in my XF 80mm f2.8 Macro review.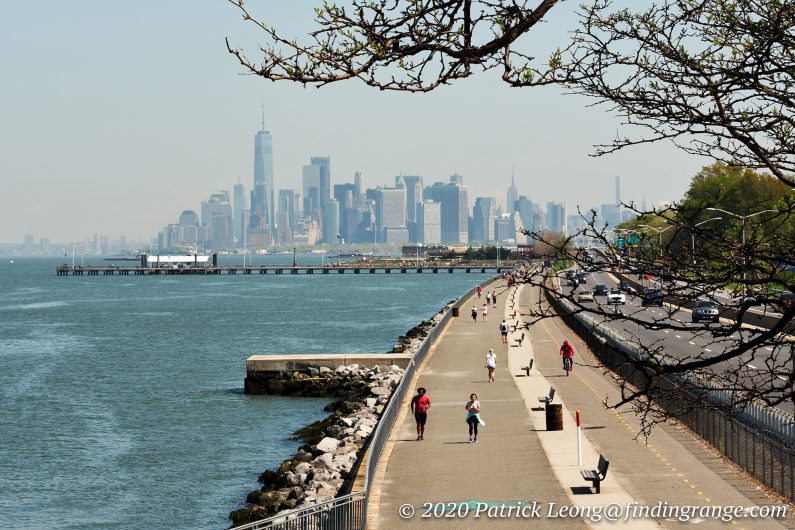 The last photo in this post is one of my personal favorites.  It was taken with the Zeiss Touit 12mm f2.8, and Fujifilm X-T1 around 2am.  I'm more of a night kind of guy than day, so I used to go around the city in the weirdest of hours just taking pictures.  It's NYC; it's the city that never sleeps as they say, right?  It's kind of true :).  My best friend manages restaurants in the Lower East Side, so he used to get out late.  We'd meet up, and just drive everywhere around the city looking for shots.  We used to see the strangest things too haha.  One time, the temps were near zero, and the win was blowing like crazy.  It was the middle of winter.  We saw this couple in their wedding attire getting their pics taken by the wedding photographer.  Keep in mind that this was happening not only in the freezing cold but also around 2 or 3 in the morning haha.  By the way, if you want more details about the X-T1, you can check out my review.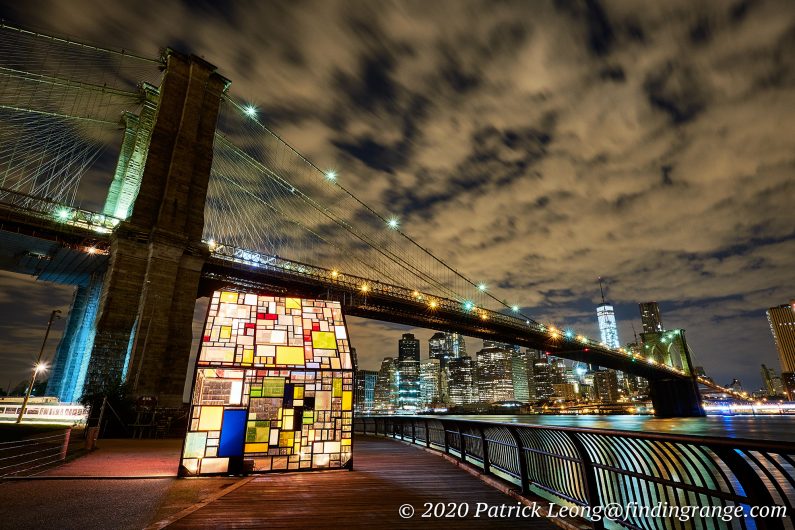 So, that's about it for this post.  If I find more pictures, I can definitely put them up in a separate article.  As some of you know, I'm definitely active on Instagram, so look me up.  I may also start another account just for cityscape photos.  As I said earlier, I reviewed all the pieces of gear I mentioned here.  For those interested, the links have been mentioned above but you can also find them below.  I hope you enjoyed the photos, and as always, thanks for stopping by.  Stay safe, everyone!
Cameras used:
Lenses used:
Tripod used: